Acacia wood flooring is an exotic hardwood floor with a unique look and plenty of benefits for property owners and interior designers. But, if you are looking for the best options for floorings in your home, you need to know more about it to determine if it's the right choice.
The rustic appearance and moderate price make the acacia wood floors more popular every day. It is suitable for residential and commercial installation!
You've got several options for acacia wood floors, but is acacia really the best you can get? Knowing about the advantages and disadvantages of acacia wood flooring, price, maintenance and installation will help you make an informed decision.
Is Acacia Wood Good For Flooring?
Acacia is an excellent choice for wood floorings. It is durable, hardy, mold and mildew resistant, handles moisture well and doesn't cost a fortune to install.
But acacia has a distinct look to it, which might not be appealing to some people. While some prefer the rustic and dynamic, striking appearance of acacia, others will enjoy subtle textures and grains in their homes.
However, in terms of quality, and cost-effectiveness, acacia is a remarkable choice for hardwood flooring.
What is Acacia Wood Flooring?
Acacia wood comes from Australia, but it is grown in Asia, Africa and the Pacific Islands as well. There are numerous varieties used for floorings, all of which have fantastic hardness. For example, acacia has a hardness of 1750 on the Janka Hardness Test. For comparison, red oak has a 1290 rating.(1)
Floorings made from acacia wood have a distinct look, with warm tones and visible grains and knots.
Acacia is popular for hardwood floorings, because of its excellent durability and scratch-resistance properties. The floorings handle moisture well, and won't warp in humid conditions. Other than floors, acacia is used for furniture and instrument production.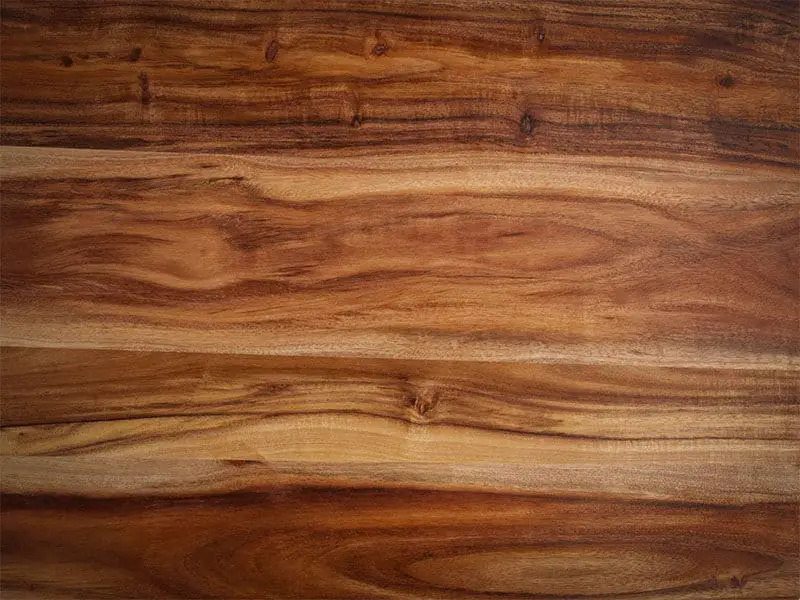 Options for Acacia Wood Flooring
Acacia is used for different floorings types, like other wood. There are three options for acacia wood flooring, with different properties, applications and price tags.
Solid Flooring
Solid acacia is 3/4 inches thick and comes in planks with a width from three to five inches. The texture of solid acacia wood is consistent and beautiful, which makes it the most popular option.
Solid wood is also the most expensive option, but acacia is still significantly cheaper than other solid wood floorings. Some manufacturers offer a 50 years warranty for solid acacia wood flooring.
Engineered Flooring
Engineered acacia features the most visible surface layer made from acacia. Other wood species are used for the core. The planks can be 3/8-inch and 1/2-inch thick. The width of the planks is the same as solid wood.
Laminate
Laminate is the cheapest option. It has a realistic acacia image on top of the composite wood base. The laminate planks' thickness varies from 1/4 inch to 9/16 inch.
You can get planks in different widths and lengths. The warranty is usually around 5-years, but some brands offer extended warranty.
Acclimation
The installation of acacia wood flooring is no different from any other hardwood installation. But, the planks need an acclimation period before installation to prevent common acacia wood floor problems.
Without acclimation, acacia wood can buckle. The same can happen if you leave the planks for long in a dry climate. Also, the moisture content in acacia wood needs to dry at least 6% before installation. Without it, the planks will dry in your home after installation. In that case, the planks will shrink as they dry, which will affect the look and performance.
To ensure smooth installation and prevent future problems, open the boxes with acacia planks and let them sit in the room where you will install the floor for at least seven days. For that time, maintain humidity in your home between 30% and 50% to ensure proper acclimation.
Watch this video to know more:
Acacia Wood Flooring Advantages
Acacia floor is popular for so many reasons. It isn't as expensive as some other hardwood floor options. Overall, it is resistant to scratches and moisture. Acacia has a beautiful appearance and is available in different flooring options.
Let's take a closer look at the most important benefits of acacia wood flooring that might persuade you to install the new floors as soon as possible!
Durability
As I already mentioned, acacia wood has an exceptional hardness, which means that your flooring won't dent soon or show signs of wear and tear. It also means that acacia wood flooring is suitable for homes with pets and children, and areas with heavy traffic.
Still, the exact lifespan of your floors depends on several factors – wood quality, planks thickness and acclimation.
For example, well-acclimated thick acacia floors can remain good-looking for up to 50 years. Compared to some other woods, such as oak, maple and mahogany, acacia is harder and more durable.
On top of everything, acacia floorings are fire-resistant, do well with water and have exceptional antibacterial properties. However, don't let the water sit for too long on the floor. When you spill something, mop it as soon as possible and it won't leave watermarks or cause floors to dent.
Maintenance
Acacia wood flooring has straightforward maintenance. All it takes is sweeping the floor once it gets dirty. You can mop it once a week with any wood cleaner.
Also, there is another plus if you install acacia flooring. Because of the specific color of the wood, the dirt won't be easily noticeable!
When you install acacia flooring, you can expect a minimum of ten years without the need to apply new coatings of hardwood floor polish.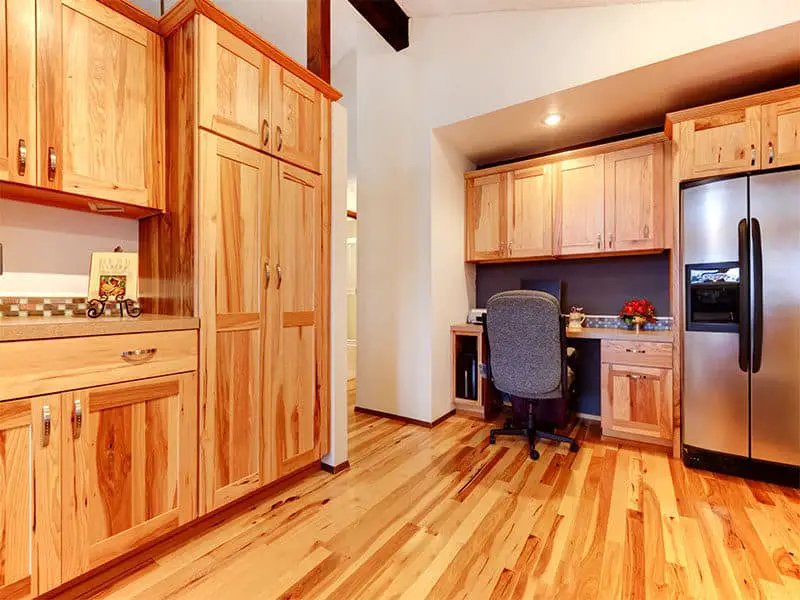 Appearance
Acacia is one of the floorings with the most distinct appearance, with beautiful warm tones. Flooring is available in different shades – from dark brown color to auburn shade with red tones, to light brown shades.
Acacia planks are colorful, so one plank can have different shades which give it a unique appearance.
All acacia flooring options, including laminate, give a distinct look to the room with a traditional effect and rustic appearance. Rooms with acacia wood floorings don't require additional decoration and are easy to mix with other traditional interior elements.
Watch this video to know more:
Mold and Mildew Resistance
Acacia floors are excellent for people with allergies. The wood is naturally resistant to mold and mildew. Mold is also unlikely to grow on engineered acacia wood too.
It makes Acacia wooden floors suitable for rooms in your home with moisture. It can be one of the best materials for kitchen floors.
Eco-Friendly
If you are looking for a wood option that isn't at risk of extinction because of the massive wood processing, acacia is an excellent choice. Acacia trees grow very quickly, and there is a low risk of the black market.
Next, making the acacia wooden planks is environmentally friendly because it doesn't require a lot of emissions.
Growing acacia trees doesn't require pesticides, chemicals and too much water, which makes it good for the environment. But to ensure you are installing eco-friendly flooring, find the seller with Forest Stewardship Council (FSC) certification.
Additionally, acacia wooden floors are recyclable and reusable. Therefore, if you decide to renovate your home, you can keep your acacia floors, refurbish them and install them again.
Price
Acacia wood flooring costs are one of the greatest benefits of this type of flooring. Solid acacia looks expensive but costs significantly less than other hardwood floors. For example, it is more affordable than teak, rosewood, mahogany and some other woods. The average costs per square foot are between $4 and $6.
Because it is durable and resilient to outer conditions, acacia floors make an excellent long-term investment.
The installation isn't complex or expensive, so you don't have to worry about those expenses.
Because the maintenance is simple, you don't have to invest money in specialized cleaners and vacuums. A simple, homemade wood floor cleaner is good enough for the acacia floor.
Acacia Wood Flooring Disadvantages
Despite all the excellent aspects of acacia flooring, some people might not find it a good choice for their home. Here are some disadvantages of acacia wood to consider.
Unusual Look
Acacia planks have a lot of color variations and knots. The appearance is irregular, which some people might find repealing. People who want plain floors will find it too striking.
Also, acacia floors offer so many variations for interior designs and require careful planning to achieve the interior look you want. Some people aren't skilled enough to design a room with acacia floors and don't want to hire professionals. In that case, choosing a subtle floor, such as maple or walnut is a better choice.
Lack Of Long Planks
Planks for acacia wood floors come from tall shrubs rather than trees. Therefore, it is impossible to make long planks. The average length of these planks is around 2 feet.
Installing a floor with short planks changes the look of the floor, making it more dynamic and irregular. Also, with short planks, you're limited to suitable plank patterns. You can only use chevron, basket and herringbone patterns.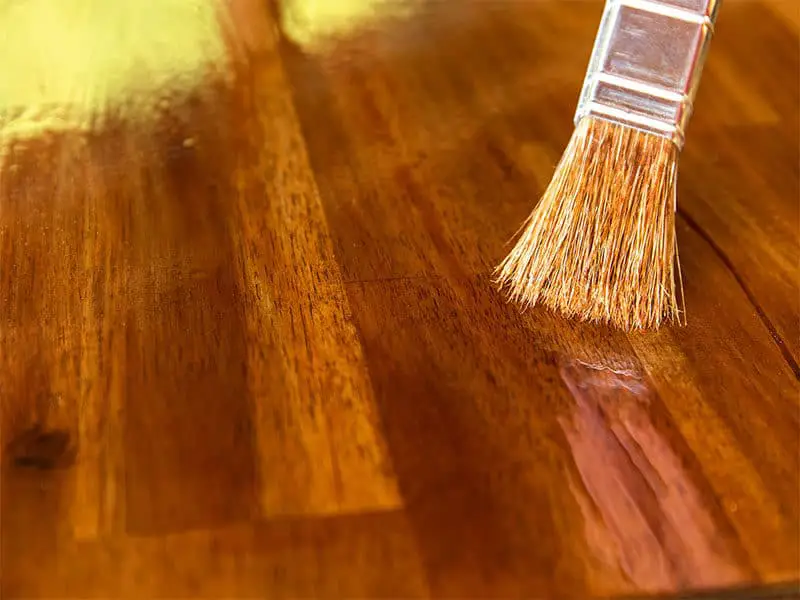 Watch this video to know more:
Not Best Choice For Dry Climate
As I explained before, acclimation is highly important. If the floors aren't dried and acclimated correctly, the planks will most likely shrink soon after installation. If you live in a desert climate, it is quite likely to happen.
Therefore, you need to find skilled contractors and experts that will plan installation and include outer factors to prevent potential issues with acacia wood flooring.
Watch this video to know more:
Acacia Wood Vs Other Hardwood Floorings
Let's compare acacia with other common wood choices for hardwood floors, so you can confidently choose the right one for you.
Acacia Vs Oak
Oak is a beautiful wood for hardwood floors and furniture. But, acacia is better than oak in terms of hardiness and eco-friendly aspects.
Red and white oak are the two most varieties used for floorings. Acacia is significantly harder than both of them, which means it can withstand a lot more foot traffic before you notice signs of wear and tear.
Acacia trees have 15-30 years of lifespan. Oak trees can live up to 200 years and require more effort to grow.
Ultimately, oak is more prone to warping than acacia.
Acacia Vs Teak
Teak is premium material with wider application than acacia. Teak has natural oils that improve its water-resistant properties. Therefore, it is a good choice even for bathrooms, decks and patios.
Teak looks great, but acacia offers more variation than teak. It is also easier to maintain and significantly less expensive to install than teak.
The durability of the two wood types is quite similar, both can withstand extreme foot traffic.
Therefore, when deciding between the two wood types, set your priorities. Ultimately, if you are looking to save some money, you can choose acacia wood floors and you won't regret it.
Acacia Vs Walnut
Brazilian and American walnuts are highly popular options for living rooms, stairs, and dining rooms. Walnut has warm tones and rich texture, and is more subtle than acacia. Acacia looks rustic and striking, and walnut is more sophisticated.
It is also more expensive than acacia.
Compared to walnut, acacia is more resistant to damage because of its extreme hardiness. Also, acacia handles moisture better than walnut, so it is more suitable for different applications.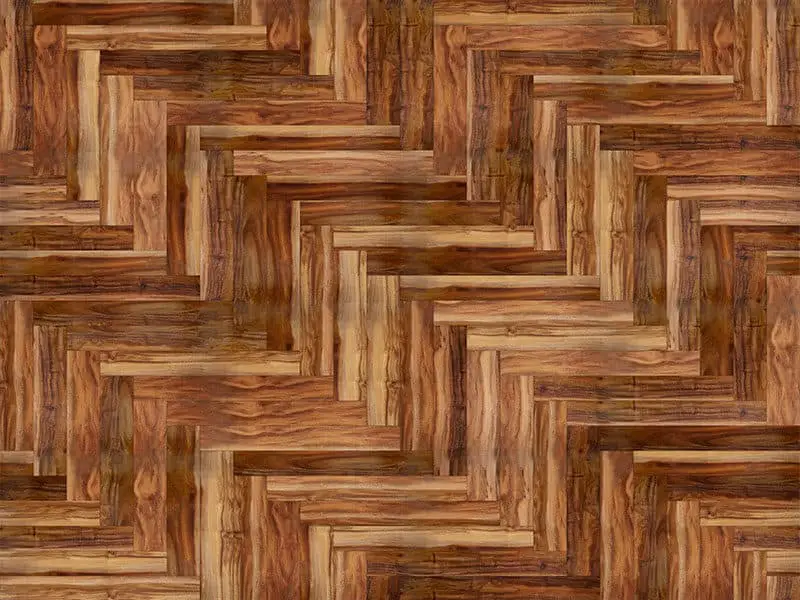 Is Acacia For Your Home?
When choosing flooring and other elements for your home, there are several factors you need to consider. Acacia is an excellent choice because it can look new for decades and it requires only simple maintenance.
It is also one of the most cost-effective choices for flooring investment. But, before you hire contractors to install your new acacia floorings, think if it is for you. If you prefer modern or minimalistic design over traditional and rustic, then you should avoid acacia and look for alternatives with a subtle look.
References:
The Janka Hardness Test for Hardwoods. Ejmas.com. https://ejmas.com/tin/2009tin/tinart_goldstein_0904.html. Published 2021.