Even though it seems like the best choice for decking, my aluminum decking review will help you decide whether it is worth the money. Aluminum decking lasts the longest when compared to wood and plastic replacements.
Compared to other decking materials, aluminum is a rookie. It has been long in use, but it is gaining more popularity because of its elegant look and long lifespan.
But, aluminum is also the most expensive decking material, which is a reason to get familiar with all the features, uses, benefits and disadvantages of aluminum decking.
Luckily, you're in the right place. Here is everything you need to know before you install the most expensive decking!
Is Aluminum Decking Worth Buying?
Aluminum decking is worth the money in the long run. The initial costs are higher than with some other decking materials, but the longevity and simple maintenance will make the decking pay off in the long term.
The decking is resistant to pests, water, sturdy, and almost indestructible. It gives the deck a contemporary look and isn't suitable for those who want the traditional look of a wooden deck.
Overall, if your budget allows it, and you aren't a big fan of wood, aluminum decking might be the best option for you.
What Is Aluminum Decking?
Aluminum decking is a premium decking type and comprises aluminum planks.
The planks are attached to provide an elegant look and durable construction. Quality aluminum planks don't have a metallic look.
The most common coating on premium aluminum decks is polyurea elastomer, which prevents fading. Additional coatings prevent slipping issues and create better grip after one or two coats.
As a material, aluminum is lightweight, but strong, and has a wide application. Decks made from aluminum can hold up to 250 pounds per square foot.
Aluminum decking is available in planks of different sizes. The most common are 6 inch wide planks, with a standard length of 12 and 20 inches. The increments are 2 inches. However, some brands make custom-size aluminum planks for decking.
Let's see this video to collect more understandings:
Aluminum Decking Types
When it comes to aluminum decking, there aren't so many options and variations. But, you can still choose between the two most available options.
Both of them can be adapted to match your preferences and style.
Let's take a closer look at the two most common aluminum decking types.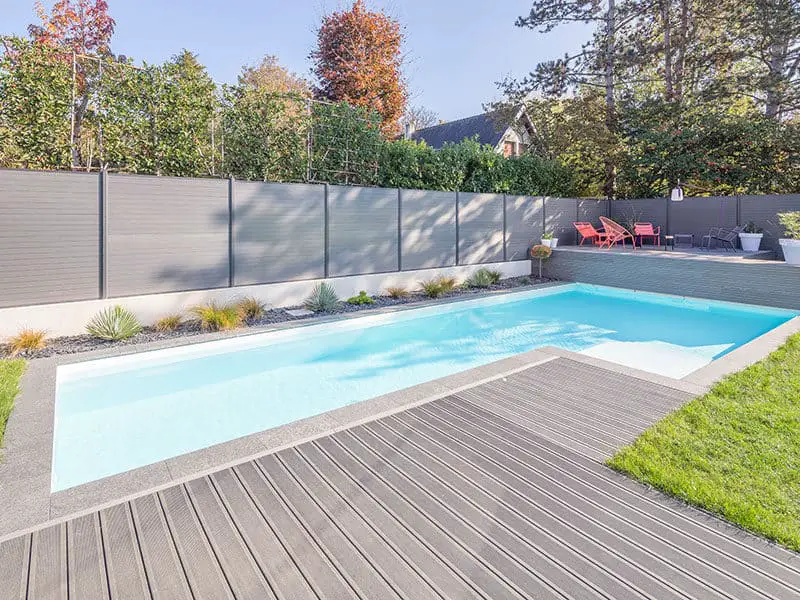 Waterproof Decking
Aluminum is a water-resistant material, but when building construction, you use several aluminum planks. The water can collect in the joints, and develop microbes, mold, mildews, etc.
The waterproof aluminum decking ensures watertight space underneath the deck. Because the interlocking plank system doesn't allow any holes, gaps or channels, the entire decking is waterproof.
Therefore, waterproof decking is an excellent choice for areas with heavy rains.
Aluminum Boards
Aluminum boards are more common and affordable. They have the traditional decking appearance with a gap between boards to ensure water flow.
But, sometimes gaps can clog with leaves and debris. Then, you have to clean it by hand. Overall, the aluminum board decking is more affordable than waterproof, but you might have to build a waterproof drainage system after some time.
Aluminum Decking Installation
Aluminum decking is premium decking and requires professional installation. Unlike other decking materials, the boards require cutting, adjusting, special use, etc. to be installed properly. Not only does a professional installation is recommended, but it is also necessary to get the best out of your aluminum decking.
Overall, it increases the costs of your new decking. Additionally, you need to check if there are local professionals that can complete the task.
Let's see this video to collect more understandings:
Aluminum Decking Maintenance
A great thing about aluminum decking is that it requires almost zero maintenance. It includes only regular cleaning, and removing debris with a sweeper, spills, leaves, dust, etc.
If you own a power washer with up to a 1.300 psi range, you can use it to clean the deck easily. Deck-owners without a power washer can clean it with warm water and a pH-neutral cleaning solution, or mild homemade deck cleaner. Harsh cleaners can damage the coating of the deck or speed its deterioration.
Repairing serious issues with aluminum decking is expensive, so you need to inspect the deck occasionally to see if there are loose planks, fasteners or any other issue that needs to be fixed.
Clean the snow or loose materials with a broom and avoid shovels because they can scratch the deck.
Aluminum Decking Price
Aluminum is an expensive premium material for decks, so this review needs to include an overview of the price and comparison with other common decking materials.
According to data from Improvenet.com, the price of a standard aluminum deck is between $10.01 and $11.20 per square foot, plus $3 per labor. (1) For comparison, a pine deck can cost between $5 and $10, and polyethylene-based composite decking costs around $7, according to the same source.
In most cases, the coating quality determines the price, and watertight decking can cost up to 50% or 100% more than standard decking.
Additionally, if your deck is a complex structure with stairs, unusual layouts, multiple corners, you can expect a higher price for labor.
If you are considering an aluminum deck, you can wait until the peak season passes to get discounts and hire contractors at better prices.
Additionally, you need to consider the costs for old-deck removal, the deck railings, the permits and insurance, etc. It all adds to the price.
For example, if your current deck isn't raised, you'll need to add railings to get better performance and include the water drainage system.
When you are building a deck for the first time, you need to get a permit. The permits can cost over $1.000 price, and your annual insurance fee is usually higher when you have a high-end deck.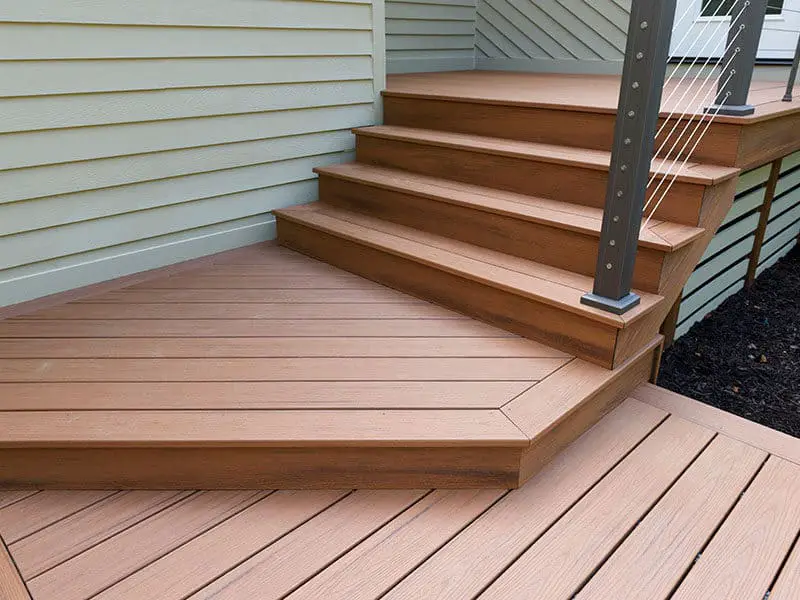 Advantages Of Aluminum Decking
Aluminum decking benefits are great, and a reason more people decide to invest money in a beautiful and long-lasting aluminum desk.
Compared to the widely used wooden decking, aluminum is easier to maintain and more durable.
Durability
Aluminum decking is almost indestructible. Another decking will show signs of wear and tear, sun and moisture exposure, or get destroyed by mildew. Even if you properly care for it, the wood deck will deteriorate over time, as part of the natural process.
Discoloration and rot are common issues with wooden decking, but aluminum is resistant to these issues. Aluminum doesn't absorb water. There isn't an option for rotting, and it won't shrink after temperature and humidity change. If you get the watertight aluminum decking, you are good to go for a lifetime.
No Pests
Wood structures are prone to termites and insects, which can cause severe damage. Luckily, there aren't termites, bugs or animals that can chew metal. So, your aluminum decking is resistant to animal damage!
Sustainability
Deforestation is a serious problem that can cause long-lasting consequences on the environment. Even if the materials for wooden decks come from sustainable woods, there is still a risk of black markets and potential misuse.
With aluminum, you don't have to worry about it. Aluminum is a recyclable material that saves trees as an important part of Earth's ecosystems.
Low-Maintenance
Apart from standard cleaning and occasional inspection for repairs, aluminum decking doesn't require maintenance. You don't have to refurbish it after a few years or apply new coats. Compared to wood decks, the maintenance is cheap.
Wood decks require special products, re-sealing and often repairs which can be costly.
Heat Dissipation
Aluminum dissipates heat quickly. You can't walk on the aluminum deck barefoot on a hot summer day, but you can expect it to cool fast. If you choose a lighter color for aluminum decking, it will heat up slower.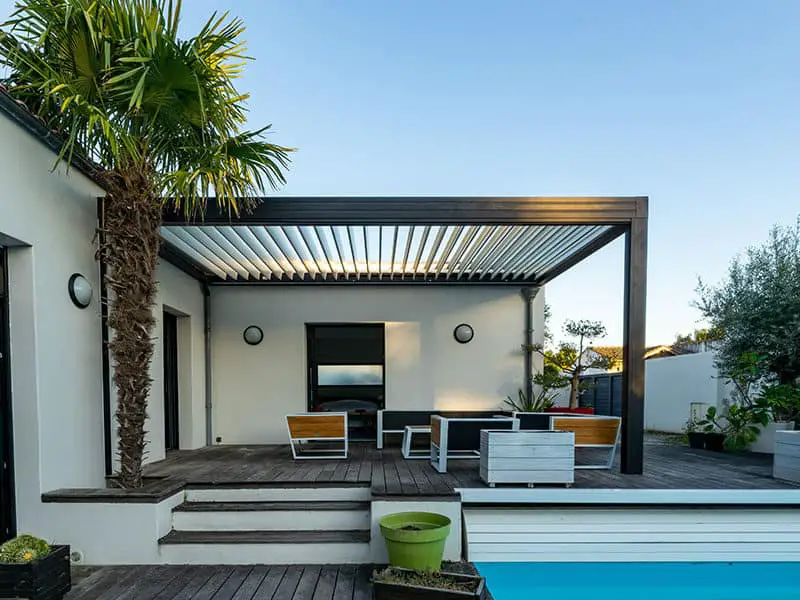 Improves Resale Value of Your Property
Because aluminum decking is expensive and stays good-looking for years, it can improve or maintain the resale value of your property. For example, poorly maintained wood decks can lower the value of your home.
Aluminum decking is a worthy investment that pays off in the long run.
Let's see this video to collect more understandings:
Disadvantages Of Aluminum Decking
Even though aluminum decking seems like the best option, you need to consider the disadvantages to get the complete picture.
I'll cover the most important drawbacks of aluminum decking.
Costs
As you can see, overall costs for aluminum decking are higher than you would expect. The boards, the railings, the labor, permits, professional installation, etc. makes a significant expense for standard US families. Therefore, it isn't an impulsive decision, and it requires a lot of calculations and analysis to determine whether the aluminum deck makes sense in your case.
Also, if you have a tight budget, you might try to cut expenses and get a deck with cheaper coatings or install it by yourself. It can only raise costs for maintenance and potential repairs after improper installation.
Distinctive Look
Even though the aluminum deck is durable and elegant, it can never provide the rural and cozy look and feel like it can wood deck. It doesn't look natural, and there isn't a way to mimic the wood deck appearance.
Also, to make it stylish, you might have to invest in new outdoor furniture and spend money on other items for your deck to make it harmonic.
Slippage
High-end aluminum decks have anti-slip coatings that make them safe for people, but not for pets. As the coatings wear off, the deck can become slippery.
Sound
Aluminum decking is a hard surface that makes loud noises when walking on it. If you have pets and small children, playing outside on the deck can be noisy. Unfortunately, there isn't a coating that can absorb sound!
Temperature
Aluminum is metal, and it gets hot, it is as simple as that. Despite fast dissipation, aluminum can still get too hot for a walk in summer. Alongside slippage properties, aluminum isn't a good option for installation around pools.
Let's see this video to collect more understandings:
Not Suitable For DIY Projects
If you enjoy DIY home renovation, weekend projects, stay away from aluminum decking. It is a complex task and requires a professional approach for planning and designing, material choice and installation. If you want to refurbish old wood decking, you can do it yourself as a weekend warrior.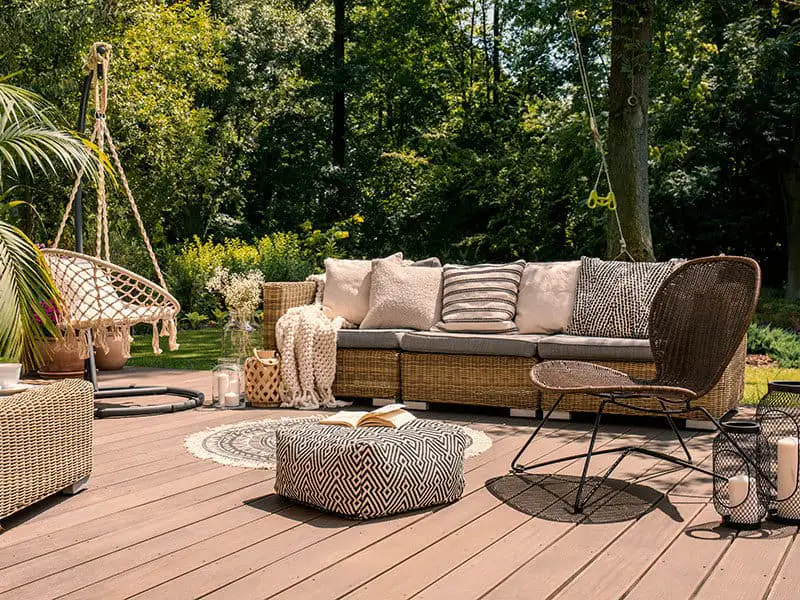 Aluminum Decking Vs Composite Decking
Composite decking is another excellent material people choose. A quick comparison between the two might help you get a bigger picture of aluminum decking.
Aluminum and composite decks don't require maintenance and refinishing. The primary differences are costs, longevity and appearance. Composite can contain up to 50% real wood or less, and resemble the wood decking, for a beautiful appearance.
Like wood, composite decking is prone to damage caused by weather and time. Aluminum is durable and has more expensive start-up costs. However, considered the longevity, potential repairs and replacement of composite planks, and water damage, the lifetime costs of aluminum decking seem lower.
Is Aluminum The Best For Long-Lasting Decks?
Aluminum might be the best material for decks. It won't be affected by weather, pests, heavy-duty use, and it looks and performs superbly for years.
Compared to other decking materials, such as genuine wood and composite, aluminum is better for long-term solutions. If you hire professional contractors to build an aluminum deck for you, all that is left for you is simple maintenance and occasional repairs of loosening fasteners.
What do you think about aluminum decking? Would you choose it over wood?
Don't forget to like and share the article if you enjoyed it!
References:
2021 Aluminum Decking Cost | Aluminum Deck Cost & Materials. Improvenet.com. https://www.improvenet.com/r/costs-and-prices/aluminum-decking. Published 2021.