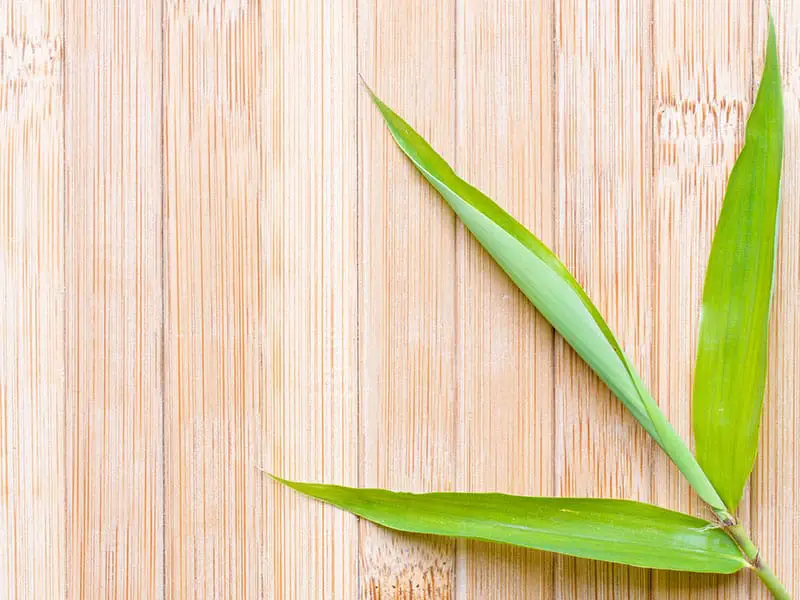 If you're searching for the best bamboo flooring, you've just stumbled upon the right article.
As you already know, bamboo is a natural flooring material made of bamboo plants, originating in China and other nearby Asian countries. Among the many types of bamboo plants, Moso is the strongest.
People opt for bamboo flooring because it's eco-friendly and looks very similar to hardwood flooring. In this article, I will answer all your questions about bamboo flooring and provide a short buying guide.
I will also reveal the pros and cons of bamboo flooring and review some brands, so let's begin.
Is Bamboo Flooring Worth It?
Absolutely! Top-quality bamboo flooring has gained a lot of popularity among homeowners for a reason. It's as durable and easy to install as traditional hardwood flooring but that's not the best part.
The best part about bamboo flooring is that it's budget-friendly. Also, cleaning properly finished bamboo flooring is a walk in the park. You can also refinish it, depending on the thickness of the planks.
It's just as good as standard hardwood flooring with a few advantages and disadvantages. However, not all bamboo flooring is made equal, so let's learn more about different types of bamboo flooring.
Watch this video to know more:
Different Types Of Bamboo Flooring
When buying bamboo flooring, consider the following factors. These considerations can help you make a well-informed shopping decision and pick what's best for you and your property.
Types Of Bamboo
The first choice you'll have to make is to decide which type of bamboo flooring you prefer. If you prefer stronger and thicker bamboo, you need to pick something at least 5-6 years old at harvest.
This bamboo has the strongest and thickest strands. You also want to check the packaging to determine where on the stalk it was sliced from. Keep in mind that lower on the stalk is always better.
Installation Method
Another important factor you need to consider is the installation method. If you're a DIY enthusiast, opt for DIY installation. If you're not confident in your skills, hire a professional.
Search for contractors online, so you can arrange quotes (make sure to get at least three quotes). If you take the DIY route, learn about moisture and humidity levels and choose the install type carefully.
Later in this article, I will break down the installation process and explain the install types in detail. Most bamboo flooring is glued down, however, you can also find nail-down options.
Moisture Level
The most important thing you need to remember about bamboo is that it's not actual wood. It's grass. So, it will take in moisture from the subflooring and air.
Therefore, when installing you should wait at least 3 days for acclimation. Once you prepare your space for install, leave the bamboo flooring inside the room for 72 hours.
Also, you will need to buy and learn to utilize a moisture gauge. You can only install this type of flooring when it has the same moisture reading as the subfloor.
Janka Rating
The Janka rating measures the hardness of the floor. It's a test to determine how much pressure it takes to implant a ball bearing halfway through the surface.
This rating system didn't test bamboo for years but as the popularity of this type of flooring arose, so did the need for tests. It's needless to say that different bamboo flooring will have different ratings.
For instance, strand woven bamboo is one of the most durable natural flooring choices with a score of at least 4600. Red oak, on the other hand, rates at 1260. Thus, bamboo is far stronger than red oak.
However, horizontal and vertical drops to 1762 on the scale. Remember that the hardness rating doesn't influence the swelling, scratching, or damage resistance.
Price And Warranty
The warranty coverage and overall costs matter a lot! This type of flooring is one of the most expensive flooring options on the market (about $15 per square foot).
Each manufacturer will provide different warranty coverage. The worst part? If you take the DIY route and install your bamboo flooring, you may void your warranty.
So, make sure you understand the warranty coverage, features, and claim requirements before you buy. Now, let's discuss the main pros and cons of bamboo flooring.
Watch this video to know more:
Pros and Cons Of Bamboo Flooring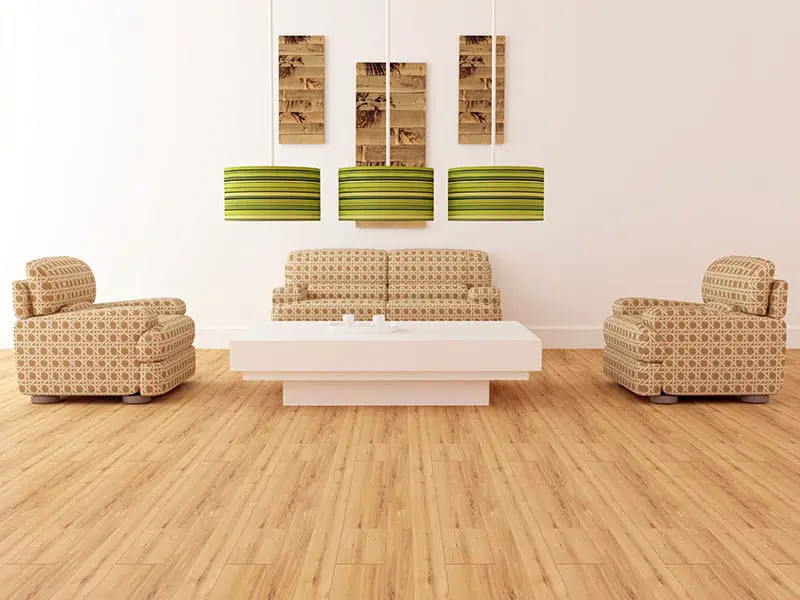 Although bamboo flooring has a lot of advantages, it also has a few disadvantages that you should know before you spend your hard-earned money and make a purchase.
Pros:
If you prefer flooring with a clean, modern look that's also eco-friendly, then bamboo is the right choice for you. It's a natural, hardy flooring that's also one of the greenest solutions in the market. Therefore, if you're looking to decrease your carbon footprint and assist sustainability, opt for bamboo.
Not every flooring is made equal. Thus, certain bamboo flooring types aren't as durable as other flooring types. However, strand woven bamboo is one of the strongest flooring options.
Repair and refinish abilities
Unlike vinyl or laminate planks, most bamboo can be ground, sanded, or refinished multiple times. Thus, it's a great option for homeowners who appreciate restoration over replacement.
Although bamboo flooring is one of the most expensive flooring options on the market, you can also find affordable options. The best part? Hardwood flooring costs more than bamboo flooring. So, if you're on a budget, this type of flooring is the perfect choice for you since it's cost-effective.
One of the best things about bamboo flooring is that it's termite-resistant. Meaning, termites and other pests can't consume and digest bamboo. And because of this, they don't even try. This makes bamboo a perfect option for places where different pests and termites pose a serious threat.
Usually, bamboo doesn't attract mold and mildew. Also, dust mites stay away from this type of flooring. It features properties that resist pollen and dust. Thus, as long as your brand is VOC and formaldehyde-free, you have nothing to worry about. Most allergies are reduced with bamboo flooring.
Cleaning a properly finished bamboo flooring is a breeze. You can easily clean your bamboo flooring with soap and a microfiber mop for the best results. It's a low-maintenance flooring option.
Cons:
There's no such thing as 100% scratch-resistant flooring. Yes, bamboo is a durable and hardy product. However, it's still prone to scratches, denting, and gouging. Meaning, pet claws, heavy furniture, scuffs, and other things can cause damage, so take note of this when making your purchase.
Unlike luxury vinyl planks, bamboo isn't waterproof. It's also not very water-resistant. Excess humidity is a serious threat to bamboo flooring that can cause the planks to swell and bow. Therefore, bamboo isn't recommended for damp room installs.
The subfloor as well as the adhesives utilized to fasten the planks together can contain formaldehyde or VOCs. Therefore, make sure you buy a top-notch bamboo labeled as 3rd party tested and formaldehyde and VOC free.
Watch this video to know more:
What Is The Best Brand Of Bamboo Flooring?
Bamboo flooring has become very popular over the years, so you won't have to look too long or hard to find it. Meaning, your local hardware store probably has some in stock.
However, you can also consider popular brands like Cali Bamboo or Morningstar as they provide a wide array of options for the material. They also have great deals that rival even the least expensive materials such as vinyl. However, every brand is different and sells different products.
The next chart compares some of the most popular companies and their bamboo flooring options. Keep on reading and choose whatever product suits your needs and requirements.
| Brand | Type | Thickness (mm) | Warranty | Certifications |
| --- | --- | --- | --- | --- |
| Morningstar | Strand, engineered | 16, 14, 13, 10 | Lifetime/50 | FloorScore/Greenguard |
| Home Legend | Strand, engineered | 16, 14, 13, 10, 7 | Engineered SPC Residental: Limited lifetime | Greenguard |
| | | | Strand: Lifetime, 55 | |
| Home Decorators Collection | Strand, engineered | 16, 13, 10 | Engineered: Limited Lifetime | FloorScore/Greenguard |
| | | | Strand: Lifetime | |
| Plyboo | Solid, strand | 16, 14, 10 | 25 | FloorScore |
| Cali Bamboo | Strand, engineered | 16, 14, 11, 10, 6 | 50 | FloorScore |
| Ambient | Strand, engineered | 15, 14 | Lifetime | FloorScore |
| Teragren | Strand, engineered | 15, 14, 12 | 25 | FloorScore |
What Is The Most Durable Bamboo Flooring?
The most durable bamboo flooring is strand-woven bamboo. It's the densest type of bamboo out there thanks to the making process.
Strand woven bamboo undergoes a heating process using adhesives and resin that bond the grass into 3 times stronger tightly woven strands.
They're stronger than any other type of bamboo. However, opt for a lighter tone because manufacturers darken bamboo through carbonization.
The darker options aren't as durable as lighter ones. In fact, they're 30% weaker than their uncarbonized counterparts, so choose wisely.
What Thickness Of Bamboo Flooring is Best?
This type of flooring is typically between 1/2 and 5/8 of an inch thick. If you want to get the most out of your flooring, opt for a denser board because denser boards can be refinished. Strand-woven bamboo is the most durable and densest bamboo flooring available on the market.
Do I Need Underlayment For Bamboo Flooring?
If you're floating or nailing down a bamboo floor, you need underlayment. It can provide soundproofing, stability, moisture protection, and decrease wood on wood squeaking.
How To Install Bamboo Flooring?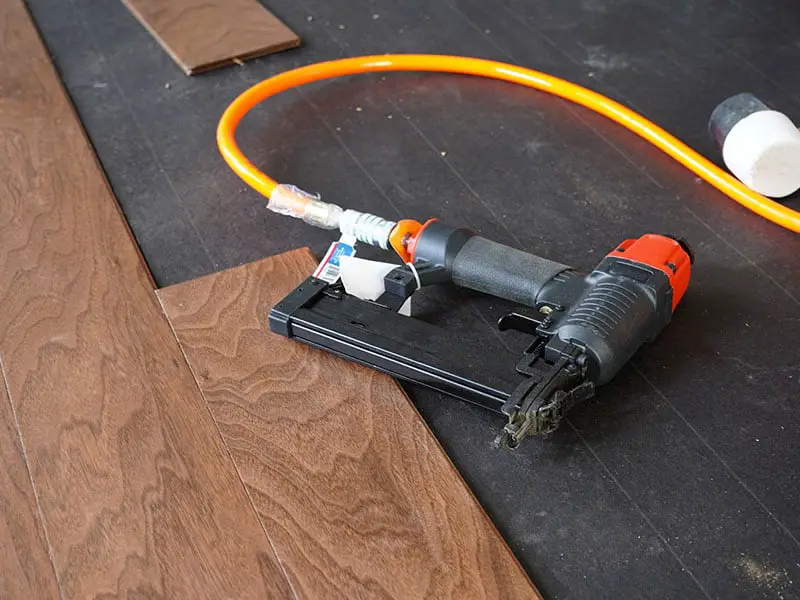 Bamboo isn't a traditional type of wood. It's actually a grass. This section explains each install method in detail. Keep in mind that adhesive is easier to work with than nails, especially if you don't have previous experience.
Nail Down
This install method requires professional skills and years of knowledge as it asks for utilizing a pneumatic nail gun to fasten the bamboo to a plywood subfloor.
The boards should be measured and laid out properly to ensure even rows, tight fit, and a good-looking design. Also, experts must prepare your subfloor properly to prevent shifting and lifting.
Professionals may also advise the utilization of a moisture barrier to prevent dampness and liquids from becoming trapped under the planks and causing damage.
Glue Down
If you've completed a couple of DIY tasks before, and you're confident in your skills, gluing your bamboo is the perfect option for you. It's suitable for beginners and DIY enthusiasts.
This process requires you to glue the planks to your subfloor utilizing a lot of super-strong glue. Also, you must be very cautious to line the seams up properly before adding the glue since it dries quickly.
Simply lay out the whole floor and adjust patterns and coloring before adding a single drop of adhesives. Finally, make sure your subfloor is free of moisture or rot damage and even.
Click-Lock/Floating
This install method is the easiest of all three. Therefore, if you've bought click-lock planks, you're in luck. They're designed to click together at the seams without the utilization of glue or nails.
Layout the design and fit the planks together, working in lines. Leave space for expansion and pre-plan your design to allow for minimal waste and cutting. Within a few hours, you'll be done.
How Long Do Bamboo Floors Last?
Most bamboo products can last for a long time if properly maintained. However, the average lifespan of bamboo flooring ranges from 20-25 years with regular wear and tear. Some options can even last for up to 50 years. As I already mentioned, bamboo is more durable than most hardwoods.
How Do You Maintain Bamboo Flooring?
Popular brands recommend you sweep or vacuum your bamboo flooring regularly or as needed to take off sand, dirt, or grit. Also, clean up spills immediately utilizing a dry mop or dry towel.
Do Dogs Scratch Bamboo Floors?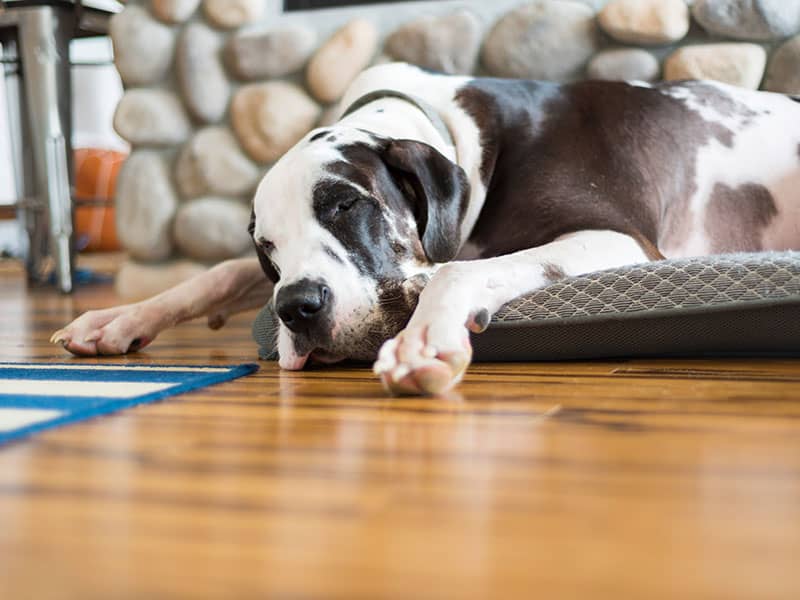 No flooring is 100% scratch-resistant. However, bamboo flooring is suitable for households with big dogs and kids. It's durable and easy to maintain. But here's the kicker. You can also refinish it and erase scuffs and scratches. Opt for strand-woven bamboo as it's the most durable bamboo option.
Can You Mop Bamboo Floors?
Absolutely! You can mop bamboo floors with a slightly damp or dry mop. Also, utilize products that have been specifically made for bamboo or wooden floors that will prevent unnecessary damage.
Does Bamboo Flooring Add Value to a House?
Vinyl, laminate, and bamboo flooring won't add as much to the value of your house as tile or hardwood floors. However, it definitely adds notably more value to homes than laminate or vinyl plank.
Is Bamboo Flooring Good for Kitchens?
Choosing the right flooring for your kitchen will help you avoid all the afterward troubles about cleaning and maintaining. Bamboo flooring is good for kitchens because it's versatile and easy to clean.
You can install bamboo flooring in almost any room in your property, except for bathrooms, basements, and other wet areas with excess water and moisture. Otherwise, you may void your warranty.
Is Bamboo Flooring Good for Bathrooms?
As I already stated, bamboo flooring isn't good for bathrooms, basements, and other rooms with excess water and moisture. It's durable and water-resistant. However, it's not waterproof.
Is Bamboo Flooring Cheaper Than Wood?
Generally speaking, this type of flooring is more affordable than wood flooring. It ranges from $3-10 per square foot (installation costs excluded). However, the final costs depend on factors such as style, color, rating, and manufacturer. Take a look at the following chart for more details.
| | |
| --- | --- |
| Bamboo type | Average price |
| Vertical and horizontal grain | $2-4 |
| Strand | $3-5 |
| Engineered | $2-5 |
Vertical and horizontal bamboo costs between $2-4 per square foot. Strand varieties, on the other hand, cost a bit higher between $3-5 per square foot.
If you're on a budget, opt for engineered bamboo. You can find excellent deals (less than $4 per square foot). Finally, don't forget about the installation costs.
If you take the DIY route, make sure to obtain all the materials before you begin your project. And if you hire an expert, expect to pay between $35-45 per hour.
Keep in mind that installation costs differ by location and room dimensions. Also, don't forget to obtain multiple estimates before settling on a contractor.
Go Green!
The best bamboo flooring isn't that difficult to find if you know what to look for and what companies to consider. This type of flooring is suitable for people who prefer natural materials.
It's also a great choice for homeowners who like to help the environment and give their property a rustic look. The bamboo flooring isn't perfect. However, most negative aspects can be overlooked.
When purchasing bamboo flooring, opt for a top-notch plank from a well-known brand. Do you have any questions or suggestions? If so, drop a comment below and share this article online.