When deciding about the best flooring for bathroom, handling water and humidity is more important than appearance.
Standing water, high humidity, increased risk of mold and mildew, and other things affect the choice of the best bathroom flooring. Luckily, some of the floorings suitable for the bathroom are also stylish and available in a variety of styles, so you can remodel your bathroom to perform and look great!
You can opt for tile flooring – natural stone, ceramic and porcelain, synthetic floors, or in some cases, even some floors made from wood byproducts. But, to avoid further confusion, here is the comprehensive list of best bathroom floors, with all advantages and disadvantages, as well as an in-depth comparison.
Don't forget to read the article to the end to find out more about floorings you should avoid in bathrooms.
What Is The Best Flooring For Bathroom?
When choosing bathroom flooring, choose the flooring with the best possible waterproof properties. Luckily, suitable floorings for the bathroom come in a wide price range and a lot of styles.
The following floorings are suitable for bathrooms because of their resilience to water and high humidity:
Natural stone
Porcelain, and ceramic tile flooring
Vinyl flooring
Linoleum
Laminate flooring
Terrazzo flooring
Keep in mind that porcelain tiles have lower water absorption than ceramic, which makes them a slightly better choice for the bathroom.
Things To Consider When Choosing Bathroom Flooring
There are a few things to analyze before you choose your new bathroom flooring. The flooring industry expands every day, and there are more floorings types and styles to choose from, so I get why you might feel confused.
Here are the most important things to keep in mind when choosing bathroom floors.
Waterproof Vs Water-Resistant Flooring
When choosing the bathroom flooring, you first need to distinguish two common properties of floorings – waterproof and water-resistance.
Ideally, the bathroom flooring needs to be waterproof. Water-resistant flooring, as the name suggests, resists water to some point.
But the water can penetrate seams and damage them. Therefore, water-resistant flooring is better suited for the laundry room and kitchen, where the amount of water is significantly lower than in the bathroom.
Water-resistant floorings are less expensive than completely waterproof floorings. If you install water-resistant and not waterproof flooring in the bathroom, the boards or floor planks will eventually swell, warp or peel.
Waterproof flooring cannot be damaged by water and humidity. Because it is impervious to water, waterproof flooring is less prone to mold and mildews.
Radiant-Heat Subfloor
Heated bathroom floors are comfortable and an excellent solution for small bathrooms. Also, it is an energy-efficient solution, if you choose hydronic floor heating with water pipes installed underneath the flooring.
If radiant heating is something you prefer, make sure that the chosen flooring conducts heat efficiently.
Also, when installing radiant heating, expect the flooring installation to be more complex.
Maintenance
Low-maintenance flooring options are best for the bathroom. Because of high humidity and water, you'll probably have to clean bathroom floors more frequently than other floorings in your home. Choose a flooring option that is easy to maintain and doesn't require specialized products and machines.
For example, matte tiles don't collect water spouts and dust like other choices, and multi-colored stone with a mottled texture might hide the dirt well, but be challenging to clean.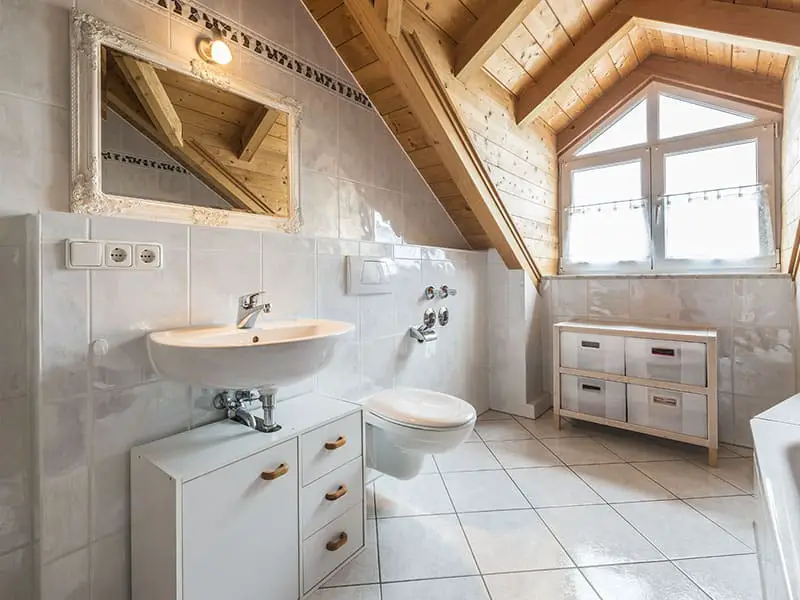 Budget
Budget is an important concern in any remodeling project. If you are planning multiple bathroom improvements, the expenses will be high.
Some flooring options, such as vinyl type, are more affordable than others and might fit your budget more. Before you decide which flooring you'll install, analyze all other remodeling costs and see how much money you can invest in flooring.
Watch this video to know more:
Top 6 Awesome Floorings for Bathroom
Whatever your needs, budget and preferences are, I am sure you'll find suitable bathroom flooring on my list. If you can come up with more ideas, make sure to mention them in the comment section!
Natural Stone
Natural stone is one of the best floorings for the bathroom. Marble, limestone and granite work perfectly and look stylish in every bathroom. It is similar to ceramic and porcelain tiles, but it is a high-end flooring option.
Natural stone flooring is waterproof and comes in different styles. You can choose between tiles, planks and stylish mosaics which can look like real art masterpieces.
Natural stone improves the resale value of your property, as it is a durable, premium material that doesn't lose value over time.
It is easy to maintain but requires the occasional application of sealant to improve dirt resistance and moisture absorption properties.
If your budget allows you, natural stone is a go-to flooring option for every bathroom, regardless of the size and the style. But, be aware that natural stone requires professional installation which adds to the costs.
According to Costhelper.com, the granite stone flooring price range is from $6 to $22 per square foot, with labor costs. Beautiful marble flooring costs between $9 and $20. (1)
If you are worried about slipperiness, you can have the stone sandblasted to add more texture, and specifically choose slate, as textured stone.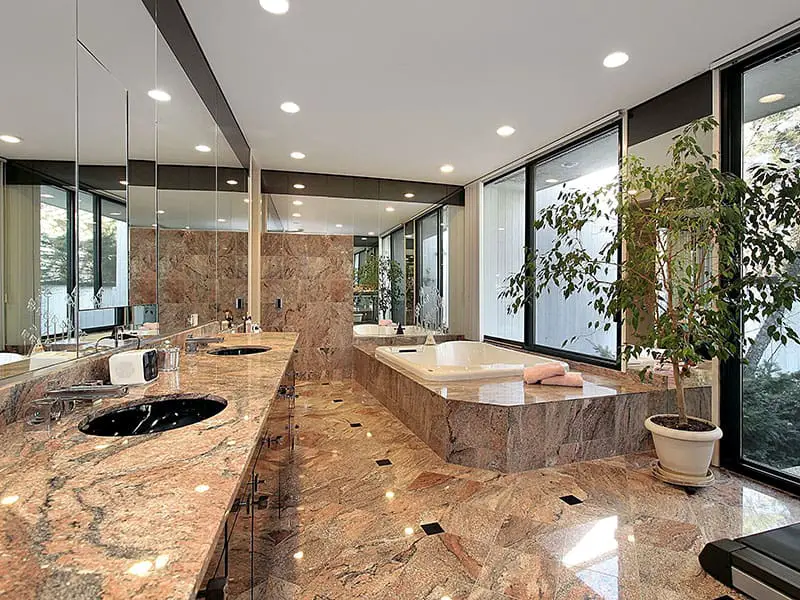 Pros:
Waterproof
Excellent lifespan
Stylish
Luxurious
Improves resale value
Easy to clean
Cons:
High price
Not suitable for DIY installation
Ceramic/Porcelain Tile
The most common choice for bathroom flooring is porcelain or ceramic tiles. They offer the best properties in important flooring aspects – waterproof, inexpensive and stylish.
Nowadays, porcelain tiles are available in different styles, so you can achieve almost the same effect as you would with natural stone.
You can choose between tiles of different textures to prevent slipperiness.
The best thing about this flooring type is that it is 100% waterproof.
Also, porcelain and ceramic tiles are moderately priced, so you'll probably be able to find the style that fits your budget.
Porcelain and ceramic tiles are easy to clean and suitable for radiant heating. The tiles come in different sizes and you can even choose colored grout to customize the look of your bathroom floor.
In the context of the bathroom floor, you need to be aware of the different water absorption rates of porcelain and ceramic. Porcelain tiles absorb less water than ceramic tiles. If you are doing a complete bathroom remodel, porcelain is a better choice.
If you are remodeling only a powder room, you can choose ceramic tiles because there are no bathing elements in the room.
The price range for ceramic and porcelain tiles is wide, and goes from $0.5 to $35. (2)
Pros:
Huge range of styles, textures, tile sizes and shapes and colors
Suitable for radiant heating
Moderately priced
Easy to clean
Cons:
Watch this video to know more:
Vinyl Flooring
Vinyl flooring has been installed in the bathroom for decades, and now it is having a great comeback to other rooms in the home. Vinyl flooring comes in sheets and planks and is the most practical solution for bathroom flooring.
Sheet vinyl flooring can be installed without seams, so it is an outstanding option for the bathroom where you expect a lot of water, like a children's bathroom. Vinyl planks are easy to install by yourself. It is because vinyl plank flooring comes with the click-and-lock installation method.
The planks are available in different sizes and you can cut them to match the shape and size of your floors.
Another great thing about vinyl flooring is that you can choose between hundreds of styles, and get the one that looks like stone, wood, etc.
Premium vinyl flooring has a rigid core, which makes it durable and resistant to scratches and damage.
The price of vinyl flooring for bathroom depends on brand, quality, plank or sheet thickness, etc. Sheet vinyl flooring might cost you around $3 per square foot, while vinyl planks are around $7. (3)
Pros:
100% waterproof
Inexpensive
It can be installed without seams
Suitable for DIY installation
Easy to fix and replace damaged planks
Available in a variety of styles
Cons:
Vinyl flooring doesn't improve the resale value
If the subfloor isn't even, the bumps will show in vinyl flooring
Watch this video to know more:
Linoleum
First of all, not every linoleum flooring is suitable for the bathroom. Sometimes, installing linoleum flooring can void the warranty. Linoleum is a trade-off solution because it isn't completely impervious to water. Rather, it is water-resistant.
Still, because it is mold and mildew resistant, linoleum is a better choice than some other flooring types sometimes recommended for bathrooms, such as engineered wood.
Linoleum is easy to install by yourself, especially if you purchase a floating linoleum floor. It installs like vinyl planks – via the click-and-lock method.
But, I would recommend installing waterproof sheet linoleum. These sheets come in 12-foot (or larger) rolls, so there would be fewer seams. Fewer seams mean fewer chances that the water will penetrate the seams and eventually damage the floor.
Also, linoleum sheets can be more challenging to install. Here, I recommend professional installation to ensure that seams are matched and aligned, and the linoleum is installed in a watertight way.
Only when linoleum floor is installed with merged seams, it makes an impenetrable seal and waterproof properties.
If you opt to install sheet linoleum, ask a professional to use a Flash coving system. It means that molding is made from the linoleum sheet which keeps the edges resistant to water and moisture.
Further, linoleum needs to be sealed with multiple sealant layers in the bathroom. Unfortunately, resealing is required every year, because a wet environment can cause the sealant to break sooner.
But, when you install quality linoleum, it can be one of the best bathroom floorings.
It is environmentally friendly, it has zero VOCs. Also, linoleum is easy to clean, biodegradable, and stain-resistant.
Linoleum is anti-microbial and doesn't allow the growth of bacteria, mold and mildew.
Sheet linoleum price tag is similar to sheet vinyl – on average $3 per square foot, while linoleum tile is around $5.50. (3)
Pros:
Inexpensive
Simple maintenance
Naturally resistant to mold
Eco-friendly
Cons:
Only quality linoleum floorings are an excellent choice for bathroom
Require professional installation to be impervious to water
It doesn't improve the resale value
Laminate Flooring
Ultimately, if you cannot imagine floorings in your home without wood, consider laminate flooring for the bathroom. Unlike hardwood floors, which are 100% made from wood and therefore susceptible to warping and water damage, laminate floorings include a plastic layer on top.
It makes them water-resistant from the top. But, water can penetrate the flooring through seams, and cause the wood chip core to swell and chip.
Laminate flooring is beautiful and comes in a variety of styles.
They are also relatively easy to maintain.
But, the only way to have laminate flooring installed in the bathroom is to ensure the seams are tight so the water cannot penetrate. For that reason, laminate is low on my list. It is an excellent option for kitchen flooring.
The price range for laminate flooring is between $2 and $6. (4)
Pros:
Budget-friendly
Stylish
Suitable for DIY installation
Available in different styles
Cons:
The performance in the bathroom depends on the quality of installation
Can be slippery
Terrazzo Flooring
If none of the options so far seem to match your preferences, consider terrazzo flooring. But, only non-porous terrazzo flooring is a good choice for the bathroom, because of the low (or zero) moisture absorption rate.
Terrazzo flooring is one of the easiest floors to maintain. The price tag for terrazzo flooring depends on materials used, but it should be in the $20-$70 per square foot range. (5)
If terrazzo flooring seems like a good match for your needs, choose epoxy resin and install it over concrete or wood subfloor. Polyacrylate terrazzo is a suitable alternative choice, but it offers a limited range of colors and styles.
Don't use cementitious terrazzo flooring in the bathroom because it won't hold up well against moisture.
Pros:
Easy to clean
Durable
Suitable for wet areas
Cons:
Expensive
Only professional installation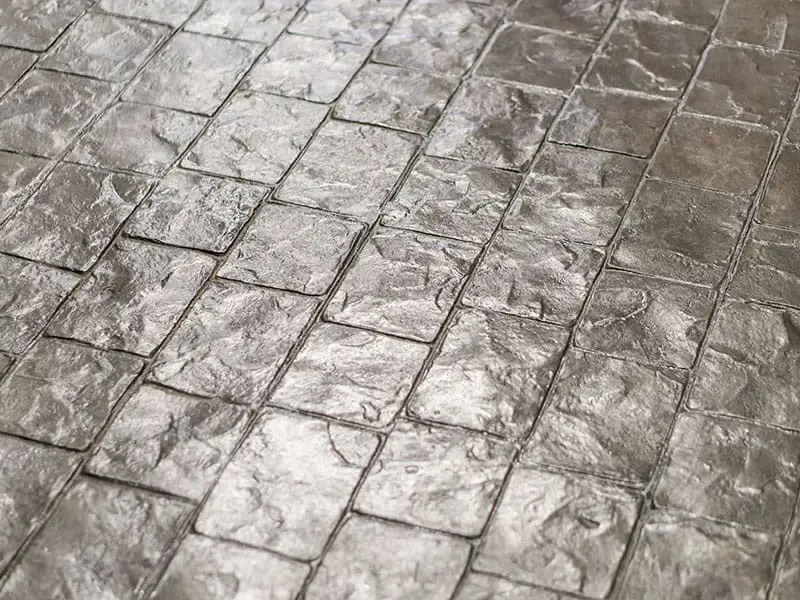 Brief Bathroom Floorings Comparison Table
Check the comparison table for a quick overview of all important properties of the best floorings for the bathroom.
| | Natural Stone | Porcelain/Ceramic | Vinyl | Linoleum | Laminate Flooring | Terrazzo |
| --- | --- | --- | --- | --- | --- | --- |
| Water properties | Waterproof | Waterproof | Waterproof | Water resistant | Water resistant | Waterproof |
| Price per square foot | $6-$22+ | $0.5 -$35 | $3-$7 | $3-$5.5 | $2-$6 | $20-$70 |
| Eco-friendly | Yes | Yes | No | Yes | Partially | Yes |
| Cleaning | Sweeping, scrubbing, mopping | Sweeping, mopping | Sweeping, mopping | Sweeping, mopping | Sweeping | Sweeping, scrubbing, mopping |
| Improve resale value | Yes | Moderately | No | No | No | Moderately |
| Installation | Professional | Professional/DIY | Professional/DIY | Professional/DIY | Professional/DIY | Professional |
Floorings To Avoid For Bathroom
Handling water is the most important feature to analyze when deciding about bathroom floorings. Because of that, there are two flooring types that you should never install in the bathroom.
Carpet
Wall-to-wall carpeting is the worst floor you can install in the bathroom. Carpets hold water for long, which makes them prone to mold, mildew, germs, and essentially, wet all the time.
You can have a small rug to stand on when you go out of the shower, but make sure to install a waterproof floor underneath.
Hardwood
Hardwood floors are beautiful and expensive floorings. Wood is prone to swelling, chipping and water can make wood rot. Hardwood floors don't have any water protection.
Therefore, the wooden floor won't last long in the bathroom. Also, it will smell funky after it starts to rot.
Watch this video to know more:
Bathroom Remodel Flooring Choice is on You
Choosing bathroom floors nowadays is tough, because you have several great options, including natural stone, vinyl plank and ceramic tile floors.
But, consider other aspects of your bathroom, such as walls and make sure your new floorings fit the interior style you have in mind.
Avoid wood and carpets in the bathroom and choose the flooring that is waterproof, durable and easy to maintain.
Which flooring from my list seems the most appealing to you?
Don't forget to like and share the article if you think it is useful!
References
How Much Does a Stone Floor Cost? – CostHelper. CostHelper.
Learn how much it costs to Install Ceramic or Porcelain Tile. Homeadvisor.com.
Learn how much it costs to Install Vinyl or Linoleum Flooring. Homeadvisor.com.
How Much Does It Cost to Install Laminate Flooring?. Homeserve.com.
2021 Terrazzo Flooring Cost | What Is Terrazzo Flooring? | Terrazzo Floors. Improvenet.com.