Everyone enjoys showering in a clean bathroom. For this reason, keeping the bathroom clean is paramount. It eliminates the breeding of bacteria and allergens, which are harmful to your health. Plus, deep cleaning your bathroom will improve its look.
Let's face it; cleaning the bathroom is not an easy task for many. Soap scum, mold, and grime may lurk in your bathroom walls for long and may be hard to remove. However, with the right bathroom cleaners available, they can make the task less tedious and enjoyable.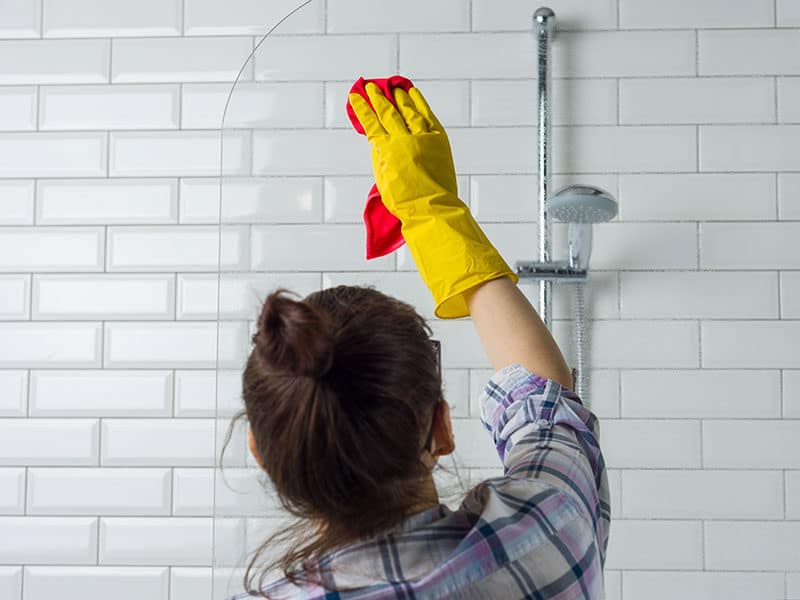 These products are easy to use and are gentle on the surfaces also. Moreover, the best bathroom cleaners can work well on both soft and hard water. See this video for some bathroom cleaning tips.
Best Bathroom Cleaner's Comparison Chart 2021
The best bathroom cleaners come in different scents, sizes, and functionality. With this said, below is a comparison table explaining further about these top-rated bathroom cleaners. You can also watch this short video to see other great bathroom cleaners you can use.
Top 15 Best Bathroom Cleaners Reviews 2021
Here is a list of some of the top-rated bathroom cleaners available. Use this information as a guide to get the product that suits your needs.
1. Drillbrush Bathroom Surfaces cleaner
(Author's choice)
Drillbrush Is a combination of a cordless drill and some stiff nylon brushes. These nylon brushes come in 3 different shapes and sizes for cleaning out dirt from your bathroom tiles. You have to attach the brushes on to the cordless drill for them to work.
These brushes are made of soft nylon material, so they do not damage your bathroom tiles. Plus, these brushes can clean up more than one surface. You can easily use them on your baseboards, porcelain, sinks, fiberglass, shower door tracks, and bathtubs.
Changing from one brush to another is quick and easy too. Drill Brush bathroom cleaner features fast change shafts that come with the brushes. Moreover, this drill brush rotates very fast, removing even the most stubborn grime on the surfaces and in between the tile's crevices.
In case you are not satisfied with this product, worry not. This product comes with a 90 days money-back guarantee.
Pros
Comes with a 90-day money-back guarantee
Cleans multiple surfaces
Comes with three different brushes
Has a non-scratch brush bristles
Cons
You will have to buy the cordless drill separately
2. Clorox ToiletWand Disposable cleaner
(Best for tough stains)
Clorox ToiletWand is one of the easiest and effective ways of cleaning your toilet. It leaves your surfaces looking and smelling great for a long time. Clorox Toiletwand features a six-sponge refill, a wand and a candy for storing it.
This product eliminates stubborn stains and kills germs. To use it, all you need is to squeeze one of the sponges containing Clorox cleaning solution, then wipe your surfaces till they are clean. The cleaning sponges are disposable, so once you are through with your cleaning, dispose it into the trash can.
Cleaning with Clorox Toiletwand leaves the surfaces looking and smelling fresh for a long time. This product can penetrate tiny places and deep clean them as well. The best part about this cleaner is that it eliminates the need to buy and store toilet brushes.
Pros
You can use it to remove tough stains and germs
It eliminates the need to have toilet brushes
Its flexible and can penetrate tiny places
It comes with disposable cleaning sponges
Cons
It does not eliminate rust stains
3. OXO Scrub Brush
(Best for cleaning large areas)
Cleaning the bathroom is much more comfortable with a sturdy and flexible hand brush. Oxo scrub is one of the best scrub brushes available for cleaning your tub and shower. Its soft and robust bristles eliminate mildew, soap scum, and grime without scratching the surfaces.
It also features a curved handle that gives your hand a perfect grip and does not slip. Plus, Oxo Good grip is large enough to clean up large areas quickly. In addition to that, this cleaner is a multi-surface cleaner which makes it super economical to have around your home.
Cleaning edges and corners around your bathroom can be a hard task. Oxo Good grip brush comes in handy in such scenarios. Its contour shape reduces pressure which protects your wrist and knuckles from aches.
To conclude, the manufactures assures you of repair or replacement in case you have any issues with the brush.
Pros
It features a non-slip handle
Comes with strong brushes
Its bristles are long-lasting
It is a multi-surface brush
Its relatively cheap
Cons
The handle does not lock into place while cleaning
4. Ultimate Grout Cleaner
(Best commercial cleaner)
Just as the name suggests, it works super quick and requires minimal labor work. It does not damage your bathroom surfaces natural color, and it's also best for commercial use. You can use it to eliminate soap scum, grease, dirt, and food stains.
This ultimate grout comes in multiple sizes and can clean out stains deep inside the grout. It works best on dirt marble and ceramic. Using this product is easy, as well. It comes as an already mixed solution and has a spray nozzle for the easy application on the affected areas.
Another impressive thing about this product is that you can use it with a steam vacuum. Besides you can also use it to remove pet urine stains too. And if you also encounter some pet hair sneaking in your bathroom, you should consider using special vacuum cleaners designed for removing pet hair. Without a doubt, Ultimate grout cleaner versatility makes it the most economical grout cleaner among its competitors.
The substance is sturdy and does wonders on all stone works products.
Pros
Cleans multiple surfaces
Best cleaner for commercial use
Does not destroy the natural color of the surfaces
It requires minimal labor work
Cons
Does not remove calcium or water spots in showers
5. OXO Good Grips Extendable Scrubber
(Best for cleaning tight spots)
Oxo Good Grips Extendable scrubber is famous for its extraordinary features. It features a uniquely shaped head pivot and an extendable pole that allows you to clean your bathroom in different angles without bending, kneeling, or climbing.
Plus, you can easily adjust the height of the pole from 26 to 42 inches with a convenient twist.
The pole is lightweight and has a non-slip handle that grips firmly on your hand even when handling wet messes. Besides, the cleaner is multipurpose. You can use it to clean your floors, tiles, and tube glasses.
The cleaner further features an antimicrobial scrub for deep cleaning which also retains water that is later used to rinse off surfaces after cleaning. No professional training is required to use the scrubber. All you need is to move the mop back and forth on the dirty surface, and it picks up all the dirt.
Pros
Features an extendable handle
Comes with antimicrobial scrub for deep cleaning
Ideal for multi-surfaces
Easy to use
It features a uniquely shaped head pivot that enables you to clean tight corners
Cons
Not suitable for curved bathtubs
6. Skylarlife Home Mold & Mildew remover
(Best mold and mildew remover)
Bathrooms are prone to have mold and mildew due to poor ventilation or regular wetness. Skylarlife Mold & Mildew Remover Gel is known to remove mold and mildew altogether.
This product is incredibly powerful and easy to use. It comes with a squeeze design that allows you to apply a substantial portion of the cleaner on your bathroom surfaces with ease. Plus, thanks to its unique applicator tip, you can easily cover small cracks on the grout without wasting the remover.
Moreover, Skylarlife's bathroom cleaner quick actions leave the surfaces spotless and shiny. It is also multipurpose. You can use it on your windows and bathroom sinks as well. Another good thing about this cleaner is that it is a gel, so it does not run down the walls leaving marks like most liquid cleaners.
Being a powerful formula, you must wear protective gear on your hands and work in a well-ventilated room.
Pros
Has a quick cleaning action
Leaves the surfaces flawless
Can easily penetrate small cracks
The cleaner is multipurpose
7. Method All-Purpose Cleaner
(Best versatile)
If you prefer cleaning your bathroom without flushing harsh chemicals, then this is the ideal cleaner for you. It works brilliantly in eliminating dirt on multiple surfaces which includes tiles, glass, and stone.
Method all-purpose cleaner blends of all-natural ingredients that are lab tested and green certified. This product delivers a super cleaning power with no toxic chemicals or sulfates. Besides, it also sanitizes the surfaces as you clean.
Thanks to its patented Power green technology, this product gives you bathroom surfaces a shiny look and leaves a lavender, fresh scent behind as well.
In addition to that, Method All-purpose cleaner works well on wood and other organic materials as well. If you love decorating your bathroom with wood, then these might be the best pick for you. You can also reuse plastic bottles to store other liquids instead of throwing it away after use.
Pros
It is a powerful cleaning solution
Deodorizes the room after cleaning
It is non-toxic and eco-friendly
It is biodegradable
Ideal for cleaning multi-surfaces
Cons
Does not kill germs or remove mold
8. Bio-Clean
(Best eco-friendly)
If you are looking for an eco-friendly cleaner that emits non-harmful fumes, then Bio clean bathroom cleaner is the product for you. This product is very versatile. You can use it on granite, stone, sinks, pools, metals, window, glass, toilet, chrome and brass.
This professional hard water spot remover can clear both old and fresh stains instantly. Moreover, you can also use it to eliminate mold, rust, mildew, and limescale.
Thanks to the fact that it has a nature-friendly ingredient, it does not damage the original color and texture of your bathroom surfaces. Another good thing about this solution is that it can restore the authentic look of fogged and hazed surfaces.
This cleaner is safe to use in hospitals, hotels, and supermarkets as it is lab tested and certified. It leaves the surfaces shiny and deodorized. Bio clean comes with 60-days money-back guarantee, ensuring value for your money.
Pros
Renews murky and hazed surfaces
Suitable for cleaning multiple surfaces
Its eco-friendly
Comes with a 60-days guarantee
tested and certified
Cons
Most users may not like its smell
9. Scrubbing Bubbles shower cleaner
(Best odor remover)
This is one of the best quality cleaners that flushes out every dirt from your shower automatically leaving it fresh for up to 30 days. You only need to use it once to clean your bathroom, which makes it economical as well.
It eliminates stains such as soap scum, mildew, and mold from your bathtubs. The scrubbing bubble guarantees you 24 hours fresh-scented bathroom as well. It also features a dual sprayer that provides maximum coverage while cleaning.
Furthermore, this product can rotate up to 360 degrees to cover the walls as well as a bathtub. It is a silent product, so you don't have to worry about your peace being interrupted.
Impressively, Scrubbing Bubbles shower cleaner comes with an improved booster button that you can use for even more cleaning power.
Pros
Can be used manually to clean up shower surfaces
Removes dirt, mold, and mildew automatically and instantly
It leaves your bathroom clean for up to 30 days
Compatible with external automatic shower
Removes bad odor from your bathroom
10. Method Daily Cleaner
(Best instant cleaner)
Cleaning the bathroom is quite tedious and a tremendous job. However, with this bathroom cleaner, you can quickly improve your cleaning experience. It features a foaming action that eliminates dirt and stains instantly.
Method Daily bathroom cleaner is made of two non-toxic and environmentally friendly ingredients. These ingredients include corn-starch extracted from decyl glucoside and lactic acid. These two works hand in hand to remove soap scum, lime deposits, and mildew on the bathroom surfaces.
Besides, this product leaves a fresh lime scent behind and shiny surfaces. The product further features a vertical nozzle that allows you to spread the solution on broad surface areas with minimal trigger-pulling.
The best part about having this product is that it contributes highly to environment conservation. This bathroom cleaner features a storage bottle made from recycled plastic which includes plastic recovered from industrial waste.
Pros
Eliminates soap scum, mildew, mold, and grime
Feature a specially designed nozzle
It is a multi-surface cleaner
Has a fast foaming cleaning action
Comes with non-toxic and biodegradable ingredients
11. Mr. Clean Magic
(Best for deep cleaning)
Mr. clean magic is a sponge-like cleaner that removes dirt and stains on the surfaces instantly. It is the best choice for deep cleaning your bathroom surfaces as it cleans up event the hard to reach spots.
This cleaner has more than one uses. Apart from being tough on soap scum and dirt, it can also be used to clean up crayon and marker colors on the wall. Mr. Clean Magic is also a multi-surface cleaner. It is highly effective in cleaning surfaces like blinds, baseboards, walls, ceiling vents, and bathtubs.
It comes with a reusable sponge that you can use to wipe away the dirt on the surfaces. It can wipe almost three times more dust than any leading All-Purpose Bleach. It is also easy to use and quite economical. This is because it only uses water alone to remove dirt around your home. You can also use these products when dealing with different hardwood surfaces.
Pros
Removes dirt and stains like magic
It is a multipurpose cleaner
Cleans almost three times better than any all-purpose bleach
Can clear crayon and marker colors on the wall
12. Rain-X 630023
(Best value)
Rain-x bathroom cleaner comes with advanced technology that creates a water repellent coating that causes that prevent water drops from beading and sticking on the glass door surface. Additionally, this water-repellent coating is durable water, so you don't have to use the cleaner often. This makes it quite economical.
This product prevents hard water stains and soap scum from building up on your glass bathroom doors as well. It further features a well-designed nozzle that allows you to apply the cleaner easily on the surfaces.
Before purchasing this product, it's essential to consider that you can only use it on glass surfaces. However, this shouldn't discourage you from buying the product, as its performance beats any of its limitations. You can as well use it on your car windshield and other windows in your house. Similarly, the cleaner comes in a 16-ounce container, enough to do your entire cleaning.
Pros
Creates a durable water-repellent coating
It is easy to use
You can use it to clean your car windshield as well
Prevents grime and soap scum from building up on your glass door
Cons
Has a strong unpleasant smell
13. The Bucko Soap scum and grime remover
(Best economical)
The Bucko powerful Soap scum and grime remover is a powerful cleaner that works well on both tough and regular jobs. You can safely use it around your kids and pets as it contains no bleach or harsh chemicals.
It works by devouring soap scum and grime from your bathroom surfaces, living them shiny and spotless.
Using this cleaner is easy and less tedious. This is because no scrubbing is required to remove the stains. All you need to do is to spray the affected area then gently wipe the stain with a clean cloth.
Bucko soap is a super effective multipurpose cleaner. You can also use it to clean your tiles, grout, fiberglass, boats, outdoor furniture, chrome wheel, ceramic sinks, and stainless steel. Therefore, if you are looking for a powerful and economical cleaner, then The Bucko cleaner suits all your needs.
Pros
Contains no toxic or harsh chemicals
Leaves behind a fresh lemon scent
It is a multipurpose cleaner
Saves you time and energy as no scrubbing is required
Cons
Some people are allergic to the lemon scent
14. Clorox Disinfecting
(Best disinfectant)
Clorox bathroom cleaner is best known to remove soap scum, grime, and bacteria faster than most top-rated cleaners. You can even do a quick cleaning of your bathroom before going to bed or work effortlessly with this cleaner. Besides, it does not leave dirty residues behind too.
This solution is ideal for cleaning multiple surfaces. It works best on the toilets, counters, bathtubs, and tiles. With smart tube technology, you are sure of convenient and efficient use.
Furthermore, this product contains a powerful bleach-free formula that helps in eliminating mold and mildew stains without damaging the bathroom surfaces.
Cleaning with Clorox bathroom cleaner requires minimal labor as no scrubbing is needed to remove the stains. You only need to wipe the stain out with a sponge or cloth after spraying the cleaner on the surfaces.
Pros
Removes stains and disinfects the surfaces as well
Ideal for cleaning multiple-surfaces
It features a smart tube technology or convenience
Does not leave dull residues behind
It is a powerful bleach-free formula
Cons
Has a strong chemical smell
15. Scrubbing Bubbles Antibacterial Bathroom Wipes
(Easy to use)
Scrubbing Bubbles Antibacterial Bathroom cleaner is all that your bathroom needs. They are super convenient when it comes to removing grime and stubborn stains. Not only do they remove stains from your bathroom surfaces, but they also eliminate 99.9% of bacteria.
Using the cleaner is easy as well. All you need is to open the seal, pull out a one-bathroom wipe, wipe the affected area then flush it after use. The wipes dissolve easily in water without clogging up your toilet.
Cleaning with this cleaner removes terrible odor and leaves behind a fresh citrus scent. Besides, scrubbing bubbles bathroom wipes is a multiple surfaces cleaner. You can use it around countertops, faucets, and tubs as well.
If you are looking for a cleaner that can clear those awful pets or human urine stains instantly, consider this cleaner as it is convenient.
With this said, let us look at the various essential things to consider so that you can get the ideal cleaner for your bathroom.
Pros
Eliminates 99.9 %of bacteria on the surfaces
Removes odor and freshens up your bathroom
It is easy to use
The bathroom wipes are flushable
Can be used on multiple surfaces
Factors to Consider Before Purchasing a Bathroom Cleaner
Choosing the best bathroom cleaner helps in deep cleaning the surfaces as well as eliminating mold and bacteria. Besides, it freshens up the scent in your bathroom and ensures a healthy bathing environment.
Hence, it is essential to acquire the right item that will offer great results. Below are vital factors to consider while shopping for the best bathroom cleaners. See this video and learn how you can keep your bathroom clean.
Usefulness
There are several types of bathroom cleaners in the market with different functionality. You might not know how a product works until you buy and use it. Therefore, it's always best to read various online product reviews from other customers who have used the product to get the right information.
Go for a cleaner that suits your needs, deep cleans, and removes stains and dirt effectively. You can also try these simple DIY tricks.
Price
The best bathroom cleaners are mostly expensive. Nevertheless, you should not go beyond your budget, acquiring one.
Even though they say cheap is expensive, not all pocket-friendly products perform poorly.
Consequently, ensure to check for the quality and effectiveness of a specific product before purchasing it and more so go for one that is within your budget.
Safety
Every time you buy a product, ensure environment conservation is your primary interest. Some cleaners are made of toxic chemicals that may affect your health and wellness. Plus, these harmful chemicals contribute to environmental pollution.
Subsequently, go for a cleaner whose ingredient is non-toxic and biodegradable. Also, look out for those that have sweet and pleasant smells to eliminate allergic reactions.
Wastage
Different brands have different manufactures; hence, the thickness and packaging of the cleaners may differ.
Some bathroom cleaners are so thick and may stick to the wall of the storage container, making it hard to pour it out and use it. Others may have broken containers due to poor packaging.
For these reasons, go for a cleaner with a safe and adequately built storage container, and one that is easy to use to prevent wastage.
All-purpose Cleaner
A bathroom cleaner that can clean more than one surface saves you time and money. This is because you won't have to buy more cleaners for cleaning those surfaces.
Grout Width
This is one of the most critical factors that most people ignore. Grouts can either be big or too small. Big grouts are easier to clean, unlike small grouts. The size of your grout will guide you in choosing the right cleaner that can penetrate deeper and remove all the dirt and stains in the grout.
Types of Bathroom Cleaners Available to Choose From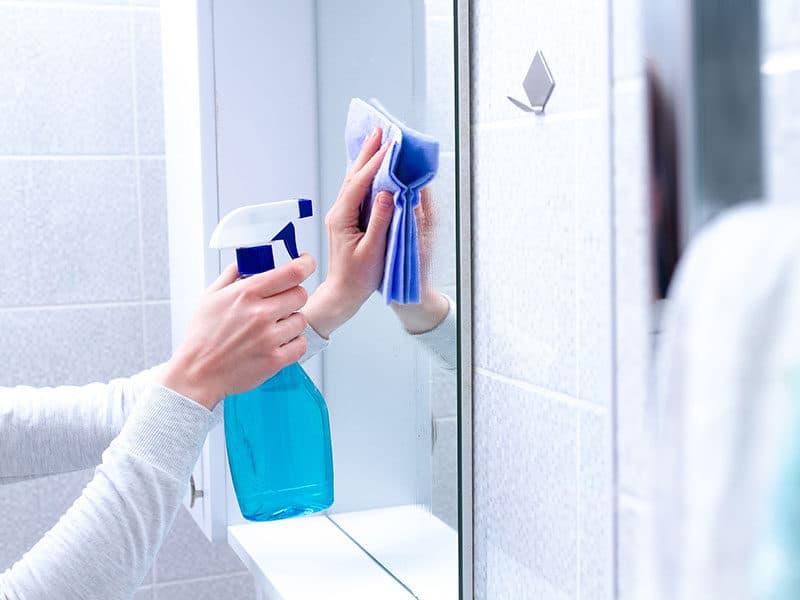 There is a wide range of products with different functionality available for cleaning your bathroom. Some of these products are multipurpose, while others are not. All in all, they all have the same goal, which is keeping your bathroom hygienic. Here is a list of those products to choose from.
Foams
These cleaners come in aerosol cans and are sprayed on the affected area with a push of a button. It is then allowed to sit for some time before you start cleaning.
Wipes
These cleaners are disposable and are the best option for a quick and easy clean. All you need is to wipe the affected area with these disposable wipes to remove stains and disinfect the area.
Gels
These cleaners can be applied to the affected surface directly, or you may need to dilute them with water.
Sprays
Sprays come in a bottle with a nozzle and a trigger. They are the most popular cleaners used in many homes. You use it by spraying the cleaner on the affected area, leave it to sit for a while then scrub the area to remove the stain.
Buying Guide for The Best Bathroom Cleaner
With the increased number of different types of bathroom cleaners in the market, it is quite challenging to pick the right one. Below are some tips you can use to make your shopping experience easier.
Eco-friendly
Go for a cleaner that is made of natural ingredients, as they are safer to use. Harsh chemicals may affect your skin and other organs. Plus, chemicals may destroy the environment as well.
Therefore, the best bathroom cleaners should feature an environmentally friendly formulation.
Ease of Use
The main reason why you would like to consider having a good bathroom cleaner is to make cleaning more comfortable and more productive.
Cleaning your bathroom can be a hassle, especially removing stuck soap scum on the surfaces. Consequently, it's in your best interest to choose a cleaner whose system is easy to use.
Also, consider a cleaner with a potent formula to eliminate the need for intense scrubbing. Luckily, several top-rated cleaners available in the market are powerful and easy to use.
Smell
Bathroom cleaners come in a different type of smell. For this reason, if you are allergic to a particular scent, consider a product with a more pleasant smell.
Therefore, it's essential to check on the manual of different cleaners before settling for one.
Avoid products with overpowering scents if you are looking for a product for daily cleaning purposes. If you dislike the smell of bleach, ensure the product you choose has no bleach.
Your Bathroom Surfaces
There are different types of bathroom surfaces. These surfaces include glass, tile, fiberglass, marble, and glass. Each of these surfaces requires a specific type of cleaner. Hence, it's essential to pick a product that suits the surface you intend to clean.
Luckily, some top-rated products can be used on more than one surface. Such an outcome is economical as it saves you the money you would have used to buy different cleaners for other surfaces.
Choosing the ideal cleaner for your bathroom surface type greatly influences the outcome of your cleaning. If you have a tiled bathroom floor, you should consider trying some regular vacuuming as well. See this short clip to see how you can get those tiles clean.
Price
Different types of cleaners have different prices. Consider your budget while choosing a specific product to avoid impulse buying.
Also, it's equally important to check on the quality of a product as well. This is because not all cheap products match their performance and vice versa.
Check out on the amount of cleaner the manufacturer recommends using every time and compare it with the price per liter to see if you are getting what you paid for.
Cleaning Performance
Before purchasing any of the available products, it's essential to check online reviews from other customers who have used the product. With this information, you could know if it works as advertised. Plus, you will know all its advantages and shortcomings.
Type of Cleaning
Bathroom cleaners have different functionality. Some are designed to remove mold; others rust stains and others for killing germs. Consider the type of stain or area you want to clean before purchasing any product. Watch this video to see how you can deal with a moldy bathroom.
FAQs
Conclusion
In the end, all you need is a bathroom cleaner that can work magic on your bathroom within the shortest period. Consider checking the manual for more information on the quality and performance of a particular product before purchasing it.
Even though most of the top-rated bathroom cleaners perform quite well, I liked the Drillbrush Bathroom Surfaces cleaner. The cleaner comes with three different brushes made of soft nylon material thus it doesn't scratch your bathroom tiles.
It is also multipurpose and can clean out dirt and stains effortlessly. You can try it out together with the products as well and let me know your thoughts in the comments section. Maintaining a good bathroom hygiene also helps in improving the quality of life.