Sorting out the best canister vacuums for carpet cleaning can be difficult task, especially when there are a lot styles, designs, and features available in the market. Some of you may even find it hard to understand what canister vacuum is exactly.
The canister vacuum is known for its cylinder-like canister that consists of a motor and a dust collection cup. Mostly, canister vacuums are considered best for cleaning carpets because of the strong engine or motor and a power cord.
Although cordless models are also available, they are not as popular as the ones with the cord.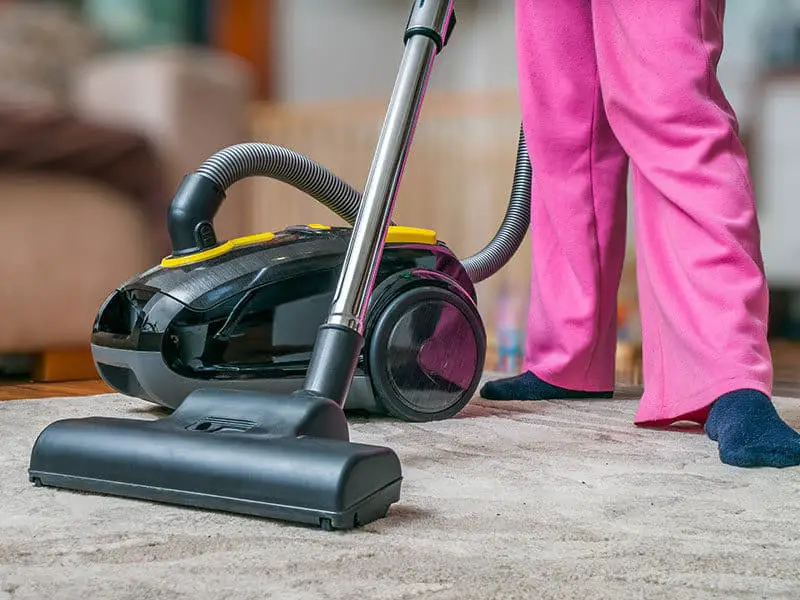 Why Do You Need A Canister Vacuum For Carpet?
Even though the traditional upright vacuum cleaner can also do the carpet cleaning for you, they are not meant to deep clean them. Also, those vacuum cleaners are much heavier than the canister vacuums.
Canister vacuums come with powerful motors that can effectively pull all the dirt from even the thick carpets. Also, if you have a large house with many staircases and corners, the canister will work for you.
These vacuum cleaners are meant to do medium to heavy cleaning, depending on the type and style you decide to invest in. Most importantly, these glide easily over the carpets without ruining the fiber.
So please join me as I talk about the top 12 best canister vacuum for carpet. I've selected models that fit different budget ranges so everyone can pick something. But you can rest assured that any model you get from my list will not disappoint.
Best Canister Vacuum for Carpet Comparison Chart 2021
The following chart compares some of the greatest canister vacuums for carpet available at the moment. If you're in a hurry, it can help you find the best one that meets your requirements.
Top 12 Best Canister Vacuums for Carpet Reviews 2021
I have picked top 12 best canister vacuum for carpet based on their individual characteristics. You can pick the canister that suits you the best.
1. Miele Complete Powerline C2 Carpet Canister Vacuum
(Best Overall)
Despite being an old-fashioned bagged canister, it offers a wide range of advantages like onboard storage for the tools and improved dust collection.
This mid-range canister by Miele is made to be as convenient and durable as possible. A highly efficient motor keeps the unit working at full capacity for long periods of time.
You can change between six different cleaning modes with a turn of a dial so you never deliver more or less power than you need. Your drapes, old carpets, and upholstery cushioning will thank you.
Although the dust bag is a filter in and of itself, the C2 also comes with an AirClean filter to keep dust flying out of the exhaust.
Pros
Fantastic suction
Ton of convenience-adding features
Onboard storage
Cons
A bit bulky
No motorized tool for pet hair
This is a video overview of what the Complete C2 is about.
2. Kenmore 81414 Carpet Canister Vacuum
If you're looking for a feature-rich canister vacuum for your carpet, then the 81414 is worth looking at.
It comes with a pre-installed triple HEPA filtration system that retains most allergens from popping out of the exhaust. This is great for those who suffer from seasonal or pet allergies, or just don't want dust mites living in their home.
It has a long reach of up to 35 feet from an outlet thanks to the long 26-foot power cord and 9-foot suction hose. Using any of the four attachments will help you spot-clean concentrated dust piles instantly.
Finally, features like onboard storage and an automatic cable reel make using this canister vacuum a joyful experience.
Pros
HEPA Filter
Long reach
Great on all surfaces
Cons
Plastic housing
Hard to use on low-pile carpets
The following video of the 81414 was made by a happy customer.
3. Eureka NEN110A Carpet Canister Vacuum
The NEN110A's main multi-surface vacuum head works extremely well on both carpeted and bare floors. a push of a switch changes its cleaning mode from carpets to bare floors instantly.
In order to preserve suction power for longer, the NEN110A uses a cyclonic filtration system that sifts fine from coarse debris. When the 2-liter dust cup has reached max capacity, a simple push of a button will open a latch for easy emptying.
To preserve maximum suction pressure for longer, the NEN110A uses a cyclonic filtration system to separate fine from large particles so the filter remains unclogged for longer. Any air exhausted into the room is practically free of debris.
Pros
Lightweight for added portability
Large dust cup
Flawless filtration
Cons
Quite noisy for its size
Has trouble cleaning high-pile carpeting
This is a 7-minute video showing what the NEN110A looks like in action.
4. Dyson DC39 Carpet Canister Vacuum
(Best Maneuverability)
The DC39 may look a bit odd for a canister vacuum, but its spherical design actually plays a tremendous role in its maneuverability. Because of its ball shape, the DC39 will never tip over when towed around.
It doesn't come with a wide range of cleaning tools. You only get the 2-in-1 crevice and dusting brush as well as a stair tool. The great thing is that both cleaning attachments fit snugly inside of its onboard storage compartment.
Please note that the stair tool does not come with a motor so it relies solely on suction power to get the job done.
In spite of a missing motorized beater bar, you can expect it to perform exceptionally well with its 280-air-watt suction.
Pros
Ball design, never tips over
Lifetime reusable filter
Onboard storage
Cons
Emptying the dustbin can be messy
Cheap plastic feel
Dyson's YT channel has a video showing off the DC39 that you can watch here.
5. Bissell Zing 4122 Carpet Canister Vacuum
(Most Budget-Friendly)
The Zing 4122 by Bissell is one of the most budget-friendly canisters I've ever seen.
It's a bagged model, but it's completely understandable considering its price tag. It weighs only 8 pounds on an empty bag, and it even has a full-bag indicator to let you know when it's time to swap for a fresh one.
Its main cleaning tool is a multi-surface cleaning attachment that, as the name suggests, is used for carpeting (excellent) and bare floors (even better). The telescoping wand makes spot-cleaning drapes and above-ground surface a breeze.
This affordable canister vacuum sucks up all sorts of debris without any considerable problems. Sadly, its brush is not powered by a motor but its suction is powerful enough to get the job done.
Pros
Lightweight
Versatile
Power suction for price
Cons
Non-motorized brush
Noisy
This is an unboxing and quick video review of the affordable Zing.
6. Kenmore 81614 Carpet Canister Vacuum
(Best Suction)
This canister vacuum from Kenmore is arguably one of the most powerful models you'll ever come across. Plus, it's as versatile as any other, making it a great piece to have for all kinds of floors.
Its dual motor setup ensures that it'll never lose suction power despite how dirty your floors are. Everything from cereal to pet hair can be picked up in as little as two passes.
For those with pets, the Pet PowerMate attachment will make simplify the task of picking up fallen fur and dander. Those will pet allergies will definitely enjoy the 81614.
Equipped with a HEPA filter, debris as small as 0.3 microns will get trapped up to 99.97% of the time, ensuring allergens and small organisms never pollute your air.
Pros
Tremendous suction power
HEPA Filter
Far reach
Cons
Heavy
Non-motorized brush
Want to see how the 81614 performs? Here's your chance!
7. Oreck BB900DGR XL Pro 5 Carpet Canister Vacuum
If you're in the market for a vacuum cleaner that delivers commercial-grade cleaning power with an affordable price tag, then the XL Pro 5 by Oreck is worth your time considering.
This lightweight beast delivers a ton of suction power that cleans even the shaggiest carpets and rugs in a single sweep. Its bare floor cleaning tool, however, isn't so good.
Those suffering from allergens will enjoy the HEPA filter that traps microscopic particles and prevents them from going airborne from the exhaust.
The effectiveness of this tool is unlike most of what you'll find. If your place of business needs a vacuum cleaner, I'd highly recommend the XL Pro 5.
Pros
Wide range of cleaning tools
Extremely lightweight
Powerful suction
Cons
Stiff suction hose
Not the best bare floor tool
If you have half-an-hour to spare, here's what ibaisaic's first impression of the XL Pro 5 was like.
8. Miele CX1 Blizzard Turbo Carpet Canister Vacuum
(Most Cleaning Attachments)
Although it's not as powerful as the Kenmore 81614, the CX1's feature that shines the most is its suction. To give you an idea of how well it sucks, it has a maximum airflow rating of 62 mph.
Best of all, it's quieter than most canisters thanks to its insulation and motor housing.
When spot-cleaning curtains and other above-ground surfaces, you can switch to a lower suction speed to ensure nothing gets damaged in the process.
Its fine-dust filter works quite well at trapping most dust, but it does spit out a bit of debris through the exhaust from time to time. This isn't a major issue, but it could've been built better.
Pros
Quiet but powerful
Great for pet hair
Numerous cleaning attachments
Cons
Not for high-pile carpeting
Exhaust filter not the most effective
This video should give you a clear idea of what to expect with the CX1 Blizzard.
9. Hoover SH30050 Carpet Canister Vacuum
(Least Noise)
Vacuum cleaners are notorious for being quite loud, but the Hoover SH30050 goes against all odds by producing just about 70 decibels at its highest speed. That's about as quiet as they get.
The thing I absolutely love about the SH30050 is its swivel motorized vacuum head. You won't need to angle your arm and shoulder awkwardly to get behind furniture and turn corners. Instead, let the swivel neck do the navigating for you.
A slight tap of your foot is all you need to switch between speed settings. The only way this could've been more convenient is by adding them onto the handle, but as is, there's nothing inconvenient about it.
It comes with the standard cleaning attachments, including a crevice tool, dusting brush, and bare floor vacuum head. However, there's no dedicated storage space for them.
Pros
Ultra-quiet
Swivel vacuum head
Foot-operated controls
Cons
Not ideal for edge-cleaning
No onboard storage
Here's a helpful video description of the SH30050.
10. Miele Classic C1 Carpet Canister Vacuum
(Best for Pets)
With pets constantly shedding fur on carpets and furniture, taking care of their messes can be challenging. This canister can remove the pet hair in the task of minutes. With the Classic C1 from Miele, you can leave your worries behind.
The magic of the C1 is its adjustable suction speeds which only add to its versatility. Choose between six different cleaning modes to ensure perfect cleaning performance on all types of surfaces.
The main cleaning tool is the pure suction floorhead that works on hard floors and carpets equally well. Its rubber wheels ensure your carpet's fibers will never get ruined, plus it glides seamlessly across all surfaces with a light push and pull.
With the patented AirClean System, everything that enters the suction inlet stays in the bag and is never flung out through the exhaust.
Pros
Best option for pet owners
Great for tight spaces
Powerful for its weight class
Cons
Short cable
Costly replacement bags
Curious of what the C1 looks like in action? Check this video out!
11. Eureka 3670G Mighty Mite Carpet Canister Vacuum
(Simplest to Use)
When it comes to keeping our floors clean, the last thing we need is a complicated canister with a ton of features that only leave its users thoroughly confused.
That is not the issue with the Mighty Mite – the simplest canister vacuum out there. And with great simplicity comes great convenience.
This lightweight canister vac comes with a wand extension to increase your reach by more than foot for getting dust and cobwebs off the ceiling.
Its most unique feature is the built-in blower port that shoots out copious amounts of air for moving dead leaves, dust, and other light debris out of garages. It can even be used to air-dry carpets if you so choose.
Pros
Lightweight build
Super-easy to use
Built-in blower (practically unheard of in canister vacs)
Cons
Missing auto cord rewind
Only usable on low-pile carpets
You can thank YT users Dave and Lisa for this lovely video of the Mighty Mite at work.
12. Dyson Big Ball Animal Cinetic Carpet Canister Vacuum
(Most High-End)
Dyson has created some of the world's best vacuum cleaners, and the Animal is a beast!
Weighing only 17 pounds, this unit is super-easy to navigate across all types of floors, and it excels at low-pile to shaggy carpets. It keeps all of the debris in its dust cup by using patented Cinetic technology.
Without a pre-filter, there's nothing to clean, and the dust cup releases with a push of a button. It hardly holds any dust though so you'll need to empty it in the middle of vacuuming (a pain in the neck).
It has the standard cleaning attachments, but its long-reach wand extends your reach by more than four feet. Plus, the wand can rotate up to 360° for improved control when spot-cleaning surfaces high off the ground.
Pros
Worth the cost
Low-maintenance
Sexy design
Cons
Small dust cup
Dust cup opens too easily
Dyson's video tutorial will show you everything you need to know about the Cinetic.
Canister Vacuum For Carpet Buying Guide
Below are some factors that one should keep in mind before buying a canister vacuum for cleaning carpets.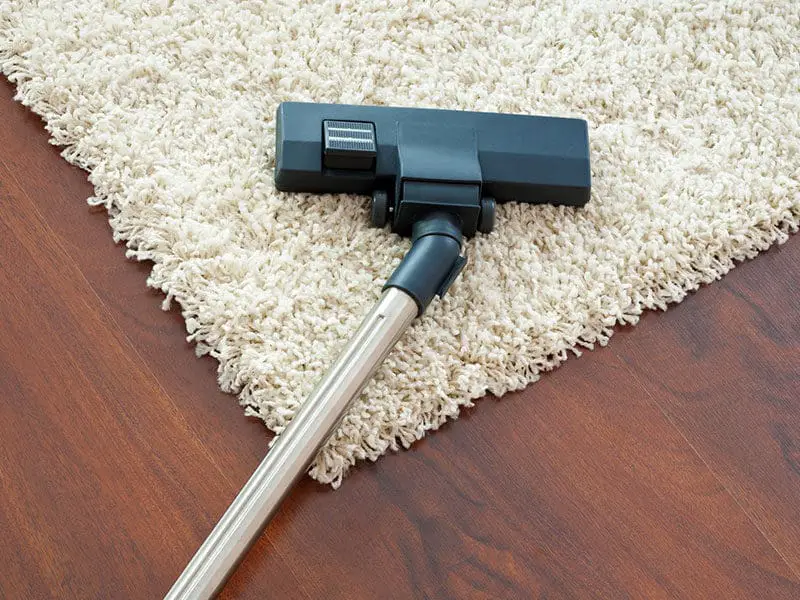 Cleaning Attachments
Canister vacuum cleaners use a wide range of cleaning attachments to keep carpets and bare floors as clean as humanly possible. The more cleaning attachments inside of the box, the better off you'll be.
Some manufacturers do not sell any accessory with the cleaner, so you should check well before you decided to pick one. The most common accessories are a crevice tool, upholstery tool, or pet cleaning tools.
Motorized Brush
A motorized brush is great for ensuring that your carpet's fibers are cleaned from root to tip. A rotating beater brush digs deep to extract the tiniest particles, and leaving your carpets as fresh as the day you first brought it home.
Bagged vs. Bagless
Both types of canister are available in the market. Bagless canisters come with a dirt bin that can be detached to empty the dirt. Bagged canisters, on the other hand, come with a bag that can be removed when it is completely filled.
While dirt bins can be washed and reused, bags are often not used again but are easy to deal with and good for allergy sufferers.
Choosing between bagged or bagless models is a matter of personal preference, but I feel inclined to let you know that the cost of replacement bags will accumulate over time.
Bagless models are great but typically have smaller capacities compared to bagged models.
Cordless or Corded
Both cordless and corded canister vacuums have their own advantages and disadvantages. Corded canister vacuums can clean your carpets for long hours and tend to have more advantages in terms of suction power.
Cordless canister vacuum cleaners are quite portable and can get into the corners where corded cleaners cannot reach. Cordless canisters work on batteries that can last from 10 to 60 minutes, depending on the level of power you use. However, they do lose efficiency faster than a corded vacuum cleaner.
Weight
Heavier canisters can be really difficult to push around on carpets. Also, it will hard for you to carry them upstairs. Even though canister vacuums weigh less than other upright vacuums, these come in different weights and sizes.
The canister vacuums with wheels are easy to move on carpets. It is better to set the preference on how much weight you can push around for a long time while cleaning. For elderly people, a lightweight canister vacuum cleaner will work best.
Onboard Tool Storage
Misplacing cleaning tools can be heartbreaking, which is why most of the items I described on the list of the best canister vacuums for carpets has onboard storage pockets. These dedicated compartments keep the tools safe and sound during storage.
FAQs
To further help you with your search for the best canister vacuum cleaner for carpet, I'd like to take a few moments to answer some of the most frequently asked questions about them.
My Top Pick
The best canister vacuum for carpet is the Complete Powerline C2 Carpet Canister Vacuum. It has all the right accessories, lightweight, durable, and easy to use. It does not harm your carpet and is perfect from deep to light cleaning.
Cleaning a carpet can be a headache if you don't have the right tools. All of the products on my list differ in different aspects, which means you have different options, and one of them will certainly fit your preferences.
Do you find this article helpful? Do you often clean your carpets? What is the best carpet canister vacuum, in your opinion? Feel free to share with me your thoughts via the comment section! Do not forget to share the article with your friends or relatives.