We all love a totally clean carpet, right? You can either hire a local carpet cleaner to get the job done or simply get one for yourself. The best home carpet cleaner can easily clean every stubborn stain and dirt particles thus leaving the carpet spotlessly clean and dry.
You might also need a carpet cleaner depending on how busy your house is. A busy house often needs frequent carpet cleaning. You can also consider using a carpet shampooer for easy stain removal.
There are many available carpet cleaners in the market and one might get easily confused on how to pick the right one.
This review highlights some of the best carpet cleaners currently available in the market.
But, before that, let's take a look at the importance of having the best home carpet cleaner.
Importance of Having a Home Carpet Cleaner
Cleaning your carpet regularly is the best way to maintain its look and eliminate germs.Having a carpet cleaner in your home allows you to clean your carpet as many times as you can.It also saves you on cost for hiring a carpet cleaner.below are some of the benefits of having a carpet cleaner.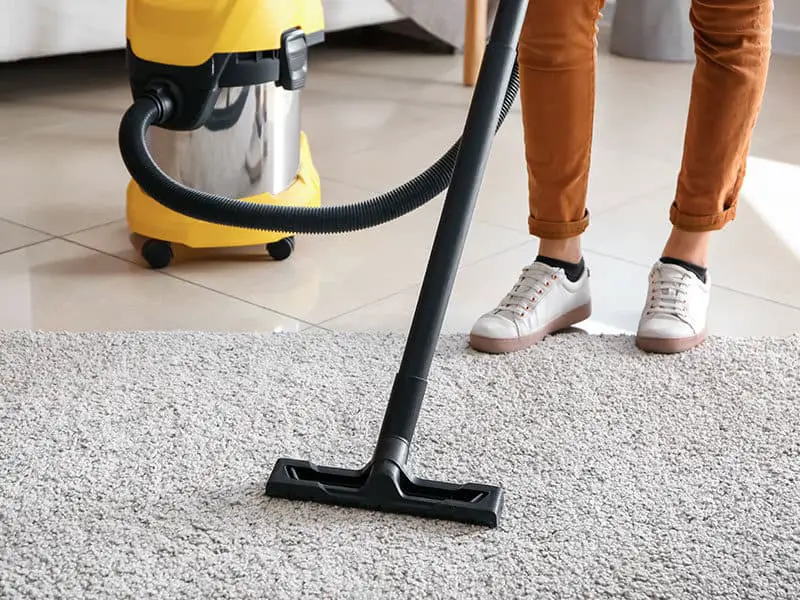 Saves on expenses
People often spend a lot to get a lavish carpet. The last thing you would want is to see it dirty and damaged. Cleaning your carpet regularly using a good home carpet cleaner increases its life span thus reducing replacement costs.
Prevent the spread of allergens
A dirty carpet creates a perfect breeding ground for bacteria and other allergens. This poses a great risk to your health. Having a home carpet cleaner allows you to clean your carpet properly therefore diffusing the danger.
Maintaining the good look
Having a properly cleaned carpet makes your home look clean and beautiful. You will feel more at ease having visitors at your home knowing that you have a clean carpet.
Using a good carpet cleaner regularly is the best way to ensure that your carpet remains clean at all times.
Fresh Scent
With kids and pets around, there's a high chance of your carpet developing a bad odor. This comes as a result dropping food particles and drink spills on the carpet. Cleaning the carpet properly will eliminate the bad odor leaving the carpet smelling good at all times.
Features of The Best Home Carpet Cleaners
Different home carpet cleaner comes with different unique features that make the whole carpet cleaning process effective. Below are some features you can check when looking to find the best home carpet cleaner.
Brush Agitator
Among the features of a good home carpet cleaner is a brush agitator. It works by extracting dirt from the carpet for easy sucking of the dirt.
It also features a control button that allows you to turn the roller brush off while cleaning.This helps the throw rugs not to get tousled in the carpet cleaner.
Carpet Pile-Height Adjustment and Suction Control
This feature allows you to regulate the size of the machine brush roll to the size of the carpet pile for better cleaning. Some devices have an automatic control while others are manual.The suction control button allows you to adjust the flow of air in the hose while cleaning.
Filter
This feature filters tiny particles and prevents them from escaping into the air. The best home carpet cleaner should have a good allergen filter. Others have a HEPA filtration system which is more advanced at reducing micro emissions. Either way, both models are effective enough.
Cord Control
Most home carpet cleaners have an electric cable of approximately 20-30 feet. A cord adjustment switch allows you to release the cable either at once or in bits depending on where your cleaning range.
Self-Propelled
This facilitates the forward and backward movement of the carpet cleaner. It uses a program and a motion system hence propelling the machine becomes easy.
Bagged vs. Bagless
Bagged home carpet cleaner collects dirt in a bag while the bagless ones have filters that prevent the emission of dust into the air.With a bagged model, you will have to constantly remove the dirt from the container which may seem a bit tedious.
On the other hand, bagless vacuum cleaners require frequent replacement of filters making it relatively expensive.
Add-On Cleaning Tools
The best home carpet cleaner will come with extra attachments for more effective cleaning. These attachments include upholstery brush, dusting brush and crevice tool for cleaning hard to reach areas.
Having looked at the key features of the best home carpet cleaner, let's now have a look at the some of the best home carpet cleaners in the market today.
Best Home Carpet Cleaner Comparison Table 2021
Different carpet cleaners usually come with different features to aid you in cleaning. Below is a comparison table showing some of the best carpet cleaners with some of their specifications.
Top 12 Best Home Carpet Cleaners Reviews 2021
As mentioned before, the post was going to review a few products considered to be among the best when it comes to carpet cleaners. Below are some of them.
1. Hoover Power Scrub Deluxe Carpet Cleaner
(Author's choice)
Having kids and pets running around the house will often lead to regular carpet cleaning. . Because of this, you will have to clean your carpet regularly. Thanks to Hoover Power Scrub Deluxe Carpet Cleaner, you can now do your regular carpet cleaning easily.
It is a light and portable machine with a long cable and two tanks. You are expected to fill the tanks with hot water and detergent for cleaning. In the process, maximize on the rinsing function and dry the carpet with the hot air blower.
Moreover, it features five spinning turbo brushes that work easily to remove stuck dirt particles and stubborn oil stains. The brush removes pet hair as well and is best for spot cleaning.
The wash and rinse selector are the most unique feature in this machine.it works by cleaning the carpet thoroughly at the same time rinsing off the detergents used.
The Hoover Power Scrub Deluxe Carpet Cleaner is equipped with additional attachments that include, the crevice tool and a dual v nozzle for deeper cleaning. Also, it has a suction power scrub that helps in removing almost all the water to speed up the drying process. The additional hot air from the blower speeds up the drying process further.
Pros
Portable
Works well even on light colored carpets
Has extra attachments for better cleaning
Has a tank indicator switch that lets you know when it's full
Cons
May live some areas damper than others
The tank is quite small so you will need to refill it often
2. Hoover SteamVac Carpet Cleaner
(Best for killing bacteria)
If you are looking to maintain the look of your carpet. The Hoover SteamVac Carpet Cleaning machine would be ideal for you. It is one of the best carpet cleaners for cleaning spills. Although the device is small in size, it has a great suction power which is good for removing stubborn stains on your carpet.
The Hoover steamvac features two storage tanks, one for clean water and the other for holding the dirt. It is also equipped with 3 speed- brushes adjustment control that allows you to adjust the cleaning brushes from high to low and then back to normal.
The good thing about this machine is that it can also be used to clean hard floors. The pin scrub and the upholstery tool attachment ensure proper digging up of stuck dirt on your carpet.
Additionally, the device has a 20-foot cord to ease mobility and a 12-amp powerful motor to get the carpet well cleaned.
Pros
Has a very powerful motor
The brushes are easy to remove and change
Comes with a 3 speed- brushes adjustment control
Has two separate storage tanks for both cleaning water and dirt
Cons
It is quite noisy
Limited to big homes with large spaces
3. Eureka NEN110A Whirlwind Carpet Cleaner
(Best for cleaning fine dirt)
This home carpet cleaner has an impressive design with every component falling in place. Its light and compact design makes it easy to carry around while cleaning.
If you are looking for simplicity and efficiency the Eureka NEN110A Whirlwind model might be what you are looking for. Its components are washable for easy maintenance .
The device features a 16-foot long cable making it easier to cover a large area It also come with additional attachments like the crevice tool for those tough to reach areas and a dustbin brush for sweeping off dirt while cleaning. These unique features give you more freedom while carpet cleaning.
On top of the machine, there are some control buttons that allow you to switch between cleaning modes when cleaning both the carpet and the hard surfaces. This flexibility makes it more impressive especially where cleaning both surfaces is concerned.
The Eureka NEN110A cyclone filtration system works by separating fine dust from large dust particles ensuring the air is properly cleaned. The dirt cup is large enough to accommodate around 2.6 liters of dirt hence emptying the dust cup is less often.
Pros
Comes with a cyclonic filtration system
Has a large dirt cup of approximately 2.6 liters
It's small and portable
Comes with extra attachments for efficient carpet cleaning
Has a long 16 feet long cord
Cons
Lacks a HEPA filtration system
4. Bissell Zing Canister, Bagless Carpet cleaner
(Best bagless cleaner)
The Bissell zing bagless carpet cleaner is lightweight and can be carried easily while carpet cleaning. The most unique thing about this carpet cleaner is that it has a 3-step filtration system that filters all dirt before ending up in the dirt tank. Plus, the filters are washable and reusable. This saves you on the filters replacement expenses.
It also has an automatic cord rewind capability. With a push of the control button, the cords coil back into the cubby inside the device so you don't have to wind it manually.
It also features a carrying handle, dirt brush and a crevice tool for deep cleaning of the Capet. It has a flat-lying head and multi-surface nozzles for effective carpet cleaning. Also, the device is bagless so you don't have to buy a storage bag. Emptying the dirt cup is easy.
You only have to push the available button on the dirt bin to open it and then pour the content out into the trash can. Lastly its desirably cheap considering the fact that it has a powerful cyclonic suction power.
Pros
Quite Powerful
Long extended hose
Portable and compact design
Has a 3-step filtration system
Cons
Doesn't have a HEPA filtration system
Has a short cord
5. Bissell 3624 SpotClean Professional Portable Carpet Cleaner
For the best tough stains and spot carpet cleaning, consider using the Bissell 3624. This unit has a compact design and it's easy to carry around when cleaning. While deep cleaning, you will be required to add hot water and detergent.
The device features a 22-foot power cord for easy reach and movement while cleaning, a 3-inch attachment for cleaning stains and a 6-inch attachment for cleaning carpets stairs.
Other feathers include a long 5 flex hose for deep cleaning of stains and spots in hard to access areas and a carrying handle.
From the moment of purchase, you are assured of a 2-year limited warranty so you will worry less in case it gets damaged. Moreover, you can use this device to clean both large and small surfaces.
Pros
Comes with a 2-year warranty
Best for spot and stain removal
Highly portable
Can clean both large and small surfaces
Has a long 5 flex hose for deep cleaning
Cons
Noisy
Has no wheels for easy movement
6. Bissell Big Green Professional Carpet Cleaner
This is a high-quality carpet cleaner with huge capacity and a high suction power. Due to its great performance, it has gained popularity among users.
The Bissell Big Green home carpet cleaner comes with two large storage tanks and a number of attachments for effective cleaning. This makes it ideal for cleaning busy households easily.
This carpet cleaner cleans in both headfirst and backward direction with ease and is best for removing pet fur. Its long 25 ft cable improves mobility when cleaning as it helps you to clean a wider area.
It also features a stair stool for the hard to reach areas and a large powerful brush for deep cleaning. From the moment of purchase, you are guaranteed a 5-years warranty so you don't have to worry in case of damage. Moreover, the device is powered by a 12 amp motor, powerful enough to pull out dirt from the carpet.
Depending on the day's weather, your carpet can take upto 4 hours to dry up after cleaning. This device pushes hot air from the motor to heat up the carpet via the nozzle for faster drying. It also includes superior suction power that draws backwater into the unit.
Pros
Comes with two extra tanks for both dirty and clean water
Powerful brush system for cleaning the pet fur
Extra attachments for easy cleaning
Uses a forward and backward cleaning motion that saves on time and energy
5-year warranty
Cons
It's quite expensive
It's a bit bulky
7. Shark Navigator Upright Vacuum for Carpet
(Best pet hair stain remover)
If you are seeking a more price friendly home carpet cleaner, consider purchasing the Shark Navigator Upright carpet cleaner. This device has a unique lift-away technology that allows you to dislodge the canister and clean hard to access spots.
It comes with a swivel steering making it easy to move around when carpet cleaning. Other features include a wide upholstery tool for removing pet hair on the carpet and brush roll shutoff system for deep cleaning.
The Shark Navigator Upright carpet cleaner is long lasting and easy to operate. It is also bagless and easy to empty which means you don't have to spend on replacement bags.
Moreover, this device has an antiallergen technology combined with the HEPA filtration system that works to filter almost all allergens and dust in the unit.
Lastly, this device is extremely powerful and quiet portable making the cleaning process easier.
Pros
Has a HEPA filtration system
Portable and powerful
Bagless large canisters for storing the dirt
Equipped with a large Pet Upholstery tool
Cons
Cannot self-clean itself
Does not have a pet power brush
8. McCulloch MC1275 Heavy-Duty Cleaner
(Ideal for regular cleaning)
Cleaning carpets with just soap and water may still leave behind some stains residues and bacteria. Getting yourself this steam carpet cleaner guarantees you an effective carpet cleaning process. The McCulloch MC1275 Heavy-Duty carpet Cleaner is a powerful cleaner that uses steam to clean off dirt residues on your carpet.
It features a 45 ounce water tank that allows the machine to produce enough steam for up to 45 minutes. The powerful jet nozzle allows you to focus the steam to your targeted area and helps you to remove dirt on that area.
Moreover, it also features a steam control switch that allows you to keep the flow of the steam consistent. All you have to do is push the control button and the steam flows out.
For larger surfaces, this device has a scrub attachment that allows you to reach out and clean every surface effectively. Other attachments include a 2-extension wand, a squeegee, a triangle brush, a 5 nylon utility brushes, a brass utility brush, a scrub pad, a mop head, and a 2 microfiber pads.
Pros
The steam created is long lasting
Cleans both organic dirt and darkened stains effectively
It's multipurpose
Has extra attachments for deep cleaning
Comes with a 2-year warranty
Cons
Sometimes the steam lacks enough pressure for proper cleaning
The steam softens the dirt making it hard to clean up
9. BISSELL PowerLifter PowerBrush Upright Carpet Cleaner
(Best in mobility)
Cleaning up your carpet should be enjoyable and less tedious. The Bissell Clean view Upright home carpet cleaner is one of the best carpet cleaners available in the market to help you with the cleaning.
This machine is lightweight and has excellent wheels to improve mobility. It has a good blend of a special action triple brush and a powerful suction for pet hair removal on the carpet.
Its 27-foot power cord gives you enough cleaning space as you can move further from the power source. Additionally, this unit comes with a great pet crevice tool and a pet hair removal for better cleaning.
Its long silky bristles gently removes the deeply stuck dirt and debris from the carpet hence making it easy to suck them up.
Additionally, it comes with an automatic cord rewind mechanism that pulls the cord back to its storage by pushing a button.
Pros
It is light and portable
Comes with a long 27-foot power cord
Has a 4 dual rotating dirt lifter power brush
Comes with additional attachments for deep cleaning
Comes with a 1 -year warranty
Cons
Dirt may fall out while Emptying the dirt bin
The pet's hair may block the filters
10. Bissell Cleanview Upright Vacuum Cleaner
(Best for fast cleaning)
The Bissell Cleanview Upright Carpet Cleaner has a one-pass technology that makes it one of the best home carpet cleaners. The one pass technology makes cleaning less tedious.
It also features a multi-cyclonic filtration system. Thanks to this, you can now have a house free of allergens.
The machine also works to eliminate bad odor thus freshening up the air within the house. It also features both the pre-motor and the post -motors filters. The pre-motor filter is washable but the post-motor filter is not.
The fact that this device is bagless, saves you on bag replacement expenses. , The device comes with a number of accessories to help you clean those tough to reach areas easily.
The Attachments include; turbo brush for removing pet hair s on the carpet, a crevice tool, an extension wand for cleaning higher areas and a dust brush.
Pros
Has a large dirt storage tank
Operates quietly
Features a one pass technology
Effective air filters
Great and powerful air suction force
Cons
May fall down when the hose stretches so far
Has a short power cord
11. Hoover Max Extract 60 Pressure Pro Carpet Deep Cleaner
(Best for cleaning both light and heavy carpets)
The hoover max extract carpet cleaner works best on rough surfaces to remove pet hair and spilled stains. It comes with 60 counter-rotating brushes for deep cleaning and a powerful 10 amps motor for powerful suction.
The heated cleaning technology facilitates faster drying of the carpet after cleaning. It can also clean up the entire mess with a single pass. This factor allows it to be ranked among the best home carpet cleaners.
The Hoover Max Extract 60 Pressure is a great for cleaning both light and heavy carpets, rinsing and drying them without leaving any traces of dirt.
Other features include a pressurized sprayer that works to direct soap solutions on the dirty area, a smart water tank system that makes it easy to empty and refill, a step stool, an upholstery tool, and a long power cord.
Finally, the device has a wider cleaning path compared to other devices and also features a larger cleaning lash.
Pros
Cleans different types of carpets
Has a drying time of 3 hours
Best carpet cleaner for removing pet stains
It comes with 60 counter-rotating brushes for deep cleaning
Cons
Expensive
Doesn't have a 3-speed brush adjustment button
12. Bissell ProHeat 2X Revolution Pet Pro Full-Size Carpet Cleaner
(Best for cleaning small areas)
Bissell ProHeat 2X Revolution Pet Pro carpet cleaner is suitable for those with small rooms. When the tank is full, it cleans up to 15 square feet. It is also among the best carpet cleaners for pet stains removal.
This is an all-purpose carpet cleaner. It is a relatively cheaper option with great performance.
It features a dual dirt lifter brushes that deals even with the most stubborn stains. It also has a detachable storage tank with an effectual carrying handle for easy operation.
The unit is lightweight thus making it easy to move around while cleaning. It's pro heat 2X technology gets the carpet dried up within a short time after cleaning.The heat wave technology in the device maintains the water temperature at all times. However, it doesn't have a scotch guard protector for your hands.
Pros
The heat released speeds up the drying process
Comes with extra attachments for deep cleaning
Has a 25-foot code for mobility
It is multipurpose
Cons
Limited to cleaning small spaces
Things to Look at When Purchasing a Home Carpet Cleaner
If you want to get the best home carpet cleaner, its best you consider the following factors.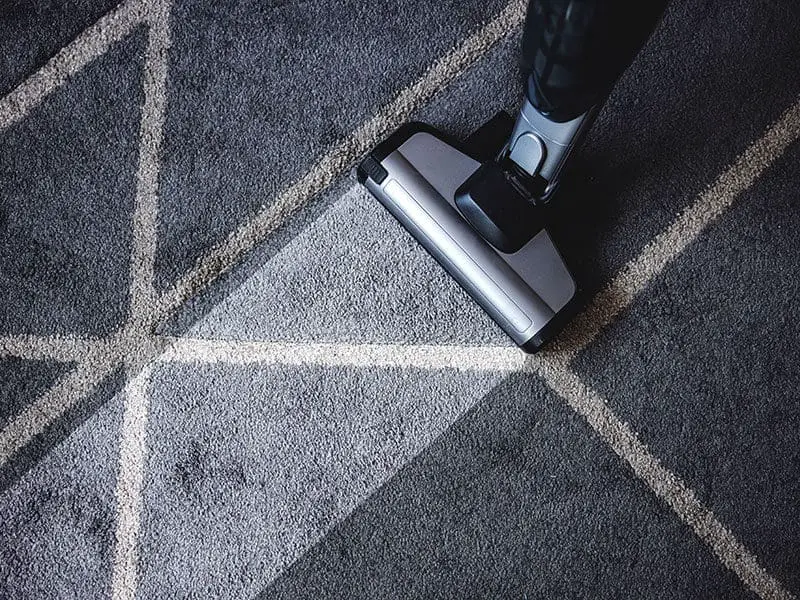 Performance
The whole point of having the best home carpet cleaner is to get the job well done. You need a carpet cleaner that cleans effectively and produces the right amount of heat to make the carpet dry faster.
A good carpet cleaner will always leave the carpet clean and dry. Consider a model that uses hot air.
For pet lovers, consider a canister and upright home carpet cleaners as they work best in picking up pet hair from the carpet.
Carpet size
This one of the most crucial things to consider when purchasing a home carpet cleaner.
You need to assess how big or small your cleaning job is and from there go for the most relevant carpet cleaner for the job. The bigger carpet will require units that have bigger storage capacity and vice versa.
Check for features
The best home carpet cleaner comes with extra attachments. A carpet cleaner with a longer hose will be easier to use especially when cleaning large areas. Having a long hose improves mobility while cleaning as you don't have to carry the heavy machine all the time.
Additionally, consider models with a motorized brush since they clean the carpet better than those driven only by suction.
For delicate fabrics, get a carpet cleaner that has a suction and a manual carpet pile-height adjustment button.
Reach
A vacuum cleaner is either corded or cordless. You can use a cordless vacuum cleaner on very steep and high staircases as it is not limited to the distance you want to reach while cleaning.
For the corded one, they only go up to 20-50 feet for larger units and 16-25 feet for the smaller vacuum cleaners
Noise level
A good carpet cleaner should give you a quiet cleaning experience. Consider buying a carpet cleaner that is not so loud. However, a most carpet cleaners may seem louder in a house with tiled floors .
Cost
Go for a home carpet cleaner that suits your budget and at the same time check on the quality. Expensive products are not always the best products for you so you.
Type
Vacuum cleaners are either bagged or bagless. A bagged vacuum cleaner is more effective for trapping large volumes of dust than a bagless vacuum cleaner. Bagless carpet cleaners require frequent replacement of filters making it a bit expensive.
With that being said, let us now look at some of the various tips on how to use a carpet cleaner for effective cleaning
Tips on How to Use a Carpet Cleaner for Effective Cleaning
After purchasing unit of your choice, it's similarly important to know how to use the device effectively. Below are a few tips you can use when cleaning your carpet.
Remove all the furniture
Remove obstacles like chairs and tables to create enough space for you to access every corner of your carpet easily.. In case you have heavy furniture in the area which is difficult to move, make sure to cover their legs with a plastic casing to prevent stains.
You may also consider covering some of your other households like electronics to protect them from getting wet while cleaning.
Vacuuming
This is also another important tip when cleaning a carpet. Ensure to move your machine carefully and slowly on the carpet looking out for collected dirt debris. Vacuuming enables the removal of dry soil on the carpet. This can prevent the soil from impairing the performance of a good home carpet cleaner when it becomes muddy.
Test detergents for colorfastness
If you have a colored carpet, you shouldn't use detergents directly without testing them. Some detergents may make the carpet color fade or bleach.
You can test by wiping a little potion of your carpet with a wet piece of towel after Deeping it into the detergents. If the towel collects the carpet color know that it's not the right detergent for your carpet and vice versa.
arm water can be used for more effective cleaning. If you have a woolen carpet, do not use hot water as it may shrink or get completely damaged.
Measure the detergents according to the instructions on the manual
Always refer to the instructions on the manual for the right measurements to avoid damaging or under cleaning your carpet. Choose the right detergent as a wrongly formulated one can damage the machine. You can ask your store dealer for guidance as well.
Clean from the doorway backward
This prevents you from messing up the already freshly cleaned carpet areas. You can also clean the carpet by pulling the carpet cleaner as you clean. Pushing the carpet cleaner makes the entire process tedious and cumbersome.
Lastly, do not put back the furniture until the carpet is perfectly dry. Ensure to open all the windows to speed up the drying process. However, when the weather is wet and humid the drying process is quite slow.
Home Carpet Cleaners FAQs
Below are some of the most frequently asked questions when it comes to home carpet cleaners.
Conclusion
Having a freshly cleaned carpet feels so great. It saves you from embarrassments whenever you have some guests over. Cleaning your carpet properly frees your house from allergens and any other dust particles. With this in mind, always go for the best home carpet cleaner that will suit your needs.
Let the prices not deceive you but rather look at the quality of the product and what it has to offer. Without further ado, feel free to comment on your take about these home carpet cleaners.