When remodeling your bathroom floor, the most important thing to keep in mind is finding a floor type that won't suffer from water damage right away.
However, we can't forget about the aesthetics – a good looking bathroom creates a comfortable environment in the least comfortable of situations.
This means spending some time researching the various materials that go into bathroom floors and whether they'll remain durable against steam and spills. Sounds time-consuming, doesn't it?
Well, I have some good news for you! I've compiled a list of the top 15 best flooring for bathrooms for you to look over! I'll provide the ups and downs of each bathroom floor; all you need to do is decide which will look and feel best in your home.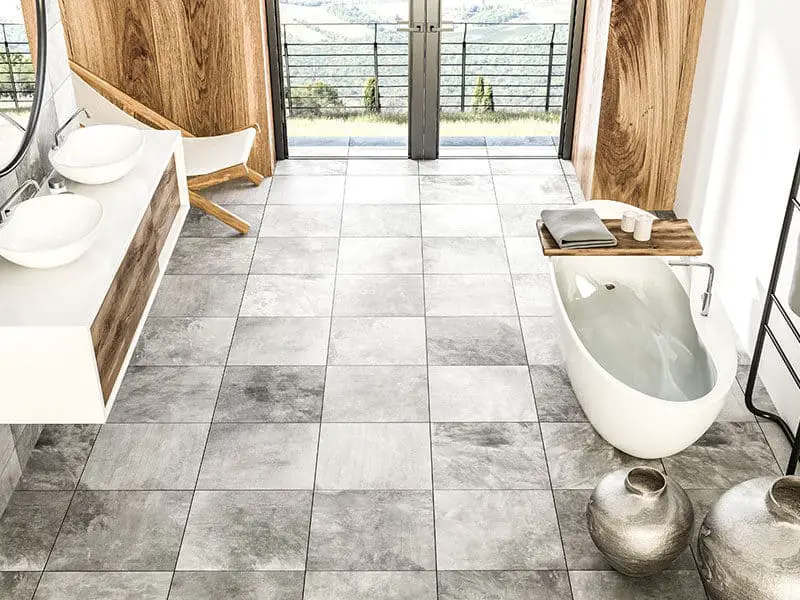 How to Choose Bathroom Floors
The main thing to consider when remodeling floors, whether it be kitchen floors or bathroom floors, is knowing what the floor will be used for, your set budget, and the look you're aiming for.
Bathrooms don't experience nearly as much foot-traffic as, say, living rooms or kitchens, but for most homeowners, the perfect balance between beauty and utility is quite difficult to find.
Managing moisture is the most challenging part of bathroom floors. Puddles don't just cause damage to certain flooring, but they can also create dangerous slipping hazards that could possibly lead to injury or worse.
Your biggest concern when redoing bathroom floors is finding a floor type that's waterproof, durable, not slippery, and accents your bathroom's style.
Flooring Material for Bathrooms Comparison Chart 2021
I completely understand if you don't have the time or patience to read through my selection of the top 15 best flooring for bathrooms, so I've created a quick table that charts how each type "scores" on crucial bathroom flooring criteria.
Now, keep in mind that many, MANY factors come into play when determining how waterproof, scratch-resistant, stain-resistant, and antimicrobial certain bathroom flooring types can be.
Basically, it boils down to how well you maintain your floors, but for the most part, the chart describes each in their "natural" state.
Top 15 Best Flooring for Bathrooms Reviews 2021
Now that we're familiar with what we can expect from each of the 15 bathroom flooring options, let's take a closer look at them individually.
1. Tile
(Most Popular)
Porcelain is arguably the most popular bathroom flooring option. though a part of the ceramic family, porcelain is less prone to waterlogging and damage in its natural state.
But it's the aesthetics of porcelain that really draws a crowd. Not only is it durable and water-resistant, but it's also highly sought-after for its contemporary style and elegance.
It also contains more feldspar and less clay, giving it a higher breaking point than many other flooring options. Dropping heavy objects onto porcelain tiles may not even leave a scratch, let alone shampoo and soap bottles.
Another advantage of porcelain is its resistance to wear, making it the perfect flooring alternative for bathrooms in businesses. One tiny downside is its slipperiness – water stays on the surface and creates a slipping hazard.
Pros
Hard and dense
Wide range of color schemes
Low-maintenance
Cons
Complex installation
Heavy
See how beautiful porcelain can make your bathroom look in this video.
2. Ceramic Tile
(Second Best)
Ceramic tile is one of the most versatile flooring types. It's another popular choice for home bathroom floors – second best only to porcelain in terms of popularity.
Dirt and other common allergens do not adhere to porcelain, so a single swipe of a mop or moist cloth is more than enough to clean its surface entirely. This means you won't need to rely on harsh chemicals to do the dirty work.
Glazed ceramic is especially easy to maintain. The protective layer on the surface keeps water and most stains from sticking and drying to ceramic. Routine maintenance, e.g. mopping, is all you need to remove loose debris.
Manufacturers can use a wide range of techniques to emboss or imprint designs on ceramic. If you want a hardwood pattern but don't want the headache of dealing with moisture damage, imprinted ceramic tiles are the way to go.
Pros
Extremely durable
Allergens are easily wiped away
Numerous designs
Cons
Cold to the touch (especially in bathrooms)
Time-consuming installation
This 4-minute video of ceramic tiles in and out of the bathroom will give you some inspiration.
3. Terrazzo Texture
(Most Unique Look)
Terrazzo tiles are chips of marble exposed on the surface of concrete slabs through smoothing and polishing. The colors are typically added into the mix, creating a beautiful yet noticeably unnatural hue.
What makes terrazzo ideal for bathroom floors is its indestructibility. With proper care, terrazzo can last for several decades and even possibly until the end of time. Best of all, it won't cost an arm and a leg to maintain.
For those of you who are eco-conscious, you might be glad to learn that terrazzo tiles can also be all-natural and won't release chemicals into the air. This is a definite plus for bathrooms without windows or vents.
Even though terrazzo is made with affordability in mind, there's no denying that it you may need a healthy budget before stocking up. But being so low-maintenance, you can end up saving in the long run.
Pros
Long-lasting
Wide color selection
Low-maintenance
Cons
Super slippery when wet
Heavy initial cost
Just look at how gorgeous terrazzo texture can make your bathroom floors.
4. Natural Stone
(Most Practical)
Natural stone flooring is another viable option for your bathroom's floors. Stone is especially nice if your aim is to impress.
There are several stone options to choose from, including marble (the most luxurious) and various forms of limestone. And as you can imagine, their water-resistance ratings are through the roof.
Other than its jaw-dropping appearance, natural stone is highly sought-after for its longevity. Regular maintenance will practically ensure several lifetimes' worth of enjoyment.
The biggest downside of natural stone, other than its cost (depending on which stone you opt for), is its brittleness. Dropping heavy objects on stone tiles could potentially cause chips or splits across the entire tile.
The silver lining is that fixing stone is a simple matter of locating the chip and applying either marble repair cement or epoxy to keep the piece in place.
Pros
Screams class and luxury
Water and stain resistant
Easy to maintain and repair
This quick video will explain some of the differences between natural stone – specifically marble – and porcelain.
5. Concrete
(Trending)
Before I describe concrete bathroom floors, please do not think for a second that you're extending your concrete driveway into your bathroom. That's simply not the case.
Concrete floors create an industrial appearance that can be classy if done correctly. It's cost-efficient and hardly uses any material so it's considered safer for the environment.
They key features of concrete is ruggedness – it's made to withstand water, scratches, and stains. It's also the serves as the structure for the finished upper layer, providing strength from top to bottom.
The biggest downside is that replacing concrete is expensive, despite being relatively inexpensive to install. A fracture can only be fixed by removing the entire floor and redoing it from scratch.
Pros
Rugged
Inexpensive (basic design)
Quick installation
Cons
Expensive repair costs
Requires constant maintenance
This video should give you a good idea of how stunningly beautiful concrete flooring can be in your bathroom.
6. Pebble Texture
If you're in search of something truly out of the ordinary, then consider using pebble tiles. You know that type of flooring at the spa? Imagine how great it would be to have that in your home!
Pebble tiles never fail to impress, and they're not just for walkways anymore. Their unique design creates a contemporary style that is completely customizable to your liking.
Most pebble tiles are made of – you guessed it – tiny stones which are fashioned in a way to prevent hurting your delicate feet. However, there are also pebble-style tiles that use recycled glass if you're worried about hurting the environment.
Pros
More environmentally friendly than many flooring options
Beautiful, unique
Gently massages your feet
Cons
Uneven shape may prevent proper drainage
High-maintenance
Take a look at how "Bathtastic" your floors will look with pebble tiles in this video by naturalproductgroups's YouTube channel.
7. Natural Solid Wood
(Rustic Style)
Are you looking for a more rustic style? Flooring that's not what you'd normally find in bathrooms? Why not natural solid wood?
Sounds odd, I know, but it's a great option if you want to create a warm environment in the bathroom.
Admittedly, hardwood isn't the best option for bathroom floors, and this is what will push many people away from choosing it, but it's stunning beauty is sure to drop the jaws of your guests.
Hardwood isn't naturally water-resistant and scratchproof, but there are several things you can do to ensure your bathroom floorboards will last several years. Of course, this requires constant maintenance, which means continuous costs over the years.
Pros
Undeniable beauty
Unique style
Does not get as cold in the winter
Cons
Extremely prone to water damage
High-maintenance
Want to see what your bathroom could look like with natural solid wood floors? Check this video out!
8. Engineered Hardwood
(Better Wood Floor Option)
If you're not up for the whole constant maintenance ordeal with natural solid wood flooring but love the idea of having wooden floors, then engineered hardwood is the safer bet.
Engineered hardwood consists of a plywood base that is better equipped to handle puddles and moisture droplets. The top layer is made of either natural wood or bamboo to create that hardwood appearance we all know and love.
But be warned! This flooring option still uses wood to complete the look. This means that without maintenance, warping is practically guaranteed. In fact, maintaining engineered hardwood is almost as demanding as regular floorboards.
Pros
More durable than natural solid wood
Many color choices
Easy to install
Cons
Prone to water damage and scratches
Almost as high-maintenance as natural solid wood
Check this video out if you want a better understanding of the differences between the wooden floor options.
9. Laminate Tile
If you've fallen head-over-heels in love with the rustic wooden look on bathroom floors but don't want to be tasked with constantly checking on it for moisture-caused deformities, laminate is the way to go.
Laying down laminate tile is a heck of a lot easier than hardwood thanks to its locking or clicking design. If you have time over the weekend, you can easily lay more than 200 square feet of laminate tiles.
Another advantage of laminate is the springboard base which provides your feet with a comfortable yet subtle cushion. Each step will not feel like you're steeping on wood though it'll look like it.
Pros
Quick installation process
Easy to clean
Comfortable on your feet
Cons
Only specialized laminate tiles for bathrooms
Slippery when wet
This 14-minute video will provide you with all the information needed to keep your laminate floors as waterproof as possible.
10. Carpeted
(Most Out-of-the-Box)
But perhaps all of the aforementioned flooring options isn't your thing. Maybe you're looking for more of a challenge. Why not carpeting?
Carpeting feels super-nice on the soles of your feet. Those who experience winter will definitely appreciate the warmth that carpeted bathroom floors provide.
Carpeted bathroom floors also eliminate slipperiness 100% – a major risk of many other flooring options – as long as it's equipped with a non-slip base.
Carpeted floors also add a nice, unique touch to bathrooms. It's also relatively easy to install in bathrooms. Still, you might need the help of a professional to get it done right in one go.
Pros
Unique appearance
Nice on the feet
Not slippery at all
Cons
A lot more high-maintenance than other options
Prone to water damage
Around the Home's YouTube channel offers brief glimpse at what your bathroom can look like with carpeted floors.
11. Linoleum
For the most part, linoleum tiles aren't the ideal flooring option for bathrooms or other moisture-heavy spaces like laundry rooms and basements, but that's only if you choose the wrong type of linoleum tile.
Linoleum is often mistaken for vinyl and vice versa, but other than their exterior similarities, they couldn't be more different. Bathroom-same linoleum uses all-natural materials like wood pieces and linseed oil that adds body and antimicrobial properties.
The composition of various ingredients makes it not only able to withstand heavy objects but also prevent from cracking during fires. Linoleum is designed to last for multiple generations if well-cared for.
Linoleum is sold in tile, plank, or sheet form, and I wholeheartedly recommend getting sheets.
Pros
Usually protected by long warranty
Biodegradable
Easily removable
Cons
Sunlight exposure can cause discoloration
Slippery when wet
This video explains in greater detail the differences between linoleum and vinyl.
12. Vinyl
(Easiest to Install)
Vinyl doesn't just have the benefit of being water-resistant (to a degree), but it's also the easiest to install and remove of all the flooring types.
Vinyl flooring is another extremely popular choice for new or remodeled bathrooms for its longevity and various color options. In addition, per square foot, you can expect to save a ton of money on a remodeling project.
This material is great for those who don't plan on tearing their bathroom apart. Instead, sheets or planks can be installed on top of the existing floor, reducing the amount of time and effort spent in the bathroom.
In general, vinyl is easy to manage and will withstand several decades of light abuse, but it's not indestructible. Sharp objects are vinyl's worst enemy.
Pros
Quick and easy to set up
Highly water-resistant
Wide color options
Cons
Can tear easily
Curls and air bubbles hard to remove
This 40-minute how-to video shows how simple the process of installing vinyl floors can be.
13. Recycled Glass Tile
(Most Environmentally Friendly)
Recycled glass tiles have become a lot more popular recently, mainly because of its super-eco-friendliness, but its style and appearance also draw eyes.
As you can imagine, recycled glass tiles are made of shards of glass mixed in hard resin. This creates a stunningly beautiful look that fit in any room, from kitchens to bathrooms.
The color options for recycled glass is limitless and will fit any home interior scheme you have going on. However, it can be quite costly per square foot, so you may need to prepare a very healthy budget before deciding.
Recycled glass tiles are a little tricky to install due to its transparency. They're extremely durable and scratch-resistant, but you may need a set of professional hands to help lay them down.
Pros
Astounding color selection
Durable
Matte or glossy options available
Cons
More challenging to install
Wide price variance
Though a great flooring option, recycled glass is mainly used on countertops as you'll see in this video.
14. Rubber Flooring Tile
(Easiest to Maintain)
Rubber flooring tiles are increasing in popularity for its durability and price-efficiency per square foot.
This material is naturally waterproof and can easily be wiped clean with a moist towel. It is prone to scratching so sharp objects may pierce through rubber tiles if you're not careful.
The surface of rubber is also antimicrobial to an extent since it is not the ideal breeding ground for bacteria and dust mites. On average, you'll need to disinfect rubber tiles once every three months or so.
This is another option for those who are conscious about the environment. Rubber tiles are made of recycled rubber – natural and/or synthetic – and will find another use in the future when you want to remodel your bathroom.
Pros
Highly durable
Not slippery
Excellent insulation
Cons
Dull-looking surface
May emit foul odors over time
Here's a video showing a number of different rubber tile options that you might find attractive.
15. Cork Flooring
Many homeowners will go on and on about how amazingly soft cork flooring can be. In your bathroom, this is a definite advantage.
As long as the cork material is completely coated in a water-resistant sealant, you should be good to go. Without it, prepare to spend a fortune on replacements and possibly remodeling from scratch.
But even with the most expensive sealant, your cork floors may still end up with water damage and discoloration after prolonged exposure to moisture. You'll need to be ready with a mop or cloth to wipe away any droplets as soon as they form.
For those of you who absolutely hate cold feet in the winter, cork serves as an excellent insulator, even when moistened, to keep your toes and soles of your feet away from shocking frost.
Pros
Flexible
Cushiony
Hypoallergenic
Cons
Costly per square foot
Prone to water damage
This POV video will show how effortless it can be to install cork tiles anywhere in your home.
Bathroom Flooring – A Quick Buying Guide
On your hunt to find the best/most appealing flooring for your bathroom, knowing the various options isn't enough. Before settling on a certain material, you'll want to take a look at this quick buying guide.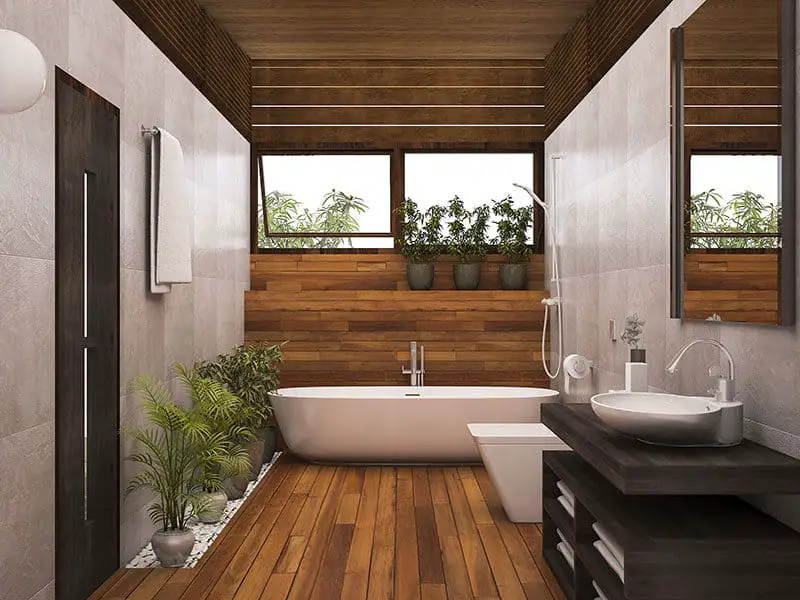 Most Important Factors
Bathroom Dimensions
First and foremost, before deciding on which tile to get, you need to know how many tiles or sheets you'll need. This means spending some time in the bathroom and carefully making measurements.
You'll also need to take into account the amount of floorspace taken by toilets, bathtubs/showers, sinks, etc. This will ultimately reduce the final cost and probably allow you to allocate more funds on hiring a pro (if needed).
Desired Color, Texture, Finish
Next, you can begin the selection process. Your decision is entirely up to you – whatever you like, you can go with.
Just keep in mind that every flooring option has sub-categories of different colors, textures, and finishes. Yes, it's a hard decision to make, so please, take your time.
Difficulty of Installation
Recycled glass tiles can be a challenge to install, whereas vinyl or linoleum sheets are relatively easy and can be done on your own. There are several videos online that you can use as rough guides.
If you don't have the confidence to lay tiles and grout on your own, don't be afraid to contact a professional to do the work for you.
Heated Floor Compatibility
Not every flooring type is compatible with built-in heaters. If you live in a cold area and require heaters, then you'll need to see whether your selection will a) accommodate heaters, and b) allow heat to pass upward through the tile.
FAQs
Let's see what sort of questions past customers have had regarding the best flooring option for their bathrooms.
Conclusion
And that, ladies and gentlemen, concludes this post. I hope you learned a lot from reading it top to bottom.
If you're looking for the best overall flooring option for your bathroom, I'd recommend porcelain over anything else any day of the week. However, you can never go wrong with vinyl or linoleum.