Let's break things down about the best hardwood floors to help you choose the right option for you. Hardwood floors are an excellent investment for your home, with a timeless appearance, but choosing one isn't as easy as it seems.
Hardwood floors are made from 100% wood, harvested for flooring production. But, not all hardwood floors are the same. Some have a distinctive appearance and excellent resilience to termites and damage, while others are easier to install and suitable for rooms with different traffic levels. How to choose?
You have to consider different wood species based on their properties and cross-reference those with your needs. Add the budget thing to the list of things to consider when choosing hardwood floors, and the task becomes more complex.
Luckily, you can keep reading to find out everything about the best hardwood floors!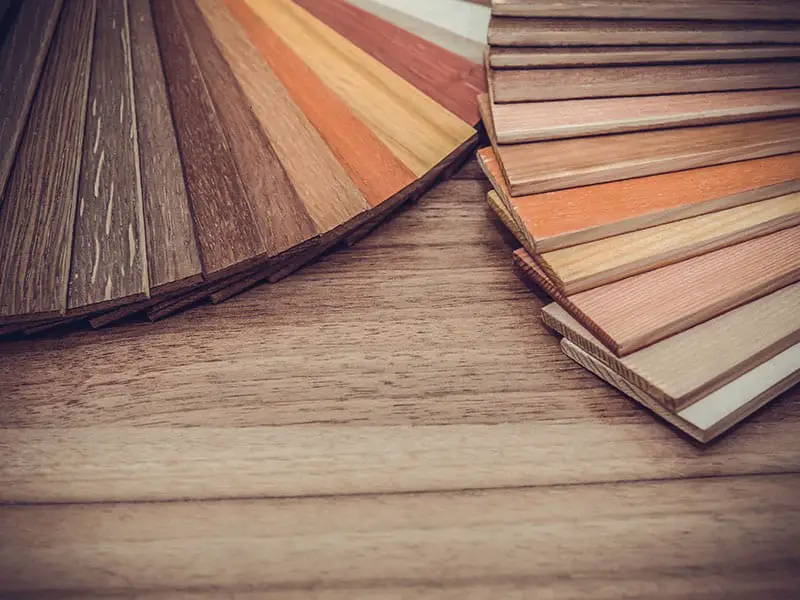 What Are The Best Hardwood Floors?
The best hardwood floors are stylish, durable, have excellent hardness and moisture-resistant properties and offer good value for the money.
Here is the list of best hardwood floors, both exotic and traditional species:
Oak
Ash
Hickory
Walnut
Maple
Brazilian cherry
Tigerwood
Awesome Hardwood Floors at a Glance
In simple words, hardwood floors are a gold standard in the flooring world for decades. They have to thank the beautiful appearance and the outstanding lifespan for that.
Hardwood floors come in planks of different sizes, made from 100% genuine wood. As opposed to softwood floors, hardwood species are very dense and made from slow-growing trees, such as oak, mahogany, cherry, etc.
Hardwood planks are installed via the tongue and groove system or by nailing them down to the subfloor. They come in prefinished or unfinished style.
As the name suggests, prefinished planks are finished, which means they are coated with protective products and ready to use after installation. Unfinished planks require sanding and coating to be ready for use after installation.
Prefinished planks are often pricier, but it isn't the rule. In general, hardwood floors are perfect for large, open spaces and look stylish in every room. But, because wood is considered a porous material, most species aren't suitable for installation in wet rooms.
5 Spectacular Benefits of Hardwood Floors
If you still question your decision to install hardwood floors, here are the best advantages of hardwood floors to solve all doubts.
Never Go Out of Style
The interior style changes as the new technologies develop and designers come up with a new way to decorate our living spaces and make them more functional.
One thing hasn't changed for decades now – hardwood floors are always in! Even Vogue listed blonde wood floors as one of the hottest interior design trends for the year. (1)
Longevity
There aren't many flooring options that can last long after you're gone. Even though it seems a bit morbid, it is true. The lifespan of hardwood floors is greater than the average human life. And it won't lose value as time passes.
Moreover, when you feel like your floors have lost shine, you can apply hardwood floor liquid wax to restore the previous look.
Suitable for People with Allergies
Floors are the dirtiest parts of your home. Allergens and dirt can pile up and cause you discomfort. But, hardwood floors repeal the most common allergens.
If you are deciding between hardwood floors and carpets, and you have allergies, the choice is quite easy. Hardwood floors can be cleaned easily and thoroughly, compared to carpets.
Eco-Friendly
Wood is a renewable source, and authorized dealers replace each trunk as it is harvested for flooring manufacturing. Old wood floors can be recycled, so there is less waste.
Improves Property Value
Hardwood floors are a long-term investment. As I already mentioned, their value doesn't drop with time. Also, properties with hardwood floors better position on the market, and have better prices.
4 Drawback of Hardwood Floors to Consider
For a comprehensive overview, I have to include the drawbacks of hardwood floors. But, since you are already reading the best hardwood floors guide, the drawbacks won't repeal you from them.
Price
Hardwood floors are expensive, and they can cost twice or triple the price of other flooring options.
The price is determined by the brand, wood species, plank size, finish type, etc.
Water-Resistance
In general, wood doesn't react well when it comes into contact with water. Some wood species handle water worse than others and start rotting soon after they have been exposed to water.
Others might tolerate small amounts of water well, but standing water and high moisture levels will damage your hardwood floors eventually.
Maintenance
Hardwood floors need special care, to remain good-looking. It includes the use of special vacuum cleaners, liquid cleaning products, hardwood floor polishes, and occasional refinishing.
Maintenance of hardwood floors can be exhausting, but the final results are worth the effort.
Scratches and Fading
Hardwood floors easily scratch. Pet nails, furniture and direct exposure to sunlight can ruin the hardwood appearance. Luckily, you can clip your pet nails regularly, use furniture pads and area rugs to protect your precious hardwood floors.
7 Fantastic Hardwood Floors
These best hardwood floors only get better and more character as time passes. I chose the following floors because of their excellent durability, value, style and their individual properties.
Oak
Let's start with a traditional wood used for flooring – oak. The two varieties – red and white oak, are equally popular and used in the flooring industry. Red oak has distinctive color variations and beautiful, visible graining.
White oak has better resilience than red oak, which is why people install it in high-traffic areas. The graining varies across the planks, which gives it a unique look.
You can use oak flooring in every interior style, rustic, industrial, contemporary, and classic.
Oak is a moderately priced hardwood floor variety, and the price depends on current supply and demand. The minimum cost for white and red oak flooring is $8 per square foot.
Higher-end white and red oak flooring may cost around $15 and $13 per square foot, respectively.
Another thing worth mentioning is the hardness. The Janka test is an industry-approved way to determine the hardness of each wood used for flooring. The higher the number, the better the resilience floor has.
White oak Janka's rating is 1360, while red oak has a slightly lower rating of 1290. (2)
Overall, white oak has better water-resistance properties, and both varieties stain well, so homeowners have many options in choosing the right color and shade of their floors.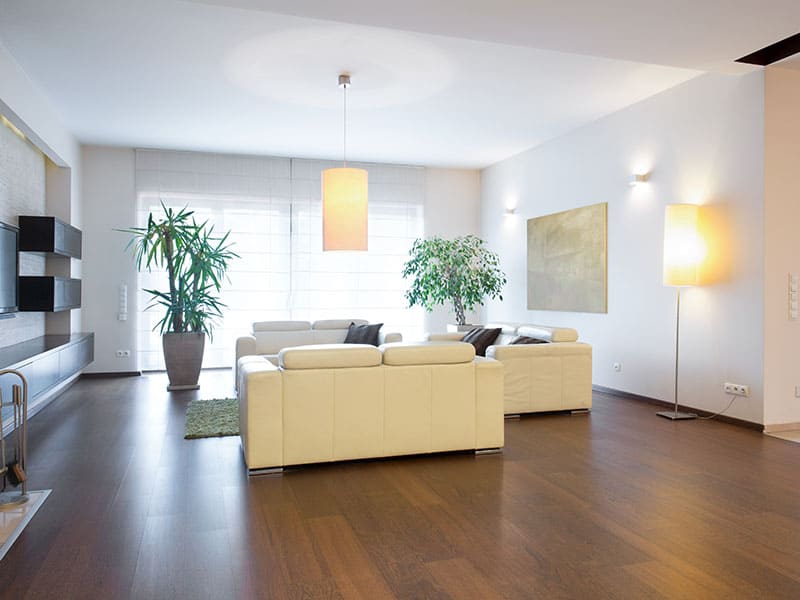 Ash 
Ash is another type of flooring, with excellent hardness and a lot of color variations. You can find ash flooring from white to slightly brown. It has a bolder appearance than oak, with highly visible graining, and a wavy or straight graining pattern.
Ash has a fairly simple installation because the boards are easy to cut. But, it is prone to termites and insects, which can be easily prevented. You can coat the flooring regularly with insects' repellent products and enjoy your beautiful flooring with no worries.
Ash is good for absorbing the footsteps sounds, which makes it comfortable and a great choice for large open areas.
On the Janka hardness scale, ash scored 1320, which is a solid result.
The price tag is similar to oak, and you can expect to pay between $9 and $13 for square feet of ash flooring.
This comfortable and durable flooring with a unique appearance is challenging to stain, so I recommend choosing the genuine shade that already matches your preferences.
You should see the video below:
Hickory
If you are looking for truly hard and resilient flooring options, then consider hickory flooring. It is close to the top of the Janka hardness list with a rating of 1820. Only a few wood varieties are harder than it.
Hickory won't scratch easily, and it requires simple maintenance. It has large knots and attractive contrasting shades and patterns.
But, the best hickory floors are expensive, and because of the extreme hardness, it is difficult to trim. Therefore, the installation of hickory hardwood floors is somewhat more expensive than other trees. Additionally, hickory is prone to swelling, if not acclimated properly.
But, all things considered, hickory is one of the most durable flooring options, that won't require frequent coating, sanding and fixing.
Because of good scratch-resistant properties and excellent shock absorption, hickory is excellent for installation in high-traffic areas. Its unusual appearance gives character to every room in which you install it.
Hickory price range per square foot is between $6 and $13, but for the best quality, you can expect to pay around $10 or $12. Cheaper options come in shorter planks.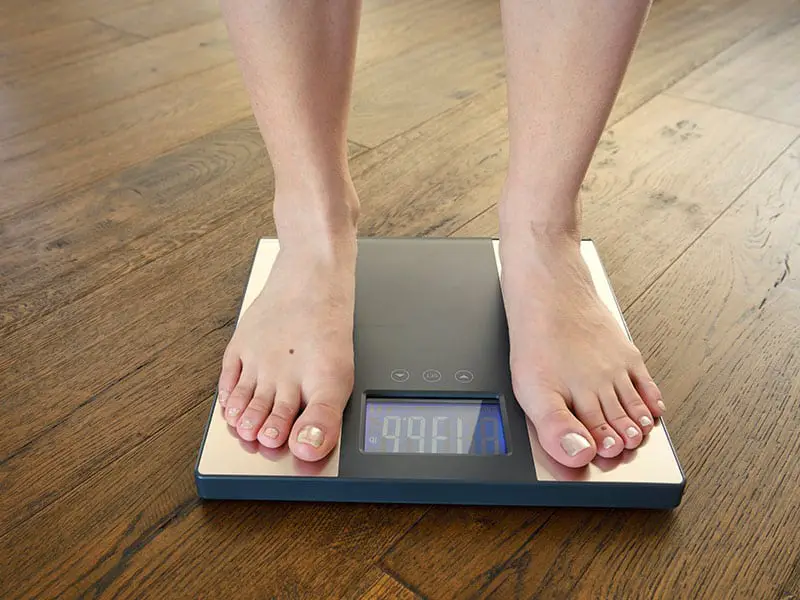 Walnut
The walnut flooring has a sophisticated appearance due to dark tones and attractive grain patterns. It is often referred to as American walnut or black walnut, to differ from exotic species of Brazilian walnut.
The American walnut boards are most commonly available with a low-sheen finish, to highlight the natural beauty of wood. As time passes, the walnut floor develops a unique patina. It makes it look even more luxurious and elegant.
Among all hardwood floors, walnut is one of the most insect repellant types. It is also easy to clean, and moderately moisture resistant. You can sweep it with a hardwood suitable broom every couple of days to ensure the floor is dust-free.
However, it is softer than some other wood types I mentioned earlier. The Janka rating of walnut is 1010. Therefore, it is better suited for low-traffic areas, because it may dent over time.
It is more affordable than other types on the list, with a minimum price of $4 per square foot. The maximum price you can expect to pay for walnut boards is $9 per square foot.
Watch this video to know more:
Maple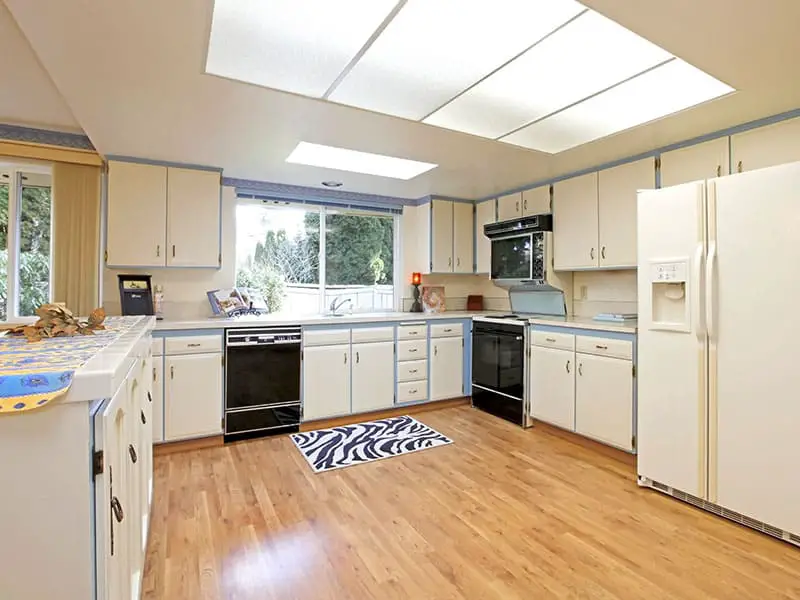 Maple is one of the most popular floorings in the USA. It offers the perfect blend of attractive look, hardness and price.
Maple is a hard traditional wood type for flooring with a Janka rating of 1450.
Therefore, you can install maple hardwood flooring in all rooms, even those with extreme traffic. That is why maple is a common choice in bowling alleys! There are several varieties of maple, and sugar and black are the hardest, so they are the most used for flooring.
The appearance of maple flooring is creamy, warm white with different shades across the board and a hidden graining.
It is easy to mix and match with other decor elements.
However, because of the unnoticeable graining, maple scratches are easily visible. It is also challenging to change the color of maple flooring.
The average price range is between $6.50 and $11.
Brazilian Cherry
Brazilian cherry is an exotic wood for flooring, with an outstanding rating on the Janka scale of 2350, which makes it the hardest. Other than extreme density, resilience, and durability, Brazilian cherry is praised for its beautiful look. It has dark reddish, deep brown tones with unique blonde highlights.
Of all exotic species, the Brazilian cherry is the most popular, even though its popularity slowly decreases in the past couple of years.
Brazilian cherry flooring can be installed in rooms with medium moisture and high traffic such as kitchen and hallways, living room, bedroom, etc.
Because of the distinctive look, Brazilian cherry works better for rustic and classic interior decor. It is easy to maintain, but difficult to install because of extreme density.
You can expect to pay $4 per square foot of medium quality Brazilian cherry and $9 for high-end planks.
Watch this video to know more:
Tigerwood
Tigerwood is another exotic, striking flooring option with a statement look and visible contrasting streaks. While the base of the wood is warm, brown to red, it has streaks in different shades of the dark brow.
Also, tigerwood has attractive graining. Overall, tigerwood flooring becomes a central element in every room you install it. Because of it, it might be difficult to mix with the furniture and other decor elements.
Tigerwood is usually installed via wider planks that compliment unusual graining patterns. After being exposed to sunlight for a significant time, tigerwood slowly changes its color, so the contrast is less visible.
The Janka rating of tigerwood is 2170, and the wood has natural insect-repellent properties. Tigerwood has good water-resistance properties, which is why it is a common choice for decking.
The price range of tigerwood is moderate, from $5 to $7.
Is it for you – a closer look at stunning Tigerwood floor?
Quick Comparison of Hardwood Floors
Check the table for a quick and comprehensive comparison of the best hardwood floors!
| | Look | Price Range | Janka rating | Benefits | Drawbacks |
| --- | --- | --- | --- | --- | --- |
| Oak | Red oak - reddish, light tones, | $8 - $13 | 1290 | Durable, wear-resistant, attractive grain, simple maintenance | Difficult to repair, expensive |
| | White oak - dark, pinkish, medium brown shades | $8 - $15 | 1360 | | |
| Ash | Wavy, curly or straight graining pattern, available in different shades from light to dark | $9-$13 | 1320 | Hard, long-lasting, absorbing shocks and sounds | Perishable, prone to rotting and insects |
| Walnut | Dark, deep brown shades with | $4-$9 | 1010 | Luxurious look, insect-repellant, moderate price, easy to trim | Better suited for low-traffic areas, softer |
| Maple | No visible graining, warm, creamy tones | $6.50 - $11 | 1450 | Easy to clean, eco-friendly, hard and resilient | Prone to scratches, visible scratches |
| Brazilian Cherry | Deep red tones with blonde highlights | $4-$9 | 2350 | Warm appearance, versatile use, hard, durable | Too distinctive look, difficult to mix with other décor elements |
| Tigerwood | Visible contrasting streaks on semi-dark brown | $5-$7 | 2170 | Extreme hardness, good moisture resistance, striking appearance | Challenging installation, slowly changes appearance over the years |
Best Hardwood Floor Brands
If you have chosen the type of hardwood floor, you are one step closer to completing your floor remodeling project. The next thing to do is to choose the hardwood floor brand.
While there are many flooring brands on the market, I recommend you to choose reputable brands, with long-lasting traditions in flooring manufacturing. The best brands also offer installation which is an additional plus. You can choose wood type, color and plank size.
The following are the best hardwood floor brands:
Bruce Hardwood Flooring
Shaw
Hearne Hardwoods
Mohawk
Carlisle Wide Plank Floors
Mercier Wood Flooring
Armstrong Flooring
Choosing Wisely Best Hardwood Floor for Your Needs and Budget
Fortunately, hardwood floors are a huge flooring category that offers a bit for everybody, style, budget and needs-wise. Whether you want sophisticated soft floors or neutral hard floors that can be used in every setting, you'll find something on my list.
Have you decided which hardwood floors are for you? What were your determining factors? Don't forget to share and like the article if you enjoyed it!
References:
10 design trends that aren't going anywhere in 2021. Vogue Australia. https://www.vogue.com.au/vogue-living/interiors/10-design-trends-that-arent-going-anywhere-in-2021/image-gallery/7d7d66695c88bdfadcb9cce227fdf2fb .
Janka Hardness Scale | Superior Hardwood Flooring. Superiorflooring.ca. https://www.superiorflooring.ca/janka-hardness-scale .