The best interior car cleaner will not just help you freshen your mood every day but also ensure the longevity and quality of every part.
When it comes to picking a cleaner for the interiors, you need to be careful about its constituents. Usage of lots of chemicals will damage the parts and might even cause a foul odor.
Which is the best interior car cleaner for leather, dashboard, roof, upholstery, vinyl, or rubber? Which one would you go for-a polish, spray, or foam interior cleaner? What are the tools you will require?
Don't worry! Today I'm here to answer all your queries and relieve you from all your doubts. Continue reading the article to find out the ideal match for your car interior.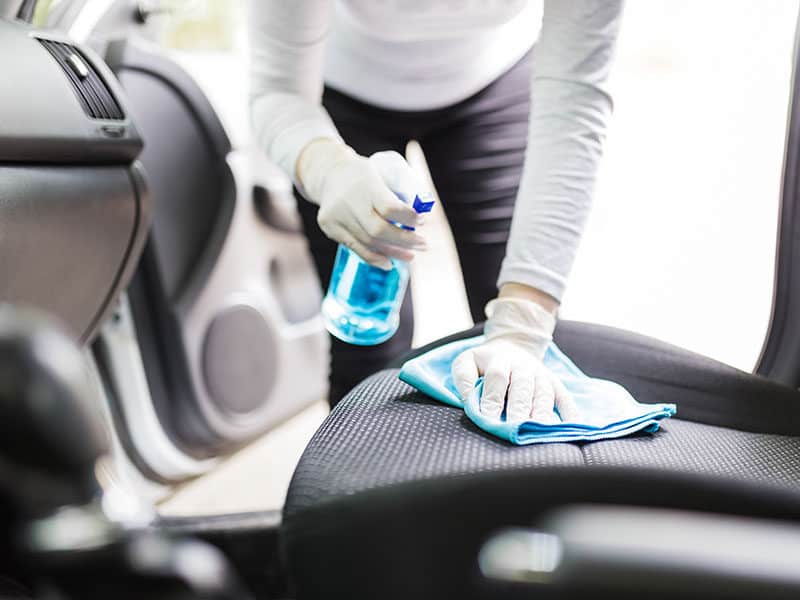 Car Interior Materials
It is imperative to choose the cleaner that doesn't damage the quality of fabric your car interior is made of.
Nylon
Nylon has a sturdy nature and is pretty much resistant to dust and dampness. It is used in the upholstery of a lot of automobiles. As it doesn't absorb moisture, bad odor conditions are quite prevalent. You would want to buy a cleaner which is suitable for wiping dirt and dust out of nylon.
Leather
Mostly used for seats, leather is a comfortable and luxurious looking fabric, which needs a lot of care to sustain its shine. Numerous products are specially designed for leather cleaning and polishing. You have to be careful while choosing a cleaner for this material, as an abrasive chemical can damage its color and result in its cracking.
Polyester
Being very durable, polyester is used widely in making car upholstery. It is effortless to clean and maintain. Pick a cleaner with the right combination for cleaning polyester and other fabrics that constitute your car space. It would help you to prevent excessive splurging on multiple fabric-specific cleaning chemicals.
Vinyl
Vinyl is another tough material that will need less maintenance. Being a type of plastic, it is pretty much resistant to stains and spillage of liquid. Colored vinyl might need polishing from time to time to retain shine. Buy a product that is effective for cleaning and renewing both- vinyl and other fabrics to reduce costs.
Glass
The windows and windshield of a car are made of glass and need regular cleaning too. As all products are not fit for its cleaning, check the cleaner's compatibility with glass before making a purchase.
Types Of Interior Car Cleaner
Depending upon surface and area, you can choose between the following types of interior car cleaners:
Spray
A micro-mist spray cleaner is effective in covering large areas quickly and cleaning the hard-to-reach spots.
Liquid
For intense cleaning and mainly polishing, a liquid cleaner is used as a shampoo for your car interior. It can form a protective coating over the surfaces. These cleaners generally come concentrated and need dilution for the best results.
Foam
A foam cleaner comes in spray and lathers well to cover a big cleaning area. Bifurcated into high foaming and low foaming products, choose the one which suits your requirements the best.
Wax
Capable of sealing essential nutrition in the leather, a wax cleaner is mostly used in detailing and polishing products. If you are looking for a cleaner that would provide a protective layer to the surface and repel dust, going for a wax detailer is a good option.
How Often Should You Use An Interior Car Cleaner?
As per the expert's opinion, you should use an interior cleaner every 2-3 months to clean your car's insides. Generally, this would prevent the layering of dirt, discoloration, and accumulation of bacteria inside. Besides keeping interior cars clean and sanitized, you should care about the exterior cars by using these 5 recipes homemade car wash soap instead of commercial cleaners but bring you the same results.
Are There Any All Purpose Interior Car Cleaners?
There are multiple all-purpose interior car cleaners available in the market. They could be a little pricey but are apt for all kinds of surfaces and ready to use. By using such products, you will not have to load your garage shelves with numerous material-specific cleaners.
Is Alcohol A Good Component In Interior Car Cleaners?
Alcohol is undoubtedly one of the best disinfecting agents. Alcohol-based interior car cleaners could be used on hard surfaces like upholstery and glass to clean. But for cleaning leather surfaces, it's a no-no!
Are Car Interior Protectants Better Than Interior Cleaners?
Both of these products have different functions. Though the line is often hazy, you should understand that a cleaner removes the already existing dirt. At the same time, a protectant will help the interior from any prospective damage.
There are interior car cleaners with protecting features which you can buy to save cost.
Which Are The Best Interior Car Cleaners To Buy?
The top best interior car cleaners are Plexus and the Chemical Guys. These two products give a pristine look to your car and fit your budget. Similarly, Nextzett is worth mentioning for its revitalizing performance and refreshing fragrance.
Check out the list of best interior car cleaners by reputed brands below:
Interior Car Cleaner Comparison Chart
Before purchasing the best interior car cleaner for your vehicle, you will have to consider a few factors like capacity, fragrance, suitability, brand, functions, etc., of the cleaner.
Try dredging out a product that offers fewer chemicals and optimum pH level to avoid damaging, fading, and corrosion of surfaces.
Best Interior Car Cleaners
Fragrance
Suitable For
Product Type
Finish
Action
Plexus Protectant Interior Car Cleaner - Best Overall
Odorless
Plastic, vinyl, glass
Aerosol, Wax coating
Shiny finish
Cleaning, Protection, and Polishing
Chemical Guys Odorless Interior Car Cleaner - Best Budget
Odorless
All surface
Trigger spray, Low Foam
Transparent finish
Cleaning
Nextzett Cockpit Premium Interior Car Cleaner - Best for Plastic
Citrus scent
Plastic, finished leather
Trigger spray
Shine-free finish
Cleaning
Griot's Garage 35 Oz Interior Car Cleaner - Best for Stains
Odorless
Fabric, vinyl, leather
Trigger spray
No residue
Cleaning
Adam's Polishes Antimicrobial Interior Car Cleaner - Best Disinfectant
Pleasant scent
Non-porous surface
Trigger spray
OEM factory finish
Cleaning, Protection, and Conditioning
Armor All Leather Interior Car Cleaner - Best Polish
Pleasant scent
Leather
Trigger spray, Beeswax
Luxurious finish
Cleaning, Protection, and Conditioning
TriNova Protectant Interior Car Cleaner - Best UV Protectant
Clean scent
Plastic, rubber, vinyl, finished leather, and trim
Trigger spray
Anti-static Matte finish
Cleaning and Protection
Mothers All Fabric Interior Car Cleaner - Best for Fabric
Clean scent
All Fabric
Trigger spray
True color revealing
Cleaning
KevianClean Matte Finish Interior Car Cleaner - Best Eco-friendly
Nice smell
Vinyl, plastic, Bonded, PU, and Faux leather
Trigger spray, Carnauba wax
Matte Finish
Cleaning, Protection, and Polishing
CarGuys Clear Finish Interior Car Cleaner -

Best All-Purpose

Light scent
Plastic, rubber, vinyl, leather, fabric, and finished surfaces
Trigger spray
None
Cleaning
Leather Honey Chemical-Free Interior Car Cleaner - Best for Leather
Fragrance-Free
Leather, faux leather, vinyl, plastic, rubber
Recappable, Concentrated liquid formula
None
Cleaning
3D Car Care High Foam Interior Car Cleaner - Best for Seats
Lemon
All Fabric
Squeeze bottle, high foam
Optical brightener
Cleaning and deodorizing
Meguiar's Professional-Strength Interior Car Cleaner - Best for Upholstery
Fresh smell
All Fabric
Trigger spray
Dries clean
Cleaning
Shine Armor Detailing Interior Car Cleaner - Best for Detailing
Citrus
All-purpose
Trigger spray
Matte finish
Cleaning, detailing, and restoring
Sonax Dust Repellent Interior Car Cleaner - Best for Dashboard
Fresh smell
Plastic, wood, rubber, vinyl
Trigger spray
OEM Matte finish
Cleaning, detailing, and Protecting
Top 15 Best Interior Car Cleaners On The Market 2021 Reviews
Choosing the best interior car cleaner could be frustrating with so many options on hand. I'm providing you with the 15 best products with their features, specifications, pros, and cons. Check out the top-notch products below for more details.
1. Plexus 13-Ounce Interior Car Cleaner
(Best Overall)
Plexus gives protection to all your plastic gears and interior parts of your car, cleaning all kinds of surfaces efficiently. It applies a thin coat of non-greasy wax protectant and makes all plastic surfaces lustrous.
You will not have to worry about dirt layering in your car as it seals the pores of the surface too. With its convenient aerosol applicator, none of the cleaners is wasted through dripping, leakage, or evaporation.
So, this product is a multi-purpose cleaner, and it would clean, polish, and protect your car interior space like a pro!
Key Features:
It contains 13 ounces of cleaner
Fragrance-free
No oil residue
Provides aerosol and wax coating
Anti-static
Pros
Lightweight and doesn't layer on surfaces.
Easy to apply with the help of spray nozzle applicator
Appropriate for all kinds of plastic, vinyl, painted surfaces
Leaves no greasy residue
Cons
Expensive as compared to other products with similar features
Product Specifications:
| | |
| --- | --- |
| Model | 20214 |
| Capacity | 13 ounces |
| Weight | 1 pound |
| Bottle Type | Spray Can |
| Brand | Plexus |
2. Chemical Guys 16 oz Interior Car Cleaner
(Best Budget)
With low-foam cleaning formula, this cleaner thoroughly cleans all kinds of surfaces, including plastic, fabric, vinyl, and even leather. You will spot no-residue after it's application. Spray directly on the parts you want to clean, and the pH balanced cleaner will do its job perfectly.
The transparent spray will not stain your fabric and gently take out all the dirt. It's safe to use on almost everything, as it comes in full-strength, dilute it with water for your soft fabric surface.
Key Features:
Odorless
Transparent mist spray can
Can be diluted according to needs
Suitable for all surfaces
It contains no coloring agent and doesn't stain.
Pros
pH balanced to avoid corrosion or to strip off of paint
Applies evenly with the help of spray
More effective cleaning due to low foam
Helps in Quick detailing and could be used on a regular basis
Cons
The packaging is not very professional-looking, and the can is difficult to open
Not completely odorless, as it leaves outdated, leather polish kind of smell
Product Specifications:
| | |
| --- | --- |
| Model | SPI_993_16 |
| Capacity | 16 ounces |
| Weight | 1.1 pound |
| Bottle Type | Spray Can |
| Brand | Chemical Guys |
3. Nextzett 16.9 fl oz Interior Car Cleaner
(Best for Plastic)
Manufactured by Nextzett, this silicone-free cleaner has a pleasant, citrus scent, which would make your car smell fantastic. Suitable for cleaning all plastic and colored surfaces, you can use this product even to clean coated leather.
If you are looking for a cleaner that profoundly cleans your armrest, upholstery, leatherette, navigation screen, etc., while protecting from the sun, this product is right for you:no glare, no shine, and invisible application.
Key Features:
Citrus scent
Blocks UV rays from contacting different surfaces
Leaves no residue
Silicone-free
It gives No shine, matte finish look
Pros
Works efficiently with a small amount
A light cleaner doesn't damage your leather
Comes with sprayer for even application
Unnoticeable on surfaces, no gloss or shine effects
Cons
Very light cleaner for stubborn stains that are present at particular spots doesn't dissolve strong dirt-spots too
Product Specifications:
| | |
| --- | --- |
| Model | 92470515 |
| Capacity | 16.9 ounces |
| Weight | 1.3 pounds |
| Bottle Type | Trigger Spray nozzled bottle |
| Brand | Nextzett |
4. Griot's Garage 35 oz Interior Car Cleaner
(Best for Stains)
From carpet to seat leather does not and doorknobs to the steering wheel, this cleaner can clean everything. With no artificial scent, it contains no dye to alter the color of the fabric.
It could be easily used in the house as well for cleaning regular household stuff.Before application on leather, check by applying in a smaller region first.
The product leaves a protective layer behind, which repels dirt and avoids its accumulation on any surface. Even for the light-colored fabric, it works like magic and leaves no speck. Perfect for removing stains and stubborn spots.
Key Features:
No shiny or glossy finish
Contains no dye or color additives
Doesn't fade the fabric
Suitable for hard surfaces as well
Cleans leatherette too
Pros
No greasy or oily residue after application
Protects from UV rays and helps to retain the quality of the fabric
Can be used around household
Easily remove stains from fabric in one go
Cons
Not suitable for after-market dyed leather and reacts with it, resulting in discoloration and patch formation
Product Specifications:
| | |
| --- | --- |
| Model | 11104SP |
| Capacity | 35 ounces |
| Weight | 2.2 pounds |
| Bottle Type | Trigger Spray |
| Brand | Griot's Garage |
5. Adam's Microban 16 oz Interior Car Cleaner
(Best Disinfectant)
This polish and interior detailer is an upgrade to your regular ones. It offers excellent protection against microbial buildup inside your car, upon the surfaces, and on different parts and doesn't allow harmful bacteria to stay inside.
Coming in 4 combinations of fragrances and colors, you are given multiple options to choose the perfect match for your car. Adam's Microban works effectively for all hard surfaces and soft fabrics, vinyl, and leather.
The cleaner and protectant builds a layer of ultra-thin invisible coating and kills any microbe that tries to enter the surface by destroying its cell-wall. A less burdening to the environment, this cleaner could be your ideal purchase.
Key Features:
Antimicrobial, Antibacterial Protection
Four color and fragrance combinations to choose from
Environment friendly
Leaves no excess residue
Anti-static
Pros
Blocks UV rays and prevent fading.
Polishes and details almost any surface without causing any damage
Even application with the spray reaches hard-to-spot areas too.
Easy to use, no technical knowledge required
Cons
More of a polisher than a cleaner, can't pluck out dark and old stains.
Not applicable for heavy-duty usage
Product Specifications:
| | |
| --- | --- |
| Model | L015 |
| Capacity | 16 ounces |
| Weight | 1.3 pounds |
| Bottle Type | Trigger Spray |
| Brand | Adam's Polishes |
6. Armor All 16fl oz Interior Car Cleaner
(Best Polish)
Containing the goodness of real, natural beeswax, the Armour All polish cleans and protects your car's interior and leaves no visible spots. Specially designed to take care of leather surfaces, it would clean, polish, and protect any kind of leather and fabric.
You no longer have to worry about the leather cracking up due to the sun or its discoloration; this product has it all covered.
Without compromising with the actual quality of the material and causing it any harm, the cleaner nourishes it with all-natural supplements. You will have to consider its slippery texture and not overapply it as it would take more time to dry off.
Key Features:
Contains natural beeswax
All-rounder product for leather
Equipped with a pleasant scent
Detailing and polishing features
Pros
Easy to use and handy product
It is evenly sprayed with the help of trigger spray
It doesn't stain the leather and rejuvenates its overall look
Increases grip of the leather
Leather looks expensive with extra gloss
Cons
The excessive application might result in noticeable layering over the leather's surface as the texture of the product is quite thick
Product Specifications:
| | |
| --- | --- |
| Model | 18934 |
| Capacity | 16 ounces |
| Weight | 0.5 pounds |
| Bottle Type | Trigger Spray |
| Brand | Armor All |
7. TriNova 18 oz Interior Car Cleaner
(Best UV Protectant)
If you worry about your delicate car interior wearing off with time, those days are gone! Use TriNova cleaner to clean and protect your car from harmful UV rays. The spray not only provides protection, but its 1-min cleaning formula takes out all kinds of obstinate dirt and stains with minimum effort.
For the protection of leather and all kinds of surfaces from cracking, fading, and discoloration, use this cleaner to give out the best results. It will repel dust and prevent it's layering, and also give a smooth, matte finish.
Key Features:
Can be used directly through spray or wiped off using cloth
Fragrance-free
Doesn't leave any tacky grease
Coats the surface and protects from UV rays
Pros
Can be used regularly for quick detailing
It helps you retain the original quality of the material
The cruelty-free cleaner contains all vegan substances
Anti-static and repels dirt avoids its accumulation on any surface
Cons
Couldn't be used for cleaning glass or navigation screen
Doesn't polish leather well, gives it a dull matte look
Product Specifications:
| | |
| --- | --- |
| Model | 33534 |
| Capacity | 18 ounces |
| Weight | 1.32 pounds |
| Bottle Type | Trigger Spray |
| Brand | TriNova |
8. Mothers 24 oz Interior Car Cleaner
(Best Eco- Friendly)
For an interior car cleaner priced similarly, you might notice issues like fading the color of fabric and staining, but this product is a masterpiece.
The brand advice to spray it after brushing & vacuuming the desired area, wiping it off with the help of a micro towel. It pulls out the dirt very effectively and makes your whole cleaning process a cakewalk.
For a speckless, stain-free, clear, and smooth interior, Mother's 24 oz cleaner is a perfect solution. With repetitive use, you will be able to take out all kinds of dirt. It is suitable for all kinds of vinyl, carpet, sheepskin upholstery.
Key Features:
Eco-Friendly
Cruelty-free
pH balanced cleaner
min cleaning formula
Could be used for cleaning of household items too
Pros
Doesn't contain abrasive chemicals and thus, safe for your skin
Safe for environment
Inexpensive as compared to other products offering similar services
Leaves no residue or stains
Cons
Not strong enough to clean extraordinarily stained and dirty carpets leaves old spots unaffected even after multiple applications
Product Specifications:
| | |
| --- | --- |
| Model | 05424 |
| Capacity | 24 ounces |
| Weight | 1.7 pounds |
| Bottle Type | Trigger Spray |
| Brand | Mothers |
9. KevianClean 24 oz Interior Car Cleaner
(Best Shine)
This lavender-scented cleaner is perfect for keeping your interior shiny and gleaming for a more extended period. It releases the actual color of the material and provides proper conditioning to all kinds of material.
Providing a low gloss finish, the cleaner is very convenient to use and non-greasy. It protects your car from UV rays and gives it a newer looking finish. Made with almost all-natural ingredients and Carnauba wax, you won't be disappointed with the results.
Key Features:
Gives natural-looking finish
Apt for faux leather, furniture, airplane interior, plastic, boat, and vinyl
Freshening lavender scent
100% Satisfaction guaranteed by Manufacturer
Made in the USA
Pros
It makes the interior look like new with all the shine induced
Protects from UV rays for an extended period
Prevents cracking, damage, loss of color in leather
User friendly in terms of ease it provides
Cons
The scent is quite strong; not advised if you are allergic to pungent smells
Product Specifications:
| | |
| --- | --- |
| Model | KC-24-ID |
| Capacity | 24 ounces |
| Weight | 1.5 pounds |
| Bottle Type | Trigger Spray, Carnauba wax |
| Brand | KevianClean |
10. CarGuys 18 oz Interior Car Cleaner
(Best All-Purpose)
To replace and redesign your garage with less chemical-based cleaning products, choose this all-in-one cleaner formula. The brand supports and sponsors a highway safety initiative and is very reputed in the market.
Provides a well-spread UV defensive layer without any layering and prints. Cleans almost every part of your car interior while providing good reach.
Not only for the interior, but this cleaner works best for the exterior of the car too. It is an all-purpose cleaning solution in the real sense and will ensure thorough cleaning of your car with ease.
Key Features:
Multi-surface cleaner
It contains no harmful chemicals and doesn't generate fumes
It gives no gloss finish without tacky residues
The manufacturer guarantees a full refund in case of non-satisfaction
Pros
Works for all surfaces, multipurpose cleaner, and polish
Non-static doesn't let dust stay attached to the surface
As it contains no toxic chemicals, your skin will remain protected.
Made in the USA
Cons
Not the best polishing product, the leather looks the same even after application.
It couldn't be used to clean glass
Product Specifications:
| | |
| --- | --- |
| Model | SC-18OZ-KIT |
| Capacity | 18 ounces |
| Weight | 1.12 pounds |
| Bottle Type | Trigger Spray |
| Brand | CarGuys |
11. Leather Honey 32 Ounces Interior Car Cleaner
(Best for Leather)
Leather Honey is a combination of an age-old time tested recipe and contemporary developments. Specialized for leather, the cleaner works well for all kinds of material and gives protection for up to 6 months.
The liquid formula deep cleanses the leather by penetrating and forms a protective layer against cracking, fading, and other damages.
There is no need to brush or agitating the dirt; you only need to dilute the liquid, apply it gently, and wipe it off using a micro towel or cloth.
The cleaner will make your leather seats regain their quality, smelling nice and fresh. It is also applicable on vinyl and rubber parts.
Key Features:
Fragrance-free
Time tested cleaning formula
It doesn't contain harmful chemicals
No need for intense rubbing and agitation
Product quality guaranteed by the manufacturer
Pros
Cleans leather of all colors without compromising its quality
It doesn't stain the surface
Could be used on multiple surfaces, without worrying about paint
Non-greasy after effect
Cons
Expensive product and specially designed for leather, you might have to buy additional products for other surfaces
Product Specifications:
| | |
| --- | --- |
| Model | 1A-3L4G-KNK7-CA |
| Capacity | 4 ounces |
| Weight | 0.25 pounds |
| Bottle Type | Recappable, Concentrated liquid |
| Brand | Leather Honey |
12. 3D 16 oz Interior Car Cleaner
(Best for Seats)
This fantastic and unique product will leave you spellbound. The 3D interior cleaner is a perfect degreaser and detailer for your car. Besides filling your space with delightful fragrance, it will make your car look brand new with its professional-looking detailing operation.
Use it for upholstery, fabric, leather seats, navigation screen, or any other part; the results will not dishearten you.
Made of 100% biodegradable constituents, it will not cause reaction or damage to your vehicle. Choose this product to experience a wide range of effortless operations relating to your car care.
Key Features:
100% biodegradable constituents
Optical brightener
Suitable for all kinds of fabric
It gives out a fresh lemon scent
Polishes and details the interior of the car
Pros
It is a water-based product, thus non-reactive, and contains minimal chemical substances
Leaves no residues behind, giving smoothest finish possible
Easy to use, just apply, brush, and rinse off
Refreshes the look of a car from both inside and outside
Cons
More of shampoo than a polish & doesn't give enough protection against the sun.
It doesn't add shine to leather
Product Specifications:
| | |
| --- | --- |
| Model | 6313158 |
| Capacity | 16 Ounces |
| Weight | 1 pound |
| Bottle Type | High foam, squeeze bottle |
| Brand | 3D Car Care |
13. Meguiar's 20.5 oz Interior Car Cleaner
(Best for Upholstery)
The mist spray has a wide area of applicability. It finds all hard-to-see areas, reaches them, dissolves the stains and dust, and pulls them out.
Without leaving any grease behind, it dries quickly and gives your car a look it had at the time of purchase. An installed double nozzle will help you clean spots as well as stretch- areas with ease.
At this price, you won't find a product as strong as this. No need to apply pressure or to rub for long; the cleaner will pluck dirt and oils easily from upholstery and the toughest of surfaces. Will leave your car smelling fresh and ready to have guests.
Key Features:
Specialized for thorough cleaning of carpet and upholstery
Can target narrow spots or general area
Light mist spray
Aerosol spray with a refreshing scent
Pros
It dries off quickly, and you don't need any blow dryer or fan arrangements
Not expensive even though it cleans all kinds of material
The cleaner is strong, and a little amount will help you clean a large area
Perfect for deep cleaning, it penetrates the pores and plucks out dirt
It doesn't layer as viscosity is significantly less
Cons
It doesn't give enough protection after use & you need to buy polish to protect the leather and other delicate parts
Product Specifications:
| | |
| --- | --- |
| Model: | G9719 |
| Capacity: | 20.5 ounces |
| Weight: | 1.28 pounds |
| Bottle Type: | Aerosol trigger spray |
| Brand: | Meguiar's |
14. Shine Armour 9.9 Ounces Interior Car Cleaner
(Best for Detailing)
As the name suggests, this cleaner is the armor to your car interior. If you don't want to invest in professional detailing now and then, buy this product and easily do it at home.
Awarding you with the best possible shine, Shine Armour interior car cleaner and detailer will also protect surfaces from UV rays.
The best item to clean and polish your car interior. It gives a lustrous finish and repels dust too. Just spray on a microfiber towel and wipe off the grease and stain in no time. Designed explicitly for detailing, you will get a car that looks new.
Key Features:
Latest nanotechnology
Dust-resistant and repellant
Protects from UV rays
Suitable for all kind of surfaces
Pros
A pleasant citrus fragrance to freshen your mood and remove the outdated, typical polish scent
All-purpose product- cleans, protects, and polishes
It contains no harmful chemicals and won't cause you skin allergies
Anti-static, it doesn't let dirt stay on the surface for long
Leaves no oily residue or layer
Cons
Less quantity provided as compared to the cost. You can find better and advanced products at this price range
Product Specifications:
| | |
| --- | --- |
| Model | Not specified |
| Capacity | 9.9 ounces |
| Weight | 0.6 pounds |
| Bottle Type | Trigger spray |
| Brand | Shine Armour |
15. Sonax 16.9 oz Interior Car Cleaner
(Best for Dashboard)
The dashboard of your car is probably the first thing anyone entering your car sees; you don't want to be leaving it layered with dust.
The Sonax Interior Car Cleaner is designed specifically for your dashboard. You can now give the door linings, rubbered panels, and dashboard a factory-finished matte look with just a wipe.
The product should be carefully used on only rigid surfaces like plastic, rubber, or vinyl. Don't use it on glass, leather, etc. With a high foaming feature, the cleaner leaves no visible specs behind.
Key Features:
Silicone-free
Solvent-free
It gives no gloss look with a matte finish
Static-free and so, effective to repel dust
Fresh fragrance
Pros
The spray formula helps in spreading the liquid evenly &doesn't form layering
Specially designed for your car's dashboard
It gives a professionally detailed look to the dashboard
Contains no abrasive chemicals to discolor or react with the surface
Cons
It couldn't be used on steering, glass or leather. Doesn't increase the optical brightness of cloth materials
Product Specifications:
| | |
| --- | --- |
| Model | 283241 |
| Capacity | 16.9 ounces |
| Weight | 14.4 ounces |
| Bottle Type | Trigger spray |
| Brand | Sonax |
Ultimate Buying Guide On Best Interior Car Cleaners
Maintaining your car with a quality cleaner or detailer can help you out. There's a plentitude of such products out there but, what you need is a product that suits your specific needs. Here are some factors you ought to consider before buying the best interior car cleaner.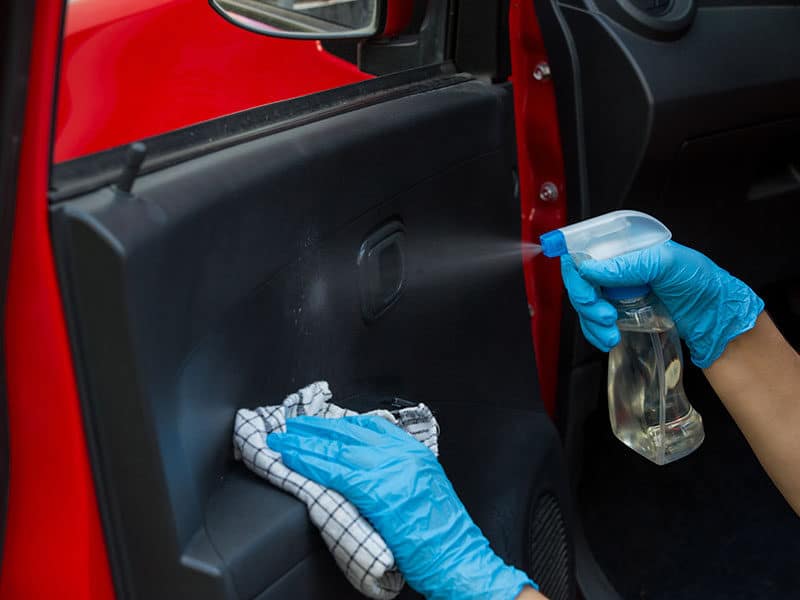 Components
A car interior is made up of several parts such as dashboard, window panes, seats, carpet and so on that need cleaning. You need to use the appropriate cleaner as few are not suitable to glass or some can only be used on fabric.
If you have specific stains or stubborn spots it is best to go for cleaners specific to clean that particular material.
Types
The cleaners come in different forms for convenient dispersal such as spray liquid and foam. Similarly, you can also classify the cleaners based on their composition such as wax based. Depending on your need you must choose the right kind of cleaner.
UV Protection
Sun could cause fading and discoloration of your car interior and cause cracking of the leather as well. To protect your car's interior from all such implicated damages, choose a cleaner that forms an invisible layer of protection over various surfaces.
Fragrance
Some people are allergic to pungent smells and odors. Keeping that in mind, find a scent-free product or which diffuses fresh fragrance inside your car.
Shine And Resistance To Grease
Depending on your car's brand, the interior could incipiently have a matte finish or gloss one. Some products might offer a little shine for leather to make it look factory-polished; choose wisely. Don't buy a product that gives a tacky, oily finish to the matte surface or leaves a residue.
Viscosity
Viscosity is a characteristic of a liquid that measures how easily it can flow. More viscosity is apt for a leather polish containing wax to form a protective layer, but for a cleaner, it would form an oily layer over the surface.
Get a product that is viscous enough to coat the leather but, at the same time, sufficiently flowy to pull out dirt from other surfaces without over-layering.
Chemical Content
The more chemicals a cleaner has, the more hazardous it will be for your health and the environment. Look for a cleaner that is made of natural, biodegradable substances that is efficient in wiping off stubborn stains with ease.
Rinse Or Rinse-Free
For leather and vinyl, a rinse cleaner is suitable as it would be easily wiped off of such surfaces due to their smooth finish. Vinyl can hold moisture, which would reduce its quality, so it's best to rinse the cleaner properly.
For nylon and polyester, go for a rinse-free product as the water would just dry automatically, and you won't need to blow it dry.
FAQs
Below are answers to some frequently asked questions about interior car cleaners to give you more clarity:
My Top Pick
After carefully considering and reviewing the Best Interior Car Cleaners of 2021, my top pick is Plexus 13-Ounce Interior Car Cleaner. This cleaner is suitable for all kinds of fabrics and surfaces and does a fantastic job in overall interior detailing.
As it is an All-in-one cleaner, you won't need any additional products. Just spray and wipe with a microfiber towel and all the works like cleaning, removing stains, polishing, and conditioning are done.
I hope my recommended list helps you find the ideal product. Stop wasting your time and money on costly professional cleaning and detailing appointments, bring a cleaner home, and do the job yourself without any hassle.