Keeping the upholstered furniture in your house clean can be a demanding task. Spills happen every other day, and it is even worse if you have kids and pets as you have to clean the dirt and hair they track onto your upholstery. Kicking them out is not an option, and that is why you should get the best upholstery cleaner.
Upholstery cleaners are designed to handle small spills and messes on furniture. They also double up as carpet spot cleaners and can withstand the wear and tear of everyday use while providing unrivaled cleaning performance.
If you are on the hunt for the best upholstery cleaner, you are in luck as I have created a list with top units, and even included a buying guide. Read through and be sure to let me know which appliance you think is the best in the comments below.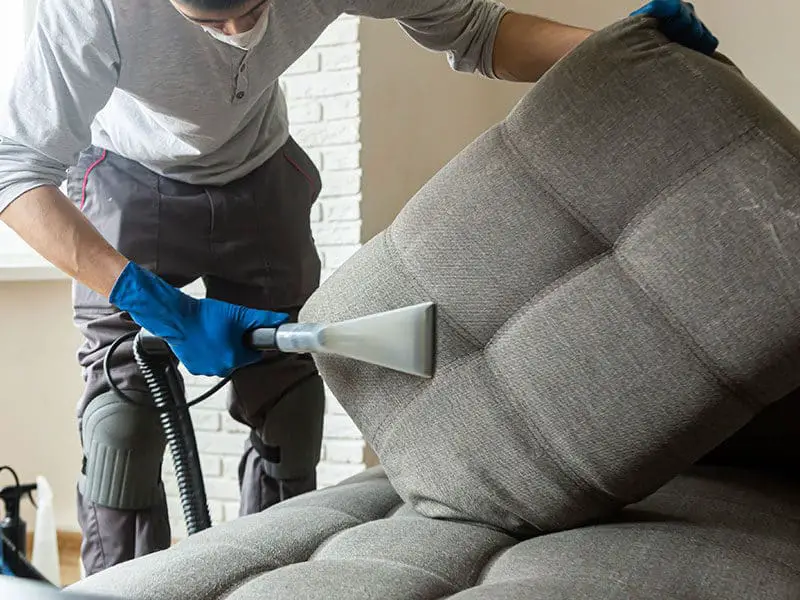 Benefits of Upholstery Cleaners
Though upholstery cleaners are not as powerful or popular as upright cleaners, they have a niche and some advantages over the latter. Though there are still a few upright units that happen to be incredible upholstery cleaners, here are some few benefits of upholstery cleaners.
Small Size – Most upholstery cleaners happen to be handheld devices and thus are small. Their compact size comes with advantages, and one is that they are easier to store. They can fit under the sink or in the cabinet, unlike massive uprights.
Lightweight – With the compact size, the cleaners happen to be lighter than competitors. You can use them for extended periods with ease. Furthermore, you can haul them up and down a flight of stairs without running the risk of falling.
Portable – With the lightweight and compact design comes another advantage that is portability. With kids and pets in the house, you must be familiar with the song and dance; kid/pet messes up, and you get the cleaner. You will appreciate the portability these machines offer as you can make quick cleanups.
Best Upholstery Cleaner Shop Near You
Before I get into the heart of the matter here are a few places (see the map below), where you can find the best upholstery cleaner. There are also some few tips to use if the map does not suffice.
First, I always like consulting my colleagues before I make a purchase. If there is a fellow in your circle with a kickass upholstery cleaner, it goes without saying that you should consult them first.
You will be speaking to a fellow with first-hand experience, which is more than anyone van offer.
However, there are some few search terms you can use to find remarkable devices in your location. They are:
Upholstery cleaner shop near me
Upholstery cleaner shop in my location
Upholstery cleaner shop in my area
Upholstery cleaner shop in UK
But to make your work easier, here are the best upholstery cleaner shops in your area.
Top 15 Best Upholstery Cleaner Comparison Guide 2021
Before we get into the meat of this piece, here is a comparison table with everything you need to know about these devices.
Best Upholstery Cleaners Reviews 2021
It is about time we get into the heart of the matter. I have compiled a list of the best upholstery cleaners and ensured there is a little something for everyone. I welcome you to leave your thoughts or any questions you have in the comments below.
1. Bissell 3624 Professional Portable Carpet Cleaner
(Best overall)
Topping this list of the best carpet cleaners is the Bissell 3624. It is a basic unit with a 22-ft cord, a 6-inch stair tool, and a 3-inch stain tool. However, there is nothing basic about the performance.
The stain tool has a brush that will agitate deeply embedded dirt and eliminate it from the roots. At-3-inches, it is ideal for upholstery. As for the suction, it is robust and does not bog down in part because it is a corded device. The 5.9 amp motor will recover most of the dirty water reducing the drying time. The 22-ft cord though short is enough for most upholstery cleaning tasks.
I do not know if I will be classified as a lazy person, but I love a machine that is easy to use. The Bissell 3624 is simple as you can empty, clean, and refill with ease. Moreover, it is relatively light and has a carry handle, which is a nice touch.
Pros
It has a long 5-ft hose increasing the reach
It is robust and perfect for demanding stains
You run little risk of ruining your upholstery as it works with hot tap water
Cons
The single line-level makes it challenging to refill in the sink. You have to place it on the counter and refill with a cup
Kevin's Take: Though it is not the best for all cleaning applications, it is a device that will make you comfortable. It is also the perfect given the price of the unit. It is undoubtedly the best upholstery cleaner.
2. SteamFast SF-370Wh Multi-Purpose Steam Cleaner
(Best chemical free cleaner)
Next on this list of the best upholstery cleaners is the SF-370WH which also happens to be the best chemical-free cleaner. It is a steam cleaner, and we all know that steam cleaning is a true and tested way to get rid of spots and sanitize surfaces.
A few exciting features of this appliance include the long runtime of 45 minutes. That is enough to clear up any messes on the upholstery. Next, it has 15-accessories which are enough for any task.
The microfiber pads can clean any hard surface, the tool/brush combo is enough for getting into corners, the steel brushes for sinks and grills, and the nylon brushes for carpets and upholstery,
As for maneuverability, you will appreciate that it is light at 8.4-pounds, and has large wheels, so it moves effortlessly on carpets.
Pros
It naturally deep cleans and will get stains from the roots
It is well accessorized
It has a steam locking switch
Cons
The water takes long before it is ready to use (8-minutes)
The attachments are of low-quality
Kevin's Take: The SteamFast SF-370WH is an affordable option for the average bear. It has all the necessary accessories to not only clean upholstery but carpets and hard surfaces too. It is also reasonably priced and ideal for people who want to keep their houses chemical-free but clean. It is a device I believe you will love.
3. Bissell SpotBot Handsfree 2117A Spot Remover
(Best for pets)
There are several reasons to love this machine. First, it provides hands-free operation but with the option of working manually. I am not lazy, but I am game with any device that saves me the trouble of cleaning.
If the pet mess is in an area where you can place the device, I recommend doing that. It has two cleaning cycles, the quick clean for new stains, and the deep clean for messes that might have been on the carpet longer. Also, it has a 3-ft cord and a tough stain tool giving you floor cleaning power to work on areas that are not easily accessible.
As for controls, it is rather intuitive as everything is at the press of a button. Finally, there are two cleaning formulas included in the package that eliminate pet odors.
Pros
It is affordable
It is simple to use
It is heavy duty and durable
The cleaner head is friendly to your upholstery
Cons
The attachment is less effective and will need several passes before it eliminates a stain
Kevin's Take: The hands-free design of the Bissell 2117A is enticing, but you can only use it on some few of your upholstered items. However, it does include the hose and the tough stain tool, and though it will take several passes to eliminate stains using this, it still works.
Though this shows it working on a carpet, the same mechanism will work on upholstery.
4. Bissell Pet Stain Eraser 2054
(Best cordless upholstery cleaner)
If you are on the hunt for the best upholstery cleaner that you can use anywhere, and at any time, then invest in the Bissell 2054. The 2054 is a cordless unit and thus a grab and go device. You will have to charge it for 4-hrs and will give you 15-minutes runtime. 15-minutes might sound short, but it is enough for upholstery.
The Bissell 2054 has two reservoirs for dirty and clean water, ensuring that the two never mix. It has a brush on the front plus the suction. The design allows you to agitate while vacuuming the dirty water.
Pros
You can remove the bristles to clean them
It is light allowing you to work for long hours with ease
It is compact (more compact than the standard upholstery cleaner) thus is easier to store
Cons
There are complaints that the appliance leaks
Kevin's Take: Most of the devices here are easy to use, but none is as good as the Bissell 2054. It is cordless and thus is a grab and go device and you can use it on carp upholstery with relative ease. The runtime is also enough for most upholstery cleaning tasks, and this is a device I recommend.
This is a beast and you will only get the complete feel after watching this review.
5. McCulloch MC1275 Steam Cleaner
(Best heavy-duty upholstery cleaner)
The McCulloch MC1275 steam cleaner serves two markets. First, it is perfect for anyone on the hunt for a heavy-duty upholstery cleaner. It is a device that can handle abuse without sustaining any damage. Moreover, it is ideal for folks looking to keep their houses chemical-free as it is a steam cleaner.
One remarkable feature of this appliance is the pressure. Pressure is essential in an upholstery cleaner as it determines how far the water and cleaner will penetrate. The McCulloch has a pressure of 43 psi, which is enough to get too deeply embedded stains.
You will also appreciate the 48-ounce tank as it holds enough water for 45-minutes of cleanup. As for the cord, the McCulloch has a 15-ft cable, and though it is short, it is enough for upholstery. As for the attachments it has 18-accessories including nylon brushes which are handy on upholstery.
Pros
It naturally deep cleans and sanitizes
It is well accessorized
It has on-board storage reducing the likelihood of losing attachments
It has large rubberized wheels, so it moves effortlessly without damaging the floor or furniture
Cons
It is loud
It is a tad pricey
Kevin's Take: Steam cleaning is revolutionary as it gets the tiniest of dirt from awkward places without relying on harmful chemicals. The McCulloch MC1275 is excellent as it is a steam cleaner, it is well accessorized, and it is heavy-duty — a remarkable device.
The following is a long review, but one I feel that covers everything about this device. Watch for the complete feel of the unit.
6. Bissell Little Green ProHeat 14259
(Best for tight spots)
Next on this guide of the best upholstery cleaner is the Bissell 14259. Like most appliances on this guide, it cleans both upholstery and carpets but is better for tight spots.
Thanks to the crevice tool, you can clean stains in tough to reach areas. Other than getting into tight spaces, the device can eliminate other stains with the tough stain tool. The 4-ft hose allows you to reach around your upholstered furniture without having to move the primary unit.
When purchasing an upholstery cleaner, you should stop and consider the vacuum. The Bissell 14259 has a strong vacuum thanks to the 9amp motor and thus will recover more water. You can expect the drying time to be significantly shorter. Finally, it has an in-built heater, and you don't have to add hot water to the unit.
Pros
It is light and will come in handy when cleaning room to room
It has in-built heating system
It is easy to assemble
It is reasonably priced
Cons
The dirty water tank leaks and can result in some pungent smells
Kevin's Take: The Bissell 14259 is nothing short of remarkable. It is a powerful appliance, a device that will get into those tight spots, and one that will save you the trouble of cleaning crevices. The in-built heater also saves you the trouble of having to refill the unit with hot water. Indeed, a remarkable device.
7. Bissell Little Green 1400B Upholstery Cleaner
(Best for environmentalists)
The next best upholstery carpet cleaner is the Bissell 1400B. But what is so green about this unit? First, it is made of no less than 50% recycled materials, it consumes less energy, and the tanks are PVC. And speaking of tanks, the appliance has 48-ounce removable tanks for easier refilling and cleaning.
There are other variations of this device in the 1400J and 1400M, but the only difference happens to be the color or the attachments included. The Bissell 1400B has a tough stain tool which you can use on your upholstery. The bristles will agitate stains while the suction recovers the dirt.
As for ease of use, it is an intuitive device. It is lightweight at 9.6 pounds, and it has a carry handle. The cord is long enough for most upholstery cleaning tasks. Finally, rinsing out the hose is a breeze thanks to the hydrorinse tool attachment.
Pros
It is powerful for old stains
The brush is gentle for upholstered furniture
It is simple to assemble
The cord and hose wrap on the unit for more straightforward storage
Cons
The tanks are difficult to clean as the openings are small
Kevin's Take: Given that the Bissell 1400B is made of 50%+ recycled materials, I recommend it for environmentalists. However, given the performance, it is perfect for anyone on the hunt for an upholstery cleaner. It is affordable; it is lightweight, it is easy to use. What's not to love about such a device?
8. Hoover Power Scrub Cleanplus FH50150
(Best upright)
The best upholstery cleaner that also happens to be the best upright is the Hoover FH50150. Other than being able to clean upholstery and carpets, it is popular thanks to its fair price.
Starting with the design, the FH50150 is easy to carry up and down stairs thanks to the many handles. The brushes and nozzles are also removable whenever you want to clean them. For cleaning upholstery, the device has an upholstery tool and a crevice tool for those tight spots. The hose is 8-ft long, and thus you can complete a clean-up without having to move the unit.
Some other perks of this unit include automatic detergent mixing and the rinse technology. The latter allows you to use water to rid an area off soap residue. It will come in handy on your seats.
Pros
It has a user-friendly design
The tanks for clean and wastewater are intuitively designed
It is affordable
The 1-gallon tank is enough for any upholstery cleaning tasks
The suction cannot be beat thanks to the DualV nozzle
Cons
It is cumbersome and tiring
Kevin's Take: The Hoover FH50150 is nothing short of remarkable. If you are on the hunt for an appliance that can clean your carpets with ease, you will love this unit. As for upholstery, the included upholstery tool does a marvelous job. It is robust, it recovers most of the dirty water reducing the drying time, and it has a long cord increasing the reach. The FH50150 is a to die for upholstery and carpet cleaner.
Get a complete feel if you are on the hunt for a cleaner that works well on carpets and upholstery.
9. Rug Doctor Portable Spot Cleaner
(Best for cars)
Cleaning car upholstery is likely the last thing most people think about. It is a task people dislike as it involves lugging heavy equipment to the garage. Well, you are in luck, thanks to this rug doctor. With the retractable handle, you can pull it to the garage instead of carrying it.
Another fabulous feature of the Rug Doctor happens to be the upholstery tool and the long hose. The brush is motorized, and thus, you do not need elbow grease to eliminate stains. Moreover, the bristles are gentle on your upholstery, gently massaging the stain out of your furniture. As for the hose, it is 5.5-ft long, and you can cover large areas without moving the appliance.
Pros
It is portable thanks to the retractable pull handle
It is powerful and cleans faster than most other devices
The large wheels make it easy to pull on plush carpets
Cons
The unit is bulky, and carrying it up, and down stairs will be difficult
Kevin's Take: The shortcoming with most of the units on this list is that you have to rely on back and forth hand movements. Don't get me wrong, they are perfect, but they could be better with motorized brushes like this Rug Doctor. It saves you the effort and makes cleaning a walk in the park. The pull-handle increases the portability, but it will be difficult to carry up the stairs. It is a helpful device, but not a must-have.
10. Bissell SpotClean 2458 Portable Cleaner
(Best for gross messes)
There are two reasons why I consider Bissell 2458 to be the best upholstery cleaners. First, it has a long reach at 27-ft. The cord is 22-ft, and you can add the 5-ft hose to the unit for a better reach.
The hose is also handy when cleaning upholstery as you don't have to move the primary unit around.
The second feature that stood out for me is the gross messes trapper tool. The attachment traps gross messes and stores in a different tank keeping it out of the dirty water tank. Cleaning pet messes will never get more comfortable.
Suction is also crucial in an upholstery cleaner. The Bissell 2458 has a strong suction thanks to the 5.7-amp motor, which ensures you recover most of the dirty water. By and large, it is a marvelous appliance.
Pros
The combined brushing and suction action eliminates most stains
It is reasonably priced
The plastic build is durable for the intended purpose
Cons
The dirty water tank is tight, making it hard to remove. However, if it were any less tight, it would result in leakages
Kevin's Take: Dealing with gross pet messes can be a pain. Moreover, it is okay if it was a one-time thing, but worse if you have a pet with medical problems that result in soiled upholstery. The Bissell 2458 will help you keep your sanity and save you the trouble and money involved in hiring professionals.
The Bissell 2458 is an interesting device, and I feel you will agree with me after watching this review.
11. Hoover FH11300 Upholstery and Carpet Cleaner
(Easiest to maintain)
Next on this list of the best upholstery cleaners is the Hoover FH11300. Other than the performance which I will get to in a minute, I believe you will appreciate the self-cleaning technology.
Getting rid of soap residue in the hose is often a demanding task, but the Hoover FH11300 has simplified that and you don't have to run clean water through the unit.
You will also appreciate the dual-tank technology. It keeps dirty water separate from clean water and seeing as they are clear, you can tell when to empty and refill the tanks. As for upholstery cleaning, the 5-ft hose coupled with the cleaning head will come in handy. The cleaning head combines brush action with suction leaving your upholstery as clean as new.
Pros
Allows disassembly, so it is easy to clean
It is a powerful device
Filling the tank is easy in shallow sinks
Cons
The base of the tank is not flat; thus, it cannot rest when refilling
The sprayer angle is narrow. Thus you need to spray often to clean large messes
Kevin's Take: The Hoover FH11300 has a powerful motor giving you excellent cleaning results and reducing the drying time. The advanced cleaning technologies save you the trouble of having to clean and maintain the hose. It is a life-saver, especially for folks with kids.
12. Bissell ProHeat 2X Revolution 1548
(Best for keeping water warm)
The next best upholstery cleaner happens to be an upright unit. However, it has magnificent features that allow one to clean furniture. First, it has a 7-ft hose and a 3-inch 2-in-1 tool for upholstered areas. The tool is a brush suction combo that allows you to agitate dirt and remove it with suction. And while we are on the topic of suction, the Bissell 1548 is unrivaled and makes short work of stains thanks to the 6.8 amp motor.
Cleaning tight spots on your furniture also happens to be a walk in the park thanks to the crevice tool. You can reach spills and messes in tight spots. Another fascinating feature of this unit is the heatwave technology. It will not heat water, but it will keep it hot. As for the tank capacity, the Bissell 1548 has a 1-gallon clean water tank allowing you to clean substantial areas before you have to refill.
Pros
It has a user-friendly design
It has a decent three-year warranty
It has a long power cord
It is versatile with the three cleaning modes
Cons
The dirty water tank is small
It is pricey
Kevin's Take: The Bissell 1548 is an upright carpet cleaner, and though it does come with a larger price tag, I think it is worth it. You get more performance out of the machine for years to come, and it is also a versatile unit.
13. Bissell DeepClean Lift-Off 24A4
(Best multipurpose)
The lift-off feature has been popular in vacuums, and seeing it in carpet cleaners is just surreal. The next best upholstery cleaner is the Bissell 24A4 with the lift-off feature. I.e., you can use it as a handheld, or as an upright.
The Bissell 24A4 is a powerful tool, and the main cleaner head, and the attachments will lift more dirt than most competitors. The detachable unit is similar to the Bissell SpotClean Pro. It is therefore agile for cleaning stairs and upholstery.
It has some fascinating features such as a cord clip on the handle, and level lines on the tanks. It is also easy to take apart and clean. The hand tool is as powerful as the cleaner head and removes most stains in less than 30-seconds. It struggles with large sediments, but that is to be expected of any hand tool.
Pros
It is agile, thanks to the lift-off design
The wheels are large to pass thresholds and bumps
It has a crevice tool for cleaning tight spots in upholstered furniture
Cons
It is bulky. Both the upright and portable carpet cleaner are heavy
Though it disassembles, cleaning the nozzle is tasking
Kevin's Take: This carpet cleaner is great for small stains on furniture and is perfect as an upright — the hand-tool benefits from the strong suction of the motor that runs the main unit. Moreover, the cord, the hose, and the motor are on the lift-off, and thus you don't have to carry the primary unit when using it as a handheld making it a great choice for upholstery.
What is a lift-off system? How does it work? Is it effective? The answer is yes, but I feel you will get a better understanding after watching the video below.
14. Bissell ProHeat 1887 Carpet Cleaner
(Most affordable upright)
Following on this list of the best upholstery cleaners is the Bissell 1887. Most of the uprights on this list are anything but affordable, but the Bissell 1887 is an exception. It is affordable while offering the same cleaning performance as the other uprights.
First, you will appreciate the 29-ft reach. The 22-ft cord allows you to clean a substantial area, while the 7-ft hose enables you to clean upholstered furniture without moving the main unit. The tough stain tool gets deeply embedded dirt, and the suction makes quick work of recovering the dirty water.
Another fascinating feature is the crevice tool which you can also use on stairs and tight areas on your upholstery. Finally, the tanks are easy to clean, which is always good to see in a carpet cleaner.
Pros
It is gentle on your upholstery
It is easy to use
It is affordable
The heatwave technology is a plus as it keeps the cleaning water warm
Cons
It lacks a heater, and thus you cannot speed up the drying process
The build is not durable and breaks down
Kevin's Take: Most upright carpet cleaners in the market today are expensive; there is no secret about that. Therefore, it is refreshing to see one that is affordable and works, as well. The fact that it performs well on upholstery is also a plus. Though it may lack some features, the Bissell 1887, is a remarkable appliance.
Learn how to use the Bissell 1887 in less than a minute (okay maybe not a minute). Here is a video with everything you should know.
15. ONEPWR Spotless Go Cordless Portable Carpet Cleaner
(Best for compatibility)
Bissell and Hoover appliances dominate the upholstery cleaner, and the next best upholstery cleaner is from Hoover. It is a cordless unit and a truly grab and go appliance. To lift spills, it combines suction with brushing action to get all the waste.
The lightweight design allows you to clean stairs and upholstery. As for attachments, the ONEPWR has a 4-inch scrubbing brush for eliminating tough stains. At 4-inches, it is larger than most scrubbing brushes, therefore, clean-ups will take fewer passes.
As for the tanks, it includes a dual-tank system ensuring dirty water and clean water stay separate. However, the recovery tank is small, and thus this is best for spot clean-ups. The hose also happens to be long and is removable thus simple to clean.
Finally, being a cordless vacuum, I have to speak of the runtime. It is not impressive as it can only hold power for 13-minutes but charges for 3.5-hrs, but that is enough for small messes.
Pros
It is lightweight at less than 7-pounds
It has a water level indicator
It has a removable solution tank thus easy to refill
Kevin's Take: Cordless upholstery cleaners leave me with a mixed bag of emotions. On the one hand, I love them as they are easy to use and you can take them everywhere, but on the other, they have a short runtime and long charge time. Nonetheless, ONEPWR GO is a remarkable device.
Upholstery Cleaner Buying Guide
Before picking your future upholstery cleaner, I would love to turn your attention to the things you should consider to help you make an educated decision.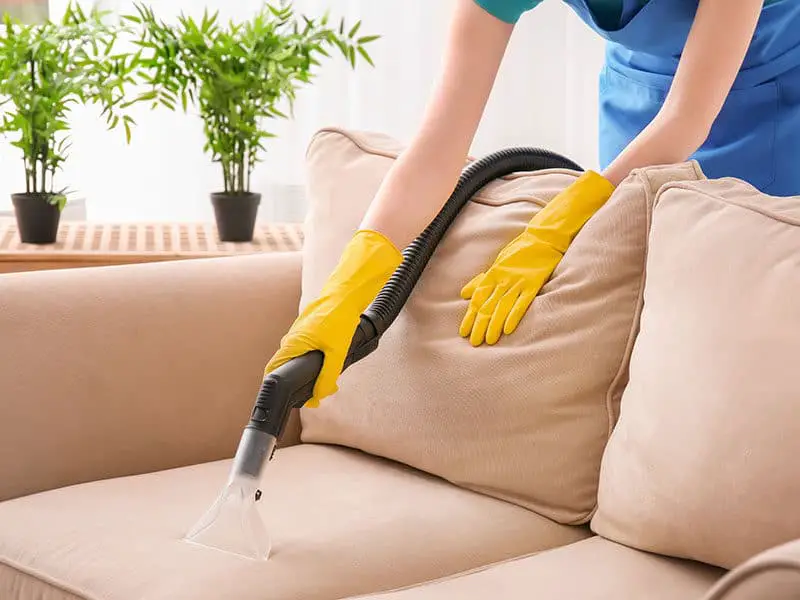 Size and Type of Job
There are some few questions you should first answer with regards to the size and type of job. First, are you looking for an appliance that can complete large jobs or is a spot cleaner enough? If it is the former, then ensure you get a robust machine. For the latter, a moderately powerful unit will do. Something like the Bissell Pet Stain Eraser.
Another question you should answer is the type of upholstery messes you will be cleaning. For pets, get an upholstery cleaner that can handle pet messes. For deeply set-in stains, a robust cleaner will do. By and large, invest in a device that meets your needs.
Power Struggle
More power does not always result in better cleaning experience. Yes, it might retrieve more dirty water, but it might be a pain to work with. If you have ever worked with a vacuum or cleaner with strong suction, you should be familiar with the power struggle. Appliances with strong suction are difficult to move and can suck up the fabric.
Get an appliance with variable suction so that you can balance the power struggle.
Tanks
Again, you have to consider the job you need the upholstery cleaner for. If it is spot cleaning, then the tanks don't matter that much. Small tanks will be enough for most of the tasks. However, you need large tanks for full clean-ups.
The tank size will determine how many trips you will make before you finish the job.
How Old are the Stains
To pick the best upholstery cleaner, you have to identify the stains you will be cleaning. Some units work best with stains that have set in, while others are great for recent messes. If you are moving into a new house, get one that gets rid of old stains. However, if you have kids and pets, you are on the hunt for an appliance that can deal with recent stains.
Cleaning Path
First, you don't have much choice when determining the cleaning path of an upholstery cleaner as most of the upholstery tools are 3 or 4-inches wide. However, there are machines with stair tools, and these happen to be wider. You can invest in one such device to reduce the time you spend on one spot.
Nonetheless, that is not to mean that you should abandon the standard upholstery tool. Ensure you have both to increase the versatility.
FAQs
Conclusion
Bissell and Hoover dominate the upholstery cleaner industry. Despite the lack of competition, their devices are exceptional. If you have an active life with kids and pets, I would recommend investing in one of these machines for the accidents that are bound to happen. Vacuuming is often not enough, and you need to get the deeply embedded stain.
The information here was obtained through research, and these are what I consider the best carpet cleaners. I hope I have helped you find the best upholstery cleaner and feel free to ask any questions in the comments below.