Are you deciding between carpet and hardwood flooring? Don't rush the decision you might regret, because both options have their purpose, aesthetic value, cost, pros, and cons.
When you are renovating your home, or just fixing floors, you want to get the best from the space. Some may want a cozy or modern atmosphere, but everyone wants simple maintenance and a healthy environment.
Not all flooring types are suitable for all rooms. For example, you won't install bathroom-suitable flooring in the bedroom, would you?
Therefore, let's go through all aspects you need to consider before you choose either carpet or hardwood floors in your home.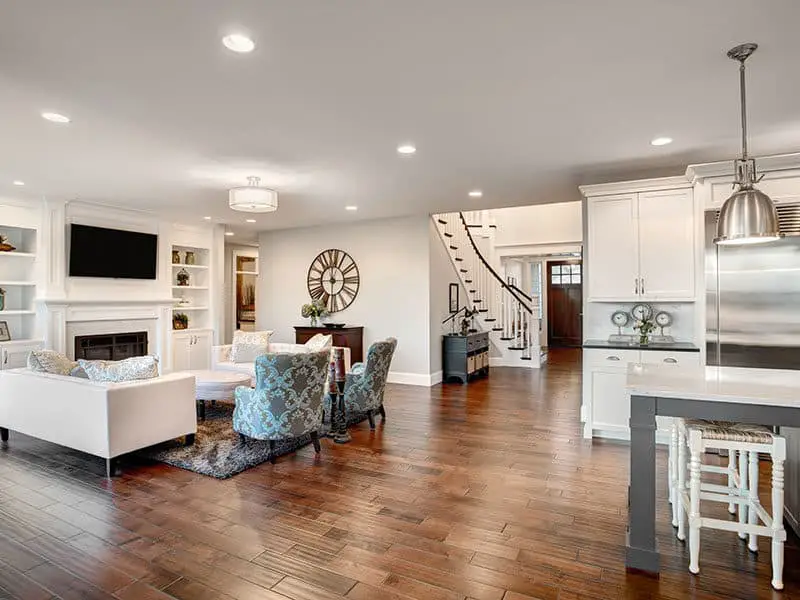 How To Choose Between Carpet And Hardwood Flooring?
Hardwood flooring is superior to carpets because of lifespan, appearance, health factors and because it adds resale value to your property. It is great for almost every room in your house, except the basement, garage, and bathroom.
Carpets are cheap, warm and sound-proof. They are also easy to maintain if you don't have pets and allergies. They work better in rooms with less traffic, such as bedrooms.
Why Are Carpets And Hardwood Floors So Popular?
There are many types of flooring nowadays, such as laminate, vinyl, ceramic or stone tiles, carpet, hardwoods, etc. Homeowners often struggle to choose the right one for their home, and carpets and hardwood floors are the safest choices.
They are easy to combine with furniture and create desired interior design looks. Moreover, carpets are widely available and come at different prices, simple to install. Hardwood floors don't lose their popularity because of their eternal beauty.
Carpet Vs Hardwood Floor Comprehensive Comparison
Both carpet and hardwood have a specific purpose and use in homes around the world. While one is a natural and expensive material that might outlive you, the other one is synthetic and budget-friendly.
Let's compare them in all categories important for making the right decision for your home.
Hopefully, by the end of this comparison, you can choose confidently and use whichever material you want to its full potential.
Costs
I'll have to start with costs because it is a determining factor for many people when they renovate their floors. If you have narrowed your options to hardwood flooring and carpet, expect a massive difference in costs.
Hardwood floors are significantly more expensive than carpets. The exact price depends on the wood type you want. According to data from Improvenet.com, the cheapest is red oak, but you still have to pay an average price of $4 per square foot.
More expensive wood types, such as maple and solid oak, can cost up to $14 per square foot. (1) The price doesn't include the labor costs and professional service. Reclaimed wood costs double or triple the price.
The same source shows that costs for carpets can be as low as $2 per square foot for lower quality carpets, and as high as $7 per square foot for high-end carpets. (2)It means that you can have the highest-quality carpets for half of the price of hardwood floors.
If you want hardwood floors, get prepared to pay ten times more money for installation than you would for carpets. I don't recommend DIY hardwood floor installation, because a poorly made job can cost you more money for repairs.
Floorboards are complex to install. Installation requires advanced wood knowledge and experience, and I recommend hiring professional workers.
Installing carpets with paddings is inexpensive, and you could try to do it yourself if you have the proper tools.
Check out this video to know more:
Installation
In general, both carpets and hardwood floor installation require the use of specific tools.
To install a carpet, you or the professionals you hire, need to adhere to underlayment pads and roll the carpet over it. The carpet is then stretched to get the exact fit for the room. It is a tricky procedure, which can go bad especially if you have never done it before.
The last step is to join a piece of carpet with the professional heat-activated tape placed under the seams. Overall, it is a tiresome process.
Hardwood floorings consist of separate rows of floorboards. During installation, the boards lay one by one. The boards need to be nailed at certain angles and joined. The process is much more complex than carpet installation, and so, more expensive.
Once you are done with carpet installation, you can use the room. But, hardwood floors require sanding and special coating application. It can take time to dry and the procedure lasts much longer than carpet installation.
Check out this video to know more:
Maintenance
For me, maintenance is one of the most determining factors, because I don't want to spend more time cleaning my floors than enjoying the appearance and comfort.
If you are anything like me, you might choose carpet over hardwood floorings. Carpets are easy to maintain. Vacuum them regularly to remove dust and debris and use professional washing services to maintain their look and deep-clean them. If you own a steam cleaner for carpet, you can clean them easily at home.
Also, there are some very effective ways to remove stains from carpets.
Hardwood floors on the other hand require the use of special vacuum cleaners without brush rolls. You can use a mop or sweeper but choose a cleaning solution carefully. Harsh cleaners can damage the finish, cause irreparable stains and discoloration.
But, more importantly, hardwood floors need sanding and reapplying protective coats occasionally. You can choose to do it yourself, but the process is time-consuming, and it requires patience, proper choice of varnish and tools, etc. You can apply polyurethane to hardwood floors by yourself, but if you have a large area to cover, I recommend you hire professionals.
If hardwood floors are maintained properly, they will keep a good look and last for decades. But, the maintenance is annoying.
Check out this video to know more:
Health Factors
Carpets can hold allergens, dust, germs, and all the nasty things you don't want in your home. Sometimes, even regular cleaning cannot remove all the dirt and disinfect them.
Therefore, carpets might not be the best choice for people with asthma, allergies, or any respiratory issues. If you are allergic to dust, vacuuming your carpet will be a health hazard and can cause you severe discomfort.
Compared to carpets, hardwood floors are safe to use and coatings aren't toxic or harmful.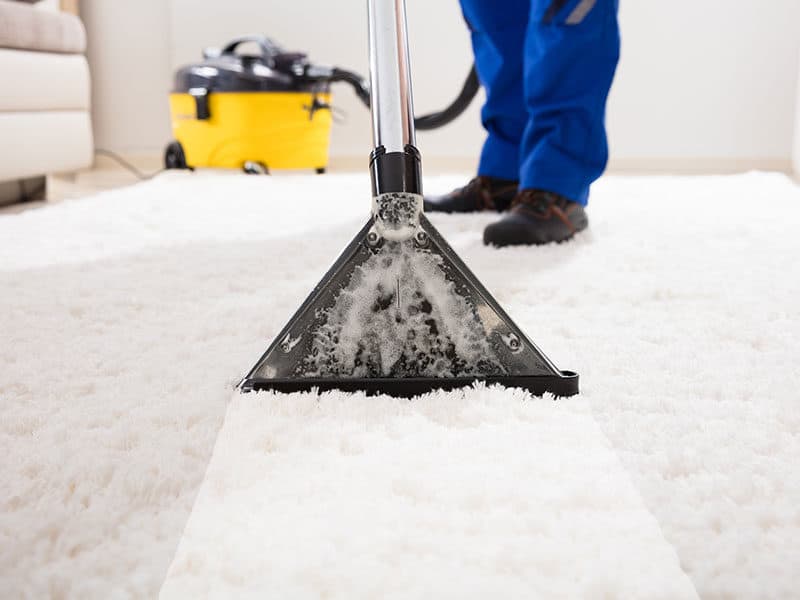 Appearance
When it comes to appearance, the choice between carpet and hardwood is a matter of personal preference. But, you are limited with the wood types for hardwood floors, and therefore, you have limited options for styling your floors and mixing them with other elements in the room.
There are countless variations of carpets with different colors, textures, patterns, etc. The carpet gives a soft and warm effect to the room, while the hardwood floor is bold, and adds an effect of tradition.
Most people prefer the sophisticated, yet simple look of hardwood floors, but carpets can look good, too.
Check out this video to know more:
Durability
If durability is your determining factor, then you have an easy choice. The average lifespan of carpet is between five and 25 years. During that time, despite good maintenance and regular cleaning, the carpet will show signs of wear and tear.
On the other hand, hardwood floors can last up to 100 years. (3)The coatings may wear off, but if you sand and reapply coatings regularly, your hardwood floors will look as good as new for a long time.
If you decide to install hardwood floors in your home, it will probably be the only floor renovation project you'll have to do during your lifetime.
Floods or other natural catastrophes will destroy the floors sooner.
Use In Rooms
Hardwood floors look beautiful in living rooms, classy in workrooms and offices, are suitable for bedrooms and nurseries, make a good choice for hallways, etc.
As you can see, hardwood floors are an excellent choice for every room in your home, as long as the room isn't wet, such as the bathroom and basements.
Carpets are also suitable for a variety of rooms, but not as much as hardwood floors. For example, you should never install carpet in the office, especially if you use chairs with wheels.
Also, carpets are suitable for high-traffic areas, because they can get dirty too quickly and develop germs. Carpets aren't good for the kitchen, because of the high risk of staining and spilling.
Most people choose carpets for the bedroom, as they give warmth. The carpet can look good in the living room, too. But, I recommend installing carpet on the stairs and in the playroom.
It absorbs sounds better than any other flooring, so it has two purposes – look and sound-proofing.
Comfort
Carpets are soft and cozy, they add warmth to the room. During winter, carpets are pleasant and a great way to keep the rooms warm and homey.
Carpets absorb sounds, and because of the softness and thickness, they are comfortable to walk on.
Hardwood floors are cold, and noisy, especially if a board loosens. They can cause squeaky sounds or creak, which can be quite uncomfortable during the night.
Hardwood floors don't have soundproofing properties.
Real Estate Value
If you plan to sell your property and move at some point, hardwood floors might be a better option. Unlike carpets, hardwood floors add resale value to your property, which will only increase with the proper maintenance.
However, if you have old floors in your property, adding fresh new carpets can improve the value, but in a brief span.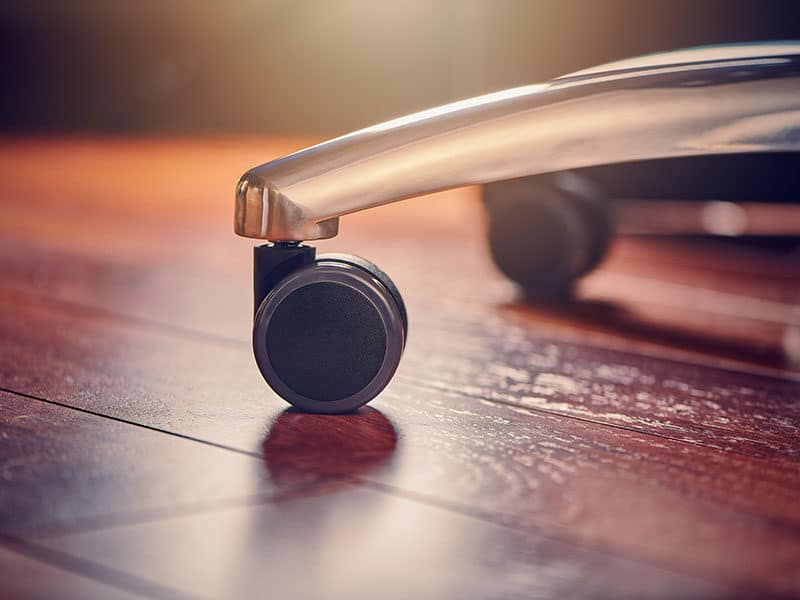 Use Around Pets
Pets can scratch hardwood floors and the urine contains harsh chemicals that can change the color of your precious floors. Also, hardwood floors are slippery for young puppies.
Even though carpets are soft and it is easier to get the stains out from them, they can also collect more pet hair. If you install thick carpets, you'll have to invest in a heavy-duty vacuum cleaner to extract pet hair and clean the carpets thoroughly.
Because of that, I recommend getting hardwood floors if you own pets. Despite potential drawbacks, hardwood floors seem like a cleaner option to have around pets. If accidents happen, there are successful ways to remove pet stains from your hardwood floors.
Carpets and Hardwood Floor Comparison Chart
Check the table for a quick and simple comparison of the two common flooring options – carpets and hardwood floors.
| | Carpet | Hardwood Floor |
| --- | --- | --- |
| Rooms | Bedroom, Living Room | All rooms, except bathroom and basement |
| Price per square foot | $2-$7 | $4-$14 |
| Installation | DIY/Inexpensive professional installation | Expensive professional installation |
| Maintenance | Vacuuming, steam cleaning, professional cleaning | Sweeping, vacuuming, sanding, waxing or applying new coats of varnish |
| Lifespan | 5-25 years | Several decades to century |
| Noise absorbing properties | High | None |
| Warmth | Add warmth and retains temperature in the room | Cold, without insulating properties |
| Health factors | Can collect dust, germs, allergens | Suitable for people with allergies |
| Real Estate Value | No change | Add 10% or less |
Why Choose Carpets?
If you have a tight budget and you don't plan to stay in the same home for the rest of your life, carpets can be an excellent temporary solution. I recommend carpets especially if you live in an area with a colder climate! They will add the necessary warmth during chilly temperatures.
Also, cleaning and maintaining your carpets won't take you a lot of time. Even if you don't own a vacuum, you can clean carpets thoroughly.
You can easily match carpets with the rest of the furniture and achieve a cozy atmosphere.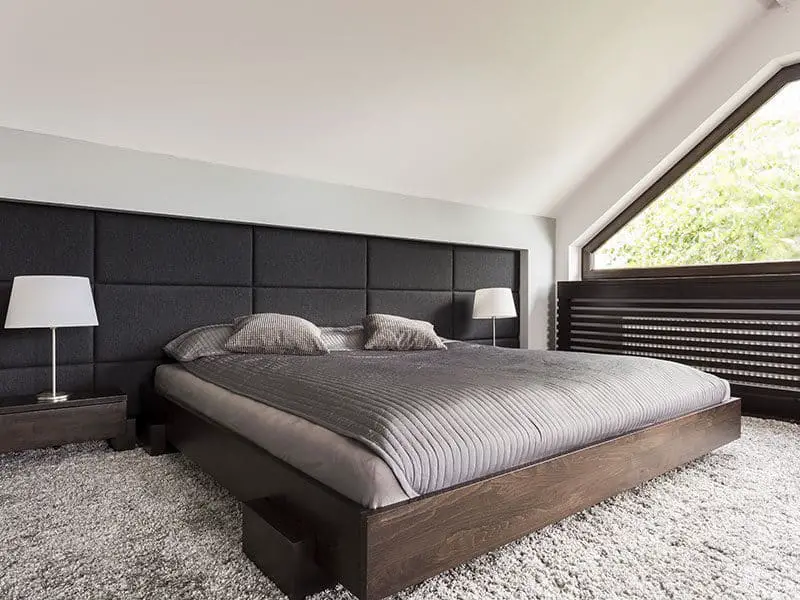 Check out this video to know more:
Who Should Avoid Carpets?
Avoid carpets if you have allergies or asthma and pets. You will spend a lot of time cleaning and vacuuming your carpets, and you can never be sure that you've got all the dirt out.
Why Choose Hardwood Floor?
If you are looking for a sophisticated and durable solution for the floors in your home and you are ready to invest more money, hardwood floors are the best option. People who have allergies shouldn't consider getting thick carpets.
Hardwood flooring improves the look of every room, and with minimum decoration, you can still have a stylish interior setup.
Who Should Avoid Hardwood Floors?
If you don't think you'll sand and reapply new varnish coats after a decade, you can skip hardwood floors.
Carpets And Hardwood Floor Which Is Better?
The hardwood floors are simply the better option. They will last a long time, have an elegant look and hypoallergenic features. Different wood options affect the price, so you might be able to score a good price for cheaper wood types.
If possible, go for the hardwood floors in all rooms in your home, except the bathroom and basement. If you want to save money, install carpet in a bedroom, stars and workroom to absorb sounds. Still, be ready to replace them after ten years or so.
Which one will you choose for your home – carpets or hardwood floors?
If you think my guide is useful, don't hesitate to share it with your friends and like it!
References:
2021 Wood Floor Calculator | Flooring Calculator | Flooring Cost Calculator. Improvenet.com. https://www.improvenet.com/r/hardwood-floor-calculator. Published 2021.
2021 Commercial Carpet Prices | Cost of Commercial Carpet. Improvenet.com. https://www.improvenet.com/r/costs-and-prices/commercial-carpeting. Published 2021.
2021 The Average Lifespan of Your Flooring. (2021). Speedyfloorremoval.com. https://speedyfloorremoval.com/average-lifespan-flooring/#:~:text=Hardwood,properly%2C%20can%20last%20100%20years. Published 2021