Flooring renovation is the largest portion of your renovation budget, but it doesn't have to be with the best cheap flooring ideas! With a limited budget, a bit of creativity, and a free weekend you can really improve the look of your old floors.
The inexpensive flooring renovation project can include store-bought products and pay for professional installation. But, where is fun in that? If you are looking for interesting and creative flooring ideas, you get to do with things you have at home.
Some of them you would never think of. I am talking about using old leather belts to cover the floor or saving all beer bottle caps to glue them to the floor.
I will walk you through some ideas that work in different rooms in your home, are easy to complete and don't cost a ton of money.
Are you ready? Let's find out more about cheap and stylish floorings for your home!
What Are he Best Cheap Flooring Ideas?
If you are looking for cheap flooring options, think about recycling materials you have around. There are a lot of things that can be used for flooring if you want to design and change your floors, like coins and bottle caps.
Several flooring on the market comes at an excellent price tag and can be installed by yourself.
My turn on best cheap flooring ideas include:
Penny floor
Sheet vinyl
Belt floor
Vinyl plank flooring in a whiskey barrel style
Bottle cap flooring
Sheet linoleum
Painted concrete
Reclaimed wood pallet flooring
3 Expensive Flooring Options to Skip (For Now)
Before I move on to the budget-friendly flooring solutions, let's talk a bit about expensive flooring that you shouldn't even think of if you are remodeling floors on a budget.
You may save the list for some other time when you are ready to make a long-term investment.
Hardwood Flooring
It isn't a secret that hardwood floors generally cost a lot of money. Some hardwood floor types, such as exotic wood types, ebony, bocote, or Bubinga have rocket-sky price tags. Ebony can cost more than $100 per square foot without installation.
Traditional wood types in the USA used for floorings, such as oak and ash, are more affordable but still very expensive, especially if you have a large room to remodel.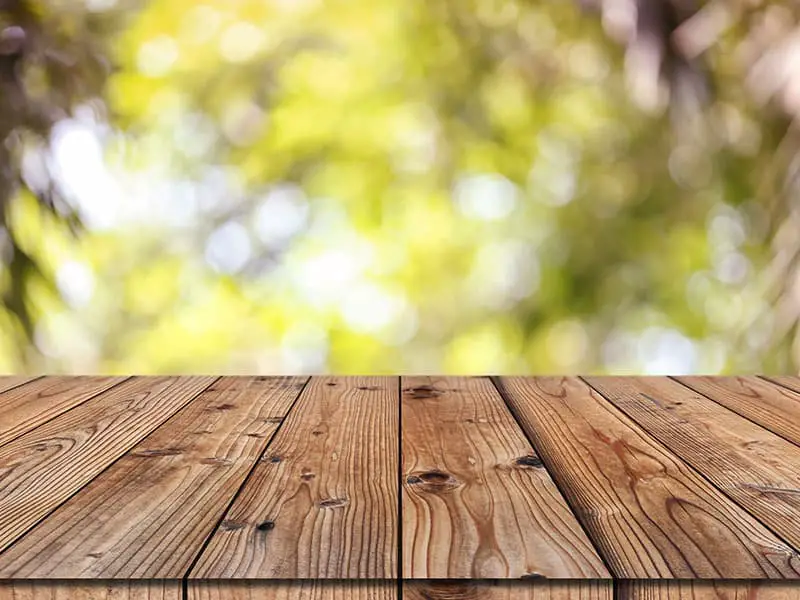 Stone Flooring
Stone flooring is durable, beautiful but pricey, and tough to install. Most flooring brands offer several stone types for your flooring, and the price depends on the specific type.
Marble is my favorite option for stone flooring, and it works exceptionally well if you pair marble flooring with kitchen or bathroom countertops. But, it will cost you more than $20 per square foot for average quality marble and an additional $10 per square foot for professional installation.
Other stone types, such as slate and granite, are valuable options as well, moderately priced. But, they are still twice or triple the price of some of the cheap flooring you can install.
Luxury Porcelain Tiles
Porcelain tiles are available in a broad price range. But, some manufacturers of luxury porcelain tiles focus on creating unique, stylish designs and tough and resilient structures. Luxury porcelain tiles can cost as much as stone tiles.
The average price you can expect per square foot for their premium-quality tiles is $30 and more. The installation is also costly, so keep reading to find cheap flooring alternatives.
8 Outstanding Cheap Flooring Options To Try ASAP
The following recommendations for inexpensive floorings include the DIY installation. It is one of the ways to save money on flooring, alongside using recycled items and things you wouldn't normally use on your floor.
The following floorings might not last as long as hardwood floors, but they will enhance the look of your home and let you save money which you can use to renovate other elements in your home.
Penny Floor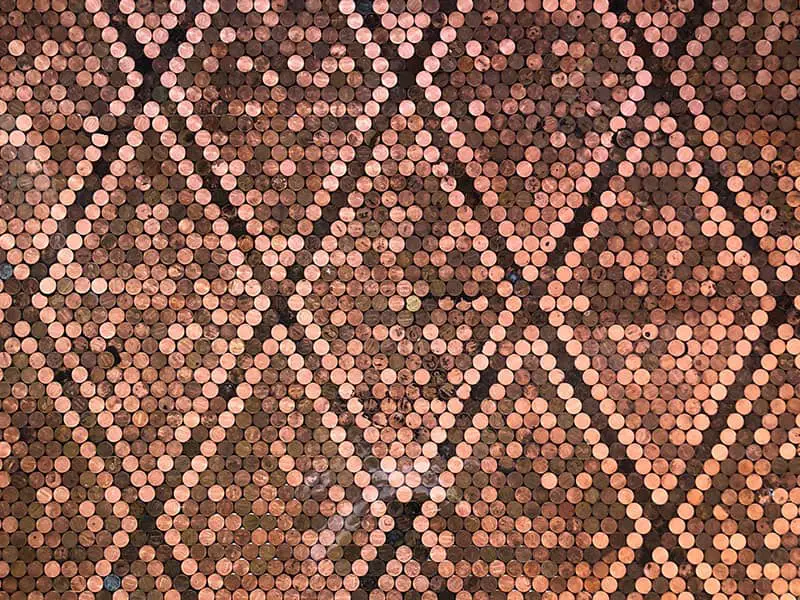 Penny floors have been in trend for the past couple of years. It is a sort of extravagant flooring type that can be a dominant decor element in the room.
There are so many designs you can do with a penny floor. You can make your own unique tile design or randomly glue penny coins on the floor.
You can seal the penny floor with epoxy on top to create a flat surface and prolong the lifespan of your flooring. Once it dries, the penny floor is easy to clean and stay good-looking for years. The shine and color of coins might turn darker, but they will still look stylish.
Penny floor is perfect for a hallway, bathroom, even kitchen. It won't cost you more than $3 per square foot in penny coins and for epoxy coating.
Pros:
Stylish
Numerous ways for customization
Semi-durable
Cons:
The installation is tiresome
Sheet Vinyl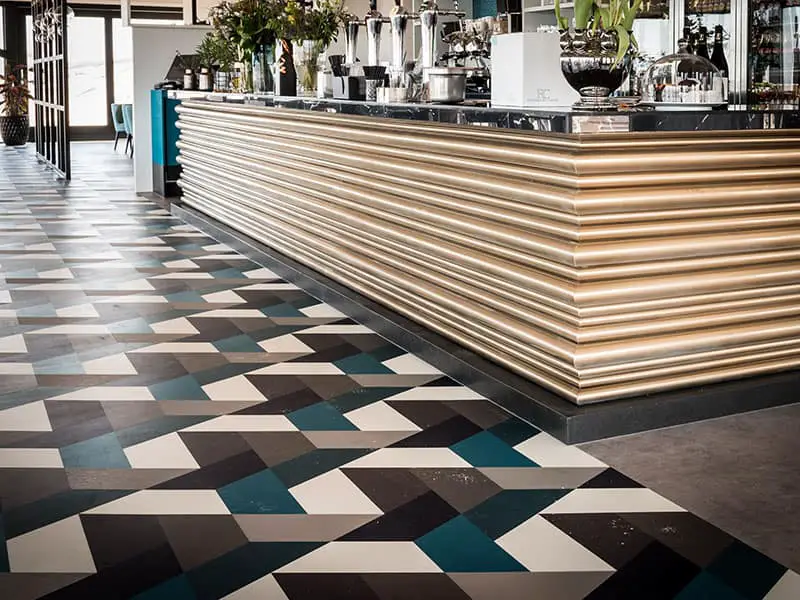 The quality of sheet vinyl has been improved, and nowadays you can get quality and durable vinyl flooring at excellent prices. Sheet vinyl flooring is more affordable than vinyl plank flooring.
At the same time, the sheet is often thinner than planks, but sheet vinyl has great benefits. Apart from being inexpensive, sheet vinyl can be installed with little to no seams, which makes it an excellent option for rooms where you expect moisture and water.
Sheet vinyl has a top protective layer that keeps it in good condition and delays damage from wear and tear. Nowadays, vinyl sheets come in a variety of styles and colors.
You can choose those that resemble wood flooring or decorative ones with stylish patterns and designs.
Sheet vinyl flooring is excellent for rooms with a lot of traffic because the top layer protects them from scratches and scuffs.
There is a benefit many homeowners will enjoy – sheet vinyl is easy to clean. It won't stain easily, and you use a mop for vinyl flooring to remove dirt and grime from the surface.
Here is another unpopular opinion – sheet vinyl isn't only for the garage, basement, hallway or bathroom. If you choose the design of the sheet well, you can install it in the living room and office.
The DIY installation is tricky, but achievable. The starting price for sheet vinyl is $0.50 per square foot, and it goes up to $2.
Pros:
Water-resistant
Huge range of styles and colors
Stain-resistant and easy to clean
Cons:
Repairs aren't possible
For best performance and look, the subfloor needs to be 100% level and repaired
Belt Floor
Did you know you can make flooring out of old leather belts? I don't expect you to have enough old belts to cover the entire floor in the room. Luckily, you can go on a quest in second-hand shops and purchase old belts at exceptionally low prices.
Some flooring brands, such as TING adopted the eco-friendly and unique idea of belt flooring, but you can install belt flooring yourself.
The floor will be soft and warm. Also, because no two used belts are the same, you will end up with unique flooring with character.
If you are eco-conscious, belt flooring is perfect for you. You don't even have to cover the entire floor, you can strip the metals of the belts you collected, clean them and make a rug of belt flooring that you will place in the center of the entire piece of the room.
The price depends on how good a discount you can get at second-hand stores for a bulk of old leather belts!
Pros:
Unique appearance
Environmentally-friendly
Soft and warm
Cons:
It takes a lot of belts to cover the floor
Watch this video to know more:
Whiskey Barrel Vinyl Plank Flooring
If you are a fan of wood floors, but at the moment, you cannot afford them, look for vinyl plank floors in the style of old whiskey barrels. The design of these planks is astonishing, and they look very authentic.
The graining, the wear, the discoloration, the wood type – everything matches the whiskey barrel wood flooring. These floorings look best when used with some industrial decor elements, such as exposed beams and metal elements.
But, you can also use them in rustic, cabin-like interior style. You can use it in the living room, office or bedroom.
Several companies offer whiskey barrel vinyl planks at a very reasonable price. Check Mohawk vinyl plank flooring to find an excellent selection of these floors.
The price range for standard-quality vinyl plank flooring is between $1.5 and $6. You can install the flooring yourself, which is an additional way to save money.
Pros:
Stylish
Easy to combine with other interior decor elements
Durable and affordable
Simple installation
Cons:
Prone to discoloration
Not eco-friendly
Beer Bottle Cap Floor
Here is the ultimate solution for cheap flooring for a mancave – beer bottle cap floor! Jokes aside, the beer cap floor is similar to the penny floor in properties and installation.
Moreover, the beer bottle cap floor can be colorful, if you allow yourself to drink different brands of beer. The beer bottle floor isn't only cheap flooring, it is also an eco-friendly floor because you are basically using waste to remodel your flooring.
The installation is tiresome, but it is worth it. You can make tiles of beer bottle caps, or glue them down directly to the floor. Once you cover the entire flooring, make sure to seal the floor with a transparent polyurethane coating to make the surface flat and durable.
You can also install the floor from beer bottle caps on the balcony or anywhere with low to medium traffic. Polyurethane will make the flooring more durable, but it can still get damaged from heavy traffic.
The costs will include adhesive and polyurethane coat because you've already paid for the beers!
Pros:
Cheap
Eco-friendly
It gives character to the room
Cons:
You should see the video below:
Sheet Linoleum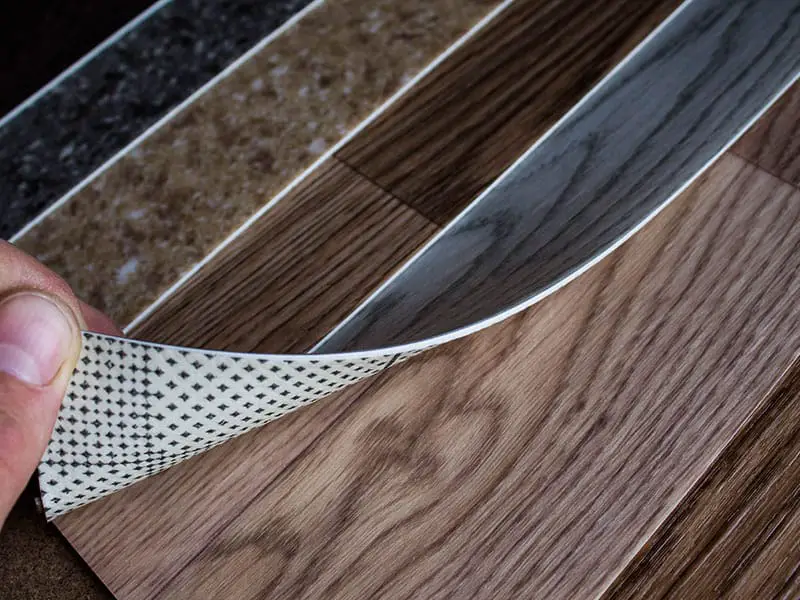 Don't sign off on the old lino flooring! It has been around for more than two centuries and still has its benefits and recommended use. The linoleum floor is affordable, water-resistant, and cheap!
It comes in sheets, similar to vinyl sheets, but unlike vinyl, the linoleum floor is completely natural. It is made from linseed oil and blends of different materials, such as wood flour, grounded cork, etc.
Linoleum is a cheap flooring idea for the bathroom, but you can also use it in the garage, basement, balcony, hallway, etc.
Also, the linoleum floor goes well on top of almost every subfloor. So, you can dress up your old flooring without the cost of old flooring removal. But, I recommend removing tiles from concrete first, before installing linoleum floor for better comfort.
I like the patterns of linoleum floors available nowadays. You can find beautiful Mediterranean-style patterns which will work perfectly in a small bathroom or sunny balcony.
The price range is between $2 and $4. The installation of sheets is somewhat challenging, but if you are looking to save money, better analyze the tutorials to do it right.
Pros:
Attractive patterns and stylish
Water-resistant
Eco-friendly
Cons:
Challenging DIY installation
Painted Concrete
If you are looking for cheap flooring for the garage, it doesn't get better than painted concrete. Other than performance, painted concrete can look stylish, and revamp the look of your garage instantly. It is also one of the cheapest options if you don't want to spend much money on garage flooring.
Painted concrete is also good for patio, balcony, bathroom, utility room, even industrial-looking living room.
Here is the thing with painted concrete. Pay attention to design because if you use only solid color, the floor will end up looking dull and dark.
Also, don't use regular paint, use concrete-suitable paint for durability.
I recommend borders and molds when painting, to give the concrete floor more dimension and character.
Once you are done with the paint, cover the floor with an epoxy resin coating to seal the paint and give the flooring a beautiful sheen.
Painted concrete is ridiculously easy to clean, which is an extra plus and handles water exposure well. To paint and seal an existing concrete floor won't cost you more than $2 per square foot.
Pros:
Simple maintenance
With good paint, you get five or more years before you have to repaint the floor
It can be used indoors and outdoors
Cons:
Cold
Hard and uncomfortable
Reclaimed Wood Pallet Floor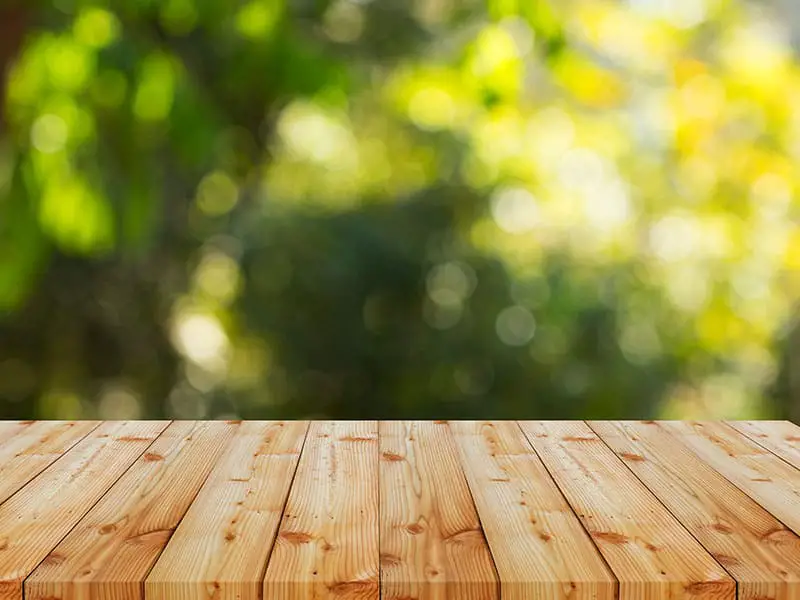 You already know that you can use wood pallets for furniture, but did you know that they make an inexpensive hardwood floor alternative? Check for good-looking reclaimed wood pallets to ensure durability and less chipping over the years.
You can use the pallet flooring in the cabin, farmhouse, garage, but also in the living room, office, RV. You have to break the pallets, remove the nails, cut and trim them into the desired size planks. It is a tiresome task, for sure.
But, the ending results, after you finish and apply the hardwood floor polish will amaze you.
The price depends on how much you'll pay for pallets, but expect $1 to $2 per square foot.
Pros:
Excellent cheap alternative to hardwood
Warm and soft
Cheap rustic flooring idea
Cons:
It takes a lot of time and effort to do it right
Watch this video to know more:
Cheap Doesn't Mean Out Of Style in Flooring
Which cheap flooring alternative looks the best? If you are up for a challenge, I recommend stunning penny floors and floors of beer bottle caps.
If you are looking for a quick and easy solution for old flooring, choose vinyl and linoleum. Concrete gives you a lot of freedom in designing your new floors, while pallet flooring adds a special character to your room.
Consider sharing the article to inspire more people to remodel their floors at an affordable price!