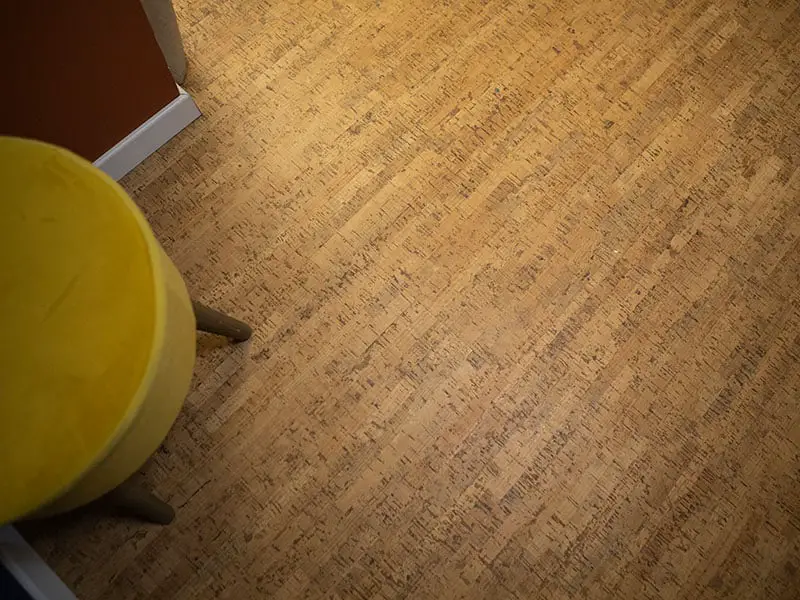 Looking for the most detailed cork flooring reviews? If so, look no further than this article.
Cork flooring has been around for decades. However, it has recently made a major comeback due to the fact that it's a "green" renewable resource that can be utilized without feeling bad and guilty.
In this article, I will share all I know about cork flooring including the pros and cons of this flooring. I will also answer your frequently asked questions about cork flooring and provide a buyer's guide.
So, let's get started and learn why cork flooring has become so popular among homeowners.
Is Cork Flooring Any Good?
Cork is a product from the bark of the cork oak tree (Quercus suber). It's periodically harvested from the living trees in plantations grown for commercial purposes.
Therefore, it's fully natural, recurring, and easily replenishable material. To make flooring products, this tree is cultivated, compressed, and turned into sheets bonded with resins.
The best part? It's biodegradable. Meaning, the cork will break down into the environment at the end of the life cycle of the tree. The countless benefits make cork flooring very popular.
One of the main advantages over other types of flooring is the effortless installation. You can install this flooring almost everywhere in the home. However, it's not as durable as certain other flooring materials. Meaning, it's prone to many types of damage, so it's not that perfect after all.
This is why it's very important to understand the cons of cork before you make a final choice. Let's learn more about different aspects you need to consider when buying cork flooring.
The following buying guide can help you make a well-informed decision and determine if cork flooring is the right option for you. Without further ado, let's begin.
Watch this video to know more:
How Do I Choose a Cork Floor?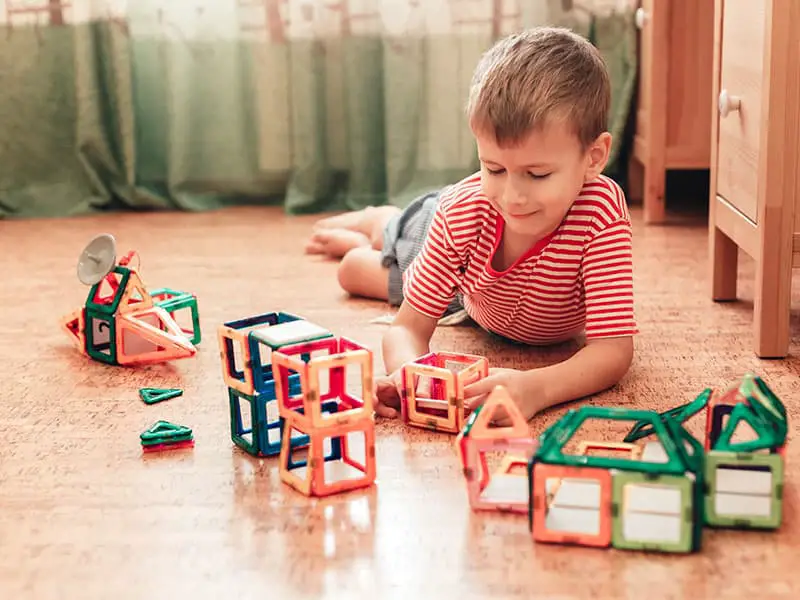 Cork flooring comes with a lot of benefits such as being soft underfoot, hypoallergenic, and much more. It's also budget-friendly. However, you will need to do a little research to match value, quality, cost, and décor. Overall, cork flooring comes at a similar price as laminate planks and carpet.
In the following text, I will point out some of the crucial factors you need to consider when shopping for cork floorings such as the installation method, type, thickness, and more, so let's begin.
Cork Floor Type
You can select between two common types of cork flooring including floating cork flooring and cork tile. The floating cork flooring is water-resistant, slightly stronger, cheaper, easier to install and seal tighter. Cork tile, on the other hand, isn't as flexible as the floating cork flooring.
However, it's still very easy to install and has a bit higher price than floating cork flooring because of the installation. The installation adds extra to the final price compared to the floating options. They're both great products with a small difference in cost, installation, and flexibility.
Does Cork Flooring Need Sealing?
The tiles need a sealant to provide a sturdy and water-resistant walking surface and close any large gaps. It's a good idea to also seal the planks. However, it's not necessary.
What Do You Place Under Cork Flooring?
Sealant is required when installing cork flooring. However, you will also need other tools and items. Cork is a natural material, so it's prone to water damage.
Moisture is one of the main threats to this type of flooring. Cork absorbs moisture and swells, cracks, or breaks apart. So, a moisture barrier beneath the underlayment is highly recommended when installing your new floating tiles or planks over concrete subfloors.
Generally, tiles need to be glued down but some tile choices include a backing that requires special care as well. Underlayment for the planks is advised but for the tiles with adhesive underlayments or glue can pose problems. Instead, a solid subfloor is required.
Coverage Area
Cork is the perfect floor choice in many instances. However, it's not a great option for larger spaces. Up to 800 or 1000 square feet is acceptable but beyond that, you need molding. Or some other separation factor. Also, cork isn't ideal for laundry areas, bathrooms, and other damp areas.
Space Consideration
When shopping for a new floor, the space you need to install the flooring in is one of the key things you need to consider. Avoid damp spaces such as basements, kitchens, bathrooms, etc.
Basically, anywhere there's running water poses a threat to your floors. For instance, a burst pipe under the kitchen sink can make the cork near the sink decline and draw unexpected costs.
Install Methods
You can either hire a professional to install your flooring or do it yourself. If you decide to hire someone, get at least 3 quotes for the install. Ask questions and make sure the quote covers all you need including installation, sealing, debris removal, etc.
If you're confident in your skills and want to save money, take the DIY route. Make sure you get enough flooring and all the extra tools beforehand.
Another factor you need to consider is the install technique. You can choose between floating and glue down options. Let's review both in detail.
Floating Install
Floating floors aren't suitable for bathrooms or any rooms where there's a high chance of splashes. As I already stated, liquid can leak through the gaps between the planks and destroy your floor.
Also, if you decide to install a floating floor in the kitchen, don't forget it should go in after the cabinetry. Floating floors make a perfect option for below-grade installations. And they're DIY-friendly.
Once your cork flooring has been properly acclimated, it should only take 1-2 days to install it. Click-lock cork planks come with locking mechanisms that fit together at the seams like a jigsaw puzzle.
First, make sure the subfloor is even and level. Then, run a vacuum over the place to collect any hidden dirt. If you're utilizing a moisture barrier, it should go down before you start. Undercut any moldings and door-jambs to ensure a solid fit. Begin at the longest wall and work in rows for the best results.
Additionally, don't forget to leave space for expansion. If you need to slice any planks, you can use a fine tool or jigsaw. One last tip, if the locking mechanism is giving you a hard time, utilize a tapping block or a rubber mallet to smooth out the seams. Now, let's learn more about the glue-down method.
Watch this video to know more:
Glue Down Install
If you're looking for flooring for the kitchen, bathroom, or any other high-moisture area, look no further than glue-down tiles. Installation is a bit hard. And since the chance of making beginner mistakes is quite high, it's best to leave this process to experts. Otherwise, you could void the warranty.
If you opt for a DIY install, please read the provided directions carefully. Also, make sure you're starting with a clean and level surface before you add the glue. You can also sort through your boxes beforehand and decide on a layout before you start. Once you're done, check the labels for drying times.
Let the adhesive cure before adding a sealer or stepping foot on your new floors. If you're not confident in your skills, save yourself the time and effort and hire a professional. Keep in mind that some cork tiles come with adhesive backings. However, they cost more. And they're not worth the extra cost.
Most contractors won't recommend this alternative because pre-glued tiles have a shelf-life of a couple of months. Meaning, the glue weakens over time which draws unnecessary future costs.
You should see the video below:
Certifications
Since cork flooring is a green building product, it should always have a quality-standard and regulation seal. Items with certification such as FloorScore, Greenguard Gold, or FSC seal have been independently tested for compliance with safety and quality guidelines.
Thickness
Usually, cork flooring is between 4-12mm dense. Or the equivalent of a stack of 2-6 nickels. Denser tiles are often present in commercial applications as they have sound-proofing properties and hold up better to wear. Residential-grade tiles, on the other hand, fall in the 4-8mm range.
Finish
The next important feature you'll want to consider when shopping for cork flooring is the finish. If you're purchasing natural cork, you will apply the finish on-site.
If you're selecting a sealed item, you'll want cork with a coat of coated polyurethane or aluminum-oxide finish. Multi-layer hardened finishes act as floor protectors.
Warranty
Always check the warranty paperwork before you make a purchase. The good manufacturers provide a warranty going from 20 years up. Also, keep in mind that most warranties won't cover any damage due to excessive wear and tear or wrong installation.
First, find the flooring you like. Then, research the brand and its warranties. Online forums and review sites can help you in your decision. Additionally, check the brands' official websites to get a better feel for their quality standards and customer support.
Is Cork Flooring Cheap?
Last but not least, pay close attention to the overall cost. The price of cork usually depends on a few key factors such as the warranty length and quality level.
The size and colors also contribute to the final price tag. Expect to pay between $2-$7 per square foot for cork tiles. However, you can find them online for less.
Adhesive cork tiles come in stained and natural varieties. Pre-sealed cork has a layer of polyurethane or wax and a factory-grade stain. Also, check with your salesperson to determine if the floor is cork-veneer or solid cork. Solid cork is often an unfinished product.
Yes, it's cheaper but needs sealing after installation. If you're taking the DIY route, a gallon of sealer will cover a space of 100 square feet and costs about $80.
If you prefer a floating floor, expect to pay between $4-8 per square foot for cork planks. And if you hire a professional, it will cost you $1-2 per square foot.
Watch this video to know more:
What Are the Pros and Cons of Cork Flooring?
If you're looking for a green flooring option, look no further than cork flooring. Harvesting doesn't cause damage to trees and only a small amount goes to waste.
It's the perfect flooring for people with allergies since it's mold and mildew resistant. But here's the real kicker. Cork is also soft underfoot, quiet, and won't drill a hole in your pocket.
Installation is a breeze if you can follow instructions. Cork isn't as popular as a vinyl plank or hardwood but it's worth considering. Fun fact: Spanish and Portuguese explorers utilized cork on their ships. Cork can be traced back to Ancient Greece where it was utilized for insulation and construction.
Nowadays, this material has become common in green buildings. 70% of the world's cork supply arrives from Portugal. But it's still present in many structures and homes worldwide.
However, is cork flooring the right choice for your property? The following section contains the pros and cons of this flooring that can help you make a wise buy.
Pros:
Hypoallergenic
If you battle with asthma or allergies, cork can ease some of your symptoms since it's mold and mildew resistant. It also has natural anti-microbial properties. So, cork repels dander, dirt, and dust mites better than other types of flooring.
If you're worried about the air quality in your property, it's best to pick flooring with GreenGuard Gold or FloorScore certifications. Labels like these ensure that a certain product meets very strict health and environmental standards.
Easy to Maintain
Cork isn't a maintenance-free floor. However, with proper care and precautions, it will stay beautiful for years. Once your flooring is sealed, it should hold up well against different accidents and spills. However, it's still important to wipe up liquid spills and animal accidents as soon as possible.
For regular cork floor cleaning, utilize a vacuum with a bare floor setting or static dust broom. Try milder floor cleaners and a damp mop for tougher jobs. However, avoid oil-based soaps.
Both oil-based soaps and standing water will damage your floor's beautiful finish. Therefore, only utilize water-based cleaners. You can buy cleaners made for cork both online or in-store.
Is Cork Flooring Durable?
Cork is advertised as a hard surface. However, that's not 100% true. Cork endures everyday wear much better than hardwood or carpet flooring but it's susceptible to dents.
Therefore, if you opt for cork flooring, utilize coasters under furniture and other larger pieces and move your furniture regularly to prevent your new, beautiful floor from sagging.
Be aware of sand granules and rocks as they're also enemies of cork. If not swept up immediately, these small particles can scratch your new flooring's lovely finish. Extra tip: Adopt a no-shoe policy or put floor mats at every entryway, so you don't have to sweep all day, every day.
Soft Underfoot
Cork flooring is soft and comfortable underfoot due to the 40 million air-filled cells per cubic centimeter. They make the floor feel like a sponge when walking over it.
When it's compressed, it bounces back and regains its original shape. Meaning, it's the ideal option for individuals who suffer from back or leg pain. It relieves the pressure on their joints as they walk and can make standing for a long period slightly easier on their spine.
Holds The Heat
If you don't like the feeling of cold floors, especially in the winter but despise the appearance of carpets, opt for cork flooring. This material is also a natural insulator.
Unlike hard surface floors like tile, cork retains heat. The cellular structure keeps the temperature of the area and disperses heat evenly. Therefore, if you reside in a colder climate, this type of flooring can save you money on energy bills year after year, so it's cost-effective.
Is Cork Flooring Quieter Than Carpet?
Acoustics play a key role in the shopping decision for many people, especially those who live in 2-story properties, apartment buildings, and condominiums.
If you're a pet owner of larger animals or have small kids, you know why acoustics matter. Footsteps and voices can sound like a herd of buffalos if your property isn't insulated properly.
Therefore, if you're having a hard time with sound problems, cork flooring is the ideal solution for you. It has a dense, spongy composition that traps different sounds.
Sustainable Flooring
Cork represents the bark of the cork oak tree, also known as Quercus Suber. These trees develop along the border of the Mediterranean Sea. They regenerate after every harvest.
Generally, cork trees have a lifespan of 200 years. The very first harvest happens when the tree is about 20 years old. The next bark removal happens every 9 years (about 15 times per lifetime).
People take serious precautions when harvesting these trees so they don't damage them. They utilize a specially made hatchet to remove the bark without damaging the inner layer.
You Can Refinish Cork Flooring
You can sand and restain solid cork utilizing fine grit paper and palm sander. Once you're finished with sanding, you can proceed with the next step and apply a new fresh layer of satin.
Sanding isn't recommended for cork veneer or composite. Instead, utilize a dense wax and sealer to buff away any damage such as scratches and dents and restore the natural shine of cork flooring.
If you're not confident in your skills, you can always hire a professional for less than the cost of replacing your floors. Now, let's take a closer look at the main disadvantages of cork flooring.
Watch this video to know more:
Cons:
Sensitive to Temperature Changes
Like engineered hardwood and hardwood, cork is quite sensitive to temperature and humidity changes. Both tiles and planks will expand and diminish based on the moisture level.
Cork is slightly better than regular hardwood as it expands in all ways as opposed to one. Thus, if you're installing this type of flooring, acclimate it at least a few days before installation. It's highly suggested to invest in a monitor to ensure moisture levels remain within the right ranges.
Does Cork Flooring Fade in Sunlight?
Unfortunately, direct sunlight will fade your cork flooring. Therefore, if you have south-facing rooms or large windows, cork might not be a good option for your property.
Of course, you could utilize rugs. However, the flooring will fade around the rugs and look bad. If you're still interested in cork flooring, it's advisable to buy light-filtering curtains or high-quality blinds for your windows. They should help decrease the amount of direct sunlight.
Does Cork Flooring Scratch Easily?
First, let's get one thing straight. A scratch-proof wood flooring doesn't exist and while cork flooring isn't exactly traditional hardwood, it shares similar features. Meaning, pet nails or high-heels can leave scuffs, gouge marks, and scratches.
Heavy furniture pieces can leave indents after time. However, cork has a flexible composition. Dents and divots should vanish as the pressure is taken away. Most producers suggest changing your room's layout every couple of months to prevent this from happening.
You can also protect the finish with a wax or sealer, however, if you keep larger animals at home, opt for either porcelain or ceramic tile.
Are Cork Floors Waterproof?
Cork isn't as needy as natural stone or hardwood. However, it's not waterproof either. Despite the good sealing, liquids can fall through cracks and gaps and leave behind spots or water rings.
The floating floor is especially prone to damage due to the cracks where the planks come together. Also, red wine spills and animal accidents can even stain the finish or polyurethane coating.
Stained Cork Floors Can Appear Uneven
If you're going with solid cork flooring, know that it won't appear fully even. As I already stated, cork is a natural material that takes in stains and dries at various speeds, so even experts have a hard time adding a good finish. However, you can always choose a pre-stained product with a factory finish.
Not Everyone Likes Cork Flooring
Some people love the versatility and appearance of cork flooring. However, some don't. This can cause a problem if you plan on putting your property on the market in the future, as not everyone likes this type of flooring. But if you plan on living in your home for a long time, embrace your love for cork.
You Must Seal Cork Flooring Properly
Sealing this type of flooring every couple of years will prevent it from looking old. It's a time-consuming and expensive process. If this is a deal-breaker for you, opt for laminate or vinyl instead.
However, if you don't mind the extra cost and effort, I have excellent news for you. Cork veneer doesn't need sanding, just a lot of patience and multiple layers of roll-on polyurethane for cork.
TheGlue-down Installation is Hard
If you plan to install cork in a wet area, opt for the glue-down method. And if you're taking the DIY path, prepare for serious stress and headaches. The glue-down installation isn't a walk in the park.
First, you will need to take care of the sub-floor. Then, you need to ensure the glue is consistent and the tiles are even while following the manufacturer's instructions so you don't void your warranty.
The video below should be able to help you:
Cork Flooring vs Other Types of Flooring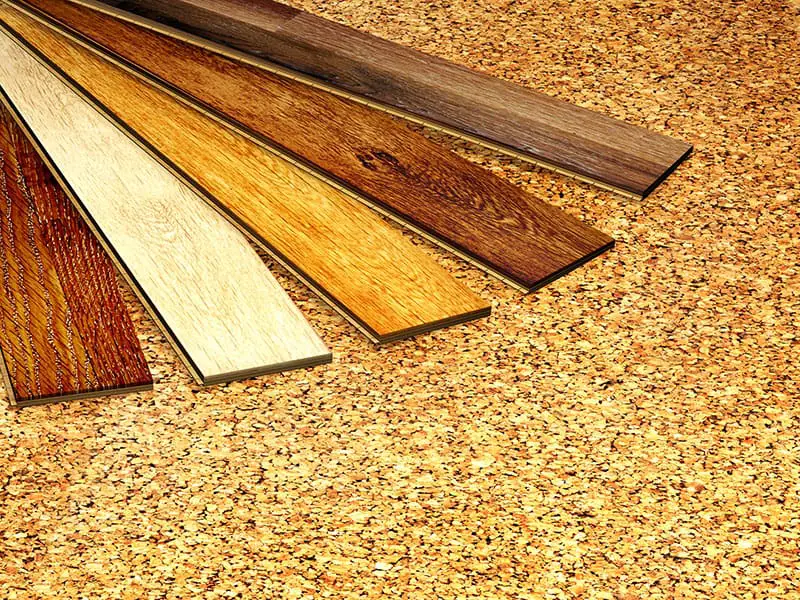 Now that you know all there is to know about cork flooring, let's make a side-by-side comparison of cork flooring and other types of flooring.
Cork vs Carpet
Carpeting provides great insulation and soundproofing just like a cork. It's cheap and soft underfoot. The biggest downside of carpeting is its short lifespan.
Therefore, if you have small kids or pets, capering isn't your best option. Accidental spills can completely destroy your brand new flooring in just a few seconds.
Cork, on the other hand, offers better protection against accidental spills. Meaning, once it's sealed, you can sit back and relax a little. You can also refinish cork.
Cork vs Tile
Tile holds up well to moisture and dirt and doesn't scratch easily. Meaning, it's better than cork in those aspects. However, it's also potentially uncomfortable and cold.
The worst part about tile is that if you drop a heavy object, it can shatter. Cork can puncture. However, it won't break. It's also super comfortable and keeps heat, unlike tile.
Cork vs Hardwood
Hardwood is renewable, timeless, and wraps homes in warmth. However, it's costly and scratches easily. And it's prone to moisture damage. Cork, on the other hand, is made of tree bark.
Therefore, it's cheaper and holds up better than most soft types of wood. However, cork can feel a little "modern". So, it's not suitable for homeowners who prefer more traditional floors.
Cork vs Vinyl
Luxury vinyl planks and tiles have become quite popular over the last few years. Vinyl is a cheap, strong, but synthetic material. It's also water and scratch-resistant. The best part? It's available in a wide range of tones and textures but there's a controversy surrounding the making process.
Cork, on the other side, doesn't have VOCs or release various chemicals in the air. It's mold and mildew-resistant, hypo-allergenic, and allergy-friendly. Thus, it's overall better than LVP.
Cork vs Bamboo
Cork flooring is a popular flooring option because it's a renewable resource. So, if this is something that matters to you, cork is the perfect choice for you. Another "green" material is bamboo.
Bamboo is made of the fibers of the well-known bamboo grass plant. This plant continues to grow after the stalks are cut. This flooring looks different from cork. However, they're both unique.
Meaning, they will both provide a unique look to your home. The key benefit that bamboo has over cork is that it's stronger, providing better resistance to dents and scratches. But it's not as soft underfoot as cork. Also, cork flooring features both thermal and sound features that bamboo doesn't.
What Is The Best Cork Flooring?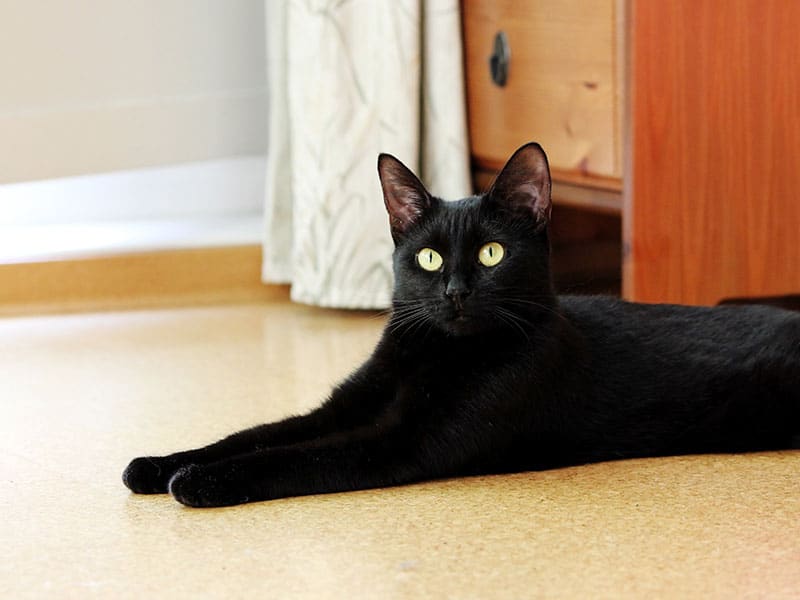 You can purchase cork flooring at most big-box home improvement stores for cheap. However, if you're picky like me, check out the options at specialty flooring stores. The next section contains a short brief of the most popular suppliers of cork flooring, so you can learn more about their offerings.
This brand ships to all 50 states from their New York factory. Globus Cork Flooring has a broad selection of 25 different shapes and 40 different colors you can choose from.
This company delivers 3 lines of planks and tiles in assorted styles and sizes. You can pick from 33 shades of glue-down and floating flooring products. They sell principally to specialty flooring stores.
ICork is the United States distributing division of Can cork flooring. They use their website to sell directly to customers. This company has economical pricing on glue-down and floating planks and tiles.
APC Cork is a leading supplier of this product across North America. They offer multiple lines of floating and glue-down planks and tiles in over 70 different finishes and colors. This brand is available through a network of specialty flooring stores.
This is a Georgia-based supplier of bamboo, cork, and luxury vinyl flooring. It's the only brand with cork flooring manufacturing plants situated in the United States. The company also sells products under the Navarre and Natural Cork brands.
You can find this company of cork flooring in Home Depot stores. It offers 12 different styles of floating plank cork at prices going from $2-$4 per square foot.
This is a US distributor and supplier of Portuguese cork flooring. They provide 12×36 tongue and groove interlocking planks and 12×12 adhesive cork flooring tiles.
They're available in 30 different patterns and colors. They're covered by a 25-year warranty and have a built-in underlayment. But here's the kicker. They have affordable prices.
AmCork sells top-quality cork flooring going from $2-$3 per square foot. The brand also offers discounts, so you might consider signing up to their mailing list for savings.
The world's oldest existing manufacturer of cork flooring, Jelinek cork also sells fabric and furniture. The cork comes in large format sheets, glue-down mosaic tiles, and interlocking planks. They can't brag with a wide range of styles and patterns but they have a plethora of colors you can choose from.
FAQs
Cork Flooring: Yey or Nay?
Hopefully, these cork flooring reviews can help you make a well-informed purchase.
Cork is a great option if you're searching for a warm and good-looking flooring material that's also super soft underfoot yet durable. If you have first-hand experiences with cork flooring, drop a comment.
Also, don't forget to share this article with your social media friends and help someone else.
References
Gil L. Cork: a strategic material. Front Chem. 2014;2:16.
States F. Certification. FSC United States. https://us.fsc.org/en-us/certification.