Reading some reviews before buying a carpet is a must, even with a famous brand like Dream Weaver carpets. It's because carpets are an essential element in your house. It enhances the house's interior appearance and protects the floor from all the foot activities.
So, Is Dream Weaver Carpet A Good Investment?
Definitely yes! In terms of durability and stain resistance, Dream Weaver carpets are on a higher level compared to regular carpets. And that superb quality comes at an affordable price, suitable for those with a limited budget.
Moreover, Dream Weaver also provides different kinds of warranty for your carpet, some even last for a lifetime. Other strong points of these carpets are their allergy-free feature, low maintenance, and eco-friendliness.
The only drawback is Dream Weaver Carpets are mainly neutral-colored with a few designs and patterns.
In this article, I will present you with a thorough evaluation of Dream Weaver carpets based on different criteria. You will also find all the information about Dream Weaver's significant collections and products in this article with their pros and cons.
This will give you a more detailed look at what carpet you should choose, based on your preferences and budget.
So, what're you waiting for? Let's start reading!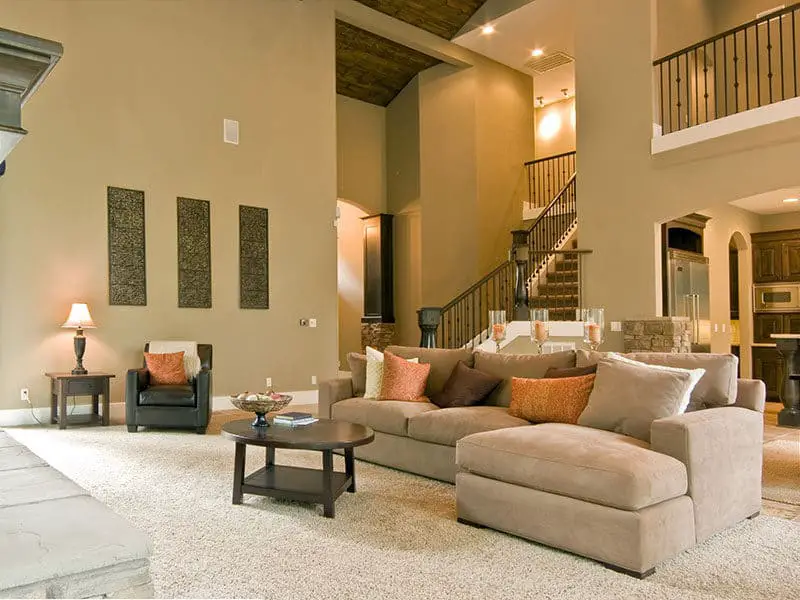 What Are Dream Weaver Carpets?
Dream Weaver is quite a young brand in the carpet industry with just more than ten years of operation under the Engineered Floors company. However, this brand has already left some outstanding impressions because of its advanced products.
Engineered Floors is considered a carpet king in Georgia with four enormous production factories and more than 3,000 employees (1). A significant reason for Dream Weaver's popularity is its carpet quality.
You can watch this introduction video to know more about Dream Weaver carpets.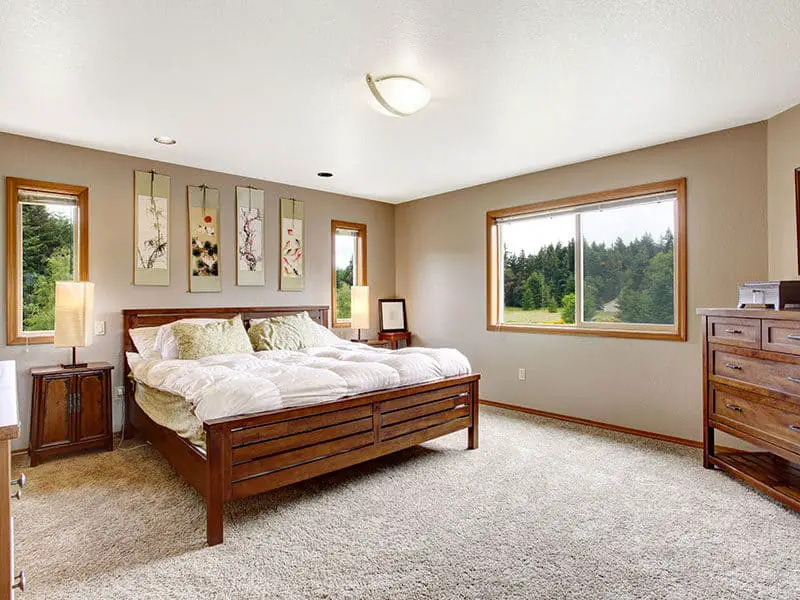 4 Dream Weaver Carpet Collections
Dream Weaver products are divided into four collections: Pure Color Polyester, Pure Color Soft Polyester, Pure Color Nylon, and Pure Color Soft Nylon. All collections have a lifetime fade and stain-resistance guarantee.
Pure Color Soft Nylon and Pure Color Soft Polyester are the two more outstanding collections. The former has the most styles of all four, with more than 50 styles available, while the latter can have up to 50 colors for one style.
While these two premium categories' guarantee for texture/soil lasts for 25 years, the other two only have a 15-year warranty. However, Polyester and Nylon are more affordable, and they still provide a lifetime warranty regarding stains or fade.
For a more explicit comparison, check the table below:
| | Pure Color Polyester | Pure Color Soft Polyester | Pure Color Nylon | Pure Color Soft Nylon |
| --- | --- | --- | --- | --- |
| Styles Available | 35+ | 50+ | 8 | 9 |
| Colors Available | 6-24 per style | 10-36 per style | 10-15 per style | 10-50 per style |
| Price (Relative) | $ | $$ | $$ | $$$ |
| Warranty for Stain/Fade/Pet | Lifetime | Lifetime | Lifetime | Lifetime |
| Warranty for Texture/Soil | 15 year | 25 year | 15 year | 25 year |
| CRI Green Label Plus Certified | Yes | Yes | Yes | Yes |
Apart from the above four, Dream Weaver also produces two more collections for low-budget customers: Pure Color Solutions and Pure Color Basics. They are both the cheapest categories in the Dream Weaver, with Solutions being slightly more expensive.
Since they are low-cost, their warranty periods are also shorter, with only 10 years for soil or texture. And don't expect any guarantee for pets, stains, or fade if you buy carpets from one of these two collections. They are also lighter and shorter than others.
Dream Weaver Carpets Review
After knowing all about Dream Weaver's different products, here comes the most crucial part: Are they worth buying? To answer that question, let's go through all of these criteria below.
Durability
When it comes to carpets, the very first thing many people think of would be durability. Can that carpet endure all the activities of my children? How long is its color going to last? However, all those worries will go away with Dream Weaver carpets.
Why, you may ask. It's all thanks to its exclusive Pure Color technology. With this technology, all carpets of Dream Weaver are infused with the ultimate solution-dyed fiber (2). Compared with the dying method, this technology makes the color embedded more into the fiber.
Thanks to this, the color won't wear off over time like other carpets from regular brands, even with direct exposure to sunlight. Not only this, Dream Weaver carpets can even handle spot cleaning as they aren't affected by cleaners containing bleach.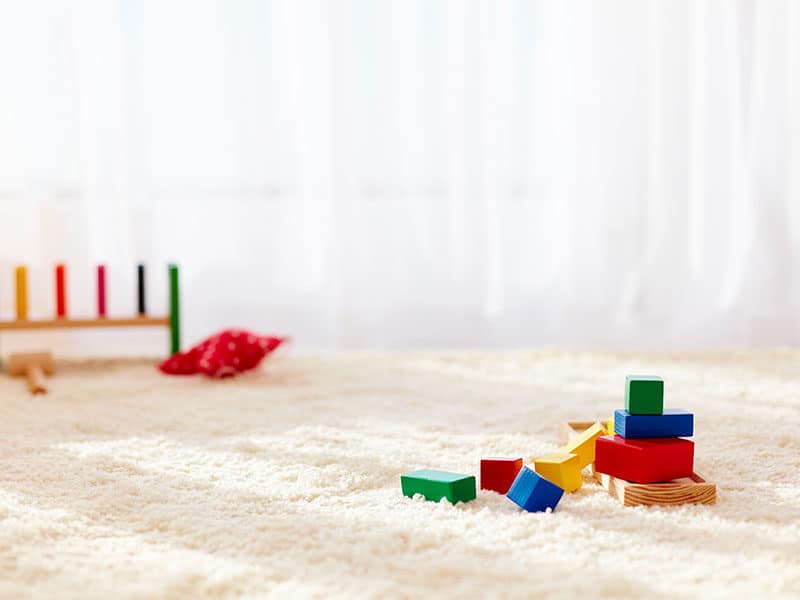 Dirt, dust, or soil also aren't able to accumulate in these carpets since the Pure Color seal will prevent them from sticking on the fibers. You can effortlessly clean your carpet with just one vacuum.
And do you know what the best thing is? It's that this Pure Color technology appears on both the polyester and the nylon collections. So you don't have to worry about picking which one.
Stain Resistance
Not only prolong the carpets' life circle, but Pure Color technology also boosts their stain resistance by providing a stain-resistant coating on every filament. Because of this protection seal, you can effortlessly clean even wine stains or other material stains.
This feature is much more vital with polyester products as they are made from PET. You must have known this material since almost every bottle is made of it. With PET, no liquid can leave color on your carpet (3).
Design
As I've said before, there are four main carpet collections in Dream Weaver. Based on their materials and prices, you can choose one for yourself. Each collection has its own range of colors, sometimes up to 50 shades.
There are lighter tones like porcelain, dove, or eggshell. And darker shades are also available, from utopia to honey beige, summer bronze, and so on. Not only colors, but Dream Weaver carpets also appear in multiple styles.
Based on how you want your house to look, you can choose among luxury cut loop carpet, textured carpet, and cut pile carpet.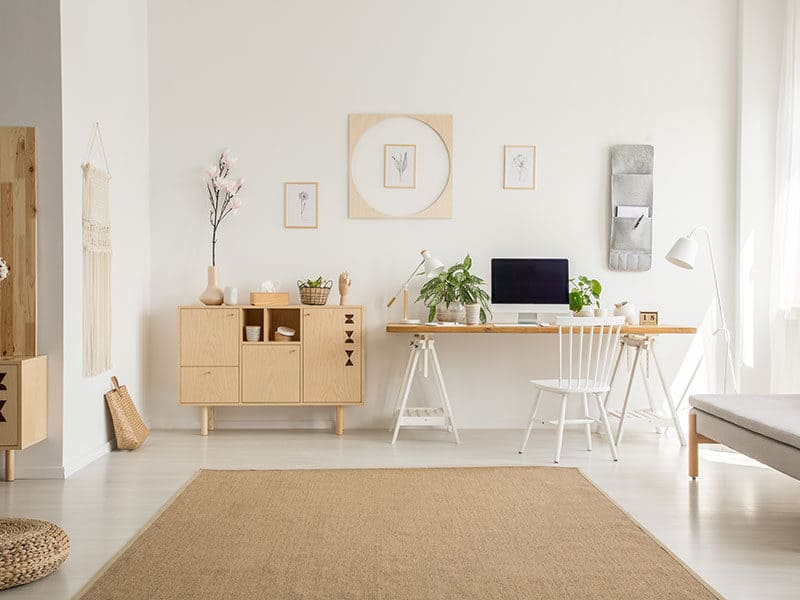 However, Dream Weaver carpets have a significant drawback as their colors are mainly in pastel, neutral tones. Also, you can't find many textures or patterns on this brand's carpets.
Allergy-Free Feature
Many people, especially those suffering from allergies, pay great attention to the allergen issue when buying a carpet. Regular carpets can catch and trap the dust and other allergens within their fibers. But that doesn't last long. Those allergens can easily escape and cause various breathing troubles.
Luckily, Dream Weaver carpets are on another different level. Every rug has a specialized design to capture all allergy-inducing stuff firmly. These carpets only release allergens when you vacuum them.
What's more, some premium carpets have the PureBac backing system. This latex-free system has antimicrobial properties, which keep mold, mildew, and bacteria avoid the carpet.
Another plus for Dream Weaver carpets regarding allergy is that all their significant carpets have Green Label Plus certification for the lowest VOC emission. VOC (shortened for volatile organic compounds) is a gas released from new materials. This gas can be harmful to humans and animals.
Warranty
No matter how high-quality your carpet is, it's due to suffering from wear-and-tear in the future. That's where Dream Weaver's warranty policy appears. This company provides two kinds of warranty: One for the texture/soil and one for the pet stains/fade.
The former type applies to all Dream Weaver collections, and the only difference is the length of the guarantee. Both the premium products, Pure Color Soft Polyester and Pure Color Soft Nylon, share an up-to-25-year warranty for stain, fade, soil, and pet stain.
In contrast, the other two collections' warranty only lasts for 15 years. And all four products have lifetime guarantees against staining, pet staining, or fading. During that period, if your carpet gets damaged because of those reasons, Dream Weaver will replace it immediately.
All sounds amazing. Still, you need to read Dream Weaver's warranty guidelines carefully. Violate just one of their rules, and you're likely to get your warranty request refused.
Maintenance
Despite the available warranty, you still need to maintain your carpet's beauty. Not only does maintenance prolong the carpet's life-cycle, but it also helps your guarantee avoid being null. Fortunately, Dream Weaver carpets are easy to maintain.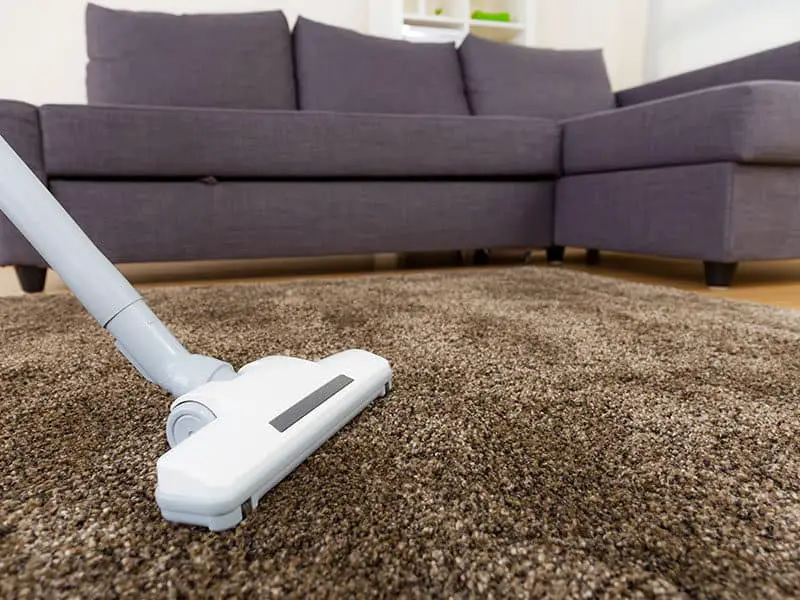 For daily cleaning, a vacuum is enough to remove dust and dirt. Any spills need to be cleaned at once by blotting with a damp white towel. And once in a year or 18 months, you should get your carpet professionally cleaned with hot water extraction.
Besides a care-and-warranty guide, Dream Weaver also provides a spot cleaning guide for those who aren't used to removing stains.
Environmentally-Friendliness
Nowadays, all companies try to be as eco-conscious as possible. And Dream Weaver is no exception. They claim their production technology needs 30% less energy, 50% less oil, and roughly 90% less water than other competitors.
Since their production procedure doesn't require perfluorinated chemicals (PFCs), their emit greenhouse gas emissions are also 40% fewer than the traditional manufacturers. Also, several Dream Weave polyester types are made of recycled polyethylene terephthalate.
Moreover, when your carpet expires, you can bring it to the local Dream Weaver dealer to get recycled.
Cost
Compared to other high-quality carpet brands, Dream Weaver carpets offer quite an affordable price. The cost varies depending on which collection and style you choose. But the average price mainly ranges from $1 to $2.5 per square foot.
However, that is only the materials cost. Additional materials like a carpet pad can cost you about $0.3-$1 per square foot. Also, you need to pay for the installment, approximately $3 for one square foot at most.
Watch this video for a detailed comparison between two products of the Dream Weaver brand.
3 Recommended Dream Weaver Carpet Products
Looking at these criteria, there are three Dream Weaver product lines I want to recommend to you. They all have different features and prices suitable for various customers.
Keystone Plus
This product category is ideal for those who want a nice carpet at a low price. Keystone Plus is under warranty against abrasive wear resistance, stain resistance, texture detention, and manufacturing defect for 15 years.
Of course, these carpets also have a lifetime standard guarantee. You also get to choose eight distinct brown tones, from pale beige to rich honey, and even a typical oatmeal shade. However, this product range is unsuitable for homes with pets since its warranty doesn't apply to pet stains.
Seascape
With more vital protection, Seascape carpets are what pet owners are looking for. Moreover, they even have a lifetime warranty against pet stains, besides the regular 15-year guarantee for texture and soil.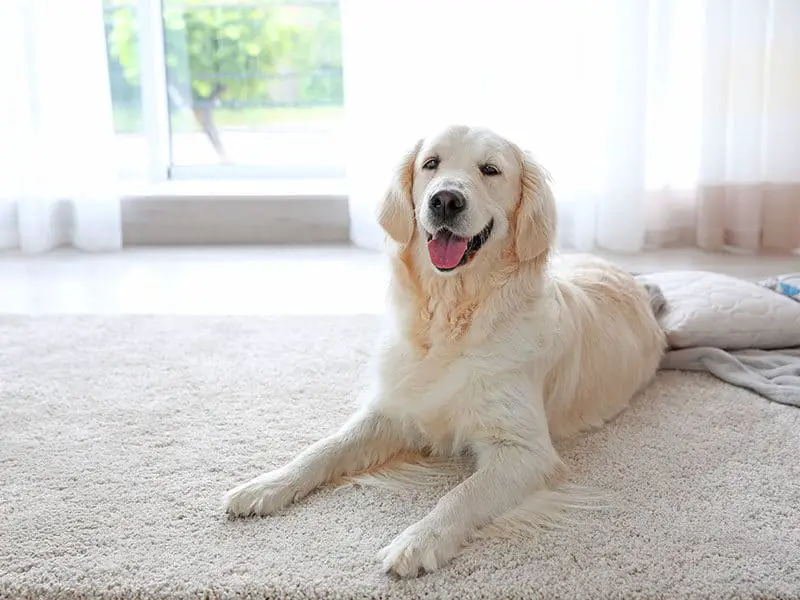 Their color range is wider than the Keystone Plus range, with grey, plain caramel, and brown. Of course, these features will come with a higher price, but Seascape carpets are still on the affordable side.
Jamboree
Among the three products, the Jamboree line is the most high-priced one. That means it has the highest quality. Aside from that, these carpets' warranty against wear and tear, manufacturing defects, and many more lasts for 25 years, 10 years more than the other two.
Their lifetime guarantee also includes pet stains so that every pet owner can install a Jamboree carpet without worries. Jamboree carpets also have the most comprehensive color range, with 12 different brown tones.
FAQs About Dream Weaver Carpets
Coming this far, you must have made your decision whether to buy a Dream Weaver carpet. However, just keep on reading because all the questions below might change your mind.
Additional Guide
I believe now you are knowledgeable enough about Dream Weaver carpets. However, here are some further advice about choosing an appropriate rug for your home.
Pick a carpet depending on what room you are going to apply. For example, for the passageway, the carpet should have a dark color to hide the footprints.
Don't be too economical when choosing carpets. A bigger budget means more carpet choices, increasing the chance of getting a high-quality one.
And a review like this article will be beneficial for you before deciding whether to buy one or what carpet to buy. So don't forget to share it with your family or friends!
If you have any recommendations about Dream Weaver carpets, write them down in the comment section below for other readers and me!
Reference
Floordaily.net. 2021. Strategic Exchange: Interface and Nora, Engineered Floors' new carpet tile plant – July 2018. [online] Available at: <https://www.floordaily.net/floorfocus/strategic-exchange-interface-and-nora-engineered-floors-new-carpet-tile-plant-july-2018> .
Engineeredfloors.com. 2021. PureColor. [online] Available at: <https://engineeredfloors.com/purecolor> .
American, S., 2021. The Safety of Carpets Made from Recycled PET Plastic. [online] Scientific American. Available at: <https://www.scientificamerican.com/article/safety-of-recycled-pet-plastic-carpets/> .