Let's break things down about engineered floors VS hardwood, so you can decide which one to install in your home confidently. Wooden floors are a brilliant investment that can improve the look of your home, increase its resale value and perform well for decades.
But, the two available types of wooden floors – engineered and hardwood confuse homeowners. The choice depends on several factors, including your project requirements, preferences, budget, etc.
Hardwood is made from genuine wood and made from various wood types, including oak, maple, walnut, etc. Engineered wood is a blend of genuine wood and plywood. Both look very similar and have excellent benefits? So, how to choose?
Let's find out!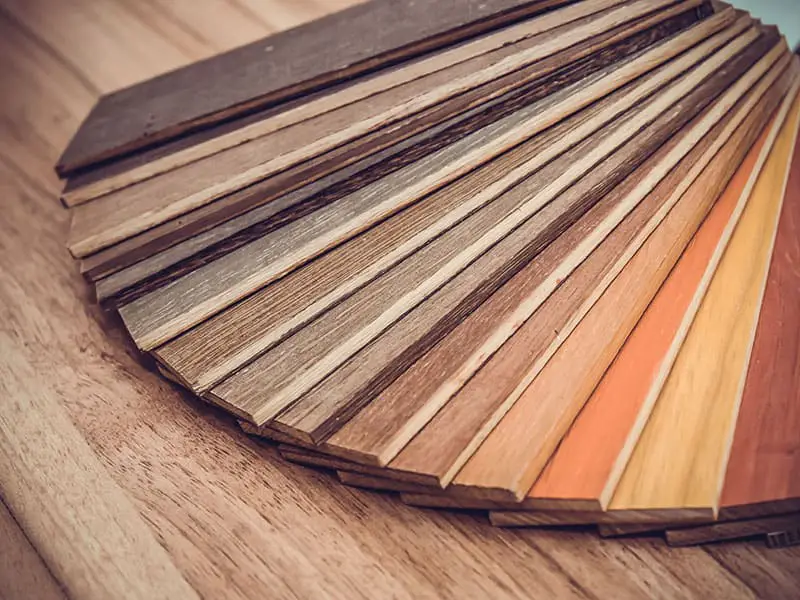 Which Is Better Hardwood Or Engineered For Floorings?
Solid hardwood flooring is superb in terms of lifespan and refinishing possibilities. It can last three times longer than engineered flooring and can be refinished several times during its lifespan.
Engineered wood also has excellent benefits. It is resistant to warping and more versatile in terms of installation.
Other aspects, such as maintenance and look, are pretty similar. Both floors require similar care and look almost exactly alike.
Hardwood And Engineered Wood: Key Differences And Similarities
At a glance, solid wood and engineered wood floors are almost the same. But, a deeper analysis reveals differences in construction, lifespan and other aspects.
Engineered wood might be less expensive, but premium collections come in a similar price range as solid wood. Therefore, costs aren't the determining factor.
Keep reading to understand all differences and similarities between hardwood and engineered wood flooring.
Watch this video to know more:
Engineered Flooring and Hardwood Differences
Here are the most notable differences you need to know about when deciding which floors to get for your home – hardwood or engineered floors.
Construction
For starters, understand that both floorings come in planks ready for installation. But, the plank construction is the biggest difference.
One hardwood plank is made from a single piece of wood. Engineered wood features multiple plywood layers as a core, pressed in a specific pattern to ensure durability. Wood layers are on top and bottom.
Therefore, hardwood planks are stronger than engineered planks, because there aren't layers. Also, this type of solid wood construction is stylish, preserves the natural look of wood and grains.
It is considered the gold standard in flooring. However, the multiple-layer construction in engineered wood floors has its benefits. Layers are less likely to react to an outer condition.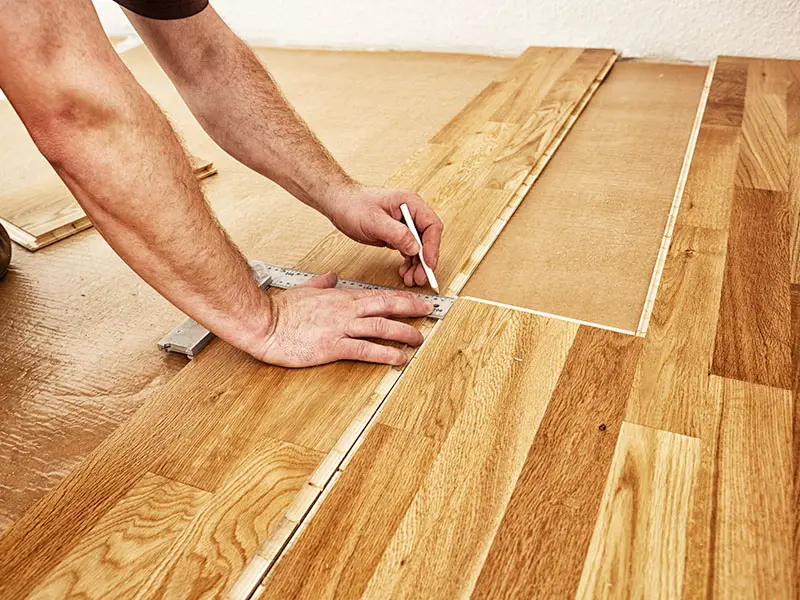 Plank Sizes
As I mentioned before, solid hardwood and engineered wood flooring come in planks. Solid hardwood comes in standard sizes:
Thickness: 3/4 inch
Width: 2 1/4 inch – 4 inch
Length: Various, 12-84 inches
Engineered wood planks aren't as thick as solid wood planks, and are shorter. Standard sizes are:
Thickness: 3/8 to 9/16 inch
Width: Up to 7 inches
Length: 12 – 60 inches
So, plank size isn't an important determining factor, it is more of a personal preference. If you prefer wider planks, choose engineered wood. Compared to engineered wood, hardwood boards are longer.
Because of the tight seams and long planks, the hardwood floors make the floor look more spacious. But, it isn't the rule, and the choice comes down to you.
Restoring
Wood floors require maintenance to restore their pleasant looks. But, there is one key difference between solid hardwood and engineered wood floors. You can sand and refinish solid hardwood floors multiple times, and keep their pleasant appearance.
The engineered wood floor has a thin wood layer on top that can be sanded and refinished only once over the lifespan. Trying a second time will ruin the hardwood layer completely.
Whichever solid wood to choose – finished or unfinished, you can expect it to hold up very well against refinishing, sanding and fixing scratching. Applying new surface varnish coats after a while will improve the look and protect your floors.
Watch this video to know more:
Heat and Water Resistance
Solid and engineered wood floors don't do well in wet areas but can resist heat. In general, engineered wood handles high humidity better than solid hardwood, because of the plywood core.
Therefore, if you need a floor to install over concrete slabs, pick engineered wood. Humidity can migrate and come in contact with hardwood. Therefore, it will swell and warp.
Plywood core protects the engineered wood flooring from warping. It is more stable and less prone to swelling. It isn't suitable for extremely wet locations, such as bathrooms or laundry rooms.
Lifespan
If you are looking for the most durable option, pick solid hardwood. The thick planks are sturdy and resilient to different outer conditions. Once the surface layer gets dull or damaged, you can sand and refinish floors as many times as you need.
Therefore, the average lifespan of solid hardwood floors can be between 40 years and a whole century.
Another thing worth mentioning is repair. Because you can sand and refinish floors multiple times, you can deal with scratches and preserve the look of your hardwood floors for longer.
Engineered wood cannot be refinished multiple times, which means you have a limited lifespan to 20 or 30 years. The exact lifespan depends on multiple factors, such as proper maintenance, amount of foot traffic, moisture and humidity levels, etc.
Unfortunately, deep scratches on the engineered wood floor cannot be fixed, especially if the surface layer is worn out.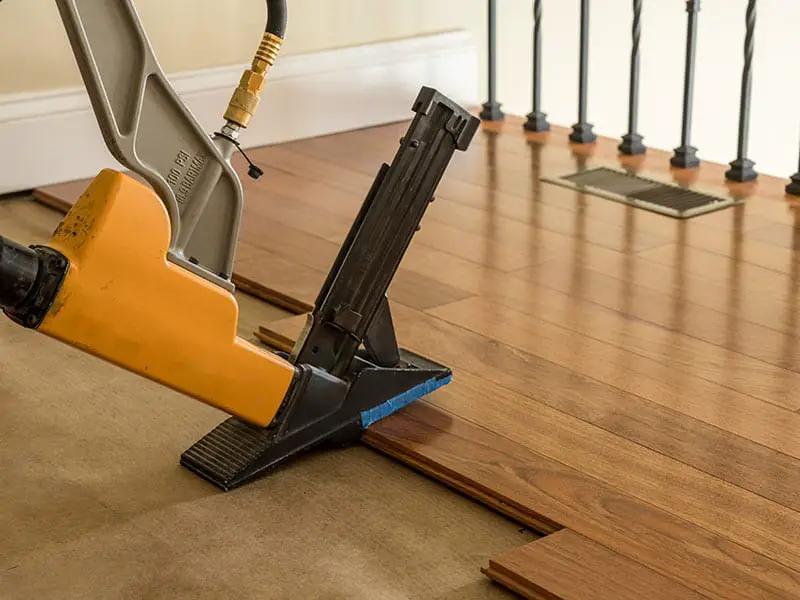 Use
Another difference between hardwood and engineered wood installation is in the recommended locations.
Most experts recommend installing hardwood floors in above-ground areas. Those include the living room, dining room, bedroom, etc. Generally, install hardwood floors in rooms with less moisture and water content.
Engineered wood is more versatile in terms of the installation area. You can install them in the same rooms as you would install solid wood floors.
Because it is constructed to improve natural wood properties, engineered wood is good for basements and concrete floors. Engineered wood is also safe for installation over radiant heating.
Engineered wood planks are somewhat thinner than solid wood planks. Therefore, you can use them to level an adjoining floor, which is unlikely to accomplish with hardwood planks.
Watch this video to know more:
Resale Value Effect
Floors, walls, and other elements significantly affect the resale value of your property. Without a doubt, both solid and engineered wood floors are premium materials.
But, solid hardwood floors will improve the resale value of your property, even if the floors require immediate refinishing. The timeless look and quality of solid hardwood floor is always an extra trump card on the real estate market.
Engineered hardwood floors don't attract or repel potential buyers, and have no real effect on the resale value.
Engineered and Hardwood Flooring Similarities
Solid hardwood and engineered wooden flooring are outstanding products in the flooring industry. Because of the specific manufacturing process and use of similar materials, hardwood and engineered wood floorings are similar in some considerable aspects.
Costs
According to Fixr.com, homeowners pay between $14 and $32 per square foot, for their wood floor – solid or engineered, without labor costs. (1) The price range is pretty wide, and it doesn't necessarily mean that hardwood is more expensive than engineered.
So many factors affect the price, starting with wood type. Domestic species, such as walnut and ash are more affordable than exotic species. For example, Mexican wood, Bocote can cost three or four times more per square foot than domestic varieties.
There are low and high-end flooring options in both categories. The most affordable solid hardwood flooring can cost somewhere between $3 and $6. Engineered flooring in the low-cost category is slightly cheaper.
In the high-end category, solid hardwood is more somewhat expensive than premium engineered floors, starting from $10 per square foot.
The data from the same website says that labor costs for solid wood might be between $4 and $8, and installing engineered wood might be as low as $3 and as high as $10 per square foot.
If your floor has an irregular shape or requires some work on the subfloor, the costs will be higher.
However, there is one additional thing to consider – the hardwood refinishing costs. Solid hardwood floors can be refinished multiple times and it can cost you on average $3.5 per square foot. (2)
But, the refinishing costs also vary and depend on the floor size, current condition, wood type, etc. The price can be doubled or tripled for exotic wood types.
So, if budget is a determining factor to you, there are few things to analyze:
Costs of chosen wood type per square foot
The average lifespan of the flooring
Installation labor costs per square foot
Refinishing costs per square foot
Sometimes the initial costs for premium hardwood floors might seem daunting. But when you consider the lifespan and refinishing costs, it might be more affordable in the long run, compared to engineered wood.
For the same time period, you might have to install engineered wood flooring twice, refinish one or two times, etc.
Cleaning
The top layer of solid and engineered wood flooring is the same, and so is the maintenance. Wood floors are prone to scratching, so clean the floor with a vacuum that doesn't have a beater brush. If you prefer a broom for hardwood floors, make sure that the bristles are soft and won't scratch the floor.
Vacuuming or sweeping is enough for everyday maintenance. But, once a week, you can mop the floors with the wood-approved cleaner to remove any residue and make the floors shiny.
None of the two types of floors do well with excessive water cleaning or steam cleaning.
Watch this video to know more:
Look
Solid hardwood floors have a unique appearance because there aren't two parts of the tree that are the same. They come in prefinished and unfinished planks. During installation, the hardwood board has tight seams.
There are many available styles and looks that achieve different effects. For example, acacia wood flooring has a rustic appearance, while ebony leaves the impression of elegance and lavishness. Generally, there are as many looks as there are types of trees used for flooring.
Some of the most popular trees for solid hardwood floorings are:
Maple
Walnut
Oak
Ash
Cherry
Chestnut
Ebony
Most commonly, engineered wood is pre-finished. The planks have beveled edges that simplify installation but don't affect the look.
Engineered and solid hardwood floorings look very similar because the top of engineered wood floors is a real wood layer. So far, there are more styles and looks in the solid hardwood flooring category.
Installation
In the case of solid and engineered wood, I always recommend professional installation. DIY installation is too complex and you can easily ruin your expensive floorings if you install them poorly.
Solid hardwood boards install via a tongue-and-groove system. It means that each plank nails to the subfloor.
Some engineered wood collections install the same as engineered wood. But, some manufactures offer modern engineered wood floorings that can be installed like a floating floor through a click-lock method.
Also, you can simply glue the engineered wood plank to the subfloor. Therefore, in the case of engineered wood, DIY installation is possible and less likely to go wrong.
Engineered Flooring Vs Hardwood Comparison Chart
Let's sum up all features of engineered and hardwood flooring in a simple chart. Refer to the table for a quick overview of similarities and differences between engineered flooring and hardwood floors.
| Type | Engineered Wood | Solid Hardwood |
| --- | --- | --- |
| Installation | Click-lock, nail-down, glue down | Tongue-and-groove system, nail down |
| | DIY and professional | Professional |
| Construction | Multiple wood and plywood layers | 100% genuine wood |
| Costs (low) | $3-$5 | $3-$6 |
| Costs (premium) | $10+ | $10+ |
| Sanding and refinishing | Once | Multiple times |
| Lifespan | 20-30 years | 40-100 |
| Planks maximum length | 60 inches | 84 inches |
| Plank maximum width | 7 inches | 4 inches |
| Warping Issues | No | Yes |
| Maintenance | Vacuuming/Sweeping and Mopping | Vacuuming/Sweeping and Mopping |
| Look | Beautiful, exactly like hardwood floor, available in different shades and styles | Authentic, natural, beautiful, wide range of colors and styles |
| Compatible with radiant heat | Yes | Only several wood types |
| Use | Living room, bedroom, office, nursery, kitchen, basement, etc. | Rooms without moisture |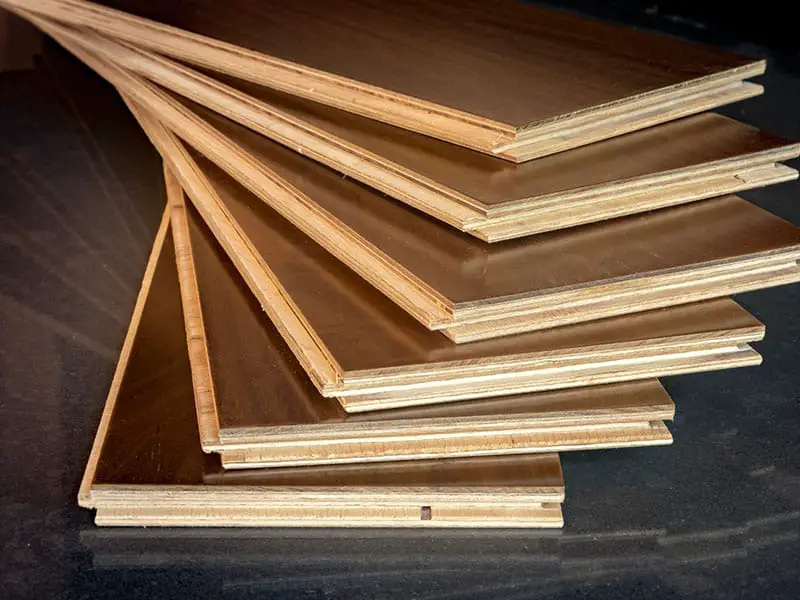 Pros and Cons Of Engineered Wood Flooring
Let's sum up all the most important advantages and disadvantages of engineered wood. That way, you can decide whether the good sides beat the bad sides or are there any deal breakers for you.
Pros:
Suitable for DIY installation
Stylish
Easy to clean if you have suitable cleaning products
Excellent temperature resistance
Cons:
Not completely waterproof
Limited lifespan
The low-quality products can wear out soon
Some products are expensive, similar to hardwood floors
Pros And Cons Of Hardwood Wood
Without a doubt, hardwood floors are an excellent choice because of their great properties and impressive lifespan. But, let's see what else to have in mind when choosing the floors.
Pros:
Excellent lifespan
Stylish appearance
Improves property resale value
Simple maintenance with the right products
Cons:
Expensive
Prone to termite damage
Don't do well with water and moisture
Prone to warping, denting and scratching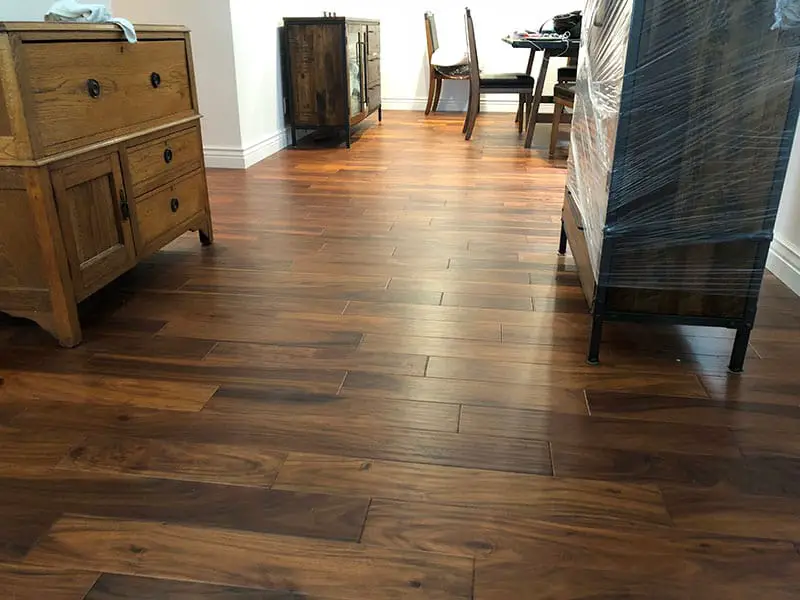 Engineered Wood Flooring Best Brands
Engineered flooring manufacturing has been developed and modern engineered wood products are high-quality and durable. Here is the selection of brands that make the best-engineered wood floors on the market:
Johnson Hardwood
Kährs
LM Flooring
Mohawk Industries
Mullican
Hardwood Flooring Best Brands
So, you've made your choice to get hardwood floors, congratulations! It is time to pick your brand. There are several excellent brands on the market, known for their quality products and impressive reputation:
Bruce Hardwood Flooring
Mohawk Industries
Shaw Floors
Armstrong Flooring
Hearne Hardwoods
Engineered Or Solid Hardwood Making Choice
The tough decision you have to make! In the past, engineered wood got a reputation as solid hardwood imitation, but the flooring industry came a long way from that point. Modern engineered wood flooring is exceptional, durable, warp-resistant and looks like hardwood flooring.
Still, there is a significant difference in lifespan. Engineered wood is less durable than hardwood, but it handles moisture better. Therefore, analyze your needs and preferences and pick accordingly.
Which one would you choose for your home?
Remember plank thickness and wood type are the most important factors to consider whichever wood flooring type you choose.
If the article helped you decide, don't forget to like it and share it with your friends and family!
References
2021 Hardwood Floor Cost | Cost to Install Hardwood Flooring. Fixr.com. https://www.fixr.com/costs/hardwood-floor-installation
2021 Hardwood Floor Refinishing Cost | Cost Per Square Foot. Thumbtack. https://www.thumbtack.com/p/cost-to-refinish-hardwood-floors#refinishing_cost_per_sq_foot