Are you searching for the best garage floor coverings and coatings? Look no more, here is everything you need to know to improve the performance and appearance of your garage floor.
Let's face it, standard concrete floors in every garage function well, but you can make them better by adding a suitable covering or coating. It can provide more style and protection, simplify the maintenance and spruce your entire garage in an instant.
Because you can find a lot of options on the market that claim to be perfect for garage floors, most homeowners have trouble deciding which one to install. I'll break things down about the best options – tiles, mats, paint and epoxy.
I give my vote to epoxy, as the best choice for garage floors, but you might choose rubber or wood composite tiles and never regret it. Concrete paint is also a stylish, functional solution.
Both coatings and coverings have different applications, costs, durability, and require different efforts to perform best.
Need more information to decide? Keep reading to understand it all!
What Are The Best Garage Floor Coverings And Coatings?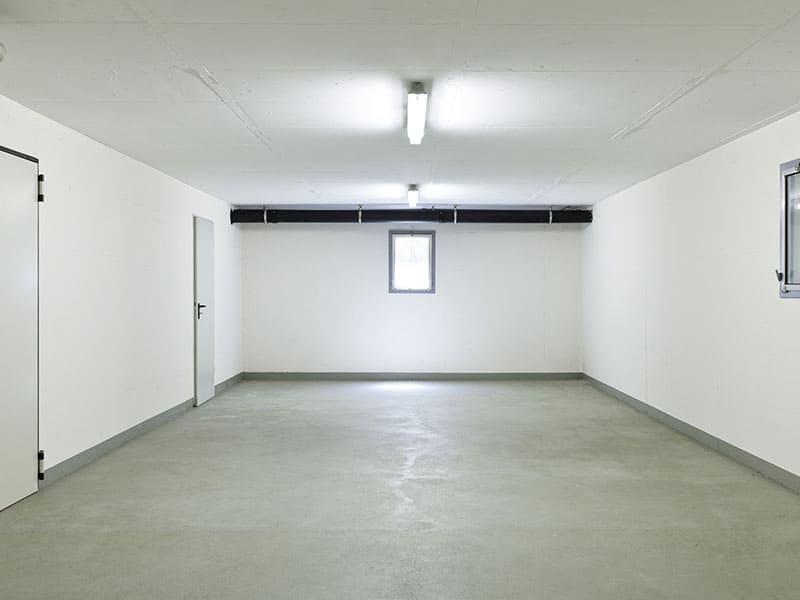 Each item on the following list has its benefits, but the epoxy coating is the most durable and suitable for heavy-traffic areas and various conditions in the garage. The best garage floor coverings are:
Flexible Tiles
Rigid tiles
Roll-out mats
The best garage floor coatings are
Acrylic concrete paint
Latex concrete paint
Two-part epoxy
Do This Before you Start Remodeling Garage Floor
To get the best results from your garage floor, be aware of the floor situation and plan the tasks according to weather conditions.
First of all, drive out your car from the garage and get the bulky items out. Observe the floor for cracks, stains, or rotting. Use the concrete cleaner to remove dirt and grime, and reveal the true condition of the floor.
Check the weather forecast if you are ready to start working on your garage floor. Every type of coating, including paint, stain, or sealers depends on the drying temperature.
The ideal temperature for the coating is between 50 and 90 degrees Fahrenheit with low humidity. Sometimes, it is better to wait a month or two before applying any treatment to the garage floor if the weather is bad.
How to Prepare Garage Floor Before Further Work?
As I mentioned, cleaning the concrete floor is the first step. Pay attention to any oil stains because those will poke through paint or epoxy coating. Baking soda mixed with powdered laundry detergent and a lot of scrubbing can remove oil stains from concrete. Stains won't be visible through mats.
You also need to take care of cracks and holes because those will make an appearance issue and lead to moisture increase and mold and mildew development.
Seal large cracks with a simple concrete patching compound. You can use concrete caulk to fix smaller issues. The liquid filler also works for the tiniest cracks.
Let the material properly cure, as explained on the backside of each product.
You should see the video below:
Garage Coating VS Covering – How to Choose?
You have two types of suitable garage floor improvement – coatings and coverings. If you have used none of them, you might be confused and don't know which one to choose.
Let me walk you through the most important factors you should consider when choosing the ideal floor covering or coating.
Floor Condition
If you have applied a new layer of concrete slab, you can choose whatever you want based on your budget and style preferences. But, if the floor is damaged, the coatings might not work as expected.
In that case, choose coverings, and apply the coating once you fix the floor.
Garage Purpose
There are different garage floor types you can install to transform the garage into a functional room. If you've just moved into a new place and you don't want to change the garage floor completely, you can use coatings or coverings for that purpose.
For example, if the garage serves as a workshop for DIY projects, you want the floor to be as comfortable as possible. The most comfortable are flexible rubber tiles. Therefore, you can sacrifice durability for comfort and vice versa.
If you only park your car in the garage, you pick coverings and coatings with hard underfoot.
Installation
If you have never changed the floor in any room, start with something simple to install, such as roll-out mats.
The epoxy coating might be an excellent solution, but the installation is complex, so skip it if you are a rookie.
Maintenance
You need something easy to clean, especially if your garage serves more purpose than a parking area. Despite their flat surface, rigid tiles can be difficult to clean because the dirt can pile between two tiles.
Concrete paint can be damaged with harsh cleaners, and epoxy is the simplest garage floor coating to clean. Unlike concrete paint, epoxy, mats, and tiles don't require reapplication or frequent touch-ups.
2 Suitable Types Garage Floors Coverings
As the name suggests, floor coverings serve to cover the garage floor and make it more functional and attractive. Floor coverings are excellent to cover the floor imperfections. But, they don't solve the issues, even though they improve the garage floor comfort and look.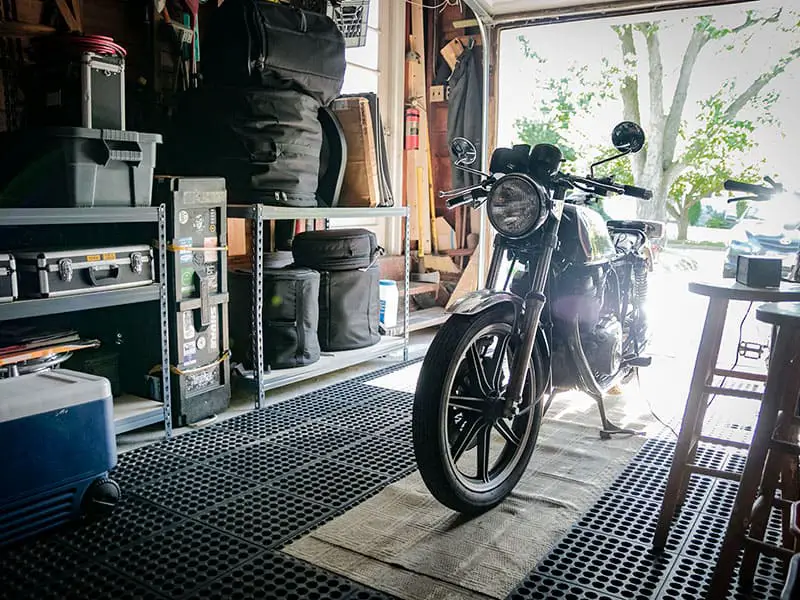 Tiles
Tiles for garage flooring come with interlocking edges. Therefore, they are easy to install by yourself. They also raise the floor for a few inches and provide comfortable flooring for vehicles.
Tiles work best when they need to hide the imperfections of the ruined concrete garage floor. They can even reduce the unevenness of the floor.
Rigid Tiles: Wood Composite and Plastic Tiles
Even though wood composite tiles are better used as an underlayment for carpet, you can install them on them in the garage. The best wood composite tiles for garage floors are exceptionally strong and dense and can withstand enormous amounts of pressure.
Therefore, you don't have to worry about them cracking once you park the car inside the garage.
They come in square shape and are quite easy to install, without special tools or skills.
But, be minded that you'll need transition strips around doors.
Ultimately, for a garage with low foot traffic, you can choose PVC or polypropylene plastic tiles. These aren't the eco-friendly choice, but they can look attractive and last for years.
The price range for these tiles is $2.50 and $4.25 per square foot.
Pros:
Strong and stable
Durable
Chemicals, oil and grease resistant
Easy to install and remove
Cons:
The snap areas aren't airtight, so the water and moisture can penetrate
Hard underfoot
Flexible Tiles: Rubber Tiles
If your garage works as a shelter for your car and your workshop, rubber tiles are your best option. These have been designed similarly to wood composite, but they offer better comfort and sound insulation.
Flexible tiles for flooring are what you have probably seen in sports facilities or play centers. They are easy to clean, can hold a lot of pressure and are resilient to outer conditions.
Rubber tiles will cost you between $2.5 and $5 per square foot.
Pros:
The snap areas are more watertight than rigid tiles
Non-slippery surface
Comfortable underfoot
Long-lasting
Excellent for workshops
Cons:
Susceptible to expansion in different temperatures
Watch this video to know more:
Roll-Out Garage Floor Mats
If you need a set-and-forget way to cover your garage floor it doesn't get easier than roll-out mats. These mats are made from polyvinyl plastic or rubber.
You can easily roll them over cracked, stained, or damaged garage floors and instantly improve the floor appearance and comfort.
There is no preparation work required, and the installation won't even require you to move out all things from the garage.
If there are some heavy closets or shelves in your garage, you can cut the mat around it using only basic tools.
These mats are comfortable and thick, and they can withstand most garage conditions.
You can get the textured roll-out garage mats to reduce the slipperiness, or thick and comfy mats, that look like those you see in the gym. They cost between $2.50 and $4 per square foot.
Pros:
Easy to install
Resistant to stains
Often come with waterproof backing
Easy to cut
Cons: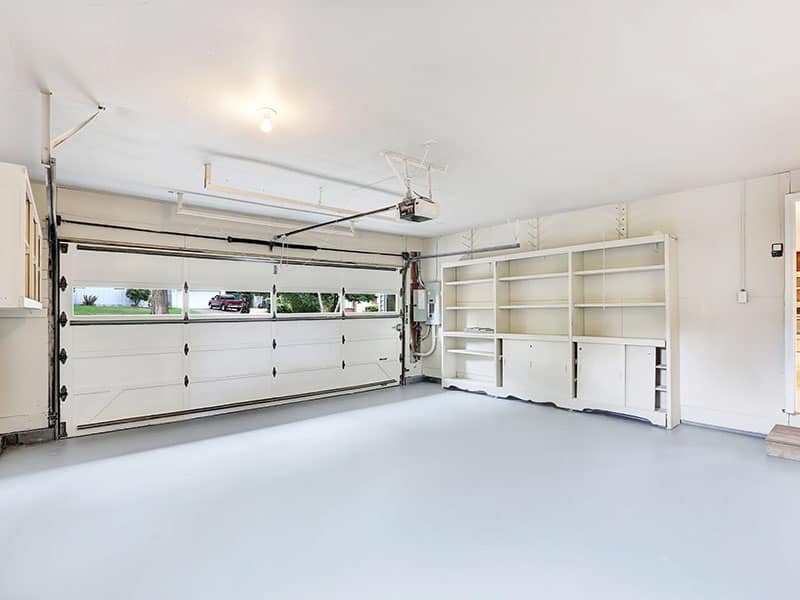 2 Perfect Garage Floor Coatings
A floor coating is a type of finish you apply in thin coats with a brush or roller. The coating adheres to the concrete floor and can last for decades. If you are looking for the best floor coating for the garage floor, you can choose between paint and epoxy.
Let's see the features of each coating.
Concrete Paint
Floor paint can be a good option for concrete floors. It will provide a new life and attractive appearance. You also have many options on the market to choose from, with various finishes and different lifespans. On average, you have to retouch the concrete paint every three years.
There are two primary concrete floor paint types – latex and acrylic. Coating the floor with concrete paint will cost you between $0.15 and $2 per square foot.
Pros:
A simple way to improve the look and performance of the floor
Latex paint is inexpensive
Easy application
A lot of styles and options are possible
Cons:
Solvents, salts and caustic materials can cause damage
Requires retouching or repainting after a few years
Latex Concrete Paint
Choose latex paint that is produced especially for concrete floors. Those usually contain epoxy to make the paint more durable and stain-resistant.
It covers well and is quite easy to apply with a roller. But, clean the floor thoroughly to prepare it. It is more affordable than acrylic paint.
Latex paint is a common choice for indoor concrete floors with standard indoor conditions. If your garage experiences a lot of traffic, moisture or isn't completely closed, you have better options with epoxy coating or at least a latex paint with epoxy in it.
Acrylic
Acrylic paint is more expensive than latex, but it doesn't necessarily mean that it covers better. In most cases, you'll need to apply several coatings for the best results.
Luckily, every concrete paint comes with specific recommendations. Based on the size of your garage floor, you will know what amount of products to apply for the best performance.
Watch this video to know more:
2-Part Epoxy
But, the winner of this quest for the best garage floor finish is epoxy. It has by far the greatest lifespan and the best resistance to stains and damage.
Epoxy comes as a two-part product. You mix one-part – hardener or catalyst with an epoxy resin.
The downside of epoxy coating is that it requires you to clean the floor from dust thoroughly, and you don't have as many color options as you have with concrete paints.
The application is a bit trickier than the application of concrete paint, but the results are perfect. The epoxy coating works for indoor and outdoor settings and hardens as it dries.
That is why you only have a limited time window to apply an epoxy coating to the floor from the moment you mix two parts together. It also needs excellent ventilation to dry to the roughest finish, and it needs seven days to cure completely.
Epoxy for the garage floor might be the priciest option on the list. But when you apply epoxy properly, it will provide peace of mind for years.
If you still aren't convinced that epoxy is the best option for garage floor coating and covering, be minded that it is used for industrial purposes. It is also easy to clean and remains good-looking no matter what the conditions in your garage are.
Epoxy is the most expensive of all coatings and coverings, and it can cost you between $3 and $7 per square foot of floor.
Pros:
Durable
Easy to maintain
Industrial strength
Resistance to stain, mold, mildew, fire, water
Suitable for indoor and outdoor application
Cons:
Can be pricey
Somewhat complex application
The application depends on the weather conditions
You should see the video below:
Ultimate Comparison Chart for Best Garage Floor Coatings and Coverings 
As you can see, there are excellent options for every garage floor. Here is a quick comparison between them.
Hopefully, it will help you decide.
| | Rigid | Flexible | Roll-out | Concrete | Epoxy Coating |
| --- | --- | --- | --- | --- | --- |
| | Tiles | Tiles | Mats | Paint | |
| Durability* | 10-15 years | 15 - 20 years | 5 - 15 year | 1-3 years | 10 -25 year |
| Loudness | Loud | Sound-absorbing properties | Sound-absorbing properties | Loud | Loud |
| Look | Available in different colors and patterns | Available in different colors and patterns | Available in different colors and patterns | Available in multiple colors and finishes | Limited range of colors |
| Cost | $2.5 - $4.5 | $2.5 - $5 | $2.5 - $4 | $0.15 - $2 | $3 - $7 |
| Maintenance | Challenging to clean around interlocking areas | Simple - sweeping and mopping | Simple - sweeping and mopping | Only mild cleaners | Simple - sweeping and mopping |
| Installation | DIY, Click-and-lock | DIY, Click-and-lock | DIY, Rolling out | DIY Using a brush or roller | Professional or complex DIY within a limited time frame from mixing ingredients |
| Garage floor condition | All | All | All | The floor needs to be in good condition | The floor needs to be in good condition |
*The exact lifespan depends on different conditions in your garage.
The Worst Option for DIY Garage Floor Coating
The last thing you might come across when searching for the best garage floor coating is concrete stain. The price of a concrete stain is similar to paint. But, the application of a stain is more complex.
Applying stain over concrete won't do much in terms of protection and resilience and the stain will deteriorate soon. To get some good results, you need to apply a two-part sealer on top of the stain.
Instead of applying a stain and a sealer, you can apply the epoxy coating in less time and get better results.
FAQs
If you are still unsure about which garage floor coating or covering to choose, I hope you find the next answers useful.
Don't Neglect Your Garage Floor
Even though the garage might not be your favorite room, you shouldn't let the floor deteriorate or look gross. Keeping the garage floor good-looking and functional is easy with available coatings and coverings.
Whether you choose mats or tiles for the garage floor, you will certainly improve the look of the floor, and make it more comfortable.
Coatings, such as paint and epoxy, will look excellent for years and give your garage floor an elegant look.
Which garage floor covering or coating will you choose for your garage and why?
If you found the answers you were looking for, please consider giving this article a thumbs up and sharing it with your friends!