If you need a durable and robust garage floor, you need to check the garage floor epoxy reviews to see what to expect. Epoxy is used as adhesive and a floor coating to improve resilience to outer conditions, such as moisture and heavy traffic.
It is popular in the construction industry, and most people use it for their garages. Epoxy coating is economical. When renovating any part of your home, you need to consider more aspects other than budget.
Let's break things down about epoxy and usage for your garage floor!
Is Garage Floor Epoxy Worth?
Epoxy is budget-friendly, durable, available in different colors and patterns, but the application process is time-consuming. It is a simple solution for garage floors, because it is resistant to water damage, and stays good-looking for years.
Moreover, it is suitable for people who park their cars in the garage, because you can easily clean the dirt you bring on the wheels or after oil droppings.
If you have time to apply it properly and refurbish it after a certain period, you will probably be happy with the epoxy floor in your garage.
Overall, it makes an excellent choice for the garage floor, despite potential drawbacks.
What Is Epoxy Flooring?
Epoxy is gaining more popularity every day, as an economical and effective solution for concrete floors. Epoxy is different from regular concrete paint. It consists of two parts – resin and hardener to create a protective and beautiful coating for your floor.
Once you mix resin and hardener, the chemical reaction between the two occurs and the mixture becomes hard plastic.
Epoxy is strong and resistant, which is the reason why contractors install it in hospitals, industrial environments, schools, public garages. Because of the availability and significant benefits, nowadays we use it in homes, mostly in garages.
Epoxy works for concrete better than oil or water-based paints and gives a unique appearance to the floor. No paint can create a similar effect.
Epoxy takes time to cure and is available in different colors and with or without decorative flakes.
Epoxy Coating Types
When you start researching epoxy coating for floors, you will probably come across different epoxy resin used in it. There are three primary categories of epoxy resin, all made from epichlorohydrin and phenolic, and different stylish options.
The exact percentage in the compound determines the type. Also, some specific additives are added to the mixture to get different properties.
Bisphenol A
Bisphenol A is the most used epoxy resin, and it has a thick liquid consistency, similar to honey. Most people use it for concrete coatings because it adheres to concrete perfectly, is abrasion and chemical resistant, and extremely tough.
Bisphenol F
Epoxy coating with bisphenol F is more expensive than the previous one, but more versatile as well. It has a lower viscosity because it doesn't have as many additives as A-type. Overall, it is more resilient to different environmental conditions, and works at lower temperatures.
Some people mix the two to increase the resistance of A-type and reduce the viscosity of type F. It isn't a common choice for the floors. Rather it is used for plastic packages, etc.
Novolac
Novolac is a mixture of phenol and modified Bisphenol F. It is versatile and superior in terms of chemical resistance to the previous models. Another great feature of novolac is the extreme heat resistance.
Because of the outstanding performance and extreme versatility, Novolac-based epoxy coating is more expensive than the previous two types.
Metallic Epoxy
Metallic epoxy is used in commercial areas, because it looks great, and has amazing durability. In the special procedure, metallic pigments are added to epoxy, to create the illusion of depth on the floor.
It is what you have seen in supermarkets or similar commercial, high-traffic areas.
Watch this video to know more:
Clear Epoxy
Most people use clear epoxy to cover the concrete. It can be used on painted concrete to improve the durability of the paint. Clear epoxy is durable and robust, and the best type for the garage floor.
The price is affordable and the application is straightforward.
Garage Floor Epoxy – Primary Features
Let's take a closer look at epoxy features, so you can determine whether it is the right choice for your garage.
Industrial Use
Because of durability, strength and chemical resistance, epoxy flooring is common for industrial use.
Two-Part Coating
Epoxy isn't a ready-made liquid. It includes the base and the drying part. When mixed in a specific ratio, the mixture heats and becomes a plastic-like coating. Therefore, epoxy is more of a process to reinforce your floors, rather than a new flooring type.
Watch this video to know more:
Epoxy is for Indoor Application
Because of the chemical compound, epoxy coating is suitable for indoor use. When exposed to direct sunlight, the epoxy coating will turn yellow and lose a pleasant appearance.
Clear epoxies are especially prone to yellowing. Therefore, if you need epoxy for the outdoor surface, you might have to coat it with polyaspartics, urethane or latex to make the coat more durable.
Application Time
Once you mix the two parts of epoxy, you have a limited time to apply the mixture. The resin hardens as the mixture sits, and the application time depends on the manufacturer. Some outer factors, such as warm temperatures, can speed up the hardening process of the product.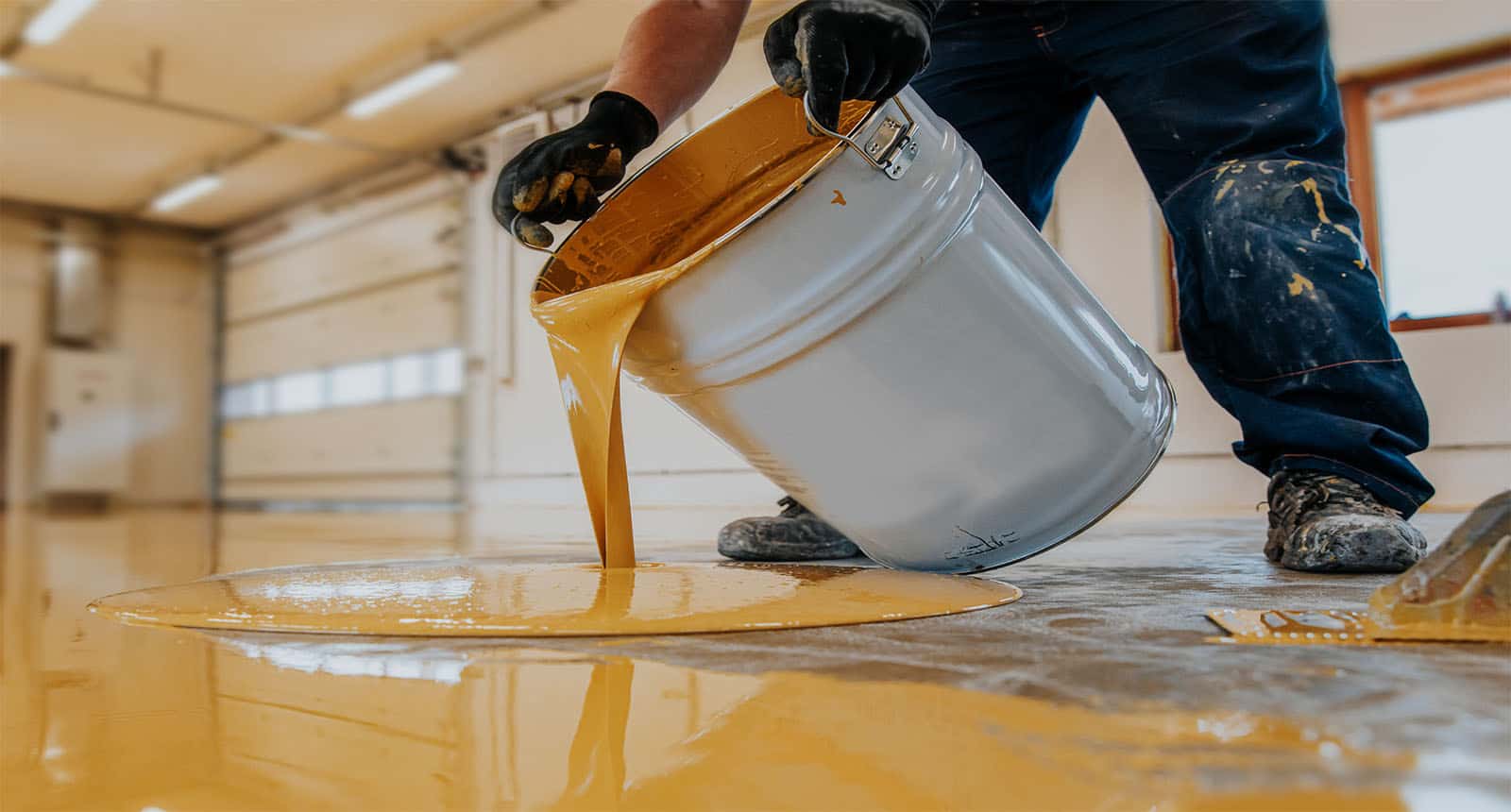 Watch this video to know more:
Drying Time
Once you apply epoxy resin, it may look hardened soon, but the curing won't be completed. It takes several days for epoxy to harden fully.
Temperature is Important
Some aspects of epoxy application depend on the temperatures. For example, high temperatures lower the viscosity of the coating. You have less time to apply it, because the resins harden.
If the temperature is below 50 degrees Fahrenheit, you should postpone application, as the coating will be too thick and hard to apply. Also, it will take a lot of time to cure.
The ideal conditions for applying epoxy are between 65 and 85 degrees Fahrenheit.
Once the epoxy has fully cured, it is temperature resistant, and some can handle the extreme cold and hot temperatures – from below zero degrees Fahrenheit to avoid 300 degrees Fahrenheit.
Epoxy Coatings Consistency Changes
When the temperature goes above 140 degrees Fahrenheit, the coating might soften. However, once the temperature drops the coatings will re-harden on their own.
You can purchase epoxy with extreme temperature resistance. Those are pricier and more suitable for use in industrial settings.
Epoxy Blush
As the first layer dries, it gets a waxy finish in contact with moisture from the air. The process is called blushing, and you have to remove it before you add new layers. Therefore, to prevent additional labor, apply epoxy when the humidity isn't high.
Epoxy Mixes Well with Other Ingredients
When mixed with aluminum oxide grain, epoxy is more durable. It is also suitable for demanding use. Adding quartz also improves the epoxy properties.
Epoxy Flooring Pros
Epoxy flooring isn't only for mechanical shops, it works well as interior flooring as well. Let's go briefly through the most important benefits of Epoxy flooring for home-use, especially garage.
Longevity
When you apply the epoxy coating in the garage, you are good to go for years. The coating won't chip soon or suffer water damage, high humidity, low temperatures or other conditions in the garage.
Also, if you park your car in the garage, epoxy flooring won't get pneumatics marks. In some cases, epoxy floorings can last up to 15 years or even more.
Simple Maintenance
Cleaning the garage floor is a tiresome task, especially if you have to remove rust stains. Epoxy flooring is easy to maintain, you can sweep and mop it.
You don't have to buy special chemical cleaners, an average commercial floor cleaner or clean water and soap will be enough.
Impressive Appearance
Who says a garage floor must be dull? The epoxy coating comes in different styles and can improve the look of your garage. You can choose between different colors and patterns.
Price
Epoxy is a budget-friendly choice for your garage. It is less expensive than vinyl or other floorings, but highly durable.
Because of simple maintenance and DIY application, epoxy floorings work as the most affordable flooring for the garage.
Slip-Resistance
You can find epoxy coatings with slip-resistant additives to improve safety.
Epoxy Flooring Cons
While the benefits of epoxy flooring are impressive, it comes with a set of drawbacks.
Requires Refurbishment
Epoxy coating is durable, but it isn't permanent. If you drop heavy items on the floor, cracks may appear and you'll have to apply new coatings.
Extensive Preparation
Before you apply epoxy coating on your concrete floor in the garage, you need to prep the floor. Clean the concrete thoroughly, fill in the cracks, and remove grease or leftover solvents. It can take more time than the actual application.
Time-Consuming Application
Even though the application is simple, it takes time. Also, epoxy needs a few days to dry and become ready for the next coat. It means that you cannot use the garage during the application process.
Additionally, if the weather is humid and the temperature is low, you should wait until the conditions improve to apply the coating. It can take a few days.
Odors
While wet, epoxy has a strong odor that can cause headaches. In general, darker shades have stronger odors compared to lighter ones.
Changing Flooring
Once you apply epoxy, you will stick with the look for years. Removing epoxy is necessary if you want to repair the floor, change color or pattern or install the new flooring. In some cases, you need to call professionals to do it which will increase the costs.
How To Apply Epoxy On Your Garage Floor – Step-by-Step
Proper application of all layers is important to ensure all epoxy benefits. There are several required layers – primer, body coat, and topcoat. That way, the coating will be thick and more resilient compared to floors with one paint coat.
Preparation Stage
Get everything out of the garage to have a blank canvas to work on. Grind or sand the floor before and remove rust stains from concrete, and oil. Sweep, vacuum, use degreaser and concrete cleaners to clean the floor as thoroughly as possible.
Epoxy adheres better to a clean and smooth floor.
Once the floor is prepared, you need to apply primer and fill in holes and cracks with epoxy grout. Priming improves adhesions and reduces the risk of air bubbles. Use two coats of suitable epoxy primer to seal the floor and simplify the rest of the process.
Watch this video to know more:
Applying Epoxy
You'll need an electric mixer and a roller to apply the coats, and protective equipment, gloves, goggles, and face mask.
First, mix the two-part epoxy as directed on the products and mix them for two minutes.
Then, dip the roller into the product and start painting. Choose the non-shed roller to avoid issues.
Start in the corner opposite the garage door and apply the mixture in thin layers, going backward, toward the center of the garage, and exit.
Wait 24 hours and inspect the floor for cracks and holes.
Seal holes and let them dry before you apply a fresh coat.
If you notice uneven surfaces, lightly sand them to smooth the texture.
Sweep lightly to remove dust before you apply the final coat with a clean roller.
Let it cure before you bring the stuff back into the garage.
Watch this video to know more:
Epoxy Alternatives
Let's see how epoxy compares to other garage floorings.
Epoxy VS Concrete Paint
Concrete paint is easy to apply, covers stains, and comes in all colors. Compare to epoxy, it has a simpler application, but it is less durable and more prone to fading and chipping. Unlike epoxy, concrete paint doesn't handle moisture well.
Epoxy VS Porcelain Tile
Porcelain tile is a good choice for the garage because it is easy to clean and water-resistant. If you get an unglazed type, you don't have to worry about slippery properties. Porcelain tiles also come in a wide range of partners.
The primary epoxy advantage over porcelain tile is the resilience to impacts and easier repair. Porcelain tiles are grouted, so repairing this floor is complex.
Epoxy VS Polyurea Polyaspartic
Polyurea polyaspartic is more expensive than epoxy and stronger and more durable. You can also apply this industrial coating with different patterns to match your style.
However, because it sets quickly, polyurea polyaspartic is harder to apply than epoxy and requires excellent precision.
Epoxy Vs Rubber Tiles
Rubber tiles are popular because they are quick to install, look good, have simple maintenance and are easy to repair. If something happens to one tile, you can replace it easily. Epoxy is more protective, lasts longer and more suitable for heavy use.
| | Durability | Style | Price | Repairs |
| --- | --- | --- | --- | --- |
| Epoxy | Moderate | Available in different colors and patterns | Budget-friendly | Filling the cracks, sanding, applying new layers, removing old coats |
| Concrete paint | Low | Available in different colors | Budget-friendly | New layers, sanding and removing old layers |
| Porcelain tiles | High | Available in different colors and patterns | Expensive | Expensive and sometimes you have to replace more than broken tiles |
| Rubber tiles | Moderate | Available in different colors and patterns | Budget-friendly | Simple, only replace broken tile |
| Polyurea Polyaspartic | High | Available in different colors and patterns | Expensive | Easy to repair |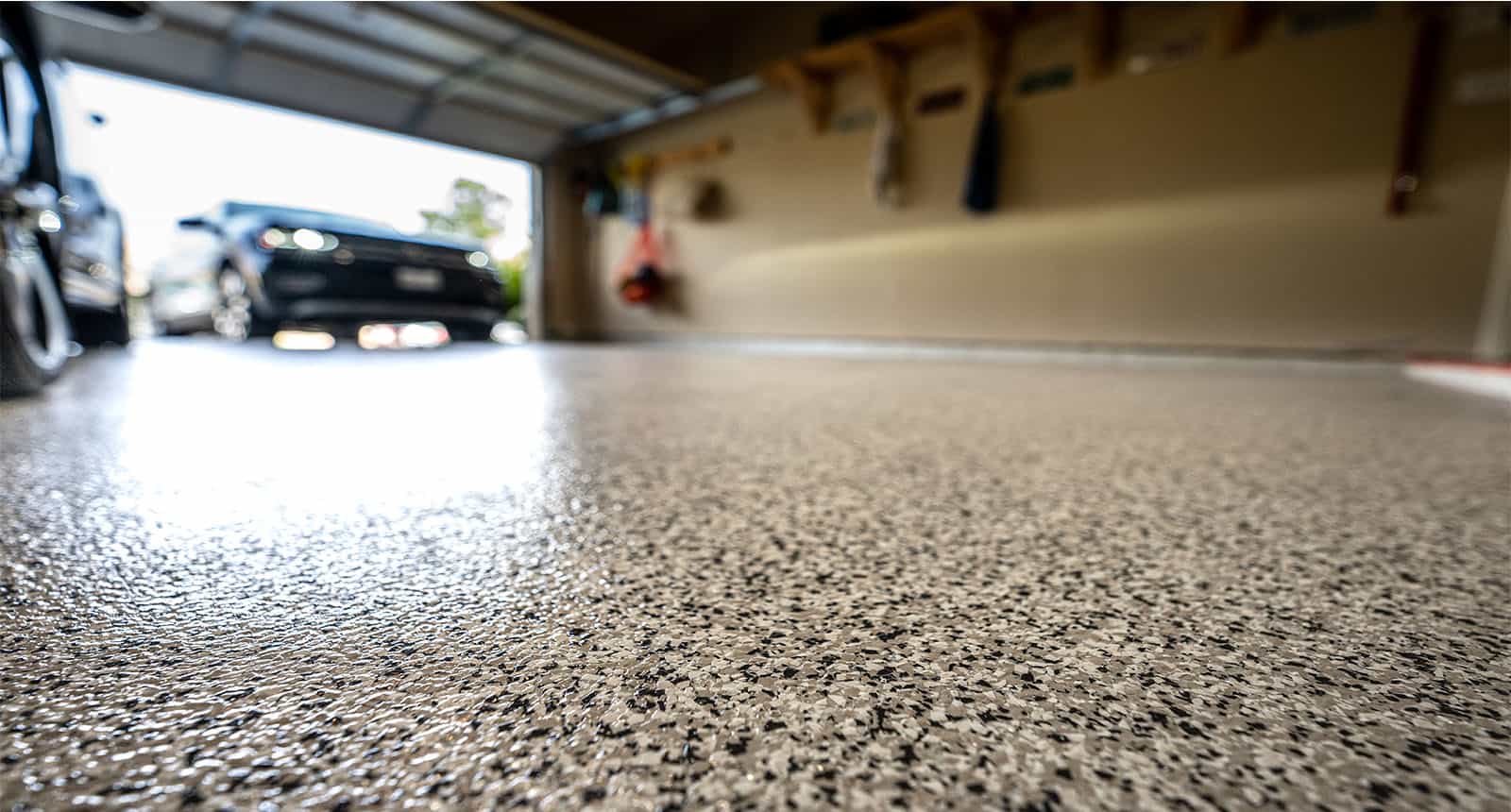 Epoxy For Garage Floor: Yes, Please!
Epoxy is an excellent way to improve the look and resistance of your garage floor. Despite a few drawbacks, epoxy is still a market leader for garage floorings, because it offers great value for the money.
Preparing your floor will take you more time than the application itself, but the results depend on how smooth and clean the concrete is before epoxy application.
If you want a fuss-free improvement on your garage floors, hire professionals to apply epoxy and you won't regret it!
Would you choose epoxy for your garage floor? Please share your arguments!
Did you enjoy the article? If so, please, like it and share it with your friends!