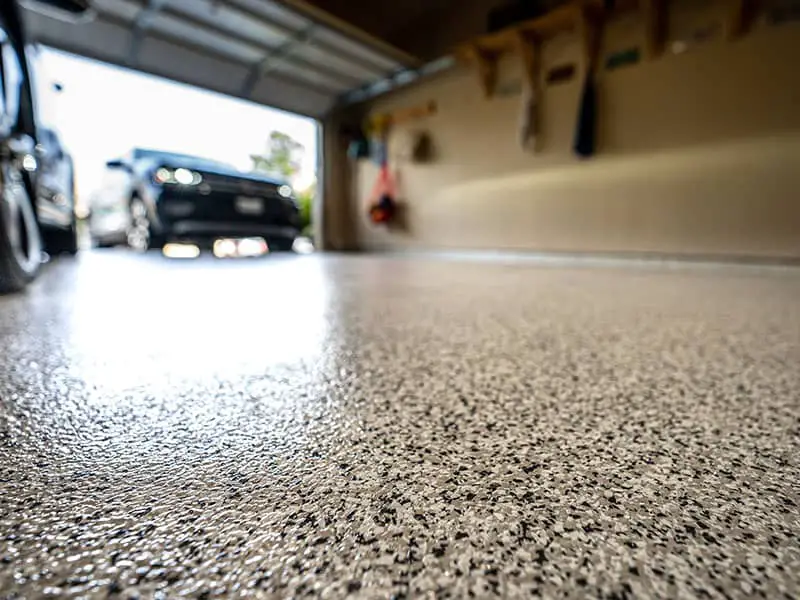 It's essential to install the best garage flooring in this type of area since these floorings undergo super high pressure because of the heavy vehicle movements.
Additionally, most floors in garages get stained easily giving the whole surroundings a nasty appearance. Therefore, planning for garage flooring is very important.
Picking the right flooring for garages isn't easy because not every flooring option available in the market is suitable for garages and can handle stains and pressure.
Garages ask for durable, strong, and resilient flooring. That's where this article comes in. Below, you will find 10 winner options and 5 worst-rated, so let's begin.
What Is The Best Type Of Flooring For A Garage?
The best garage floor for your space depends on the condition of your existing floor, your budget, needs, and how you use the area. This type of area requires a very strong flooring material.
So, opt for something that couldn't stain or break such as rigid plastic tiles or epoxy coating. You can also use a softer plastic tile floor or even carpet if you use your garage as your recreational space.
Further in this article, I will break down the most common garage flooring options that can withstand oil spills and heavy loads. I will also mention a few that you should avoid, so let's begin.
What Should I Put On My Garage Floor?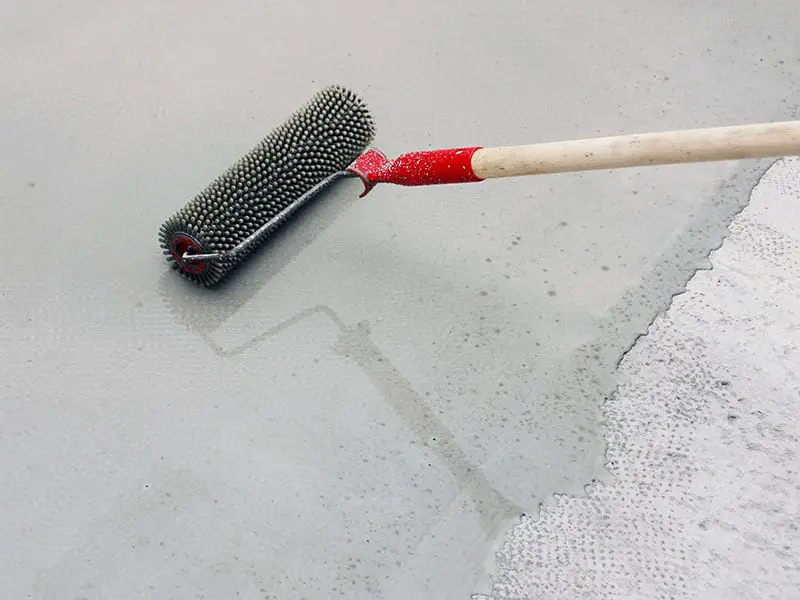 You can either choose a floor covering or floor coating. If your garage floor is in good condition, you can go with either one. However, if it's damaged, a covering can help you cover any damage.
Coatings (even low-sheen options), on the other hand, have a tendency to point out blemishes. They're also resistant to moisture issues that can make them peel over time. Therefore, if you like your concrete floor, however, you feel that it's starting to look old and quite worn, opt for a floor coating.
The key difference between coverings and coatings is that coatings glue down to the existing floor itself, whereas coverings go on top of the floors. So, coatings include paints, sealers, and epoxies.
Concrete Sealer
This covering is the bare minimum of what you can do for your existing floor. It's a cheap option that will give your garage floor a gloss and will resist many stains and spills.
You can either pick a water-based sealer that releases a smaller amount of chemicals into the air during the installation process or a solvent-based sealer that lasts a lot longer.
Expect to pay between $0.15-0.25 per square foot. As you can notice, concrete sealer is very affordable, however, you will need to reseal your floor every couple of years.
You should see the video below:
Concrete Floor Paint
If you actually like your existing floor but you would want to apply some color, then opt for floor paint. It is the perfect choice for you and another cheap and easy way to give make your floor look new.
You can pick between oil-based or latex paint with a non-slip finish. The latex offers a matte appearance, whereas oil-based paints offer a high-gloss sheen. However, I highly recommend paying extra on a paint that contains 1 part of epoxy which will provide extra protection and make the finish last longer.
Depending on the product, expect to pay between $0.15-2 per square foot. There's a wide array of color choices. And just like with the concrete sealer, you will want to retouch every couple of years.
Have a look at  this step-by-step video instruction.
Epoxy
Epoxy isn't the same as floor paints that contain epoxy. They're coatings with 2-part epoxy. What I like most about these coatings is that they glue down to the floor and create a plastic-like coating.
Meaning, they make the cement look less like concrete and more like a brand new garage floor. It's the most durable and strongest option that comes in different colors and provides excellent protection.
The plastic-like coating protects against fire, moisture, and bacteria. Although epoxy is water-resistant, it doesn't mean that you can install it in damp places, especially if the liquid is appearing from underneath the existing floor. The epoxy makes a watertight barrier, keeping the water within the existing floor.
As the moisture builds up, it can damage the floor permanently. Overall, it's a great option that will cost you between $3-7 per square foot. But here's the kicker. This coating lasts between 7-20 years.
You should see the video below:
Rigid Tiles
Jumping onto covering options, plastic tiles make a great option. You can pick between flexible and rigid options. Rigid plastic tiles consist of hard plastics such as polyvinyl chloride.
Meaning, they provide a stable and strong base underfoot but what's also important is that they provide a durable foundation under wheels. Obviously, they can handle super heavyweights. What's great about these tiles is that they're resistant to damage from grease, oil, and many chemicals.
Cleaning plastic tiles is a walk in the park. Also, they don't expand and contract due to humidity or heat, so they will maintain their original position and shape under any weather conditions.
Regular plastic tiles come in either 24×24 or 12×12-inch options. They're 1/4-inch thick and you can pick from different colors and styles, so you can easily customize your floor's appearance.
The installation process is straightforward as there's nothing to do to prep the concrete floor except for ensuring it's in perfect condition. Most plastic tiles feature a snap closure mechanism.
However, keep in mind that the seams aren't watertight, meaning, they can let liquids leek through from the top to the existing floor underneath. Finally, they're neither cheap nor expensive.
Expect to pay between $2.50-4.25 per square foot. Most of these tiles include a warranty of around ten years, so you can feel safe with your buy. Now, let's take a look at the flexible tiles.
Watch this video to know more:
Flexible Tiles
If you use your garage as a workshop and you spend many hours on your feet there, then opt for flexible tiles instead of rigid tiles and concrete to save your joints the pain.
They're similar to rigid plastic tiles, except they have a rubbery and flexible finish that makes them softer underfoot and watertight seals. They're available in different colors and sizes.
If you're searching for less slippery covering for your garage floor, then flexible tiles make a great option for you. However, they're harder to clean than rigid tiles. Also, these tiles usually expand with changes in temperature. Thus, you need to consider this when installing your flexible tiles.
Expect to pay between $2.50-5 per square foot for these soft, flexible tiles with a rubbery finish. Finally, just like rigid tiles, these tiles come with a warranty of around ten years.
You should see the video below:
Mats
Another common flooring option for garages is large rubber mats. Just roll them out over existing floors. They're available in different patterns and sizes.
You can either cover the entire garage or just some parts. What I like most about mats is their durability. However, they're not as durable as other options.
They can be gouged by motorcycle stands and burnt by tires. They also become slippery when wet. So, if you're looking for a temporary solution, pick mats.
Otherwise, select something safer and more durable. These mats cost between $2.50-4 per square foot, depending on the type of rollout mat you choose.
Let's have a look at the following video!
Carpet Tiles
If you don't like interlocking plastic tiles, opt for something similar but softer such as interlocking carpet tiles. They're a popular choice among homeowners because they bring warmth into the area.
However, they're not suitable for any heavy-duty garages where a lot of car work takes place but they're perfect for light garage traffic. The under-tile is made of polypropylene, then covered with carpet.
They're available in similar sizes to plastic tiles and feature the exact lock together system. You can also find products with an adhesive back for additional sticking power. Carpet tiles enable a good airflow, so they're appropriate for garages with moisture. They also keep your garage floor warmer and softer.
These tiles cost somewhere between $3-5 per square foot. They also include a limited warranty for 7-15 years. However, your warranty won't cover oil damage, thus you will need to be extra careful.
You should see the video below:
Roll-out Vinyl Flooring
Roll-out vinyl flooring is one of the most popular garage flooring ideas. It's the best garage flooring since it's easy to install. Just unroll it over your existing floor, slice off the excess and you're good to go!
However, unlike tile flooring, you can't slice out and replace any damaged parts in roll-out vinyl flooring. Another thing that I don't like about this type of flooring is that you can't create custom patterns.
Watch this video to know more:
Peel And Stick Tles
If your existing floor is in good condition, meaning there are no height imbalances or severe cracks, you can cover the whole surface with affordable peel and stick tiles.
They're usually made of heavy-duty vinyl, so they're easy to slice and fast to apply. And because they're tiles, you can create custom patterns by combining various colors.
You should see the video below:
Stone Flooring
Store flooring is one of the best garage floorings because it's extremely durable. However, it's also super cold in winter. You can choose from graphite, sandstone, and flagstone.
They're all amazing options for garages but they're costly. When buying stone flooring, consider climatic conditions. Stone flooring comes in lovely colors and eye-catchy designs.
Let's have a look at the following video!
What Type of Flooring Options Aren't Suitable for Garages?
Despite our best garage flooring ideas, you might be wondering if other options like porcelain or ceramic tiles will work as well. Unfortunately, some products would look nice but don't perform well.
For instance, laminate and hardwood varieties aren't durable enough for the garage. Vinyl plank flooring isn't suitable as well, but what about ceramic or porcelain tiles?
These tiles provide stability but they aren't as durable as their plastic counterparts. They can crack and shatter under great weight exerted by something hard like tools.
Therefore, you will have to be very careful when working with tools. The worst part? The weight of your car can break a ceramic or porcelain tile if they're not installed properly, as any unevenness can open an edge of a tile bearing the complete brunt of the weight of your vehicle.
I don't recommend tiles for garages because they can also be damaged by things brought from outdoors such as deicer and salt but also grease and oils. These elements won't damage the floors themselves but soak into the grout and discolor it, leaving your floor looking unattractive.
Elements like these can also undermine the structural integrity of tiles, allowing them to come loose. So, opt for something else like flexible tiles, rigid tiles, or carpet tiles.
Watch this video to know more:
How to Choose the Right Garage Flooring?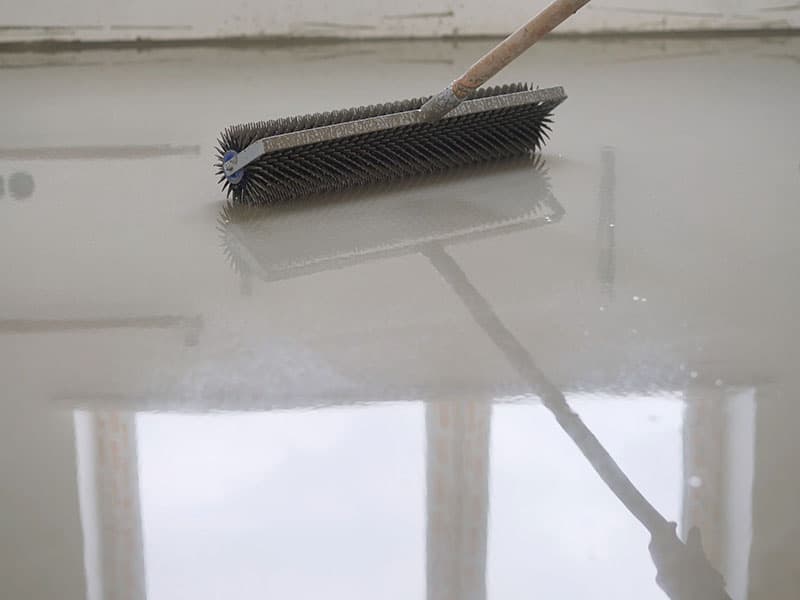 When searching for the best garage flooring, consider things like your floor's condition, installation, cost, maintenance, planned use, and weather conditions, so let's explain.
Floor Condition
The first and most important thing to consider is the condition of your existing floor. Some structural or major damage will need to be fixed first depending on what flooring you pick.
However, what about small dips and cracks and height imbalances that cause inconsistency in the level? If your floor has a lot of cracks, you will likely be better off covering your floor than sealing or painting. If your floor is bumpy, you may be better off using carpet or flexible plastic tiles.
Planned Use
Is the sole purpose of your garage for parking and storing your vehicles? Or is it also a workshop? Do you do repairs? What type of garage do you own? Does your family use the area for recreation?
Answering these questions can help you determine what type of flooring is perfect for your garage. So, if you're doing oil changes, you will want to avoid carpet or paint, as stains will be very difficult to clean on a daily basis. Also, if you spend a lot of time in the garage on your feet, opt for a softer floor.
Weather Conditions
Do you reside in a place that's warm in summer and cold in winter? Or you're one of the lucky ones who enjoy moderate to warm temperatures throughout the year? Also, do you regularly apply snow tires on your vehicle and bring in deicer and salt? If you live in a warm place, you have a lot of options.
However, if you reside in colder climates with snow and ice, you might want to buy plastic rigid tiles as they can handle extreme pressure, won't expand and contract with temperature changes, and won't be affected by salt. You can also install stone flooring since it's extremely durable but also costly.
Cost, Installation, and Maintenance
Some garage flooring options cost less than others, while others cost more. However, they're all easy to install, except epoxy. This coating can be a bit challenging. But the rest of the options make a simple DIY project. They're also all easy to clean, except for carpet tiles. They will be harder to maintain.
Preparing Your Floor
Whatever garage flooring option you choose, you will need to prepare your existing garage floors before installing. This is fairly straightforward and starts with ensuring the floor is in good condition.
Broken and cracked floors will continue to be broken and cracked under a brand new floor but the state can worsen out of your sight. Therefore, any serious structural problem needs to be addressed.
If you don't know how to evaluate the condition of your existing garage floor, contact a professional for help. Cracks larger than 1/4-inch and any unevenness aren't something that you should ignore.
Additionally, you will need to take a moisture vapor test on your floor, as not every option is suitable for damp areas. The easiest way to make this test is to add a 16×16-inch plastic sheet to the floor with tape, ensuring the corners are airtight. Leave for a day, then peel it up. Afterward, look for visible signs.
If you notice black spots on the existing floor or condensation on the sheet, moisture is coming up from underneath. Certain garage flooring options such as epoxy coating should be avoided in this case.
Otherwise, you're good to go! Just repair any damages with matching material, then clean your concrete with a vacuum for concrete floors. If you use epoxy or paint, you may need to apply a primer.
You should see the video below:
What's the Overall Cost?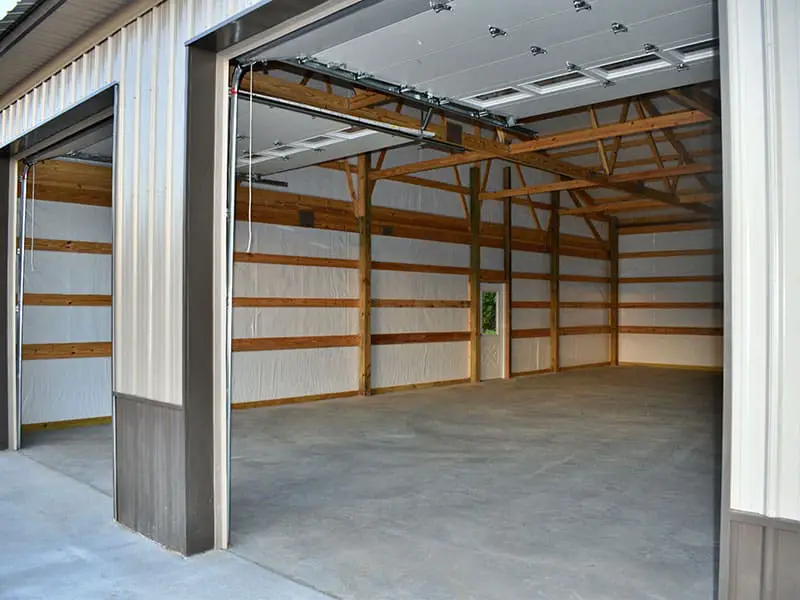 The overall cost depends on the type of flooring you select, whether you hire professionals or take a DIY route, and how much preparation and repair your existing floor requires.
However, you can expect to spend between $750-5,000 to revamp one garage of about 150 square feet. Keep in mind that darker coatings will do a better job at covering stains and marks. Lighter colors, on the other hand, will open up the whole garage and make it appear much larger.
You can look at the average prices in the sections above. They're mentioned at the end of each flooring recommendation. That said, opt for whatever suits your needs and budget.
Watch this video to know more:
Your Garage Floor Deserves Love, Too!
The best garage flooring for your garage depends on various factors. Hopefully, this article can help you find the right product for your needs that exceeds your expectations instead of your budget.
Any homeowner knows a good garage flooring can increase the value of a property. It's the area where you keep tools, lawn care equipment, and store your vehicles, so it's gotta be durable enough.
If cleaning is a breeze, that's a big plus. Therefore, consider all factors like maintenance, cost, cleaning, and durability.
Opt for something that doesn't only look beautiful but also provides durability and doesn't take forever to install. The market is flooded with budget-friendly and easy-to-install garage flooring options.
What floor do you have in your garage? Do you have any experience with some of the options reviewed above? If so, drop a comment and share your thoughts. And please, share this article online.