How much does hardwood flooring cost? Keep reading to find out the aspects and features of hardwood flooring which affect the price and what makes some types so expensive.
Hardwood floors have an exceptional lifespan, and people praise them for their durability, elegant look, eco-friendly and allergy-friendly features. Unlike other floorings, you can refinish hardwood floors and restore their previous sophisticated look. But, it all comes with a high cost.
Hardwood floors are the most expensive flooring option in general. But, because hardwood floors are made from different wood types, their prices vary.
Another factor you need to consider when deciding about hardwood floors is the installation. Hardwood floors are only suitable for professional installation, which raises overall costs for floor replacement.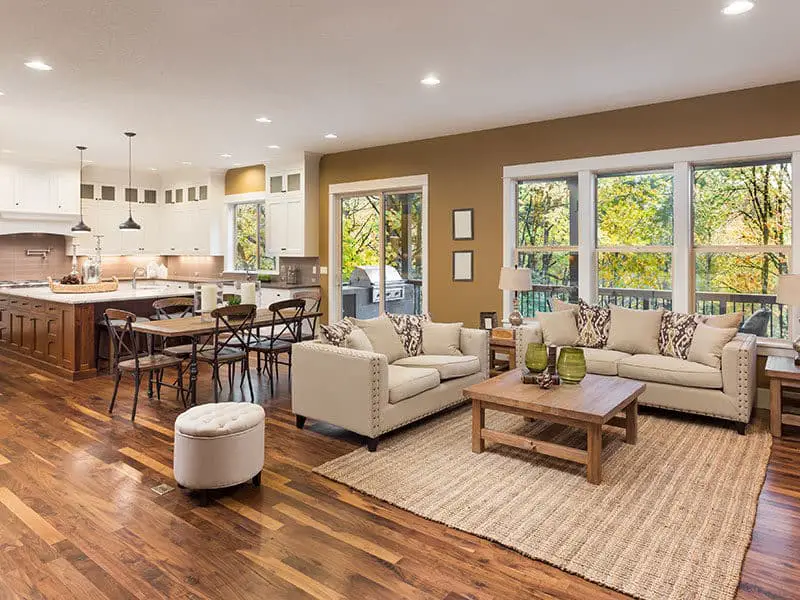 How Much Does Hardwood Flooring Cost?
The exact price for installing hardwood flooring depends on wood type, brand, space size, and several other factors. On average, the material for a hardwood floor can cost you between $6 and $12.
But, check the table for a quick overview of material and installation costs for most common wood types.
| Wood | Material Cost per square foot | Labor Costs |
| --- | --- | --- |
| Bamboo | $2 - $6 | $2.50 - $3.50 |
| Oak | $8 - $15 | $3 - $8 |
| Hickory | $6 - $13 | $2 - $5 |
| Walnut | $6 - $10 | $4 - $8 |
| Cherry | $3 - $8 | $2 - $4 |
| Maple | $6 - $11 | $3 - $9 |
| Mahogany | $6 - $30 | $4 - $8 |
| Ash | $9 - $13 | $3.5 - $6 |
| Brazilian Cherry | $4 - $9 | $3 - $5 |
You can see this video to know more:
Why Hardwood Flooring?
Before we get deep into hardwood floor prices, let's discuss hardwood floors in general. I already mentioned that those are expensive, twice or triple the price of other similarly-looking floors. So, why give that much money for something you will step on every day?
Let's put the pleasant appearance on the side for a minute. Hardwood floors can actually make your home warmer and improve sound absorption. You might be wondering how wood can make your home warmer.
Well, the trick is that wood allows the heat to circulate better through air, and evenly warm the rooms. Wood holds the temperature well, so in the long run, you'll have lower energy expenses.
On the other hand, solid wood has excellent sound-absorbing properties and improves indoor air quality. It is because hardwood floors don't collect as much dust, microorganisms, pet dander, pollen, or pesticides.
Pair everything I mentioned with a 2% value home increase after hardwood floor installation, and you see why hardwood floors are still considered premium flooring, even though they have been on the market for centuries.
Hardwood Flooring VS Softwood Flooring
When thinking about floor replacement, most people come across wooden floors. Well, in the category of the wooden floor, you need to be familiar with the two types of these floors – hard and softwood.
Here are the most important differences.
Origin
Hardwood floors are made from angiosperm – wood types that produce flowers. Softwood floors are made from gymnosperm plants. In simple words, hardwood floors are usually made from maple, oak, ash, hickory. Pine and spruce are the most common trees labeled as softwood.
The density is higher in hardwood, but the exact lifespan depends on wood type, maintenance and other factors. Softwood is more flexible and comes in slightly yellow tones.
Price
Softwoods are more affordable than hardwoods. Those can be a way to save money if you install rooms there isn't much foot traffic. Install the hardwood floors in rooms where you expect the most traffic, and you need a long lifespan.
3 Must-Know Factors To Known About Before Investing In Hardwood Floors
Hardwood floors are the first and most appealing flooring choice for many homeowners. Without proper research and analysis of different factors, there is no way to estimate the total costs of the floor replacement in your home.
But, here are some factors that affect the hardwood flooring costs.
Wood Types
The hardwood flooring market includes various wood types, which is the most important factor that affects the price. Traditional, domestic wood species are significantly more affordable than exotic types. For example, the costs of ebony flooring are four times higher than the costs of oak flooring.
Because each wood type comes with special properties, the value is higher. Not to mention that high-density wood types are difficult to install, so the installation includes special machines and skills, which increases the price.
Installation
Hardwood floors are suitable only for professional installation. Some skilled homeowners might attempt to install hardwood planks by themselves, but it comes with a lot of risks. Improperly installed hardwood floors deteriorate sooner and increase the maintenance costs.
The installation costs depend on the size of the space, the location, the shape, the internal elements such as closets, angles and irregularly shaped floor types, etc.
Hardwood floors costs explained in a room of 330 square feet . You can see this video to know more:
Prefinished/Unfinished
Lastly, the coating quality on the hardwood floor planks also shapes the price. Whether you are installing unfinished hardwood floor planks or finished, the coating used for abrasion and UV protection and appearance will lower or increase the basic price.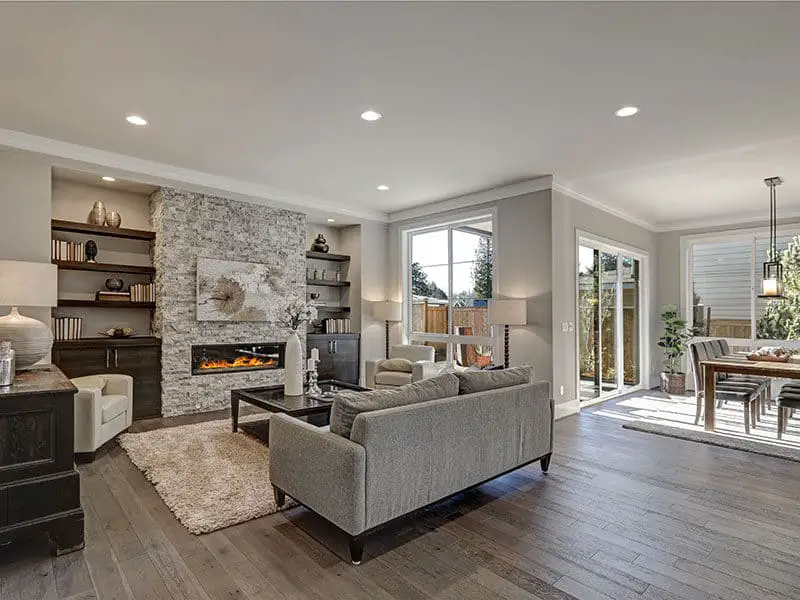 Beginner's Guide Vol.1: Hardwood Flooring Cost By Species
The average costs for installing hardwood floors in 1.000 square feet of rooms are between $6.000 and $10.000 for material and installation.
Below, I summarize average prices for material and installation of different wood types.
Bamboo 
Even though bamboo flooring doesn't qualify as hardwood flooring, many people prefer it over traditional hardwood floors. Bamboo flooring is actually more resilient and harder than most traditional wood types.
It is available in several colors and has two shades – light or tinted, for a darker appearance. Bamboo flooring is easy to keep clean without a streaky appearance and looks fantastic.
The average price range for bamboo flooring per square feet is between $2 and $6, plus the additional $2.50 to $3.50 for installation.
Oak
Oak is one of the most common choices for hardwood floors. It comes in different colors and has a unique grain pattern that is difficult to replicate on cheaper wood floor alternatives.
It costs from $8 to $15 per material per square foot and an additional $3 to $8 for installation. The two species available – white and red oak may vary in price, and red oak is often more affordable.
Hickory
Hickory is exceptionally resilient hardwood flooring, with a rustic appearance and curve grains. But, it fits any interior style.
The starting price for hickory flooring is $6 per square foot for lower quality planks, and the high-end price is somewhere around $13.
Hickory is a high-density wood type, and the installation might be pricier – from $2 to $5.
Walnut
Walnut is beautiful, warm hardwood floors. It is slightly pricier than other common options for hardwood floors. Walnut flooring has an exceptional lifespan and doesn't scratch easily.
It costs between $6 to $10 per square foot for material and $4 to $8 per square foot for labor costs.
Cherry
Cherry flooring requires simple maintenance and looks better as time passes. It is a cost-effective option that costs between $3 and $8 per square foot for cherry wood planks and $2 to $4 for installation.
Maple
Maple has a subtle and sophisticated grain pattern that looks beautiful in a variety of interior settings. It stains easier than some other flooring types and costs from $6 to $11 per square foot.
Maple is an excellent choice for high-traffic areas and is dent-resistant. The installation cost between $3 and $9.
Mahogany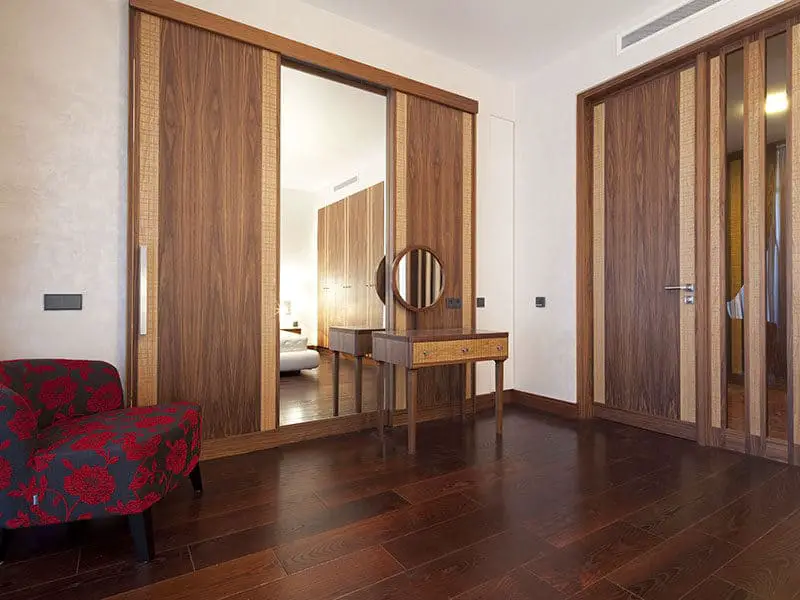 Mahogany is one of the most beautiful and durable hardwood floorings, with a timeless appearance and excellent water-resistant properties. Because of excellent wood properties, mahogany is an expensive flooring to install.
Hiring a professional contractor to install mahogany flooring will cost you between $4 and $8 per square foot. The material price can vary between $6 and $30.
Ash
Ash is one of the hardest wood types used for flooring, with a beautiful appearance. Ash flooring costs between $9 and $13 per square foot for material and $3.5 and $6 for installation.
Brazilian Cherry
Brazilian cherry is an exotic wood type for flooring with exceptional hardness and durability.
The average costs for Brazilian cherry planks per square foot are between $4 and $9, plus $3 and $5 for labor costs.
Beginner's Guide Vol.2: Hardwood Flooring Cost By Brand
The average costs might help you get a general knowledge of hardwood floor pricing. But, here is a comprehensive pricing overview of hardwood floors by the best US hardwood floors brand.
| | Cost (Low-High) | Maximum Plank Width | Plank Thickness | Wood Types Available |
| --- | --- | --- | --- | --- |
| Bruce Hardwood Flooring | $3.19-$6.99 | 5 inches | 3/4 inch | Oak, hickory, red oak, maple, white oak, ash |
| Shaw | $3.40-$7.49 | 5 inches | ¾ inch | Hickory, oak |
| Mohawk | $5.49-$5.79 | 7 inches | ½ inch | Oak, hickory, walnut |
| Heritage Mill | $5.49-$8.48 | 2 inches | 3/4 inch | Oak, hickory, maple |
Ridiculous Differences Between Hardwood Flooring and Other Flooring Types Expenses
No flooring is as durable as hardwood flooring, but some cheaper alternatives resemble the appearance. Properties of cheaper hardwood alternatives differ from hardwood floors, and so does the price tag. The average price range for hardwood floors is between $6 and $12 per square foot for the material only.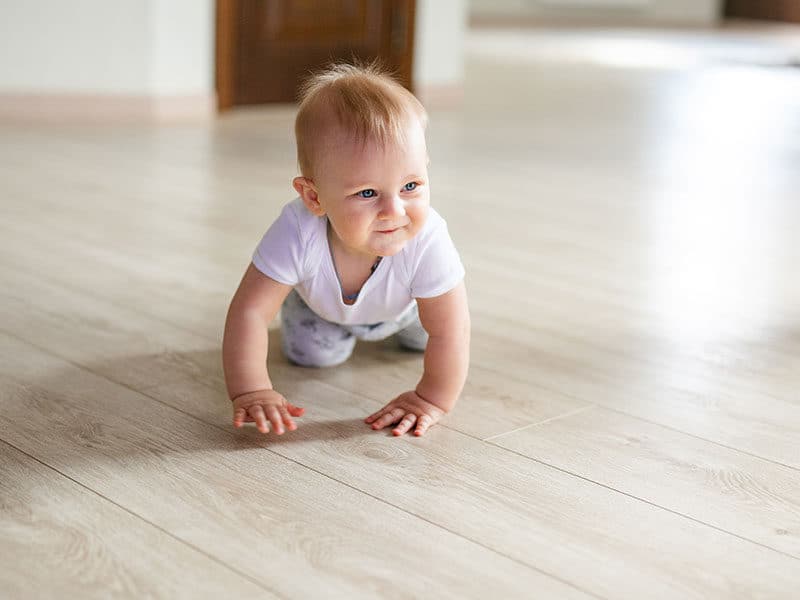 Hardwood Flooring Cost VS Laminate
Laminate flooring is a wood composite flooring type designed to look like hardwood floors. The price difference is huge. The average price per square foot for laminate flooring professional installation and material is $4.
Hardwood Flooring Cost VS Tile
Hardwood flooring VS wood-look tile flooring comparison also shows great differences in pricing. The price range for tile floorings is wide, and you can even find ceramic tiles that look like wood at $1 per square foot. The maximum price you can expect to pay for these tiles is $15 per square foot.
Flooring expert explains which hardwood floors are the best. You can see this video to know more:
3 Effective Tips To Save Money On Hardwood Floors
Changing floors is quite a hit for your home budget, but you can be smart about it. Here are four tips that can help you save money and still have your beautiful hardwood floors!
Remove Old Flooring Yourself
Hardwood floors cannot be installed on every type of subfloor, so you'll have to remove old flooring before you install hardwood floors. It isn't an easy task, and in some cases, you have to hire professionals.
But, if you have an old carpet installed, you can rip it yourself and thoroughly clean the subfloor before you install new floors.
Similarly, you can remove tiles from the concrete or separate the floating floors, such as laminate floors or vinyl floors.
Prolong the Hardwood Floor Lifespan
When thinking about hardwood floors, think about long-term investment. After installation, you can reduce the maintenance costs if you protect the floors from sunlight with an area rug, protect it from scuffing and scratching with furniture pads, etc.
Use only a vacuum for the hardwood floor or soft-bristle brooms. Remember, proper cleaning tools and floor protection reduce costs in the future.
Consider Cheaper Grade Wood
The high-end premium quality wood of most species costs more than $10 per square foot. But, if you are installing hardwood floors in the entire home, you can choose lower quality food for rooms with less foot traffic.
So, invest more money into rooms where you need your floors to perform exceptionally well, such as the living room.
Using engineered wood instead of solid wood can cut the prices by up to 30%.
Frequently Asked Questions
When thinking about hardwood floors costs, homeowners come across many dilemmas and questions. Keep reading for answers that might help you!
Hardwood Flooring Wide Range Of Prices, Timeless Beauty
Hardwood floors are costly, without a doubt. To get the exact price for your space, you'll need to contact the chosen contractor, determine the wood type, and prepare the subfloor.
But, there are different options for each budget and preference, from expensive mahogany to more affordable cherry flooring.
Would you install hardwood floors in your home?
If you've learned something new in the article, please consider liking it and sharing it with your friends and family!