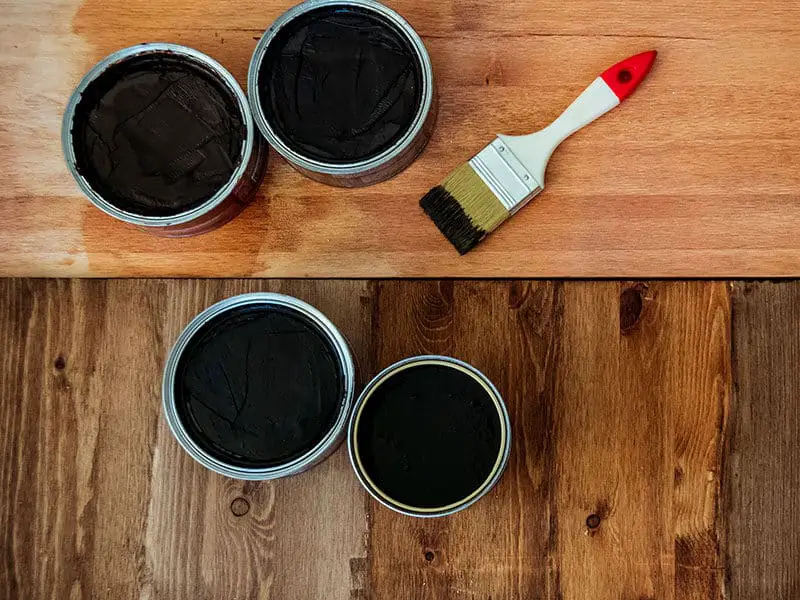 Hardwood floors add warmth, charm, and character to any living space. However, hardwood refinishing costs can be high. They're relatively easy to care for but still require love and attention.
However, before paying for anything, you should determine whether you need to recoat or refinish your floors. Recoating adds a coat of protection, like varnish, without sanding down anything.
Refinishing, on the other hand, requires sanding, which adds to the price but leaves floors looking brand new. Prices range between $1,074 and $2,485 ($3-$8 per square foot). Let's learn more.
How Much Does Hardwood Refinishing Costs?
Refinishing 100 square feet of hardwood floor will cost you between $300-$800. However, the final cost depends on different factors such as project range, floor type, method, and finish type. Keep on reading to learn more about each factor and determine if refinishing your floors is worth it or not.
Is Refinishing Hardwood Floors Worth It?
Yes, refinishing hardwood floors is worth it. Refinish your good old hardwood floors instead of replacing them and save money. This process is cost-effective and easier because it needs less labor.
If you choose to replace your hardwood floors, you have to remove them and dispose of the boards. It's hard to find a good retailer that offers high-quality hardwood flooring. Additionally, you will either have to install the floorboards yourself or hire a professional to do it for you, so it's time-consuming.
Refinishing hardwood flooring, on the other hand, doesn't need as much labor or time. You only need to obtain/rent a floor polisher and sanding machines. Then, you will need proper stains or coatings.
As you can see, refinishing takes less effort and time. And if done the right way, can make old floors look brand new, so it's 100% worth refinishing your hardwood floors. This process includes sanding down the surface past any blemishes or finish. Then, reapplying color treatments and sealing it with a finish.
If you're still uncertain, then consider your budget. The key advantage of refinishing instead of replacing is that you will save a lot of money, even if you hire a professional to do all the hard work for you.
The following chart and sections can help you make a wise decision. Therefore, before hiring anyone or doing anything, consider the next crucial factors and determine what works for your floors.
Check out this video to know more:
Hardwood Floor Refinishing Cost By Project Range
If you're refinishing cherry hardwood floors with an oil-based finish, it will cost you about $600 whereas the average cost of cleaning, sanding, and staining 200 square feet of oak floor and applying a wax finish to it will cost you about $1,200.
Refinishing a mahogany hardwood floor with a set of 15 stains utilizing the dustless technique, staining, and polishing will cost you about $3,100.
As you can notice, the cost of refinishing depends on the type of floor, amount, and method. Let's learn more about these key factors.
Hardwood Refinishing Cost Per Square Foot
The average cost people usually pay to refinish hardwood flooring is between $3-$8 per square foot. The cost involves both the labor and materials required to complete the project.
Around 80% of the price is assigned to labor. However, the exact price depends on the period needed to finish the refinishing task and the size of the surface that requires refinishing.
Cost per square foot to refinish hardwood floors
| | |
| --- | --- |
| 100 square feet | $300-$800 |
| 150 square feet | $450-$1,200 |
| 200 square feet | $600-$1,600 |
| 300 square feet | $900-$2,400 |
| 375 square feet | $1,125-$2,400 |
Price Of Refinishing Hardwood Floor By Floor Type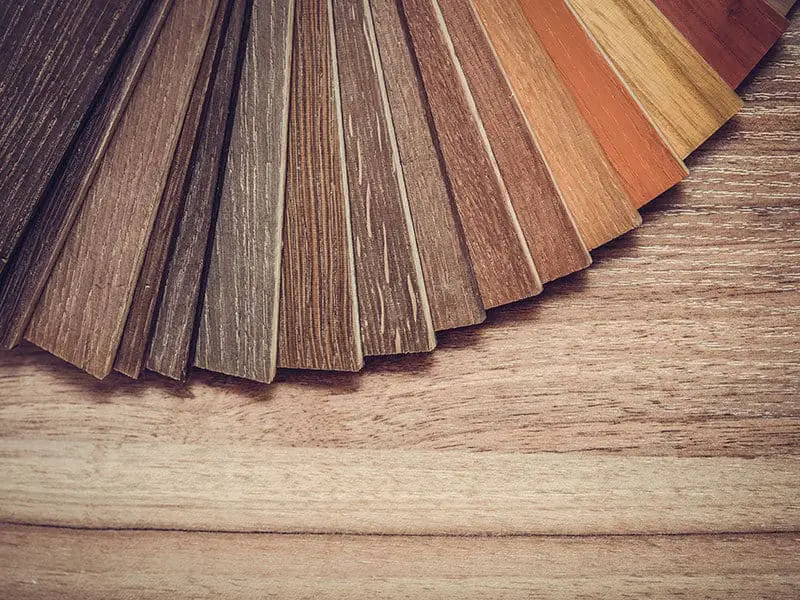 The floor type you have at home dictates the price of refinishing. However, you can expect to pay about $3-$8 per square foot. The price also depends on the installation and materials.
Cherry wood floors
This type of floor is common in households. Therefore, refinishing cherry wood floors cost between $3-$5 per square foot. The process is similar to refinishing oak floors.
Professionals sand down the surfaces multiple times before the raw wood is nice and smooth. Once it's done, the wood is cleaned, stained, and sealed with a certain finish.
Oak floors
Refinishing this type of floor costs people between $3-$5 per square foot. Oak floor type is also common in households. Thus, most contractors have experience in refinishing.
However, if your oak floor isn't very damaged, sanding may not be needed. This very step of the process doesn't take much time anyway which is why refinishing is affordable.
Engineered hardwood
If you have engineered hardwood, expect to pay between $3-$5 per square foot for refinishing. The task often includes utilizing only light sanding to take off about 2 mm or less from the surface. However, thick and high-quality engineered floors may require deeper sanding.
Bamboo floors
The type of bamboo floor you own determines the exact price. Expect to pay between $3-$5 per square foot. While horizontal and vertical bamboo floors don't need deep sanding and refinishing, woven floors require more work since they're super durable made of fibers bonded with adhesives.
However, the best part about woven floors is that they're prone to dents and scratches. Thus, they need far less refinishing than other floors, so if you have woven floors, consider yourself lucky.
Parquet floors
The price for refinishing this type of floor is around the same as the previous prices. Expect to pay $3.50-$6 per square foot. It's recommended to hire a professional to refinish parquet floors as their grains run in different ways. So, they damage easily, something you don't want to happen on your watch.
Pine floors
Expect to pay between $4-$7 per square foot for refinishing pine floors. Additionally, these floors can be refinished only if the floor is stable and dense enough. Refinishing pine flooring costs more because it's a softer wood. Therefore, the professional needs to be super cautious while sanding it.
Maple hardwood floors
Maple wood is one of the most durable and sturdiest flooring materials in the industry. So, refinishing it costs between $5-$8 per square foot.
The contractor utilizes sandpaper with a bigger grit to access the hardness of the maple floor and moves to something smoother that polishes the surface.
Staining also takes longer as the maple wood is harder. Therefore, it takes more time to stain than some other flooring and costs more money.
Mahogany floors
If you have mahogany floors, expect to pay between $6-$8 per square foot. Refinishing this type of floor costs more because it takes more time and work.
Mahogany floors are darker in color. Meaning, they need extra care and patience when sanding to avoid damaging them and require a professional hand.
Price Of Refinishing Hardwood Floor By Method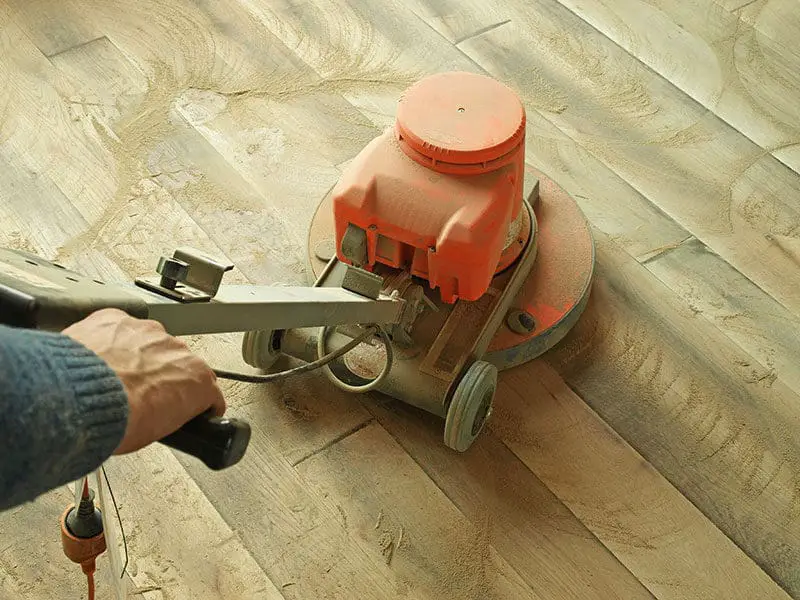 Generally, refinishing hardwood floors costs between $3-$8 per square foot. However, as already stated, the exact price depends on different factors such as the material, installation, and method.
Speaking of the method, it's one of the factors with an impact on the overall hardwood refinishing costs. Let's learn more about the two common methods and pick the one that works best for you.
Sanding Hardwood Floors Price
Hardwood sanding usually costs between $3-$5.50 per square foot, depending on the depth of sanding needed. Sanding is a traditional technique of refinishing hardwood floors.
In this process, the upper coat of the present finish is removed along with the hardwood itself if it's very damaged. If your floor isn't very damaged, sanding may not be mandatory.
Dustless Hardwood Refinishing Price
This method costs more (between $6-$8 per square foot). As the name of the method suggests, it makes almost no dust. There's a vacuum attached that takes in most of the dust.
The vacuum won't get rid of all the dust particles but notably lowers the amount of dust made. Dustless refinishing is safer for contractors and advisable for households with people having breathing difficulties and allergies. Thus, if you don't mind the higher price, opt for this method.
Price Of Refinishing Hardwood Floors By Finish Type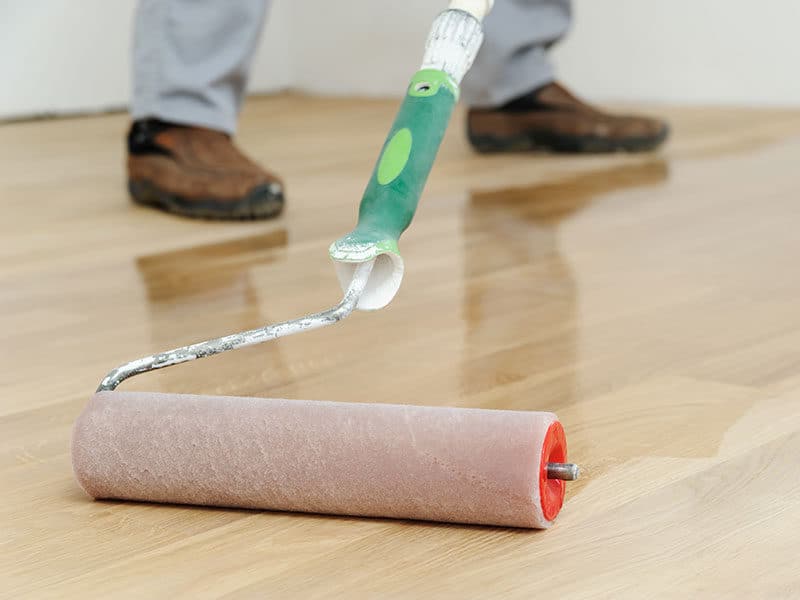 Most finish types come in 1-gallon buckets for $20-$550 per gallon. Each item covers a different surface size. Meaning, you can use the finish multiple times before you have to buy another package.
The type of finish you choose determines the future appearance of your hardwood floors. You can pick a glossy, matte, satin, or another shade. If you apply it yourself, learn how to do it the right way.
Oil-Based Polyurethane
This type of finish costs between $20-$50 per gallon. It's one of the most common finish types used due to the durability and traditional appearance it gives to hardwood floors.
But here's the kicker. It's a super durable finish that can handle heavy traffic. It's also easy to work with as any slip can be easily fixed. It dries within 24 hours and changes color.
Water-Based Polyurethane
Water-based polyurethane costs between $30-$55 per gallon. It's another famous finish type that's both durable and budget-friendly. It's effortless to apply and provides a high-gloss finish.
The high-gloss finish it delivers is what makes it popular among homeowners. Most water-based finishes dry within 2-4 days. So, the task will take less time to finish than with other finishes.
Waxing Hardwood Floors Price
Also known as paste wax, liquid wax can be purchased for $35-$55 per gallon. It's buffed into your floor and then spread throughout the whole surface. Once it hardens, it's buffed again.
Utilizing wax finishes leaves floors looking natural and lovely which is why they're popular with historical renovations. One of the benefits of these finishes is the possibility to add extra wax to high-traffic places to keep the updated appearance across the entire floor. Therefore, it's a great choice.
Penetrating Oil Finish For Wood
This type of finish costs between $40-$100 per gallon. It has this name because it penetrates your floor, oxidizes, and hardens from the inside. Meaning, instead of adding a protective layer on the top like with other finishes, this finish protects your beloved floors from within.
This also reinforces the wood, increasing both the sturdiness and durability of floors. Penetrating oils are quite expensive because they have little to no harmful ingredients.
Swedish Finish Hardwood Floor Care
Swedish finishes, also known as acid-cured, cost between $50-$80 per gallon. You can usually purchase a 1-component or 2-component finish with alcohol solvent and an acid catalyst.
Once added, the first layer dries within 2-4 hours. Add the second one after 24-48 hours. The molecules of the product connect with the wood cells, making these finishes quite strong.
Hard Wax Oil For Wood Floors
Hard wax oil is often utilized on more exotic floors. The ingredients are gentler and lighter on the wood. Thus, it's more expensive than other finishes. It's one of the most expensive finishes out there, so expect to pay between $70-$550 per gallon.
A quarter of a gallon is enough for around 800 square feet. Thus, it lasts you longer than other, cheaper finishes. This finish is rubbed into the floor.
Once applied, the oil goes into the wood and hardens in it. It stays on top and leaves your floors looking shiny or matte depending on your taste.
Average Cost To Refinish Hardwood Floor
The exact cost depends on different factors such as the type of floor, installation, finish type, technique, and how much work your floor requires.
This can involve the work required to take off previous wax residue and staining, the quality of both the floor and the old finish. These things determine how much sanding will be required.
Keep in mind that before starting the refinishing process, you need to take off the carpets, furniture, and anything else that may be resting on the floor. After this, the contractor will explore the flooring to tell if any necessary repairs are required, such as damaged spots, loose boards, and more.
Then, the floor needs to be sanded down to take off the previous finish and the topcoat that's probably scratched, damaged, or imperfect in any manner. Once it's smooth, it will be cleaned with a mop.
The cleaning is necessary so there's nothing left on your floor before beginning the staining part. Experts use a lint-free cloth or staining pad to apply the stain to the floor until the desired color is accomplished. The last step is sealing your floor by applying a top layer for protection.
Refinishing Wood Stairs Price
If you have hardwood stairs, expect to pay between $25-$45 per step for refinishing. It costs more due to the complexity of the whole process and extra work.
The contractor would have to work in tighter places and around the corners. Thus, sanding, staining, and refinishing the flooring with a topcoat takes more time.
Staining Hardwood Floors Price
Staining is usually done before adding the topcoat. However, it's not needed in all hardwood refinishing projects. This process costs between $1-$3 per square foot.
It's usually done if you want to get a different shade or color from the original one. It dries within a day. And it needs to dry completely before applying the topcoat.
Check out this video to know more:
How Often Should You Refinish Hardwood Floors?
It depends on the frequency of use. This determines how often should you refinish hardwood floors. The more traffic on your floor, the quicker it will begin to wear off and become dull.
There's no rule about how frequently you should revamp your hardwood floors. The finish you will use is another key factor. Certain finishes last for 3-5 years and need reapplying afterward.
Others last for longer. To determine when your floors will need refinishing, pay attention to the warning signs. If you notice holes, dents, scratches, or lack of shine, it's time for refinishing.
Alternatives To Refinishing Hardwood Floors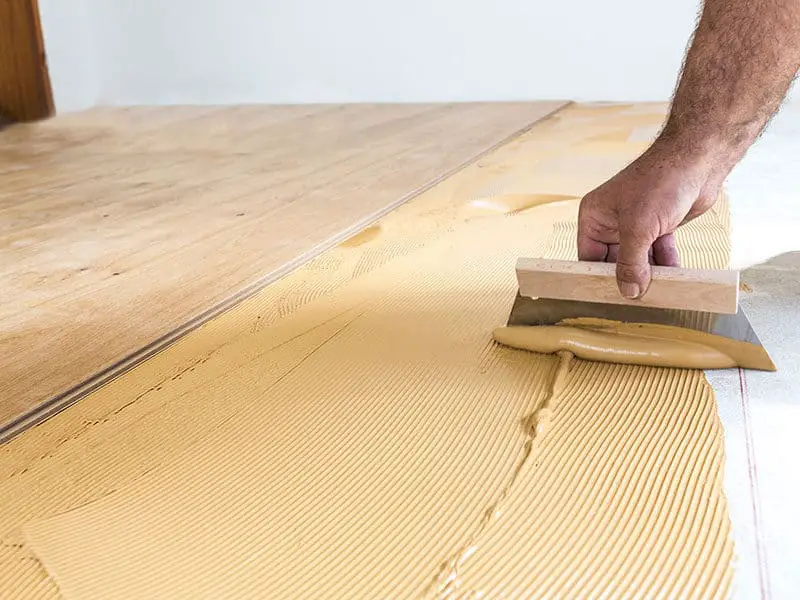 On some occasions, replacing or refinishing hardwood floors isn't the only choice available. There's a list of alternatives available that cost less and take less time to complete.
Recoating Hardwood Floors
If your floor is in a good condition, you can only recoat it for as little as $1-$2 per square foot. If you pick this method, you skip the sanding part which lowers the period needed to update your floors.
The contractor will only take off the top finish of the floor and add a new topcoat. This alternative is an excellent option when hardwood floors begin losing their shine but haven't suffered damage.
Buffing Hardwood Floors
Buffing or screening costs between $1-$2.50 per square foot. It includes utilizing clog-resistant sanding disks to take off the finishing without slicing into the wood.
Buffing can be utilized only on floors without a non-waxed polyurethane finish and it doesn't work if the hardwood floor underneath the finish isn't stained/damaged.
Replacing Hardwood Floors
Replacing your hardwood floors will cost you between $14-$32 per square foot. I don't recommend this alternative because it's 2-3 times more expensive than refinishing.
Therefore, most people opt for refinishing the flooring a couple of times before replacing it. Sometimes, the only option is replacing your floors, especially if it's severely damaged.
Also, if your floor has become too thin because of previous refinishing and it's impossible to repeat this process, replacing your floors is the only reasonable and safe option.
Restoring Hardwood Floors
The price of restoration depends on the condition and type of the floor. For example, if it's not severely damaged (only 10 square feet of the damaged surface), you can restore it with sanding for $3-$3.50 per square foot. Or $30-$55 in total.
When your floor has suffered major damage or the wood underneath the topcoat has experienced great damage, the price would be a little higher.
For example, if your floor has experienced major water damage, the entire area along with the subfloor would probably need to be replaced, so expect to pay between $14-$32. Repairing it, on the other hand, will cost between $8-$32 per square foot.
What Is The Cheapest Way To Refinish Hardwood Floors?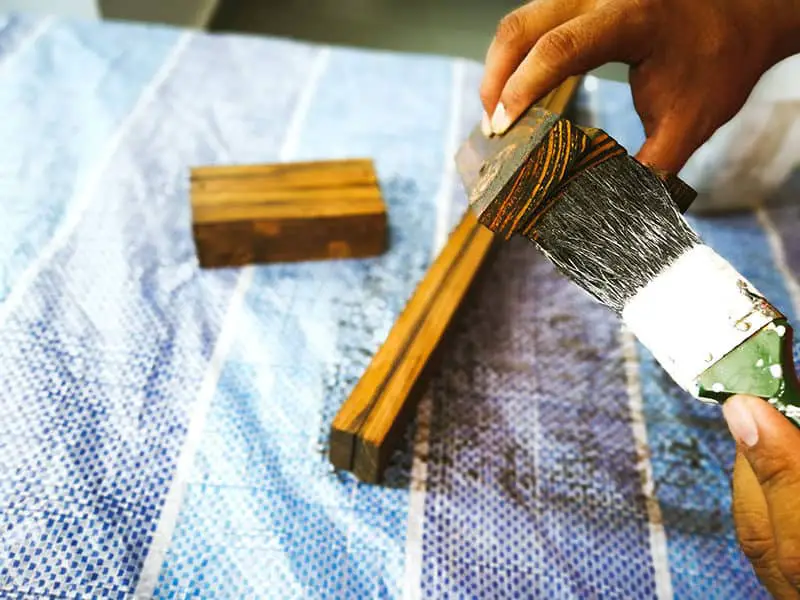 The cheapest way to refinish hardwood floors is DIY. However, this process asks for the proper products and equipment. First and foremost, you will need to remove the old finish.
This requires a professional floor sander. You can either buy or rent it. This machine will remove finishes and stains without hassle. Once you're done, you can clean up the residue with a vacuum cleaner. Then, you can add a floor polish utilizing an orbital buffer to work the polish into the floor.
Let your floors cure for 2-3 weeks. This will enhance their durability and water resistance. If you opt for the DIY challenge, you might only spend $500-$1000 to refinish your hardwood floors.
However, it's not a walk in the part. Lack of experience with finishing materials or a sander can ruin your floors. Furthermore, you will probably pay 2-3 times the cost to replace your floors than you would have to hire a contractor in the first place. But if you feel confident enough, take the DIY path.
Keep in mind that refinishing hardwood floors by yourself comes with potential hidden costs and various risks. For instance, sanding a floor too often causes it to get too thin for future refinishing.
In that case, replacing is a better option. Refinishing is a chaotic and messy endeavor. It includes sanding dust floating into the air. This dust can cause asthmatic reactions. Or allergies in people who're sensitive to it. Therefore, it's suggested to wear breathing protection such as a mask when working.
Extra safety tip: Since sanding is followed by the application of finishes and stains (which smell bad and can be toxic to the indoor air for a short time), it's advisable to leave for a few days until the odors clear. During work, wear breathing protection and provide proper ventilation.
Check out this video to know more:
Hardwood Floor Maintenance
Proper maintenance is the key to longevity for everything including hardwood floors. Therefore, you can take precautions to ensure your floors will stay intact for longer and need less refinishing.
One of those precautions includes utilizing only the right floor cleaning products. Other untested items can eat away the topcoat. Additionally, utilize a vacuum cleaner with a soft brush attachment.
Last but not least, if something spills on the floor, wipe it up immediately. Otherwise, they will penetrate your floor and cause damage. Also, put protective legs on your furniture to prevent scratches.
Related Questions
Show Your Hardwood Floors Some Love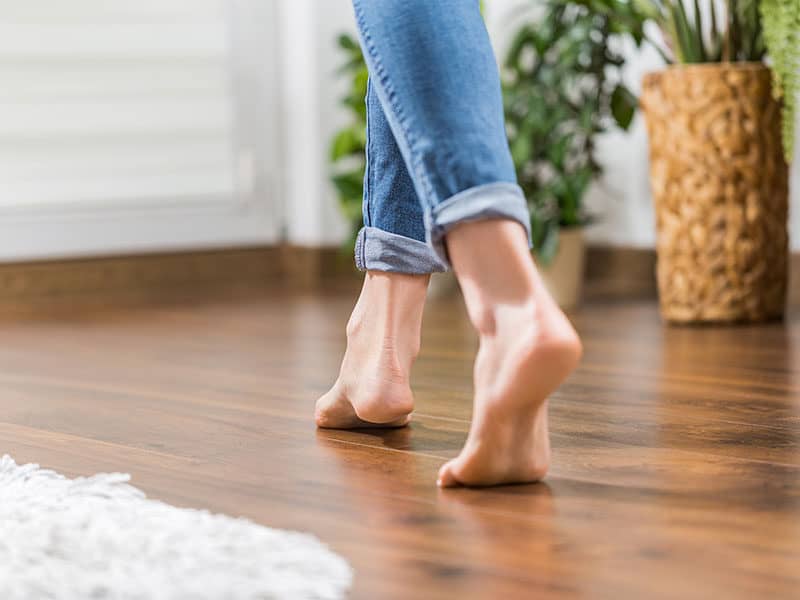 Now that you have a better understanding of hardwood refinishing costs, you can easily begin planning to complete the process yourself. Or hire professionals to do it for you and save time.
Refinishing your hardwood floors by yourself will cost you a lot less. The best part? It's easy but chaotic. Just purchase the proper products such as coatings and stains, and rent the machines you need such as polishing machines and orbital sanders. Remove all the rugs and furniture before you start.
I prefer hiring professionals for such complex and time-consuming tasks. However, it's a personal choice. So, opt for whatever way works best for you and show your old hardwood floors some love.
Have you had any experience with refinishing or replacing hardwood floors? Do you think refinishing is a good choice? Drop a comment below and share this informative article with your friends.