When we buy cleaning products, be it soap, detergents, mold and mildew cleaners, or bleaching agents, we expect them to do one thing, clean.
Well, they might kill bacteria and germs, and get rid of gunk, but they leave a harmful residue that might be harmful to you, your kids, or your pets.
To put the danger of cleaning products into perspective, back in 2000, exposure to cleaning products accounted for 10% of all toxic exposures. Nonetheless, I bet you still want a way to keep your house clean, but now without the cleaners adding gunk.
Essential oils are a natural and safe alternative to cleaning products that you can incorporate in your natural home cleaning recipes.
They are also inexpensive and quite versatile. By and large, they are the ideal solutions to keep your house clean, but without the risk of chemical residue.
Below are homemade cleaning recipes using essential oils and their uses. There is also an FAQ, and a tips and tricks to help with decision making.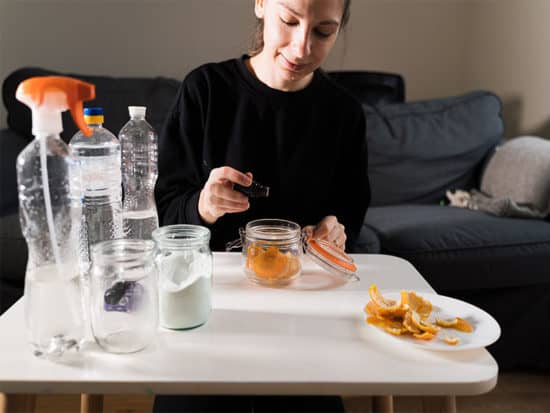 1. Tea Tree Oil
Tea tree oil happens to be a powerful fungicide, and it is ideal for mold and mildew. Though it excels at killing mold, it is also great as an all-purpose cleaner.
Some of the places you can use this essential oil include the kitchen sink and to degunk toothbrushes and dish brushes.
As it is one of the most potent cleaning oils, it fights germs and goes as far as preventing norovirus, and Influenza.
All-Purpose Cleaner Recipe
Ten drops of tea tree oil.
Two cups of hot water.
Half a cup of vinegar.
Mix the ingredients in a spray bottle.
Caution: Do not use this on granite, as vinegar can eat away the stone. It is great for floors when used with one of these mops, and will result in a shine.
General Deodorizer Recipe
White vinegar
Vodka.
Water.
Tea tree oil.
It smells great and does not leave a fog.
2. Lemon Oil
Lemon oil happens to be the best when it comes to cleaning wood and increasing the shine. However, just like tea tree oil, it is excellent as an all-purpose cleaner.
Other than cleaning, the citrus fragrance is remarkable, and you will be getting it at a fraction of the cost.
All-Purpose Cleaner Recipe
½ cup of water.
½ cup of white vinegar.
 Fifteen drops of lemon oil.
Mix and add to a glass spray bottle.
Caution: Essential oils are corrosive to plastic, and you should only use a glass bottle.
Wood and Stainless Steel Cleaner
Four ounces of olive oil. – Fifteen drops of olive oil.
Rub the mixture into wood.
Wait for the wood to absorb the oil, then buff with a clean cloth.
You can expect the wood to glow while protecting it from scratches.
3. Thyme Oil
Thyme oil is a potent but gentle essential oil. It is powerful enough to get rid of fungal infections and to increase skin immunity and tissue fortification. However, it is also gentle and has calming effects. It has been used in aromatherapy for years now.
Thyme oil is great if you are on the hunt for an antiseptic, and an essential oil that is great for kitchen utensils.
Thyme Oil Dish Soap
¼ cup of castile soap.
Two teaspoons of washing soda.
 2 cups of water.
20 to 30 drops of thyme oil.
One teaspoon of vegetable glycerin.
First, dissolve the soap flakes in the boiling water, and then add the other ingredients. Mix and leave to rest for 24-hrs. Add a bit of water if the soap is too concentrated. On the other hand, boil and add baking soda if it is too runny.
4. Lavender Oil
Though it is renowned for its fragrance, lavender oil is also a remarkable anti-bacterial. Thanks to its antibiotic, and antiseptic properties, lavender oil ranks as one of the best essential cleaning oils. You can use it in the kitchen, bathroom, and natural dish soap.
Bathroom and Kitchen Lavender Oil Cleaner Recipe
 1 cup of water.
1 cup of vinegar.
8 to 10 drops of lavender oil.
Add to a spray bottle and shake.
Floor Cleaner
Fill a bucket with hot water.
1 cup of vinegar.
A pinch of castile soap.
5 to 6 drops of lavender oil.
Other than it is safe, you will benefit from aromatherapy as you clean.
5. Peppermint Oil
Few essential oils can do what peppermint can, and that is keeping pests and rodents at bay. You can also use it to clean glass and mirrors for a streak-free finish. Finally, it is refreshing to use and invigorating.
Peppermint Oil Window Cleaner
2 cups of water.
20 to 30 drops of peppermint oil.
¼ cup of vodka.
¼ cup of vinegar.
Put all the ingredients in a glass spray bottle and spray on windows for a streak-free clean.
Why Are Essential Oils Good for Cleaning?
Essential oils don't only smell lovely. They're also appreciated for their antimicrobial qualities. However, not every essential oil is the same. Only pure essential oils can kill certain microbes.
With the right essential oil and a cleaning household checklist you can kill some viruses, fungus, and bacteria all around your home thanks to the ingredients they contain.
You can make different cleaning recipes at home, so why not enhance their effectiveness by adding in essential oils? Essential oils will add some extra power to your recipes.
What to Look for When Buying Essential Oils?
If possible, opt for organic essential oils, especially if you plan to utilize them in the bath, on your body, or in your homemade cleaning recipes.
Always read the label to check if the product is 100% pure. That way, you know it's not mixed with other ingredients such as flowers, herbs, plants, or synthetics.
Keep in mind that essential oils aren't scented oils you purchase at a store and apply them in a diffuser. Thus, choose 100% natural oils.
Benefits of Cleaning with Essential Oils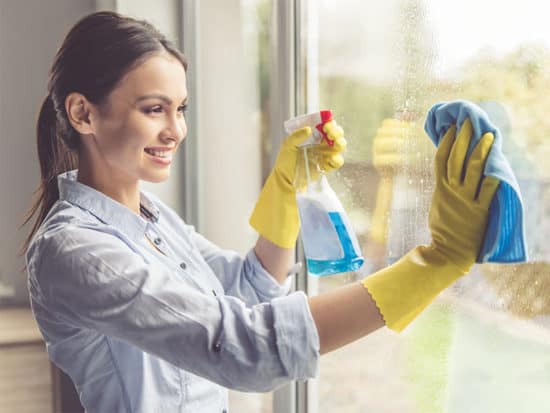 Essential oils aren't only effective when it comes to cleaning and killing bacteria. They have a lot of other benefits that even the best all-purpose cleaners don't provide.
For instance, lavender is a super powerful calming agent that ensures a peaceful and calm sleep. That being said, let's discuss the benefits of cleaning with essential oils.
Relieving Anxiety
Sandalwood, frankincense, lavender, and sweet orange helps to ease tension and relieve stress.
Including these essential oils in your cleaning recipes means that you and your loved ones can experience healing and calming effects at all times.
Other essential oils that relieve stress and have a calming effect include geranium, lemon, rose, marjoram, sage, chamomile, bergamot, and vetiver.
Enhancing Energy
Do you know that essential oils can also improve your performance and enhance your energy during workouts? Citruses have the power to improve your mood and add extra energy to help you deal with different difficulties and get you through tough days.
Other essential oils that have the power to enhance your energy include peppermint, rosemary, orange, grapefruit, ginger, eucalyptus, black pepper, and jasmine. The best part? They also help to decrease fatigue and boost continuous stamina and performance.
Mental Boost
For those early morning study sessions and late nights, you don't have to consume a bunch of caffeine to improve your memory and boost your alertness.
For instance, peppermint and rosemary face sprays offer instant memory boost and alertness up to 75% and more.
Other natural oils that can improve your memory include vetiver, basil, pine, grapefruit, pine, cedar, helichrysum, grapefruit, and juniper.
Soothe Skin Inflammation
If you're dealing with skin issues such as acne, eczema, itching, or something entirely different, essential oils can help relieve your symptoms.
Lavender oil and tea tree oil make great choices for skin problems. However, lavender oil is the only one that can be applied to the skin. Other essential oils have to be diluted and mixed with other compounds to make them safe enough for skin application.
For acne and other skin issues, a misting of oregano, rosemary, helichrysum, bergamot, tea tree oil, and rose water works wonders, but you will need to mix the essential oils with other ingredients to ensure it's 100% safe. For muscle tension, other oils can help.
Nutmeg, chamomile, wintergreen, eucalyptus, peppermint, cayenne, black pepper, and rosemary make a great solution for muscle tension.
Risks of Cleaning with Essential Oils
Essential oils require some level of proper handling due to their potency. They're 100% pure. Meaning, ingestion or direct contact with skin can cause long-term allergies and harmful effects.
Thus, you must be careful and dilute natural oils properly before utilizing them. Dilution is required with olive, carrier, jojoba, and almond oil, after which you can weaken them with distilled water.
The only time you can utilize these oils straight out of the bottle is when you're cleaning difficult stains. For instance, lemon works wonders for stubborn stains but requires wearing protective gloves.
For inhalation, you should utilize 1-2 drops in a large amount of boiling water. For facial spray mists, on the other hand, dilute only a couple of drops of essential oil in a large amount of distilled water.
Tea tree oil is sensitive to direct light and high temperatures, so you shouldn't keep it in hot places or clear bottles. Otherwise, it can break down into dangerous particles that can damage your skin.
Lastly, keep in mind that what appears mild to utilize can be overpowering to animals and pets, so utilize essential oils carefully around them and keep them from licking or touching your bottles with oils.
Keep them in a safe place where no curious dog or cat can find them. If you're expecting a baby or have a baby, consult your doctor about safety precautions you should follow when utilizing oils.
Risks and Safety Information
Essential oils can't be ingested or applied directly onto the skin (with some exceptions). Otherwise, they can cause allergic reactions if not properly diluted and handled.
When utilizing essential oils, ensure they're always properly diluted in a carrier oil such as sweet almond oil or jojoba oil, in water, or in a cleaning solution that you're preparing.
Never utilize essential oils straight out of the bottle. Keep in mind that anything concentrated is harmful. Also, be cautious when utilizing essential oils around your children and pets.
Even small amounts of pure essential oils can be toxic to the organs of your beloved pets. A scent that's mild to people can be potentially strong for animals and can affect their organs.
In some cases, essential oils can even cause liver illnesses. If certain essential oils come in touch with the skin of your animal, they can cause skin irritation, so keep them away from pets.
Ingesting can cause a serious issue for pets. Any items you utilize that are heavily scented with essential oils should be utilized away from your pets.
FAQs
Conclusion
As you can notice, essential oils make a great cleaning alternative for homeowners who prefer natural cleaning. These five essential oils can help keep your home free of toxic chemicals while keeping pests and bacteria at bay.
Lavender oil is one of my favorites because it's anti-bacterial and smells amazing. It's super-versatile, so you can utilize it in the bathroom and kitchen. It contains antiseptic and antibiotic properties.
However, I also like lemon essential oil because it's cheap and effective. What's your favorite essential oil? Do you have any tips and tricks you would like to share? Let's chat about essential oils and cleaning in the comments!