When we buy cleaning products, be it soap, detergents, or bleaching agents, we expect them to do one thing, clean. Well, they might kill bacteria and germs, and get rid of gunk, but they leave a harmful residue that might be harmful to you, your kids, or your pets.
To put the danger of cleaning products into perspective, back in 2000, exposure to cleaning products accounted for 10% of all toxic exposures. Nonetheless, I bet you still want a way to keep your house clean, but now without the cleaners adding gunk.
Essential oils are a natural and safe alternative to cleaning products. They are also inexpensive and quite versatile. By and large, they are the ideal solutions to keep your house clean, but without the risk of chemical residue.
Below are homemade cleaning recipes using essential oils and their uses. There is also an FAQ, and a buying guide at the end to help with decision making.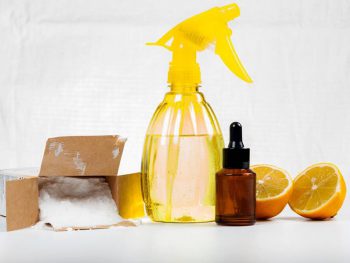 1. Tea Tree Oil
Tea tree oil happens to be a powerful fungicide, and it is ideal for mold and mildew. Though it excels at killing mold, it is also great as an all-purpose cleaner.
Some of the places you can use this essential oil include the kitchen sink and to degunk toothbrushes and dish brushes. As it is one of the most potent cleaning oils, it fights germs and goes as far as preventing norovirus, and Influenza.
All-Purpose Cleaner Recipe
Ten drops of tea tree oil.
Two cups of hot water.
Half a cup of vinegar.
Mix the ingredients in a spray bottle.
Caution: Do not use this on granite, as vinegar can eat away the stone. It is great for floors when used with one of these mops, and will result in a shine.
General Deodorizer Recipe
White vinegar
Vodka.
Water.
Tea tree oil.
It smells great and does not leave a fog.
2. Lemon Oil
Lemon oil happens to be the best when it comes to cleaning wood and increasing the shine. However, just like tea tree oil, it is excellent as an all-purpose cleaner.
Other than cleaning, the citrus fragrance is remarkable, and you will be getting it at a fraction of the cost.
All-Purpose Cleaner Recipe
½ cup of water.
½ cup of white vinegar.
Fifteen drops of lemon oil.
Mix and add to a glass spray bottle.
Caution: Essential oils are corrosive to plastic, and you should only use a glass bottle.
Wood and Stainless Steal Cleaner
Four ounces of olive oil.
Fifteen drops of olive oil.
Rub the mixture into wood.
Wait for the wood to absorb the oil, then buff with a clean cloth.
You can expect the wood to glow while protecting it from scratches.
3. Thyme Oil
Thyme oil is a potent but gentle essential oil. It is powerful enough to get rid of fungal infections and to increase skin immunity and tissue fortification. However, it is also gentle and has calming effects. It has been used in aromatherapy for years now.
Thyme oil is great if you are on the hunt for an antiseptic, and an essential oil that is great for kitchen utensils.
Thyme Oil Dish Soap
¼ cup of castile soap.
Two teaspoons of washing soda.
2 cups of water.
20 to 30 drops of thyme oil.
One teaspoon of vegetable glycerin.
First, dissolve the soap flakes in the boiling water, and then add the other ingredients. Mix and leave to rest for 24-hrs. Add a bit of water if the soap is too concentrated. On the other hand, boil and add baking soda if it is too runny.
4. Lavender Oil
Though it is renowned for its fragrance, lavender oil is also a remarkable anti-bacterial. Thanks to its antibiotic, and antiseptic properties, lavender oil ranks as one of the best essential cleaning oils. You can use it in the kitchen, bathroom, and natural dish soap.
Bathroom and Kitchen Lavender Oil Cleaner Recipe
1 cup of water.
1 cup of vinegar.
8 to 10 drops of lavender oil.
Add to a spray bottle and shake.
Floor Cleaner
Fill a bucket with hot water.
1 cup of vinegar.
A pinch of castile soap.
5 to 6 drops of lavender oil.
Other than it is safe, you will benefit from aromatherapy as you clean.
5. Peppermint Oil
Few essential oils can do what peppermint can, and that is repel pests and rodents. You can also use it to clean glass and mirrors for a streak-free finish. Finally, it is refreshing to use and invigorating.
Peppermint Oil Window Cleaner
2 cups of water.
20 to 30 drops of peppermint oil.
¼ cup of vodka.
¼ cup of vinegar.
Put all the ingredients in a glass spray bottle and spray on windows for a streak-free clean.
Essential Oils Buying Guide
First, ensure the oils are all organic. Inorganic essential oils contain the same chemicals found in most cleaning products. You can check the label, but it is better to rely on online reviews to see if it is 100% pure.
The product should list the essential oil as the only ingredient.
Only purchase from a company that is 100% transparent with its testing process and results. Finally, try and buy from renowned brands. As these have a reputation to protect, they are more inclined to offer 100% pure essential oils.
FAQs
Conclusion
These five essential oils can help keep your home free of toxic chemicals while keeping pests and bacteria at bay. Let me know which of these chemicals you would use around the house.