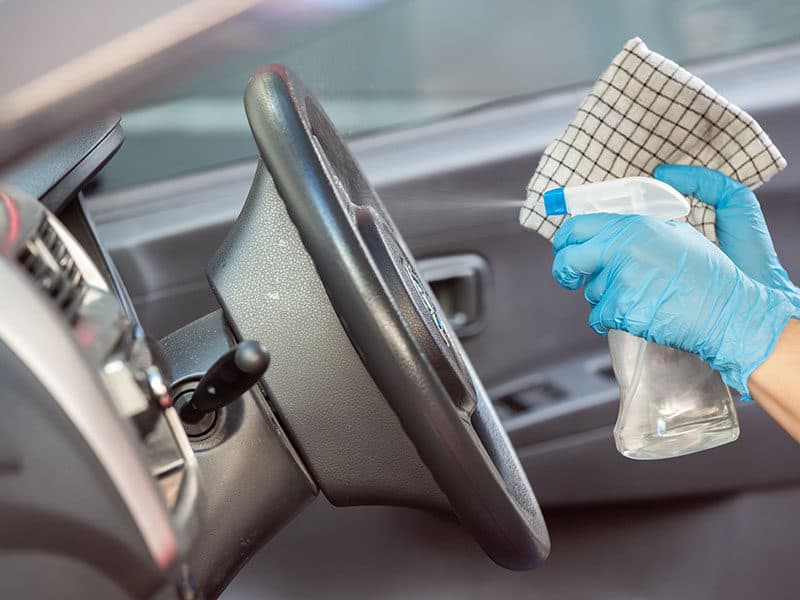 Including homemade car interior cleaners into your car detailing routine is something that you should try out. Once you tested some of the cleaning recipes you will not want to go back to harsh chemicals that could damage your car interior. Not to mention how much money you are going to save.
There are many ways to create cleaning solutions for any part of your car. The most important part is that they are safe for you, your pets, and your environment. And for the ingredients, they are already in your kitchen cabinets, waiting for you to use them in your car.
What Are The Best Car Interior Cleaners?
Believe it or not, the best car interior cleaners are made of materials found in your home. You can use many ingredients from your home and create effective cleaners for all parts of your car interior. And all that without fear that you can damage the car interior materials.
All-purpose Cleaner
Window Cleaner
Stain Remover
Leather Seats Cleaner
Upholstery Cleaner
Carpet Cleaner
Dashboard Cleaner
Dashboard Protector
Air Vent Cleaner
Air Refresher
10 Easy Homemade Car Interior Cleaner Recipes
Making your homemade car interior cleaner is a decision you will not regret. Recipes that include using some of the ingredients such as vinegar and baking soda to clean your car are endless. Think of your children and pets who will enjoy a clean car interior without breathing in harsh chemicals.
All-Purpose Cleaner
Having an all-purpose cleaner handy for cleaning your car is excellent when you need to quickly clean your car interior by tackling various surfaces with the same cleaner. This cleaner will both quickly clean and refresh your car, making it ready for your next trip.
What you need:
Water
White vinegar
Spray bottle
Mix equal parts of water and vinegar and pour it into a spray bottle. When you need to clean your car interior, spray the solution and let it sit for several minutes. Make sure to soak everything up by using paper towels or a clean cloth. That is how you will both pick up dirt and moisture from your car interior.
Check this video to see making another all-purpose cleaner.
Window Cleaner
No one likes smudgy windows. Kids love to leave traces of their little fingers on the car windows, but that only leaves greasy and dirty windows that look terrible. Not to mention lower visibility that can put you in danger. Here is how to make your own window cleaner at home.
What you need:
Distilled water (one cup)
White vinegar (two tablespoons)
Rubbing alcohol ( one cup)
Spray bottle
Microfiber cloth
Paper towel
Fill the spray container halfway with distilled water, then halfway with rubbing alcohol, and finally with white vinegar. Shake the container to thoroughly combine the contents, and you are ready to wipe your car window.
If you need to clean your car windows, have a spray bottle in your vehicle at all times. Also, use a microfiber cloth and paper towels to clean your car's windows as they will help you with ugly streaks. All these can stay in your car ready for an easy cleaning fix.
Stain Remover
Stains in the car can happen easily if you are not careful. Whether the stains come from food, grease, or anything else, they are easily spotted and need to be removed as fast as possible. So, what is better than having your homemade remedies for stains in your car? Here are three stains cleaner recipes.
Vinegar Stain Remover
Vinegar
Dishwashing liquid
Hot water
Brush
Make a vinegar solution. In a bucket, combine a cup of white vinegar, a few drops of dishwashing liquid, and roughly a gallon of hot water. Then, dab the mix into the stained spot and scrape it out with a brush before rinsing the seat with clean water.
Club Soda Stain Remover
Club soda
Brush
Paper towel
Spray Club soda lightly on the soiled area and scrape it away with a brush, then wipe it away with a clean paper towel. Repeat the process if necessary as this recipe is ideal for fresh stains.
Baking Soda Stain Remover
Baking soda
Warm water
Brush
Paper towel
Make a solution of baking soda and water. Combine 1/4 cup of baking soda in a cup of warm water, then scrape away the stain with a light coating of the solution with a toothbrush. Allow the solution to rest for around 30 minutes if the stain is tough to remove.
Leather Seats Cleaner
Because of the superior quality of the material, leather seats require more care than cloth seating. Stains on leather are more visible so it is important to remove them as soon as they happen. Try one of these easy and affordable DIY methods for removing dirt and stains from leather.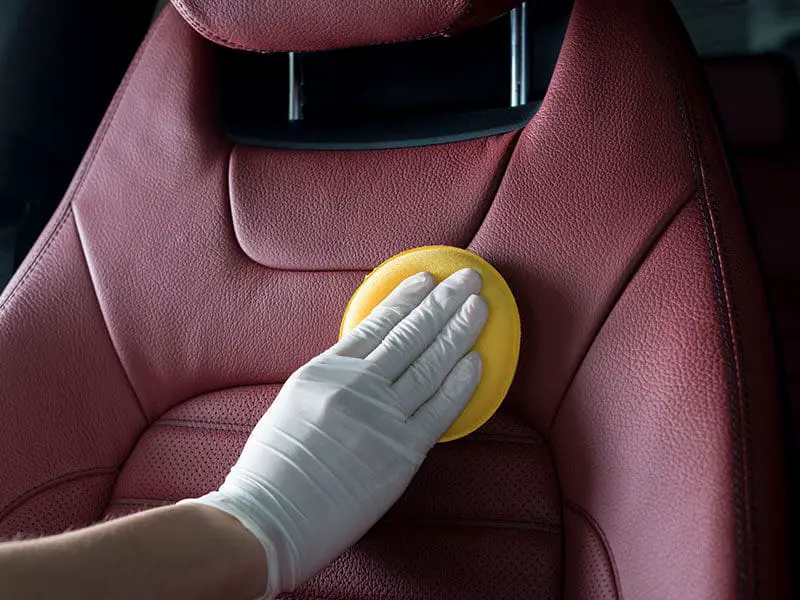 Rubbing Alcohol
Rubbing alcohol
Cotton ball
Warm water
Dishwashing liquid
Use rubbing alcohol and a cotton ball to lift the stains from your leather seats. Using a cotton ball immersed in alcohol to blot the stain will gently remove the filth from your leather seats. After the stain has been removed, wipe the leather seats with warm water and dishwashing liquid to remove the alcohol.
Vinegar Mixture
Vinegar
Dishwashing liquid
Warm water
Clean cloth
Combine a cup of white vinegar, a few drops of dishwashing liquid, and roughly a gallon of hot water. Use the clean cloth to dab the solution into the stain and lift it. Repeat the process if necessary. After you have finished, use another clean cloth to wipe the excess moisture from your seat.
Upholstery Cleaner
Car upholstery is certainly most prone to getting dirty. So, it requires regular cleaning or protection with special car seat covers. However, with or without washable covers, you still need to clean the seats from time to time.
What you need:
Borax (2 tbs)
Grated soap (3 tbs)
Hot water (2 cups)
A container
An old toothbrush/brush
A wet cloth
Mix all the ingredients and make sure the soap has dissolved. The solution will become foamy which helps clean the upholstery. Use the brush or a toothbrush and dip it in the solution. Scrub the upholstery gently to return its original color. Let it dry before putting the seats back to use.
Check this video to see another DIY upholstery cleaner recipe.
Carpet Cleaner
Carpets in your car are probably the most exposed interior parts in your car. It comes in contact with dirty shoes, spilled food, or drink, almost everything greasy will end up on the carpet floor. So, if you have kids and pets, you would want a safe cleaning solution for getting back the clean carpets.
What you need:
White vinegar (1 tbs)
Dishwashing liquid (1 tbs)
Warm water ( 2 cups)
Lemon juice
A spray bottle
Baking soda
Mix vinegar, dishwashing liquid, and water together. Pour the solution into the spray bottle and spray on the car carpets. Let it sit for several minutes and then generously spread the baking soda on the carpet. Leave it for 30 minutes or even for the night. Scrub it and then vacuum thoroughly.
Dashboard Cleaner
The dashboard is the first thing you see when you enter the car, and if it is cover in dust, it will not be appealing at all. So clean and shine it as this will make you feel more comfortable driving in your car. Not to mention, you will lower the chances of dust flying around your car.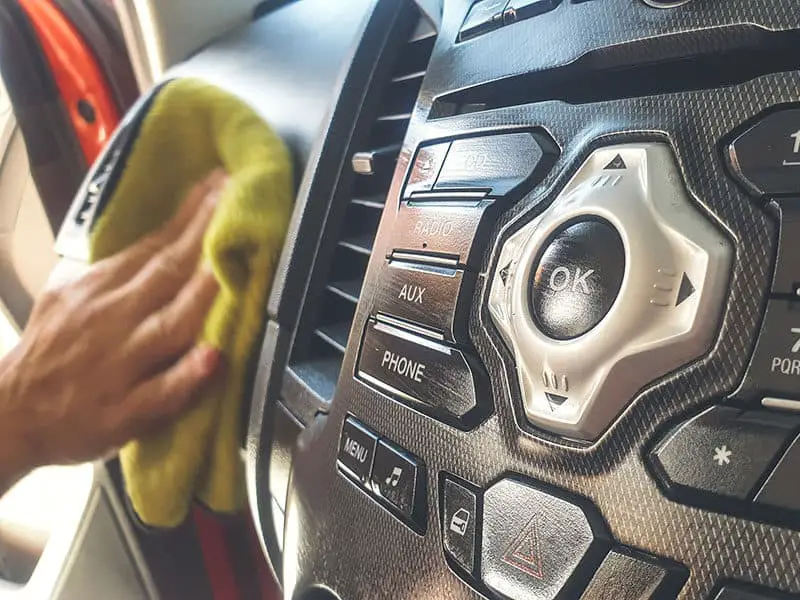 What you need:
White vinegar (1 tbs)
Mineral oil ( 2 tbs)
Dishwashing liquid (1 tsp)
Warm water ( 1 cup)
A bottle sprayer
A soft microfiber cloth
Mix vinegar, oil, dish soap, and water together. Pour it in the spray bottle and shake well before each use. Use the solution to lightly spray on the dashboard and polish and clean the dashboard using a soft microfiber cloth. You can add several drops of lemon juice to add some fresh scent to your car.
Dashboard Protector
Nothing is better than the look of the new car. You can have and keep that look in your car with a simple trick that will both give your dashboard a shiny look and protect it from the sun and dirt. And you can choose your own scent, too.
What you need:
Oil (olive oil, coconut oil, tea tree oil…)
Lemon juice
Soft microfiber cloth
Apply a bit of your preferred oil on the cloth and polish the dashboard. This will work best to shine your dash, but also to protect it from the sun and dirt that can ruin the look of your car interior. Make sure not to use too much oil to prevent the surface from becoming too greasy.
Air Vent Cleaner
Air vents in your car may give you a headache if you do not clean them regularly. The dust on them builds the nest for the bacteria that are the main culprits for the bad smell coming out of your air vents. So, make sure to clean and maintain the air vents as often as possible to prevent that.
What you need:
White vinegar (1/4 of a cup)
Water ( 2 cups)
Sponge brush for painting
In a plastic spray bottle, mix 1/4 cup white vinegar and 2 cups water and stir well. Lightly spray the mixture into the air duct. Do not allow any of the mixture to fall into the air duct or soak the surface. Use a painting sponge brush to clean the air vents from the outside, making sure to dry them well.
Air Refresher
The air in your car needs cleaning, too. However, when you have a clean car and windows, clean air vents, clean carpets, and upholstery, it is much easier to refresh the air circulating in your car. The fresh scent of your favorite aroma is also what your car will love, too.
Decorative Air Refresher
You all know those cute fresheners hanging from the mirror in your car, but did you know you can make them yourself? And it will be affordable and healthier for you and your family and friends riding in the car with you.
What you need:
Essential oil of your choice
Water
Crafting foam (adhesive)
Crafting felt
Hole puncher
Scissors
A piece of ribbon
Cut out your favorite shape from the crafting foam and felt. Make sure not to make it too big to distract you while you are driving. Punch a hole for the ribbon and attach the felt and adhesive foam. Make sure to maintain the desired shape.
Make a mixture in a spray bottle combining your essential oil and water. Spray it on the felt part. You can use this mixture for refilling your foam refresher. Or, you can drip your favorite essential oil directly on the felt. Next time you are in your car, you will smell the amazing scent all over your car.
Jar Refresher
In case you do not like anything hanging in front of your windshield, then you can make a jar refresher. Your car will still smell amazing, but with the scent coming from the jar.
What you need:
Baking soda
Essential oil of your choice
Small mason jar that fits some of the car cup holders
A piece of cardboard
Scissors or utility knife
Fill your mason jar with baking soda until it is approximately 2/3 full. To the baking soda, add around 20 drops of your preferred essential oil or a combination of your favorite essential oils. Shake the container well to evenly disperse the oils among the baking soda.
Open the lid and draw a circle onto a piece of cardboard using the flat disk section as a template. Using a utility knife or scissors, cut out the circle and lay it on top of the container filled with baking soda. Use the ring section of the lid to adhere the cardboard to the jar, then poke many holes in the cardboard lid with the clothespin.
Homemade Cleaners Vs Commercial Cleaners
It is much easier to just go to the store and pick some of the very effective commercial cleaners. They will do their job, and leave an amazing smell afterward but in the reality, the commercial cleaners are all about using chemicals. And you may not want chemicals for your loved ones to breathe.
Making homemade cleaners are not only an affordable option, they are also gentle to nature and safe for your children and pets. And what is better than having a perfectly clean car but with safe cleaners that will not harm the environment or affect the health of people traveling in your car.
More Effective Tips And Tricks For Cleaning Car Interior
Cleaning your car interior should be your regular cleaning routine, but with some habits, you will find that you do not need much to keep your car clean. Here are some more tips on having and keeping your car clean and fresh every day.
It is good to keep a handheld vacuum cleaner in your car for you to vacuum your car during long travels. That way you will avoid dirt build-up on your car carpets or upholstery. Also, make sure to shake your car carpets regularly.
Cup holders can be spaces where most of the junk ends. Make sure to organize your space so you know where you keep what. Cup holders are for holding cups, and that mason jar you made as an air freshener. Keep paper towels or cotton balls in the glove department to use when an accidental spillage happens.
It is a good thing to invest in a small garbage can that you will keep inside of the car. That is how you will prevent garbage around your car. Make sure to bring out the toys, jackets, pillows from the car when the ride is over. Make a habit of it for you and your family.
Check this video to see more about cleaning and organizing your car interior.
Worth To Know
Sometimes it is not about money when deciding to make your own homemade car cleaners. Besides being affordable and easily found in your home, the homemade car cleaners are safe for the environment and the people traveling in the car.
How you tried any of these homemade cleaners or fresheners in your car? Which one works best for you? Share your thoughts with me in the comments below.