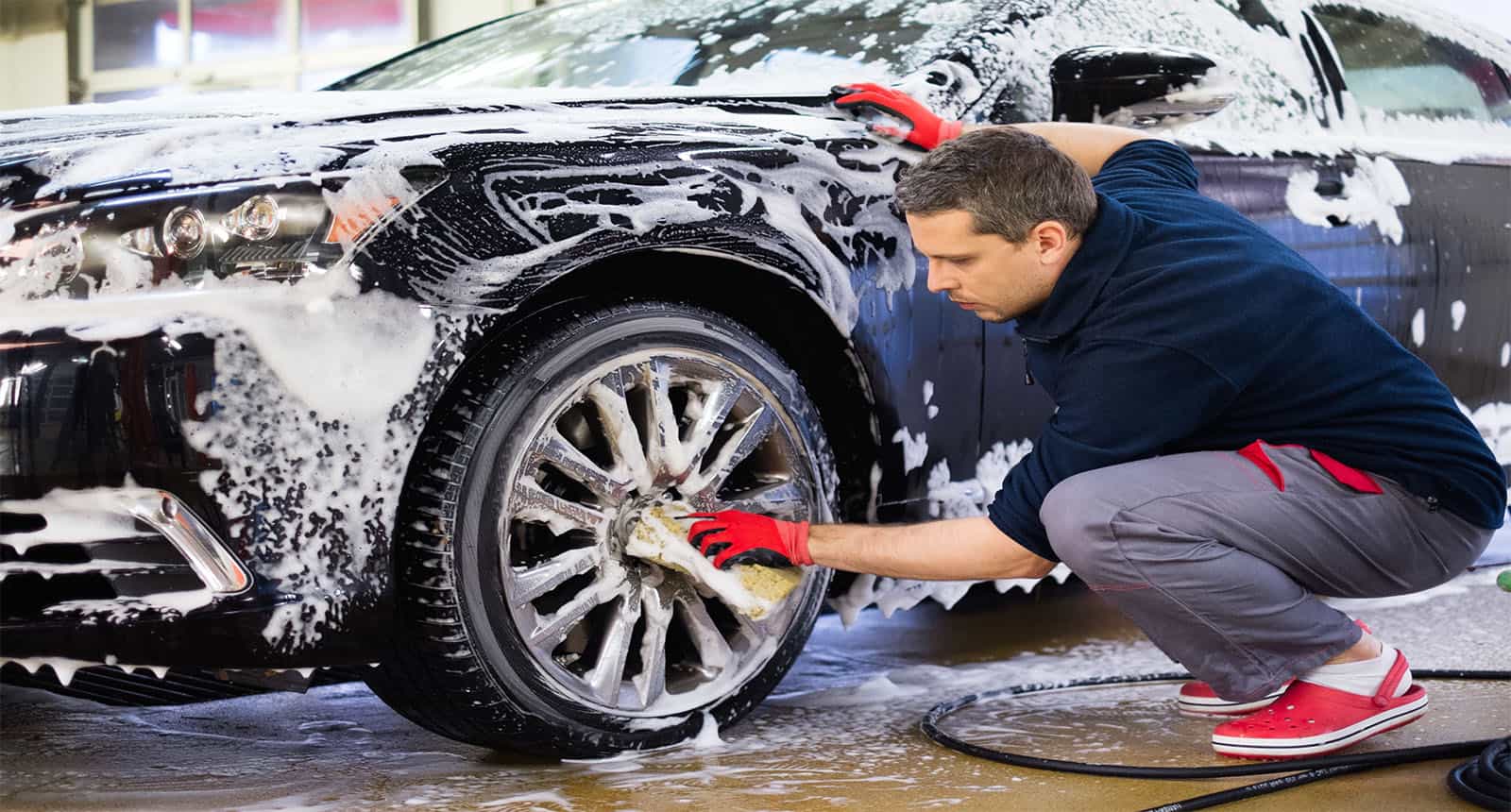 Nowadays, many people select homemade car wash soaps for their cars because of their convenience and flexibility. Owning homemade soaps will help you save your budget since all ingredients in useful recipes are easy to find and reasonable.
Besides DIY soaps, you can explore more things that I will reveal in the following sections. I will not waste your time anymore. Let's start it.
Why Should You Use Homemade Car Wash Soap?
You cannot apply anything on your car surface without knowing its benefits. If you are wondering why you need to use homemade car wash soap while I can buy other cleaning solutions on the market, you have to read these reasons.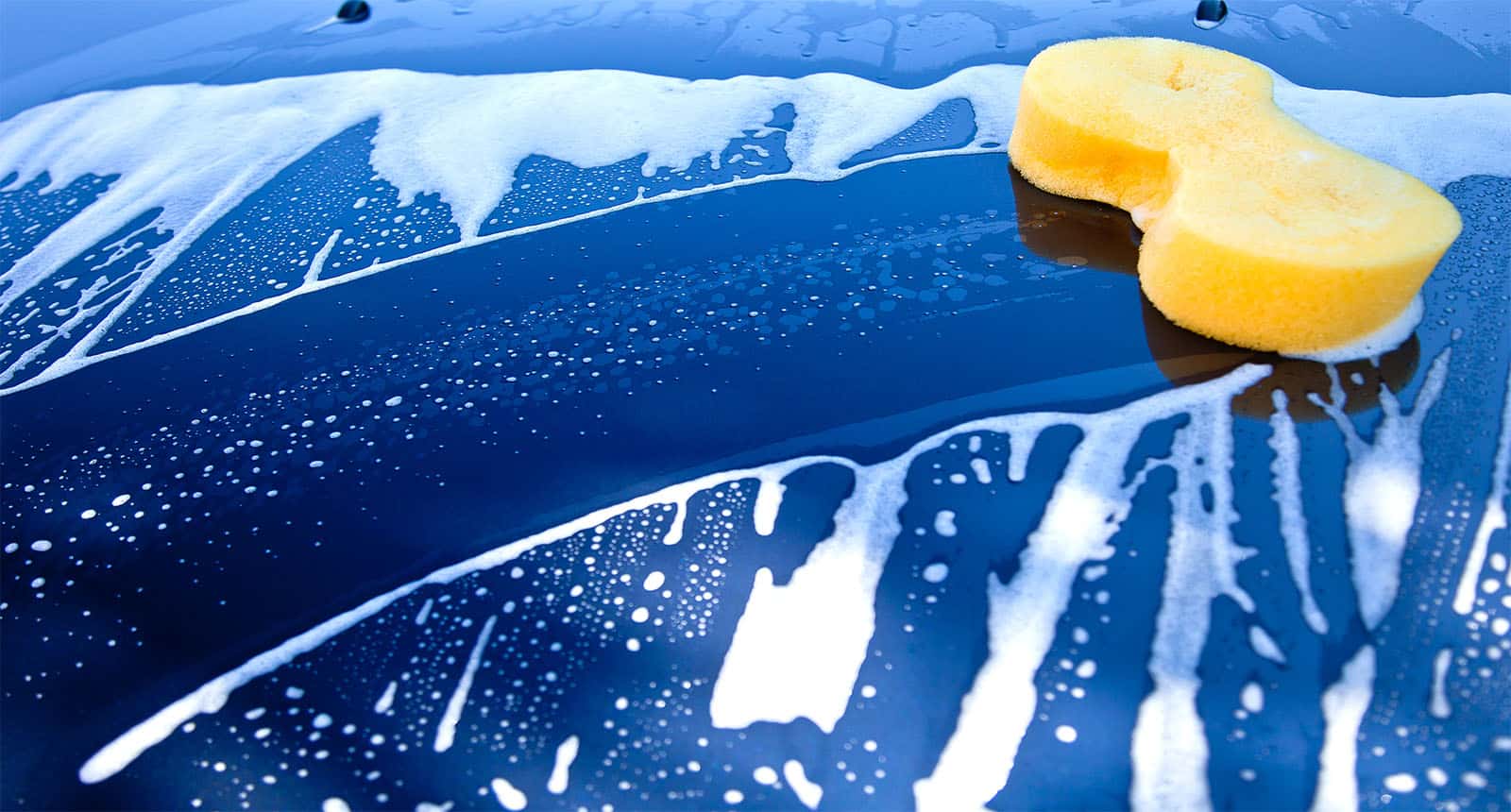 Knowing how to make DIY car wash soap will be a saver in case your car-wash detergents run out of, or simply you want to diverse your cleaning solutions. Learning something new is always a good habit.
Washing your cars is to clean both the exterior and interior of your cars to make sure they are always in good conditions all time and ready for any journey. However, commercial detergents may contain chemicals that are too strong for some parts of your cars.
For example, you should not use a general cleaning solution for car carpets, car floor mats, or other surfaces as each specific part is made of different materials, and these chemicals can damage one of them.
Making your own car wash soap will help you save your wallet as all ingredients are simple to purchase and have many selections in groceries. I believe that these ingredients can produce a larger amount of soap than commercial cleaners.
No one ensures that the companies use user-friendly substances to produce cleaners; therefore, creating cleaning solutions on your own can reduce the risks relating to these products.
You can make car wash soaps that work productively on each type of surface and protect them from harmful factors.
In case you don't believe in people in garages who can treat your car gently like you always do, choosing homemade car wash soap is the best way as you do anything from start to finish by yourself.
Washing cars at home is one of the ways to help you exercise each weekend. I think it is also a good activity for your family and you all have an unforgettable experience.
How Do You Make Homemade Car Wash Soap?
You don't need to wait for long since I will provide you 6 homemade car wash soap recipes that I have explored and used recently. Therefore, I commit they will promote effective on your cars and bring you desired results.
Each recipe is suitable to clean particular parts of your cars, and remember not to exchange these soaps for washing other parts that I don't recommend. Let's see what they are and how they are made.
For General Purpose
Like the name I implied, this recipe is suitable for multi-purposes that means you can use it to wash almost all parts of cars such as windows, paintings, and more. This soap is gentle to prevent paint from stripping but still returns you a shiny appearance.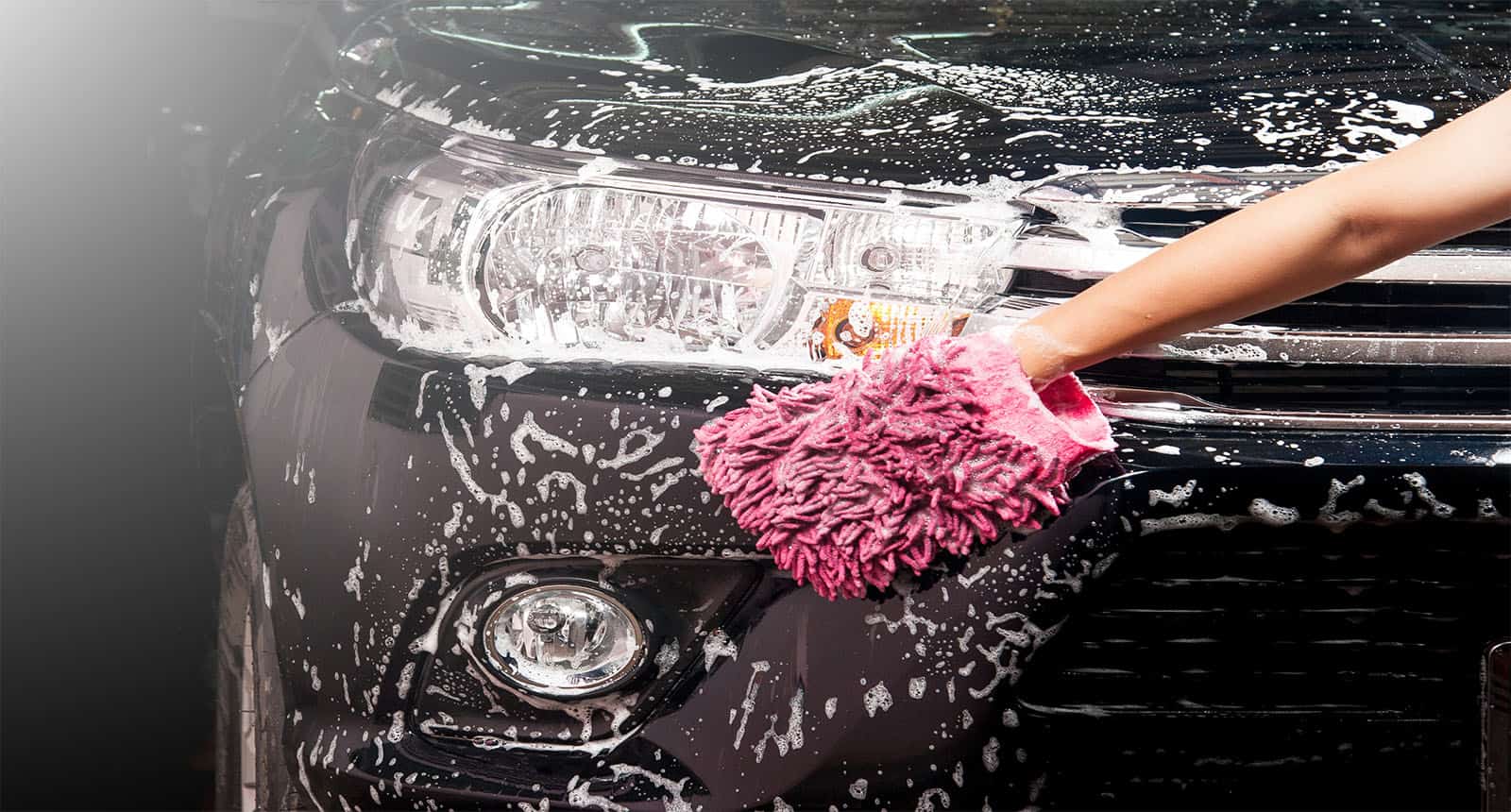 What You Need:
1 cup of liquid soap or mild soap, or baby shampoo
1 bucket of warm water
1-2 buckets of cold water
How To Mix:
Step 1: Prepare a large bucket and make sure there is no residue in it.
Step 2: Mix 1 cup of detergent with warm water.
Step 3: Whisk the liquid well and ensure the soap is dissolved completely.
How To Wash:
Step 1: Use a non-scrub sponge mop, dip into a liquid and wash your car gently. You should move the sponge in straight lines to avoid scratching on the cars' coat.
Step 2: Rinse your car well with clean water and use a soft and dry cloth to soak into water residue.
Why Use It:
Have you ever wondered that why you should use liquid soap or baby shampoo instead of other detergents in the groceries? I will explain the reason to use laundry detergent, hand soap, and hair shampoo/baby shampoo instead of dish soap.
Dish Soap
I am sure you have thought of using dish soap for washing your cars at least one time since the soap is always available in your kitchen. Besides, you suppose that the gelation in dish soap can remove grease from dishes; therefore, it effectively washes your cars.
Unfortunately, I have to say it is the wrong thought; even the mildest dish soaps may contain harsh substances that are too strong to apply on the coat. Using this soap can cause to corrode your cars' finish and lose their appearance.
Laundry Detergents
Your clothes are easy to catch many kinds of stains such as juices, ink, grease, and more. These laundry detergents are produced to remove as many stains as possible, and you can imagine how strong they are.
I don't recommend you apply them to your cars since the liquid can penetrate into the coat. The coat is quite porous, and it will motivate this process to happen more quickly, affecting the luster of cars.
If you still want to use laundry detergents for washing, you can use the products with nature or non-abrasive words on the packaging. You also prepare for you an excessive budget as price of them are not affordable like regular items.
Hand Soap
It is not a bad idea for you when selecting soap for the above recipe. The hand soaps are exposed directly with your hands; thus, all used ingredients have to gentle but strong enough to protect your hands from bacteria.
Using hand soap is one of the most suitable alternatives for car wash soap. It can never soak into your cars and promote its strength to wash them thoroughly. Remember to rinse the cars until there are no residue left behinds.
Hair Shampoo/Baby Shampoo
Like hand soap, hair shampoo, and baby shampoo don't contain harmful substances for your cars and can remove all muddy and build-up stains gently. Generally, they are milder than 3 previous liquids; thus, they are used most for replacing car wash soap if necessary.
After rinsing well with water, you need to apply a wax coat right now to protect to coat.
For Window and Windshield
Window and windshield are parts that you need to wash frequently to make sure you will have a clear view while driving. Besides, dust and dirt can build up and decrease observing ability. Finding a soap for them seems to be easy, thanks to my DIY car wash soap.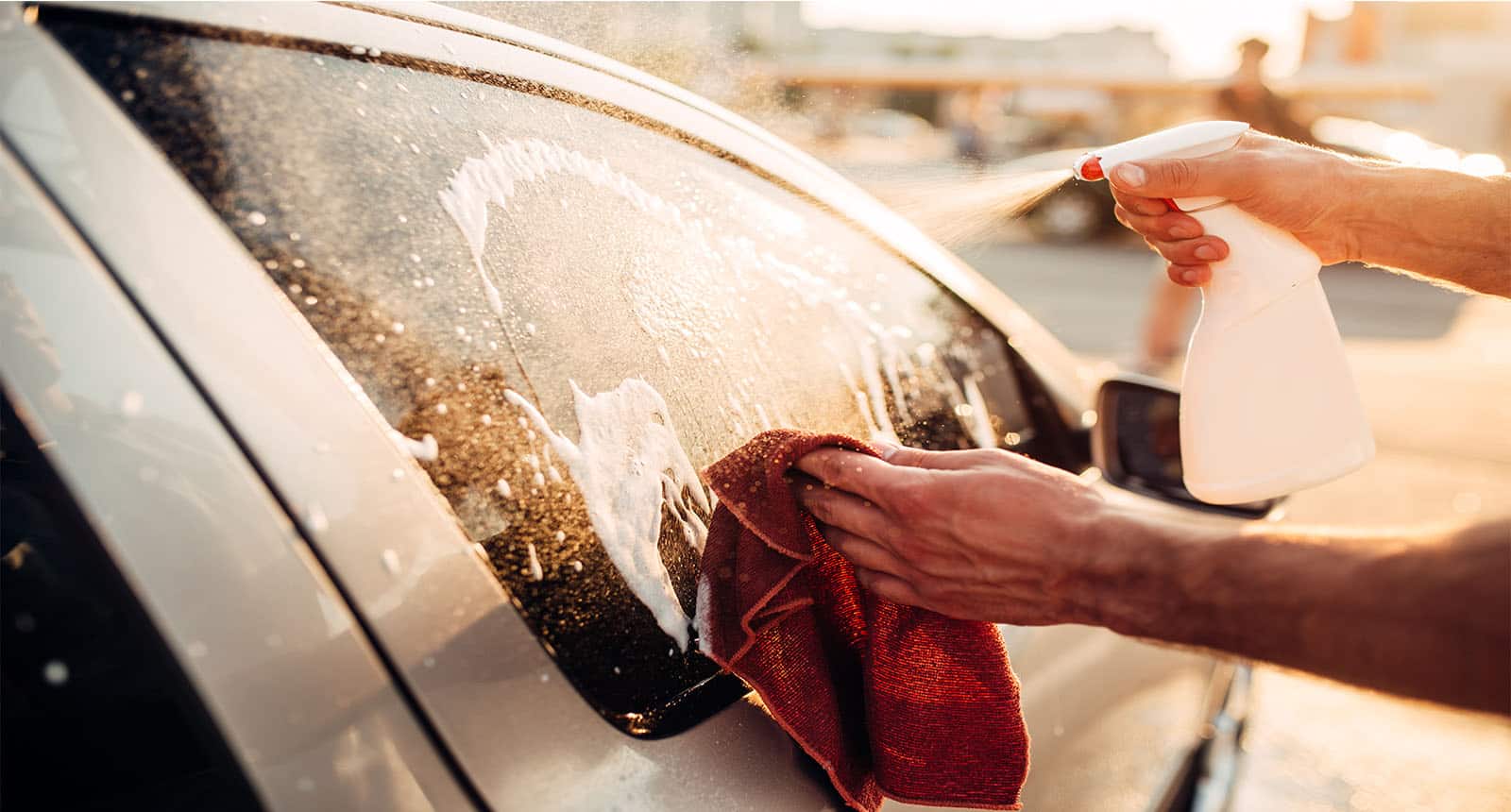 What You Need:
2 cups of distilled water
½ teaspoons of liquid dish detergent
¼ cups of vinegar
1 large spray bottle
Soft paper towels or microfiber mops
How To Mix:
Step 1: After buying a spray bottle from groceries, you need to rinse it through water entirely.
Step 2: Add distilled water and vinegar to the bottle and pour dish detergent into this bottle too. You should bring it anywhere you go that allows you to use it when needed.
How To Wash:
Step 1: After mixing all ingredients, you will spray it on car windows and car windshields
Step 2: Wait for a while and wipe dirt marks and water spots off with the useful microfiber mops or soft paper towels to remove stains, and you don't need to re-rinse with clean water.
Why Use It:
Liquid dish soap and vinegar are effective for cleaning windows and windshield that a thing everyone knows. However, how many people understand their cleaning principles? If you are in the same situation, don't skip this section.
Vinegar
You can take many advantages from vinegar when using it to clean your car windows and windshield. Among numerous pros, I will pick several outstanding features of it.
Cheap and easy to buy are the 2 things when you think of vinegar. You can come into any grocery and pick vinegar on shelves without any trouble. Besides, you can purchase a large amount of this liquid with a dollar.
Vinegar is not only effective on windows and windshields but also on other glass surfaces. It is considered a multi-purpose liquid to help you deal with dirt on these surfaces in one wink.
You can be comfortable when using vinegar around your kids and pets since it is a completely non-toxic agent.
Vinegar always has an exclusive way to remove streak on glasses, including car windows and windshield. after using it to wipe off dirt marks and water spots, you will be surprised at the result.
Using vinegar can contain a few downsides apart from benefits; nonetheless, these cons are not serious, and you can solve them simply.
If you are sensitive to aromas, the harsh aroma of vinegar can make you unpleasant. The bitter smell of it is not hard to recognize, but fortunately, the aroma cannot be smelled in the far distance.
Moreover, this aroma will disappear after a certain time, depending on how much you use it, and you can add a few drops of essential oils to overwhelm its original smell. Wearing a face mask is also a good selection for you.
You can use distilled white vinegar to decrease straight vinegar's strong smell.
Vinegar contains acidic nature, which means it can dull some surfaces such as marble, granite, onyx, or any shiny surfaces. Make sure your cars don't park on these floors while you clean their windows.
You can move your cars to concrete floors to clean them without worrying about these risks.
When you clean interior windows with this recipe, you should cover other surfaces inside cars with thick blankets or towels and be careful when cleaning to avoid damaging them.
If your car windows and windshields contact grease, you should think of other cleaning solutions to ensure they can remove grease completely as vinegar will have trouble disposing of them.
Dish Detergent
Dish detergent is another way you can add scent to your cleaning liquid, and there are many aromas you can choose,, such as orange, pomegranate splash, apple blossom,, and more.
For Removing Bird Poop, Sap, Tar
You often park your cars outdoors, and the ideal places are under tree shape to reduce the heat that your cars have to undergo. However, trees are also shelters for various kinds of birds, and sometimes their poop will drop down your cars.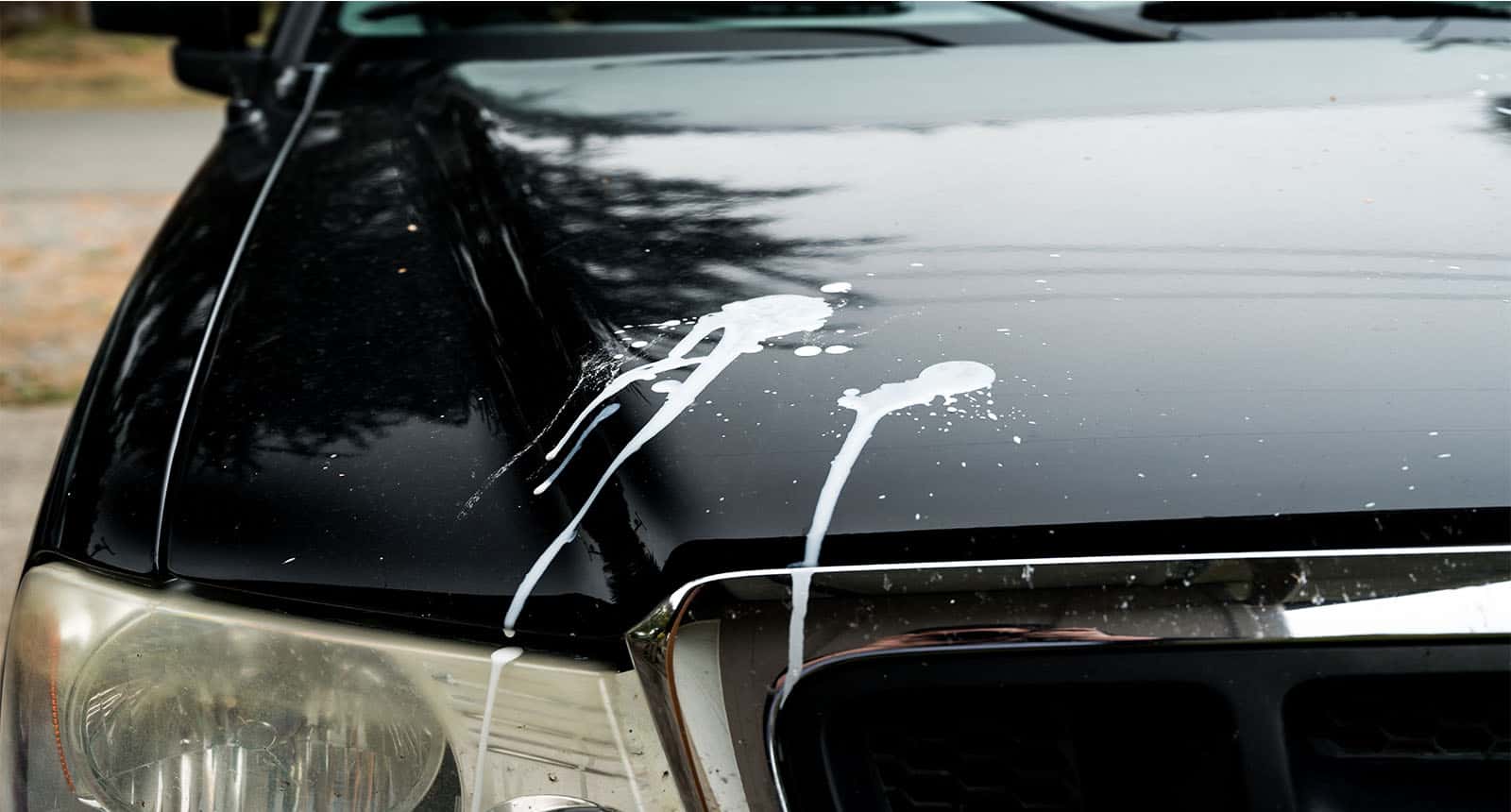 You can cut off these problems by using this mixture, but I still warn you shouldn't place your cars too long outdoors as that will negatively affect the coat.
What You Need:
2 buckets of water, one for DIY car wash soap and the other for rising
1 cup of liquid soap or dishwasher cleaner
2 tablespoons of baking soda
How To Mix:
Step 1: You need to add the excellent liquid dishwasher cleaners or liquid soap and baking soda in one water bucket.
Step 2: Mix them well until the baking soda dissolves entirely. Ensure to use the exact amount of baking soda since too much baking soda can cause several serious undesired problems such as damaging your car finish.
How To Wash:
Step 1: After getting the mixture, you need to pour the liquid onto stains on your car. Remember to start a little by little since the liquid can dry quickly and create car soap stains. That is such a hard problem!
Step 2: You have to wait for the liquid attack bird poop and soften them before you use a sponge to scrub them.
Step 3: Dip another clean towel into a clean water bucket and rinse your cars.
Why Use It:
You should understand the differences between dish soap and dishwashing detergent to know why dish soap cannot be used on your cars while dishwashing detergent can. Besides, learning more about the benefits of using baking soda will help you feel more comfortable when applying it to cars' painting.
Dishwashing Detergent
All dishwashing detergents are produced with a unique formula that allows it clean dishes without creating bubbles. That is one of the big differences to differ from liquid dish soap as it makes numerous suds to attack and remove grease from dishes when you wash them by hands.
On the other hand, the bubbles can make the dishwashers overwhelmed, and your kitchen can be flooded. The suds can lead to serious problems for mechanical parts of these devices.
Both dish soap and dishwashing detergents contain surfactants that can work to separate oils and water during the cleaning process. However, the surfactants in dishwashing detergents promote their cleaning ability in a high-pressure wash environment while they are formulated in dish soap can damage the machines.
Dishwashing detergents protect machinal parts in these machines like the way they are working on cars' painting to separate bird poop, sap, tar, and cars' coat. They also act gently to avoid destroying your cars.
Baking Soda
Baking soda is a mild alkaline, and it is useful to neutralize the acidity of dishwashing detergents that help the mixture be safer on your cars. Moreover, using baking soda is a smart choice to control the odors of bird poop.
For Car Carpets and Car Floor Mat
Car carpets and car floor mats will bring you comfort when you get on your cars. You can realize that they are things containing the most bacteria and germs since all mud, food, drinks, and dirt are collected.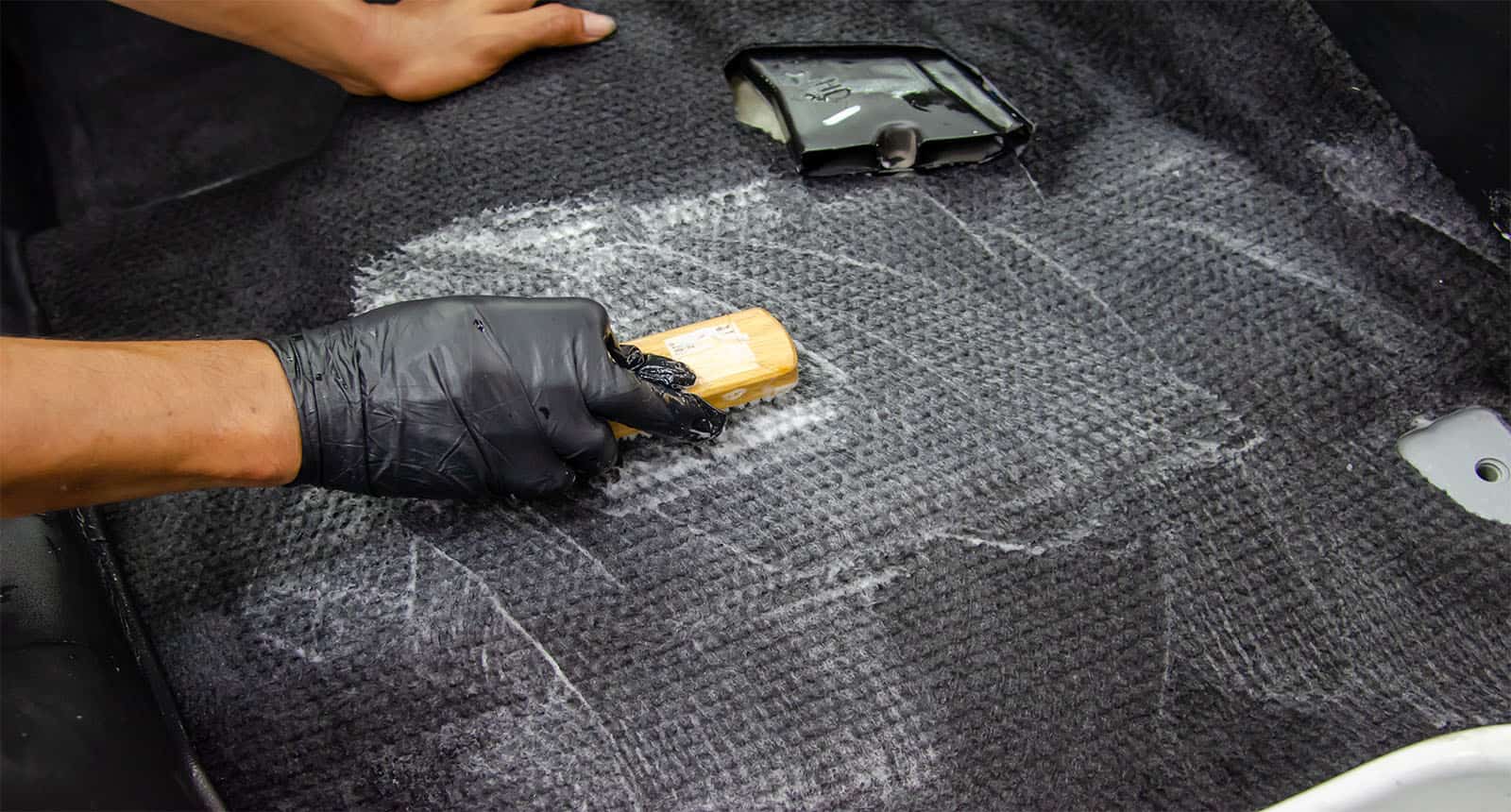 When it rains or in the winter, the problems will become worse, and you have to find an effective way to deal with them. You can use this recipe instead of buying pricy carpet cleaners.
What You Need:
1 tablespoon of liquid fabric softener
1 cup of vinegar
1 spray bottle
2 tablespoons of baking soda
1 cup of hot water
10-15 drops of your favorite essential oils
½ tablespoons of Dawn dish soap
How To Mix:
You just need to add all ingredients to a spray bottle and shake them until you get a perfect mixture.
How To Wash:
Step 1: You need to spray the liquid onto car carpets and car floor mats.
Step 2: Leave it to sit for a few minutes to allow the mixture to penetrate into this fabric
Steps 3: Use the great portable wet and dry vacs to suck up all messes on them. Don't forget to collect dirt inside your cars to bring you clean space. You can use this recipe to clean cloth car seats, and it can help you get the same results.
Another choice for you is to remove all the carpets, floor mats, and cloth car seats and soak them into this mixture with water to eliminate bacteria and germ.
You should reference the excellent guidelines on how to use a wet/dry vac to understand its operating principles and avoid damaging your carpets.
Step 4: Let them dry and re-attach in your cars. You should clean them frequently to ensure the interior is always odorized and sanitized.
Why Use It:
This recipe contains various ingredients, and several of them have specific effects on car carpets and car floor mats. Let's discover about them.
Dawn Dish Soap
Dawn dish soap is a multi-purpose cleaning solution; you can use it to clean dishes, kitchen cabinets, stainless steel appliances, and more apart from fabric. As I mentioned, car carpets and car floor mats are easy to collect stains, especially grease, and Dawn can help you cut them off.
Dawn dish soap contains surfactants that can reduce the surface tension of greases; therefore, it will help you dissolve greases and oily marks productively.
Liquid Fabric Softener
Many reasons explain why you add liquid fabric softener to the washing process, and I will review some significant points. Pour liquid fabric softener will help your car carpets and car floor mats are softer and free of wrinkle and static.
Besides, using it can assist you in extending fabric's life expectancy and protecting the color of carpets and floor mats. Liquid fabric softener will create a layer to prevent fibers from being damaged.
It also helps you reduce the drying time, which means it can speed up water evaporation. You can save for washing them and spend more time with your beloved people.
Vinegar
Vinegar will work as a chemical-free substance to attack and loosen aluminum chloride or zinc salt to reduce the risks of dirt sticking to your carpets and floor mats. Vinegar is a perfect substitute for commercial laundry detergents since it doesn't cause allergic symptoms for people with sensitive skin.
If your carpets have soap buildups, carpets can have white or blue streaks, and vinegar effectively loosens them and prevent them from sticking to your carpets. Combining vinegar and baking soda in cleaning recipes can work productively for many purposes, including cleaning carpets and floor mats.
Vinegar is a suitable choice for brightening your carpets since it can be used as bleach laundry.  It also contributes to softening fabrics like liquid fabric softeners.
Baking Soda
Germs and bacteria cause unpleasant odors, and baking soda can help you eliminate them. Baking soda can control the pH level in the water and keep it in a balanced condition that means not too alkaline or acidic. Therefore, adding it to the washing process can decrease bacteria.
Using baking soda will motivate substances in Dawn dish soap to work more effectively. Besides, it also prevents mineral deposits or suspends detergent from getting stuck on car carpets and car floor mats, making them feel quite stiff. You can use baking soda like a fabric softener.
For Muddy Cars And Off-Road Cars
The mud is one of the most common problems that you face when driving cars. Actually, these muddy cars and off-road cars are not too hard to clean; you just need to use a strong recipe than normal car wash soap to wash them.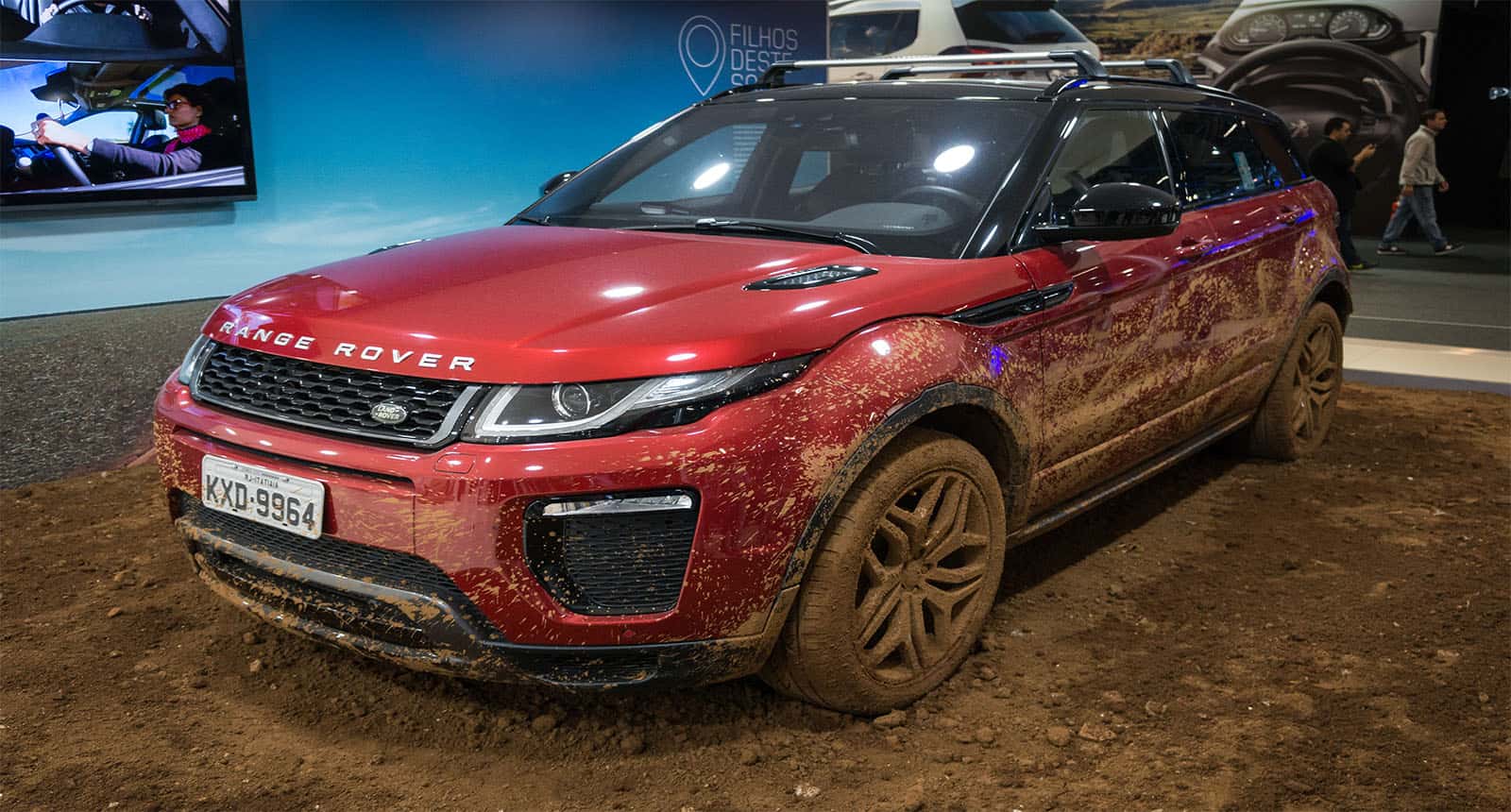 What You Need:
12 tablespoons of laundry detergent
1 cup of dishwashing liquid
1 cup of baking soda
2 buckets of water, 1 bucket of warm water for mixture, and the other for rising
How To Mix:
Step 1: Prepare a bucket of warm water and pour all ingredients into it.
Step 2: Whisk until the mixture is combined perfectly.
How To Wash:
Step 1: Pour the mix onto the muddy cars
Step 2: Using a sponge to scrub softly and remove all mud from mechanical parts of cars.
Step 3: Rinse again with clean water and dry your car by using a microfiber towel.
Why Use It:
Let's explore why you need to combine these ingredients to create a mixture that can wash your off-road cars and muddy cars.
Baking Soda
Instead of paying a lot of money for the garage, you can wash your muddy cars at home with the help of baking soda. Many people use it to remove grease and other stains from your cars.
Besides, baking soda is diluted with water is also effective in washing the paint on your muddy cars. You just need to ensure never pour baking soda directly on the coat, then using it for washing cars will save your budget.
Laundry Detergent And Dishwashing liquid
Laundry detergent and dishwashing detergent can help you to remove mud stains from your car, but you should consider using products made from natural ingredients or having non-abrasive on labels to avoid scratch your cars.
Both of them will create a little bubble that enough for you to scrub your cars. The bubbles will make a soft layer between the sponge and cars' paint; thus, you don't need to worry about the fibers that can damage the coat.
For Using With Pressure Washer
Using pressure washers will help you save your effort to clean your cars, and the recipe I recommend for you is simple to make. I will not mention why you can use these ingredients for washing your cars since all the reasons are explained in the above parts.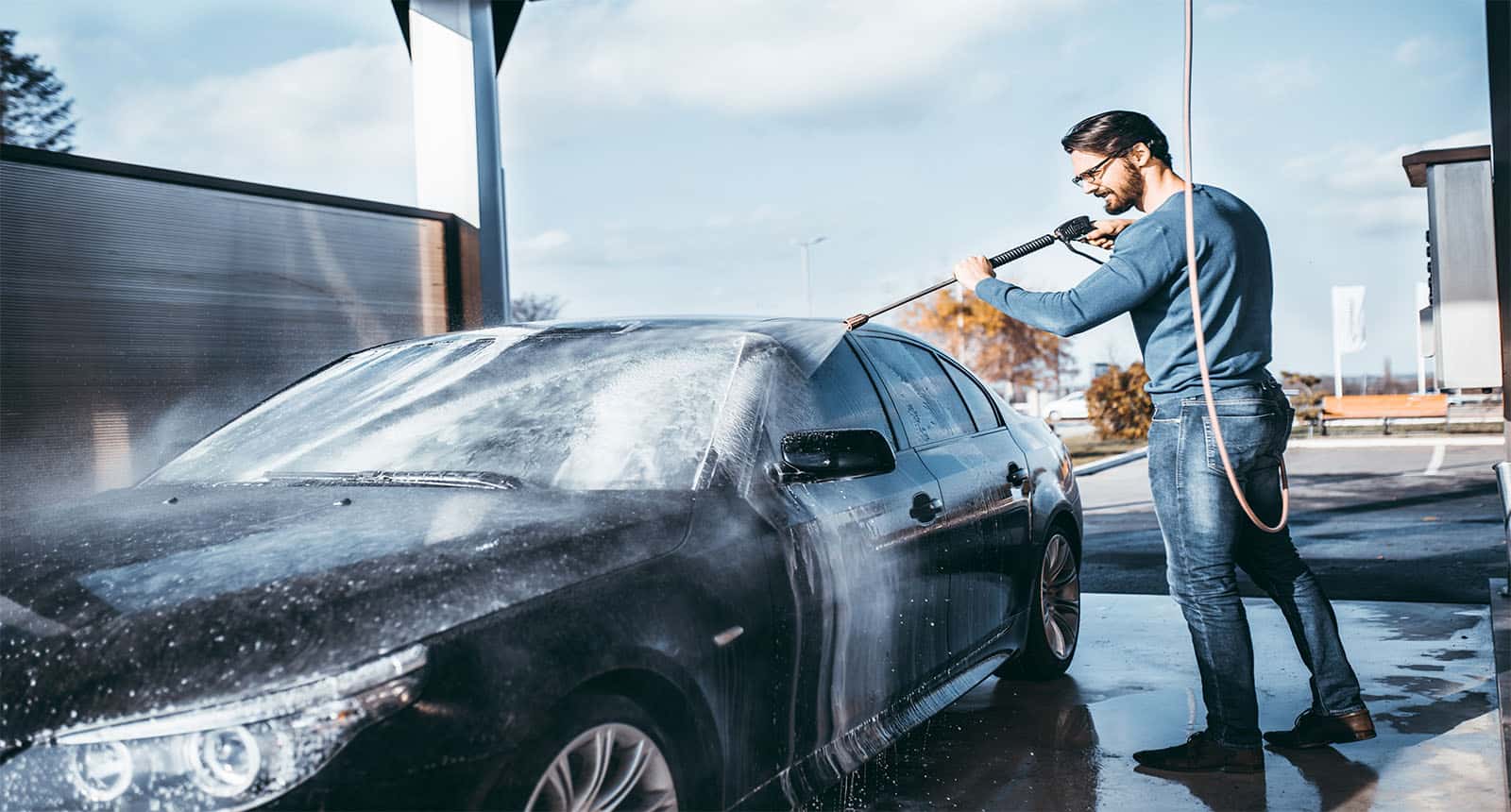 What You Need:
12 tablespoons of laundry detergent powder
1 gallon of hot water
How To Mix:
You need to add laundry detergent powder to the bucket of water and whisk them slowly to avoid suds.
How To Wash:
Step 1: You have to control the pressure washer at low pressure to ensure the liquid flow is gentle to the cars' paint.
Step 2: After that, remember to rinse with fresh water and wipe water residue with a microfiber towel before driving.
Several Useful Tips For DIY car Wash
I will provide you several useful tips to help you wash your cars at home with DIY car wash soap in this section. If you intend to clean them on your own, you should not skip them.
You should use a non-abrasive and soft cloth to wash your cars to avoid scratching the paint.
You need to use separate towels to clean tires and wheels since there are a lot of sand, brake dust buildups.
Using mild soap and water while cleaning wheels will help you remove much dust.
You should wash your cars when they are cool since soap and water will quickly dry when exposing to hot surfaces.
You shouldn't move the sponges in circles since these movements can scratch your cars. Instead of that, moving the sponges in straight lines is recommended.
Pour water onto all car surfaces before starting scrubbing to lose dust and dirt and dispose of sand that can scratch cars' paint.
Start cleaning your cars from top to bottom.
The more suds you can create, the more lubrication on your cars' coat and reduce the ability of fibers can scratch them.
Never let your cars dry in the air since this will leave watermarks after drying.
Using soft terry towels to soak into water residue instead of dragging them over the cars.
Expectation Vs. Reality
After reading my post, have you picked the recipes for you? Each handmade car wash soap is suitable to wash specific parts of your cars. Remember not to use recipes for windows and windshields to wash general cars to avoid facing unwanted issues.
You should try your best to remove stains by applying 6 handmade car wash soaps before using professional solutions.
I have applied 6 recipes to wash my cars, and I find them effective normal stains on my cars' paint that means if your cars have more serious problems or stubborn stains, I think you need to call car-wash detergents or the help of garage.
If you want to share more recipes with people or ask any questions, feel free to type for me in the comment box chat below. My pleasure is to stay here, read your words, and reply to you. Love you all!