Everyone enjoys a freshly washed car. However, not everyone has the budget to take their car to the car wash center every two weeks. This is where homemade car wash soaps step in.
If you want to save money and make sure the cleaning is done properly, choose some of the 5 following recipes and give your car a complete makeover with a homemade cleaning solution.
In today's article, I will share a list of products you can combine along with 5 proven recipes that include those products. There's also a list of do's and don'ts for car washing, so let's begin.
8 Common Products That Will Give Your Car a Showroom Shine
Commercial car wash soaps can cause damage to the exterior of your vehicle, so making a car wash soap at home is the safest and cheapest solution. When making a car wash soap, consider the following items that you probably already have at home but didn't they can do wonders for your car.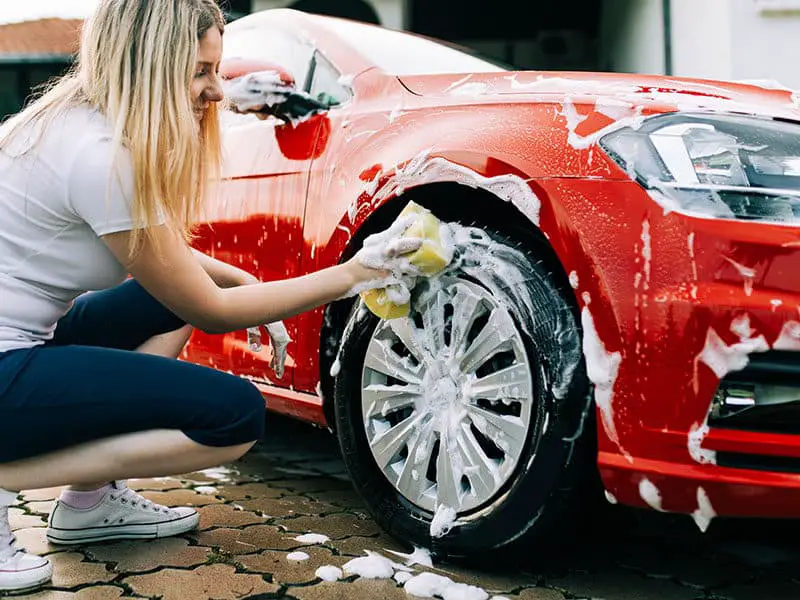 1. Dish Liquid Soap
Since dish liquid soap is made to deal with grease, it's also suitable for cleaning different types of car dirt like oil and grease. When using dish liquid soap, dilute it with water to ensure that it won't be very harsh on your paint. Also, make sure that you utilize it sparingly to prevent any damage.
Dish liquid soap is super effective at removing dirt and grime, however, it will also leave a trace that may require a lot of polishing to get rid of. It's time-consuming and tiring but worth it.
2. Laundry Detergent
Another excellent alternative to commercial cleaners is a mild laundry detergent. The formula is strong enough to take off almost any type of stain and build-up on your car.
But you also need to be cautious when utilizing laundry detergent to make sure that you don't cause any damage to the paint job. Some detergents can be super harsh on the paint.
The safest way to use laundry detergent is to dilute it before cleaning your car's surface and check if the paint type can handle the product before you decide to go with this option.
3. Hand Soap
Hand soap isn't the perfect option. However, it's still an option. Although it's not as effective as a regular car wash soap, when you're on a budget or don't have anything else, it can do a good job.
You will need to utilize a lot of hand soap to get the foam that you want. However, it's not something to worry about because there's a wide array of hand soap and you can easily find a cheap one.
The best part? Almost every hand soap has a great scent and you can also get to pick from a broad array of scents on the market. Meaning, you can easily make your vehicle smell just how you prefer it.
If your car is super dirty with piled-up debris that needs to be cleaned, I would suggest that you choose some of the previous or next options for better results. Hand soap can't handle tough jobs.
4. Baby Shampoo
Baby shampoo is intended for use by babies, meaning, it has a gentler formula than commercial cleaners and other household cleaning products on this shortlist.
The good thing is that it won't be super harsh on your car. However, there's also a negative side. It's less potent than other products, so it can't handle grime build-up or heavy dirt.
Baby shampoo works best for bird droppings from the vehicle surface and other spots like the windows. Dilute the shampoo with water before cleaning the car with it. Also, make sure to wipe it right after you finish washing it as leaving it too long can cause damage.
5. Wheel Cleaner
If you don't have a car wash soap on hand but have a wheel cleaner sitting in your garage, don't worry. Wheel cleaners can be used to clean not only the wheels but the surface of your car.
Most wheel cleaners on the market have a similar formula to car wash soaps with only a couple of extra things added to make them more effective at washing wheels. Therefore, if you dilute the wheel cleaner with water, you will get something similar to a wash soap that you can use instead of it.
6. Baking Soda
Baking soda can eliminate unpleasant odors in fridges, clean coffee machines and dishes, and more. It's also good at cleaning cars. If you don't have a car wash soap on hand, utilize baking soda.
It doesn't provide excellent results when utilized alone unlike other cleaning agents. For the best results, you should utilize baking soda to create a cleaning product by mixing it with dishwashing detergent and warm water. Just mix the solution and add extra water to dilute it so it doesn't cause damage.
7. Household Cleaners
Household cleaners can be used for cleaning the kitchen or bathroom in your home. However, they can also be used for cleaning your vehicle. Keep in mind that most household agents contain chemicals that can damage the paint job. Therefore, choose your cleaning products carefully.
The best way to determine if a certain cleaning product is harmful or not is ensuring it doesn't have any harsh ingredients, so opt for milder products or dilute it to decrease the impact.
8. Hair Conditioner
Your favorite hair conditioner won't provide excellent results. However, it's still useful when cleaning up your vehicle. If you don't have a hair conditioner, buy one that contains lanolin.
Lanolin helps to get rid of grime and will also provide the surface a lovely shine. It will give your vehicle a waxed look. The best part? It can also fight off rain which further protects the surface.
However, with all other car wash soap substitutes, you need to be cautious with this product as well and make sure it doesn't contain anything that can cause permanent surface damage.
Recipe #1: Homemade Car Wash Soap
Before you start cleaning with any cleaning product, make sure that it's car-friendly, both inside and out. Some vehicles require a special product and polish on the exterior while others have a clear layer and do not. Either way, it's best to make sure whatever product you're using is 100% safe.
The ultimate homemade car wash soap recipe consists of warm water, 1 cup of baby shampoo, or mild hand soap. Rinse with cold water. This homemade wash soap is for a good care finish.
Recipe #2: The Ultimate Window Cleaner
Along with a homemade car wash soap, you can prepare a mixture to clean your windows including the wiper blades and windshield. This recipe includes ½ cup of vinegar, 2 cups of distilled water, and ½ tsp dish liquid soap. You will also need a spray bottle and a microfiber cloth or paper towels.
Place the vinegar and distilled water into the spray bottle. Shake and add the dish soap. Shake one more time. Once your homemade window cleaner is ready to go, spritz both sides of the car windows.
Utilize a microfiber towel to wipe them off. Then, spritz the wiper blades and wipe them to prevent dirt from spreading when you turn them on. Also, clean the interior with a vacuum for detailing.
Recipe #3: Get Those Tough Stuff Off Your Car
If you don't have a garage and you park your car outside every day, it's not out of the ordinary to have a bird poop on it. Also, if you have ridden on freshly paved roads, you can get tar on your car too!
If any of these though things end up on your car, fast action is crucial. Otherwise, they will settle in. And once they do, it will be impossible to get them off and they will damage the paint job eventually.
Mixing 2 tbsp of baking soda, 1 cup of dishwashing detergent, a pail of water, and a pail of water with a homemade car wash soap can work wonders for bird droppings, tar, and other stubborn stains.
First, mix the baking soda and dish soap in the pail of water. Then, put the solution over the sticky spots and splatters. Let it sit for a couple of minutes to loosen whatever dirt is on the surface of the car.
Once they have loosened, you can rinse your car with cold water. If you encounter tough stains, you will need to scrub a little with a soft rag to get them off. If you're utilizing dish soap, don't worry at all.
The baking soda balances out the strength of the dish soap making it less acidic so it won't damage your car paint. Once you're done, use the ultimate homemade cleaner (recipe #1) for a full makeover.
Recipe #4: Carpet and Mat Cleaner
Mats and carpets are probably the dirtiest parts of your car. Mud, food, drinks, and dirt all pile up as you get in and out. And winter makes things a lot worse. However, don't worry. I can help!
First and foremost, use a car vacuum for pet hairs if you're a pet owner and tend to drive your pet inside your car. Vacuum the carpet and mats before you wash them to simplify the cleaning process.
Mix 1 cup of vinegar, 2 tablespoons of baking soda, 2 tablespoons of fabric softener, 1 cup of hot water, ½ tablespoons of dish soap, and 10-15 drops of essential oil by your choice (I prefer lavender oil).
This homemade carpet cleaner replaces expensive cleaners and provides excellent results. You will also need a spray bottle. Mix all the ingredients in the spray bottle. Then, give the spray bottle a shake.
Use the DIY car carpet cleaner on the mats and carpet. Let it sit for a couple of minutes. It will take off all the stains and make your car smell fresh. Lastly, vacuum the interior with a car vacuum cleaner.
You can also remove the mats and soak them in a basin with the same solution. If the indoor couches or cloth car seats need cleaning as well, soak them in another basin with this cleaning mix.
Recipe #5: Mud and Off-Roading Dirt
Mud and off-roading dirt can't be removed with the usual car wash soap. You will need to prepare a mix that's stronger like the following heavy-duty car cleaner.
You will need 12 tbsp laundry soap, 1 cup baking soda, 1 pail of warm water, and 1 cup mild dishwashing soap. This heavy-duty cleaning solution works for RVs as well.
Mix the ingredients and you're good to go! Rinse the vehicle first to remove some of the mud. Then, use a soft brush or cloth to wash it and rinse with clean water.
Do's and Don'ts for Car Cleaning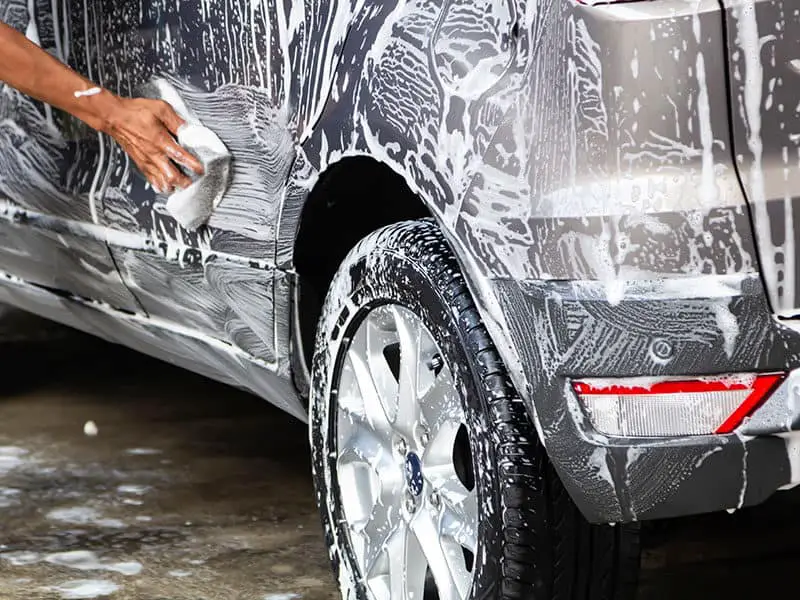 The car cleaning process seems relatively easy and straightforward. However, there's a list of things you should and shouldn't do so that you don't degrade the finish.
Do's
Use a store-bought product that's milder and specifically made for use on automotive paint. Use a lamb's-wool mitt or a large, soft sponge for the cleaning process. If you're on a budget or don't have a commercial car cleaner on hand, use a mild homemade car cleaner instead.
Rinse all the parts thoroughly with plain water before you start washing to take off loose debris. Otherwise, it could cause scratching. Start at the top, and work your way around the car.
Use natural or synthetic chamois or soft terry towels. If you go with towels, you will need a few. Also, it's better to blot the water up instead of dragging the chamois/towel over the car.
Rinse the sponge in a separate bucket to keep dirt from spoiling the wash water. Also, rinse the sponge often and use a separate sponge to clean the tires and wheels. If you use one sponge for every part of the car, you can transfer brake dust, sand, and other debris on the surface.
Don'ts
Don't forget about the interior of your vehicle. The inside of your car deserves just as much love as the interior. You can either use a store-bought interior car cleaner or make a cleaner at home.
Avoid washing the car after it's been parked in direct sunlight or after driving it. Heat speeds the drying of water and soap, making cleaning super harder and increasing the chance that deposits or spots will appear.
Don't utilize house cleaning products that contain harsh chemicals that can damage the surface. They're not made for car wash and can remove the protective coating.
Avoid circle movements when cleaning your car. This can make light but visible scratches known as swirl marks. Instead, move the sponge lengthwise across the hood and other body panels.
Don't let your car air-dry as this can leave marks as a result of the minerals in hard water. Don't use abrasive towels either as they can make hairline scratches on the surface.
Get That Bird Poop Off Your Windshield
My brother is the biggest car freak I know. And he says that washing a car by hand is therapeutic.
I agree with his statement as I have noticed that when I wash my car, I forget about the world for a while and enjoy the process. It's beneficial for both the car owner's well-being and the car's appearance.
However, it's also time-consuming. Washing your car manually takes time but saves money, especially if you utilize a homemade car wash soap.
Hopefully, this article can help learn more about car washing.
Was this helpful? Do you have any questions or suggestions? Feel free to share your tips and tricks in the comments below. I would love to chat with you! Also, please share this guide with your best friends.