Have you ever fancied the idea of creating your homemade floor cleaner? Making your own cleaning solutions has many benefits. They are not only cheaper than their commercial counterparts but are safer, easy to make, and environment-friendly as well.
As a bonus, floor cleaners made at home are less harsh and are nontoxic. You won't have to worry about your pets or children coming into contact with it. If you have an allergy or asthma sufferer in the house, this is good news for them as well.
In this article, I teach you how to create your own homemade floor cleaner. You may be surprised by how few ingredients you need. Most if not all of the ingredients listed are likely to be in your home.
Recipes For Homemade Floor Cleaners
Different floor types need different care and maintenance. In this section, you will find a suitable floor cleaner for the type of floor you have whether it be hardwood, ceramic, tile, laminate, or vinyl and linoleum.
Hardwood Cleaners
Hardwood floors are durable and provide a warm beauty to your home. Because they are harvested from trees that grow slowly, they are denser than other types of wood.
Hardwood is prone to scratches and dents, but with the right maintenance, you will be able to enjoy its unique markings and warm ambiance for years to come. Here are some DIY cleaners you can use on hardwood.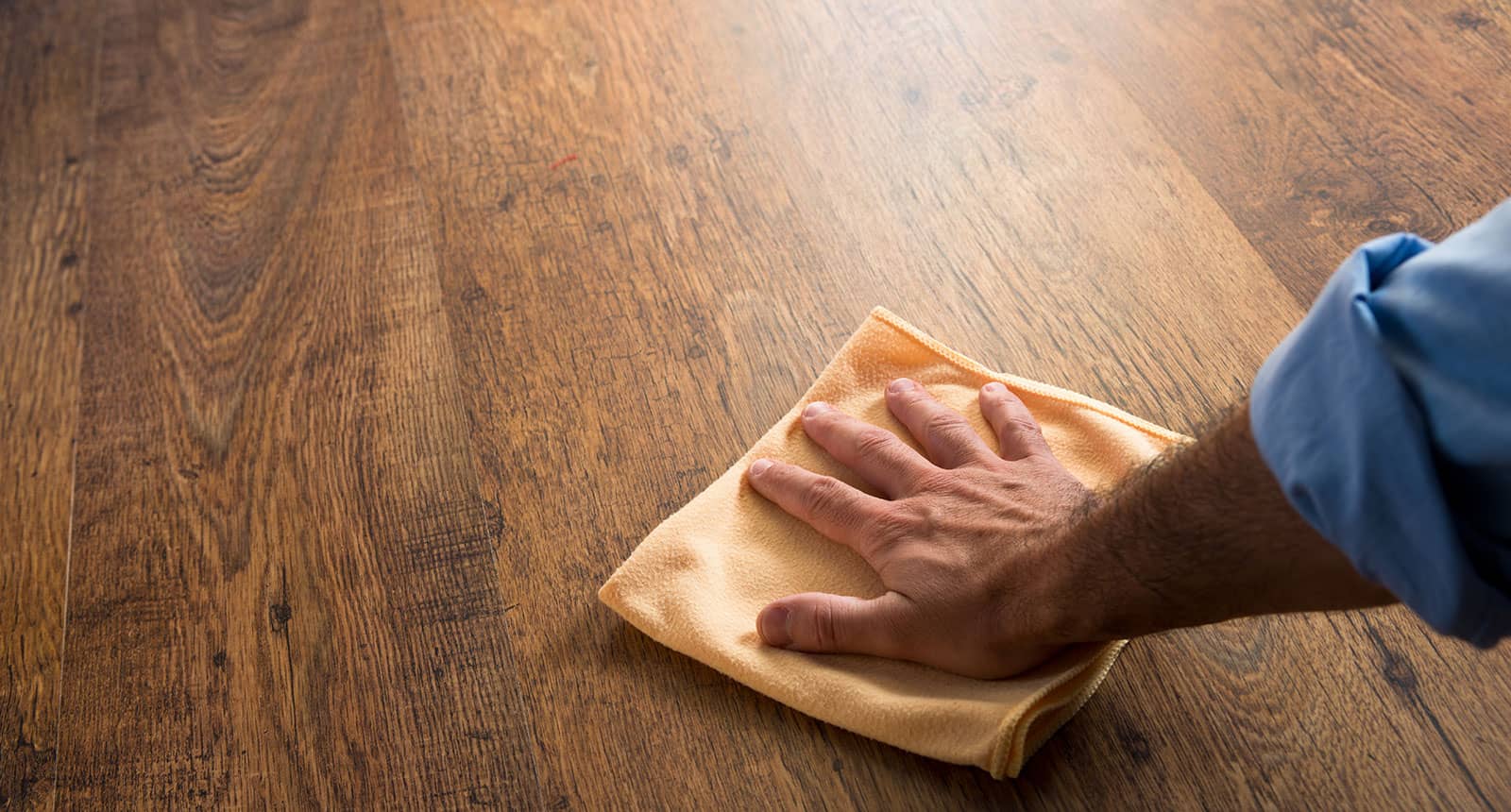 Castile Soap Floor Cleaner
If you're wary about using vinegar to clean your hardwood floors, look no further than this Castile Soap-based floor cleaner. Effective and economical, this solution made with Castile soap will clean and shine your hardwood floors after one application.
If your floors are waxed, do not use this solution as it can break down the wax.
1 teaspoon Castile soap
4 cups warm water
10 drops of any essential oil you like
Spray bottle
Mop with a microfiber pad
Mix water, Castile soap, and essential oil in a spray bottle. Shake the bottle to ensure that the ingredients are combined. Spray the solution over a small area taking care not to overspray to prevent floorboard damage.
Mop the solution into your hardwood floors with a microfiber using a back and forth motion parallel to the boards. Continue working in small sections while rinsing and squeezing any surplus water off the mop.
It's best to test the cleaner on an inconspicuous segment of your floor (such as under a piece of furniture) to ensure it doesn't damage your boards.
You can also use this solution for cleaning and shining bamboo and laminate floors.
Vinegar And Baking Soda Cleaner
Vinegar is an excellent cleaning agent for hardwood floors. It can get rid of mold, bacteria, and viruses while removing stains, restoring shine, removing buildup from commercial cleaners, and giving your floors a deep clean.
Wait. Vinegar is acidic. Is it safe to use on wooden floors? As long as you use white vinegar and not balsamic or red wine vinegar it should be safe for hardwood floors. You should also mix in the right proportion of vinegar; refer to the cleaning solution below.
¼ cup white vinegar
1 gallon warm water
Drops of your preferred essential oil
Microfiber rag or mop
Mix the vinegar, warm water, and essential oil. Apply the solution to your hardwood floor making sure to wring the rag or the mop of excess liquid.
Vinegar-Water Solution for Hardwood Floors. Add shine and remove buildup from hardwood floors with water and vinegar only.
Watch this video to know more:
Vegetable Oil And Vinegar Solution
Oil may not be the first ingredient that comes to mind for cleaning, but it is an effective solution that doesn't just clean your floors but restores their shiny appearance as well. Use vinegar and vegetable oil in equal measure to clean your hardwood floor and restore it to its natural and original finish.
Ingredients
1 cup vegetable oil
1 cup vinegar
Microfiber rag or mop
Spray bottle
Mix the two ingredients in a spray bottle and spray on the floor. Use a microfiber cloth to wipe the floor with until you're satisfied with the results. Go over the same area to mop up the residue and dry in a circular direction.
This solution should be prepared fresh every time as the oil can become rancid.
Ceramic Tile Cleaners
More homeowners are selecting ceramic tiles as their preferred flooring in living rooms, bathrooms, and other areas in their homes. Tiles are classy and durable flooring. They are low maintenance, easy to clean, waterproof, and don't deteriorate.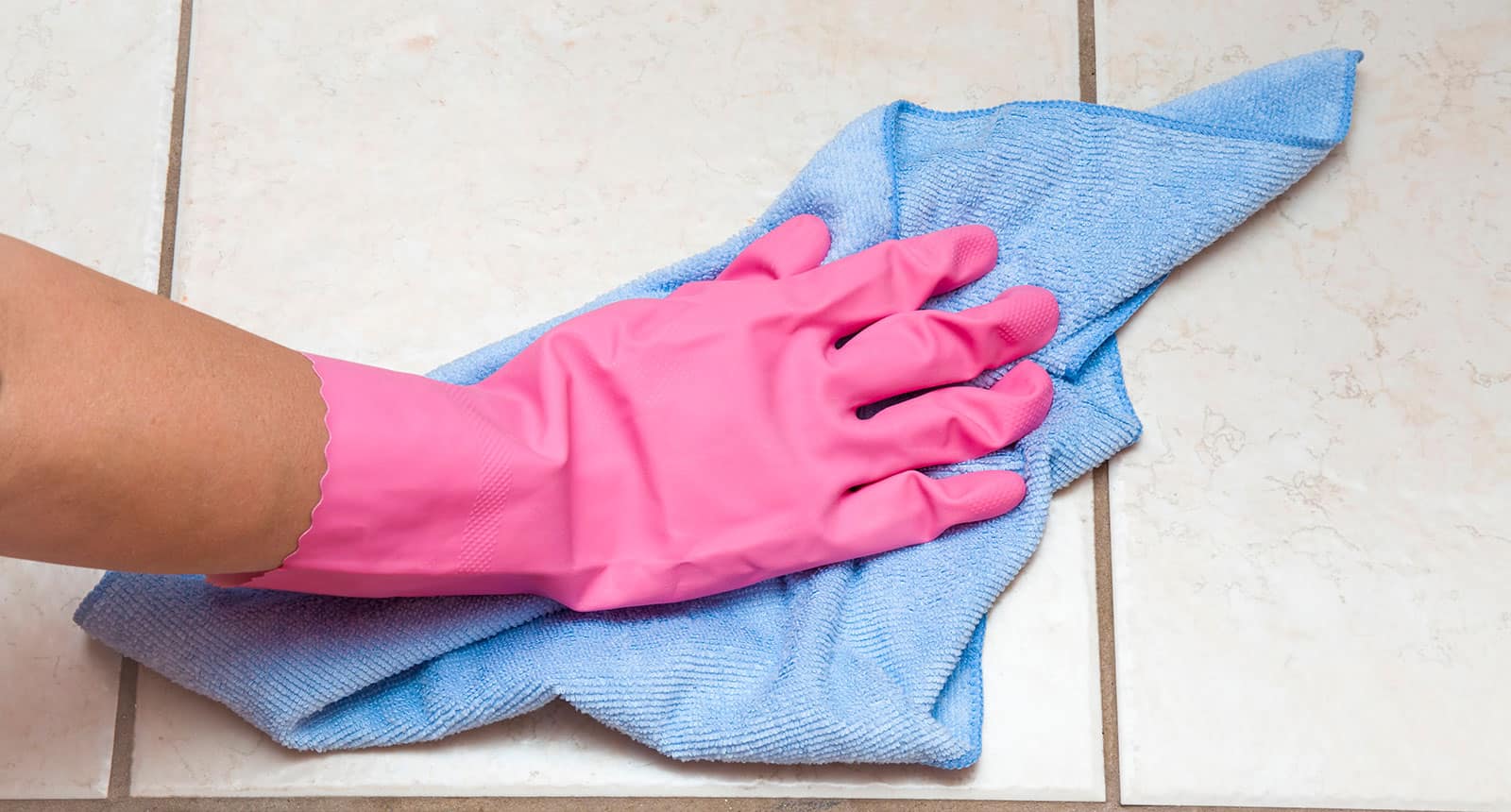 Here are some homemade solutions for cleaning your ceramic tiles.
Citrus-Vinegar Solution
Put the shine back on your ceramic-tiled floors with this citrus-vinegar solution. Citrus and vinegar help break down dirt and oily residues on your tiles while vinegar has useful antibacterial properties. The zest from the fruit peels of this solution also brings a fresh clean scent to your home.
Ingredients
Orange or lemon peel
4 cups vinegar
Spray bottle
Combine the fruit peel with vinegar in a closed container and let it soak untouched for two weeks. Transfer some of the solution to a spray bottle half-filled with water. Spray and wipe the floor with the citrus-vinegar mix.
You can use the same solution on any tiled surfaces such as the shower area and tiled kitchen areas.
Castile Soap And Baking Soda Cleaner
If the smell of vinegar in your home doesn't sit well with you, you can try our Castile soap and baking soda cleaner to make your floors extra shiny.
Castile soap, which is made from hemp and vegetable oils, is making a comeback. This is a popular ingredient in homemade cleaning solutions because it is organic, natural, and contains zero animal fats. It is also very economical to use since a small amount goes a long way.
Ingredients
1 cup warm water
6 teaspoons baking soda
3 teaspoons liquid Castile soap
Spray bottle
Sponge
Mix soap, water, and baking soda in a spray bottle and shake the mixture gently. Shaking too vigorously will result in a solution with too many soap bubbles. Spray the cleaner onto dirty sections of the floor. Use a sponge to wipe away dirt and residue and use a mop to clean larger areas.
This Castile soap and baking soda cleaner can also be used to remove stains from marble surfaces.
Baking Soda Cleaner
Baking soda has a special ingredient that can remove stains. You can combine vinegar and baking soda to disinfect floor tiles and get rid of grime and stubborn dirt. You can even try sprinkling some baking soda onto the tile grout. After 30 minutes, the color of your tile grout should be the same color it was when your tiles were first installed.
Ingredients
1 gallon hot water
¼ cup baking soda
1 tablespoon dishwashing liquid
Essential oils
Bucket
Mop
Pour the vinegar, baking soda, and dishwashing soap into a bucket. Include a few drops of the essential oil of your choice and mix. Dip a mop into the cleaning solution and wring it before mopping the floor.
Start cleaning from the room's farthest corner. Rinse and wring the mop as required until the entire floor is clean.
Pour the cleaning solution from the bucket and rinse the mop using clean water.  Fill your bucket with cold water rinsing the solution in the same way the cleaning solution was applied. Let the tiles dry before allowing anyone in the area.
Water-Borax Solution
Your grandmother may have used borax to deal with her cleaning back in the day. Borax has long been recognized as an economical and natural way to disinfect floor tiles. It remains a versatile and efficient cleaner until now and is often used for removing mildew, stains, and mold.
1 gallon warm water (warm water dissolves the borax granules)
¼ cup borax
¼ cup vinegar
2 squirts of dishwashing liquid
Bucket
Combine the borax, warm water, vinegar, and dish soap in a bucket. Mop the floor with the cleaning solution making sure to wring out excess liquid before using it on the floor.
Although it isn't necessary, you may prefer to rinse the floor with water after applying borax particularly if you have a toddler in your home.
Cleaning Floor Grout with Materials Around the House. Make your grout look new again with dishwashing soap, baking soda, and white vinegar.
Watch this video to know more:
Laminate Flooring
Laminate flooring looks like hardwood floors but is cheaper, easier to install, and comes in a variety of textures and colors. Laminate floors are made from a form of resin with a clear coating on top. They are prone to water damage if they are left to soak. Here's how you can clean your laminate floors without damage.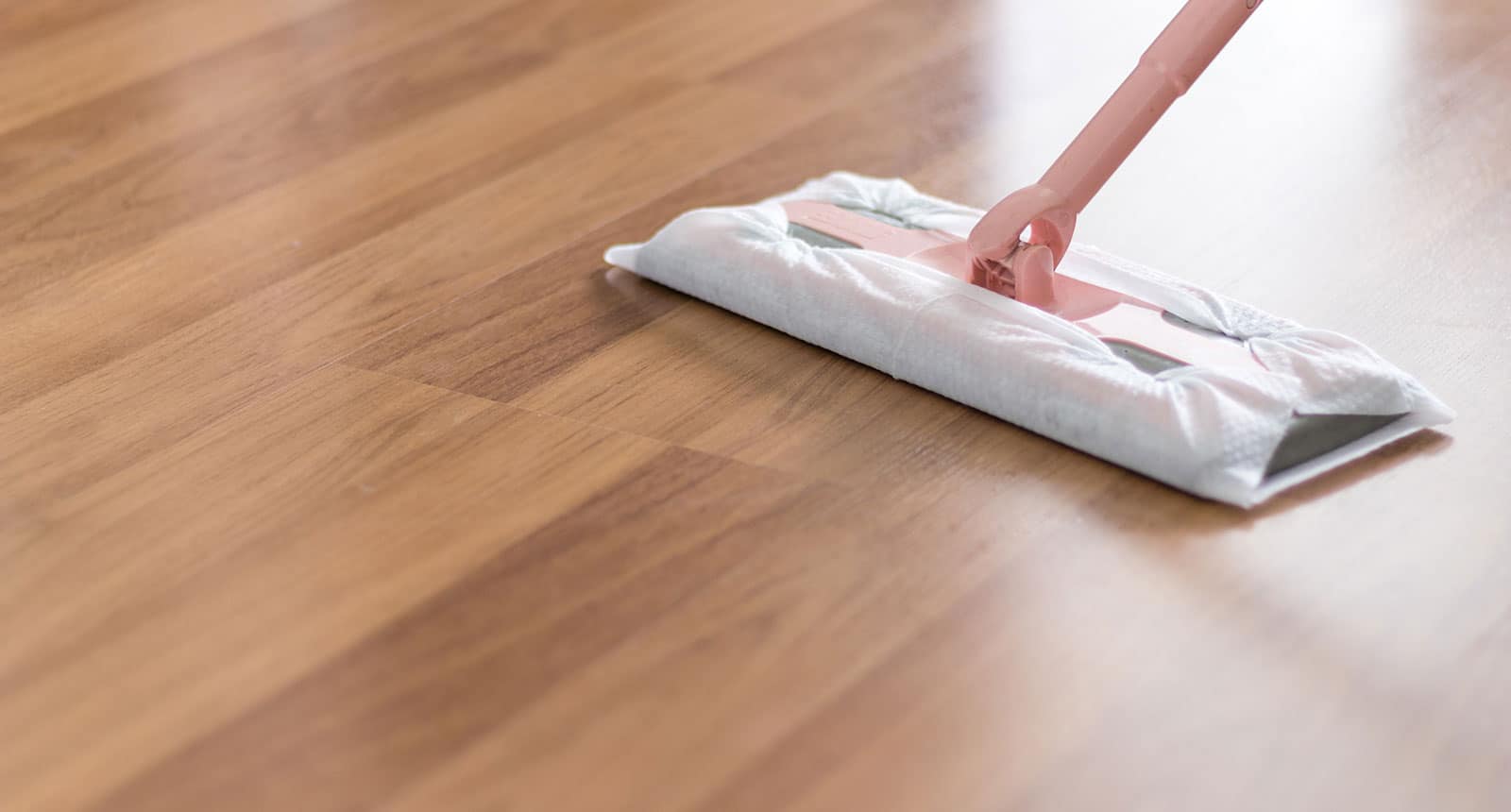 Vinegar-Rubbing Alcohol Cleaner
The combination of alcohol and vinegar in this solution helps get rid of tough stains, residue, bacteria, and grease. Before washing the floors, sweep the area using a soft-bristled broom to gather dust and hair. After mopping the floor with this cleaner, you may also rinse it with water if you feel it's necessary.
Ingredients
2 cups warm water
½ cup distilled white vinegar
¼ cup isopropyl alcohol
5 to 10 drops of essential oils
⅛ tablespoon liquid dishwashing soap
Procedure
Combine ingredients in a spray bottle. Spray a 3 square feet area at a time and mop your laminate floors. You can keep the leftover mixture in the bottle and use it at a later date.
A Few Reminders:
Be careful if using alcohol more potent than isopropyl. Test it first on a small obscure area of your floor.
Since this solution uses alcohol, it's possible to leave streaks behind. If you notice streaking, add more water to your solution. Adding more water also makes this homemade solution gentler on your floors.
Drops of essential oil eliminate grease while masking the scent of alcohol and vinegar.
Vinegar Works on Laminate Floors Too. Watch this DIY laminate floor cleaner that makes use of vinegar, rubbing alcohol, and distilled water.
If you encounter tough spots such as wax or grease, leave an ice pack above the problem areas for a few minutes before scraping off the dirt gently. You can wash the floors to eliminate lingering grime and dirt, but you must wring the mop until it's almost dry to prevent floor damage.
You might want to consider using a refillable spray mop, which spritzes a fine layer without needing a mop or a separate spray bottle. A spray mop can be used for all floor types.  After mopping, wipe with a dry mop or microfiber cloth to make sure there's no water on the laminate. Every six months, you can deep clean with a steam mop. Make sure to dry the floors instantly with a dry microfiber cloth or dry mop.
Vinyl And Linoleum Floor Cleaners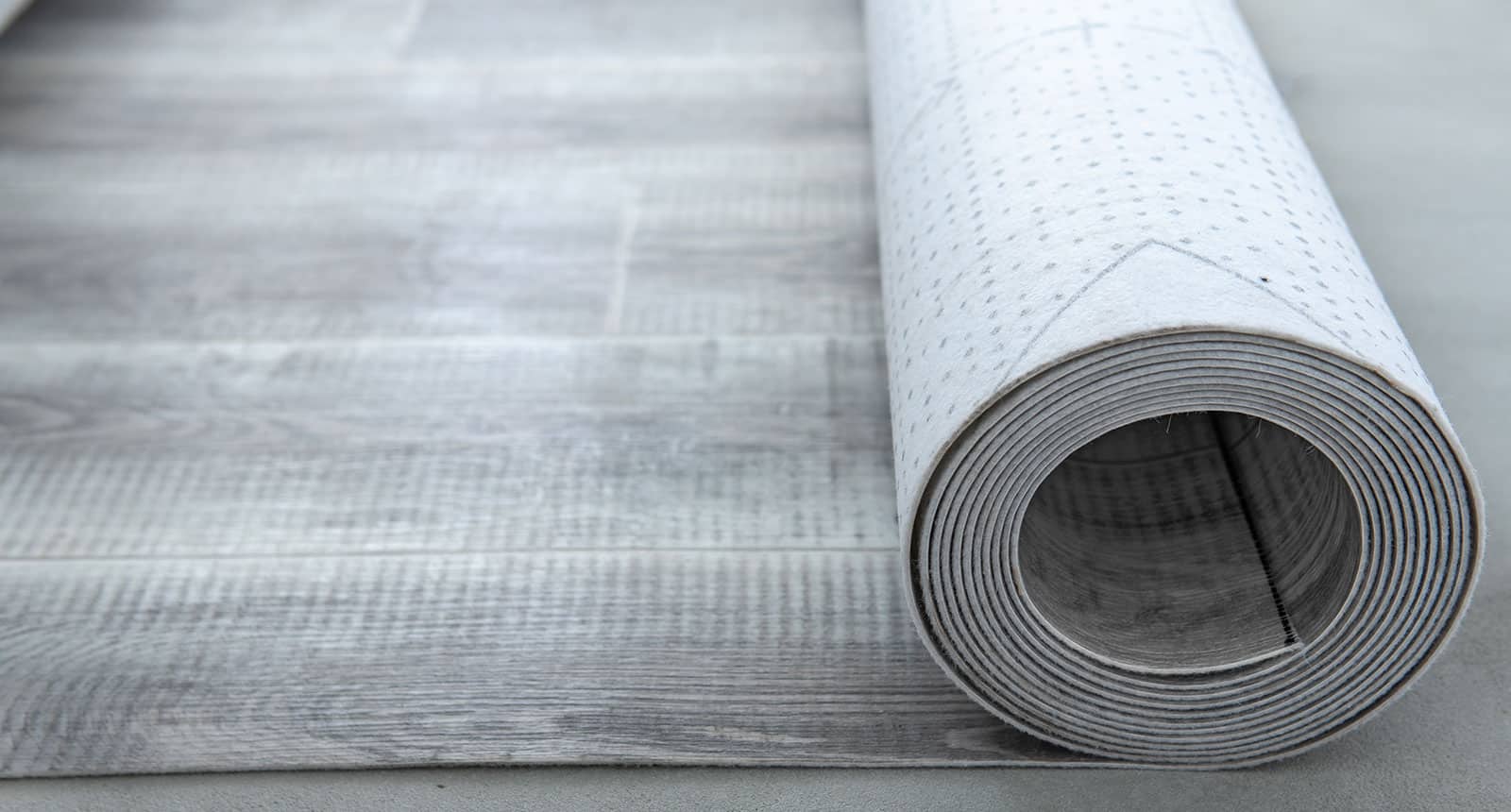 Today's vinyl floors come pre-treated with stain-resistant finishes that facilitate easy cleaning. A simple sweep with a wet mop is usually enough. However, when you need extra cleaning power, consider some of these homemade alternatives.
Baking Soda Cleaner
To get rid of stains, mix a few tablespoons of baking soda with water to form a thick paste. Apply to the stained linoleum and rub with a soft cloth. The paste is sufficiently abrasive in getting rid of stains without affecting your floor's shine. If the stain is from marker or ink, wipe gently using plain isopropyl alcohol.
Apple Cider Cleaner
Apple cider vinegar is one of the best cleansers for linoleum. The vinegar's acidity cuts through dirt and grime without leaving a sticky buildup of wax or soap on your floor. If you want to make your linoleum floor with a shiny finish, add a few drops of baby oil to your apple cider cleaner.
Ingredients
1 cup apple cider vinegar
3 to 4 drops of baby oil
1 gallon hot water
Pour the baby oil and apple cider vinegar into a bucket of hot water. Stir and let the water cool a bit. Dip the mop in the solution and wipe the floor. Pour hot water into a separate bucket and use it to rinse the mop and eliminate any residual dirt from the floor.
The acidity of the vinegar cuts through and eliminates dirt without leaving a soapy residue. Baby oil on the other hand functions as a floor polish that leaves your floor surface shiny. You will want to use baby oil instead of wax polish paste which leaves a film that accumulates over time.
Vinegar And Liquid Dishwashing Soap
If you prefer not to use baby oil and want something with less of a vinegar smell, try this vinegar and liquid dishwashing soap cleanser instead. Vinegar and dishwashing liquid will remove any oily residues from your linoleum and leave your floors sparklingly clean.
Ingredients
2 cups warm water
½ cup of white vinegar
¼ cup of isopropyl alcohol
5 to 10 drops of your preferred essential oil
3 drops liquid dishwashing soap
Combine all the ingredients in a huge bowl or glass spray bottle using your preferred essential oil for fragrance. Citrus scents are especially effective. Shake the solution, spray some on the floor, and spread with a damp mop.
Do not substitute the liquid dishwashing soap with Castile soap as it can leave your floor with streaks and smears.
Deep Cleaning with Pure Vinegar. See how you can do a deep clean vinyl floor with a pure vinegar solution.
The Bottom Line
Whether you're a DIY diva or it's your first time to try homemade floor cleaners, these easy-to-follow recipes help you take care of your floors and keep them looking as shiny and beautiful as the day you bought them.
Chances are you already have most if not all of the ingredients with you. With homemade floor cleaners, you control what goes on your floors. You can choose the scent and the cleaning agents you want to use.
If you are interested in finding out what else you can clean with homemade solutions, you can check out our article on Natural Home Cleaning Recipes That Work.
Did you find this article useful? Let us know by liking and sharing our articles, or leave a comment at the end.