The more often you wear your ring, the more quickly you notice how it changes from a shiny look to a dull appearance. It's an obvious sign that you need to clean this piece.
Although you love your jewelry so much, you may hesitate to think about periodically bringing them to a professional cleaning service. This might require both your time and money.
I suggest you try cleaning your own jewelry at home with 8 simple homemade cleaners that can blend yourself in less than 5 minutes with most of the everyday household ingredients right in your pantry cabinet or refrigerator.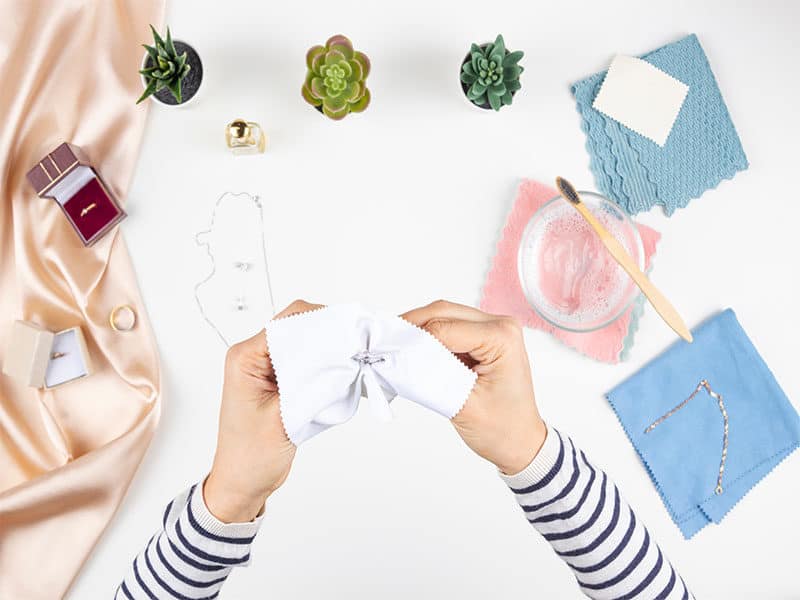 I have included detailed information about products and step-by-step instructions depending on different types of jewelry so that you can jump to a specific part of my cleaning guide.
Here's a guide you can trust to keep your precious jewels sparkling:
Homemade Jewelry Cleaners to Try in 2021
Where To Begin?
If you want to try homemade jewelry cleaners, you need to learn about the commonly used ingredients and how to use them. This will make it easier for you to choose the right recipe depending on the types of jewelry and available ingredients later
Common Household Ingredients For Homemade Jewelry Cleaners
1. Ammonia
Ammonia is one of the best cleaning methods to restore jewelry to its original condition. Some people might hesitate because of its strong characteristic, but it can remove curd, stains, grimes from your things and make them spark when appropriately used.
Use For: Gold, silver, and diamond
How to use:
Step 1: Mix half a cup of ammonia with a cup of warm water in a bowl.
Step 2: Place your jewelry into the mixture in about 10 minutes.
Step 3: Use a soft sponge to wipe it down gently, then dry it with an absorbent cloth.
Note: The above cleaning solution is not made for pearl because it could damage the polish surface of this type of jewelry.
2. Baking Soda
Use For: Silver
How to use:
Step 1: Blend baking soda with water to form a thick paste.
Step 2: Take a fair amount of paste by soft cloth and apply on jewelry that needs cleaning.
Step 3: Pat lightly to polish the jewelry, then rinse to clean off all the solution.
Step 4: Buff the piece until it dries.
Let's watch this video to see how easy you can clean silver using baking soda
3. Beer
Some chemical-free cleaning solutions are suitable for all types of jewelry; beer is one of them
Use For: All types of jewelry except for pearl
How to use:
Step 1: Pour some beer onto a clean cloth.
Step 2: Rub it all over the item in a slight way.
Step 3: Take another dry towel and wipe your jewelry until it's spotless and dry.
4. Club Soda
Another item you can find in your pantry which is great for cleaning silver, diamonds, and other gemstones is club soda. Acid citric and bubbling carbonation in club soda could loosen the gunk, remove buildups and make your items shine again
Use For: Silver, diamond, and gemstones
How to use:
Step 1: Place your diamonds, emeralds, garnets, sapphires, aquamarines, rubies into a small bowl.
Step 2: Pour club soda on top and let the jewelry soak overnight.
5. Denture Tablets
It is most likely that you will have a box of denture tablets somewhere around the house, and in this case, they will come in handy because in addition to teeth cleaning, it can also polish jewelry.
Use For: Silver, diamonds, gold, and not for pearl, lapis, emerald, and turquoise
How to use:
Step 1: Drop a denture tablet into a glass full of warm water.
Step 2: Put your jewelry into this solution and wait until the bubble stops.
Step 3: Rinse with clean water and dry thoroughly with a soft cloth.
6. Ketchup
Believe it or not, ketchup can be a life-changing household cleaner that will surprise you when bringing back the luster of your jewelry. However, you should follow the timing instruction so that you won't damage your items.
Use For: Silver
How to use:
Step 1: Squeeze a small amount of ketchup into a plate.
Step 2: Sink your item in the dish and allow it to stay for 10 minutes.
Step 3: Remove the jewelry and gently scrub it with a soft toothbrush.
Step 4: Wash off all the paste with lukewarm water.
7. Vinegar
Vinegar is an old and natural cleaning remedy that will be a brilliant alternative for many chemical, store-bought cleaners, especially for people who love eco-friendly products
Use For: Silver and gold
How to use:
Step 1: Create a mixture of vinegar, baking soda, and tea tree oil in a mason jar. As you might know, tea tree is well-known for its antibacterial and antifungal properties, which make it a perfect ingredient for a cleansing solution.
Step 2: Drop your things that need cleaning into the jar and let it bathe overnight for optimal result.
Step 3: Take them out and rinse under the tap using a small strainer.
Step 4: Blot them until dry with an absorbent towel and put them away.
8. Vodka
Vodka turns out to be an effective cleaner which you might not realize until reading this article. Vodka can remove stains, grease, and dirt from jewelry as potent as vinegar, thanks to high ethanol content.
Use For: Diamonds, emeralds, sapphires, rubies, and crystalline gemstones
How to use:
Step 1: Collect your dull-looking jewelry and put them in a bowl.
Step 2: Fill the bowl with vodka until everything is submerged completely.
Step 3: Use your hand to gently stir the vodka to get the cleaning effect quickly.
Step 4: Dry it off.
9. Window Cleaner
Not only can a window cleaner clean your windows, but it's also great for your bling. Due to their cleaning properties, these household products help you to get rid of dirt buildups and oil accumulation as easy as pie
Use For: Silver, gold, diamonds, rubies and crystalline gemstones
How to use:
Step 1: Spray your bling with window cleaner. Clean one item at a time.
Step 2: Use a kid toothbrush to scrub gently until your jewelry becomes bright again.
10. Dish Detergent
Looking for a simple, DIY way to bring the luster of your jewelry back? Dish detergent might be a good option which comes in handy in your pantry
Use For: Silver
How to use:
Step 1: Mingle a few drops of dish soap with warm water.
Step 2: Soak the jewelry deep into the homemade solution and allow it to sit for a few minutes.
Step 3: Rinse off with clean water.
Step 4: Wipe down gently with an absorbent cloth.
Homemade Jewelry Cleaners For All Types of Jewelry
Let's start cleaning your precious accessories with a comprehensive guide based on different types of jewelry
Homemade Jewelry Cleaners For Silver
Silver can be characterized as soft and delicate so it requires gentle care. Usually, people will not periodically clean, but keep wearing their pieces of jewelry until they show signs of tarnish, especially with well-used items. Luckily, homemade silver cleaners are quick and simple to prepare
The below method can also be applied to gold jewelry.
What You'll Need
Instruction:
Step 1: Mix dish soap with warm water to create a mixture.
Step 2: Drop your things into the solution and wait for a few minutes.
Step 3: Wash them with water to ensure there is no soap left.
Step 4: Blot dry and store properly.
Homemade Jewelry Cleaners For Sterling Silver
Unlike pure silver, sterling silver seems to be more durable due to the fact that it contains a small amount of copper, but it can get tarnish faster. As such, dish detergent and water might not do the trick.
In this case, you could try the homemade cleaner with lemon and olive oil as below:
What You'll Need
A soup bowl
Lemon
Olive oil
A microfiber cloth
Instruction:
Step 1: Squeeze half a lemon into a small soup bowl.
Step 2: Add a tablespoon of olive oil and stir well.
Step 3: Use a microfiber cloth to absorb the cleaning solution and rub evenly on the  jewelry.
Step 4: Once your item looks shinier, rinse it under water and dry it thoroughly with a soft cloth.
Homemade Jewelry Cleaners For Gold
To keep your pieces of gold jewelry last long, you should be cautious in terms of sanitization. You can trust a professional jewelry cleaner, experiment with some jewelry steam cleaners, or you can also make your own mixture to perform this task based on the proven results.
Here is your guide for a reliable DIY gold cleaning solution if you are interested:
What You'll Need
Warm water
Dawn dish detergent
Ammonia
A toothbrush
Instruction:
Step 1: Drop a bit of Dawn into a bowl of warm water and mix well to create a soapy liquid.
Step 2: Add a dash of ammonia.
Step 3: Use this mixture to clean your item with a soft toothbrush.
Step 4: Rinse well under warm running water to wash off dish soap and ammonia.
Step 5: Blot dry with a clean cloth.
Homemade Jewelry Cleaners For White Gold
White gold appears a bit sensitive because you not only have to clean it but also protect the outer layer, as known as rhodium plating, which gives jewelry the shimmering white look.
Improper cleaning could make the rhodium layer vanish quickly. Let's find out the right way to handle your white gold rings, necklaces, or earrings here
What You'll Need
Mild washing-up liquid
Warm water
A brush with soft bristles
A glass jar
A small strainer
Instruction:
Step 1: Add few drops of mild washing-up liquid into a glass jar full of warm water.
Step 2: Place your pieces of jewelry into the jar and wait for about 30 minutes.
Step 3: Add extra cleaning power for long-neglected items by using a soft brush.
Step 4: Place them in a small mesh strainer and put under the faucet for thorough cleaning.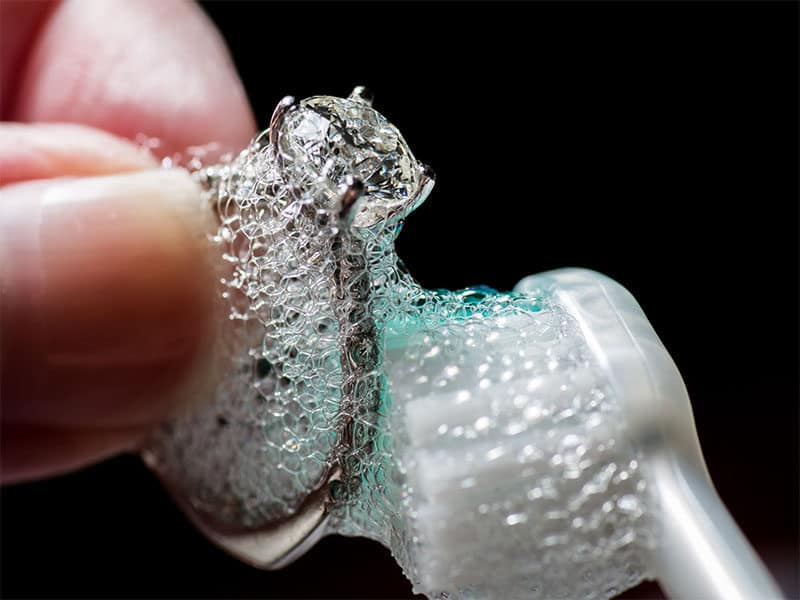 Homemade Jewelry Cleaners For Diamond
Despite the fact that diamond is known as the hardest gemstone, you still need to handle it with care to avoid any unwanted problems when cleaning. Some might opt for Connoisseurs 1050 jewelry cleaner , which fits into your purse and works amazingly, while some prefer a quick-to-prepare and straightforward cleaning formula as below:
What You'll Need
Instruction:
Step 1: Put your bling in a bowl.
Step 2: Fill the bowl with one cup of ammonia and one cup of water.
Step 3: Let the solution take effect in 30 minutes.
Step 4: Wash off with clean water and pat dry with an absorbent cloth.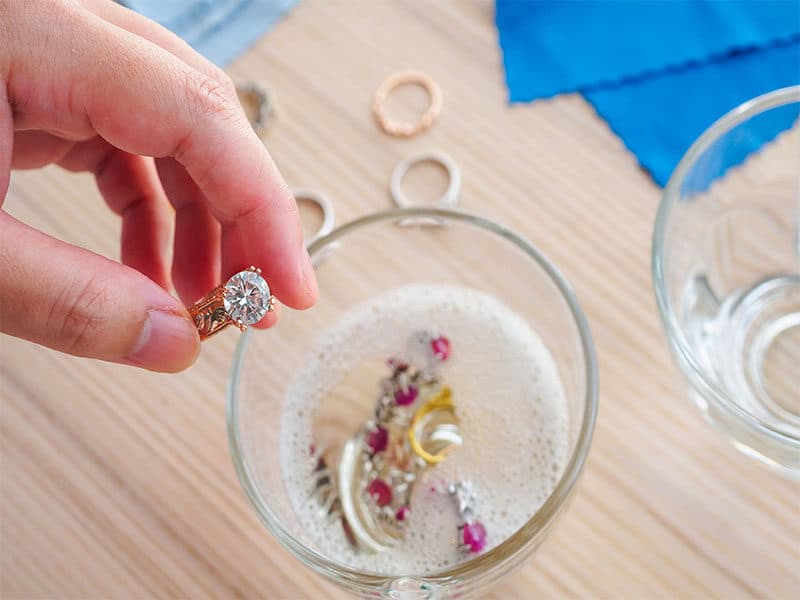 Homemade Jewelry Cleaners For Pearls
Real pearls are porous and organic material that can be damaged easily, so harsh chemicals and brushing action are not suitable in this case. Under no circumstances should pearls be soaked into a cleaning solution as this can cause luster loss or strand damage.
Here is a step by step disinfecting guide that you can follow to protect your pearl jewelry as you clean
What You'll Need
Soft microfiber cloth
Lukewarm water
Dish soap
Instruction:
Step 1: Create a mixture of dish soap and water.
Step 2: Dip a corner of a microfiber cloth into this solution and rub gently.
Step 3: Dampen a cloth with clean water and wipe off the soapy layer.
Step 4: Let pearls air dry.
Homemade Jewelry Cleaners For Costume Jewelry
Similar to pearls, costume jewelry can also be cleaned simply with warm water and dish detergent
What You'll Need
Warm water
Dish soap
Hand towel
Instruction:
Step 1: Soak a small hand towel into soapy water.
Step 2: Dab the cleaning solution on each item's surface slowly to restore its spark.
Step 3: Rinse well and dry it thoroughly.
The video will list several ways to clean costume jewelry so that you can feel free to choose depending on what you have in your pantry right now
Homemade Jewelry Cleaners For Gemstone-Studded Pieces
Gemstone-studded jewelry looks more classy and attractive thanks to the presence of many colored gemstones, such as opals, rubies, tourmalines, topazes, and more. If you own a lot of this type of ornament, then make sure you know how to clean it in the right way.
Remember not to soak it in water, or you run a risk of ruining your pieces in the long term due to rust.
What You'll Need
Warm water
Dish soap
Hand towel
Instruction:
Step 1: Apply soapy water to the jewelry.
Step 2: Use a toothbrush to remove smudges and grimes gently.
Step 3: Clean it off with tap water.
Step 4: Blot it dry before storing.
How Often To Clean Your Jewelry
People often don't understand why the jewelry they wear becomes dull. It's because everyday activities accumulate oils, lotions, creams, soaps, grimes and make your jewelry dirty and less sparkling. For the sake of your things, you should clean them periodically.
Cleaning every two weeks to disinfect your pieces from germs and keep them in the best condition
Give them a deep sanitization once a month so that you can wash off any dirt and grimes that are missed at the last cleaning
You might want to bring your jewelry to a professional cleaning service every 6 months, especially if they are items of great value
Useful Tips When Cleaning Jewelry
These tips will have you carry your cleaning task safely and effectively right in your house
Never forget to close the drain before washing your jewelry. This avoids dropping the item and not be able to see it again
Don't be in a rush to clean your jewelry because if you use too much effort to scrub them, it will make them more susceptible to scratches and damage
Gemstone-studded pieces might need extra care when cleaning
If you are not confident with homemade cleaners, you might want to ask for help from a professional service
Bonus Tips For Properly Care For Your Jewelry
To keep your favorite accessories bright and sparkling, you could consult simple tips on caring for jewelry below
Avoid exposing your jewelry to chemicals such as those found in cosmetics or hair sprays and perfumes. Hence, you should remove rings, bracelets, necklaces as well as earrings in these cases to keep your jewelry free from staining.
The same thing happens when you go swimming, the chlorine in the water also affects your items' luster. Please store them carefully in the locker before swimming
You should also remove them when participating in outdoor activities such as sports, gardening, and vigorous-intensity activities to avoid scratching them
Wear pearl and silver pieces regularly to maintain their shine
FAQs
To give your sparkling items the care they deserve, it's essential that you discover any problem related to homemade jewelry cleaner so that you can gain more confidence when handling them yourself
Homemade Jewelry Cleaners – The Truth
The truth about homemade jewelry cleaners is that they are not only easy to prepare but also perform well in most cases. You should have no trouble following the recipes I introduced above because the ingredients are available around the house.
If you prefer the simple method, then just using warm water (not too hot and too cold) and a few drops of dish soap will probably remove most of the buildups on the surface of jewelry and make them spark again.
Homemade cleaning solutions are without harsh chemicals and budget-friendly, which you can use every two weeks to maintain your precious items' original condition.
What do you think about homemade jewelry cleaners, and have you ever tried any recipes I mentioned in my article? Let me know by dropping some lines in the comment section, and see you soon in another cleaning post!