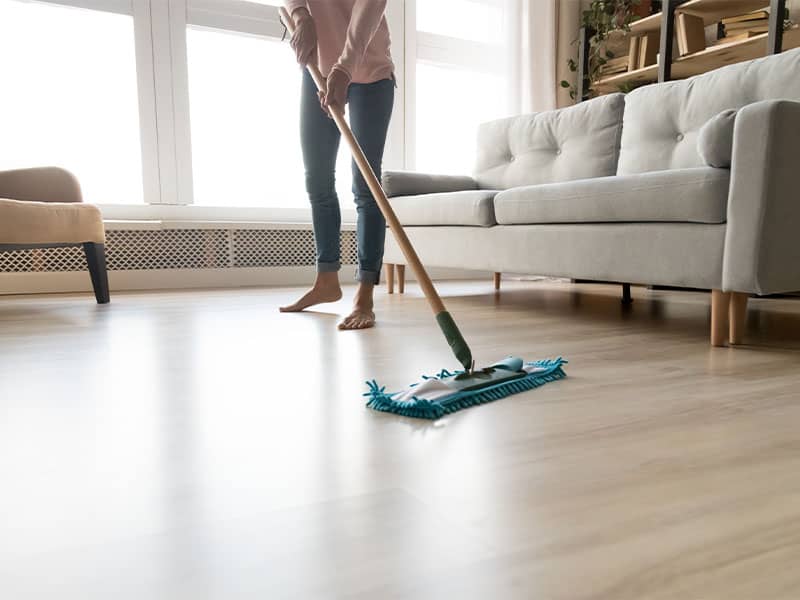 Laminate floors resemble other types of flooring. However, they require a different cleaning treatment. This is where my homemade laminate floor cleaner steps in and saves your money.
Laminates are made of a type of resin with a transparent protective coating on top, so they don't handle wetness. That's why you need a cleaner that evaporates quickly and provides a nice shine.
In today's article, I will share a recipe for a laminate floor cleaner that you don't want to miss. It's a safe and effective cleaner that you can make using common ingredients from your kitchen.
What is the Best Homemade Laminate Floor Cleaning?
The perfect duo including rubbing alcohol and vinegar can help disinfect and deodorize laminate floors. The following cleaning solution evaporates quickly without leaving streaks or pooling.
Ingredients
1/2 cup distilled water
A laminate floor mop
5 drops sweet orange essential oil
1/2 cup rubbing alcohol
A glass spray bottle
1/2 cup white vinegar
What Do These Ingredients Do?
Water loosens grime and helps the other ingredients blend. Vinegar, on the other hand, degreases and provides mild disinfection. It's safe for laminate floors since it's not acidic enough to cause damage but if you have any concerns, skip the vinegar.
Rubbing alcohol (70%) speeds the evaporation to prevent streaks. It also degreases and helps disinfect. If you have 90% isopropyl alcohol on hand, use it. However, keep in mind that it may evaporate quickly and leave streaks. Add more water to dilute it.
If you can't find rubbing alcohol at the store or pharmacy, you can use some liquors for it instead. When using liquor to clean, it should be 120-proof, having at least 60% alcohol.
Most people choose vodka but it's not suitable because it's only 80-proof or less. Use liquors are known as a "rectified spirit" or "neutral spirit" since they're high in ethanol alcohol.
Pick a clear, unflavored product when substituting liquor for rubbing alcohol in various cleaning recipes. Flavorings contain sugars and other ingredients that attract pests.
Essential oils can help you clean your home but they're optional ingredients to cover the odor of rubbing alcohol and vinegar. Add a few drops of orange essential oil to your floor cleaner.
If you have kids or pets, check the safety of any essential oils you use. Make sure they aren't dangerous. Orange essential oil helps fight grease and adds a note of freshness.
Instructions
Mix all the ingredients in a bowl.
Place the mixture in a glass spray bottle or the solution tank in a laminate floor mop.
Spray your laminate floors with the mixture and mop up, making sure no mixture is left to enter the cracks. This homemade laminate floor cleaner is good for a month.
Use a soft bristle broom to collect dust and hair before washing your laminate floors. Then, take care of dried stains and spills by blotting them with a clean microfiber towel.
For tough stains like wax, grease, or dried food, apply an ice pack on top of the stains for a few minutes. Then, scrape them off with care. Finally, wash your floors to remove lingering grime and dirt.
I highly recommend buying a spray laminate floor mop for the best results. A mop and bucket will do the job. However, using a professional, refillable laminate floor mop comes with a lot of benefits.
For instance, it's super-versatile! Meaning, you can use it for different types of floors. And doesn't make a whole mess like mops and buckets do. After washing, go over your floor with a dry mop/cloth.
Every 6 months or so, you can utilize a steam mop for a deeper clean. Make sure to dry your floor right away with a dry microfiber cloth or mop to prevent any water from entering any gap or crack.
Extra tip: Although this homemade laminate floor cleaner is 100% natural and safe, I would recommend that you relocate your pets to another area while washing your laminate floor. Once it's completely dry, your laminate floor is safe for your pets. Also, opt for pet-friendly essential oils.
What is the Best Thing to Wash Laminate With?
Cleaning laminate floors is a walk in the park with the right tools. The following key points will teach you how to clean laminate floors and highlights some of the tools you need to get started.
Microfiber Mop
The first tool you need for a successful cleaning is a microfiber mop for laminate floors. These tools glide across the floor lofting dirt and hair with ease. Opt for a model with a swivel head.
I like mops because they cover larger places, get under chairs and tables easily, and need less water than a regular mop and bucket which is great since laminate floors wrap easily if overwet.
Cleaning Solution
You can either purchase a professional cleaning solution or prep one yourself. Either way, you will need a spray bottle to spray the cleaning solution onto the mop pad.
If you have free time on hand, follow the next recipe for homemade laminate floor cleaner that does the job.
It's the perfect choice for cleaning high-gloss laminate floors.
Ingredients
1 squirt of liquid dish detergent
3 parts water to 1 part vinegar
Mix all the ingredients in a spray bottle
Instructions
Preparing a homemade cleaning solution will save you from ever needing to buy a commercial laminate floor cleaner.
First and foremost, vacuum your laminate floor with a vacuum cleaner for laminate floors to suck up the large dust bunnies and pet/human hair.
Then, dampen your microfiber pad with lukewarm water. Spray the cleaning solution of your preference or place it in your regular mop and start mopping.
When your microfiber pad gets super dirty, rinse, replace and keep going! When you're done, throw the pad in the washing machine on a sanitary wash.
Extra tips
Cleaning laminate floors with sponge mops or string mops will take you longer and leave streaky marks. They utilize a lot of water which makes it easier for water to sink into the gaps.
And if that happens, it can warp the floor over time. No matter what the seller told you about their item unless it's a special water-resistant laminate flooring with waxed corners, I wouldn't recommend using a sponge or string mop for cleaning. Invest in a high-quality mop for better results.
Do's and Don'ts of Caring for Laminate Floors
I've been taking care of my laminate floors for years and learn a few useful tips and tricks along the way. If you're a first-time parent of laminate floors, apply these tips in your cleaning process.
Do's
Use mild products and soft tools when cleaning your laminate floor. Otherwise, you can damage the surface.
Blot up larger liquid spills with a paper towel, dry cloth, or sponge. Don't let spills remain on the floor for too long. Otherwise, they could cause warping.
Don'ts
Avoid sponge and string mops that require a lot of water. Keep in mind that water compromises the core-board. And if moisture gets inside the gaps, it will cause your floor to warp.
When washing your laminate floor, don't soak the mop pad. Dampen it instead and get cleaning.
Do you know that laminate floor isn't real wood? Meaning, you should NEVER wax it. It can't be tempting to do so but it's not something laminate floors need. They have shine without any wax. However, polish yours with a high-quality laminate floor polish for extra protection.
Don't utilize anything with chemicals that promotes shine. It's not only harmful to your laminate floor but also for your pets and kids. Avoid abrasive cleaners and bleach too!
How to Remove Stains from Laminate Floor?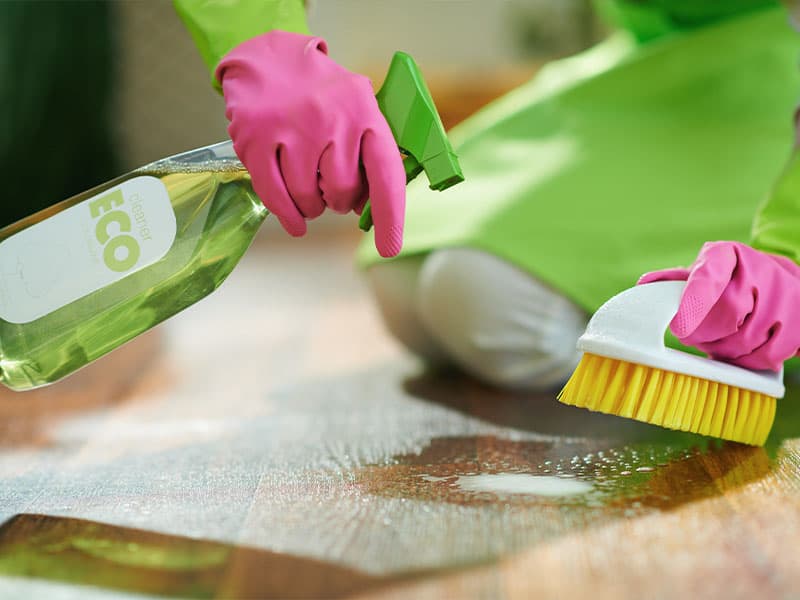 Laminate floors aren't stain-resistant. However, fast action will prevent any stain from setting in. Here is a shortlist of common stains and how to remove them successfully.
Bloodstains
Blood is a tricky stain but can be successfully cleaned with a warm damp cloth and a window cleaner. It's a simple but super-effective solution that can come in handy in different situations.
Chewing gum
Use a plastic knife or something else that's not metal to lift the gum and prevent scratches. Once you're done, clean the residue with a soft and clean cloth dampened with mineral spirits.
Crayon
If you have small children, crayon stains are something that you will likely encounter soon. If that occurs, use a damp cloth dampened with mineral spirits to rub away the stains.
Grease
Freeze the stains with an ice pack until they harden. Then, scrape off with something plastic. Lastly, wipe the residue with a damp cloth and a window cleaner.
Ink
First and foremost, wipe as much ink as you can with a damp cloth. Then, apply a little bit of detergent if you're dealing with a stubborn stain. If this doesn't help, purchase a commercial ink remover. Make sure to wipe up with a clean damp cloth once you're finished.
Nail Polish
The answer is pretty obvious, isn't it? The good old nail polish remover will do the trick. However, make sure to wipe up with a clean cloth dampened with lukewarm water once you're done.
Coca-Cola, Red Wine, Scuffs, and Heel Marks
If you spill Coca-Cola or red wine, just wipe with a damp cloth. Heel marks and scuffs, on the other hand, can be rubbed off with a pencil eraser.
7 Things to Avoid When Cleaning Laminate Floors
Laminate floors don't require special care. However, certain techniques and tools can make the cleaning process a lot easier. Here's a short list of things to avoid when cleaning laminate floors.
When cleaning different stains, avoid abrasive tools such as stiff brushes and steel wool because they cause scratches and will damage the protective coating.
Avoid waxes because they will make your floor slippery and create a filmy residue. They can also dull the shine and attract dust and dirt. Instead, utilize vinegar and rubbing alcohol to clean your laminate floors and restore their shine.
Never utilize ammonia. It's a super-effective stain remover. However, it's not good for laminate floors. The strong chemical can strip the protective layer and cause damage.
Don't use steam mops every day or regularly. They can be utilized every six months for a deeper clean. The moisture from the steam can enter the seams and cause damage from within.
Laminate resembles hardwood. However, it's quite different. You can sand hardwood to restore the top or refinish it but you can't do it on laminates. If you try to sand it, you will strip away the protective coating and make irreparable scratches.
Avoid scuff marks and wear. Use rugs and doormats to protect your laminate. They will also help to keep dirt outside and even act as a reminder for guests to take off their shoes.
I strongly advise against declawing animals. Trimming their nails is more humane. Laminate isn't scratch-proof. Therefore, trimming your pets' nails will prevent scratches.
Keep it Clean and Shiny
Preparing a homemade laminate floor cleaner is easy! And cleaning with this solution is even easier and 100% safe for you and your laminate floors. I use this DIY laminate floor cleaner myself.
It costs a fraction of the store-bought products that contain chemicals and toxins. You don't need that in your home. If you liked this article, you will love my other DIY cleaning guides, tips, and tricks.
If you have any questions or want to share your tips and tricks, feel free to drop a comment below. Also, don't forget to share this valuable information with your social medial friends and family.