Many people do not know that, but there is no need to buy expensive cleaning solutions to mop your floor. Indeed, you can create an effective cleaning solution by yourself without costly or fancy ingredients.
I have prepared five different homemade mopping solutions, which are quick to prepare and simple to make. All solutions are perfect for both spot cleaning but also the full floor, general cleaning.
One of the great advantages of homemade solutions is that most of the recipes are very flexible. If you are short of one ingredient or prefer not to use it, you can replace them easily with something else.
Hence, I have prepared both detailed recipes and ideas on how you can flexibly substitute ingredients.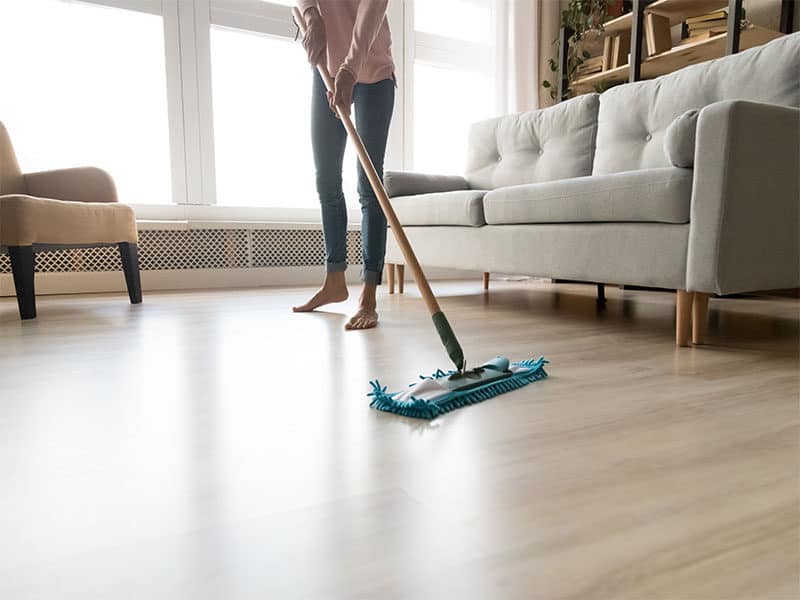 Benefits Of Homemade Mopping Solutions
Mixing the mopping solution by yourself instead of buying a ready formula, you have the great advantage of knowing exactly what is inside. This is the best way to ensure that you are not bringing too many chemicals into your home.
You can perfectly control the ingredients and prepare a mixture that is a perfect balance between effectivity and healthy or safe ingredients. Furthermore, you can save money as you are using ingredients that you already have at home.
Also, keep in mind that you can prepare the solution in a quantity or volume that suits your cleaning needs. If you buy mopping solutions, you often have to buy big bottles and then keep them sitting in some bathroom cabinet. This is especially painful for special purpose cleaners, where you only need a very little amount occasionally.
Finally, you do not need to worry about allergies. As you control the ingredients, you can keep everything outside to which you may develop an allergic reaction. So especially if you suffer from allergies or are a very sensitive person, developing your mopping solution at home can be very beneficial.
The 5 Best Homemade Mopping Solutions
Now I will share with you the five best homemade mopping solutions. Some are a bit lighter, while some can still be very aggressive, so make sure you read about which purposes the formulas are suitable for.
Method 1: Plain Vinegar – Simple And Cheap
The probably most cost-effective way is to use plain vinegar. In this case, I always suggest white vinegar to avoid that colors might be transferred to your floors. Vinegar is a great, natural way to disinfect surfaces.
Some people might feel the vinegar scent to be bothersome; however, it will quickly disappear. Simply open the windows after mopping, and a few minutes after, all traces will fade away.
In addition to removing bacteria, vinegar can also perfectly remove annoying stains or smells, such as pet urine. Depending on how strong you need the formula, you can choose from three different mixture recipes.
The simplest way is to mix 1 gallon of water with half a cup of distilled white vinegar. You can make it a little more effective if you add two tablespoons of gentle dish soap. To cover up the vinegar smell, you may also add a few drops of lemon juice.
However, make sure that the water is not too hot, as hot water in combination with lemon juice will create Hydroxymethylfurfural, which is thought to cause cancer.
In addition to working well on hard floors as a mopping solution, you can also use vinegar in combination with baking soda to clean stains from carpets.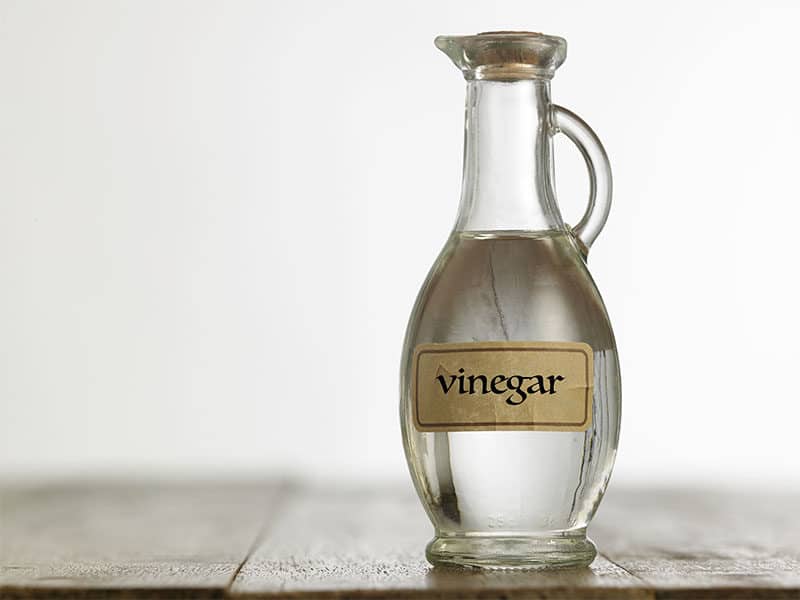 Method 2: Gentle Dish Soap – Always At Hand
I bet almost everyone has to dish soap at home. Therefore, it is a great ingredient for a homemade mopping solution, as you do not need to buy anything extra. Just quickly check that it is a mild and gentle version, then you can use it on almost every floor type.
You can mix 3 cups of filtered water with a fourth of a cup of gentle dish soap. It is important to dilute it, as otherwise, you might get a sticky film above your floor.
If you have some very resistant stain on your floors, you may also try the more advanced formula to mix the fourth cup of dish soap with only two cups of water and add two cups of white vinegar and a little lemon juice.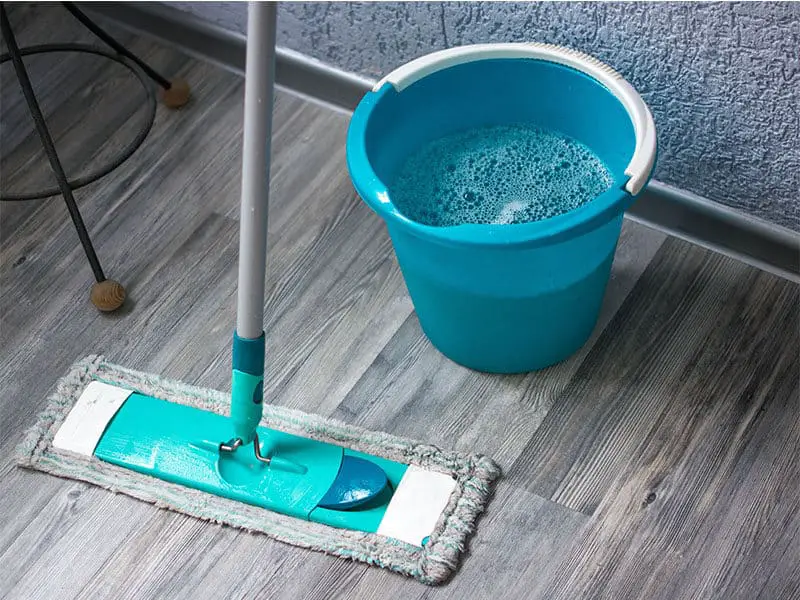 Method 3: Alcohol – Kills Almost All Kind of Bacteria
Alcohol, in a high concentration, is another natural disinfectant and will kill viruses, bacteria, and other types of microorganisms. Besides, it is a great liquid to solve very resistant stains. This makes it a great tool to mop kitchen floors where you might have spilled food on the floor.
Furthermore, many of us do have alcohol at home, most often in the form of medicine alcohol to disinfect wounds. Hence, you can get started mixing your cleaning formula immediately without running to a shop again.
Nevertheless, if you plan to use it on a more sensitive floor, you should try it out first on a spot that is not very visible. As alcohol can be very strong, it could, under some circumstances, destroy the top layer of the floor finish.
If this happens, you need to dilute it further to weaken its power. You can follow the recipe that I have tested for you. Simply mix one cup of rubbing alcohol with a gallon of filtered water.
A much stronger solution consists of filtered water, rubbing alcohol, and white vinegar, mixed in equal parts. However, please keep in mind that this is very strong, and you should make sure that your floor will not take any damage from that. If you are unsure, test the light formula above first.
Method 4: Window Or Glass Cleaner – Good Against Fatty Surfaces
If you have a lot of glass surfaces at home, such as shower doors and windows, you might already possess a window cleaner solution. Those solutions are great for removing dried fat while at the same time creating a shiny finish on windows.
However, many people do not know that those cleaners also create that shiny finish on others, even surfaces, such as laminate or hardwood floors, and tiles. The great thing about window cleaners is that their formula often is designed not to leave any streaks.
Hence, if you are not experienced in moving the mop on the floor, this can work well for you if you do not want to see streaks on the floor in the sunshine.
You can mix window cleaner for tiles and vinyl floors on a 1 to 1 ratio with clean, warm water. For laminate or sealed wooden floors, you need a little thinner mixture. Therefore, you can take a half-gallon of water and mix it with one-fourth of a cup of window cleaner.
If the cleaner does not come with a scent already, you can add a few drops of lemon juice to get a fresher air feeling in your home.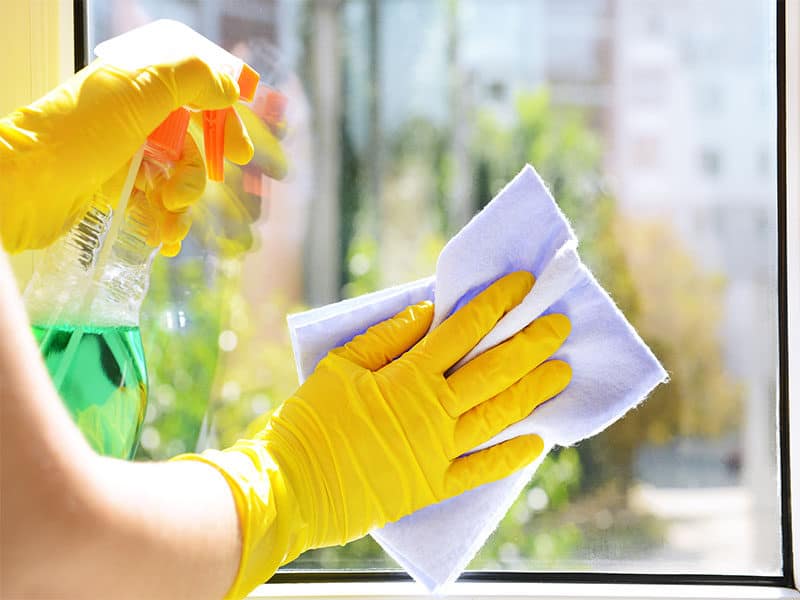 Method 5: Super Power – The Ultimate Solution To Get Rid Of (almost) Anything
Sometimes, there is a very resistant stain on our floors that simply does not want to go away with the popular cleaning solutions people have at home. However, I can calm you down; you do not need to become desperate about what to do with your floor.
I have a very strong, almost secret recipe for you to help you eliminate the annoying spot on your otherwise clean and shiny floors. Mixing various of the above ingredients, you are preparing a very strong juice of acids.
Hence, make sure that your floors can withstand that. Usually, tiles are very tough when it comes to cleaning solutions. Therefore this should not become a problem.
More sensitive floors, such as wooden floors, laminate, and PVC, may, however, not cope with this cocktail every time. I therefore sincerely urge you to try this mixture with a very small amount at an invisible spot first before applying it in full.
To prepare the solution, mix two cups of vinegar, together with two cups of clean water and two cups of rubbing alcohol. Furthermore, add a solid spill of dishwashing liquid. To obtain a fresh and comfortable taste in your home, you can add essential oils.
Lemon, Vanilla or Lavender are favorites among many people as it gives you a very fresh, and welcoming scent. However, you can choose almost any flavor that you like and feel comfortable with.
Finally, squeeze out one lemon to obtain the juice, but make sure that you keep the pulp outside from the mixture. Voila, you have a very strong solution for either a successful spot cleaning or for mopping dirty floors, such as after a party with spilled beverages.
Be Flexible With The Amount
The homemade mopping solution recipes in this guide are made to mix a solution that can last several uses. This way, you do not need to mix it all the time when you mop your floors. If you plan to use them for all-home mopping, you can follow the volumes and amounts from this guide.
If, however, you need a formula for some intensive spot cleaning, you can cut the amount in half, or even by four. For example, if the recipe mentions two cups, give only one or half a cup.
In this event, you should then also be a little careful when adding essential oils. These oils are often very strong in taste, and just a few drops are enough to mix with a gallon of water. Hence, if you make just a small amount of solution, try adding only one drop. Remember, you can always add more if you are not satisfied with the taste.
Which Floors Are Considered Sensitive?
While tile floors are considered tough, you should be very careful whenever stone or marble is involved. For example, granite is very sensitive to vinegar, and it will start to erode. Hence, you cannot use vinegar for this surface at all, even if you dilute it with water.
However, you can easily substitute it with something that contains less acid, such as alcohol or lemon juice. In general, hardwood floors are quite sensitive as well. First, they cannot withstand water, which is why they should never be mopped too humid and always with a suitable mopping device.
These floors may also react to vinegar, depending on the type of wood. One good strategy is to dilute the vinegar even more than indicated in the recipe. Nonetheless, you may also replace vinegar with rubbing alcohol or window glass cleaner.
In addition to having an optimized mopping solution, you should also get suitable.
Why Are Essential Oils Used?
You might be wondering why some recipes contain essential oils. Some people are afraid that the fatty oils will remain with a slight but noticeable film on the floors. Indeed, if you are using too much, this may happen.
Therefore, it is good advice to only use a very small amount, diluted with a lot of water. In general, a few drops on a gallon of water are already sufficient.
How To Store Solutions
There are many different ways to store your homemade mopping solutions. The probably simplest way is to refill a plastic bottle from another solution that you have bought before. Most often, you can simply lift off the lid and then easily clean the bottle and refill it again.
Alternatively, you can use another type of bottle or container, such as a water bottle or a milk gallon. However, those usually have a wider opening, so you need to be more careful with pouring the solution into a bucket.
Finally, you can also use a glass box or a plastic box to store the solution. This way, you might be able to skip using a bucket as you can dip the mop directly in the box. However, in this case, you should only mix as much as you will use this time, as you cannot store the solution for long if you dipped the dirty mop in it.
No matter for which container type you decide, make sure that it can be fully closed. If air can get in, the ingredients may start to process or react with each other. As your homemade solution does not contain any preservatives, its shelf life is shorter than those you can buy.
Expectation Vs. Reality
As you can see, there is no need to buy special, expensive cleaning formulas. With just a very few ingredients that most of us have at home, you can create very effective cleaning solutions.
Furthermore, you can control exactly what ingredients are inside. Especially if you have allergies, you can make sure that the elements that cause your allergic reactions are not there.
You might find out that one of your homemade mixtures is not strong enough or not suitable for the floor. In this event, try out another one the next time. It is best to test and try homemade solutions until you find the one you like the most.
I hope that all my ideas and recipes for solutions are helpful to you. Let me and others know which one you like the most and how effective the keys are by dropping a comment.
If you know someone who is looking for ideas to make homemade mopping solutions, please kindly share this article with them. Good luck and enjoy clean and hygienic floors.