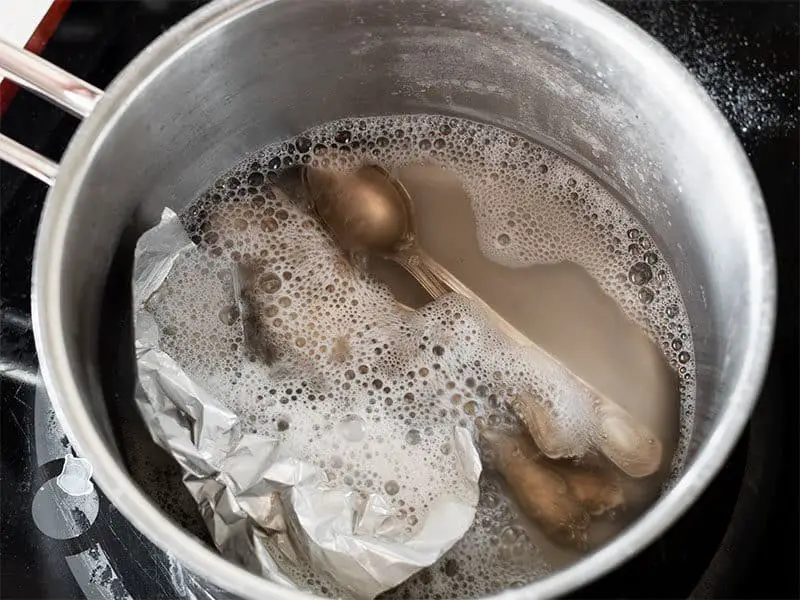 I love my silver jewelry but hate how tarnished it gets since I don't wear it that often and every time this happens, I utilize a homemade silver cleaner instead of a chemical jewelry cleaner.
Cleaning solutions cost a lot and have a strong smell. If you want to save money on a silver cleaner, stick around because I will share 15 non-toxic and cheap methods to polish silver.
Homemade Silver Cleaner: 15 Tested and Proven Recipes
I like the following cleaning recipes because they're easy to make, effective, and never fail. Also, I don't have to spend ages brushing, scrubbing, and polishing.
The best part? They include very common household products that you probably already have under the sink or sitting around your kitchen. That said, let's begin.
1. Aluminum Foil and Laundry Detergent
This combo is perfect for slightly tarnished silver jewelry or silverware. Line a small bowl with aluminum foil and add hot water. Then, add one tablespoon of liquid laundry detergent.
Still all the ingredients and drop your silver things inside. Let them sit for a couple of minutes. Take them out with kitchen tongs, rinse with water, and let them air-dry on a paper towel.
2. Aluminum Foil and Baking Soda
This mix is perfect for cleaning more than one silver item or big ones such as candlesticks, silver cutlery, or tableware. First and foremost, cover the base of a baking pan with aluminum foil.
Utilize glass or ceramic bakeware instead of metal ones to prevent unwanted chemical reactions. Apply 1,5 tablespoons of soda for every gallon of water. Bring to boil and place the silver inside.
Let it sit for 30 seconds. Take it out with kitchen tongs and let it air-dry on a paper towel. For build-up, tough tarnish, repeat the process. Never utilize this mix for something with gemstones.
3. Cornflour and Water
If your silver items have lost their shine, this mix can help. Prepare a thick paste of water and cornflour or cream of tartar and put it onto the silver. Let it dry fully. Then, rub it off with a dry towel to polish the surface and bring back the shine in your silverware and jewelry in record time.
4. Good Old Ketchup
Yep, ketchup has magical powers. And by magical powers I mean it will remove tarnish from silver items. This "recipe" is a super-convenient if you only have a few silver items to clean.
Just squeeze a couple of drops on a paper towel and gently scrub the tarnished items. If there's build-up tarnish, add ketchup straight onto these spots and leave it for about 15 minutes.
Afterward, rub with a microfiber cloth and rinse with lukewarm water. With fancy pieces like silverware and candlesticks with more details, use a soft toothbrush to get between them.
5. Hand-Sanitizer
Hand sanitizer is something we all have at hand because of the pandemic. It's a fast solution if you need to polish your silver jewelry on the go. Squeeze a small amount on paper.
Then, rub your jewelry with the paper. The slight tarnish will be gone and your jewelry is shiny and clean again. This method isn't suitable for jewelry with encrusted mineral stones.
6. Toothpaste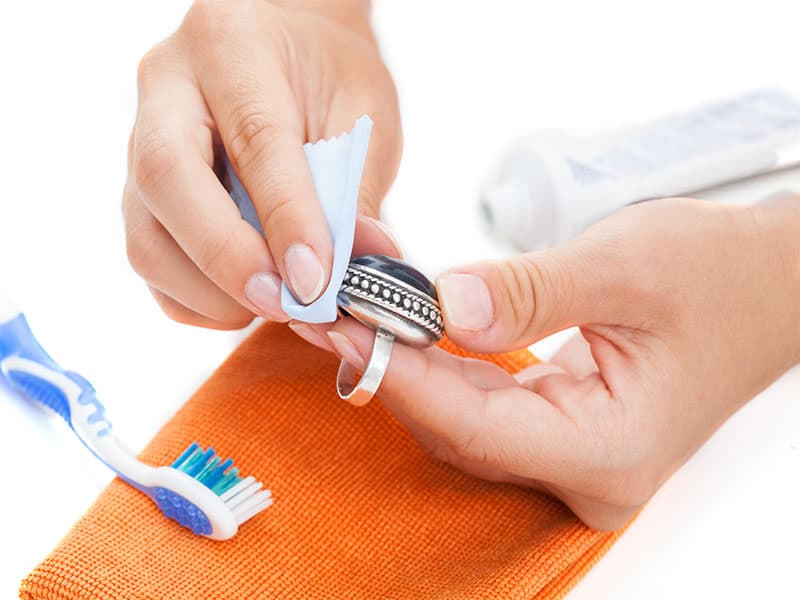 Toothpaste is a classic and easy cleaning recipe for silver. Utilize non-abrasive and non-gel toothpaste. Simply squeeze a small amount of your toothpaste on a paper handkerchief or a soft cloth.
Rub onto the silverware or jewelry with circular movements to clean off the tarnish and polish it. Let it sit for 10 minutes. Then, rinse off the toothpaste with warm water and repeat if necessary.
7. Lemon-Lime Soda
If your silver items got tarnished, soak them in a lemon-lime soda. Just pour the liquid into a bowl and let your silver sit in it for 60 minutes. After, rinse thoroughly with plain water and dry the jewelry with a soft cloth or paper towel. This recipe works only for slightly tarnished silver.
8. Window Cleaner
Window cleaners aren't just great for cleaning glass but also silver. Your usual window cleaner will take off dirt and bring back the shine of your silver items.
Spray a little on a clean cloth and scrub your jewels. Utilize a soft toothbrush to get into tiny details and ornaments. This method isn't suitable for antique silver.
If you own antique candlesticks, jewelry, cutlery, or silver accessories, avoid this method. These pieces can be very fragile, so it's best to buy a special cleaner.
9. Ammonia and Water
The ammonia and water mix is a simple way to brighten silver accessories, jewelry, and cutlery. Mix 2 parts of warm water and 1 part ammonia. Then, soak your silver in the mix for 10 minutes.
After, take your silver items out of the mixture, wipe with paper towels or a soft cloth. Then, buff with a dry cotton cloth to polish the top. This method isn't suitable for fragile antique silver jewelry.
10. White Distilled Vinegar and Baking Soda
Vinegar and baking soda cleaning recipes can clean more than your home. This mix is ideal for restoring the shine of your silver cutlery and jewelry. Place your silver in a bowl with distilled vinegar.
Add some baking soda into the bowl (4 tablespoons of baking soda for every cup of distilled vinegar). Let it soak in the solution for one hour. Rinse with warm water and dry with a soft cotton cloth.
11. Baking Soda and Water
If you're dealing with tough build-up tarnish, mix baking soda and lukewarm water. Then, add this dense paste onto your silver. Leave it for a few minutes before you gently scrub it with a soft cloth.
Avoid harsh rubbing to prevent scratches. If your items have tiny details, utilize a soft toothbrush to gain access and clean them. Rinse your items with cold water and dry them with a paper towel or cloth.
Extra tip: Silver jewelry and silverware will remain their shine longer if you keep a tiny piece of chalk or silica gel packs in your box. Chalk is absorbent and will keep the moisture away from your silver.
12. Coca Cola
Coca-Cola has the power to clean everything including silver. Pour Coca-Cola into a cup or bowl and soak your silver in it for a couple of minutes. Then, rinse and rub with a cloth. It's not very effective for build-up tarnish. However, it's suitable for slightly tarnished silver pieces.
13. Beer
I love beer. And I love my silver jewels. You can imagine how surprised I was when I discovered that beer can work wonders for silver. Simply pour some beer into a bowl and soak your silver in it.
Let it sit for 10 minutes. Then, scrub with a cloth. Beer doesn't provide mind-blowing results but lifts the shine of jewels. It's not the best homemade silver cleaner. However, it's still quite effective.
14. Vodka
I'm someone who always has a bottle of cheap vodka sitting around the home. If you're like me, use this product for cleaning your silver items. Pour some vodka into a bowl and soak your items in it.
Let it sit for a few minutes. Then, dip a clean cloth into the solution, take off the items, and rub with the cloth. It's not super effective. However, it's perfect for slightly tarnished silver items and jewels.
15. Lemon and Salt
Last but not least, I have another effective homemade silver cleaner. It consists of lemon and salt. Yep, it doesn't cost anything but can do wonders for your silver.
Mix 3 tablespoons of salt, lemon juice, and hot water, and bath your silver in this mix. Put your tarnished earrings, rings, bracelets, and other accessories to rest in there for a few minutes.
Then, scrub with a soft cloth. If the tarnish is tough, use this mixture with a normal cloth. Your fingers will hurt a little from the scrubbing. However, it will be worth it.
How to Prevent Tarnish?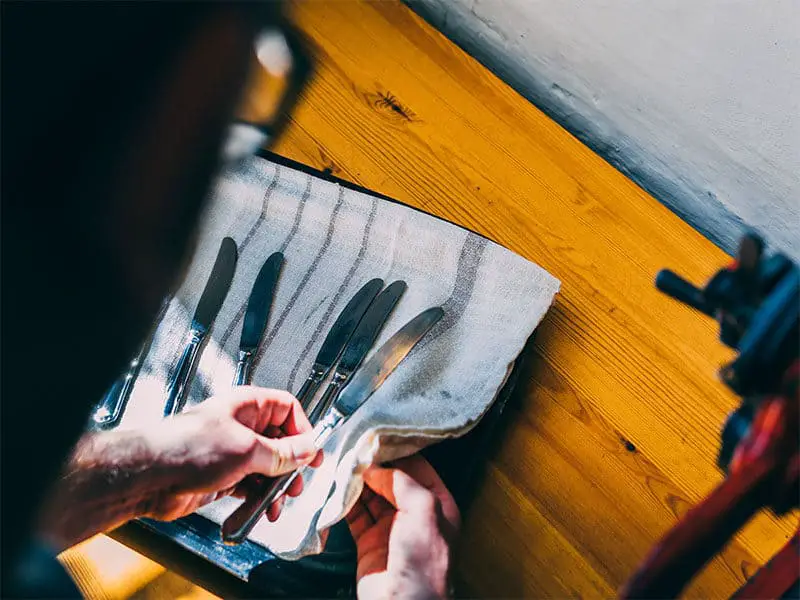 The natural discoloration is something you can't avoid. However, there are homemade silver cleaners that can help you clean your silver and restore its shine. Besides the 15 recipes above, I also have a few tips and tricks to help you preserve your silver and prevent tarnish.
Keep your silver jewelry separated. Store each silver piece in a cool, dry place.
Place tiny chalk or silica gel packs in your jewelry boxes to keep the moisture away.
Apply your perfume first and your silver jewelry after to stop it from sticking to your jewelry.
Wear your silver jewelry more often because the more you wear it, the more it will shine.
To prevent tarnishing, never let your silver get into contact with dish mats, rubber placemats, or other rubberized materials. Rubber has sulfur which causes corrosion.
Wash and keep fine silver in a separate place away from stainless steel items.
If none of the homemade silver cleaners work for you, try a jewelry steam cleaner.
FAQs
Don't Be Afraid to Sparkle a Little Brighter
The homemade silver cleaners that I mentioned in today's article work in different ways.
Acid and common ingredients like Coca-Cola, beer, baking soda, vinegar, lemon juice, and others will lift tarnish and provide great results. I have tried all of the natural silver cleaners and they work.
No matter what product you pick, you will be impressed by how quickly they work. When utilizing a mild acid or abrasive, you just need a couple of minutes and a light polish to notice impressive results.
Hopefully, today's article can help you keep your silver clean and shiny at all times. Also, the more wear silver, the more it will shine, so make sure to put that silver necklace on before you leave the home.
Do you have cleaning tips and tricks up in your sleeve? What is your go-to natural silver cleaner? Leave a comment to let me know what you found that works for you and share your experiences below.
If you enjoyed reading this article, don't forget to share it with your online friends and family.