Making a home cleaning routine is healthy, and important for many reasons. It will help you keep your head all organized, as well as having a structure in your house.
Moreover, a household checklist is going to give you a nice sense of happiness and accomplishment. But most importantly, it will keep your house clean and organized.
If you don't know how to keep your home clean or have never organized the housekeeping activities so far, this article will help you out.
Step by step, you will learn how to keep your home clean, how to do it effortlessly, as well as making a cleaning checklist to use for yourself or your customers.
Raise your hand if a household checklist is sometimes totally daunting for you. If you have times when you stumble upon dust, dirt, or rust, you need to get out of your comfort zone.
Now, an online household checklist template might help you out, but you can make your list with the corners and spaces that need to be cleaned. Therefore, if something looks dirty, don't wait.
Go immediately to your house cleaning checklist and check what you forgot to do. Additionally, in terms of sanitation, the guideline from this article represents the minimum you can do for checking the cleaning tasks.
Why is Having a Household Checklist so Important?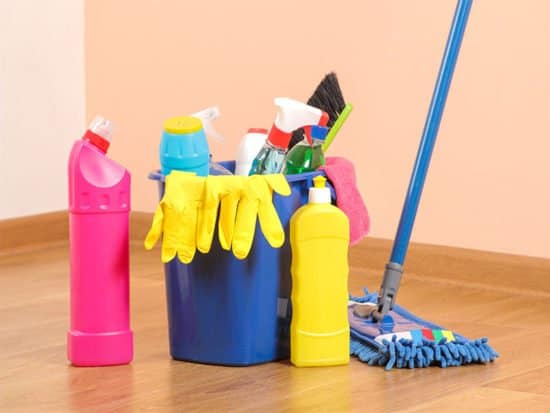 Having a home cleaning routine is an important task to check in your life, as this type of habit will help you keep your mind and house all organized. You can follow a daily, weekly, or monthly household checklist.
This way, you will learn to establish this kind of routine early and keep your house clean and yourself on track. When you have a busy life, the benefits of a household checklist are crystal clear.
More than reducing the daily stress, you will be staying in a healthier environment and also increase your physical daily activity.
How to Build a Cleaning Routine?
Although it might seem complicated, especially for people who are kind of messy, having a home cleaning routine is quite easy. And it gets easier by the time you are practicing it more and more.
There are multiple ways you can start building the home cleaning routine. For instance, you can:
• Create a chart or a pdf household checklist.
• You can also hire a professional cleaning service to give you a helpful hand.
By the time you will be building a cleaning routine, it is better to look for each room individually. I would suggest you take some notes and make your list. There, you will write what type of cleaning needs each room.
This way you will not forget anything. The best part of a household checklist? You can go back later and reorganize the cleaning calendar in a pdf version.
Once you have the household checklist template, you can start organizing the cleaning routine on your calendar or a printable Etsy. The more you practice the cleaning routine, based on this calendar, the faster you will get at the cleaning process.
Finally, gather the necessary cleaning supplies including a budget-friendly steam mop or a multi-purpose steam cleaner, and some commercial cleaning products.
Tips of a Cleaning Household Checklist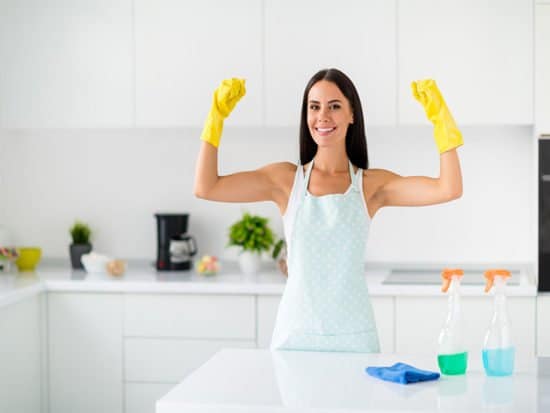 If you are a very busy man or woman, and you are constantly juggling between professional life and family, as well as between friends and career. Meaning, keeping the house all clean might be a difficult and overwhelming task.
This type of life will likely leave you with very little time for all the household chores. Moreover, it doesn't leave any time for personal rejuvenation. During the day, your house will turn messier and messier if you quit the idea of having a deep cleaning checklist.
A cleaning list for each room will help you identify the most important jobs and avoid the less necessary ones that waste time. Time is too valuable, right?
Luckily, some tips will help you create a household checklist. You just need to spend some time thinking about all the jobs that need to be done during your days off.
The checklist will help you include lots of chores and important tasks that you can skip sometimes. Tips you can consider while making a household checklist:
Make two lists. Yes, you have heard it right. You can make a list of the cleaning habits to be done daily. The second checklist will be for weekly tasks. The first reason for making two house cleaning is because of all the cleaning tasks that can be done separately.
Do the most important chores, on the busiest days, by asking some cleaning companies what are their cleaning tasks. On the other hand, when you have sufficient time, do the less important household tasks and complete them.
Do the less important household tasks when you have sufficient time.
Do a little cleaning every day. This way, the weekends will not be spent on cleaning all the time.
Consider doing a good household checklist.
Top 8 Reasons for Creating a Household Checklist
If you are still not convinced why having a checklist is the best idea, then check these reasons that will help you make a decision:
Making a household checklist will give all the time in the world to sit down and prioritize the things and spaces that need to be cleaned.
A cleaning schedule for cleaning the house cannot make you wash the bathroom one day a week with a tiny toothbrush, but, at least, will allow you to regulate the cleaning schedule.
Keep in mind that the most important stuff to clean, even if you don't have time for anything else in the house, are the things you use constantly. These are the shower, kitchen, toilet, bedsheets, even the grimy mirrors on the wall.
The cleaning schedule needs to be short enough. This way, it's easier to accomplish it. You don't need a lot of hours to kit all the spots that need to be cleaned. In a short time, you can enjoy the most positive effect of a good cleaning.
A house cleaning checklist will allow those who stay in the same home to be assigned to a specific task, even two, and then participate in the cleaning process.
Therefore, if you don't want to feel like you are the only one that works in the house and cleans it, this kind of schedule will give everyone in the house a task.
Once you have to complete different cleaning tasks, a schedule in place will let everyone know their expectations and assist you.
You don't have to do a marathon of cleaning sessions. Having a checklist will help you clean your home bit by bit before it turns into a complete disaster.
22 Things Why You Should Stay Committed to a Checklist
When you cannot stand it anymore, you might want to devote the entire free day to cleaning the house. But with all cleaning tasks, you might become exhausted, even cranky, and feel like all of your day has gone on polishing the home's surfaces.
Without a household checklist, it's normal to think about giving up, collapse on the couch, and never hear about cleaning ever again.
But as long as you follow a household checklist, cleaning your home will do little at a time. You will get things done by following some easy steps and you won't need to spend a good working day by hardly cleaning all the areas in the house.
You will not encounter ever again the mad dash when the sudden visitors come. If people come to visit unannounced, you won't be ashamed because your house will be clean every day.
Another problem when not having a schedule of cleaning is that you will encounter the mad dash to clean the house exactly when there is company coming to visit you. I'm sure that everybody was in this position.
Schedules for cleaning the house or the office don't make miracles, but at least a household checklist will establish a kind of cleaning discipline in your spaces.
All the areas in your house will stay reasonably clean most of the time. Once you have an exact cleaning schedule, all the filthy or dusty objects in your house will take less time to get all clean again.
Assuming that you respect a cleaning schedule at a regular interval, nothing will get that far to become disgusting.
The home cleaning schedules, as long as you follow them, will make your house feel so comfortable and cozy. Since most of the things will be nice and clean, this will make all of your family enjoy being at home.
It was proven that cleaning can fight against anxiety and will install a fresh, relaxed atmosphere in the house. One of the main objectives of a household checklist is making the home heaven to live in every day.
Once you have a household checklist, the safety in your house will improve. You will have less junk and clutter all around you. When all the stuff in the house is being reasonably clean and is well organized, most of the time the safety level in the house is increased.
In a clean home, you probably won't less slip, fall on clutter, or trip. As long as you are often cleaning the bathroom, the living room and disinfect everything, you also prevent the spread of germs and bacteria all over.
These bad bacteria can make your family ill. Cleaning your home regularly will keep you and your loved ones safe from accidents, as well as provide a healthy space for your family to live.
Become proactive, instead of reactive. Instead of having those days when you feel like just laying on the couch and doing nothing, having a cleaning plan will put you "out of fires".
Also, if you feel many times like never getting to do the things you have in plan, it's time to schedule the cleaning habits.
Having a cleaning plan doesn't only mean that there won't be any dust on the furniture, but you will be able to plan the laundry days.
Aren't you tired of hearing things like: "Mom, I have no clean socks", or "Hon', is my black T-shirt still in the dirty clothes corner? Once following your cleaning list, cleaning will go on a routine basis, which means less "crises" which might occur in your home.
The housekeeping schedule will allow you to enjoy, every day, the home and your family without worrying about the spaces you live in should be cleaned right then.
Now, you might think that once creating a precise cleaning checklist you would feel like you need to clean all the time long. But this is not the purpose of this kind of plan.
It shouldn't make you feel oppressed. Everyone can understand if you didn't succeed in following all the steps in this plan. During our experience with the cleaning plans, it happened exactly the opposite.
Once beginning to work according to a schedule for cleaning the home, instead of thinking like "I need to start cleaning", we instead had the cleaning all done.
Instead of thinking about cleaning all the time, you can play with the kids or have your moment of relaxation. Many times, having a cleaning plan will make you feel organized.
When the plan is all made, and you have checked everything on the list, you and your family will have more time on your hands to enjoy it together.
No one is excited about the idea to clean their home every day. It is great to have some time for living and relaxing, and making sure that your family has everything they need, especially your attention.
Following a cleaning program allows you to accomplish the cleaning plans and get what you need and want, which is having some fun together.
Get Inspired to Create the Cleaning Schedule
I hope that until this part of the article, I gave you all the reasons to create a cleaning plan for your home. If you are already inspired by what you have read, it's time for moving to the next subject of this post: the helpful resources forcreating a cleaning schedule.
While some of you prefer professional cleaning services, others will want to do the cleaning part all alone. Therefore, a cleaning checklist makes a good idea for the results to be efficient and as good as expected:
 Play some music before starting to clean room by room. If you have a favorite playlist that you are using when working out or that gives you a nice feeling, then you should start by playing this one.
Once the music starts playing, you can start picking up the clutter and the dirt. As you go, start expanding your work and clean the dust from the books, magazines, DVDs, furniture, newspapers, as well as the kids' toys.
If you have old computers, old clothes, or some shoes you need to declutter, do it now while listening to your favorite music.
Speaking of shoes and clothes, don't be afraid of opening the old closets. Face your fears to become more and more organized.
Dust away everything, go right and left, top to bottom, using some good microfiber cloths. This way you will eliminate the lower allergens and also improve nicely the air quality in your home.
You can also use some dampened cloths and tie them to the end of the mops and brooms. This is great for removing all the cobwebs. If you are facing slatted blinds, then make sure you use the string to close them one way, then also close the dust.
Never forget to clean the tops of the doors, as well as the fans, picture frames, TV screens, or computer monitors. For glass surfaces, you can use a glass cleaner and some cotton clothes or a microfiber.
Sweep, mop, and treat the floors. If you are going to start mopping, start with the farthest corner of the room. Then move back and toward the entrance. This way you make sure you don't step on wet surfaces.
Vacuum. But before that, make sure the bag compartment isn't already full of dust and dirt to avoid allergies. Also, use the right attachments and settings when hitting the floors.
Once lifting the objects on the floor, you will be surprised how many socks or pens you will find under the couch cushions.
Last but not least, don't forget about furniture freshening. Time by time, it would be perfect to do some waxing. It will bring back the shine of old furniture.
Regular House Cleaning Tasks to Keep in Mind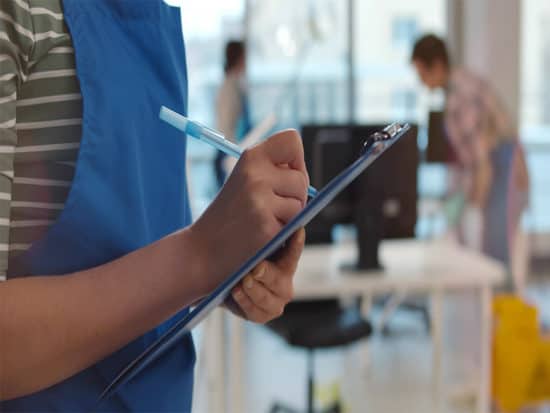 If you don't know exactly how to share all the tasks of cleaning, here is a simple guideline or a sketch on how to spare your cleaning tasks. Have a look at these and get ready for the cleaning process.
The regular House Cleaning Tasks:
 Dust surfaces;
 Vacuum carpets;
 Vacuum and clean with damping the floors;
 Dust and hand wipe all the furniture;
 Dust pictures frames, the window sills, lock ledges, and so on;
 Dust and clean the windows;
 Empty all the trash in the house;
Kitchen:
 Dust the window sills, blinds, and lock ledges;
 Dust the furniture;
 Dust the door panels, chair rails, and baseboards;
 Dust the top of the refrigerator;
 Clean the countertops;
 Disinfect doorknobs and all the switch plates;
 Clean the cabinet fronts;
 Disinfect the sink;
 Disinfect and clean the microwave and the exterior of it;
 Clean and shine the dishwasher;
 Empty the trash;
 Vacuum and damp the floor;
 Clean and disinfect the refrigerator.
Bathrooms:
 Dust the blinds, lock ledges, and window sills;
 Clean and disinfect the toilet, the sink, and the tube;
 Spot clean cabinet fronts;
 Dust all the surfaces;
 Clean and disinfect the doorknobs and switch plates;
 Shine the fixtures;
 Empty the trash;
 Vacuum and then damp the floors with a mop.
Bedrooms
 Dust and hand wipe all the furniture tops;
 Dust the furniture;
 Vacuum the carpets;
 Change the sheets with clean ones;
 Make the beds;
 Dust the surfaces;
 Empty the trash;
 Clean the closets;
 Arrange the clothes.
What Does Spring Clean Include?
There are some moments during the year when you feel like ordinary cleaning tasks are not enough. First of all, make sure you have all the necessary supplies. Then here is what you should include in the regular cleaning plus:
Remove cobwebs;
Damp wipe baseboards and clean the window sills;
Vacuum upholstered furniture;
Damp wipe door frames and panels;
Damp wipe bathroom cabinets and the kitchen.
Tips for a Daily Cleaning Habit
Essential daily tasks can ease your work. You won't need to cut down for the future scrubbing, nor have to do with harmful bacteria and germs.
Once you clean daily, the dirt will not accumulate. For instance, try cleaning the dirty dishes every day, as well as the laundry. Today's washing machines are not a waste of water and time.
Also, make sure you constantly sanitize the sinks, using an eraser-type sponge.
Last Thoughts: How to Tackle Everything on Your List
This is the point, where I express, in a nutshell, how to make sure you respect your cleaning schedule. Read everything up, make sure you have these lists somewhere easy to notice them.
Discover your favorite cleaning products and use them whenever you can to ease the process of cleaning. And last but not least, make sure you clean daily. At least a little.
How is your experience with the household checklists? Any tips to give the readers? Write in the comments below if this kind of schedule helped you with the cleaning habits.