With a new firearm in hand, you may raise the question of how often should you clean your gun. In fact, you're not the only gun owner who's struggling whether to clean your weaponry on a daily, weekly, or even annual basis to keep it in its top condition.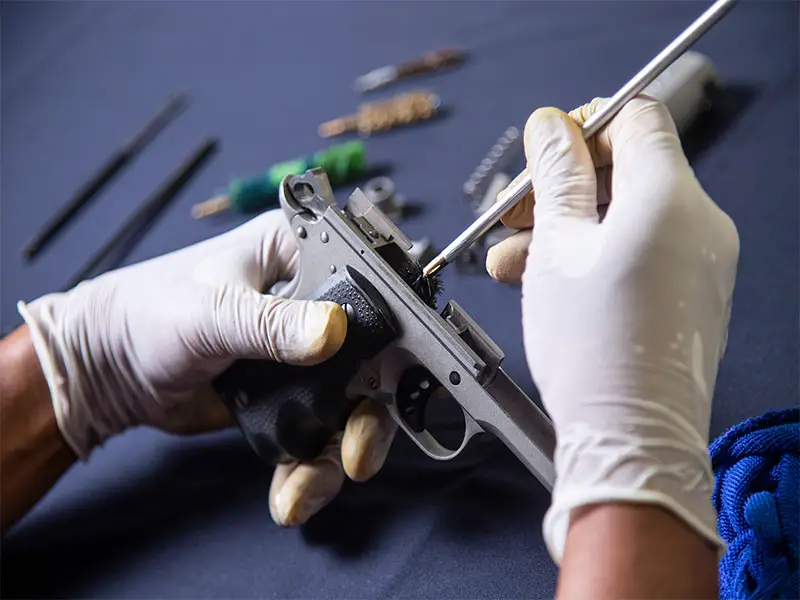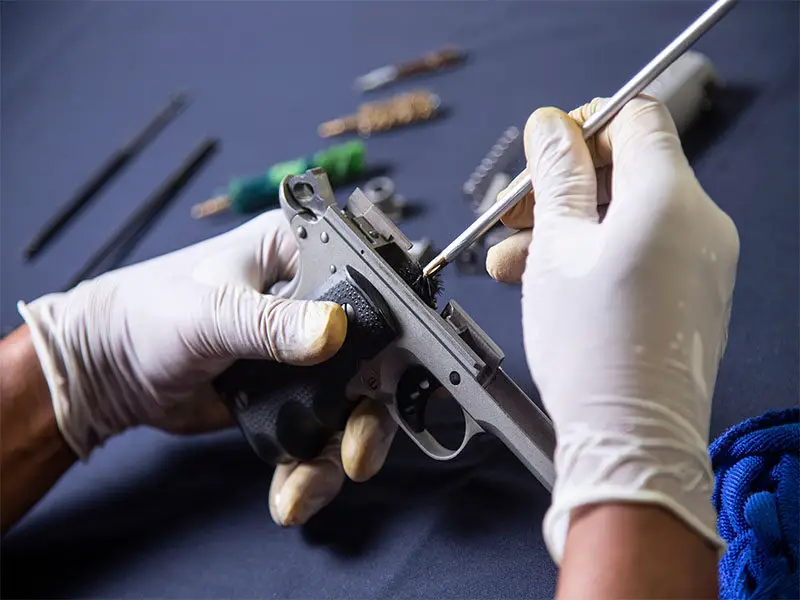 Generally speaking, the frequency of your firearm cleaning ritual is largely a matter of your personal type of gun and usage. Similar to planning an efficient house cleaning checklist, keeping a clean and primed gun in hand will grant you safe and accurate shooting experiences.
To uncover this secret once and for all, I've compiled the best cleaning practice frequencies for each type of firearm, the most common questions, and some tips to keep your gun in proper working order. Understanding these, you'll be able to get the best out of your weaponry!
Why Is Cleaning Your Gun Important?
There're many benefits that gun owners can have with a clean gun. Whether rifles, shotguns, or pistols, you can ensure your weapon's long lifespan and functionality as long as you set up and follow a regular cleaning routine for it.
1. Increase Durability
Most guns are built to last a lifetime, and with maximum maintenance procedures, they're likely good for several generations.
With regular cleaning as per your weapon's manufacturer guides as well as your frequency of usage, you can remove rust, contaminants, and moisture building up in the barrel, thusly prevents the kick-start of corrosion processes in advance.
Plus, if your firearm incorporates a wood grip, it's best that you add polishing and waxing to the clean-up regimen. It's safe to say that if you clean, lubricate, and store your gun properly, you should expect your gun to last with minimal replacement needed.
2. Ensure Accuracy And Reliability
Properly cleaning your gun is a smart way to preserve its functionality and accuracy, especially after you've gone for a few rounds in the shooting range.
This is because with every shot that you fire, gunshot residues, including particles from the gunpowder, the bullet, and the ammunition primer, are left in the barrel.
This fouling builds up after every time your firearm is discharged, which can strongly affect your gun's functionality in more than one negative way.
Besides causing your weapon to gum up, it can also change the bullet's trajectory, leading to poor performances and malfunctions. What's more, if left uncleaned for too long, rust formed by the moisture in the environment may create pits in your firearm or rifle's barrel.
As a result, frequent cleaning and maintenance play a key role in enriching your shooting performances. For sport shooters, this makes a huge difference in their rankings. But in other situations, this can allow you to protect lives and livelihoods when you need it the most.
3. Understand How Your Gun Works
When you fieldstrip and assemble your weapon by yourself, you'll have an opportunity to learn how the gun's internal elements work, which is something that you don't see in action.
This extra knowledge is especially helpful in case of a minor malfunction, and there're no gunsmiths around that you can call for help.
Plus, by analyzing this piece of fine machinery, it's easy to tell which parts of the gun accumulate the most dirt and gunk, thusly helps you perform a better cleaning and maintenance job.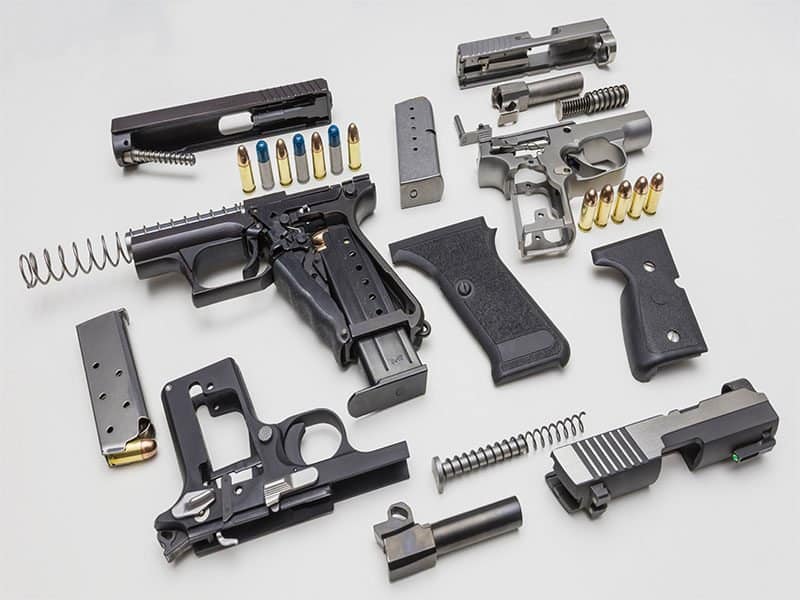 4. Learn To Properly Lubricate
Lubrication is easily one of the most important procedures to keep your gun in its top performances. Oiling your weaponry is essential for reducing friction, preserving the machinery mechanism, and keeping it clean by gunk and primer particles out of moving parts.
However, this process is an art that not every shooter can master if not carried out frequently enough. For an amateur gun owner that hasn't have much interaction with their gun, not being able to find the appropriate amount of oil for gun lubrication can happen most of the time.
For instance, applying too much oil tends to result in over-lubrication, leaving filthy lubricant behind that works that a glue toward gunk and unburned powder, which eventually gum up your firearm when in action.
On the other hand, too low oil volume may fail lubrication in its primary aim, thusly shorten its lifespan in the long run. Therefore, by dismantling and assembling the gun, you're able to learn about the internal elements and natural markings that require the most oil for lubrication.
How Often Should You Clean Different Types Of Guns?
Brushing up your weaponry after heading out is certainly an efficient preventative measure against malfunctions and accidental injuries. However, since not all guns are created equal, the frequency at which you clean depends on your specific type of gun and usage.
Hunting Rifle
Generally speaking, a hunting rifle has a tendency to provide the best accuracy and range compared to any other hunting weaponry. This piece of machinery is undoubtedly the most important element in your big hunting game.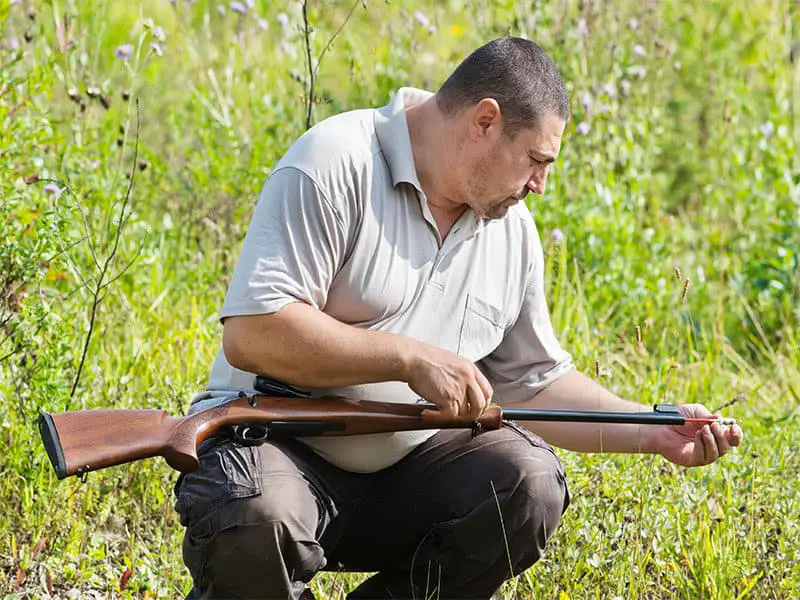 There're a few straightforward processes that you can carry out to keep your hunting rifle up to par for a lifetime of use, including protecting the rifle on the field, properly store it at home, and especially cleaning it regularly to ward off its biggest enemy: moisture.
Hunting expeditions in coastal or swampy areas oftentimes exposes your rifle to humidity and other sources of dirt, which contributes to forming rust and even pitting in the worst-case scenarios.
Therefore, after every trip to the hunting field or the rifle range, you should always wipe the metal frame with a lightly oiled cloth or rag. Also, make sure to thoroughly dry it off before storing it away for the next use.
It's safe to say that a deep-cleaning session with the barrel should be applied before the bore becomes too fouled, which is the most crucial contributor to low accuracy and missed targets.
If you're taking it out on a rough hunt with lots of contact to salt content and moisture, you should conduct a daily cleaning to get rid of these damaging elements. Also, if you happen to fall into the mud or sand, it's best to plan a clean-up session as soon as you get back to the camp.
On the other hand, if your hunting rifle spends most of its time in your truck when there're only a few targets to take down in the woods, a weekly cleaning schedule should keep it in its top performance through the entire season.
The following guides from a professional hunter will let you know how often to clean a hunting rifle and get it ready for the next adventure.
Watch this video to know more:
Shotgun
Coming as the most versatile type of gun, shotguns can be utilized in a variety of situations, including shooting competitions, hunting, and especially home defense.
Since it requires little skill to discharge an effective shot, this defensive firearm makes a great companion for any homeowner looking for an ultimate home defender. If the worst-case scenario happens, it can help you take down an intruder and stop a lethal threat.
If you have a gunshot by your side as an EDC firearm without firing most of the time, you should develop a habit of cleaning your weapon every week to have it primed and in proper working order when you need it most.
At other times, you should conduct a cleaning session after every trip to the target practice or shooting range. This will eliminate unburnt powder, plastic, and lead residues left in the barrel as you shoot thusly ensures proper action and integrity of your weaponry.
Another thing to take into consideration when setting up a cleaning routine for your shotgun is the environment in which you live and practice. If your firearm is casually exposed to harsh and humid conditions, an increase in the frequency of cleaning should be necessary.
Pistol
Similar to most types of handguns, pistols are relatively small, easy to carry, and easy to use for inexperienced gun owners. This all-rounder weaponry is applicable in various situations, including hunting, competitions, self-defense, and many other purposes.
To ensure your pistol's long lifespan and perfect functionality, you should always be committed to a consistent gun cleaning schedule. This can mean a biweekly, a weekly, or a monthly routine, depending on your type of usage.
For instance, if you're entering a shooting competition with this weaponry, you'll want to make sure that it's clean and primed to eliminate one variable factor that can cost you lower rankings. It's best to spare some time and clean your firearm after every match or target practice.
In case you incorporate a pistol as a concealed carry to defend yourself and others against criminal attacks, cleaning every week or few weeks should be enough to keep it in perfect working order.
Or else, once you notice any dirt accumulation occurring on your firearm, fieldstrip and give it a good scrub right away to prevent any malfunction and damages.
If you're still unclear of how often to clean your pistol, the following video should clear up any doubt you have on your mind.
Watch this video to know more:
Airsoft Gun
Though oftentimes resembling traditional firearms, airsoft guns are actually replica weapons, which are designed to shoot non-lethal and plastic bullets. These guns are primarily used for target practices, lawn enforcement, and military unit training.
Today, airsoft guns are utilized in playing military-style airsoft games, where participants eliminate the opposite team members by shooting at them with colored plastic pellets. In other words, these replica items allow you to join a tactical game or shoot targets with something safe.
If you plan to stay on top of your game, you may want to give your investment a careful cleaning regimen to ensure that it remains in proper working order every time you enter a match.
As a matter of fact, though airsoft guns aren't designed to shoot real bullets, there're still traces of plastic building up every time you discharge a plastic bullet.
What's more, small dust particles in the woods stand a high chance of damaging the gears and pistols in your gun, which causes your gun to jam up and misfire over time.
Therefore, performing a thorough cleaning and lubrication session after every game is the best thing to do. But if this seems too excessive to your schedule, you might as well deep-clean your gun every 2000 rounds.
Plus, if your game is played in bad conditions such as sandy, rainy storms, or you accidentally drop it on the ground while running around the field looking for targets, you may want to consider cleaning it more often.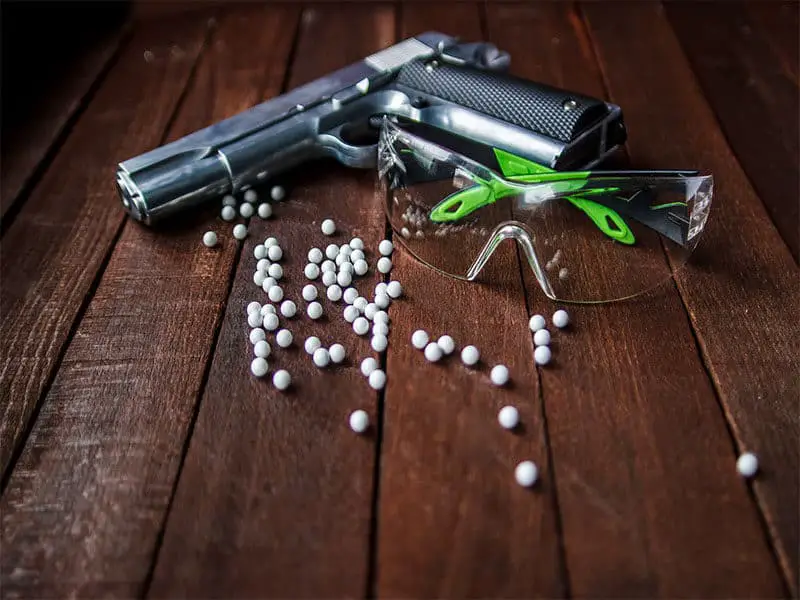 After How Many Rounds Do You Need To Clean The Gun?
If you don't have the time to clean your firearm after every trip to the shooting range, performing a thorough cleaning ritual after a certain number of rounds is acceptable to prevent aim inaccuracy.
However, since not all guns are created equal, this number varies among different types of firearms. While some guns require cleaning after every 200-300 rounds to ensure perfect functionality, modern models can go up to 1000-3000 rounds without the need for cleaning.
Generally speaking, if you consistently spot any missed firing or inaccuracy in the bullet trajectory, your gun may be signaling that it needs a thorough cleaning.
At the highest end of the spectrum, you'll find weapons that can go perfectly for 5000 rounds even when you don't clean them. These firearms are available with a higher upfront cost but will save you time and effort in the long run.
Do You Need To Clean Your Gun If You Don't Use It?
This question comes up more often you may think it does. In short, the answer is yes. Most manufacturers recommend cleaning your gun at least twice or three times a year, even if you don't use it on a frequent basis.
This is because even if your firearm is locked safely in a storage case, dirt, moisture, and other contaminants will still find their way to accumulate on your weapon.
Plus, if your gun has been fired before, previous residues can be amplified over time, causing rust, corrosions, and other damages if not treated properly for a long time.
As a result, every 4-6 months, take out your gun from the locked case or safety deposit box to conduct a thorough cleaning and inspection session. By lightly wiping off the surface debris and oiling the metal elements, your firearm will guarantee efficiency when you need it.
Can You Damage The Gun By Cleaning Too Much?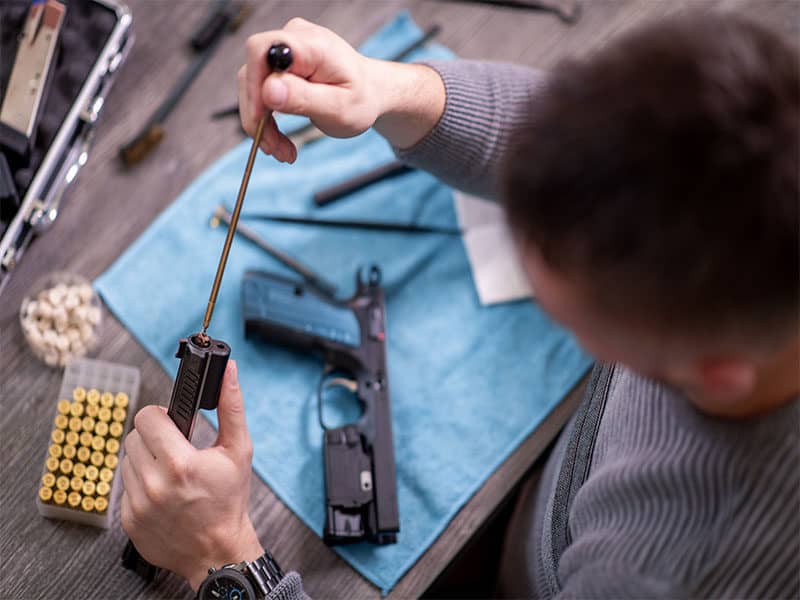 Is it possible to over-clean your gun without leaving accidental damages? Well, the basic answer to this question is no, you can't. Spending more time and effort in gun maintenance most certainly does your weapon no harm.
Every time you perform a cleaning ritual on your gun, you're removing gunk and dirt from the internal and external elements to ensure the firearm's integrity and perfect working order.
Also, by lubricating the gun on a regular basis, or better yet, after every use, you're minimizing the risks of carbon and debris fouling on the components. This does a great job at providing increased protection against rust and other damages caused by environmental factors.
While over-cleaning your gun might not be a problem, the real problem lies in how and which tools that you use to clean the firearm. For instance, using the wrong style of the cleaning rod, brush, or solvent pose a risk of harming your gun, especially when applied again and again.
Thusly, it's important that you pay extra caution in every step of your gun cleaning process. Also, to lengthen the firearm's lifeline, invest in some high-quality cleaning essentials such as a bore snake, a proper lubricant, or solvent to minimize the gun's susceptibility to damages.
If you're still doubtful whether you're over-cleaning your gun, take this advice from the professional right here.
Watch this video to know more:
8 Best Cleaning Tips And Tricks For Guns
Though gun cleaning is an essential part of any gun owner to ensure its accuracy and perfect functionality, not all shooters can master this art from the first place. With these expert-sourced tips, you'll be able to work your way through this chore without a problem.
1. Read The Manual Carefully
It goes without saying that proper usage, disassembly, lubrication, and cleaning of any firearm requires a certain level of knowledge, at the very least. If you've purchased a new gun on hand, these pieces of information are usually found in the manual that comes along with your gun.
Not only does reading a manual prior to cleaning do a great job in saving you time and trouble, but in some cases, it can also mean the difference between life and death.
It's important that you fieldstrip and put together all the components in the same order as directed in the manual. After all, speeding up the process by skipping this crucial step is not worth the risk of a possible injury or a ruined firearm.
2. Set Up A Specific Cleaning Area
Setting up a designated area can help you to overcome procrastination for firearm cleaning, which is a common issue that many gun owners face. You can put a desk in the garage, office, or spare bedroom for tackling this task every time.
Otherwise, if you don't have an extra room in the house for this purpose, any sturdy workbench or folding table will get the job done with ease. Also, consistently performing this task in the same place should minimize the risk of losing any gun component during the process.
3. Use High-Quality Cleaning Products
To ensure that your firearm functions at its best, you should invest in the cleaning tools and solutions specifically designed for firearms.
Unlike house cleaning, which can be done by natural remedies, guns are repeatedly exposed to high heat, friction, and high-speed movements, leaving stubborn residues that commercial house cleaners aren't likely to cover and remove.
Therefore, whether cleaning, lubricating or protecting, it's best to opt for professionally designed gun cleaning products to prevent further troubles down the road.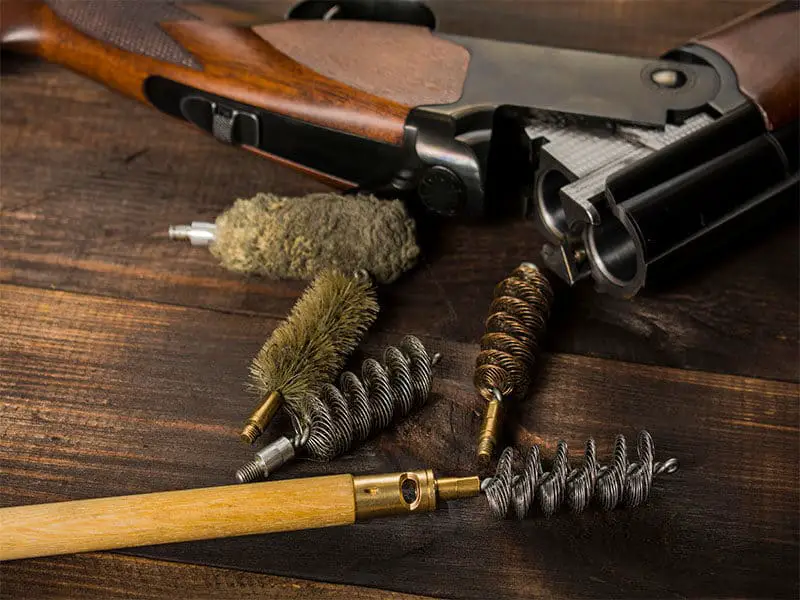 4. Have Your Gloves On
Opting for commercial gun cleaners and solvents can take a toll on your skin. These non-toxic agents still stand a chance of removing the natural oil on your skin and drying it out. What's more, if you handle the gun with bare hands,
Thusly, it's recommended that you always wear gloves when cleaning your firearms to protect yourself from these potential harms.
5. Make Certain The Gun Is Empty
Regardless of how experienced you are with weapons, safety is always the most important priority when it comes to gun cleaning and maintenance. Always make sure to drop the magazine and rack the slide to clear the chamber, even if you believe they're already empty.
Then, remove the magazine and put it at a certain distance from the working area. If your gun has grip safety, it's best to switch it on while you're cleaning.
6. Keep Things Organized
Whether you plan to disassemble certain components or fieldstrip the entire weaponry for a thorough cleaning, you'll want to place the tools in your gun cleaning kit in separate positions. Not knowing where each brush is can be rather frustrating and decrease your efficiency.
More importantly, if you're new or inexperienced with gun cleaning, you might as well invest in an organizer with divided sections. This tool is helpful in keeping track of tiny parts like springs and screws, thusly prevents them from getting lost or swapped while cleaning.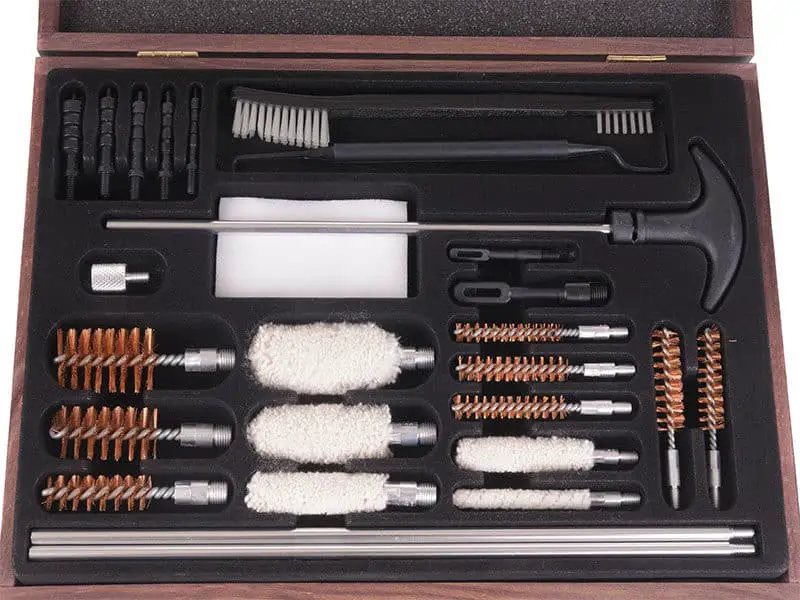 7. Don't Forget To Lubricate
After you're done with cleaning all the metal parts of the firearm, you should remember to add a nice shine of lubricant to these components right away. This simple yet effective step tends to benefit you in more than one way.
Whether you use solvents or other cleaning solutions to get gunk and unburnt powder out of the barrel, they pose a risk of increasing your gun's susceptibility to rust, which is a four-letter word that no gun owner likes to hear.
With proper lubrication, the light oily coat will repel moisture and shield the metal parts from rust in the long run. Plus, it also excels at protecting the firearm against harmful corrosion caused by friction every time you fire a shot.
8. Consult A Professional Gunsmith
Since gun cleaning is a process that needs to be carried out on a regular basis, it's best that you learn and set up a consistent cleaning ritual to keep your weaponry in proper working order.
However, you may come across an old and dirty gun in the case that's filled with dust and gunk or that some internal elements are plugged with mud or dirt that you fail to remove, resulting in misfiring and misdirection.
In serious cases like this, it's most likely that you have to bring your gun to an expert gunsmith's attention. Consulting professional service is often the best and safest way to restore your firearm's former shine and functionality with no risk of damages.
If you need any further expert-sourced advice, here's how a gunsmith disassembles and cleans the gun.
Watch this video to know more:
FAQs
It's safe to say that you're not the only gun owner who's confused about how often you should clean your gun. The following common questions regarding this matter will help you go a long way to performing a proper gun cleaning regimen.
Keep Your Gun In Its Top Condition!
As long as you follow the previously recommended cleaning practices and advice, keeping your gun primed and pristine should be as easy as keeping a spotless marble floor.
With a clean firearm in hand, you can rest assured of your shooting precision to score high at the shooting range, and in some cases, protecting your own life and others.
As a side note, if you often include solvents and chemicals into your gun cleaning ritual, make sure to wear safety gloves and eyewear. Also, it's best that you carry out the process in a well-ventilated area to prevent any avoidable harm to your health.
Has this guide been helpful for your gun ownership? Is there any experience you'd like to share about your firearm cleaning routine? I'd look forward to hearing back from you, so please feel free to leave a comment below!