If you are a weekend warrior interested in a home renovation project, learn how to apply polyurethane to wood floors. It will be of great use once the time finally comes to improve your floorings.
Polyurethane is an excellent protector of your floors. Considering that wooden floors are beautiful, sophisticated, and add resale value to your home, you want to do everything to protect them and prolong their lifespan.
If you maintain the floors well, they can last over 100 years. So, the polyurethane layer is a great way to start.
I'll share my tips on applying it on the floor with less effort and the best results.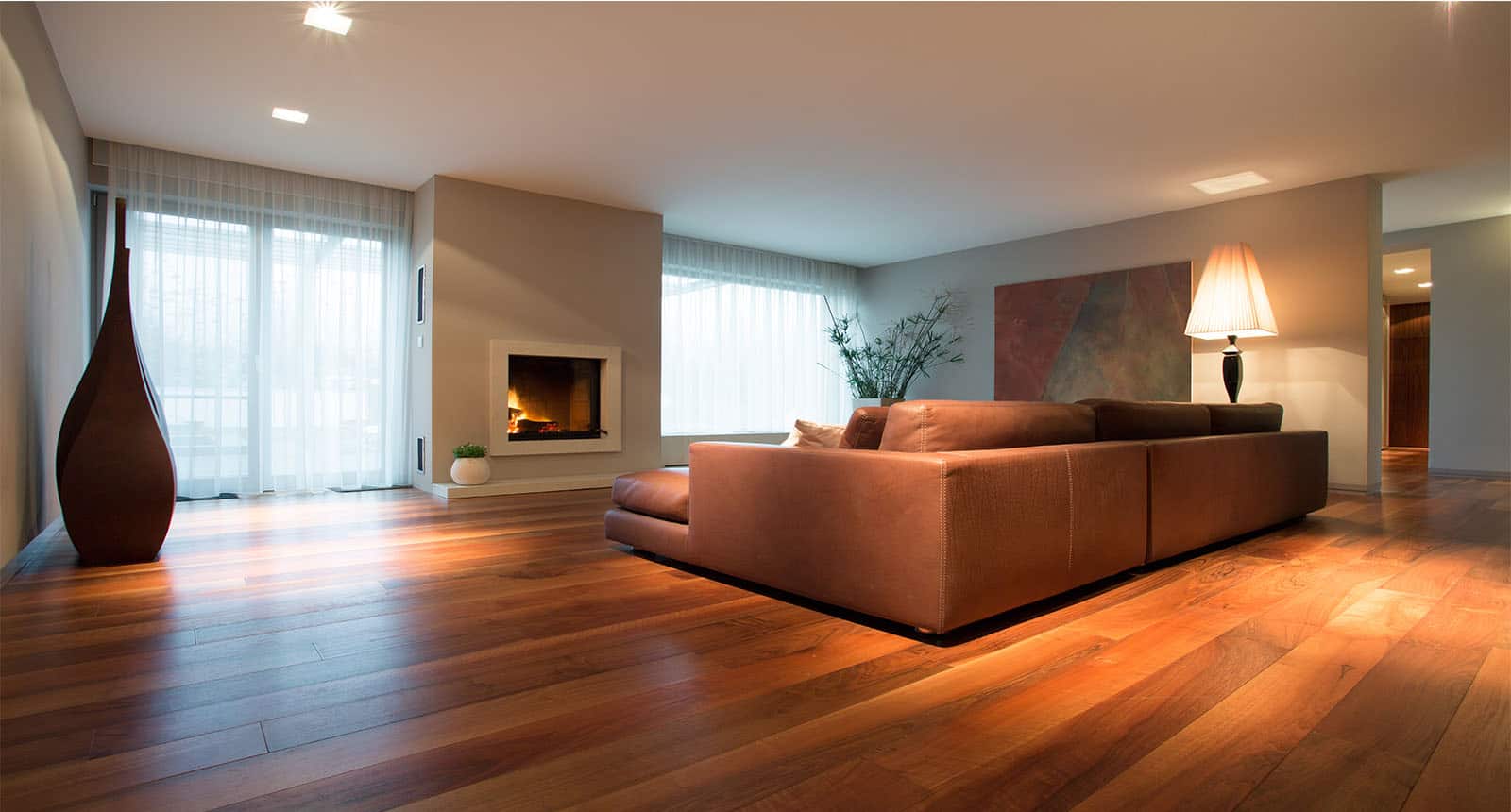 Quick Answers: How To Apply Polyurethane To Wood Floors?
Applying polyurethane to the wood floor starts by preparing the floor. Here is a quick guide on how to apply polyurethane finish on the floor. For more information, keep reading!
Clean the floor and vacuum before and after you sand it.
Prepare a brush and a roller, and lightly stir the product to prevent air bubbles.
Start working in the direction of wood grain in the corner opposite the exit door.
Work on each corner for ten minutes and move on to the central part of the floor.
Use a roller to apply a thin layer of polyurethane.
Let the floor dry and lightly sand before you apply a new layer.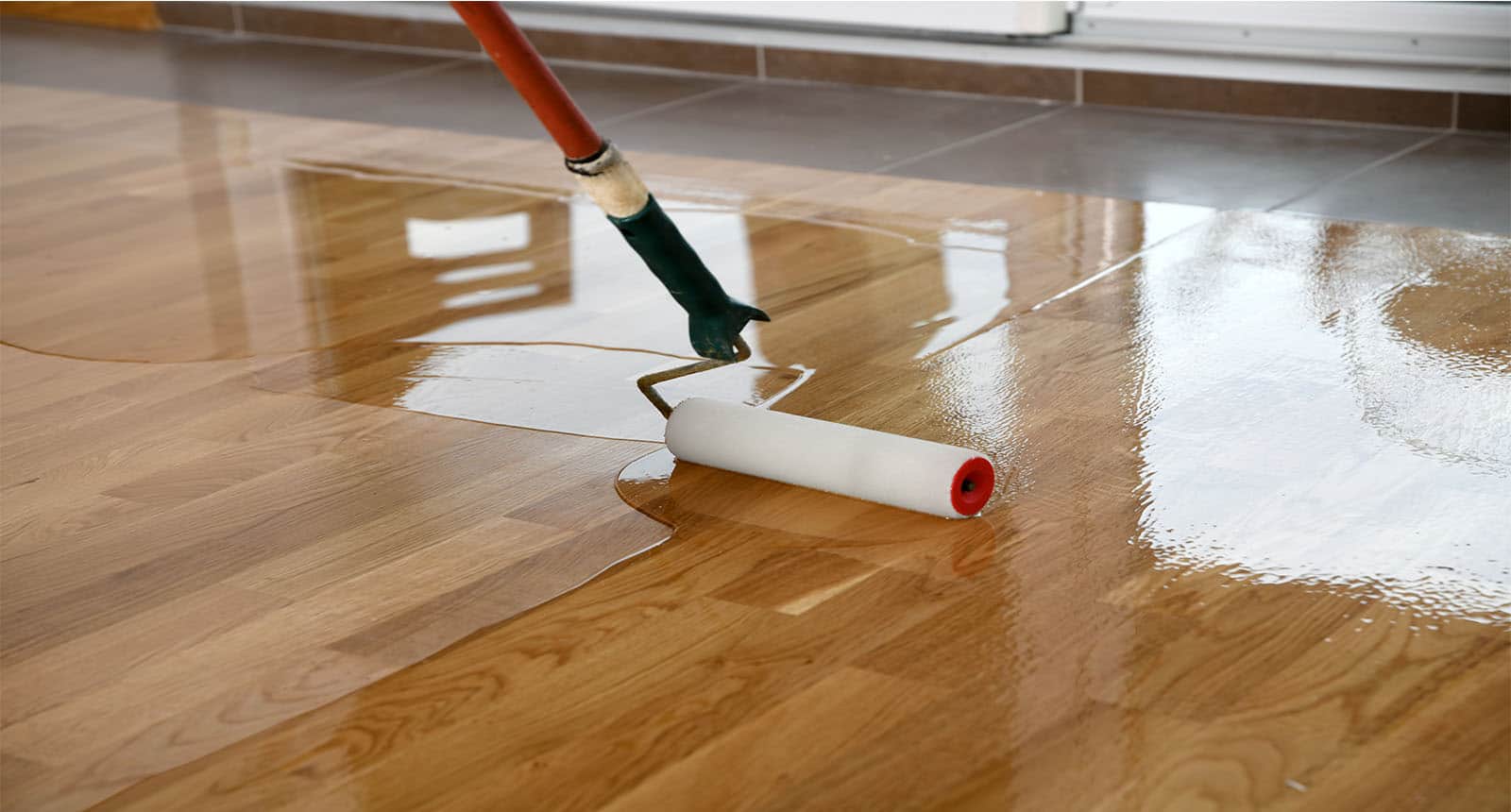 What Is Polyurethane Finish?
Polyurethane is a liquid that requires time to dry. Once the coat of liquid on your wood floor is completely dry, it creates a hard and long-lasting finish. Compared to other similar products, polyurethane has the longest lifespan and is the best option for worn-out surfaces such as damaged wood.
Polyurethane is a synthetic resin, commonly used to treat all kinds of woodwork, including floors, cabinets, desks, chairs, etc. Polyurethane is transparent, water-resistant, and isn't prone to fungi, mold and mildew.
Once dried, polyurethane has a glossy finish. Compared to other varnishes in the flooring industry, polyurethane finish is hard and dries quicker.
Polyurethane Finish Types
You can find water and oil-based polyurethane finishes. Also, there are modified polyurethane products on the market, designed specifically to treat vintage cabinets, decks or other woodwork.
Water-Based Polyurethane
As the name suggests, water-based polyurethane features water as the base for polyurethane solid. The product creates a hard protective finish. You need to apply several layers to get the best results.
Water-based polyurethane finish dries quicker than oil-based, so you can apply more layers in less time.
Upon application, the water-based finish has a white film. As it dries, the finish becomes transparent. The finish doesn't have odors and is easy to clean with water and soap, or any mild wood-appropriate commercial cleaner.
Water-based polyurethane is great for people who want a mess-free and odor-free application. It is also easier to apply than an oil-based product.
Water-based polyurethane is thin and clear, and almost invisible. If it sounds like something you like, go for it. On the other hand, if you want a shellac effect, you need a lot of layers, and an oil-based product might give you better results.
Pros:
Clear finish
Odorless
Low-toxicity
Easy to clean with soap and water
You can customize the finish with fewer or more coats
Cons:
Pricier than the oil-based alternative because of more required layers
You need to apply more layers to get shellac finish
Less resilient against damage
You can skip spots upon application because it is clear
Oil-Based Polyurethane
Oil-based polyurethane includes different mineral solvents and petroleum as a base for polyurethane solid. Most people prefer it because of its durable finish and protective features.
You can apply it in spray or via brush. It requires fewer coatings to provide a glossy, protective shell. Unlike transparent water-based polyurethane, the oil-based alternative has a yellow sheen, which can be a deal-breaker for some people. The more coatings you add, the more visible the yellow sheen is.
One coat needs from two to six hours to dry, but the exact drying time depends on the room conditions, temperature, and humidity.
It has a sharp odor, which slowly disappears as the coats dry. The maintenance is more complex than with water-based because you have to use mineral spirits for cleaning.
Oil-based polyurethane has a thicker consistency and self-levels. Therefore, it is smooth and easy to apply.
Because it gives excellent protective features to the surface applied to, oil-based polyurethane is superb for wood floors and precious woodwork.
The finish is rich and glossy, and ensures a beautiful appearance. You can apply several coats to enhance the look, but two coats are enough for protection.
While you apply it, make sure that the room is well-vented and that no one is around. Strong odors can cause headaches.
Pros:
Strong protection
One coat is enough
Yellow or brown finish looks good on some floors
Self-leveling
Cons:
Needs hours to dry
Strong odors
Toxic
Requires special care
Remains sticky until it is dry
Watch this video to know more:
Polyurethane Vs Lacquer
When it comes to wood floor finishes, there is an ongoing debate about polyurethane and lacquer. Let's dive into the details of each finish, so you can choose the one for you.
After lacquer application, the oils in resin-based liquid dry and provide hard, clear film on the surfaces. In simple words, lacquer hardens as the solvents evaporate. Varnish, such as polyurethane, hardens in contact with air, an oxidation process. Therefore, polyurethane needs more time to dry completely. In some cases, it needs days to complete the process.
Lacquers dry much quicker, within ten minutes.
In chemical terms, polyurethane is a plastic layer on your floor. Therefore, you can't reconstitute its molecular structure once it has fully dried. Lacquer gives you the freedom to do that, by applying solvents known as lacquer thinners.
Professionals use lacquer for luxury wood furniture. But, it doesn't imply that lacquer is necessarily better than polyurethane. It is adjusted to professional application.
For home use, polyurethane is an excellent product to help you protect and refurbish your old floors.
Most Important Lacquer Considerations
The fastest method to apply lacquer is to spray it on the surface.
Also, lacquer melts into previous coats, so you don't have to sand the surface before a new layer.
But, lacquer can be expensive. Also, you need to find a good spraying device with high volume and low pressure. It raises the costs significantly. If you choose to apply lacquer with a brush, you should be very skilled because lacquer dries quickly.
Most Important Polyurethane Considerations
You can apply polyurethane with a brush or spray. Because it requires more time to dry, it is more forgiving in poor application than lacquer.
Because it doesn't melt into previous layers, polyurethane requires sanding before application.
If you want several coats, applying them will take you a couple of days, because each layer needs at least a day to dry and become ready for the next one.
Polyurethane is better for worn-out surfaces, and lacquer works better for new woodwork. Because of its molecular structure, polyurethane is highly durable.
Safety Considerations About Polyurethane And Lacquer
There is no significant difference in safety considerations between oil-based polyurethane and lacquer. You need to apply them in a well-ventilated room, and both are fire and explosion-hazards.
Using protective equipment will reduce the risk of inhaling.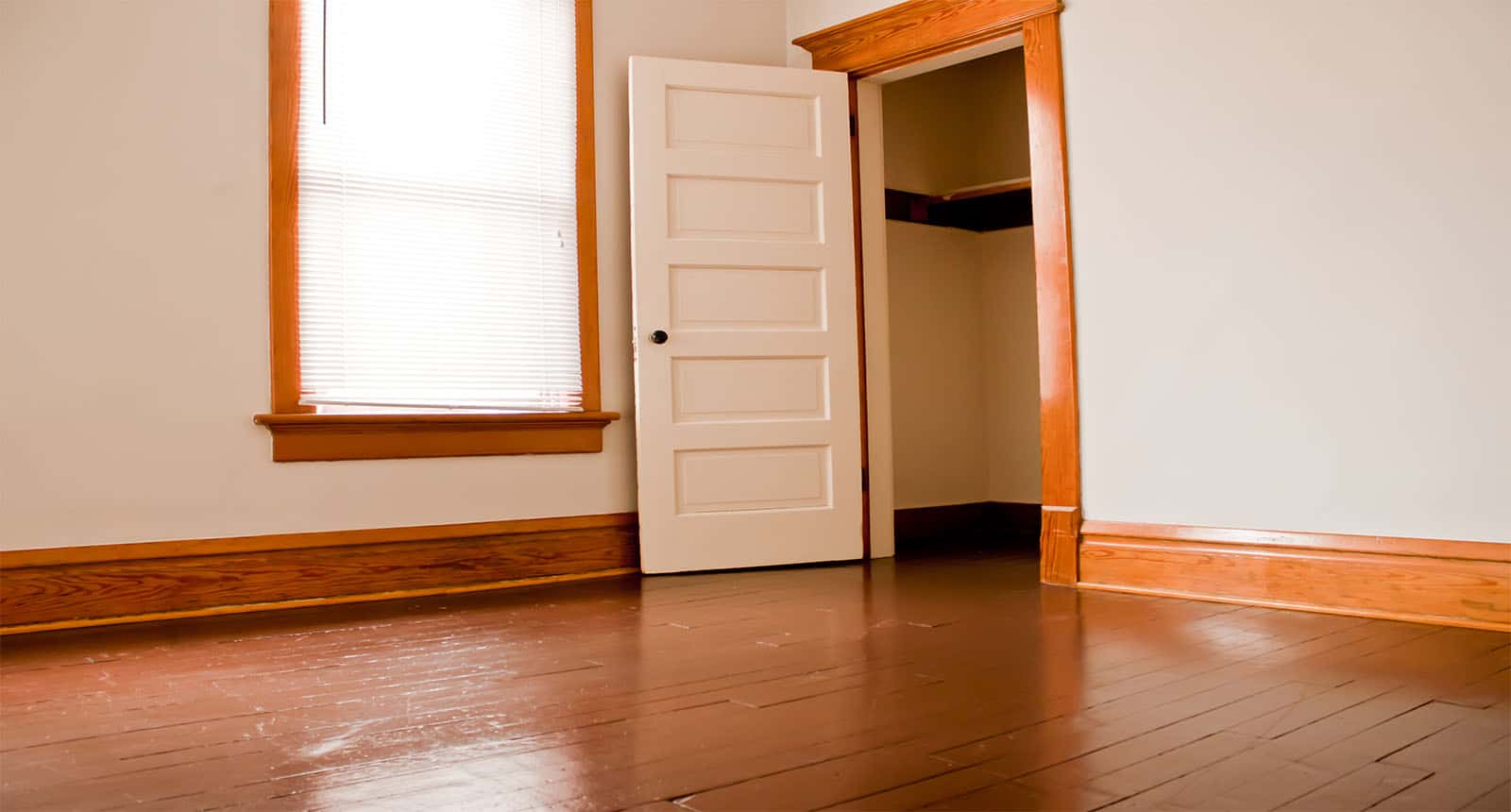 Wax Vs Polyurethane For Wood Floors
If you are considering different finishes for your floor, you probably have considered wax.
Before polyurethane was introduced, everyone used wax on their wood floors. It is still available, and comes with a unique set of pros and cons.
Wax gives a low-sheen and natural appearance. Nowadays, you can use liquid wax for hardwood floors and paste. Both formats require manual work and buffing for the best results.
Wax dries quickly, but buffing may take time and cause fatigue in your hands.
Overall, it is easy to apply on the wood floor, it isn't toxic, it works on stained and new wood. But, avoid wax if you want to keep the current color of your floor, as wax darkens or turns yellow over time.
It isn't durable and not as nearly protective as polyurethane. Rather, it blends into the wood, allows it to breathe, which is great because it reduces the risk of mold. You can try to clean mold from your wood floor, but it is best to prevent it.
On the other hand, because there isn't a protective barrier against moisture, wax leaves white marks when in contact with water. Unlike polyurethane, it can easily scuff and scratch, but you can use more wax to buff the marks.
The wax finish comes in different colors and the drying time depends on the brand. Most of them allow you to walk on the floor after several hours.
It is best for low-traffic areas and people who have time to buff new layers of wax occasionally.
How To Apply Polyurethane To Wood Floors: Step-By-Step
Applying polyurethane to your floor is simple when you follow the guidelines, but it is a weekend project at best. The task requires you to prep the floor thoroughly for the best results.
Here is the list of things you need:
Sandpaper – 100-grit, 200 grit and others
Orbital sander
Pole sander or abrasive pad or steel wool (for use between coats)
Brush
Vacuum cleaner
Protective equipment – gloves, mask, goggles
Mineral spirits
Roller
Tack pad
Polyurethane varnish
How To Prepare The Floor Before Polyurethane Application?
Preparing your floor is essential to get perfect results. First of all, use a vacuum cleaner for the wood floor to get rid of dirt and debris.
Clean the floor thoroughly and pay special attention to corners and edges.
Sand the old finish, by using the roughest sandpaper.
Never stay too long in one area, to prevent the wood from scoring.
Once you cover the entire floor, use a vacuum to remove dust.
Clean the boards using mineral spirits and cloth.
Watch this video to know more:
Applying the Polyurethane
Polyurethane comes ready-made, which simplifies the application. Before you start, I would recommend stirring the liquid lightly, to prevent air bubbles.
Prepare the can of product and brush near you.
Start on the opposite corner of the doors and work in the direction of the wood grain.
Dip the brush in the product and let the excess product come off the brush.
Make strokes with a brush over the edges, approximately 10 inches wide.
Add double strokes over the surface and continue. Make the first and second strokes overlap.
Repeat the process on the next edge section, but ensure it overlaps with the first area you finished.
Continue with a brush for ten more minutes, and move on to the central area.
Use a roller for the central area.
Dip the roller in the product and start close to the first corner you have completed.
Work toward the edges, by repeating back and forth motions with a roller.
Switch the edges every ten minutes, and work toward the exit.
Don't stay too long in the same area. Allowing the small areas to dry a bit, you can notice if you missed places and go back to redo them.
Continue with the motions and work your way toward the exit.
Wait until the coat is completely dry to determine whether you want more coats.
If you need to apply more coats, use a pole sander to lightly sand the floor before you repeat the applying process.
Watch this video to know more:
How Many Coats Do you Need?
If you are using water-based polyurethane, use at least four coats and an abrasive pad between coats. If you are using an oil-based version, you need to apply at least two coats.
The first coat will leave little finish as the wood will absorb the majority of the product, while the second coat will add the necessary protection and finish. If you want a more visible effect, feel free to add more layers.
Steel wool is useful for light sanding between layers.
Watch this video to know more: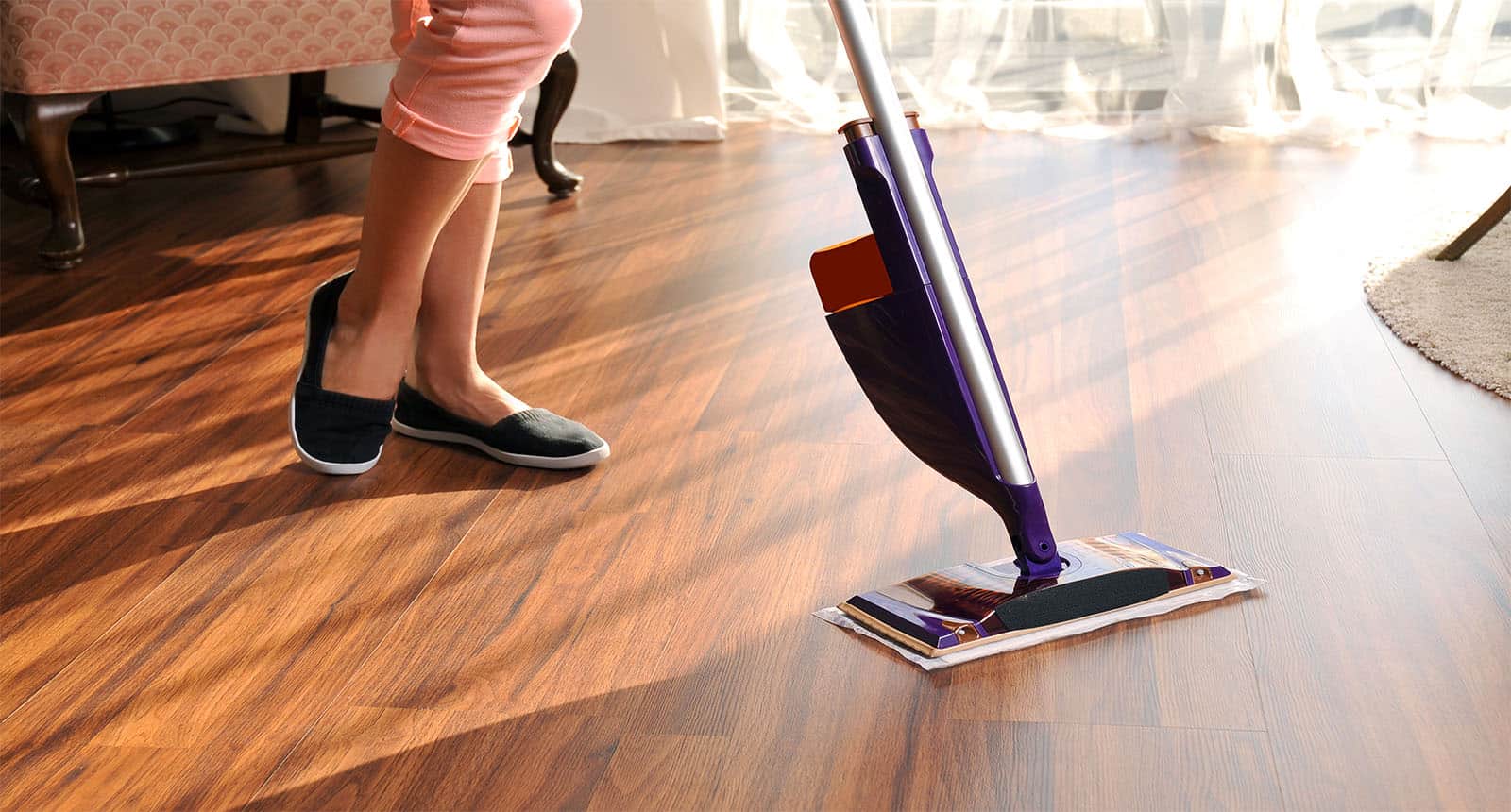 How To Fix Poor Polyurethane Application?
You won't be able to inspect your work until polyurethane is completely dry. If you notice polyurethane drips of air bubbles on the floor, you can try to fix it at least 24 hours after you applied the last coat.
Use 120-grit paper to sand the problematic spots.
If the issue is small, you can manually sand it. For larger bumps, use a handheld orbital sander.
Once you are done, go over the spot with a wet, lint-free cloth.
Use a dry cloth to remove the dust.
Use a small, detailed brush to apply a new layer of polyurethane.
Apply a thin layer and let it dry for at least 12 hours to see if it fixed the problem.
Lightly sand the spot manually, and add as many layers as needed to even the coatings.
Correct Application Of Polyurethane – Essential For Good Looking Floors
Whichever polyurethane type you choose, if you apply it properly, it will prolong the floor's pleasant appearance and keep it safe from scratches, scuff marks and moisture.
Sanding the floor before application, and between layers, evens out the surface and ensures better results.
If you mess things up, you can try spot-repairs by sanding the area and applying a new layer of finish.
Whenever you work with polyurethane, ventilate the room well and let the finish dry to finish the application.
If you learned something new in my article, give it thumbs up and share it with your friends and family.
Also, don't forget to share your tips about the proper application of polyurethane in the comment section!