Despite being used in construction for a long time, brick and cleaning brick floors has never been outdated. In contrast, brick material is strong in high-traffic indoor locations and has relation to outside spaces, such as foyers, patios, porches, and kitchens.
To help you get the beauty back to brick floors quickly and efficiently, the content of this article will summarize some significant features of brick as well as ways to briefly and thoroughly treat each type of stain on your brick floors.
The content will also introduce you to some ways to maintain your brick floors and a lot more. They are waiting for you to discover right below!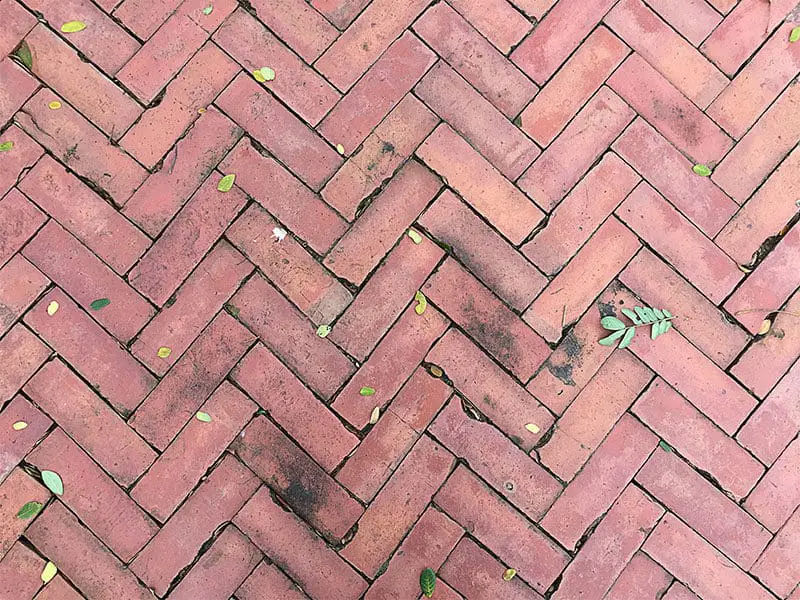 A Quick Overview Of Brick Floor Features
Bricks have many benefits for flooring: they are inexpensive compared to natural stones, durable, and do not require too much maintenance.
Bricks bring a rustic, classic, nostalgic feel, so they are very suitable for vintage design ideas. They are considered ideal for outdoor flooring, and the time traces only add to the bricks' beauty.
Here are a few points about the brick properties for you to note and have effective cleaning solutions:
Material Features
Bricks are most commonly made from clay but can also be calcium silicate and concrete, thus very hard and can withstand many extreme conditions.
You can use various items to clean the brick floor without worrying about them being easily scratched or destroyed. The strength level needs to be done with care and tested step by step, and brick floors with covered surfaces should follow the recommendation.
Heat Resistance Ability
Bricks have good heat resistance and good fire resistance and therefore withstand heat cleaning methods
Water Absorbent
Conventional bricks without a waterproof layer will absorb water and moisture strongly and easily, so there is a risk of cracking or mold. You should clean the surface regularly and thoroughly to prevent slippery due to the mold.
Durability
Bricks are anti-fading and anti-rotting, suitable for applying cleaning chemicals when needed. Take a closer look if your brick floor is coated with an anti-slip or waterproof layer.
Dos And Don'ts When Cleaning A Brick Floor
Before you get into details on cleaning a brick floor, stop for a moment to read about the dos and don'ts of doing this work. It will help you avoid some mistakes.
Docs
Clean regularly and daily if possible to prevent stubborn stains from forming and keep the brick for long-lasting
Thoroughly clean tight areas, underneath furniture, and between bricks, as these are places where dirt prefers to hide
Prefer to use naturally derived detergents, diluted detergents and suitably designed for bricks
Evaluate the texture and hardness of both bricks and mortar before applying water cleaning methods. Can be cleaned with low-pressure water and steam
If you need chemicals for cleaning, don't forget to wear masks and gloves to protect your health
Don'ts
The following should be avoided while cleaning your brick floor: hydrochloric acids, strong soaps, hard tools, abrasives. They may damage the brick surface, possibly causing erosion and changing the color of the bricks.
In particular, using acids to clean bricks is still considered by many to be an easy method, but be careful.
Besides having an undesirable effect on surfaces, you need to be cautious not to get acid in your skin, eyes, clothes, not to smell its smoke, and keep children, animals, and plants stay away.
Do not use high-pressure water for cleaning because it can cause cracking and damage the brick structure, causing water permeability
If polishing, do not apply water-based polish over solvent-based polish because it will cause solvent condensation
Cautions When Using Pressure Washing And Steaming Cleaning
If using cold water low-pressure washing, hot water low-pressure washing, and steaming cleaning, you should take special notices as below:
Evaluate the surface texture and hardness of bricks and mortar before applying. Low-pressure washing can damage weathered crushed stone, soft stone, and mortar joints
Start pressure wash at a low-pressure setting, e.g., 1200 psi, to assess the effect on the floor
Protect surrounding surfaces and objects from water damage: large amounts of water used in this technique can cause water repellency and staining of brick floors
Wet the bricks before starting pressure washing, as the bricks will become more elastic during washing
Do not use concentrated chemicals for the initial cleaning, as this can cause uncontrolled dispersion of chemicals
Prepare a plan for drainage
How To Clean A Brick Floor With No Sweat?
No more waiting time. I will jump right to the content you are most interested in: ways to clean your brick floors quickly and effectively.
In this article, the section about how to clean is described by types of stains, so you can quickly find a solution to your coping problem. There you will find information about the required tools and specific steps for execution.
You need to know that arranging small objects up high and chairs in a separate area will help you clean more easily, quickly, and thoroughly.
Dirt And Grit
Dirt and grit are common stains when you use brick floors, especially unsealed bricks and high-traffic areas.
This amount of dirt and grit can damage other home surfaces such as hardwoods or carpets.
The daily cleaning will help you reduce the amount of dirt and grit significantly.
Method 1: Broom Sweeping
What you Need:
What to Do:
Step 1: Sweep the dust
Step 2: Collect with the dustpan
Notice:
Pay attention to the area under the furniture and thoroughly sweep the mortar between the bricks because dirt and grit tend to hide there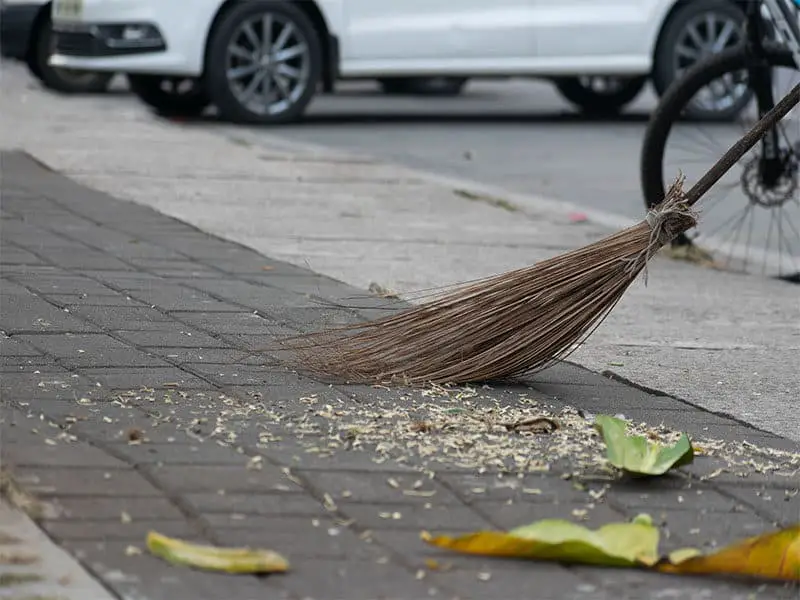 Method 2: Vacuum Cleaning
What you Need:
What to Do:
Step 1: Vacuum thoroughly in narrow slots.
Step 2: Use the attached soft brush (if available) to collect fine dust and pet hair.
Notice:
Avoid using a tough brush as it can damage the bricks and the seal.
Debris
You may not see debris very often on your floor, but don't disregard it. Debris is more likely to damage your floors than dirt and grit.
To prevent vacuum cleaners from clogging and damage, you should only wipe out debris on a brick floor with a broom.
What you Need:
What to Do:
Step 1: Use the broom to gather and collect the debris
Step 2: Continue to wipe away the remaining dirt.
Smudges And Streaks
A mop and some other detergent are needed if your brick floor has smudges or streaks.
What you Need:
A broom or a vacuum cleaner
For detergents, you can choose from the following safe home cleaners:
Vinegar: Vinegar is naturally acidic and is favored for cleaning due to its ability to increase surface shine, deodorize, disinfect, and easy to buy. Mix a half cup of vinegar and a gallon of water into a bucket and stir, and you'll have the cleaning solution you need.
Baking soda: Baking soda is also alkaline and is very good at removing stains and deodorizing. Just stir 1 gallon of water with about two tablespoons of baking soda to produce the mixture you need.
Borax: Borax is a strong alkali, so you need to dilute it thoroughly. The proper ratio is two spoons of borax per gallon of water.
Mild commercial detergent: Mix according to product label directions.
What to Do:
Step 1: Use the broom or vacuum cleaner to remove dirt, grit, and debris from the entire floor
Step 2: Mix one of the above solutions
Step 3: Dip the mop in the solution, wring it out, and wipe the entire brick floor
Notice:
Use slightly more force when mopping compared to other types of floors
Should use a microfiber mop to penetrate the gaps between the bricks better
A sponge or a flat cloth mop will not be as clean
Wipe the second time with a dry mop will help remove excess water and stains or streaks better
Scratches
Scratches are a common problem for floors in general and brick floors in particular, especially brick floors without coating.
Overall, with scratches, there's not much you can do but prevent them.
If you're not particularly concerned with the scratches, follow the brick floor cleaning options that apply to mild stains like above.
If the scratches are too bad and unsightly, they will be there forever. You may consider replacing the damaged bricks.
In case the scratches aren't too serious and you really want to remove or make the scratches look better, the following notes will help.
What you Need:
Water
Dish soap
A rag
A fine-grit sanding pad
A brush
Brick sealer
A paintbrush.
The brick sealer is optional and serves as an overlay to protect your work.
What to Do:
Step 1: Make a thick solution of 2 drops of dishwashing liquid and a little water and stir
Step 2: Wet the rag with the mixed solution and wipe the area of the scratch. Let dry completely
Step 3: Use a fine-grit sanding pad to sand scratched areas. Rub hands evenly with regular back and forth movements
Step 4: Sweep the dust with a brush or vacuum cleaner
Step 5: Use a paintbrush to paint the brick sealant on the relevant positions
Notice:
If the fine-grit sanding pad does not remove the scratch, switch to a medium-grit one
Consider applying brick sealant for high traffic locations or steps because it can make your floor or stairs slippery when wet
Mortar
I mean, the mortar that is not properly positioned is in the middle of the bricks. When hardened, these mortar stains create ugly spots for your brick floor.
Handling this problem is not really difficult. It just needs you to be a little meticulous in the operation.
What you Need:
A trowel (or a thin, hard tool to remove large drops of mortar)
Household bleach
Water
A bucket
A sponge (or a rag)
A brush
What to Do:
Step 1: Use the trowel to scrape large drops of mortar
Step 2: Mix a mixture of bleach and warm water at the ratio of one tablespoon of bleach to one gallon of water
Step 3: Use the sponge or rag to apply the solution to areas that need cleaning
Step 4: Scrub with the brush
Step 5: Rinse with clean water
Notice:
Bleach may change the color of the bricks. You need to test on a small area before applying it widely
Do not mix bleach with ammonia or any other detergents because of the poisonous gas of the mixture
You should wear gloves when performing work
Instead of bleach, a grout thawing machine is also a very effective way of cleaning mortar on bricks. To prevent this solution from softening to other mortar parts in the correct position between bricks, you should apply it into a rag or sponge before wiping any stains on the floor.
Mold And Mildew
Mold and mildew are common problems with all construction surfaces and always thrive under the right conditions.
As long as it's a humid place for a long time and out of the sun, whether it's brick floors, brick stairs, or brick walls, you'll quickly notice the ugly patches of black, blue, or green mold and white mildew.
Mold and mildew not only threaten the aesthetics but also gradually affect the durability of bricks.
Here are simple steps to get rid of mold and mildew from your brick floors.
What you Need:
What to Do:
Step 1: Apply mold and mildew stain remover to moldy areas. Let sit for about 3-5 minutes according to package instructions
Step 2: Use a brush to scrub the stain
Step 3: Rinse the area with water
Step 4: Rework until the mold and mildew is completely clear
Notice:
Choose biodegradable cleaners that are safe for humans, pets, and the environment
Take measures to protect nearby plants from chemical-contaminated water
Prevent mold and mildew growth from returning by performing regular cleaning, pruning foliage, and removing weeds if outdoors
Here is a video that illustrates how to get rid of mold on bricks.
There are other options for completing the task of removing mold and mildew from a brick floor, including using bleach and a pressure washer.
The drawback of bleach is that it can discolor bricks and kill the surrounding plants.
The pressure washer is great for cleaning mold and mildew over a large area and narrow and difficult positions, but you need to assess the surface texture and hardness of bricks and mortar before using it.
Moss And Algae
Although biological characteristics are different from mold and mildew, moss and algae have similar growth and development conditions, loving to grow on brick walkways, patios, and walls.
However, in terms of the degree of damage to the brick material, moss poses more risks.
You need to deal with this pain quickly, not only for the aesthetic issue but also to avoid the possibility of slipping and getting hurt.
What you Need:
Household bleach
Water
A watering barrel
A hard-bristle brush
What to Do:
Step 1: Pour bleach into the watering barrel, dilute with water at a ratio of 1:10
Step 2: Spread the bleach solution on moss and algae
Step 3: Wait for about 15 minutes (dead moss and algae will turn yellow)
Step 4: Sweep the dead moss and algae
Step 5: Wash off the bleach on the brick floor thoroughly with running water
Step 6: Use the brush to scrub the brick floor to remove soil and dirt
Step 7: Rinse the brick floor again
Notice:
Bleach may change the color of the bricks
Do not mix bleach with ammonia or any other detergents because the mixture will produce a poisonous gas
You should take protective measures when cleaning
See more at this video about getting rid of moss on brick pavers.
Moss and algae are persistent and require you to dispose of them regularly. The conditions for moss and algae to develop are moisture and shade. Therefore, reducing moisture and increasing drying is a way for moss to lose the perfect environment to grow.
Specifically, you should prune the surrounding branches and leaves, rearrange the objects that block the sunlight, help sunbeam shine more on the humid areas. Besides, regular cleaning of grass, water flow, regular scrubbing brick floors is also what you should do.
Safer health and environmental measures to destroy moss and algae on bricks are replacing bleach with vinegar or using a pressure washer.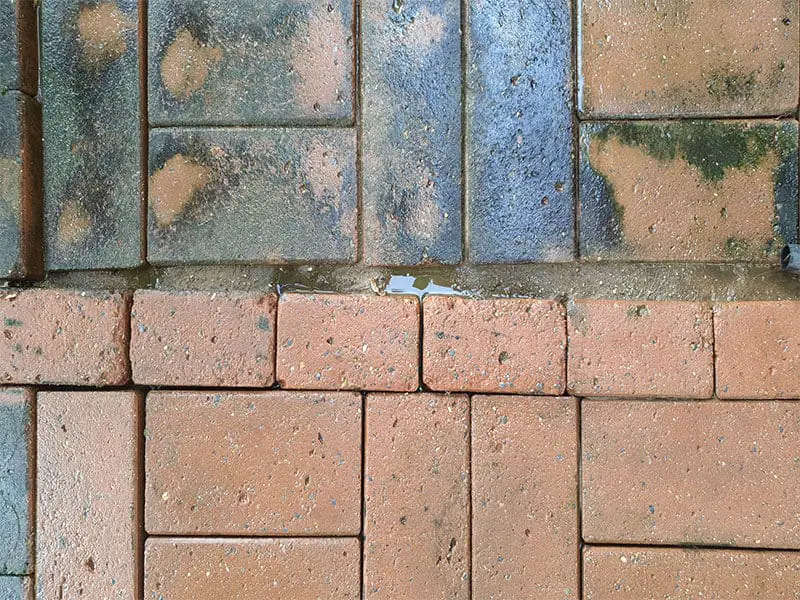 Calcium Deposits And Efflorescence
Calcium deposits on the brick floor are white deposits that appear over time at the brick positions that water passes and evaporates.
Efflorescence is a crystalline salt residue that occurs on porous building surfaces at locations in contact with water or moisture.
These two types of white stains take away brick floors' beauty, especially red or dark brick floors.
Although they look pretty serious, these stains do not cause long-term harm to the brick texture, and cleaning them is quite simple.
What you Need:
Household white vinegar
Water
A bucket
A brush
What to Do:
Step 1: Fill the bucket with water and mix white vinegar at the rate of 1 cup white vinegar per gallon of water
Step 2: Pour the solution onto the calcium deposits or efflorescence positions and rub the brush repeatedly
Step 3: Rinse with clean water
Notice:
Test on a small area before you apply to the whole brick floor
Using a pressure washer also helps speed up the work.
Re-do the above steps when the calcium deposits and efflorescence appear again after a time.
You can follow the steps taken to remove these white stains on bricks through this video.
Paints
Paint is a headache for all materials. It's also difficult to completely clean paint on brick floors. However, I have ready options for you to remove the undesired paint stains or coatings.
Small Paint Streaks
What you Need:
Paint remover solution
A small piece of hard plastic or metal
A cleaning cloth
A brush
What to Do:
Step 1: Spray the solution on the paint and wait for about 3-5 minutes
Step 2: Use a small piece of hard plastic or metal to scrape the paint gently
Step 3: Wipe off the paint with a cloth that has just been scraped off
Step 4: Continue using a brush to scrub away any remaining paint
Step 5: Use the cloth to wipe and blot the positions
Notice:
Choose biodegradable cleaners that are safe for humans, pets, and the environment
You can see how to remove paint from the brick surface quickly in this video.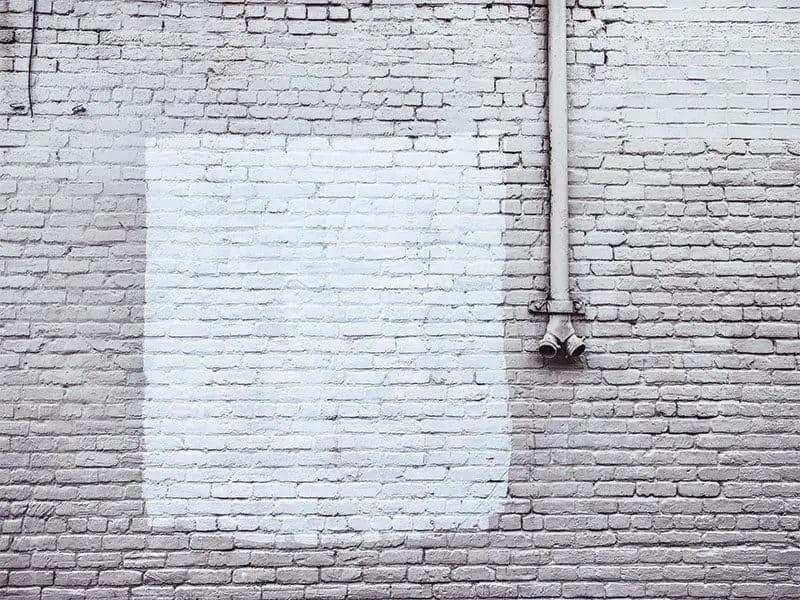 Large Painted Areas
The common methods to solve this difficult task are to use low-pressure water spray (cold and hot water) and steam cleaning.
The water pressure-based cleaning method helps you achieve results quickly and with little effort.
Method 1: Cold Water Spray
A cold spray with low pressure is one of the most effective and enjoyable surface cleaning methods.
What you Need:
A soft brush
A proprietary brick cleaning agent
A pressure washer
What to Do:
Step 1: Pre-wetting the surface
Step 2: Use the proprietary brick cleaning agent to remove permanent deposits
Step 3: Rinse with cold water with the pressure washer at low-pressure
Step 4: Use a soft brush to scrub any difficult spots, if any
Notice:
Some factors influence the result: water flow rate, nozzle shape and size, the distance between nozzle and floor, angle and direction of the nozzle
Method 2: Hot Water Spray
A hot spray with low pressure gives the quickest and most wonderful effect on difficult stains
What you Need:
A soft brush
A proprietary brick cleaning agent
A hot-water pressure washer
What to Do:
Step 1: Pre-wetting the surface
Step 2: Use the proprietary brick cleaning agent to remove permanent deposits
Step 3: Rinse with hot water with the pressure washer at low-pressure
Step 4: Use a soft brush to handle problematic places again if necessary
Notice:
Only applicable when you have high control technique, as this activity can cause the surface to be cut and deformed, destroying delicate and friable details
It is recommended to use a minimum set temperature at 80 degrees
Factors that influence the result: water flow rate, nozzle shape and size, the distance between nozzle and floor, angle and direction of the nozzle
Although highly effective, easy, and quick to apply on the most stubborn stains, cleaning methods with water pressure washing requires great care and technique. And you especially need to consider before applying on weak floor surfaces or delicate details.
You can refer to the following link about the effectiveness of hot-water pressure cleaning for paints on bricks.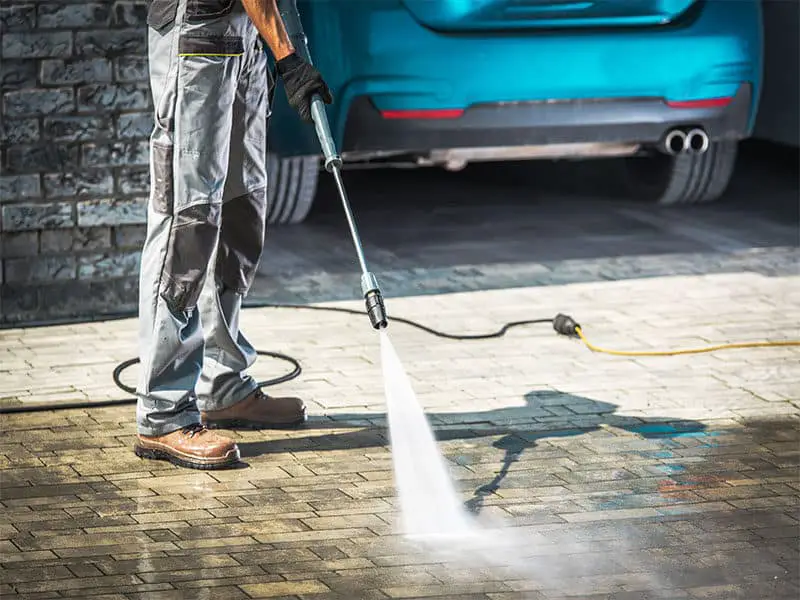 Method 3: Steam Cleaning
A steam cleaner is excellent for both difficult indoor and outdoor areas which require little water.
What you Need:
A hard nylon brush
A proprietary brick cleaning agent
A steam cleaner
What to Do:
Use the proprietary brick cleaning agent to remove permanent deposits
Spray rinse with the steam cleaner slowly
Use a hard nylon brush to scrub stubborn paint stains, if any
Notice:
When performing indoor cleaning, you need to assess the effects of temperature, steam, and condensation on objects and other surfaces
This video is an example of how a steam cleaner removed old paint from bricks.
Grease Oil Grime
Grease, oil, grime are common on the brick walkways, where people pass by a lot, and because of that, their ugliness becomes even more unsightly.
If done correctly, you can still quickly remove these stains. Otherwise, they stay there for a long time and challenge your aesthetics.
Get rid of them quickly with the following measure:
What you Need:
Liquid degreaser
A brush
Water
What to do:
Step 1: Pour the liquid degreaser onto grease stains
Step 2: Use a brush to scrub all areas where there is grease. Let stand for a few minutes
Step 3: Rinse with water, then let dry
Notice:
Using hot water is believed to be more effective
If you don't use the degreaser, you need to use hot water to pour it over and wash off the stains. Do not apply cold water because it will only make the stains larger
You can see the simplicity of this cleaning method in the following video.
This method is also suitable for other surfaces covered with grease, oil, and grime, for example, concrete floors.
Brick Floor Maintenance
Once you've cleaned the whole brick floors, it's not a bad idea to consider applying a brick sealer to your bricks to protect and keep them clean for longer.
After processing, continue with the following:
Regularly use broom and mop to sweep and mop floors every day
Weekly, wipe thoroughly with vinegar or a special solution for a deeper cleaning, removing more stubborn dirt and stains
Use solvents to polish and wax the brick floor
Steps To Apply Flooring Wax
You will need to follow the manufacturer's instructions on the product packaging. Below is just the usual process for applying a flooring wax for your reference.
What you Need:
A scrub brush or a floor-scrubbing machine (if your floor has an old wax layer)
A broom or a vacuum cleaner
A bucket, a mop, a cloth
Water
Ammonia
Flooring wax
Buffing machine (optional)
What to Do:
Step 1: Use a scrub brush or a floor-scrubbing machine to remove previous old wax layers (if any)
Step 2: Use a brush or vacuum cleaner to remove dirt from the floor
Step 3: Mix 1/4 cup ammonia solution with 8 cups of water in the bucket
Step 4: Clean the floor with a mop, use a brush to remove difficult stains. Wait for the floor to dry
Step 5: Apply wax to the surface and use a cloth or polishing machine to polish. When the first layer of wax is dry, you can apply a second layer and keep polishing until the surface is smooth and even.
Notice:
For brick floors, the two main waxes used are solvent-based wax and water-based wax. Solvent-based wax is recommended as it does not cause wax buildup, which requires removal with a brush or a floor-scrubbing machine
If you apply two types of wax, the water-based wax needs to be applied before the solvent-based wax. This means that if solvent-based wax is used on your brick floor, don't use water-based wax on top of that surface
FAQs
The information above has not fully answered your question? This Q&A section will help you clarify what you want to learn more about.
Additional Notice
The above contents have instructed you how to handle common types of stains on brick floors, from simple to complex problems, from easier ways to more professional options for you to take the review and apply.
Like cleaning other places and surfaces in the house, cleaning the brick floors should be done regularly to maintain hygiene and avoid stains that accumulate over time, leading to difficult handling.
Don't forget to test your cleaning solutions on a narrow and hidden area before applying them extensively to track the wear and discoloration they cause to bricks.
You also need to quickly properly handle difficult stains such as grease, oil, paints.
To keep the brick floor beautiful for a long time, you also need to pay attention to avoid dragging heavy objects on the brick floor—line with a soft carpet or a soft cloth underneath for easier portability.
Besides, it would be best if you didn't clean your brick floors the wrong ways or use the wrong tools to clean;
What problems with your brick floor are you having, and which suggestions above are useful to you? I hope to receive your experience of the clean your brick floor right below!