If you own a soft, beautiful wool rug, you certainly also want to know how to clean a wool rug. First of all, it was great you started to do some research as wrong handling can immediately destroy it entirely.
To make sure this will not happen to you, I have prepared an extensive guide that tells you exactly what you can and should do, conveniently presented step by step.
Whether you just want to spot clean your beloved rug because someone stepped on it with dirty shoes, or you want to give it a full clean-up, you will find the perfect way to clean it in this article.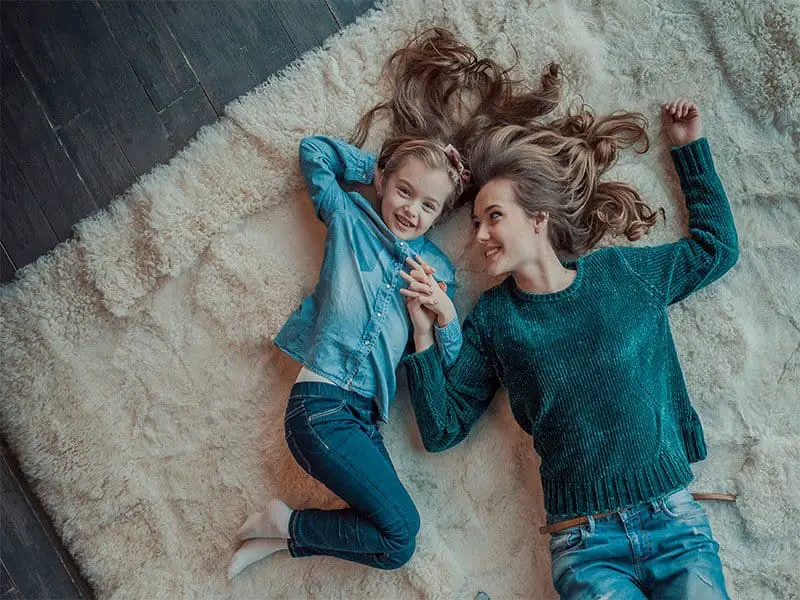 Understand Wool Material
Before you jump right to cleaning your wool rug, it is a good idea to obtain a short overview of the material itself. If you know more about wool and why it is so sensitive, you understand much better why the cleaning process differs a little from other, more simple rugs.
Wool fibers are extremely sensitive. They do not like heat neither too much pressure, as both will destroy the fiber structure, and you lose the soft and luxurious feeling. Furthermore, wool fibers are great in absorbing.
This means that any liquid will immediately enter the fiber strings. Hence it is really important to clean a wool rug immediately if you spill food or drinks on it as basically every second counts.
Also, they absorb harder particles such as debris and dust. To avoid that they deeply embed into the strings, frequently vacuum your wool rug, using a non-motorized brush and a moderate suction speed.
Finally, wool does not tolerate chemicals well either. Hence, never bleach your wool rug, and also do not use strong cleaning detergents. Especially, avoid oxidizers as the fabric are extremely sensitive against such harsh chemicals.
What You Need:
Cleaning a wool rug can be easier than you think. Also, you do not need to have a lot of special equipment. With standard household equipment, you should already be able to achieve pretty good results. However, if you shop for some special detergent, you will have an even cleaner place.
Vacuum Cleaner
Two water buckets
Sponge
Kitchen towels
1 to 2 tablespoons of wool wash detergent (extra gentle)
Cold water (use filtered tap water or bottled water)
Clothes horse (for drying the rug afterward)
For Spot Cleaning:
In case an accident happened, such as you spilled some red wine on a white wool rug, you can use these materials. Then jump straight down to the spot cleaning section.
White vinegar
Baking soda
Toothpaste
Before Getting Started
Now, make sure that you have all the equipment and materials at hand. This is important as you need to complete all steps at once to achieve the best results. Also make sure that you have some space around you.
As you will need to lift and shake the rug, it is good if you do not have a vase or lamp nearby that you could tip over. Finally, consider having enough time and space to dry the rug later. So if you are hosting a party in the evening and want the rug to be placed in your living room, you better choose another day to clean it.
The cleaning process may take approximately one hour, while you will need to wait for 12 to 24 hours for the rug to be completely dry. Now, once you have all things ready, you can get started.
Detailed Step By Step Guide On How To Clean A Wool Rug
Now, follow my detailed step-by-step guide on how to clean a wool rug. You will be extremely satisfied with the outcome. First, I will tell you how to do a complete clean-up, followed by a step-by-step guide for spot cleaning.
Method 1: Full Clean-Up
Step 1
Make sure the rug is fully accessible. Remove every item on it or nearby, such as sofa table or plants. If you have pets, make sure they cannot get in the way during the cleaning process.
Step 2
Shake out the rug. Lift the rug, hold it at its two edges and shake it. This will already remove a lot of dust or large debris that has not been embedded yet. So, if you have a garden or a patio, it is best to carry it outside and shake it there.
If your rug is very large, ask someone else to help you hold it while beating it to lift off debris. Also, remove any rug pad, as it is better if it will not get wet during the process.
Step 3
Now you can get the vacuum cleaner and gently vacuum the rug. Take a little time for this, as you need to pass a couple of times over each spot to remove embedded debris. When vacuuming, check that the floor brush is clean and use the correct settings.
Avoid using too strong suction in general. Only increase to a high speed on certain spots where the dirt cannot be released. Increase slowly and observe if the rug can withstand the strong suction. Also, avoid using motorized brushes.
If you cannot turn off the motor in your floor brush, use another nozzle, such as a crevice tool, or get a wool vacuum cleaner. Once you vacuum the rug, rug any rug pad if you have one placed below your wool rug.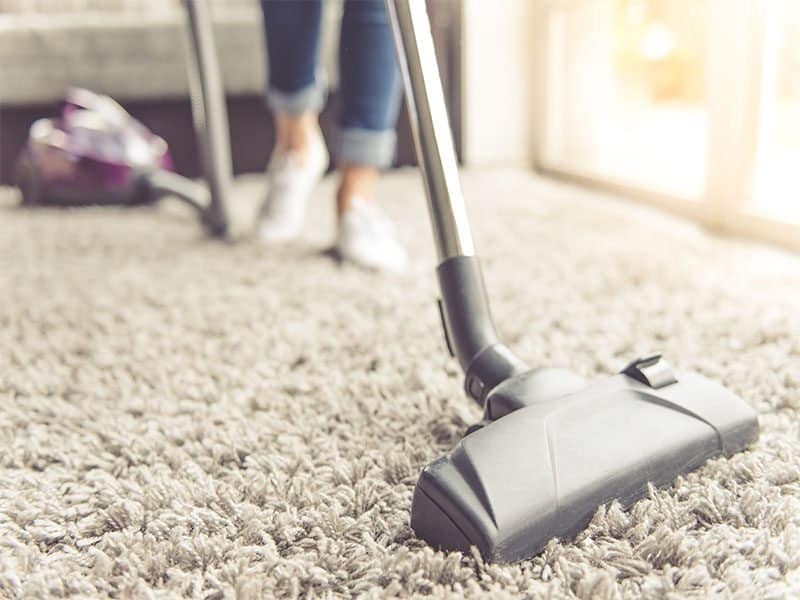 Step 4
Once finished vacuuming, fill the two buckets with water and add the wool detergent into one of the buckets. Next, get the sponge and dip it into the bucket containing the water and detergent mixture.
Step 5
Wring out the sponge to have it only humid, not too much wet. Next, gently start scrubbing on your wool rug. It is best to kneel on the rug and then scrub in the area in front of you while moving backward until the end of the rug.
Step 6
Frequently rinse the sponge. Usually, after scrubbing 3 feet by 3 feet grid, you should rinse the sponge to avoid distributing dirt across the rug. However, if the rug is extremely dirty, you need to rinse the sponge already sooner and consider scrubbing every grid twice.
Step 7
Use some old but clean towels and softly press them on top of the rug. The towels will soak up excess moisture and help the rug to dry faster. Also, check the bottom of the rug and underneath the rug whether it is humid there. If so, try to hang your rug for drying.
You can do so by placing it over a clothes horse, for example. If it is warm and sunny outside, you can also bring the rug on the clothes horse outside, such as on the balcony or the patio, for drying. If you dry it inside, make sure there is enough air circulation. Either open a window or turn on air vent systems.
Allow for enough time and make sure the rug is completely dry before placing it back on the floor. Congratulations, you now have a clean, like the new wool rug in your home.
Video Guide
In this video, you can see each step of thoroughly cleaning a wool rug:
Method 2: Spot Clean
Some chocolate sauce or a red wine drop landed on the perfectly snow-white wool rug. You certainly must be freaking out now, but do not panic and stay calm. It is important to clean the spot immediately, but you need to act appropriately.
With the wrong movements, you could make the disaster even worse. Therefore, read the following steps carefully and then get started on fixing the accident right away.
Step 1
Identify the issue first. If colorful liquids happened to land on the rug, never rub. Immediately, place a towel or toilet paper on the spot. Toilet paper is great as it has a great suction potential and can immediately soak out the liquid that has not yet infiltrated.
If the issue is mud from dirty shoes, then you can stay calmer. It is best to let the mud dry first. Only make sure that nobody is stepping on the rug anymore (including pets).
Once it has dried, you can use a dull edge tool and a vacuum to get rid of most. Then, continue with the steps as if you would perform a full clean-up.
Step 2
Remove the wet towels or toilet paper and pour some baking soda and white vinegar on the affected spots. Wait for a little while, and then use a clean sponge to spot scrub until the stain disappears.
Step 3
Rinse the sponge in clean water and gently scrub again to remove any excess vinegar and baking soda. Make sure the rug can fully dry. If possible, roll it over so that the cleaned spot can access fresh air from both the top and the bottom.
Step 4
It is recommended to perform a full clean-up within the next few days, as the just cleaned spot will now still be visible, as it looks much cleaner in contrast to the rest of the rug. Hence, if you do a full cleaning as well, your entire rug will look fresh again.
Video Guide
Are you a little unsure how to perform each step? In this video, you can see exactly how to spot clean a red wine accident on a wool rug:
Tips And Advice For Cleaning A Wool Rug
Now I have told you how to clean your wool rug in both a planned full cleaning and removing emergency stains. Nevertheless, there are few handy things you should know about when cleaning.
Avoid using bleach. Bleaching will, in most cases, destroy the fibers of your wool rug and reduce the intensity of colors.
Rotate your rug from time to time. Sunlight is shining in your home, and you most likely will step on always the same places of the rug. Therefore, if you rotate your rug once every quarter, you make sure it will wear out evenly and last longer overall.
Skip on renting professional steam cleaners. If you are considering renting a professional, I can tell you that this is not worth the money and effort if your rug is small. As a rule of thumb, as long as you are able to hold the rug by yourself and have some place to dry it, you are much better off cleaning it by yourself.
Use a white, fresh sponge. To avoid that leftover stains from the sponge will go over into your rug, make sure to use a fresh sponge every time you clean your rug. Also, use a white sponge to avoid that color that may transfer from the sponge into your carpet.
Get started with a clean vacuum. To make sure you remove debris from your rug and not carry more onto it, make sure that your vacuum is clean. For example, remove dust and hair from the floor brush and make sure that the wheels from the canister, if applicable, are clean as well.
How To Increase The Lifetime Of Your Wool Rug
You have purchased a very nice wool rug recently. I guess it has been rather expensive as it is a high-quality, stylish home décor item. Therefore, you want to avoid that it is becoming dirty soon, and ideally, you want it to stay as beautiful as on the day it arrived for a long time.
If you follow my advice below, you can drastically increase the lifetime of your rug.
No Shoes In Your Home:
On the soles of our shoes, we carry a lot of dirt from the streets. While it is mostly dust, it can also be mud, trash, or other unpleasant things.
This street dirt should better stay outside. If you take off your shoes immediately when entering your home, you will realize that your house or flat will be a lot cleaner.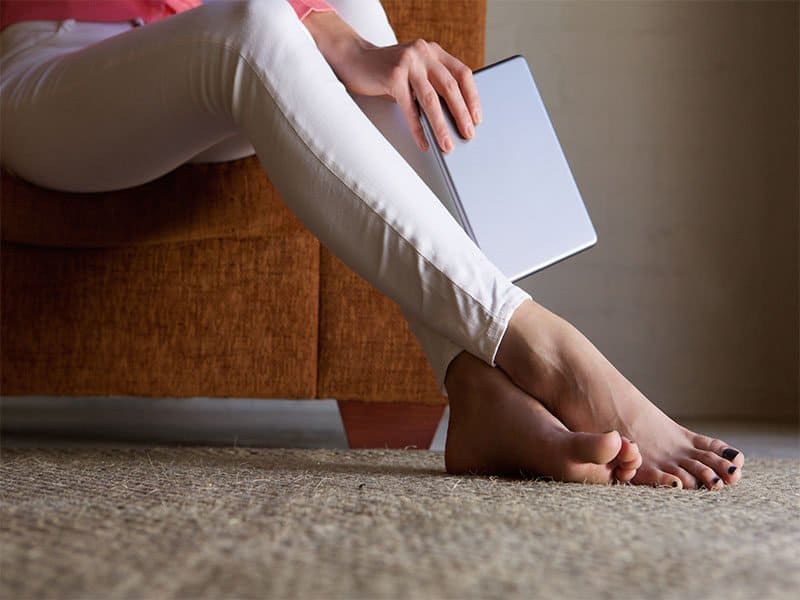 Do Not Place The Rug Near the Dining Area:
Even if you do not have children, sooner or later, a glass will be spilled, or food on your fork will fall before reaching your mouth. Hence, the dining table could be declared as a "high-risk zone."
Therefore, it is better to have a hard floor type around the dining table where you can simply wipe off the surface.
Avoid Placing A Wool Rug In High Traffic Areas:
These areas are places in your home where you and your family members often walk, such as the entrance, a hallway, or a wide passage in your living room.
If you place a wool rug in an area where it is less likely to walk a lot, such as in between the sofa and TV, the rug gets much less contact and will stay much longer.
Give Children A Designated Space To Play:
Children often like to play on the floor. Furthermore, they like to sit on warm, comfortable surfaces. However, children playing on your wool rug and starting to draw with color pens would quickly destroy the carpet.
If you provide your children with a comfortable spot to play on the floor somewhere else, they will very likely not sit on your wool rug, extending its lifetime.
Clean Around Your Rug As Well:
With all the special attention on your rug, you might spend much less attention on the area around it. However, this is very important. The cleaner you keep the area around the rug, the less dirt can be transported onto it.
Hence, frequently vacuum your entire home and keep surfaces such as on top of cabinets, tables, or shelves free from dust. To avoid forgetting that, add those steps to your house cleaning checklist.
FAQs Regarding Cleaning A Wool Rug
If you have some more questions on how to clean your wool rug the best way, check out what other rug owners have asked in the past, and hopefully, you will find your answer conveniently there.
Expectations Vs. Reality
Now you know everything you need to know about how to clean your wool rug. Despite closely following the step by step guide from this article, it might happen that stains or embedded dirt is not coming off entirely.
This is due to the fact that every carpet is different, and also the degree or intensity of debris affects the final cleaning result. It is important to not give up, and maybe repeat all steps again to see a better result.
I hope my article has helped you figure out the perfect way. Please let me know how it went for you and drop me a comment on how you successfully cleaned your wool rug.
Good Luck!