Cleaning baked-on grease can be an intimidating job, especially with accumulated food debris over a long time. I believe all of us have at least experienced the dreadful feeling of spotting the rigid and grimy black stuff clinging to our pans and ovens. Despite excessive efforts, you just cannot clean baked-on grease effectively from your favorite cookware.
Do not underestimate the annoyances those greases bring. They can deteriorate both the quality and aesthetics of all kinds of stuff, including cast iron skillets, stainless steel pans, and cookie sheets. Even the like of non-stick pans can become the victim to this stubborn layer.
However, I guarantee you that it is possible to clean baked-on grease. This article will provide you with the best practices to handle this trouble coating on your pans and ovens. Following these methods and your cookware will look brand new again.
Best Practices For Cleaning Baked-On Grease From Your Pans
First off, let's start with your cooking pans. There are various ways to clean baked-on grease from this particular cookware, depending on its material. Some approaches can be applied to many material types. However, certain methods are dedicated to specific metals only, such as stainless steel, cast iron, etc.
In this section, I will compile a couple of practices that you can use for cleaning baked-on grease from your pans. Before deciding to throw your skillet into the trash bin, make sure to try out the following recipes.
Method #1: Use Hot Water And Dish Soap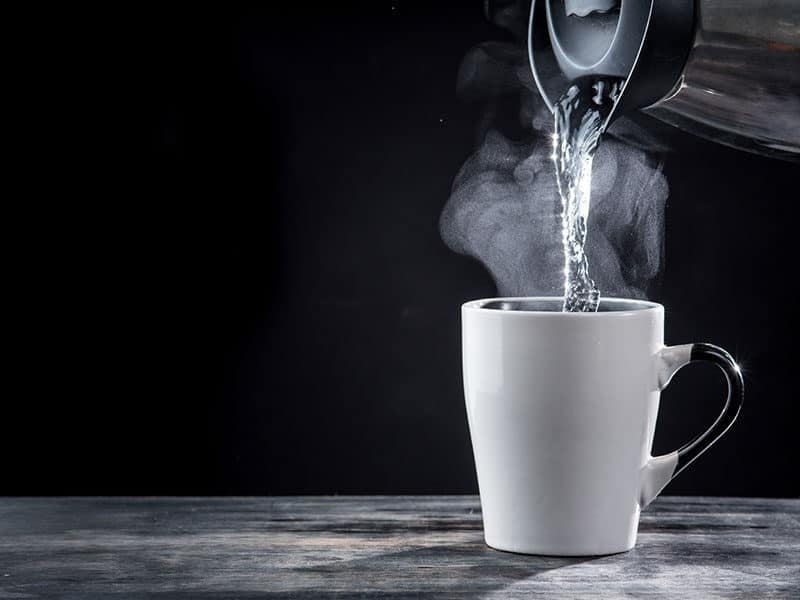 This first recommended method can satisfy both missions: cleaning the baked-on grease from the bottom of your cooking pans and protecting your skillet. Strong chemical-based cleaners can severely ruin your cooking pans and pots.
For this method, you will need to gather:
Start by filling the sink with water and some drops of dish soap. Use your hand to mix everything gently until the water becomes sudsy. Then, soak your pan in for at least 20 minutes. You can even drown the cookware there overnight if you want. The hot water – dish soap mixture will gradually loosen up the baked-on grease.
After that, take the pan out and rend its grease using a sponge or a wire brush. By then, the stubborn coating should slip off easily. Be careful to pick the appropriate wire brush type for your particular pan.
If certain parts of that layer persist, you can apply a slightly stronger ingredient called white vinegar. Mix some vinegar with water and spray the mixture on the stains. Vinegar contains acid that can remove grease from pans easily.
Method #2: Use Tartar Cream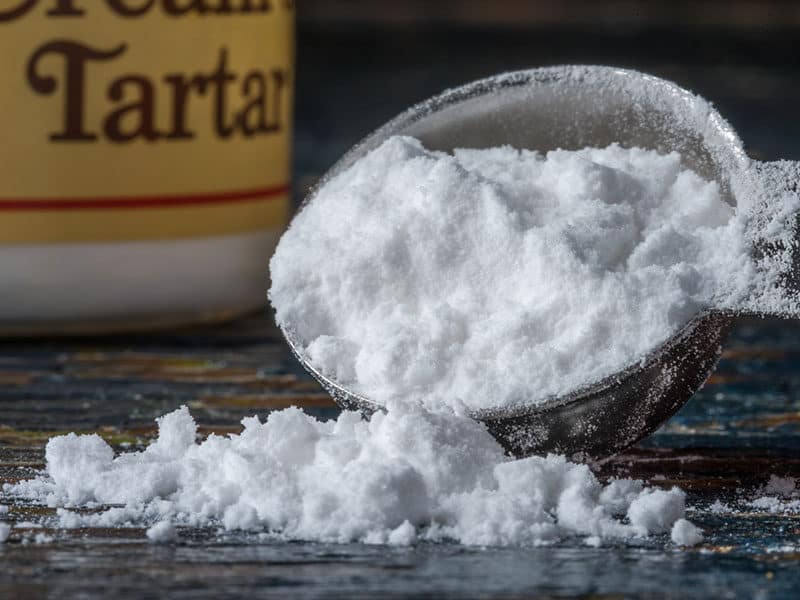 It may sound odd, but the cream of tartar is more versatile than just making sandwiches. You can find this ingredient easily in your mom's kitchen. However, its effectiveness is not contained in the cooking area. It is possible to utilize it for cleaning baked-on grease on your pans.
This recipe consists of two following substances:
1 tablespoon of cream of tartar
Warm water
A scouring pad
There is a rule of thumb to mix cream of tartar and water with the 3:1 ratio. After formulating the mixture, apply it to your pan's contaminated surface. Wait for about 10 to 15 minutes before scrubbing the cookware with a scouring pad. You will witness all your stains coming off.
Lastly, rinse your pan in clean water (or soapy water, if possible). Then, use a microfiber cloth to dry the pan to mitigate dust accumulation. Once you see your pan's shining look restored, it is high time to store the equipment.
This upcoming video will provide you with a useful visual illustration on this method:
Method #3: Use Baking Soda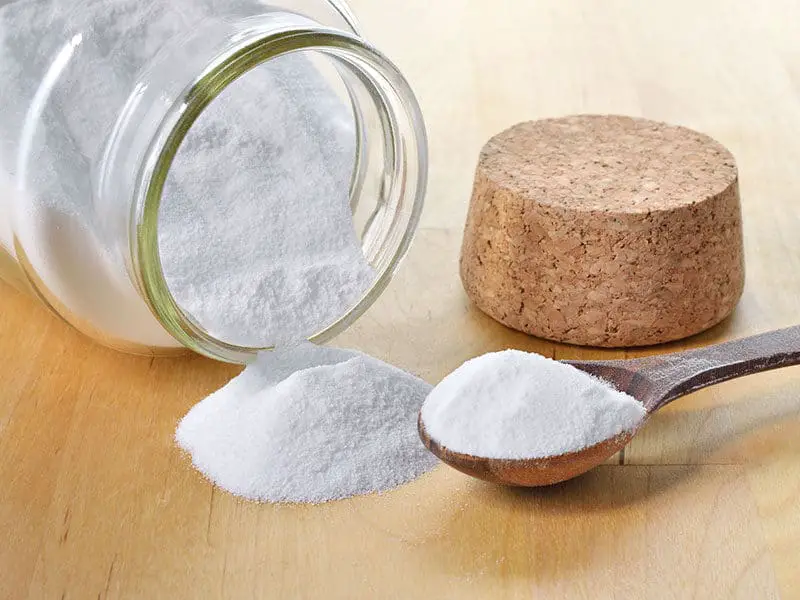 Besides the affordable price, what makes baking soda an iconic choice in the world of cleaning materials is its powerful ability to fight off grease. This substance can be gentle on your pan's surface yet extremely effective on annoying grease.
When mixing with warm water, the paste becomes more powerful in cleaning baked-on grease and stains.
The cleaning approach requires certain materials and substances:
3 teaspoons of baking soda
1/2 cup of warm (or boiling) water
A dry piece of cloth
A scouring pad
Your first move is to pour baking soda into your cup of warm water to form a thick paste. Boiling water is even better for the mixture because it can further trigger the cleaning power of baking soda. Apply that paste on the pan's grease layer and let it sit there from a couple of hours to even overnight, if possible.
The next step is to pick up your scouring pad and start scrubbing the pan to rend all the greases. However, throw away your scouring pad and use a soft-bristled toothbrush instead if your pan is ceramic, non-stick, or has fragile coatings. Otherwise, such a strong scrubbing gadget can cause serious scratches on such pan surfaces.
Finally, soak your pan in warm soapy water and rub the pan in circular motions to remove the baking soda mixture completely. Rinse and dry it with a piece of clean cloth.
If numerous spots of baked-on grease remain, you should repeat the whole process. However, be careful not to overdo it, as too many attempts can lift away the oil from your pans and pots.
Instead of warm water, you can use other alternatives, such as the mixture of hydrogen peroxide and Dawn dish soap or white vinegar. These pastes also work magic on tough grease stains.
Before drying and putting your pan into the cupboard for storage, you can spray a bit of vinegar solution on it to avoid dust.
Baking soda and vinegar, when combined, can become a powerful solution for cleaning various household items.
If you are interested in seeing actual cleaning actions with this method, feel free to check out the following video:
Method #4: Use White Vinegar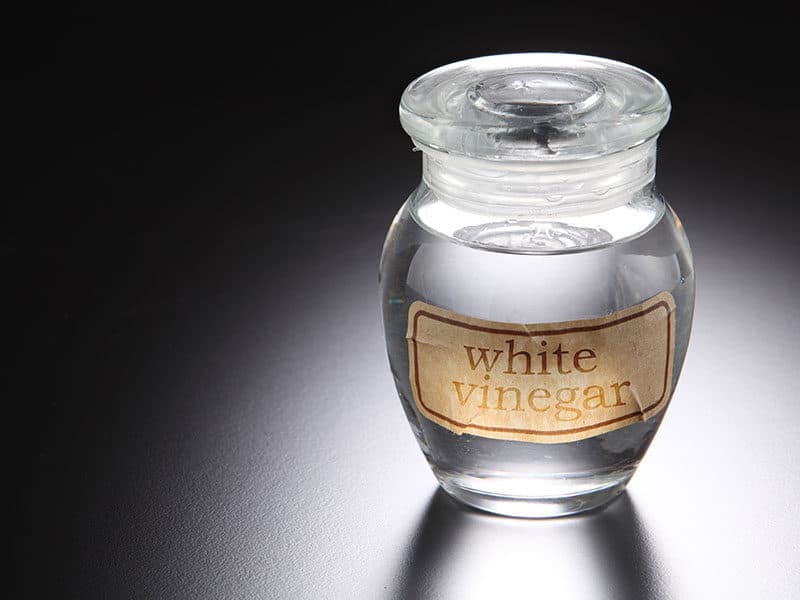 If vinegar in method #3 is just an alternative selection for warm water, it is the main character in this particular approach. Its acidic content is strong enough to break the grease bonds, resulting in the complete cleaning of these stubborn spots on your cooking pans.
This recipe is very versatile, as it is applicable to almost every pan type. It is also effective in dealing with pans and pots that have light browning from the greases.
Below is the list of all necessary items for this method:
White vinegar
Warm (or boiling) water
A scouring pad
A piece of microfiber cloth
Let's begin by pouring white vinegar and water into your pan. Then, heat the pan up for about 10 minutes and wait for the solution to cool down. After that, you can use a scouring pad to wipe away all the tough greases sitting on your pans. Finally, rinse everything with clean water and dry it using a piece of clean cloth.
Another way to apply this method is to fill your water sink with vinegar. Carry on by submerging the pan into the sink for at least an hour. Then, add in a small amount of dish soap and start scrubbing the pan with a soft-bristle toothbrush or a scrubbing pad. You will see all the loosened grease coming off right away.
If you are unable to find white vinegar in your house when needed, a good substitution is lemon juice. The latter option is as effective as white vinegar.
To give you a more realistic look at this method, I have prepared a short clip here:
Method #5: Use Ketchup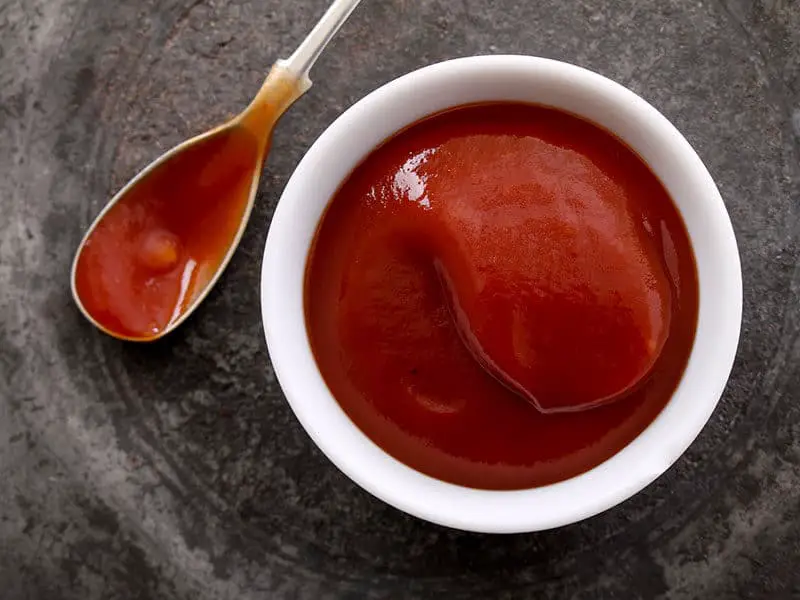 Let's be honest! Ketchup is never the top-of-mind answer for the pan-cleaning task. However, this material is indeed a real deal for cleaning baked-on grease from your cookware, especially from frying pans or sheet pans.
Its cleaning mechanism is very analogous to that of white vinegar in the previous method. The acid content in this condiment can tear down stains and greases effortlessly. In most cases, the two substances can be used interchangeably.
The ingredient list for this method is pretty straightforward. All you need is:
Ketchup
Warm water
A scouring pad
Firstly, spread a liberal ketchup amount on your pan's grease coatings. For this method, you need to allow the ketchup to stay on your pan longer than other approaches. This duration could span from several hours to even overnight.
After that, pick up your scouring pad and start scrubbing the contaminated areas. Expect to use a bit of elbow grease when doing this. Once you have done this step, rinse your cookware with water and enjoy its brand new look. Trust me, you won't be disappointed with the results.
This recipe works exceptionally fine on stainless steel and copper pans. Besides its sole function of cleaning baked-on grease, ketchup can shine up your skillet as well.
In addition to the traditional way above, you can refer to another applying method via the video here:
Method #6: Use Bar Keepers Friend Cleanser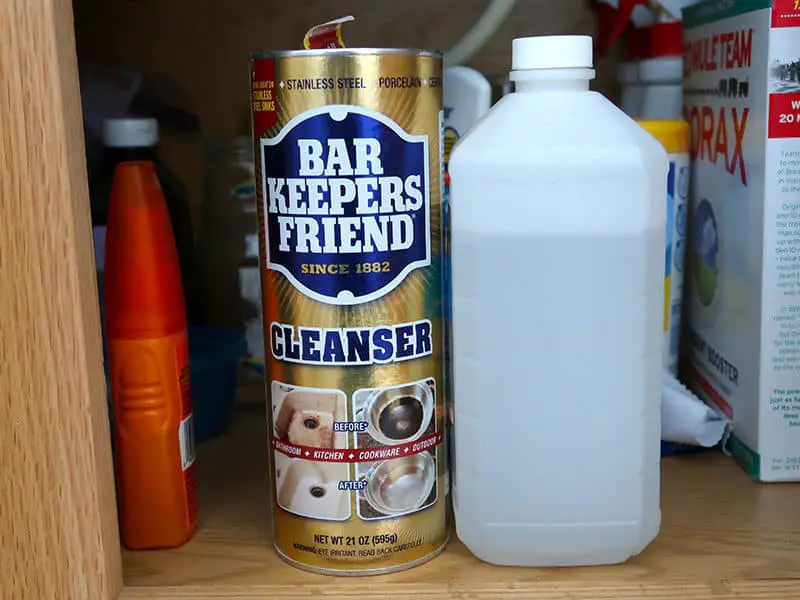 Dish soap is one of the most effective gunk-fighter solutions that you can confidently rely on. Among its vast category, it is highly recommended to utilize Bar Keepers Friend to get a shot at those hardened, baked-on grease on your cooking pans. The cleanser can break down grime at the molecular level, providing a strong cleaning effect.
This method is the perfect answer for non-stick and stainless steel pans. You don't have to worry about all the burners on the bottom of your pans anymore when taking them off a stove.
To carry out this recipe, you will need:
Bar Keepers Friend cleanser
Warm water
A scouring pad
This method is simple to use. First off, create a paste by mixing the Bar Keepers Friend with warm water. Then, apply this to your pan's contaminated areas by scrubbing the scouring pad in circular motions. After that, just rinse the skillet in hot soapy water.
You can simply substitute Bar Keepers Friend with any all-purpose cleaners on the market. Be assured that the result will be equivalent.
Method #8: Use Lemon And Sea Salt [For Cast Iron Pans Only!]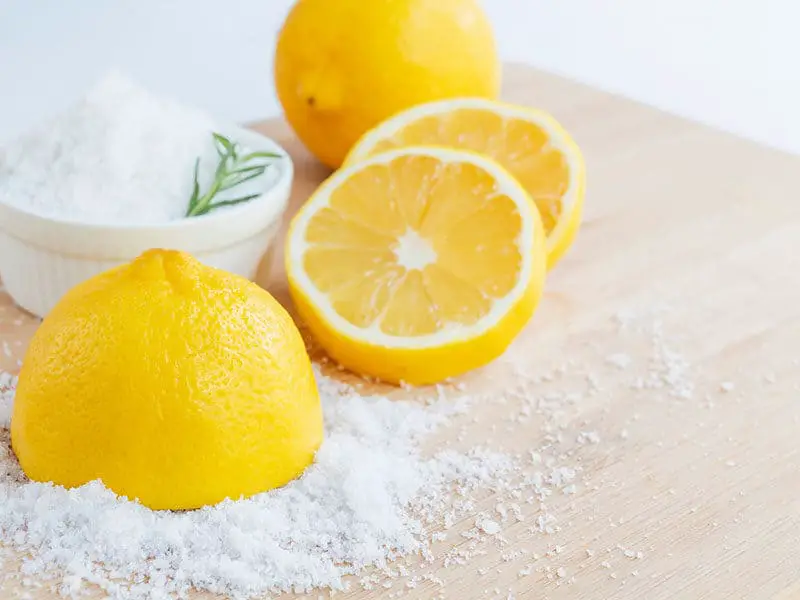 Cast iron pans contain the seasoning layer that requires an extremely careful cleaning method. The combination of sea salt and lemon is your absolute solution in this case.
However, if you accidentally clean the seasoning of your cast iron skillet, you can always refer to some reliable practices to season your cast iron pans again after cleaning the baked-on grease.
Recommended Methods For Cleaning Baked-On Grease From Your Ovens
Besides pans, stoves and ovens are typical places that you can spot baked-on grease. These surfaces require special cleaning methods. In this section, I will introduce to you two best practices for removing baked-on grease on your ovens.
Method #1: Use Oven Cleaner Products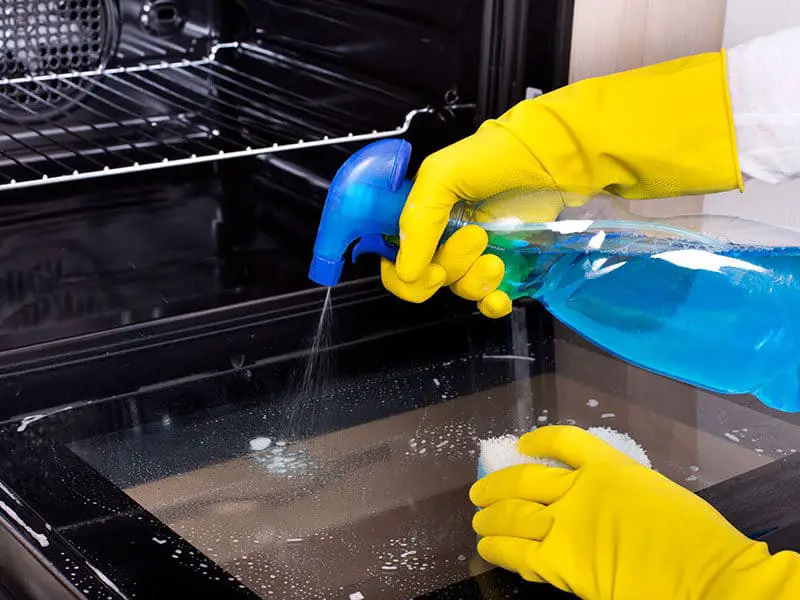 This method is probably the easiest and most straightforward solution for the task in question. By relying on an item dedicated to cleaning ovens, such as the Cif Oven Cleaner, you can rest assured that your mission shall be accomplished successfully.
For such a specialized product like oven cleaners, make sure to follow the instructions on its label and perform safety precautions before using.
Method #2: Use Baking Soda
Once again, baking soda proves its versatility in cleaning baked-on grease on stoves as well. However, compared to the use of specialized oven cleaners, this stove top cleaner may take a longer time.
This method requires the following materials:
3 tablespoons of baking soda
Warm water
A spray bottle
A damp cloth
The most important step is to ensure your stove is off and cold. Then, fill your spray bottle with water and baking soda, and shake the solution up gently until all baking soda has fully dissolved. Then, spray the contaminated areas with the newly mixed solution and leave it overnight.
On the following morning, you will witness all baked-on grease coming off and sliding to the oven floor. However, if some tough stains persist, repeat the spraying step in between meals. I want to stress this point again: make sure your stove is turned off and cold.
Finally, wipe up all the grease from the oven floor with a damp cloth.
Frequently Asked Questions On How To Clean Baked-On Grease
All your inquiries related to this article's topic will be unveiled in this upcoming section.
Essential Recommendation On How To Clean Baked-On Grease
One essential recommendation for you on how to clean baked-on grease is to allow some time for your solution to break down the contaminants. Depending on the recipe you follow, the time span may vary, from a few minutes to even overnight, if possible.
If you hang on until this moment, it means you have grasped some amazing ways to clean baked-on grease. These methods are chosen from many days of research. I really hope these approaches can save you a bunch of time in cleaning this stubborn layer.
That is it from my side. Now, I want to hear from you. Is there any method you have tried before? Is it effective? Do not hesitate to drop a comment below so that all of us can share great knowledge with one another.