Berber carpet is a major addition to your home. It is sleek, elegant, liquid spills resistant, and guarantees every foot's comfort. Within this review, you will find the top using methods in cleaning Berber carpet.
Still, you are a fresher? No worries, since here you will have all the clues. At first, you have to prepare yourself with Berber materials, history, and endless benefits. It supports a lot to tackle all the pros and cons, especially the outstanding features you may miss.
After going through the definitions, I arrange for your types of fabrics and stains that you will face. Once you get to know the physical characters and possible situations, you can quickly draw out the cleaning process, picking the most suitable cleaner blends to use.
However, there are step-by-step instructions that you need to note down. It's not only applied for carpet tidying but also helped with further tasks in your living zone. Finally, after getting the stuff fully clean and shining bright, you should keep maintaining it properly. The clue is that the more you care daily, the less time you spend on it weekly and even for long-term use.
Before you go further, let me introduce you to a bit about Berber carpets' history and the hidden secrets. Only in this vlog in Tunisia about Berber carpeting will you find the true passion.
Things MUST Know About Berber Carpet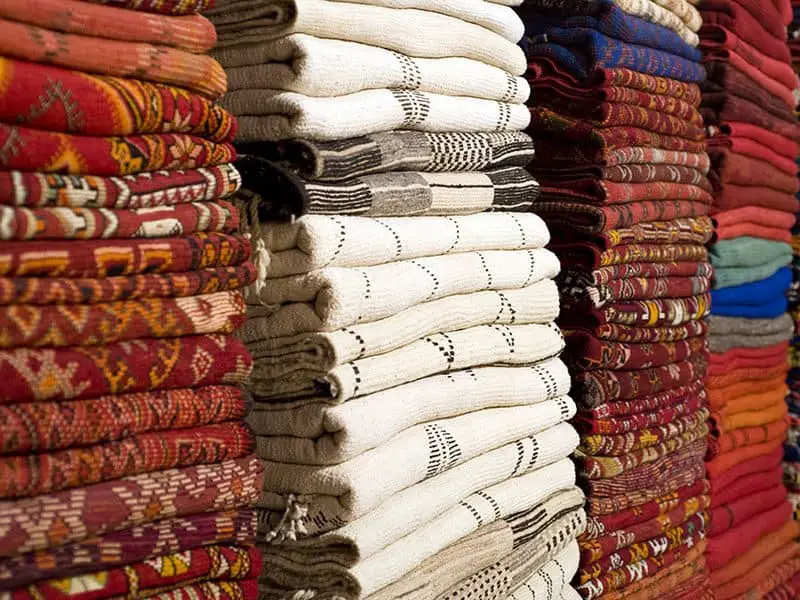 Berber carpet is worth considering a common flooring choice. Here is what you, a Berber carpet lover, need to know. Later you throw away the stressful thoughts of cleaning the durable, economical flooring option.
From the very basic definition to the detailed advantages and disadvantages of having the Berber carpet in house, let's dive in. You will feel confident to have them and clean these brightly colored materials properly in no time.
Berber Carpet Characters
The Berber style of the carpet is flexible and open to working with many suggested decorations. While it was once designed for basement rooms or home offices, it is now a common option in all living areas.
Carpet Fiber
The high-quality carpets are made of wool and nylon. Berber rugs can also be made of polyester, fiber blends, or basic Olefin (polypropylene). Olefin is not much more expensive than other fabrics like wool or nylon.
Fiber is usually stronger in loop shape than in cut shape, but that does not mean all Berbers are more long-lasting than other styles. Choosing the right fiber that meets your tidying demand, you will save hours of checking and picking the most appropriate from The 5 Step Guides To Remove All The Stains.
Color & Loop Styles
Berber carpet has loops made of fibers like nylon, Olefin, and wool that sewn or tufted into the rug's back. The loops are normally left uncut, unlike the traditional carpet pile. You will find both cut Berber, such as AKA California Berber, and cut-and-loop Berber, a mix of cut loops and loops.
It is inspired by the Berber people of North Africa's weaving style. The Berber carpets are available in far more styles and designs than previously. It is available in multicolored and flecked formats, but the looped carpet is also sold in solid colors.
Cost & Durability
Available at several price rates, some Berber carpeting is equivalent to certain types of cutting piles. The first reason, they're mostly made of Olefin. Another reason is that all carpets start as looped styles such as Saxonies or Frieze carpets, giving you a great experience than ever.
Berber carpets are highly durable, not easily torn off even the heavy traffic. When installed, it will last more than a decade in your home. Although a Berber unit of lower quality cannot be as robust as a high-quality module, make sure you select the best durable flooring.
Why Choose Berber Carpets?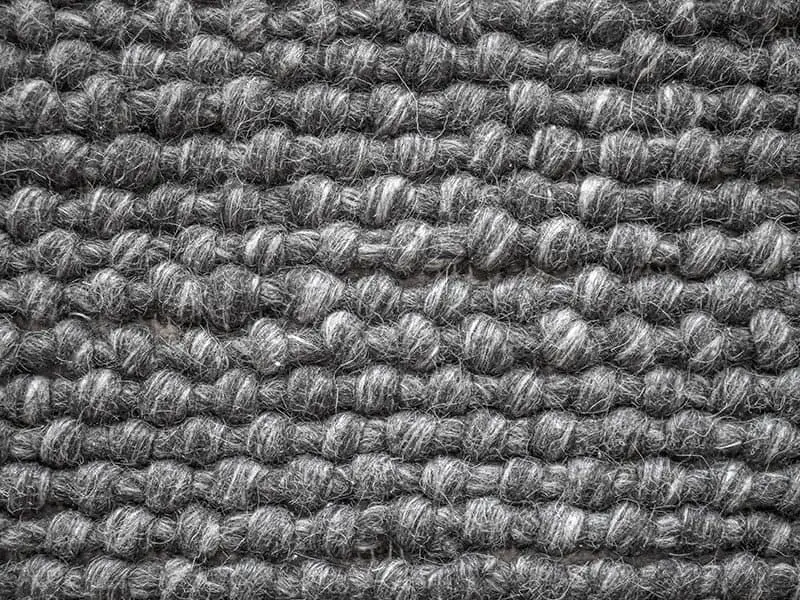 Berber carpet has a major benefit: spilling and staining can be resistant. Many Berber options are multicolored or traditional in appearance, making them suitable for hiding soils and stains.
Due to a looped structure, spills appear on the surface, so you can prevent them from falling into the fiber. It has a tight weave that helps it withstand stains. By picking this floor-type home, you will have more time to deal with slipping and pouring accidents.
What Are the Disadvantages of Berber Carpets?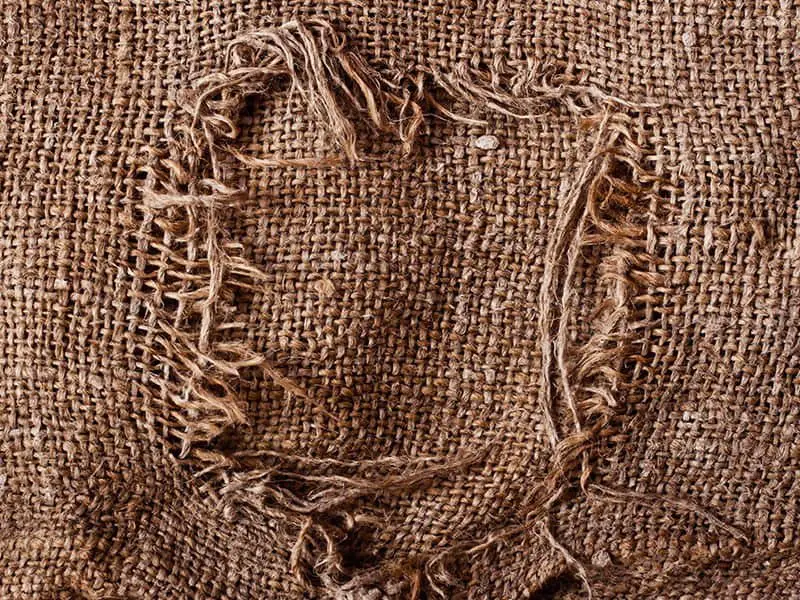 A drawback is that it is easy to snag or run. If a loop gets caught, it can break and even tear off the back. Vacuums, high heels, and pet paws are the most frequent snag culprits.
While the carpets are stain-resistant, the stains set into the bright fibers are hard to clean. If something oily falls on the tapestry, oil is absorbed into the carpet, and a visible blot is soon left on it.
If you are still looking for hacks, this video about removing tough carpet stains will help eliminate the hard-sit stains on soft floors. For clearer instructions, jump right to the next parts to become a pro in identifying and cleaning all the dirt.
Carpet Fabric & The Stain Types
Wondering what to start in cleaning your Berber carpet to keep it stunning all the time? There are a hundred methods of cleaning carpets, quite difficult to select a simple and reliable one.
No more worries since I will share a line-by-line cleaning procedure with you.
Fabric Types
Let's do a tour via the characteristics of the carpet itself, in addition to checking the stain. The first feature requires to check is the fiber form.
Nylon
Nylon fiber can be washed much better, especially in dry washing, and are highly resistant to stain. It is similar to wool, but it can't handle water.
Polypopylene or Olefin
The olefin stains quickly by oily residue from the shoes, cooking oil, or the sebum from human skin. It is a synthetic fiber type and one of the most economical. It attracts oil and resists water; therefore, steam cleaning is an appropriate method.
Wool
Natural wool repels dirt and soil, has less oil affinity than olefin Berber carpets. It's costly, absorb water since wool is a biological factor. It would be best if you washed dry to prevent damage.
Triexta
It is a more affordable option than Olefin, which has the same wool attributes, but with greater longevity.
Blends
It is a mixture of various fabrics, typically wool and nylon, which provide the wool's softness but not paying the full price.
Stain Types
Identifying the details of the stain you're trying to extract will make the process easier. If you want controls over staining, you have to know the differences and tips to identify them in better cleaning types.
Pet Stain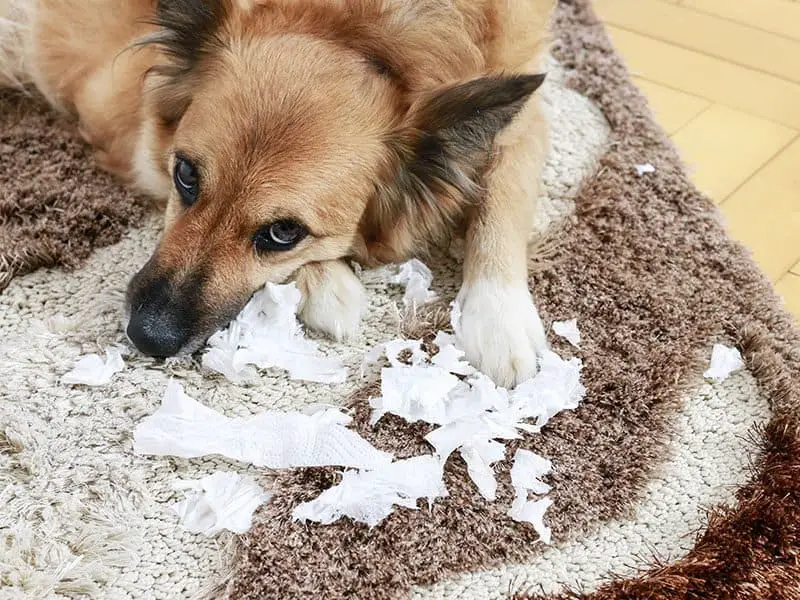 Even your dogs and cats have well behaviors; the incidents may vary widely. If you want to avoid a stain, you'll have to act quickly. To get as much mess as possible, use tissues or paper towels. You have to scoop or blot for urine. Don't scrub it.
For old pet urine stains, using paper towels is not completely effective. Instead, you should consider using specialized cleaners for old pet urine to get the best satisfying result.
Blood Stain
Even the smallest blood drops can cause severe brown shading. You must spray the stain with cold water immediately. Blood is heat thickening, which can double the trouble.
Coffee Stain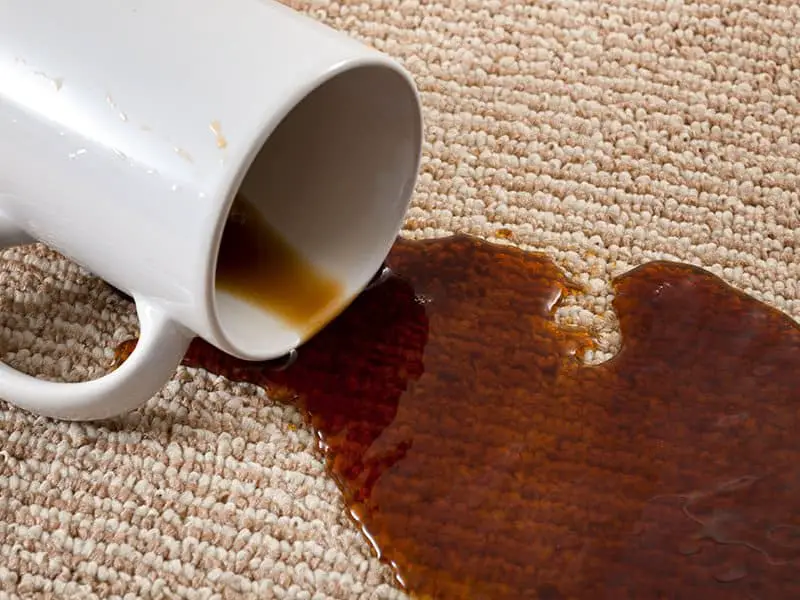 Coffee will leave a dirty, yellow-brown carpet. When the spillage occurs, clean up the excess with microfibre cloths or paper towels. You can use a weak bleach solution if you have a polypropylene carpet. A swift action using a steam mop may bring results.
Ink Stain
The removal of ink from carpets of natural fiber, such as wool, is very difficult. You have to start by spraying the affected zone with rubbing alcohol. The hairspray or nail polish remover can sometimes use as a back-up.
Red Wine Stain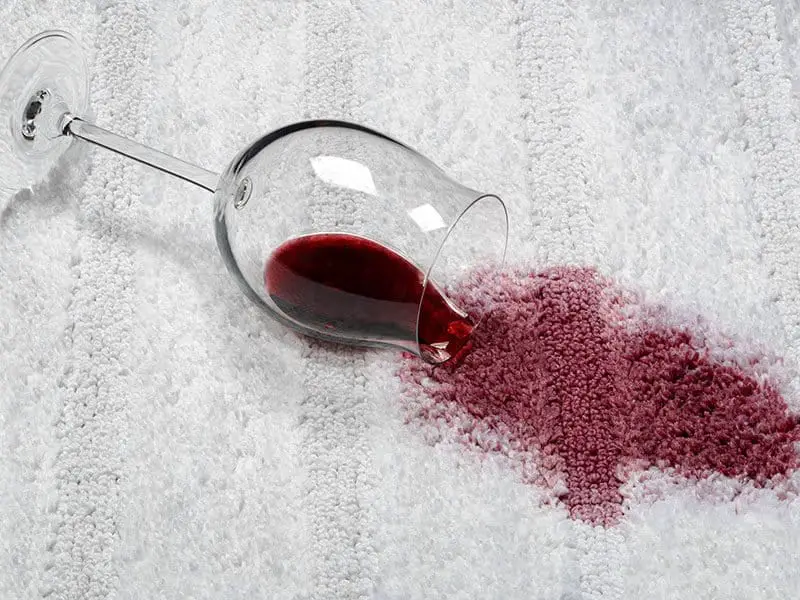 The red wine is hard to remove from lighter carpets. Pour on the stain a bottle of tonic water without drenching your carpet. Before it sets, the bubbles would break up the color.
Chocolate Stain
It is much easier to extract hard chocolate than liquid chocolate. You use ice cubes or packs of frozen vegetables to freeze the chocolate. When it's hardened, scrape it gently off with a spoon's side.
Gum Stain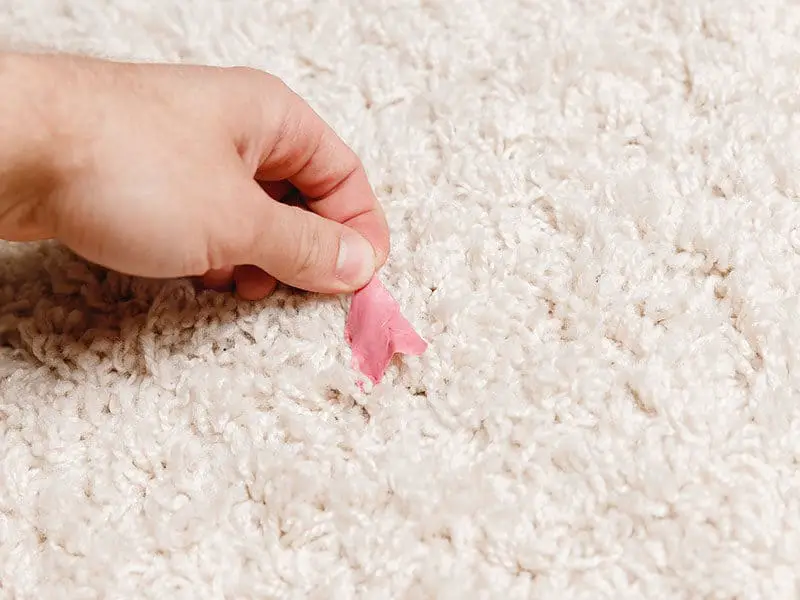 Chewing gum doesn't leave a spot as such but leaves an awful mess. Fill a bag with ice, put it for half an hour on the carpet, then take away the gum. Another way is spraying it with hairspray; then, you pick up the gum edges with a blunt spoon.
Raw Egg Stain
To extract a raw egg from the carpet, pour much salt over the area affected and let it rest. As when the egg absorbs salt, it becomes harder, so you can quickly scrape it out. The blend of neutral detergent and lukewarm water can also blot the stain.
After getting all the definitions, are you finding a better clear guide? Now let's jump into the next section for the best ways to clean your Berber carpets.
The BEST Ways To Clean Berber Carpet
Generally, there are four primary turn-by-turn bases to clean your Berber carpet. The first approach is to use products in your house that are available. The latter is a professional approach that may involve top-quality equipment.
Prevention is also a must; you can look up to the vacuum cleaners for this support. Follow me, and you can remove stains using the following methods.
Step 1: Remove Stains First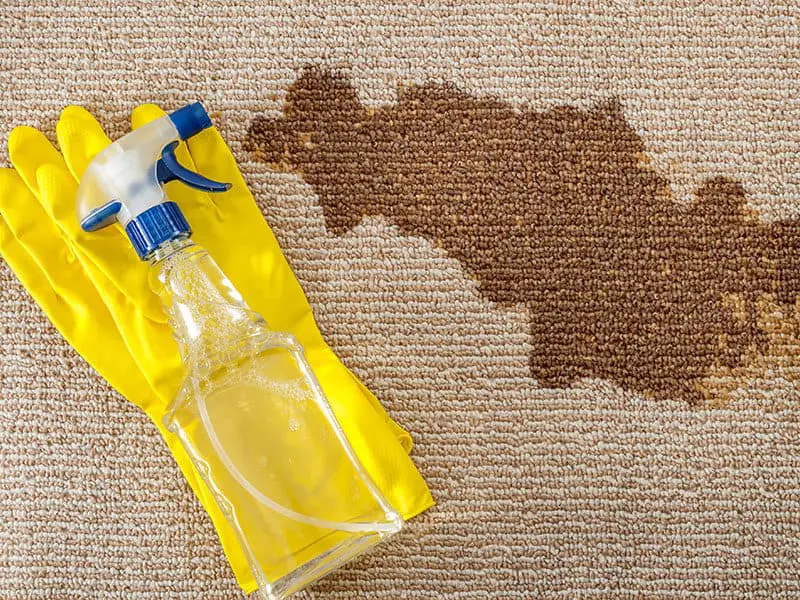 It is important to start with proper stain removal techniques before getting into the best way of cleaning between steam clean and dry clean.
Use Cold Water
It is the cheapest and cost-effective way to remove stains on new or tough Berber fabric.
Use a clean, dry towel to extract the stain, preventing them from permeating the carpet.
Rub the stain carefully with a clean cloth and water. Coldwater leads to extending the fiber, thereby dilute and flush the stain out.
Again, blot the stain with a dry towel until the stain's color starts to show. A good hint that it's lifting out.
Repeat this process till when you no longer see the stains.
Use Vinegar
The vinegar and water blend may be an alternative method if the cool water does not work.
To make a cleansing agent add one part of water and five parts of white vinegar.
Test it in the small areas first to ensure no discoloration.
Before using the cleaning agent, make sure to blot the stain and remove any liquid with a dry towel.
Rub the stain gently with the mixture and a dry towel. Repeat until all gone.
When the stain is off, cover the cleaned surface with a wet/dry vacuum to remove residual moisture.
Use Baking Soda
Apply baking soda in greasy stains or stinky pet-related stains. This ingredient helps absorb the grease and neutralizes smelly odors by balancing pH.
To blot the stain, use a clean, dry towel. Do not rub to stop the stains from sinking into the carpet.
 Fill the entire stain with baking soda and wait for absorption in about 20 seconds or more. The stains will fall to the fiber's bottom if it is too long.
Vacuum with high airflow to a clear residue of the baking soda
For more cleaning mixtures, you can check out the baking soda and vinegar cleaning recipes here. You will also find other household uses of the basic products that you still have not yet known.
Step 2: Use Chemical Products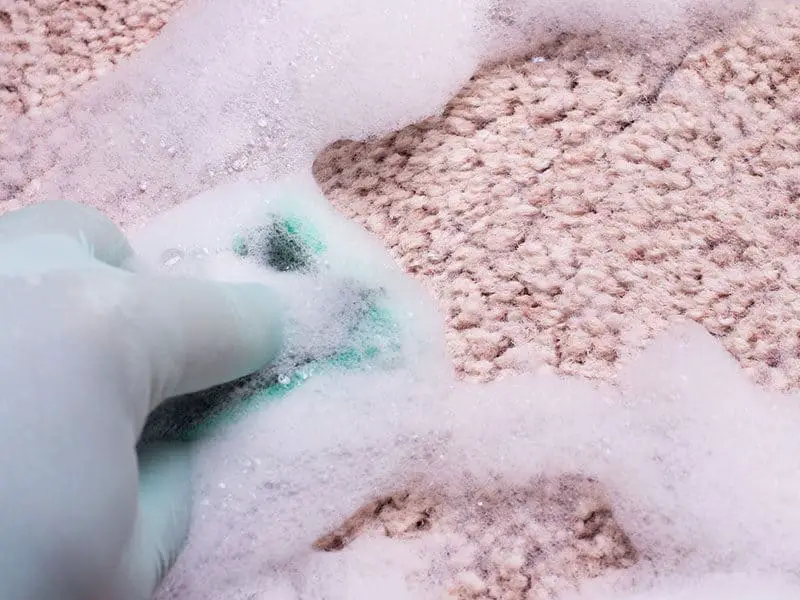 Use Stain Removers
Older and robust stains can be difficult to remove, and DIY solutions are not helpful. The use of stain removal products may be an effective approach.
Test the solution in a small area since some removers may discolor or burn the surface
Do not excessively use the solution. Using a small amount but again and again until the stain is solved
Fully dry the stain to prevent the moisture from sinking into the fiber.
The cleaned area may brighter than other sites, but it will lessen a few days later.
No worries if you know a little about the cleaning removers; the review about carpet stain removers soon shows you an add-in!
Use a Pre-Conditoner+ Solvent + Oxygen Bleach
This combo is an ideal alternative to the cleaning product or bleach that can be unsafe for your lungs.
Start with vacuum the carpet to eliminate any surface debris that hinders the mixture.
Mix a solution of 2 oz. Citrus solvent, 8 oz. pre-spray, and 2 oz. Oxygen bleach into a spray bottle
Mist a damp bonnet and use to agitate the surface
When you use a rotary bristles extractor, disconnect the water hose to prevent spritzing the solution.
Wait about 15 minutes to remove the stain.
Extract the residual content by using an acid rinse high-temp extractor
Spray the encapsulating cleaner on the bonnet or carpet after 2 or 3 days.
Step 3: Professional Application
You can easily find two simple ways to apply cleaning the carpets. Right here, you can compare between steam cleaning and dry cleaning method to see which one is so far from your expectations.
Steam Cleaning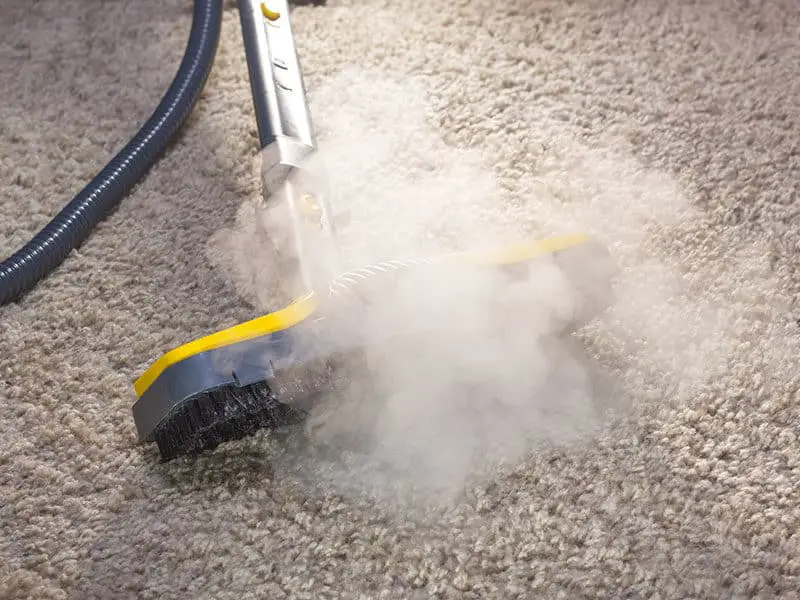 Steam cleaning is a highly efficient form of cleaning and the easiest way to eliminate the stain. This method carries out using high-speed suction and hot water steam to eliminate deeply embedded dust.
Every application has its tool. And for the steam cleaning method, high-quality carpet cleaners are indispensable. They are loved for the using purposes and seeking due to their portable shape and ergonomic design.
Vacuum the area so that muddy stains are not produced when water is applied.
 Read the instructions for the settings you set carefully.
Pull the unit around the area slowly.
Dry the floor thoroughly to ensure no moisture for odor, mildew, or mold.
You can open the windows or place a fan right next to them.
It is used best for Olefin since this synthetic material is water-resistant.  While Olefin is resistant to stains the most, any residual water on the surface will attract dirt or even unpleasant smells.
Dry Cleaning
Dry cleaning includes sprinkling dry powder, which can vacuum debris or blemishes to the ground, and then with the application of vacuum, this powder is sucked out again. Remove the stain and disinfect the place.
One more plus point, apply the best vacuum cleaners for carpets will help you reach the best cleaning goals ever!
Until dry cleaning, make sure the carpet is fully vacuumed
Read the instructions for the right settings for your cleaner according to your carpet content.
Work the powder on the stained surface very cautiously and not press down to avoid the stain.
Leave it there for at least 20-30 minutes, depending on the powder you are using.
Vacuum the powder with a vacuum after the leave-in stage
For Berber carpet with nylon or wool fabrics, dry cleaning is most recommended. Since the fibers absorb water a lot more than the synthetic Olefin, a dry-cleaning process is more efficient and safer than not using much water.
Step 4: Vacuum After Removing Stains
While your Berber carpet might look daunting to clean and maintain, proactive steps would be the best protection against dirt and stains.
You have to clean each week because it stops dirt from piling up. Ensure you have a high suction vacuum with no brush because it can snag the delicate Berber fabric.
If you have a built-in brush in your vacuum, disable the brush function. The beater bar can also be stopped.
If dirt is present, you can quickly set it aside because it will push deeper into the fabrics if it is too long on the carpet. It's more difficult to remove.
However, there is still a day that your old carpet calls for a repair. You'd rather prepare yourself with the basic guide to fix old Berber carpets. For all DIYers, this idea is all about doing things on your own.
How To Clean OLEFIN BERBER CARPET That Highly Soiled?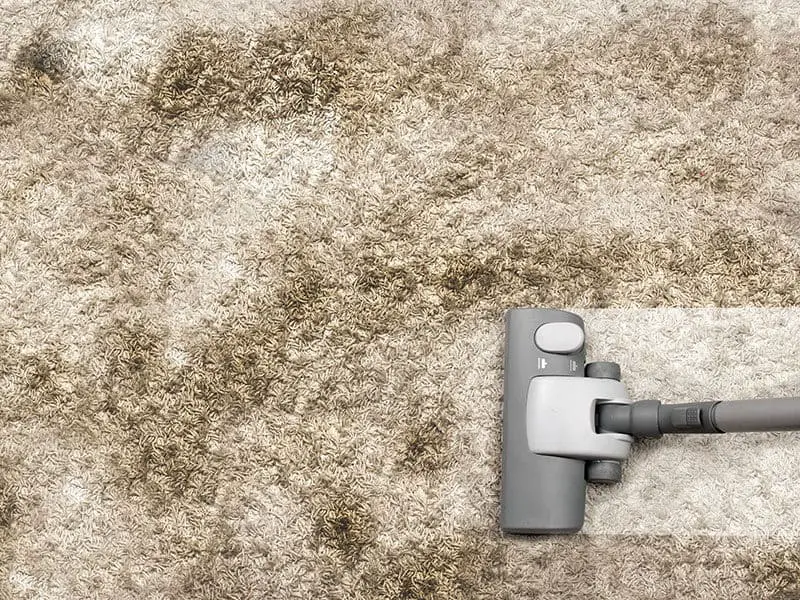 It's hard to clean Berber mostly. The pile construction is known by its loop and usually includes little dark-colored flecks on a slight background shade.
Some Berber olefin suppliers propose that it can be cleaned with bleach safely. However, bleach is dangerous to exhale and hard to rinse from the tap.
It may be particularly difficult to traffic lanes. You can follow this method to clean the most highly soiled olefin Berber.
Vacuum the carpet thoroughly.
Pre-spray, enhancing with solvent and oxygen bleach with premium pre-conditioner.
The thumb rule uses the spraying size where the bottle or sprayer is filled to contain 8 oz. pre-sprayed, 2 oz. of a citrus solvent, and 2 oz. of an oxygen booster.
After a chemical dwell period in about 15 minutes, pre-scrub the tap with a damp bonnet or spray it with a pre-conditioner.
Try not to over-wet the carpet with the solution, as dry as possible. Caution against seams because they are susceptible to separation.
If a rotating extractor is used, detach the vacuum cuff and scrub the tapestry without water. Until extraction, the fibers can perform a strong agitation.
High-temperature extract, with acidic rinse, added as directed.
Spray an encapsulation cleaner on the carpet and clean with a dry bonnet or slightly damp, after waiting for 2 to 3 days or after extraction.
Allow drying with an air handler.
If the carpet is just mildly soiled, except acid rinse, you can eliminate some steps above.
How To Clean THE WATER STAINS Out Of Berber Carpet?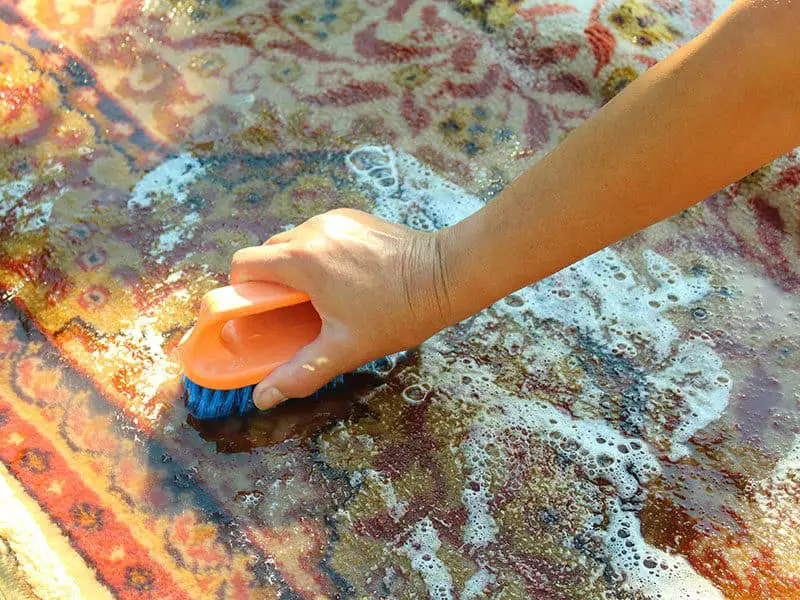 How can you be sure that all sediments that water might leave behind have been removed? Within this part, you can begin by following a few tips.
# Method 1
Concentrate on removing all the fibers' sediments or debris.
Mix 1 dishwashing soap teaspoon in the water container. In this solution, soak a clean towel.
Gently dab at the stain on the water, start from the outer edges.
Let the stain continue rising until it is visible.
# Method 2
In a big container, pour equal parts of warm water and white vinegar.
Apply the mixture onto the water stains with a clean cloth. The vinegar's pH helps to remove the water from the edges.
Make sure to do lightly to keep the carpet from being too damp.
Wait for the tapestry to dry, and the stain disappears gradually.
Next time you wonder how to get water out of the carpet, check out the above methods.
FAQs
Special techniques are needed when cleaning Berber carpets, especially for their elegance of style. This part will start with new spills and messes by cleaning procedures and looking at standard treatment methods.
Take your time, soon you will find for your daily tidying.
More Than A BERBER CARPET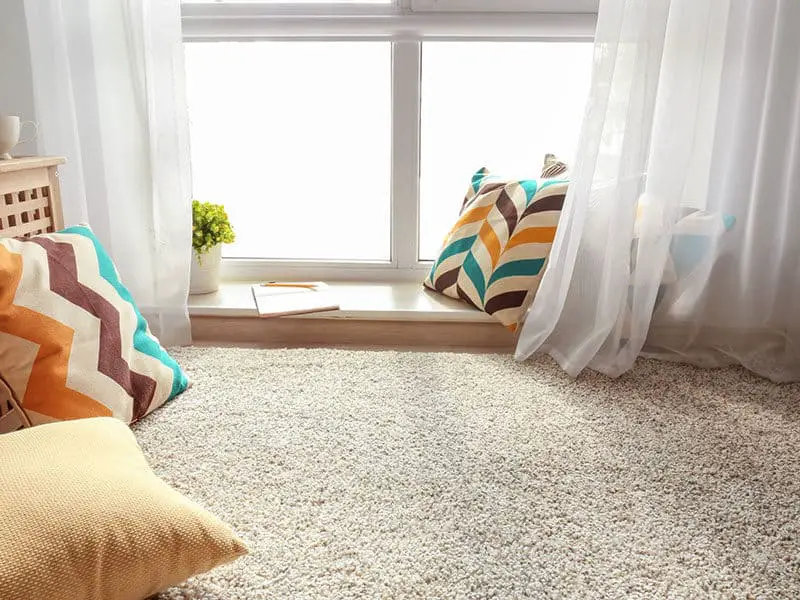 Berber carpets add fantastic to any house or company, as they are sturdy and durable, plus they look awesome. However, they can be incredibly tricky to clean. Soon you can find the above advice and tips are so helpful.
Remember that never scrub to handle your Berber carpets. You want to remove the stains but still need to make sure your finish is consistent; the chosen place doesn't look cleaner and lighter than the rest of the rug. That's why you are following the helpful guides above.
So when is the next time to tidy up the Berber carpet? Anything further you would like to add? Kindly let me know down there in the comments. It's also good when you share these experiences with your friends, hoping to save time and effort with ease.