Find out how to clean car floor carpet can help you save a lot of time and energy while maintaining your property's long-term value and creating a comfortable mobile space for all family members.
As you might not know, neat and tidy car mats play an important role in making your car look more attractive and welcoming. Moreover, this eliminates the possibility of bacteria exposure.
Most people don't pay enough attention to the car mat until these items become too dirty or smelly even they step on them every day. Due to many set mud spots, stubborn stains, and spills, freshening car carpets appear quite challenging.
Fortunately, there are various methods that you can try to tackle this problem at home, instead of calling for a professional service.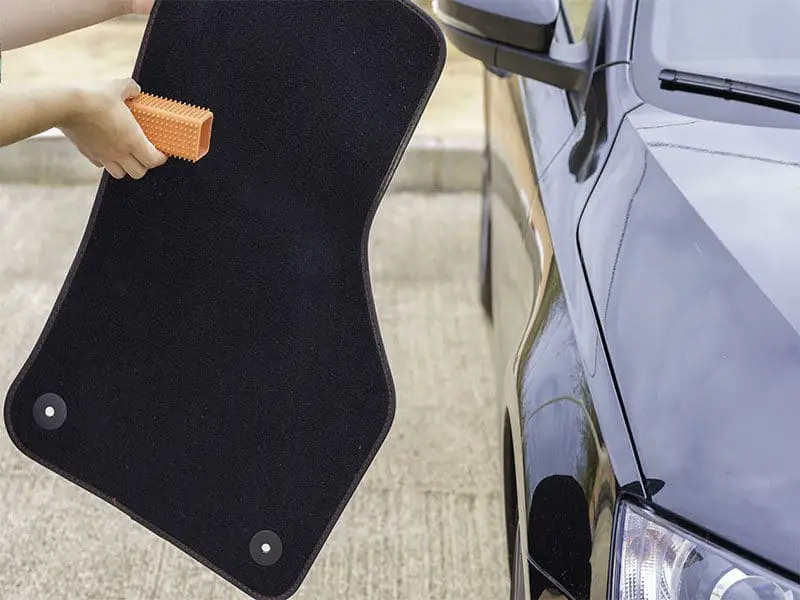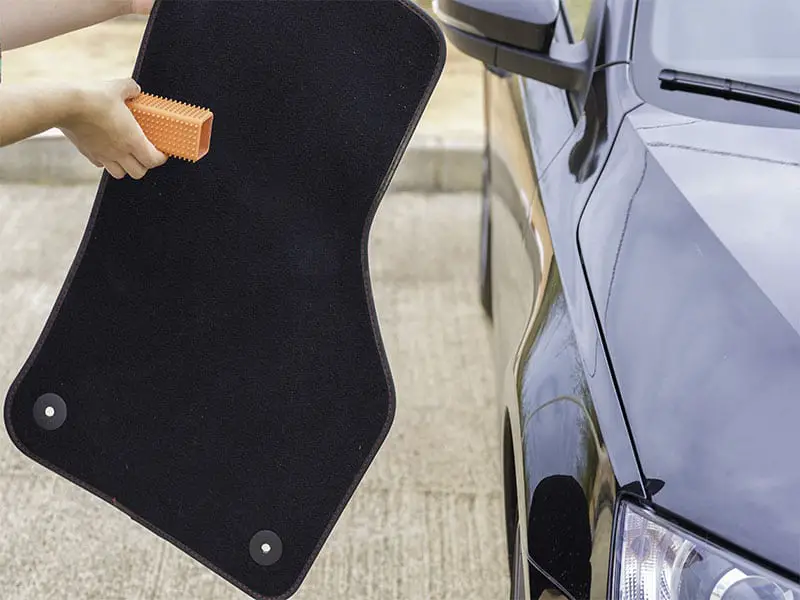 How To Clean Car Floor Carpets
Preparation To Clean Car Floor Carpet
Whether rubber or cloth carpets, dirty items need to go through a few same preparation steps to make them ready for deeper cleaning. Let's discover below.
What You'll Need:
1. Tools Required
2. Materials Required
3. Step-by-Step Instruction
Declutter your car by removing unnecessary items, long-forgotten food, empty bottles, dirty gym clothes, and more. Then, organize the rest of the stuff. This way, you can find more space to proceed with your cleaning task easily
Remove the floor carpets and drag them outside if possible, especially if the carpet has not been washed for a long time. It would be better if you don't clean them in the car because you might run a risk of inhaling dust and chemical odor. Not to mention, water from cleaning process can ruin the interior of your car.
Force the dust particle to come out by beating the carpet or shaking it well
Vacuum the carpet thoroughly to remove dust, hair and soil. If the carpet is wet, sprinkle a generous amount of baking soda on its surface and allow it to sit for 20 minutes before vacuuming. Remember to do it with both sides of the mat
How To Clean Rubber Car Floor Carpets
Rubber mats have better durability and longevity compared to cloth ones. They also seem to handle spills and harsh weather without too much fuss. Unlike cloth mats, rubber mats are often available in dark colors and easier to clean.
What You'll Need:
Tools Required
Brush
Garden hose or pressure washer
Microfiber towel
Materials Required
Baking soda
Laundry detergent
Step-by-Step Instruction
After vacuuming the carpet, you will continue to wash it for deeper cleaning.
Use a garden hose or a pressure washer to loosen dirt, mud, stubborn grime, or food left on the mat.

A pressure washer can remove dirt from car carpets

Prepare a DIY cleaning solution with laundry detergent, baking soda and water
Spray the mixture all over the carpet and use a brush to rub away all the remaining soiled spots
Use a microfiber towel to blot up the carpet
To illustrate, you might want to want the following video for a quick and easy guide about how to cleaning rubber car floor carpet
How To Clean Cloth Car Floor Carpets
Cloth car floor carpets are a popular choice for many reasons. Firstly, they come in various colors and textures, which can turn your car into an aesthetic space. Secondly, they can hold muds and dirt from your shoes so that you don't create stains all over your car, especially in hard-to-reach corners.
This type of mat should be cleaned as soon as possible so that you can remove stains more easily just by adopting some simple steps. The longer the dirt stays, the harder you can make it come out of the carpet.
What You'll Need:
Tools Required
Soft-bristle brush
Vacuum
Materials Required
Detergent
Shampoo
Store-bought spray cleaner
Machine Washing
Vacuum thoroughly to remove any big dust particle and debris.
Before putting the car floor carpet into a washing machine, remember to consult the manufacturer care instruction to make sure that this product is safe.
Avoid using a dryer after washing because it might cause permanent deformation.
Hand Washing
Use detergent and shampoo: Make a mixture with two tablespoons of washing powder and an equal amount of any shampoo. Then, rub the brush on your car floor mat with that mixture.
Use commercial spray cleaner: You could choose between carpet cleaners or upholstery cleaners. Spray this cleaning solution over the car floor mat and let it sit for 30 minutes. Then, scrub the stain vigorously until it comes out of the mat. For remaining dirt, reapplication is necessary to break it.
Use a steam vacuum: After following the preparation step, you could steam clean the cloth mat.
This video will show you how to steam clean the car floor mat easily. Let's watch below:
A wet/dry vacuum is designed to pick up liquids and debris from the cloth carpet. Therefore, it will help to speed up the drying process
Dry the floor mats completely by hanging it under the sun for a few hours
How To Clean Car Carpet With Baking Soda
Applying baking soda is a quick and inexpensive method to absorb unpleasant odor and get stains out of the carpet.
What You'll Need:
Instruction
Sprinkle baking soda on the surface and wait before vacuuming, or you can put a paste of baking soda and water on the mat.
Use a brush to scrub away all stains and dirt.
Cleaning Stains From Car Floor Carpets
Once you start cleaning car floor carpets, you have to face many types of stains caused by day-to-day use. Each stain requires a different cleaning technique so that you can get optimal results.
Therefore, I have listed some popular problems and corresponding cleaning methods for you to consult.
Removing Dried Mud Stains
What You'll Need:
Vacuum
Scrubber
Vinegar
Dish soap
Instruction
After removing the floor mat from the car, you can wait until the mud gets dry and scrubs it off.
Vacuum the entire carpet.
Pour a cup of white vinegar and dish soap into a bucket of water. Stir it gently to create a mixture.
Apply the cleaning liquid to the carpet and use a stiff bristle brush to remove mud stains.
Removing Drink Spills (Coffee, Tea, Soft Drinks and More)
What You'll Need:
Cold water
Microfiber cloth
Sprayer
Instruction
Spray cold water on the coffee stain. This way, you can liquefy the stain and make it easier to come out of the carpet.
Blot the stain with a microfiber cloth.
Removing Grease Stains
What You'll Need:
Sponge
White vinegar
Glycerine
Laundry detergent
Microfiber cloth
Sprayer
Instruction
Soak the sponge in water and blot the grease stains.
Add a few drops of white vinegar, one part of laundry detergent, one part of glycerine, and a fair amount of water into a sprayer and shake well.
Spray the mixture onto the affected spots. Dab the stain with a microfiber cloth.
Flip and turn the cloth as the stain slowly dissolves.
Removing Salt Stains
What You'll Need:
Sponge
White vinegar
Hot water
Spray bottle
Microfiber cloth
Sprayer
Instruction
Blend one part of white vinegar and one part of hot water.
Fill the spray bottle with the cleaning solution you've just made.
Spray on the surface of the mat and let it sit for a while.
Blot the stain until it disappears.
Repeat step 3 and 4 if needed.
Use a wet shop vac to vacuum any remaining salt.
Removing Vomit
What You'll Need:
Club soda
Protective gloves and face mask
Cleaning rag
Putty knife
Microfiber cloth
Instruction
Ventilate the car by opening all windows.
Wear gloves and a face mask if you couldn't tolerate the foul smell from the vomit.
Use a putty knife to lift any solid matters and discard.
Try to soak up as much moisture as possible from the vomit stain with paper towels. This prevents your carpet from mold growth.
Pour a can of club soda to saturate the stain quickly.
Use a cleaning rag to wash off the remaining debris.
Dry the treated area with a microfiber cloth.
Removing Tough Stains
What You'll Need:
3% hydrogen peroxide
Protective gloves
Non-gel toothpaste
Cleaning cloth
Instruction
Wear gloves to protect your hands from contacting directly with hydrogen peroxide
Mix 3% hydrogen peroxide with non-gel toothpaste to form a homemade stain remover. Hydrogen peroxide acts as a mild chemical that is able to break down the stain, disinfect and remove odor.
Daub the mixture onto the tough stain
Rub the paste so that the stain remover can go deeper into the affected area
Use a dry, clean cloth to remove excess paste
Removing Blood Stains
What You'll Need:
3% hydrogen peroxide
Protective gloves
Instruction
Remember to protect your hands with gloves
Spray the stain with 3% hydrogen peroxide and let it work for 30 seconds
Blot the treated area with a dry cloth
Use a damp rag to clean it off. Make sure you wipe down all the hydrogen peroxide
Removing Pet Odors
What You'll Need:
Upholstery cleaner
Baking soda/ Borax
Vacuum
Instruction
Spray the upholstery over the surface, use a toothbrush to scrub away any smelly grime, and let it sit for a specific time printed on the product label.
Sprinkle baking soda or borax powder on the affected zone. Leave it here for an hour
Vacuum the carpet to suck up all the cleaning mixture
How To Clean Car Floor Carpets Without A Vacuum
Cleaning a car floor carpet by hand is not as difficult as you imagine when there is no vacuum around. With just some simple tools and materials, you can carry a cleaning task smoothly and achieve surprising results. Let's do it!
What You'll Need:
Bucket
Brush
Stain remover solution
Dish soap
Hot water
Instruction
Brush gently to remove big dust particles and debris out of the carpet.
Remove tough stains following the above direction before cleaning the entire mat.
Soak the carpet into a soapy tub or basin and rinse it well.
After washing it, dry it outside.
If you wonder about how to clean car carpets by hand, let's spend time watching this video
Quick Tips
Cleaning a car floor carpet can be more comfortable if you keep in mind some of the following additional tips:
Treating stains can take more time and effort than you think, especially for long-neglected dirt; therefore, you should be patient if the cleaning method is not effective, try a few more ways until you get the results you want.
To quickly remove dirt, mud or salt stains from the carpet, use a circular motion when scrubbing. This helps loosen the stain and make it easier for you to wipe down the affected area.
For extra safety, it would be better if you consult the washing instruction from the manufacturer. If there is no direction, you could spot test to make sure the cleaning solution does not harm to the carpet.
Remember to wear protective gloves if you are about to contact with chemicals, for example, hydrogen peroxide.
Bottom Line
In order to keep the carpets clean, you should sanitize them regularly and properly. That way, cleaning will be very quick and less tiring.
However, if you want to keep it in a constant fresh condition, it is best to reduce situations that can cause stains, such as eating and drinking in the car and immediately treat any stain right after it appears.