Concrete is a common material that is widely used both inside and outside because it is long-lasting, strong, and versatile. Concrete floors can also be sealed, stamped, painted, or polished to achieve an attractive look and smooth finish.
Depending on the concrete floor type you are dealing with, you will need a proper method. Since the concrete floor is porous, you need to clean the surface regularly to remove dust, grime, and debris.
Although concrete floors do not need much attention like hardwood floors, or carpets, this surface still requires proper maintenance to achieve long-lasting beauty. This post will show you how to clean the concrete floors properly and how to maintain them in the long run.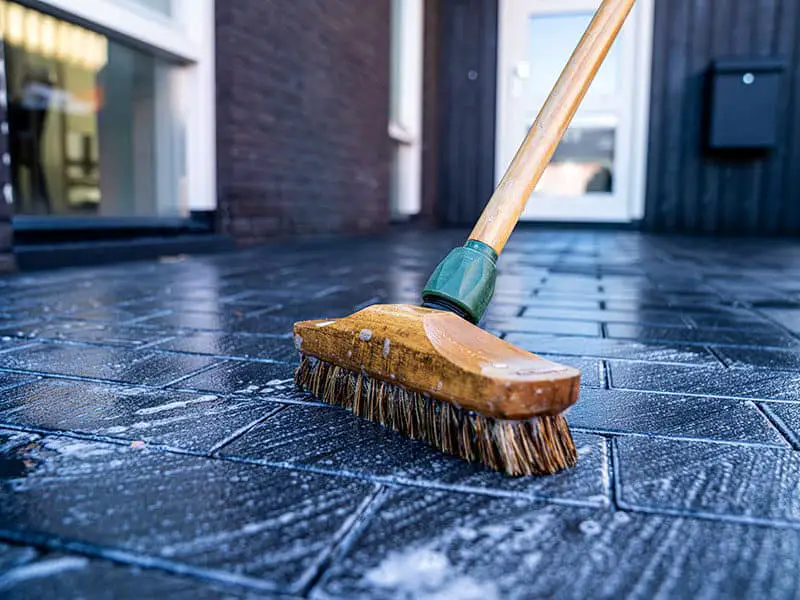 Different Types Of Concrete Floor
To ensure perfect cleaning results, you should know what types of concrete floor finish you are having. Each finish will require different treatment, so it is vital to get to know them before starting.
Sealed
Sealed concrete floor is commonly seen indoors, and it is by far the most common concrete floor finish. Acrylic resins, penetrating silicates, epoxies, or urethanes can be used to coat the concrete floor.
A sealed concrete floor is resistant to stains, damage, and moisture. Therefore, cleaning a sealed concrete floor is much easier and takes less time.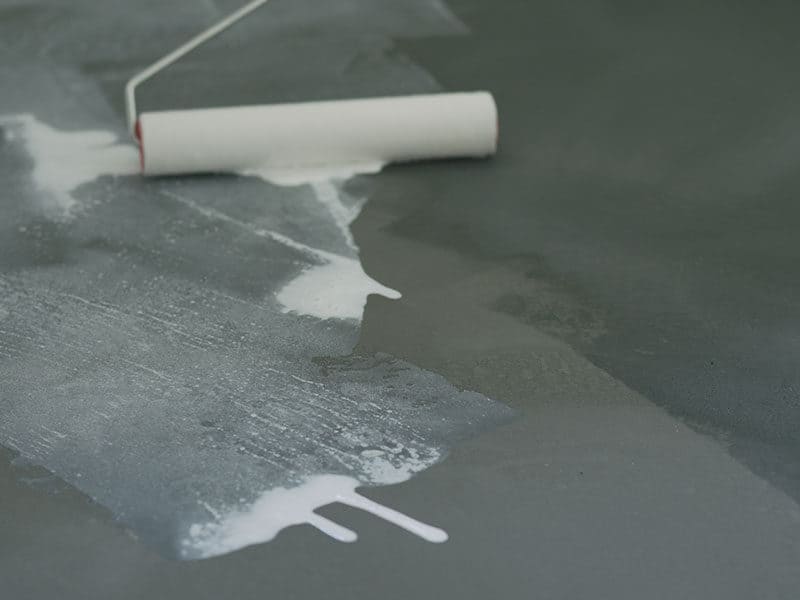 Unsealed
Unsealed concrete floor is the plain surface that is not applied for any additional treatment. The unsealed concrete floor is porous and not stain-resistant. Cleaning an unsealed concrete floor needs more effort since this surface is vulnerable to liquid stains like oil.
Polished
The polished concrete floor is shiny, glossy, and effortless to maintain. By grinding the concrete floor to a smooth and scratch-free surface, the polished concrete floor is resistant to stains and dust build-ups. For additional protection, you can apply some wax solution to this surface.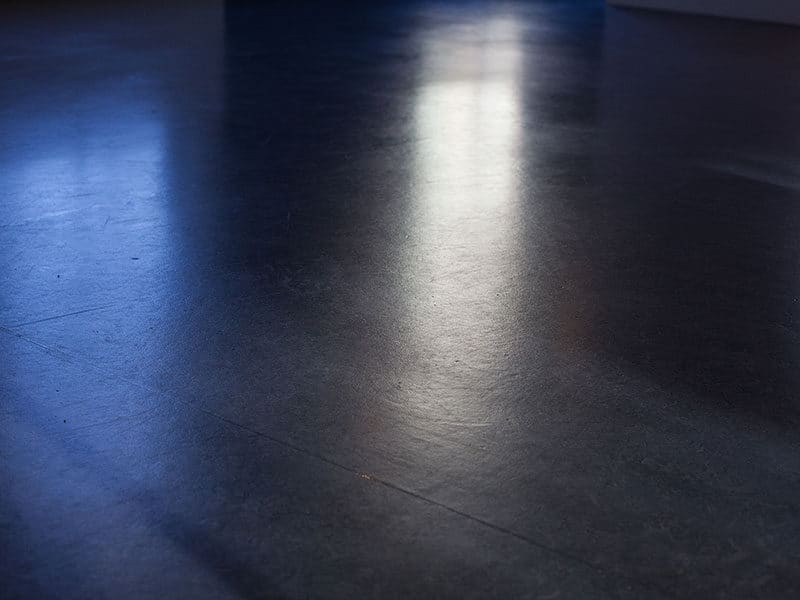 Stamped
Stamped concrete floor means that the concrete floor is textured, patterned, or embossed to bear a resemblance to stone, wood, tile, brick, slate, and so on. Stamped concrete floor is also called textured or imprinted concrete, and it is widely used both outdoors (sidewalks, patios, pool decks, driveways) and also indoors.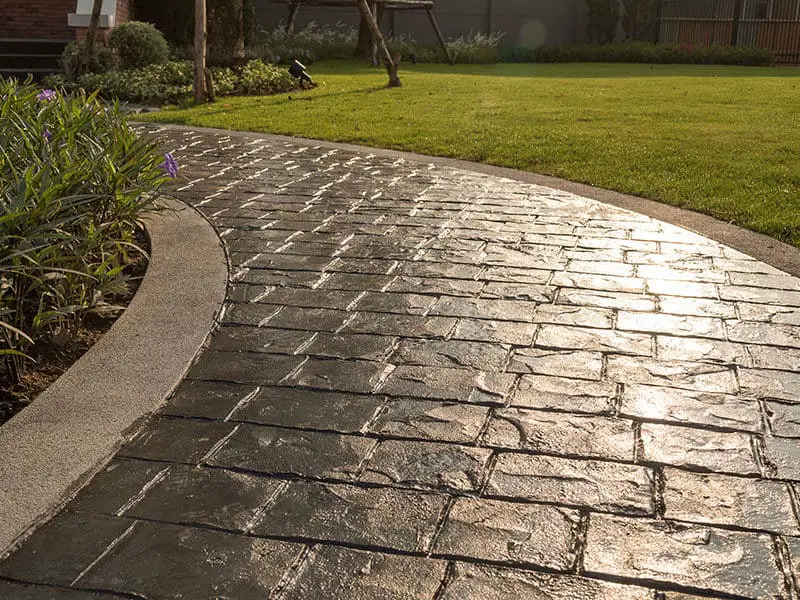 Stained
Stained concrete floor is also called "Metallic". If you do not like the grey color of raw concrete floors, you can choose the stain technique. The stain penetrates the material, changes the floor's color and appearance, and gives the floor a great look with particolored details.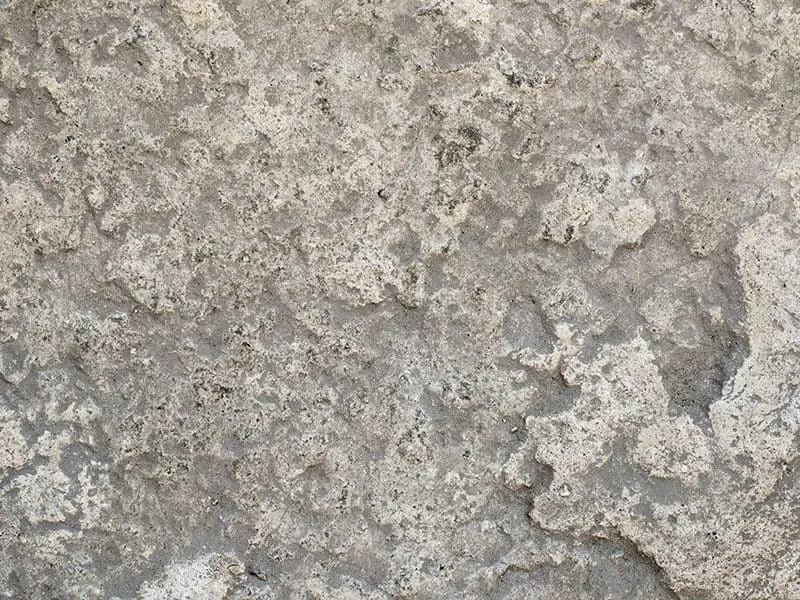 Painted
Painted concrete floors are commonly seen in the garage, basement, living room, patio, or balcony. Concrete paint is just the same as water-based concrete stain. It is non-reactive and creates a translucent and uniform color for the surface. You can use standard paint, but it will rub off after a few months.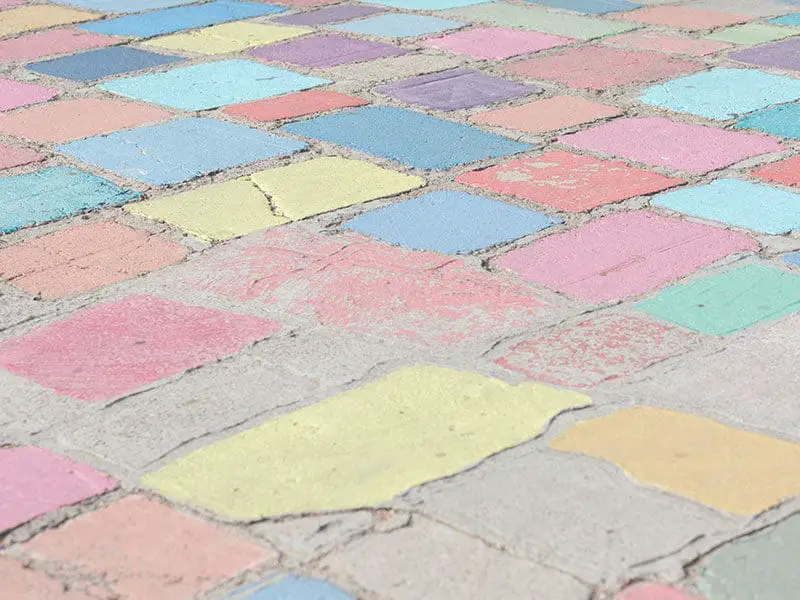 What Should You Consider Before Cleaning?
To ensure a complete cleaning process, you should identify the concrete floor type you have, find the right cleaning solution, and prepare enough equipment to carry out the task.
Is Your Concrete Floor Sealed Or Unsealed?
Before finding the best concrete cleaner, you should know which floor type you have. First of all, you need to know whether your concrete floor is sealed or unsealed because both alkaline and acidic cleaners may affect the sealers.
Believe it or not, but you can figure out the floor type by applying a splash of water to the surface. After 20 minutes, you can say that your concrete floor is sealed if the water is still beaded.
On the other hand, the concrete floor is unsealed if you notice that the water has been trickled into the floor, and the grey color of the concrete floor seems to be darker.
How To Choose The Right Cleaning Solution?
Not all cleaning solutions are effective for the concrete floor type you have, please continue reading to see which type of concrete cleaner you will need. You can also create your own cleaners by referencing 7 DIY homemade concrete cleaners that effectively apply on all kinds of concrete floors.
pH-Neutral
If you have sealed indoor concrete floors or stone floors, a pH-neutral cleaning solution is a greatest and safest choice. A pH-neutral cleaner can loosen the dirt on the surface, and you can remove it by scrubbing or rinsing.
A regular pH-neutral cleaning solution usually comprises a mildewcide. Therefore, you may need to dilute this concentrate solution with water to penetrate the concrete surface. The pH-neutral cleaner is not strong enough to go deep into the unsealed surface. If you need to treat an unsealed concrete floor, go for the next one.
Alkaline
An alkaline concrete cleaner is good at removing oil stains and grease build-ups that are soaked in an outdoor unsealed concrete floor such as patio or garage floor. This cleaning agent transfers oil stains and grease into water-soluble soaps so that you can easily rinse them away from the surface.
With a pH level of more than 10, an alkaline concrete cleaner is often labeled as a degreaser for concrete floors. Moreover, it is ideal to use this type of cleaner after applying an acidic cleaner.
Acidic
Are you tired of rust stains, leaf stains, and efflorescence? If Yes, you will need an acidic concrete cleaner. It works by chemically dissolving the substances that lead to the stains. However, you should use an acidic cleaner with care because this cleaner also reacts with the concrete surface.
Enzymatic
An enzymatic concrete cleaner can serve the same purposes as an alkaline or acidic cleaner. Although enzymatic concrete cleaner is more environment-friendly, it needs more time since it depends on microbial digestion.
This cleaner comes in both liquid and powder form. You can apply the enzymatic cleaner on the surface with a broom and spray it with water. There is no need to rinse the floor.
It's time to focus on the main part of this post. Here I show you what you need to prepare and how to treat different kinds of concrete floors!
Prepare The Surface (For Any Concrete Floor Type)
Before applying any cleaning solution, below is the 3-step formula to prepare any concrete floor type.
What You Need:
Broom/ duster/ vacuum
Nylon-bristle brush
Concrete floor mop
Dish soap
Water
Trisodium phosphate, laundry bleach, and detergent
Kitty litter/ cornstarch
Degreaser
Bleach, ammonia/hydrogen peroxide
Step 1: Clear The Floor
Moving everything off your floor is an obvious first move, especially when you need to clean the concrete garage floor. Remember to remove the furniture, floor mats, rugs, shoes, decorations, and so on. Therefore, your cleaning process won't be interrupted by having to move the furniture.
Step 2: Sweep or Vacuum The Surface
You can use the broom or the duster to remove debris on the surface. Moreover, using a vacuum for concrete floor is much easier if you have already had one. By using the vacuum, you can be sure that the dust won't be released and spread around.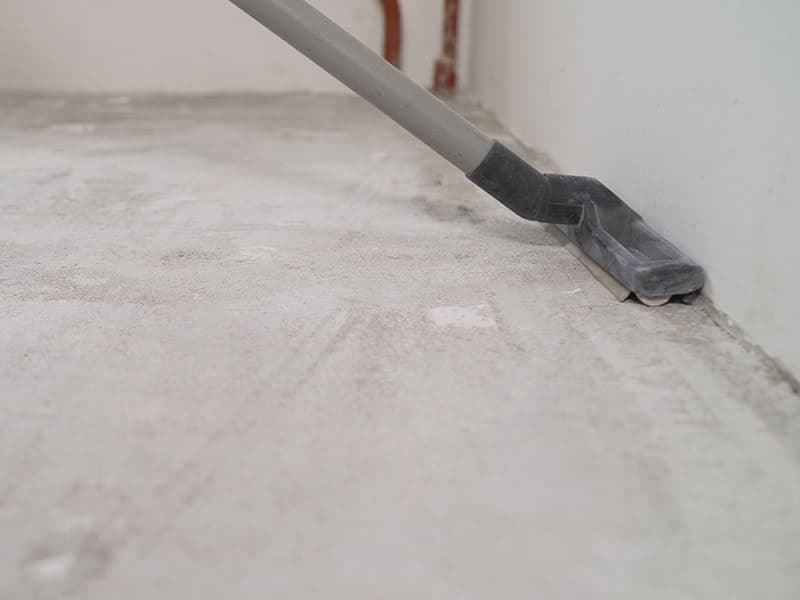 Step 3: Remove Stains
Now, you need to focus on the stains, and I will show you the way to remove different kinds of stains.
Regular food stains: Dilute 2 tbsp of dish soap (about 15 to 30ml) into half a gallon of water (1.9 liters). Then scrub the area with this soapy water.
Oil stains: Pour water over the area and use dish soap to cover the stains. Drop the brush into the warm water and use it to scrub the area. Finally, rinse the floor with water.
Tough stains (for unsealed concrete floors): You do not need to care about damages to the finish when you have a plain or unsealed concrete floor. In this case, you can use strong cleaners like bleach, ammonia, or hydrogen peroxide.
Remember to dilute the cleaner with water following the 1:3 ratio. Spray the mixture on the tough stains. Leave it for about 20 minutes. Use the brush to scrub the area and rinse with water.
If you use carpet glue on concrete floors, you need to know how to remove carpet glue from concrete floors completely since the sticky residue will damage their appearance.
Grease build-ups: Cat litter and cornstarch is a great choice for treating grease stains. Leave cat litter/ cornstarch on the surface for about 3 days. Use a brush to scrub the surface and rinse the floor.
Dry stains: Wet the area and apply some drops of detergents. Let it sit for about 45 minutes and remove stains. Cover the surface with hot water and use a brush to scrub the floor. Then use the mop for concrete floor to clean the area.
Tire marks (for garage floor): You will need a degreaser to treat tire marks on the garage floor. Wet the area with water and cover the tire marks with a degreaser.
Rust stains (for unsealed garage floor): Spray water on the area. Apply the mixture of vinegar and lemon juice to the rust stains. Let it sit for about 20 minutes. Use the stiff bristle brush to scrub the surface in a circular motion. Rinse the floor with fresh water.
Mildew: To remove mildew on the concrete floor, you will need a mixture of:
Trisodium phosphate
1 ounce of laundry detergent
1 quart of laundry bleach
3 quarts of water
Then use a soft brush to scrub the surface and rinse the floor with water. In addition, you can choose a mold and mildew cleaner to save your effort and gain quick results.
Check out the interesting video below to know how to treat stains on concrete floors.
How To Clean Sealed Concrete Floor?
Unlike unsealed concrete floors, sealed concrete floors are stain-resistant and non-porous. Therefore, cleaning unsealed concrete floors is much more effortless.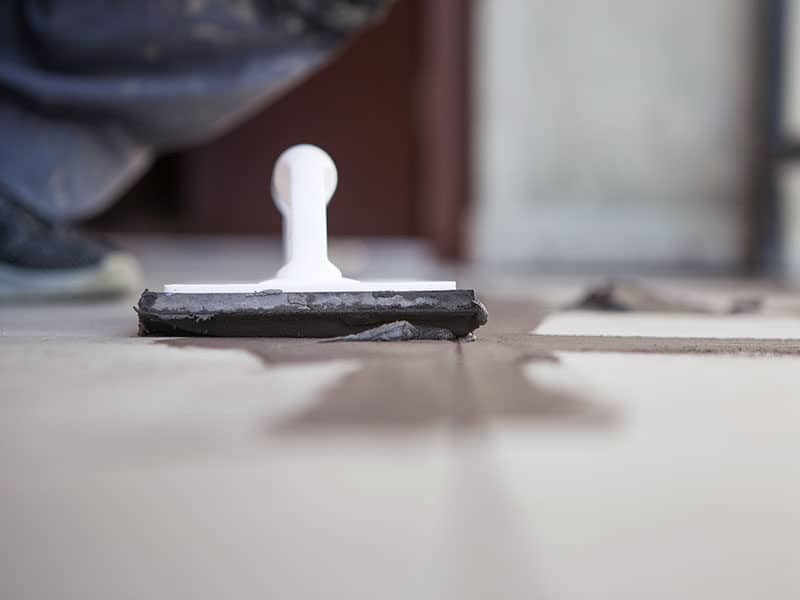 What You Need
Broom/dust mop/ vacuum
Wet mop
A bucket
Dish soap
Warm water
Cleaning Instructions:
#Step 1: Sweep or dust mop the sealed concrete floor on a regular basis. If you have a vacuum for concrete floors, you can use the vacuum to effortlessly get rid of scratches, dirt, dust, and debris.
#Step 2: Create a mixture of 2 tbsps of dish soap and one gallon of warm water in a bucket.
#Step 3: Dip the mop into the solution and mop the surface.
#Step 4: Mop the floor again with clean water to remove the residues.
#Step 5: Let the floor air dry.
Notes:
Do not use a strong cleaning solution as it will damage the surface
Follow the instruction of the producers for resealing
How To Clean Unsealed Concrete Floor?
Compared with sealed concrete floors, cleaning unsealed concrete floors is more complicated and takes more time.
Garage and Outdoor Concrete Floor
Cleaning unsealed, or outdoor stamped concrete floors may take more effort than other areas since outside conditions may affect the surface remarkably. It is advisable to carry out a thorough cleaning every month.
There are different ways to clean concrete garage floors and concrete floors outside the house, but the following method seems to work well! Let's move on!
What You Need:
A power washer
A pressure washer. A pressure washer is a better choice, and you can rent one from home and garden or building stores. Remember to pick up the pressure washer with 3000 PSI or 4 GPM rating.
A push broom
Stiff nylon brush
Cleaning agent: trisodium phosphate or concrete cleaner
Step 1: Remove Moss or Root
Use your hands to pull out the moss or root that has grown on the outdoor concrete surface. After that, sweep the floor carefully. Use the pressure washer to make the surface free of dust and debris.
Step 2: Spray The Concrete Floor
If you need to clean the garage floor, remember to open the garage door. Use the pressure washer or garden hose to spray the concrete floor in wide and sweeping strokes to eliminate the dust and debris. You should spray carefully at the crevice and corners.
Remember to start at the farthest place of the area and work your way towards the garage door or lawn.
Step 3: Apply The Cleaner
It's time to cover the concrete floor with trisodium phosphate or concrete cleaner. You should make sure that the surface is wet when you carry out this task.
Helpful tips:
Put the broom at the end of your garage or patio
Start sprinkling the cleaner at the other end and work your way to the broom
Step 4: Scrub The Floor
Use the brush or broom to scatter the cleaner over the whole surface and remove any grime, dust, dirt, and debris out of your concrete floor.
Step 5: Rinse The Floor
Finally, you need to rinse the floor with clean water. And it's wise to start rinsing at the end of the garage or patio. Use the power washer to get rid of the excess water and debris and let the floor dry.
The following below will show you exciting tips to clean the garage floors. Check it out right now!
Indoor Unsealed Concrete Floor
As you know, an unsealed concrete floor is porous, and it is not as stain-resistant as you think. Even if you have indoor unsealed concrete floors, regular maintenance is always recommended.
What You Need:
Washing soda (sodium carbonate)
Warm water
A bucket
Concrete floor mop
Here is the complete cleaning process for cleaning indoor unsealed concrete floors.
#1: In the bucket, mix 3 tbsp of washing soda into one gallon of warm water
#2: Dip the mop into the bucket containing the mixture
#3: Start mopping at the other side of the room
#4: Pour warm water into the bucket and mop the room one more time. Remember to start at the same place as the first time.
Note:
Rinsing the floor mop every 3 sq ft is recommended
If you need to clean the area that is enclosed, you should seek the help of the electric fan to let the area dry
How To Clean Polished and Stamped Concrete Floor?
Stamped and polished concrete floors are favored by their attractive appearance. However, you need to properly and regularly take care of them to make sure their beauty can last.
What You Need:
Mild dish soaps
Castile soap
pH-neutral cleaner/degreaser
Neutral stone cleaner
The 4-Step Formula:
Follow these 4 steps to achieve the most satisfying results.
#Step 1: Create The Cleaning Solution
Mix about 30 to 60ml of mild dish soaps or pH-neutral cleaner with one gallon of warm water in the large bucket. You can also follow the mixing solution recommended by the manufacturer.
#Step 2: Dip The Mop Into The Cleaning Solution
When it's soaked, thoroughly squeeze it out to make sure the floor mop is slightly damp. Therefore, the floor will dry quicker, and there will be no excess water on the surface.
#Step 3: Mop The Floor
You should clean small parts at a time and remember to start at the end of the room so that you will not step into the area you have just cleaned. One more thing to note is that you should dip the floor mop into the water regularly and wring it out. It is recommended to turn on the fan so that the floor can become speedily dry.
#Step 4: Remove The Soapy Residue
After mopping the floor with the cleaning solution, replace the dirty water with clean, warm water. Mop the floor another time. Like what you do in step 3, you should start at the farthest point of the room and clean in small areas.
You don't know how to maintain the polished concrete floors. Don't worry since the following video can help!
How To Clean Painted Concrete Floors?
Painted concrete floors can be sealed or unsealed. However, you should avoid using strong cleaning solutions as it may cause damages to the sealants and paints.
What You Need:
Dust mop/ vacuum
Bucket
Microfiber mop
Mild all-purpose concrete cleaner
Water
Cleaning Instruction:
#Step 1: Dust Mop or Vacuum The Floor
Grit and soil may damage the painted concrete floor. Therefore, you will need to use the dust mop or concrete vacuum cleaner to remove grit and soil from this surface.
#Step 2: Mop The Surface
You can make a cleaning solution by mixing an all-purpose concrete cleaner with warm water. After, use a good microfiber mop to clean the surface.
Notes:
Wring the microfiber mop until it is slightly damp since excessive water can damage the paint and make the painted concrete floor peel.
#Step 3: Rinse The Floor
Dip the microfiber mop into the clean water and mop the surface again to remove the soapy residue. In this case, a wet/dry shop vac can also be a part of the rising process as it can help remove the soaps and residues. Finally, let the floor air dry.
How To Clean Stained Concrete Floors?
Stained concrete floors are often applied for light-traffic areas. Therefore, this surface only requires simple maintenance to prolong its appealing look.
What You Need:
Mop
pH-neutral cleaner
Sealer
Wax/ floor finish
#1. Regular cleaning: You need to dry mop or damp mop the surface to get rid of the grime and dirt.
#2. Deeper cleaning: Dip the mop into the mixture of pH-neutral cleaner and water and clean the floor occasionally.
#3. Protect the surface: Finishing the surface with sealers and wax or floor finish is necessary, and you will need to reapply them every few years.
Notes:
For high-traffic stained concrete floors in commercial settings, you also follow the cleaning process above. However, you need to reapply the wax or floor finish more frequently.
For indoor use, water-based sealers are highly recommended since there are no harmful fumes.
You can apply commercial floor wax to ensure additional protection against dirt, stains, and abrasion.
Avoid muriatic acid, vinegar, bleach, and other harsh chemicals because they can wash out the sealant.
How To Protect Your Concrete Floor?
There are 3 ways to protect the beauty of your concrete floor. Let's keep on reading to know!
1.  Remove The Spills Right After They Happen
By eliminating the spills immediately, you cannot only remove stains, but you can also prevent the floor from slipperiness. You can use a clean towel or rag to wipe the spills.
2.  Regularly Sweep Or Vacuum The Surface
Whether your concrete floor is high-traffic or not, you should sweep or vacuum the surface on a regular basis to limit the risk of damaging abrasions.
3.  Crack Must Be Tackled
If you see the emergence of a little crack on the concrete floor, you should not underestimate it since dirt can get stuck in these tiny grooves quickly.
4.  Consider Owning A Dehumidifier
If your concrete floor is stuck by too much moisture, you may have to struggle with moisture-related stains, such as white efflorescence stains. To mitigate the issue, purchase a dehumidifier.
5.  Seal The Floor
The sealed concrete floor is resistant to stuff and stains, and it will be much easier to clean the next time. It is a wise choice to pick up the high-quality sealant because it can last for many years.
However, it will be best to reseal the concrete floor every 3 or 4 years because it can be peeled as time flies. Choosing the proper sealant for your concrete floor is also vital, and water-based sealant is great.
6.  Wax The Floor
A wax finish not only protects the floor from soil build-up, stains, and abrasion, but also protects the underlying sealant so that it can last a lot longer. One note for applying floor wax is that you should only apply a thin layer and use a mop to spread it out. Reapplying every year is recommended.
One of the greatest ways to protect your concrete floor is selecting the right finish, and this video will show you how.
FAQs
In case there are still some problems rising in your mind, I have got you covered with some questions that people frequently asked.
Expectations vs. Reality
Concrete floor is not only an affordable option, but it can also stand the test of time. Each concrete floor type needs different tools and cleaning agents. With proper cleaning methods, you can easily keep your concrete floor look like new.
Spots and stains can be big problems for you. However, you can effortlessly treat the stains with frequent maintenance. I think all the methods above are not kind of difficult, and keeping your concrete floor clean and shiny is no longer a complicated task.
Do you know other tips for cleaning concrete floors? How often do you clean the concrete floor in your house? Do you want to ask any questions? Feel free to send me a comment, and please share this post with your mates if you find it helpful!