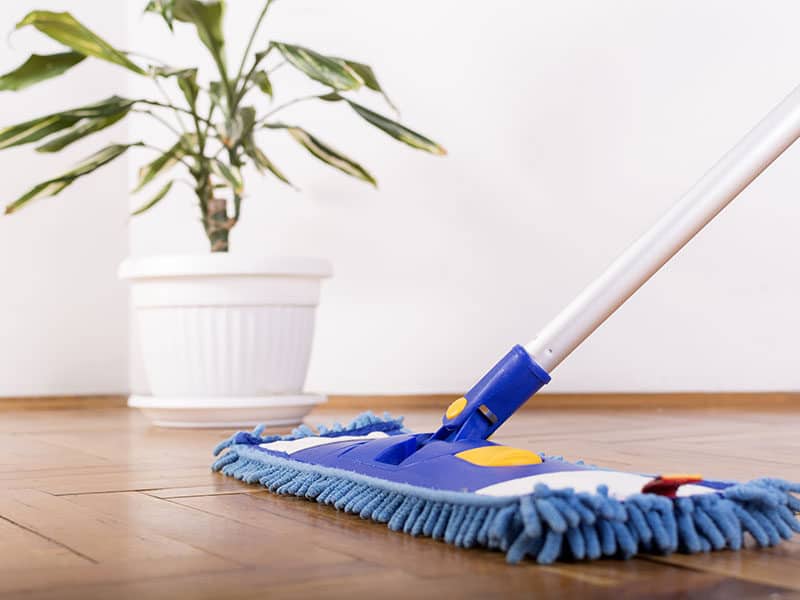 If you want to learn how to clean engineered hardwood floors, this article is for you.
Most homeowners prefer engineered hardwood flooring because it's easier to install, durable, and adds style and elegance to every living space. However, there's no such thing as a dirt-proof floor.
Brand new engineered hardwood flooring will show signs of life like scratches, dirt, and more. However, you don't need a professional cleaning service to keep your new floors looking clean and fresh.
That being said, let's learn how to clean and maintain your floors, so let's get started.
How To Clean Engineered Hardwood Floors?
Cleaning your engineered hardwood floors doesn't have to be intense and time-consuming. Just be sure they get cleaned regularly. Today's article contains 3 crucial steps on how to do it properly.
Step 1: Gather all the necessary cleaning tools
You can't just clean your engineered hardwood floors with any cleaning tools. Pay close attention to the broom, vacuum cleaner, and mop. Make sure they won't cause any damage to your floors.
Step 2: Clean your engineered hardwood floors properly
The cleaning process involves regular sweeping, vacuuming, and mopping engineered hardwood floors regularly. Additionally, you need to pick your floor cleaners wisely and avoid certain products.
Step 3: Maintain your engineered hardwood floors
Proper maintenance extends the lifespan of engineered hardwood floors. This includes polishing floors, keeping your pets' nails trimmed, and applying other maintenance tips you can find below.
Things You Will Need To Clean Engineered Hardwood Floors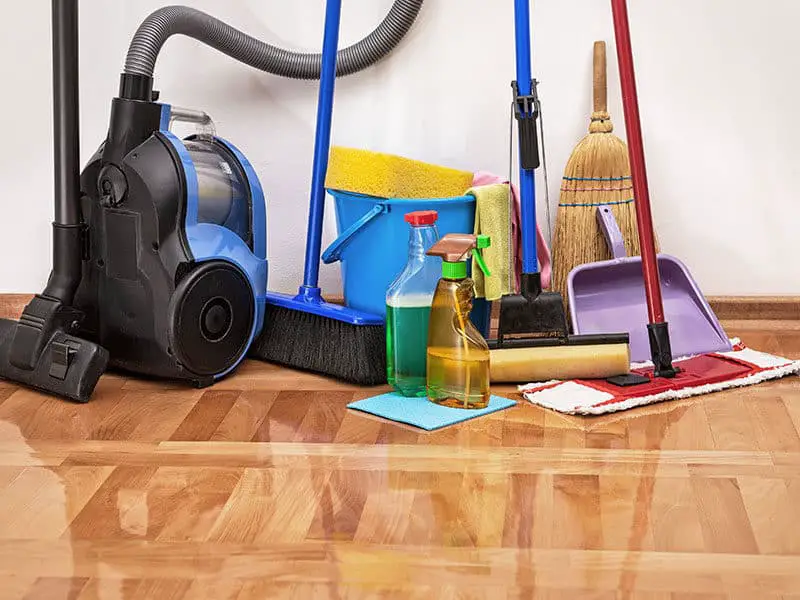 Caring for engineered hardwood floors isn't as hard as you may think. All you need is this guide. And the following tools for cleaning.
Soft bristle broom
The first thing you need to do is get rid of dust and debris on your floor using a soft bristle broom. These things act as abrasives and can leave floors looking old and vulnerable to damage.
Therefore, ensure that you sweep the floor to remove any large particles with a premium floor sweeper regularly. Also, invest in long-lasting floor mats to ensure dirt doesn't pile up again.
Vacuum Cleaner
If your broom doesn't catch every bit of dust and debris, your vacuum cleaner surely will. This is why you need to invest in a good vacuum cleaner for hardwood floors or a premium upright vacuum.
Also, when you're vacuuming, ensure that you turn the beater off and adjust your vacuum cleaner to the highest setting or that of bare floors. Otherwise, you may end up damaging your new floors.
Hardwood Floor Mop
Vacuuming will leave your new hardwood floors looking clean and fresh. However, sometimes you need to deep clean your floors. And the best way to do that is utilizing a hardwood floor damp mop.
It's recommended that you utilize a microfiber mop as it's non-abrasive. Also, when cleaning, don't soak your mop. This type of flooring can handle humidity. However, too much water can end up going via the joints leading to underlayment damage and warping. Utilize a spin mop with a microfiber head.
Recommended Cleaner
It's recommended to utilize a cleaner that's recommended for engineered hardwood floors to prevent long-term damage. Avoid ammonia-based cleaners and vinegar as they can cause damage.
How To Clean Engineered Hardwood Floors?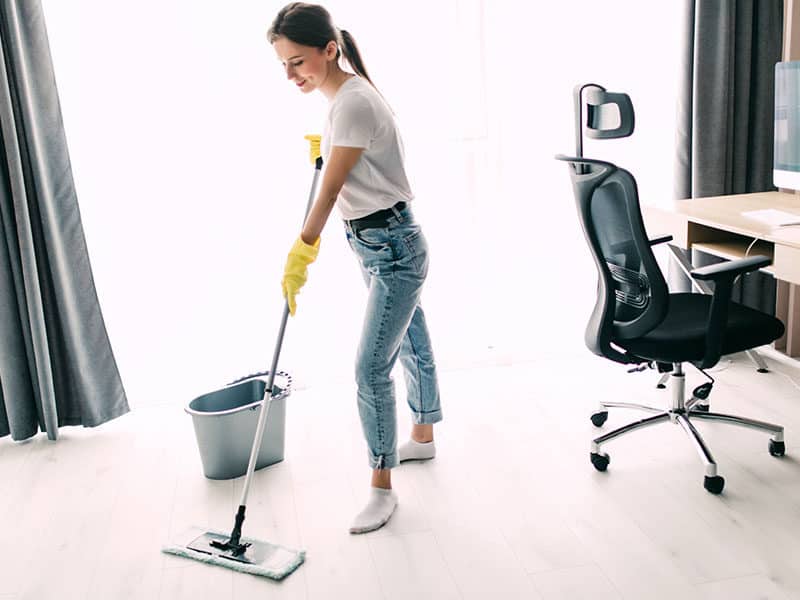 Unlike traditional hardwood floors made of only wood, engineered hardwood floors consist of multiple layers. Meaning, the surface of these floors is genuine hardwood.
However, the underlying layers are usually made of high-density fiberboard or plywood. To prevent your floors from being stained or scuffed, you will need to clean them regularly.
You can start with a broom and dustpan. And then proceed with a manufacturer-recommended cleaner. Let's learn how to clean engineered hardwood floors step-by-step.
Step 1: Cleaning Up Dirt And Debris
First and foremost, gather tools like a broom, vacuum cleaner, microfiber mop, and cleaning solutions. Then, follow the next steps on how to clean your floors the right way.
Sweep With A Broom Every Day
Large chunks of dirt and small stones can find their way to your floors daily. Utilize a soft-bristled broom to sweep up all of the dirt in your home.
Pay close attention to places that are more likely to have gathered debris or rocks such as the entryway. Sweep all the dirt and debris into a dustpan.
If any dirt is left on your floor, it will be ground into the surface and can damage or scuff the top layer of hardwood. To prevent this, clean it regularly.
Vacuum Your Floors Gently And Regularly
If you don't have a broom or don't want to use it, utilize a regular or cordless vacuum cleaner. Just make sure to set it on the "hard floor" mode. This will turn off the rotating bristle bar. Otherwise, the vacuum cleaner will scuff and scratch the veneer surface of your floor.
Mop Your Floors With A Dry Microfiber Mop
Utilize a microfiber mop to clean your hardwood floors and ensure that you've removed all the dust and debris that's been piled up into your property.
A dry microfiber mop head will successfully pick up everything on the surface including things that your broom may have missed without causing any damage.
Always mop engineered hardwood floors with a microfiber mop since this material isn't abrasive on the top layer and veneer of floors, unlike regular mops.
Mop Your Floors With A Slightly Damp Mop
As already stated, regular mops cause damage to these floors. So, a microfiber mop is your best choice. Wring out water from your microfiber mop thoroughly before you place the mop on the floor.
If excess water stays on your hardwood flooring after you've cleaned it, remove it with a clean towel. A slightly damp mop can also remove light stains from things that may have spilled on the floor.
Place Rugs At Every Entrance
Save yourself some work sweeping and mopping your floors by protecting every entrance of the home with rugs. Focus on the front and back doors.
The rugs will catch much of the dust, grime, and dirt that would otherwise enter your house and remain on your hardwood flooring until you clean again.
Place one rug outside each entry point for your family, friends, and guests to wipe any mud or dirt off of their feet. Then, put another one inside the doorway.
This will encourage guests to wipe their shoes again, this time removing finer dust or dirt. Shake the rugs weekly to prevent dust from spreading inside.
Step 2: Utilizing A Liquid Cleaner
Get a manufacturer-recommended liquid cleaner. This type of floor should only be cleaned with a liquid cleaner that has been recommended by the manufacturer.
Different types of engineered hardwood floors need different cleaners. And utilizing the wrong brand of liquid cleaner could cause serious damage to your new engineered hardwood floors.
If you're uncertain what type of cleaner to utilize, call the company and ask for a recommendation. You can buy liquid cleaning products made for these floors at your local hardware stores.
In case your local hardware store doesn't have this type of cleaners, check the "flooring" and "cleaning" sections or a larger home supply store such as Home Depot.
Scrub Stains And Spills With The Liquid Cleaner
If there's a section of your floor that's especially dirty, or if it had liquid spilled on it or has been stained, you can clean up with a specialized liquid cleaner.
Just add a small amount of the cleaning product directly to the surface of the floor. Use a sponge mop or a clean cloth to wipe your hardwood floor until the nasty stains have been removed.
Don't leave excess water or liquid cleaner on your hardwood floor after you've cleaned. Wipe it up right away with a clean cloth or paper towel. Also, avoid rinsing off the cleaner with water.
To clean spots that the mop can't get to or wipe up stubborn pet stains, you may need to scrub by hand. Just add a small amount of the cleaner onto a cotton cloth and dab gently at the stains.
Certain liquid cleaners need to be weakened with water. Therefore, make sure you read the instructions on your specialized liquid cleaner before utilizing it.
Avoid Products Made For Tile Or Vinyl Flooring
Cleaning products look alike. However, they're not the same, meaning, they're not interchangeable even if they're situated next to one another on the shelves at your local hardware store.
Liquid cleaners that clean vinyl or tile can permanently damage engineered hardwood floors. Therefore, you need to avoid them as they won't clean your engineered hardwood floor properly.
Step 3: Preventing Floor Damage
Last but not least, learn how to prevent floor damage. Good maintenance will keep your valuable floors clean and fresh at all times and extend their lifespan, so pay attention to the next section.
Wipe Up Any Spills Right Away
Accidents happen all the time. However, if you've spilled water or other types of liquid on your floors, it should be cleaned up right away. If you let a liquid spill remain on the engineered floor for any length of time, it could penetrate the surface and damage the veneer or hardwood.
This could also cause permanent stains. Additionally, when you're cleaning up liquids, blot softly at them to wipe them up. Don't scrub at the liquids or use pressure to clean the floor.
Avoid Ammonia-Based Cleaners And Vinegar
Utilizing pressure to clean your hardwood floor will cause damage but so will ammonia and vinegar. So, avoid ammonia-based cleaners and vinegar as they could mar or erode the veneer surface on top of the upper layer of your floor. They're perfect for other surfaces but not engineered hardwood floors.
Never Utilize A Steam Cleaner
A steam cleaner can be a wonderful tool for cleaning a carpeted floor. However, it shouldn't be utilized on engineered floors.
Otherwise, the steam will damage the surface by forcing liquids into the top layer of hardwood and the veneer. Meaning, it can likely cause more damage than good.
It's even worse than other ways of cleaning that utilize excess water such as a greatly wet mop, so avoid utilizing a steam cleaner.
Avoid Abrasive Cleaning Brushes
Abrasive and tough cleaning tools like wire-bristle or steel wool cleaning brushes shouldn't be used on a hardwood floor. They will only scratch and damage the veneer on top of your new floor.
Wipe Up Any Liquid Residue Right Away
Last but not least, wipe up any liquid residue right away. Engineered hardwood floors are more resistant to liquids than regular hardwood floors. However, you should never leave any liquid or cleaners standing on your floor. Thus, wipe up any liquids after you've cleaned your engineered hardwood floor.
Watch this video to know more:
How To Maintain Engineered Hardwood Floors?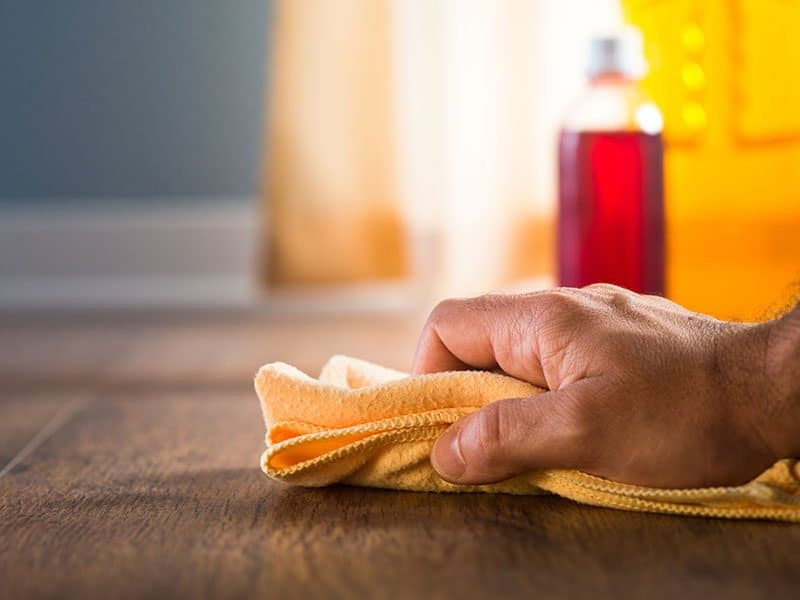 Proper maintenance is the key to the longevity of all floor types including engineered hardwood floors. But here's the kicker. Caring for these floors is very similar to caring for regular hardwood floors.
However, if you're new to floor maintenance, you may feel a bit lost about how to prevent damage and what products to use. The following list of 15 tips will help you take good care of your new floors.
Polish your hardwood floors regularly to restore their shine and extend their lifespan.
Most companies recommend cleaning solid engineered or hardwood flooring with a clean cloth or wet mop only. However, if you want more cleaning power, buy a cleaner created specifically for finished wood flooring. Keep in mind that cleaning engineered flooring is similar to caring for traditional hardwood floors because the uppermost coat is composed solely of hardwood.
Always dust or sweep before you mop your engineered floors. Remove as much dirt, debris, and grime, as possible before mopping to stop floor damage.
Wipe up liquid spills as fast as possible. Although engineered hardwood flooring isn't as prone to water damage as solid hardwood flooring, extended exposure to liquids can cause damage.
Utilize only a dry to damp cloth or mop for better results when cleaning.
Protect your floors from UV damage by pulling blinds or drapes during sunlight hours. Shield the floors from direct sunlight.
Situate all furniture and houseplants on felt pads or soft coasters to prevent scratches and nicks.
When cleaning your floors, wipe in the exact direction as the wood grain for better results. This will help take off stubborn stains or dirt from crevices and cracks in the flooring.
You can fill in nail marks made during installation by applying similarly colored wood putty. Just wipe away any excess product and clean the place with a small layer of urethane. Then, let it dry for 1 hour.
Dusting or sweeping your engineered hardwood floors daily will stop dirt build-up that will need cleaners or scrubbing to remove. Meaning, regular care is best for these floors.
Keep your pets' nails trimmed to prevent scratches.
Regulate the humidity level of your home to keep your floors looking amazing for years to come. Proper humidity control plays a key part in the longevity of your floors.
Hard water can leave your engineered hardwood floors looking dull over time. Therefore, utilize softened water or specialized cleaners to remove mineral buildup.
Never place electronics right on your floors. Otherwise, the heat generated from them will cause damage to your floors.
Pick your cleaning products carefully. Always read the instructions on the package before using a product on your floors. Usually, if something is safe for use on hardwood floors, it's also safe for engineered flooring.
Cleaning white plank floors requires extra TLC. Never use bleach or detergents containing bleach on white plank engineered floors. To keep your new floors white, clean them regularly and avoid using well water.
Watch this video to know more:
Related Questions
Let's Get To Work
Hopefully, this guide on how to clean engineered hardwood floors can help you take proper care of your floors. Cleaning something as costly and valuable as hardwood can be daunting.
However, with today's guide, patience, and a little elbow grease, you will enjoy clean, fresh floors. If you have any cleaning tips and tricks that you would like to share, please drop a comment below.
Let's chat about cleaning floors. Also, don't forget to share this article with your social media friends and family and help someone take better care of their engineered hardwood floors.