Oils, the build-up of grease, grime, and clutter are daily problems that each garage owner usually faces. You should not wait for months to give your garage floor deep cleaning. Regular cleaning is necessary to minimize debris accumulation.
Frequent garage floor cleaning does not only help prolong the lifespan of the floor, but it also prevents the release of residues and oils into your house. There are various ways to keep the garage floor clean, let's discuss them now!
Where To Begin?
Don't know where to start, right? Stop worrying since I will show you what you need to prepare before cleaning the garage floor right now!
Common Equipment For Cleaning Garage Floor
The garage floor is a porous surface. Therefore, if you do not clean or wash it regularly, there will be countless embedded dirt and grimes on the surface as time flies. When dealing with this kind of surface, there are some vital tools that you need to prepare.
1. Power Washer
A power washer is an incredible piece of equipment for cleaning garage floors, and it can also help you save plenty of time. You can rent the power washer at the local hardware store, and it does not cost much to rent.
The power washer helps remove stuck-on dirt and grime because it uses heated water to clean the surface. You will need to use the power washer after treating spots and stains, and I will also show you how to use it right in this post.
2. Floor Buffer/ Floor Maintainer
When it comes to cleaning the garage floor, you will need to use the floor buffer. This tool is designed with a nylon-bristle scrubbing head for handling the porous surface of a concrete garage floor. And luckily, renting the floor buffer is also inexpensive.
Using the floor buffet is just similar to using the deck brush. After washing the garage floor with the power washer, it's time to let the buffer machine do its work.
3. Stiff-Bristle Broom/ Push Broom
You do not need to clean the floor with the solution every day. However, you just need a stiff-bristle broom or a push broom to remove dirt, dust, debris, bits of metal shavings, nails, and so on.
When choosing a broom for cleaning garage floors, you should choose the one with sturdy and high-quality bristles to make sure it can work effectively. You can select either the thick or thin design, but the thin one is the right choice if you need the space-saving option.
4. Degreaser Solution
Oils, lubricants, and grease are usually present in the garage, so the degreaser solution is one of the must-have items if you want to keep your garage clean. The combination of cleaner and degreaser is available on the market to serve heavy-duty purposes.
A concrete degreaser is also known as an alkaline concrete cleaner. One tip for choosing the best degreaser for your garage floor is seeking a water-based solution. This kind of solution is highly effective and can treat tough stains.
Degreasers are also non-corrosive and non-abrasive. If you don't like chemical smells, there are also suitable options for you.
Common Types Of Garage Floors
Garage floor is often made of concrete. However, you can also upgrade your garage by applying coatings and coverings.
Each type of garage floor finish requires a different cleaning method.
With concrete garage floors, you will need a strong cleaning solution to treat the stains, while epoxy floors just need gentle cleaning. Please continue reading to see the characteristics of each garage floor type.
Concrete Garage Floor
Concrete garage floor is not resistant to stains. Moreover, oils and water tend to leave persistent and frustrating marks on this surface. With a concrete garage floor, there are many problems you need to care about.
However, there is no need to worry since there are many methods to remove stains from concrete garage floors, such as using natural acids, cat litters, or commercial products.
Floor Coating: Epoxy
True epoxy coatings are hardened by a chemical reaction of resin and catalyst. This coating is durable, long-lasting with an attractive look. This is a smart flooring option because it is durable and long-lasting.
There are a wide variety of colors for you to choose from, and applying epoxy coating helps reduce the stress of cleaning.
Epoxy is not acceptable for moisture-absorbing floors. Therefore, you have to remove grease build-up to make the floor moisture-resistant.
Floor Covering: Floor Mat
Floor mats are usually made of rubber or polyvinyl plastic, and using floor mats is such a quick and easy way to cover the garage. Using a floor mat can save a great deal of your time since this task does not require any preparation.
You can install floor mats over the concrete floors that have minor scratches or stains. The floor mat is also easy to clean, so it becomes a great idea for floor covering.
I have also included the detailed cleaning method for each surface in this post. Keep on reading, and you will get all the information you need!
Prepare The Garage (For Any Floor Type)
First and foremost, you should do some steps below to tidy up your garage before carrying out the floor cleaning tasks.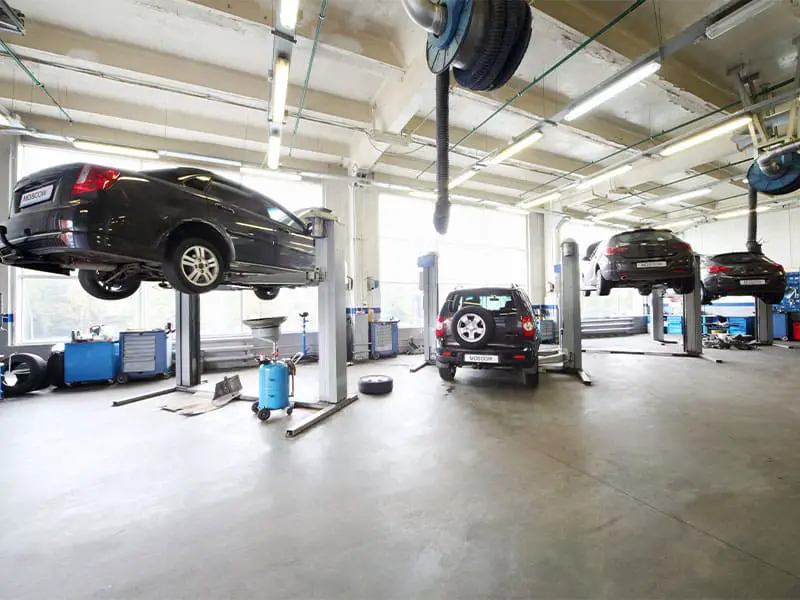 1. Empty Your Garage
Large items such as cars, bikes, boxes, tools… will make it difficult for you to maneuver and clean the floor. Therefore, you have to move all the large items and the objects that are not nailed down. You can leave some small items on the shelves if you feel that you will not affect your cleaning process.
2. Protect The Walls
To protect the walls against being damaged from water and stains, you should use a plastic drop cloth or tarp to cover the wall at least 3 ft from the floor surface. You also have to cover the electrical outlets to ensure safety.
When drywalls are exposed to water, the walls are particularly prone to damage. The walls' texture will become soft and weak, which provides a good chance for molds to grow up. That's why this step is important, and you should pin or tape the floors carefully.
3. Sweep Or Vacuuming The Surface
Using a broom to sweep the floor is necessary before applying any cleaning solution for removing stains and sealers. This action will help eliminate all the dirt, debris, and dust.
You can use the vacuum to control the dust on your garage floor. Nowadays, there are a lot of wall-mounted garage vacuums to buy. These vacuums come with the floor brush and other accessories to clean the whole garage.
In addition, another way to save time is using the shop vac for dust collection. With the help of vacuums, I think frequent garage cleaning is no longer an uphill task.
How To Clean Concrete Garage Floor?
After clearing the garage, it's time for you to focus on the stains. Here I will show you how to handle different kinds of stains.
1. Treat Oil And Grease Stains
When you work in the garage, you are likely to spill some oil or fluids that may be leaked from cars or other equipment.
Unless you clean away these stains immediately, they will become stubborn, and the garage floor will be slippery soon.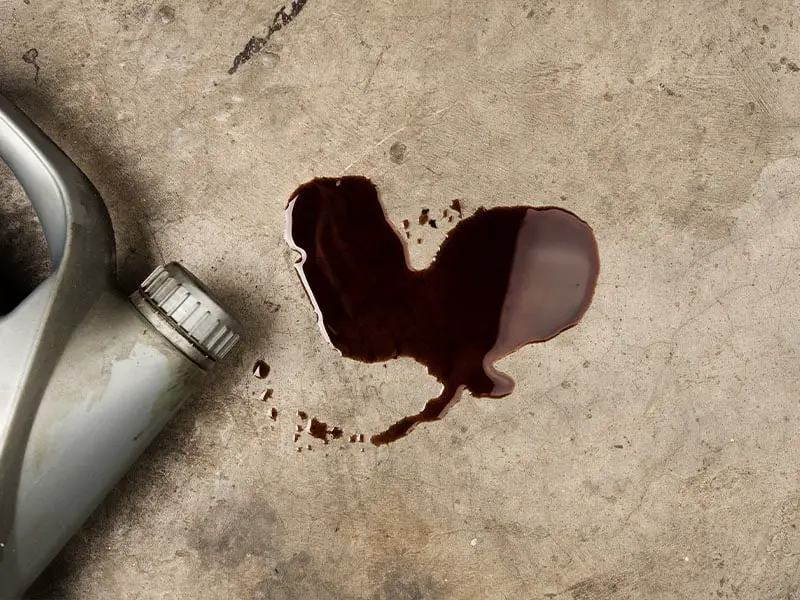 Method 1: Use Cat Litter
What you need:
Cat litter
Dish soap/laundry detergent
Nylon bristle brush
It can be hard to believe but using cat litter is one of the easiest ways to get oil and grease stains off the garage floors. Since cat litter is extremely absorbent, it is widely used to eliminate oil stains instead of using chemicals.
If you are a cat owner, it will be great as you can find another way to make use of your cat litter. What if you are not a cat owner? It is not a big problem at all because you can grab some at pet stores or along the street.
First of all, you need to sprinkle a large amount of cat litter on the garage floor to absorb the stains and leave it there for several hours.
After that, sweep the litter away and put it in the dustbin. It's time to use dish soap or laundry detergent to break up the grease. Leave it for about 45 minutes!
Next, pour the water on the garage floor and use the nylon-bristle brush to prevent damage when cleaning. And remember that cleaning in a circular motion is the right way to clean most kinds of floors.
For the most efficient results, you will need to let the dish soap sit for 15 more minutes and repeat the cleaning process. If you happen to remove stubborn and very old stains, you will have to scrub the floor many times since older stains are more difficult to eliminate.
It's nearly completed, and you just need to rinse the floor with water and direct all the soapy water out of your garage floor. Let the floor dry, and you are done!
If you need further information, why don't you watch the following video!
Method 2: Use Commercial Products
If the previous method does not work, commercial products should be your choice. There are tons of grease and oil removers on the market. They are very effective and can save much of your time.
With some products, you just need to scrub the floor and rinse with water, while other products may need a few hours to gain effects. When you decide to use grease and oil remover, remember to read the instructions carefully and make sure you use the product in the correct way!
2. Remove Rust Stains
Apart from oil and grease stains, you also have to tackle the rust stains in the garage. Rust stains happen when some tools like hammers, nails, screwdrivers are left on the floor for a long time. Especially when these tools are wet, they will leave noticeable marks on the garage surface.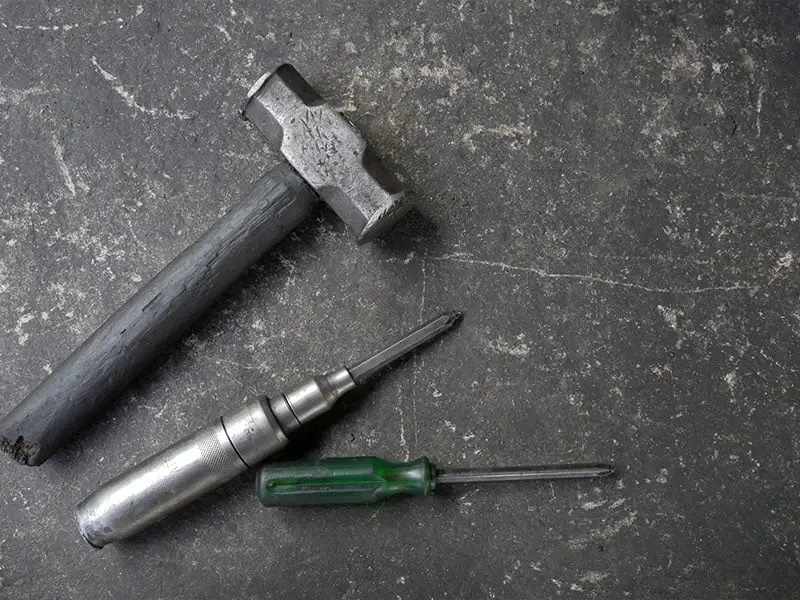 Method 1: Use Vinegar and Lemon Juice
What You Need:
Pure white vinegar
Lemon juice
Stiff-bristle brush
Rust stains are common, and how to deal with them? One of the greatest ways is to use natural acids. Follow some steps below to get the job done!
Pour enough lemon juice and pure white vinegar to cover the rust stains
Wait 5 minutes
Pour another cover of lemon juice and vinegar
Scrub the floor with the stiff-bristle brush
Scour the stains away
You can repeat this process several times if the rust stains are quite hard to remove
Method 2: Use Laundry Detergent
What You Need:
Laundry detergent (contains baking soda)
Nylon-bristle brush
Another option to remove rust stains from the garage surface is to make use of the laundry detergent with baking soda as an ingredient. After mixing the laundry detergent and water into the thick base, pour the base on the rust stains and let it sit for about an hour.
You need to ensure that the base is always wet. Otherwise, this method will not work. After an hour, scrub the floor with the nylon bristle brush and rinse the floor with water.
Method 3: Use Oxalic Acids
If you need another way to tackle rust stains, oxalic acid can meet your demand. Oxalic acids are good at removing harder and tougher rust stains. That's why it becomes one of the ingredients for various concrete cleaning products.
Oxalic acid comes in both liquid and powder form, and you can find this acid from the hardware store or the home improvement center near your house. How to remove rust stains from the garage floor with oxalic acid? Follow some steps below!
If you buy oxalic acid with powder form, mix it with water to become a watery base. If you buy liquid oxalic acid, skip this step.
Cover the rust stains with oxalic acids
Leave it for 5 minutes
Rinse the floor
Repeat this process if you still see the stains
Method 4: Use Muriatic Acid
If the three previous methods don't show any good results with persistent and very stubborn stains, you will need to use muriatic acid. Muriatic acid is also known by the name "hydrochloric acid".
This is a very acidic chemical and highly-corrosive, so you should be careful when using it. The process for this method is quite similar to the two methods above. But first of all, you will need to dilute one part of muriatic acid to 10 parts of water.
Spray the mixture on the rust stains and use the stiff-bristle brush to scrub the stains away. Finally, use the power washer or the hose to rinse the floor.
Note:
Since this acidic chemical is very strong, it may damage your garage floor, so only use it as a final option.
When diluting the acid, you should remember to pour acid into water. Do not pour water into acid! If you pour water into acid, it will explode, and you will be in danger.
Remember to wear safety clothes when using. Gloves, goggles, and masks are must-have items since muriatic acid may cause burns if contacted to your skins, and its strong scents can affect your lungs.
3. Remove Paint Stains
Paint stains on the garage floor seem to be hard to remove, but there are still ways to handle them. Removing old paint and sealer is essential if you plan to apply a new coating since the quality of a new paint job requires a completely clean surface. For preparation, you need to scrape loose paint using the putty knife.
Method 1: TSP + Water
Notes:
Read the instruction on the labels with care
Wear gloves
Many professional painters have used Trisodium Phosphate – TSP as a strong degreaser to treat old paint and sealer. For cleaning the garage floor, you need to mix TSP with water and pour the solution on the paint stains.
Next, scrub the solution into the remaining paint and rinse with water. If you still see paint stains left on the surface, scrape off the stains and rinse the floor one more time.
Method 2: Use Commercial Stripper
If you happen to clean very tough paint stains, you should seek the help of a commercial stripper. In this case, I recommend the BLUE BEAR 500MR Mastic Remover. This product is odorless, highly-effective, and safe to use.
Compared with the solvent, commercial strippers may require more time. However, it is a safe choice for yourself and also for the environment. This method is perfect for those who need to clean the floor before applying a new floor covering, such as interlocking tiles or roll-out mats. If you need to remove the sealers, go for the next option.
Method 3: Use A Floor Grinder
One of the most efficient ways to remove old paint stains and sealers is using a floor grinder. You can rent this device from the local hardware store. There are many kinds of heads for serving different purposes, such as: removing paints, sealer, mastic, etc.
When using the floor grinder, there will be a lot of dust so remember to wear a mask and goggles to protect yourself.
Although this method is quite costly, it requires less elbow grease than using commercial strippers.
4. Deep Clean The Concrete Garage Floor
When you have completely removed all the stains, spots, sealers, and paints, you should pay attention to the whole garage floor. In this part, I will show you the detailed process to deep clean the surface.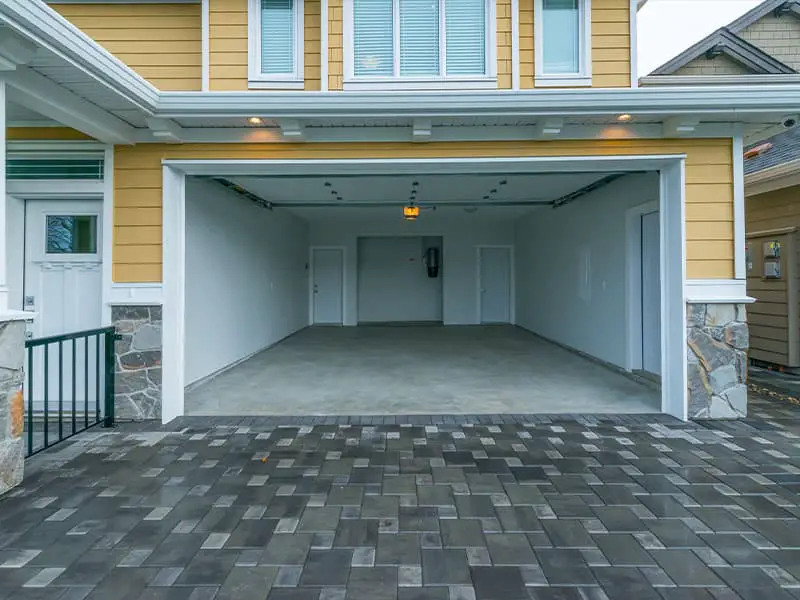 What You Need:
Powdered laundry detergent, warm water (or you can use the degreasing solution)
Deck brush/ push broom with stiff bristles
Mop
Power pressure
Floor buffer
No need to delay any more; below is the 3-step formula to deep clean the garage floor!
Step 1: Cleaning Solution
A warm and soapy cleaning solution is indispensable to ensure an effective clean. There are two kinds of cleaning solutions you can choose from.
Store-bought degreasing solution: you can buy a degreasing solution if there are a lot of oil spills left on the surface. Remember to follow the instructions on the labels and mix the right amount of the solution to ensure the best results.
Homemade cleaning solution: you will need warm water instead of cold water since warm water is more effective at dissolving dirt and grease. Mix 1 gallon of warm water (about 3.8 liters) with ⅓ cups of powdered laundry detergent (about 58g). Make sure that the detergent is dissolved completely.
Step 2: Scrub The Floor
Different kinds of surfaces need different types of treatments, so I will show you how to scrub the lightly soiled floors and heavily soiled areas.
For Lightly Soiled Floors
If your garage floors are lightly soiled, feel free to use the concrete floor mop, deck brush or a push broom with stiff bristles to carry out the task. Follow these steps, and you can quickly get the floor clean.
Covering the areas with the cleaning solution
Wait for about 10 minutes
Move the brush across the whole floor. Push the soapy water out of the garage.
After finish scrubbing the floor, rinse it with the garden hose
Let the floor dry
Some Helpful Tips:
You should start scrubbing far away from the floor. By doing this, you will be near to the floor when you finish, and you do not have to walk over the clean and slippery surfaces.
You can use a floor squeegee to direct the soapy water out of the garage.
For Heavily Soiled Floors
If you have not cleaned the garage floor for a long time or there is plenty of dirt stuck in, I think a power washer can be of great help. As I said above, you can rent the power fresher from the local hardware store at an affordable price. These steps will need your consideration; let's go!
Cover the floor with the cleaning solution
Wait for about 15 minutes
Switch on the power pressure
Spray the whole floor, shift the nozzle over your floor in wide strokes
Some Helpful Tips:
Open the garage floor
You should also start at your garage's back
Spraying across the floor, do not stay in one spot for a long time since you may scratch the floor
Step 3: Use The Floor Buffer
You have nearly finished deep cleaning the garage floor, and using the floor buffer will give the most pleasant end for this cleaning task. A floor buffer is a powerful machine with a nylon-bristle head that delivers the ultimate results. I will divide this process into small steps for easy following.
Pour the cleaning solution you choose across the floor
Switch on the floor buffer
Direct the floor buffer properly to cover the whole floor
Use the high-pressure hose to rinse the surface
Let the floor dry
Some Helpful Tips:
One more time, you should start far away from the door
Glide the floor buffer in sections will be more effortless
If you are not used to running the buffet floor, you can start with small areas to get a feel for its power
Remember to choose the floor buffer with a nylon-bristle brush head
The following video will show you how to work with the floor buffer and how to polish the garage floor. Without further ado, let's dive into the videos now!
How To Clean Epoxy Floors Properly?
Epoxy floors feature incredible durability. Since epoxy floors are made of resins, it helps protect the floor from damage and debris. That's why they are becoming more and more common in garage floors, hospitals, schools, etc. Cleaning epoxy clean is not something difficult, and I am going to show you now.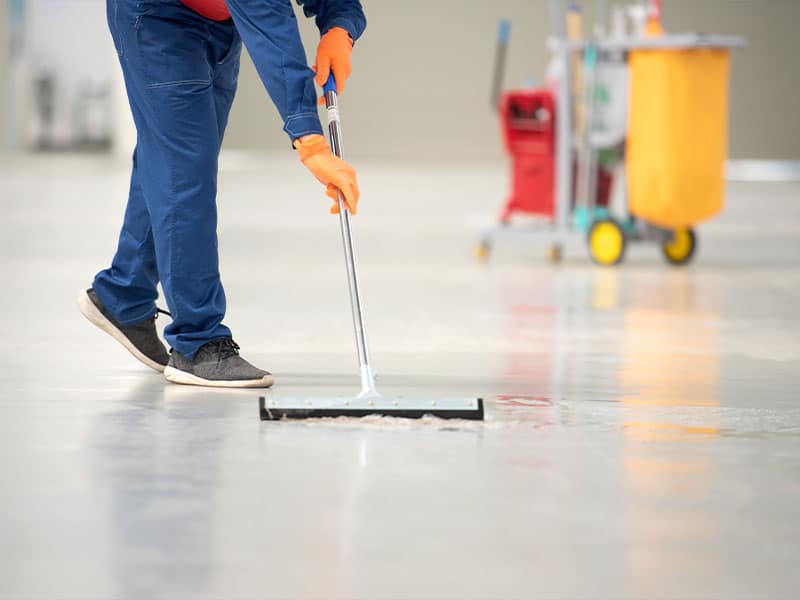 1. Weekly Cleaning
Heavy-duty maintenance is typically not needed for epoxy floors. What you need to do is use the dust mop to clean the floor weekly. In case you do not have a dust mop, you can also use the broom with soft bristles instead, sweep all the debris and throw it into the dustbin.
Remember to run the dust mop across on the entire floor, and starting at the furthest place of the garage is always recommended. It is vital that you wash the dust mop head after each use.
2. Monthly Cleaning
Every month, you should wash the epoxy garage floor. If your epoxy garage floor is not a high-traffic area, you can wash it every 3-4 months. Since epoxy floors do not tend to hold much dirt like other types, frequent washing is unnecessary.
Here is the 3-step formula for monthly maintenance.
Step 1: you must have a cleaning solution, and you can make it yourself by mixing half a cup or 120ml of ammonia with 1 gallon of hot water.
Step 2: drop the mop into the solution and move it across the floor. Remember to start at the back of the garage.
Step 3: let the floor dry or wipe it with a towel.
Notes:
Soap-based cleaner (For example, laundry detergent) will leave residue on the epoxy floor, so don't use it.
When the mop becomes dry, dip it in the cleaning solution right away, or it may cause streaks on the floor surface.
To help the floor dry quickly, you can cover the floor squeegee with a towel and use the tool to wipe the floor.
3. Tips For Removing Residue And Stains
If you see residue or stains on the epoxy floors, it is a wise choice to use hot water to get rid of them. After that, use a towel to wipe the surface. In case you need to cover such a large area, you can use the garden hose to rinse all the floor and use a microfiber mop to handle it.
You may rarely see stains on the epoxy floor, but there is still a way to treat when this problem occurs. Firstly, you can cover the stains with hot water. Secondly, use a pad or sponge to scrub the stains.
If necessary, you can also use the cleaning solution. Apply the solution to the stains, then scrub the stains with the scrub pad or sponge. Finally, rinse the surface with water. You need to bear in mind that you should not use strong cleaning solutions to handle epoxy floors.
4. Tips For Removing Tire Marks
It is not strange to see tire marks on the epoxy floors in the garage. How can you remove these frustrating tire marks? The incredible mixture below will be useful.
Create a mixture of 1 gallon of water and 2 tbsp of dish detergent
Cover the tire marks with the mixture
Leave it there for 3 to 5 minutes
Use a sponge to scrub the marks
Remove residue by mopping with clean water
Let the floor air dry
There are other ways to remove tire marks from the garage floor. You can also use a cleaning solution with a stiff brush to remove the marks. Or, if you need to handle stubborn marks, you can also find a commercial product.
Prevention is better than cure, so remember to remove the tire mark immediately when you see it. When you leave the tire marks for a long time, the stains will build-up, and it becomes more difficult to eliminate since the stains can be absorbed.
One of the greatest ways to prevent tire marks is using the specific product for cleaning wheels. There are many best wheel cleaners available that you can seek for.
It will be much easier to imagine how to clean the epoxy floors after watching the following video!
How To Clean Garage Floor Mat?
You not only need to get rid of dirt, debris, and dust out of the garage floor, but you also need to take care of the garage floor mat. Cars tend to leave oils on the floor mat, and the fluids are not easy to remove.
With rubber or vinyl floor mats, you can use the hose spray, sweep, or mop it. If you own a fabric garage floor mop, you can pull the mat outside, shake or sweep it off. After all, use a hose to spray it.
One thing to note is that you'd better not use a steam cleaner or vacuum cleaner on the floor mat because it may cause damage, degrade the quality of the material, and shorten the lifespan of the garage floor mat.
Regular Garage Floor Cleaning Schedule
As you know, a garage floor is a surface that spills can usually occur. That's why you need to take care of it on a regular basis. To avoid hard work each time you clean the garage floor, you should remove the new spills right at the time you see them!
Here I will show you three ways to handle the new and fresh spills with the ingredients you usually have in your own home.
Powder laundry detergent + warm water: Mix ⅓ cup of detergent to one gallon of water. Cover the new stains and scrub the floors with a nylon-bristle brush. Then rinse the floor. This method is perfect for removing minor stains and new stains.
Baking soda + water: a mixture of one cup of baking soda and one gallon of water can help clean the garage floor by loosening grease and dirt.
Baking soda + liquid soap: another way to make use of baking soda for cleaning garage floors is to mix it with a few drops of liquid soaps. This base is ideal for handling light and minor stains.
Homemade cleaning solutions are a good choice for frequent cleaning if you want to save money on commercial products.
However, these homemade cleaners can only handle new, light, and minor stains on the garage surface.
FAQs
If you are still worried, I think the frequently asked questions below are worth considering. Go on and make it clear together!
Extra Garage Floor Cleaning Tips
If you do not tidy up your garage regularly, you cannot recognize how much dirt, stains, and debris you are missing.
Therefore, make sure you regularly clear the clutter and remove the stains right after they appear.
Remember that the garage floor surface should be completely clean before applying an epoxy coating or carrying out a new painting. On the condition that you are about to grind the surface, you only need to remove the oil stains as the grinding task will also remove the pollutants like soil and a large number of rust stains.
There are different ways to handle different kinds of debris when it comes to keeping the garage floor clean. Just follow the step-by-step guide, and you can receive the most effective results. Coating your floor with epoxy is highly recommended for quicker and easier cleaning next time.
Do you often clean your garage floor? Which method works the best for you? Do you know other ways to clean the garage floors? Feel free to share with me your thoughts via the comment section!