If you don't know how to clean hardwood floors, you might end up scratching them or making them warp. Hardwood floors are made from genuine wood and require specialized care to live up to their full potential.
Hardwood floors are made from different wood types. Regardless of the type, the cleaning technique is the same.
Because they are made from wood, hardwood floors are susceptible to damage when exposed to water. With proper cleaning and care, you can expect your floors to last for decades. Refinishing prolongs their lifespan and pleasant appearance for much longer.
But how to keep hardwood floors clean and good-looking in between two refinishing cycles? Let's find out.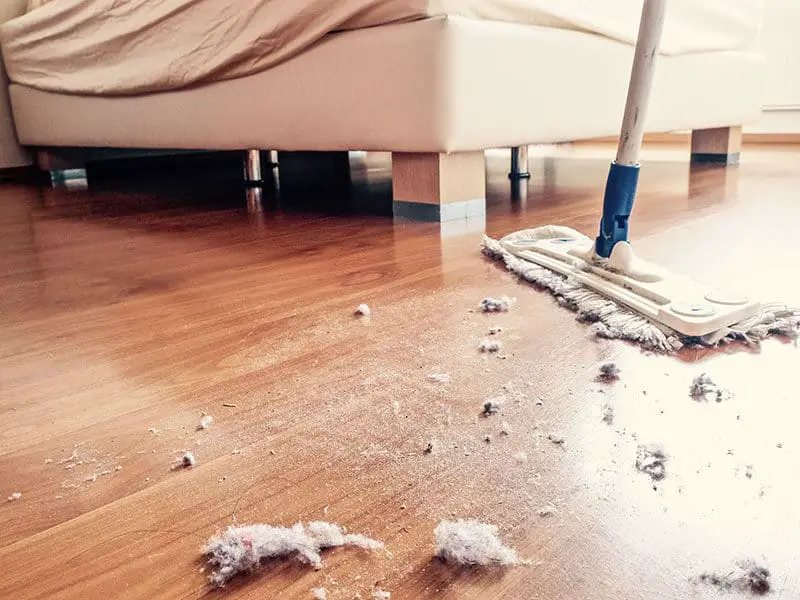 How To Clean Hardwood Floors?
Here is a quick guide on cleaning hardwood floors.
Sweep the floor or vacuum it to remove dust and debris.
Use a damp mop and a wood-appropriate, commercial or homemade cleaner to remove grime on the floor.
Once in three months, apply a thin coat of wood floor polish for best results.
Never use harsh chemicals, alkaline products, vacuums with brush rolls, or abrasive cleaners on hardwood floors.
A Word On Hardwood Floors
Before I walk you through the complete process of cleaning hardwood floors, I'll mention only the most important information on hardwood floors.
Hardwood floors come in wood planks of different thicknesses and sizes. The wood used for the planks comes in various quality grades.
The higher the grade is, the better the overall quality and the price of the flooring.
Some wood types are more resilient to water damage and scratches than others, but you should still be careful when choosing cleaning products.
For most people, hardwood floors are the most beautiful floorings ever. Their value increases as time passes, but maintaining their beautiful look can be challenging.
4 Hardwood Floors Cleaning And Maintenance Rules
Before I hop on to the things and tools to do, check the short list of rules that apply to all hardwood floors.
5-Minute hardwood flooring cleaning routine – Yes, please! You can see this video to know more:
Don't Ignore Wet Spills
Never ignore anything on the hardwood floor that can cause damage. Even if you have dropped the tiniest amount of water on the floor, blot it immediately.
Lift the food leftovers from the floor and clean them instantly. Even if the floor might not look dirty, the grease you don't see can cause long-term damage to the floor.
Never Steam Clean
Steam is too harsh for hardwood floors, and the risks of damaging the floors are too high. Therefore, never use a steam cleaner on hardwood floors. Use it on tile floors or other hard surfaces, steam clean a dirty couch, but don't go near hardwood floors with steam cleaning devices.
Read Labels
You want the floors to be clean without streaks or leftover residues. Certain soaps can leave residue or streaks on some finish types – such as polyurethane.
Then, you will need something to clean the residue, and you have to put double effort into cleaning your floors. Use the products that have been tested and approved for use on hardwood floors.
Protect The Floors In Flooding Zone
If you have installed hardwood floors in the kitchen, protect the area around the sink. You can use area rugs that can collect the excess water, but as soon as they get damp, remove them from the floor and dry them thoroughly.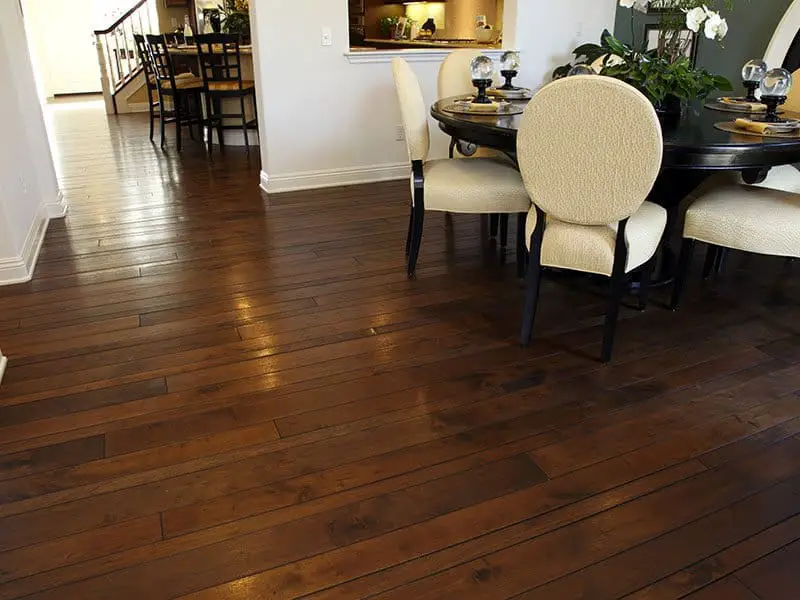 Tools Are Important
The first step in the hardwood floors cleaning routine is the choice of tools. You can use a vacuum or a broom to remove visible dust and dirt.
The broom needs to be soft and gentle, but sturdy enough to lift all dirt. The best brooms for hardwood floors feature microfiber bristles, and you can use them to dust the floor regularly.
If you prefer a vacuum, make sure that you have the hard floor setting on. It will deactivate brush roll and suck the dirt without scratching the floors. If possible, pick the vacuum with rubber wheels, instead of plastic because rubber glides smoother on wooden floors.
Lastly, the choice of a mop for a hardwood floor is important. Pick the one that is easy to wring out or a spray microfiber mop that will help you remove grime and grease from the floor.
2 Effective And Cheap Homemade Cleaners For Hardwood Floors
Be careful with homemade solutions, because some mixtures can fade the flooring. For example, hydrogen peroxide can whiten the surface when not used in the correct proportion.
On the other hand, hydrogen peroxide in Bona professional wood floor cleaner is responsible for a beautiful shine and effortless cleaning.
Vinegar-Based Hardwood Cleaner
Vinegar is a common and versatile ingredient in many homemade flooring cleaners. For the next DIY cleaner you'll need:
1-gallon water
1/2 cup vinegar
A few drops essential oil
Mix a few drops of essential oil with water and vinegar. I prefer orange or lemon essential oil because of the beautiful citrus smell.
The vinegar will remove even the sturdiest grime on the floors and disinfect them, while essential oil will leave a beautiful scent. You can use the solution once a week to keep the floor hygienic.
You can see this video to know more:
Black-Tea For Beautiful Shine
Black tea might be a surprising choice for floor cleaners. But, it will help you polish your floors to a high gloss.
Black tea contains tannic acid that improves shine on the floor and cleans dirt. But, if your floors are very dirty, you might want to mop them with vinegar first.
You'll need:
4 cups water
3 Black tea bags
Prepare tea as normally by boiling the water and adding tea bags. Let them sit for at least ten minutes. Damp soft cotton cloth into the tea and wipe the floors with it. You can also pour this solution into a spray mop for easier cleaning.
2 Store-Bought Cleaners For Perfect Results
As I already mentioned, don't experiment with chemicals at home and stick to neutral ingredients. But, if you want a safe and effective cleaner, you can choose any of the following commercial cleaners for wood floors.
Bona Hardwood Cleaner
Bona isn't a market leader for hardwood floor cleaners without reason. The Bona Hardwood Cleaner doesn't leave any residue or streaks, dries very quickly, is safe for pets, and comes in a ready-to-use formula. If you want a good cleaner for regular maintenance, Bona is your choice.
Pledge Wood Floor Cleaner
If you need something more powerful to tackle old, dirty, and neglected hardwood floors, the Pledge wood floor cleaner might be up for the task. It is powerful, but gentle on the hardwood floors and has a pleasant lemon scent.
3-Step Cleaning Guide To Clean Hardwood Floors
If you have prepared your tools and products, it is time to start cleaning your floors! Luckily, cleaning hardwood floors doesn't include scrubbing, and the technique is very simple.
Step 1: Dry Cleaning
Use a broom or a vacuum to remove dust, dirt, and debris from the floors.
Be thorough around edges and vacuum or sweep under rugs. If you don't, the debris can collect under area rugs and eventually scratch the floors.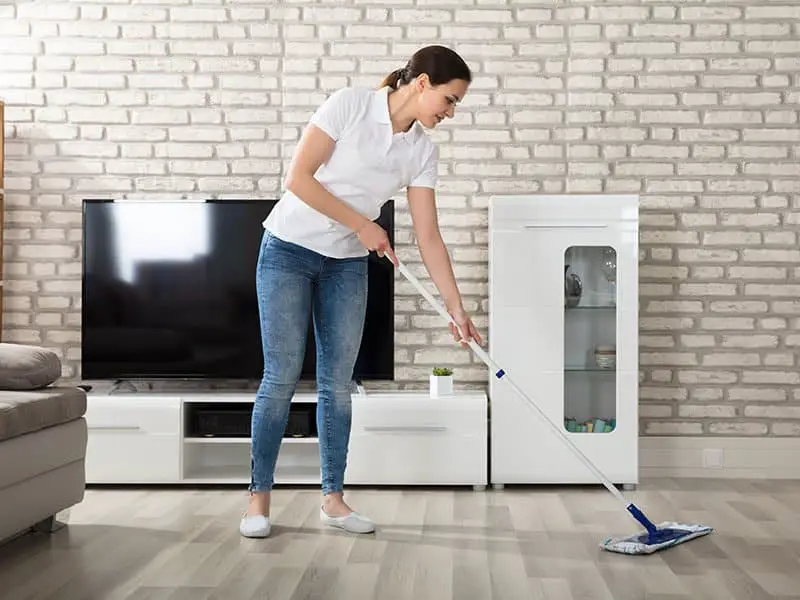 Step 2: Damp Mopping
Damp the microfiber flat-head mop or use a string mop to clean dirt. Make sure you've wrung out all the excess water from the mop and that you don't use too much liquid while cleaning.
Start in the corner opposite the exit and mop the floors, moving flathead front and back on sticky surfaces.
On the rest of the floor, move with the grain to get the best results.
If you use the appropriate cleaner, there is no need to rinse or buff the solution into the floors.
If you accidentally used a wet mop on hardwood floors, use a cloth to dry the area as soon as possible.
Step 3: Polishing
Get a wood polish product and use it once in three months to keep the floors shiny.
Start in the back corner, pour a tiny amount of the product on the floor.
With a clean flat-head mop or a soft cloth, buff the product into the floor, making sure you haven't left any bubbles.
Move the mop in the grain direction.
Work slowly and in small areas to ensure you are coating each foot of the floor with an even amount of product.
Wait at least 24 hours for the polish to dry, and you can start using the room again.
Floor-expert shares advice for how to clean hardwood floors. You can see this video to know more:
Disaster-Making Things You Can Do On Hardwood Floors
Whatever you do, never use ammonia, alkaline solution, or abrasive cleaners to clean hardwood floors. Ammonia can bleach the floors in an instant, or over time and in contact with sunlight.
Alkaline products will dull the floor finish, and abrasive cleaners, both brushes, and products can cause scratches.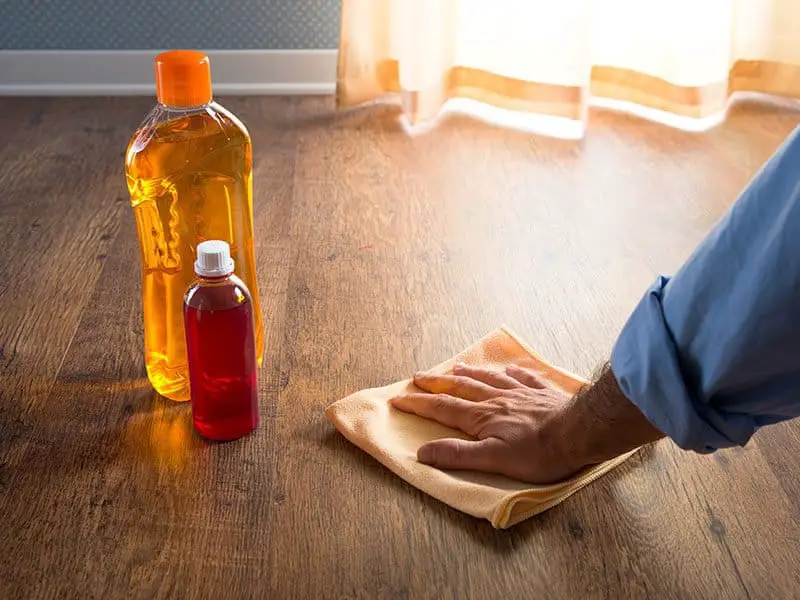 Frequently Asked Questions About Hardwood Floors Cleaning
Once you get into the regular and correct floor cleaning routine, maintenance becomes easier. But, to make sure I covered it all, here are the answers to the most commonly asked questions about hardwood floor cleaning.
The Best Hardwood Floor Cleaning Routine
The beautiful hardwood floors require a bit of love and care. It includes once-a-week cleaning, regular stain removal, applying polish, and doing all you can to protect the floor.
With hardwood floors, the consistent approach to cleaning is what gives the results.
Choose the products you'll clean your floors carefully and stick to neutral solutions. If you live with pets, you might need to clean the floors more often.
Do you prefer store-bought or DIY cleaners for floors? Share your favorites?
If you enjoyed the article, please consider giving it a thumbs up and sharing it with your friends and family.