Here is how to clean laminate flooring to help them keep good-looking for longer.
Laminate floorings are moderately durable and very easy to keep clean. Modern laminate floorings are similar to hardwood floors in appearance, but their maintenance differs.
You can install them in various rooms in your home, including those in which hardwood floors aren't a good option, like the kitchen or laundry room. Laminate floorings are also suitable for people with pets and high-traffic areas.
No flooring is completely stain-proof, but laminate flooring might be easy to get stains off if you react promptly.
Furthermore, because of the poor choice of products or irregular cleaning routine, laminate flooring can be left with a sticky residue, the joints can loosen, and the planks can start rotting.
Luckily, there is a way to restore the look and prevent the deterioration of laminate flooring if you switch to a proper cleaning routine.
Here is the only cleaning guide you'll ever need to keep your flooring clean and shiny!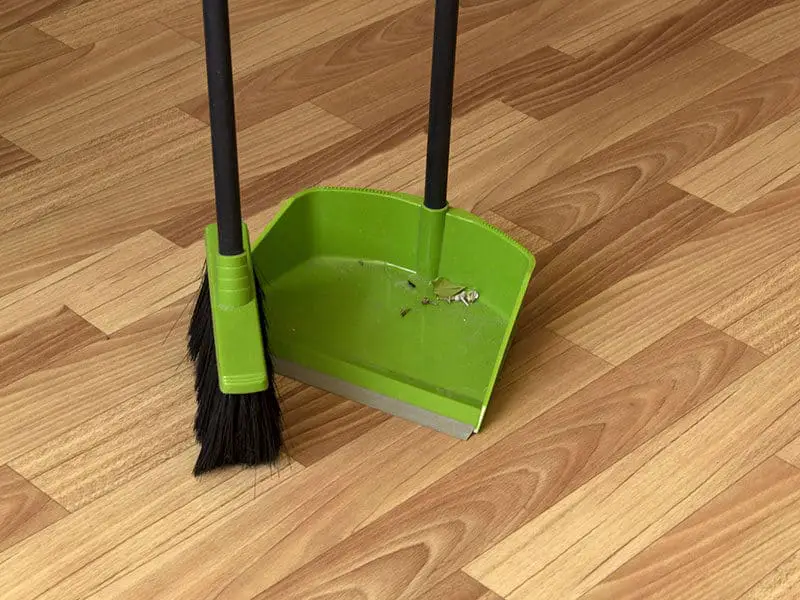 How To Clean Laminate Floors?
Keeping your laminate floors is simple, but you have to be consistent with the routine. Remember to avoid wet mopping, and to clean the mess as soon as it happens. Avoid water or any liquid sitting on the floor for too long.
The easiest, yet most effective cleaning routine is the following:
Step 1: Sweep or vacuum dust and debris from the floor every day.
Step 2: Clean the floor thoroughly with a spray mop once in two weeks with an appropriate cleaner.
What Is Laminate Flooring Anyway?
Laminate flooring is a multi-layer flooring type made from the composite wood core, a realistic image of wood (rarely stone) and a plastic protective top layer. It comes in planks of different sizes and widths, and it is easy to install.
Most modern laminate flooring products can be quickly installed as floating floors because planks interlock together. Laminate flooring needs underlayment, but sometimes, planks come with underlayment pads attached to them.
Laminate flooring is more water-resistant than hardwood floors, but it isn't completely waterproof. The areas where two planks are joined together are the most vulnerable parts of laminate floorings.
Also, laminate flooring is moderately resistant to scratches, which affect the choice of cleaning tools.
How To Clean Laminate Flooring Step By Step
Here is a catch, the best laminate floorings may look almost as good as hardwood floors, but you shouldn't clean them the same way. Each flooring type requires specialized care. In simple words, the flooring appearance and performance depend on proper maintenance.
Also, keep in mind that laminate flooring cannot be refinished, so you need to take care of stains and scratches and prevent them from happening.
Keep reading to learn how to clean laminate flooring like a pro, but first learn what are the best tools and cleaners for your floor.
You can see this video to know more:
Recommended Tools And Products For Laminate Flooring
The easiest way to determine which products you need for cleaning laminate flooring is to check the product label. But, here is a short list of things to prepare for cleaning:
Vacuum without beater brush or rotating head or
Broom with soft bristles
Spray flathead microfiber mop
Laminate cleaner (store-bought or homemade)
3 Fantastic Cleaners For Laminate Flooring
Here is a list of the best commercial cleaners for laminate floorings:
Black Diamond Stoneworks Cleaner For Best Routine
The Black Diamond Stoneworks Cleaner is an excellent wholesome cleaner for wooden floors, including laminate flooring and hardwood. My favorite thing is that it doesn't require rinsing and has a nice, neutral smell.
Better Life Cleaner For Natural Solution
People worried about the use of chemicals may switch to cleaning home with essential oils. If you want that, but without the fuss of mixing oils yourself, choose the Better Life cleaner for a natural, eco-friendly cleaner.
It has almost as good results as the previous cleaner I recommend and a pleasant citrus smell.
Nature's Miracle Cleaner For A Tough Mess
If you have pets, the bio-enzymatic formula of Nature's Miracle cleaner effectively removes all tough pet stains and keeps the floor looking shiny.
Easy To Make Homemade Laminate Flooring Cleaner – Best Recipe
If you are make everything from the scratch kind of gal or girl, you'll be happy to know that there is a proven homemade laminate floor cleaner that ensures perfect results.
The following are the ingredients:
Rubbing alcohol
White vinegar or apple cider vinegar
Water
Essential oil by your choice (optional)
Mix equal amounts of alcohol, vinegar, and water in a bottle with a cap. If you use a distilled water, you can store your homemade laminate flooring cleaner for longer. Add a few drops of essential oil for a fresh smell!
The mixture will effectively clean the old soap residue on the flooring, remove grime and disinfect the floors.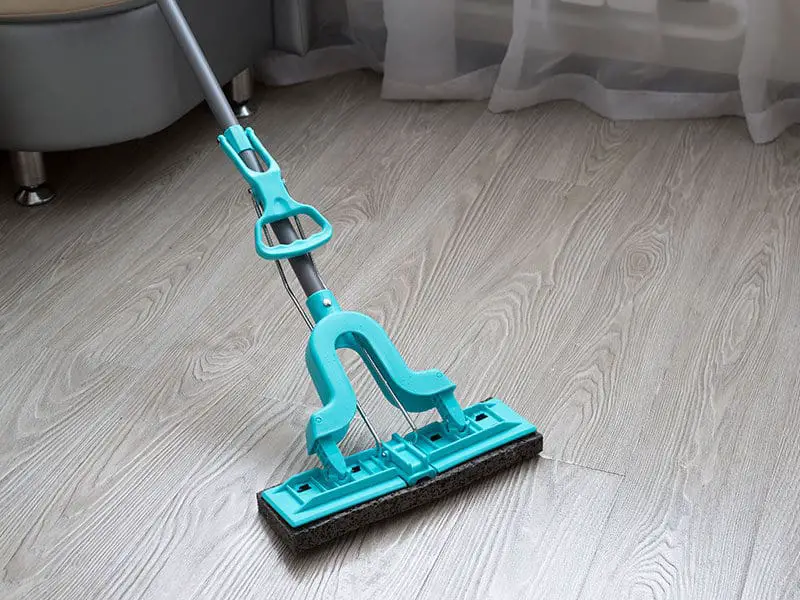 Fool-Proof Step-By-Step Cleaning Guide
Follow the next steps, for a quick and easy laminate flooring cleaning routine.
Step 1: Dry Cleaning
Use a broom or vacuum for a laminate cleanerto clean dust, debris and larger dirt particles.
Be thorough around edges and laminate flooring interlocking areas with a crevice tool. If the subfloor is even slightly unleveled, the holes can appear between planks and the dirt can collect there.
You can see this video to know more:
Step 2: Mopping
Use a spray mop (or pour the cleaner in a spray bottle and use a standard microfiber flathead mop) to remove grime from the laminate flooring surface.
Start in the corner opposite the exit of the room and work towards the exit.
Don't saturate flooring with liquid, use cleaner sparsely.
Let the flooring air dry before you come back into the room!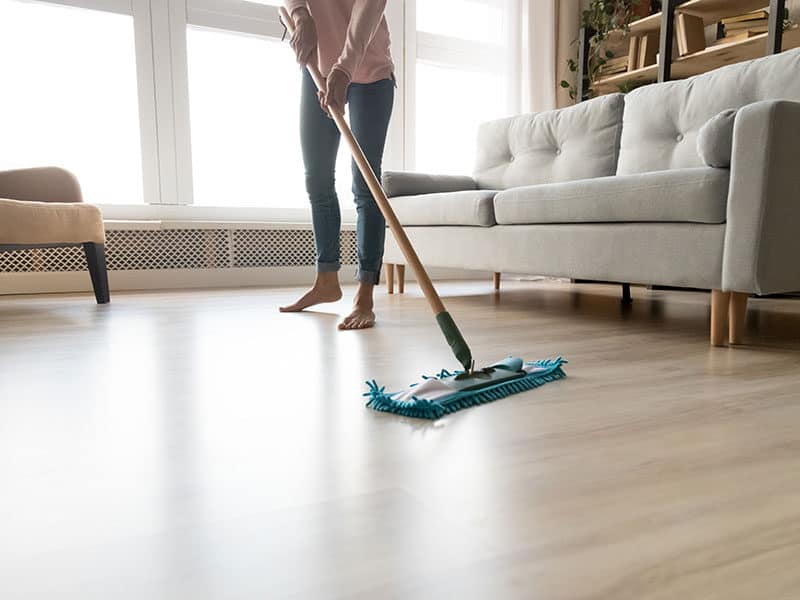 How Often To Clean Laminate Flooring?
Here is the thing – the frequency of cleaning your laminate flooring depends on the amount of traffic in the area. Also, if you don't take your shoes off or have pets, your floors will get dirty sooner.
You can broom or vacuum the floor every day, or even a couple of times per day if you can notice visible dirt.
But, you should be more careful with mopping. Once in a week or two weeks will be enough for most households.
Here is a simple guide to follow:
Every day – Vacuum or sweep
Once a week/once in two weeks – Damp mopping
Never – Steam cleaning, cleaning with a wet mop
3 Proven Methods To Remove Stains From Laminate Flooring
Regular maintenance is the best way to prevent stains. But, what to do when you don't react on time and your laminate flooring gets a nasty, striking stain? You can put an area rug on top of it, sure.
Or, try the following proven methods to remove the stain.
Verified System For Pet Stains
Whatever mess your pet made on the flooring while you were out, there is a way to restore the old look to the floor. In this case, it is safe to apply the old baking soda and vinegar method.
Sprinkle the affected area lightly with baking soda. Use a paper towel to distribute it evenly across the stain. Spray white vinegar on top of it, and use a soft cloth to buff the stain out.
Not only will this help with the stain, but it will also remove the unpleasant smell!
Remarkable Trick For Scuff Marks
Here is a trick that works on hardwood and laminate floorings. Use a pencil eraser to buff the scuff mark out. You might need to apply more elbow grease, but light scuff marks will disappear, while harsh ones will be less visible.
In the future, use furniture pads to prevent scuff marks!
Natural Solution For Water Stains
Water stains are common on the laminate flooring if you haven't cleaned it properly. Dipping a mop and not wringing it in a bucket full of water is an easy way to leave water streaks and water stains on the flooring.
Here is how to remove those.
Saturate a paper towel with organic coconut oil, and rub the stain until it disappears. Then, mix water and vinegar, spray it on the area and wipe clean. It will remove the oil residue on the spot and leave it sparkly clean!
The DOs & DON'T's Of Laminate Flooring Cleaning
As you can see, cleaning laminate flooring is an easy task, but you need to be consistent and aware of things that do well for your floors and those can harm the appearance.
Here are more tips on what you should do, and shouldn't when taking care of laminate flooring.
Do
Use laminate flooring recommended cleaners
Sweep or vacuum the floor regularly to prevent dirt from accumulating on the floor
Use soft cloth or flathead microfiber mop to clean
Treat spills and stains immediately
Protect the flooring with furniture pads and area rugs
Use natural and homemade, vinegar-based cleaners to clean laminate flooring without sticky residue
Don't
Use soap on laminate flooring, because it can leave residue
Use wet mops or too much water when mopping
Use brushes with harsh bristles to clean floors
Let the water or any other liquid linger too long on the floor
Wear high heels on laminate flooring or drag furniture around
Use bleach or harsh chemicals to remove stains
Use a soft cloth for spot-cleaning and stain-removal on laminate flooring
Watch the video: Fool-proof tips for dealing with stains on laminate flooring
7 Frequently Asked Questions That Fuss Laminate Flooring Owners
Laminate flooring is not as popular as some other floorings types, such as tile and hardwood floors. Even though laminate flooring has been around for a while, people still wonder about certain questions related to laminate flooring maintenance.
Let me solve some of them for you. If you have more questions, please ask them in the comment section below!
Consistency Is Crucial To Keep Laminate Flooring Clean
Laminate flooring doesn't require complex maintenance but it does need regular maintenance to remain good-looking and preserve the natural shine.
Sweeping/vacuuming and mopping is all it takes. And remember, avoid steam cleaners, soaps, and brushes with harsh bristles when taking care of your laminate flooring!
How did you like my guide? If you enjoyed it, share with other property owners who might get answers to their laminate flooring-related questions!