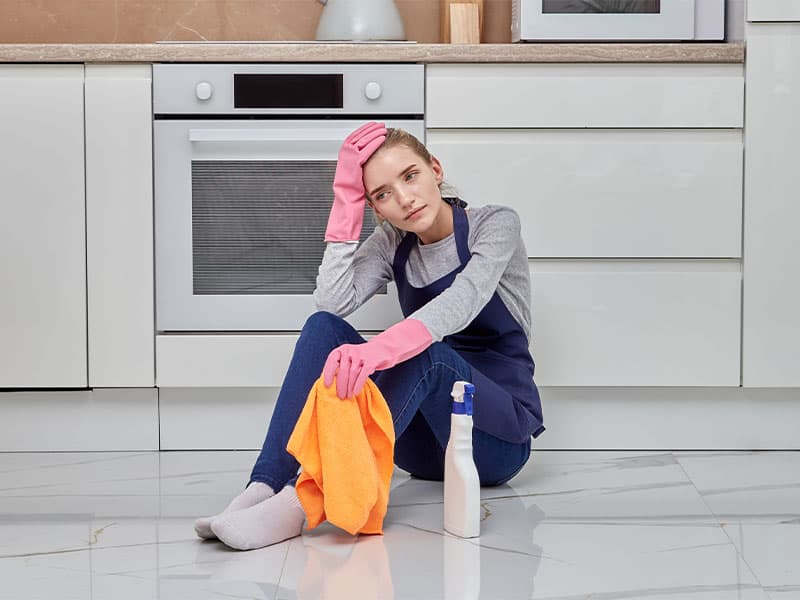 Marble has an eye-catching and sparkling appearance; it is easy to understand why many people choose to decorate their floors. Although it is used popularly, not all owners know indeed how to clean marble floors.
You cannot avoid dirtying your marble floors in daily use, and I am sure you are a headache to deal with these stains. Although this material doesn't need to be preserved too carefully, they still have to be cared for properly.
In this article, you will get knowledge about identifying between Cultured and Natural marble, a cleaning guide for each type, several helpful tips to maintain your marble floors always look like new and other ideas relating to marble floors that you are certainly curious about.
With the information I bring to you, you will not be awkward when facing stubborn stains anymore, and you can have more time to do whatever you want. So, what are you waiting for? Let's scroll down to explore more things together.
What Are Marble Floors?
Marble has been known as a metamorphic rock which means this rock has experienced physical and chemical transformation under high heat and pressure. Normally, marble isn't foliated, but you can catch several special cases on the market now.
Cultured Vs. Natural Marble
There are 2 different kinds of marble, including cultured and natural marble. You probably are confused and want to understand them to know which one you should opt for your home. Don't waste your valuable time, and let's jump down this section right now.
Cultured Marble
This type can be considered artificial stone and budget-friendly. It looks like natural marble at first sight, yet it is flat, and its coverage can look plastic. Therefore, cultured marble isn't a good choice for wealthy people loving luxurious and glossy looks.
It still performs elegant appearance depending on what types of patterns you choose and serve you for a long time in case you preserve it properly. You can realize the cultured stone since it doesn't have seams, and you don't need to seal it. Its edges are thin and designed with lips to prevent water from dripping off them.
In producing process, crushed marble and polyester resins are added to create patterns for cultured marble. It is not surprising that it has even veins and color, and you can easily purchase gray cultured marble on the market.
It is ideal for making objects in the bathroom, such as floors, showers, and more, thanks to its water-resistant and less porous surface.
Natural Marble
As you know, natural marble has experienced transformation in the long term before being built in your house; therefore, it is quite pricey; but it will bring you an eye-catching and high-end appearance.
This type has exclusive patterns, colors, visual depth and looks like a mirror. Each piece is unique, and the beauty of it will change throughout your house. The natural marble has seams and needs to use grout or caulking in the joints.
It is quite porous, and it is not a perfect material for bathroom floors. It can decorate your living rooms and bedrooms to show the high-aesthetic of owners. If you install it in high-moisture places, you certainly use the premium sealants to prevent water from absorbing it. Its edges are thicker than cultured marble.
How To Clean Marble Floors?
Cleaning your marble floors doesn't stop at sweeping dust and dirt from them. Here are essential steps to help you restore your floors despite cultured or natural marble floors to condition on the first day of building, and easy to follow; you just need to clean it once or twice a week to ensure the good look is always maintained.
This guide can be applied for 2 kinds of marble floors, and there is no differences or notice you need to pay attention to when cleaning them.
Prepare The Cleaning Zone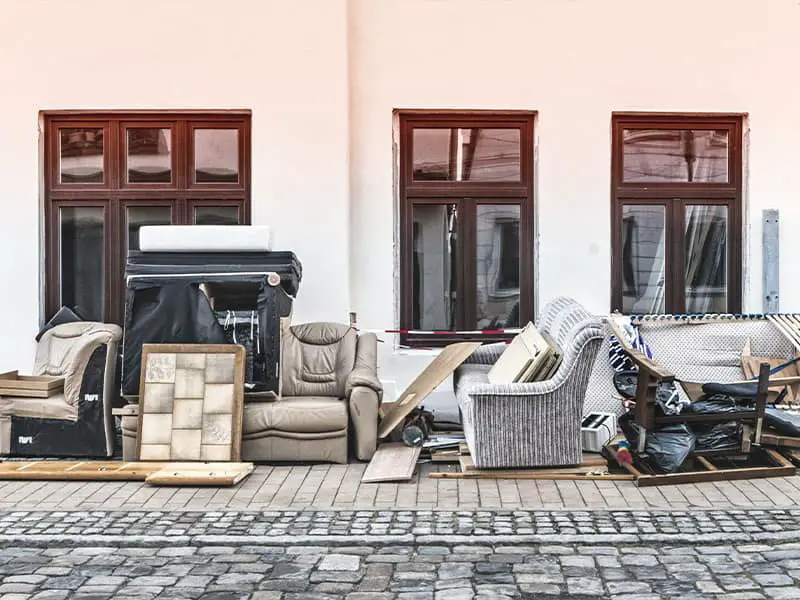 Before cleaning your marble floors, you had better remove your furniture from the floors and put them away in any large corner. This will create the space as much as possible to save your time and avoid bending to get rid of dust under the furniture.
Moreover, I am sure you don't want dust and dirt will build-up under them, and there are hidden spots you accidentally miss. If you don't have enough spare room for all furniture, you can arrange them with 2 lines and clean floors from the center to 2 sides.
It is not a good idea when you stack them since they can scratch each other. Removing things can also be an opportunity for you to renew all things. Change the scheme, alter the mood.
Vacuum Or Sweep Dust And Debris
Sweeping dust had better be done frequently, and there are 2 options for you to eliminate dust and dirt from your marble floors, including using a dry mop or dust mop and vacuum cleaner. Those who are curious about dust mop or a dry mop are designed with a long handle with a microfiber towel at the end of them.
You will use it instead of a normal microfiber cloth since you don't need to bend to sweep debris, and you will avoid backache after tidying the floors. This microfiber cloth will attract and gather dirt and hair without scratching your marble surface.
The mop design looks like a rectangle with triangular wedges allowing you to access the corners and along the walls that ensure there is no debris and hair can leave behind. You can also use it for daily cleaning as it is safe for marble floors than regular brooms.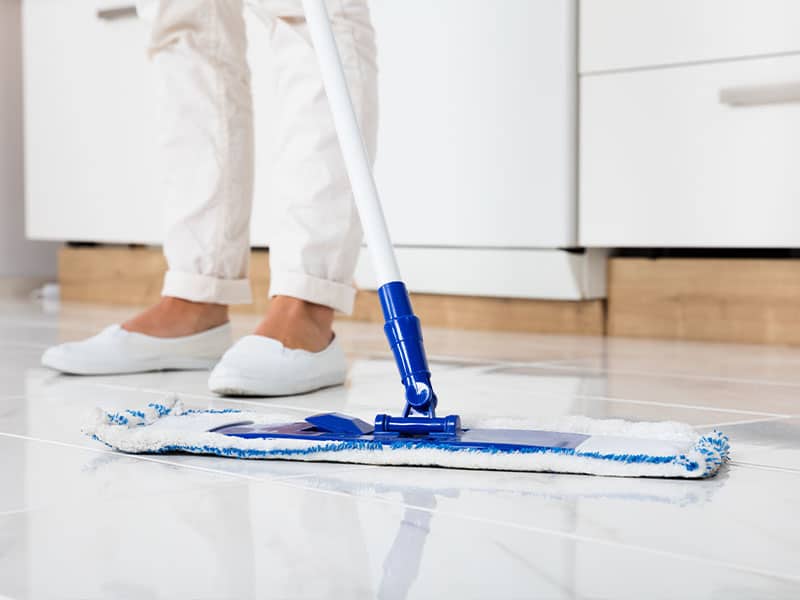 A vacuum cleaner is not a bad choice, and you will not have to spend too much time tidying up your marble floors. It is the best gift for busy people. However, many products are equipped with a brush whose bristles might be quite hard for the surface.
Its wheel can be a factor that has a bad impact on them. You should choose a vacuum cleaner with a hard-floors setting and a sponge brush to ensure it is soft enough for hard surfaces. The rubber wheels will help you push it smoothly. The safe option is to select a vacuum cleaner that can operate productively on various surfaces, including hard floors, to ensure it is worth every dollar.
Keep in mind drag it gently, and don't put much pressure on it when you clean. No matter which option you will pick, let's pay extra attention to where dust and dirt accumulate, such as doorways, corners, and other places.
Stains Treatment
This step is a key for clean marble floors. You need to start by dealing with stains before implementing other things. How much time it will take you depending on how long these stains are set. In case they are stubborn messes, you will need to put more effort into cleaning and vice versa.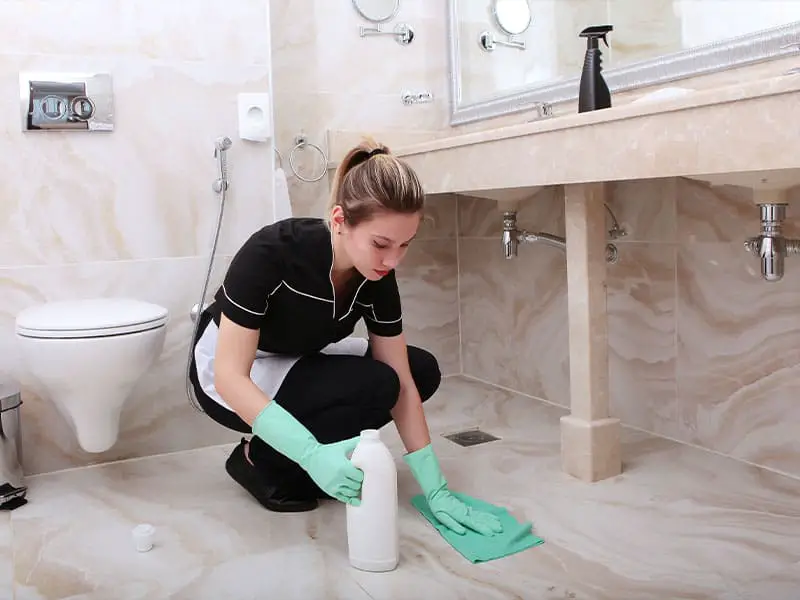 Fresh Stains
The best way is to clean the stains as soon as you see them and avoid them becoming harder or cannot remove.
What you need:
A soft cloth
Water
Mild soap
When you notice messes on your marble floors, let's use a damp cloth to wipe them; taking care of it doesn't absorb too much water to prevent messes from spreading out. Then, swipe or smear it gently and flush the spills with some soapy water. You also have to rinse the floors with extra water until they are eliminated. Remember to leave it time to dry.
Set Stains
You might miss some spots, and when you realize they are set. Therefore, you need to stronger approach to remove them. I can divide them into 6 types.
Oil-based Messes
What you need:
Dish soap
Cornstarch
Hydrogen peroxide or acetone
Water
Dry cloth
On your marble floors, especially kitchen floors, you can accidentally drop grease, oils off the floors; lipsticks are also a source of oil-based stains. Oil-based stains are usually dark, dull spots, and your marble floors can absorb them since marble is porous. That's why you have to set your mind to cleaning them.
The first bullet is that you need to dilute dish soap with water and apply it to these messes to attack them and prevent them from destroying marble. The cornstarch will help you attract and collect oil as much as possible to reduce the risk of slipping when you walk around them.
If they are too tough, you will need the help of hydrogen peroxide or acetone to eliminate them. The hydrogen peroxide is perfect for bright marble, while acetone is excellent for dark marble. Depending on which type of marble you have, you will pick one of the detergents.
Always flush water for the messes to remove cleaner and stains and leave them dry for a while; then, you can use your marble floors as normal.
Ink Stains
What you need:
Dish soap
Dry towel
Alcohol
Ammonia
This type is one of the most stubborn stains that are difficult to remove from any kind of material, including marble floors. Like the above messes, you have to wipe excess mess and use dilute dish soap to eliminate the dye.
The towel is damped with alcohol will help you solve this problem if you apply it to a dirty area. The alcohol will attack and break down the messes in several minutes. However, it cannot erase the ink stains thoroughly and can leave some traces. Using ammonia to get rid of them is an optimal choice.
Organic Stains
What you need:
Hydrogen peroxide or ammonia
A dry towel
Don't worry about any type of organic stains such as juices, soy sauce, and more on your marble floors. In practical, solving this kind is simpler than other stains on this list. You just need to use a dry and soft cloth to absorb the liquid and no scrub or put much pressure on it to protect your marble floors from unwanted scratches.
After that, spill a little hydrogen peroxide or dilute ammonia on this mess to remove the last imprints. Some organic stains might have unpleasant odors, don't forget to spray your home with a few scents to reduce them.
Biological Stains
What you need:
Hydrogen peroxide or acetone
When you plant trees in your house, you cannot avoid creating hints on your marble floors even if they have enough moisture; the algae, mosses, and other greenery will grow in unwanted places.
You need to use a dilute solution of hydrogen peroxide or acetone to remove these stains and stop them from developing. After implementing cleaning steps, you should move your trees to areas with less moisture and protect your marble floors.
Metallic Stains
What you need:
Marble is a composite of various elements, and some include metals such as iron, copper, and more. That is not surprising when you see some brown or green patches within your marble floors since they are exactly stains when the floors get wet for a long time.
These stains are not easy to confront, but you can try a poultice from the combination of ammonia and baking soda to apply on them. Sometimes the miracle thing can happen, but you shouldn't too expect it, and probably it's time to need the help of professionals.
Filmy Residue And Water Spots
What you need:
I can say they are the most common stains that you easily catch on your marble floors. You just need to use a dry and soft cloth to remove them. Keep in mind that put gentle effort on this towel and use a circular motion while swiping them; your floors will be bright again in a couple of minutes.
5 Steps to Wash Your Marble Floors
After getting rid of the tough stains, I will provide you step-by-step to wash the entire marble floors. You shouldn't scrub strongly and use harsh chemicals on the floors; just using a mop to swipe smoothly and softly. Here are several attachments that will help you during the washing process.
What you need:
Hot clean water
Clean water
A soft towel
A mop with replaceable microfiber cleaning paths
pH-neutral soap
Step #1: Starting By Preparing Water
I recommend you to use distilled water, which is removed several minerals and kept purified water to clean your marble floors. You need to use this kind of water to avoid these minerals that can stain or discolor the floors.
Buying distilled water is not hard since almost all groceries have it at an acceptable price. There is a note for you that you have to boil it to ensure the water is always hot. Hot water is a perfect choice for removing dust, dirt, and other sticky things on marble floors.
You inevitably wonder why I need hot water. You cannot use rough brushes or harsh chemicals on your precious floors, and hot water can beat stubborn stains without damaging them. You should combine it with a suitable cleaner to bring you optimal results.
Step #2: Apply Cleaner
As I mentioned below, marble floors are porous and quite water-resistant; thus, you should apply gentle cleaners to them. If you don't have a spray mop, you just need to combine hot water with a pH-neutral cleaning solution according to the recommended rate on the packaging and then start to wash your floors.
These cleaners will ensure they are safe enough for your hands in case the liquid spills. When you clean the floors with a spray mop, you should purchase a cleaner with ready formula, but it is still mild for use since this type cannot dilute with hot water.
Let's read my best marble cleaners reviews to help you make a quick decision and save time to search for a suitable product.
Step #3: Mop Your Marble Floors
Let's begin moping your floors from the farthest places to the entrance for convenient cleaning, and you don't have to walk on wet floors. You can use the microfiber mop in 2 ways: a spin mop or manual mop.
The spin mop can be a wonderful creation for those who have backache and want to save cleaning time. Normally, it is usually designed with 2 mop wheels and works in a circulation motion to make sure it cuts off dust and dirt and easily accesses in the corners or along the walls.
Moreover, it will help you clean straight streaks simply and wring almost all of the water out to prevent water from absorbing the floors and avoid slipping while working; therefore, I think the investment in an excellent spin mop is worth expecting.
A manual mop is a cheap way to tidy up this surface, but it will take your time to work, and you should make an effort to get water out of the towel. You just can make short streaks with this type as the length of your hands is limited.
You had better often dip and wring to eliminate maximum dust accumulating in the mop for both types. You will have to change the water when it is becoming dark to avoid sand or splinter can scratch the floors and bacteria as well.
Step #4: Rinse The Floors
After fishing the previous step, let's prepare cool and clean water to flush on your marble floors and using a specialized tool to sweep water from the surface. This way is the fastest, and you might not need to tidy up again.
Another option is to make the same approach, like mopping the marble floors. You still use a different microfiber towel to dip in the water and wipe. Remember to put less pressure while cleaning.
Suppose you use the second way; you should mop the surface one more time to ensure all dust and dirt are removed from your floors.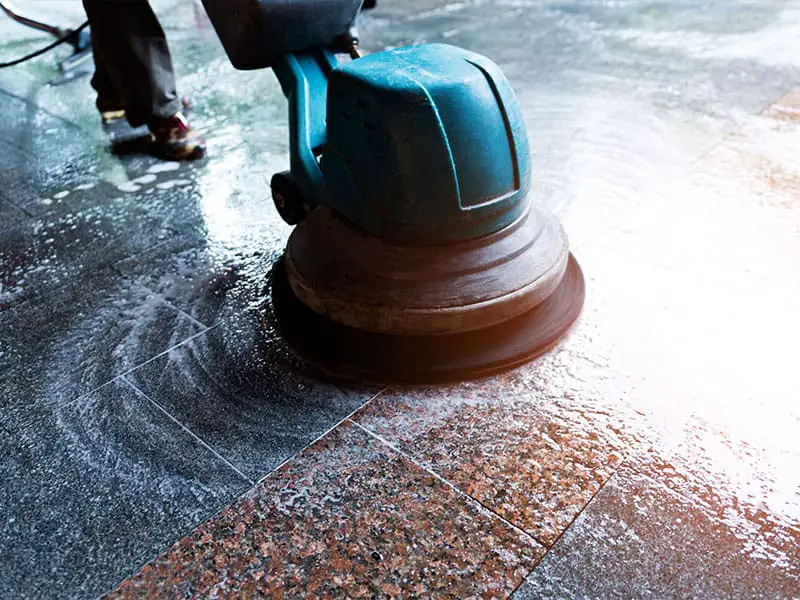 Step #5: Dry Your Marble Floors
This is the last step but crucial one to make sure your marble floors are safe from moisture. You can replace a dry microfiber cloth for your spin mop to avoid bending while doing the task or wrap the towel like a rectangle to cover ample space and save time for drying.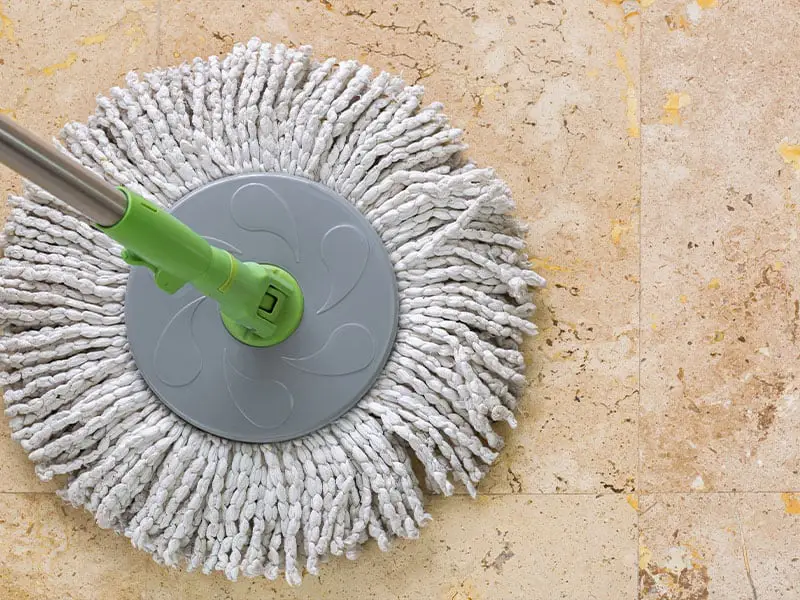 Check this video to have a visual view of the step-by-step cleaning guide.
Recommended Home-Made Cleaners For Marble Floors?
Although I mentioned cleaning agents in this section, I will make clear the effects of each. They are materials that are easy to find in your local grocery. So, let's check them now.
Dish Soap And Water
They are 2 agents you can find in every home, and you just need to mix them at a sensible rate to create a cleaning solution for every day. The formula will help you eliminate streaks and residue as well as make your marble floors light glossy after use. Despite any agent your use, you have to dry the floors before walking on them.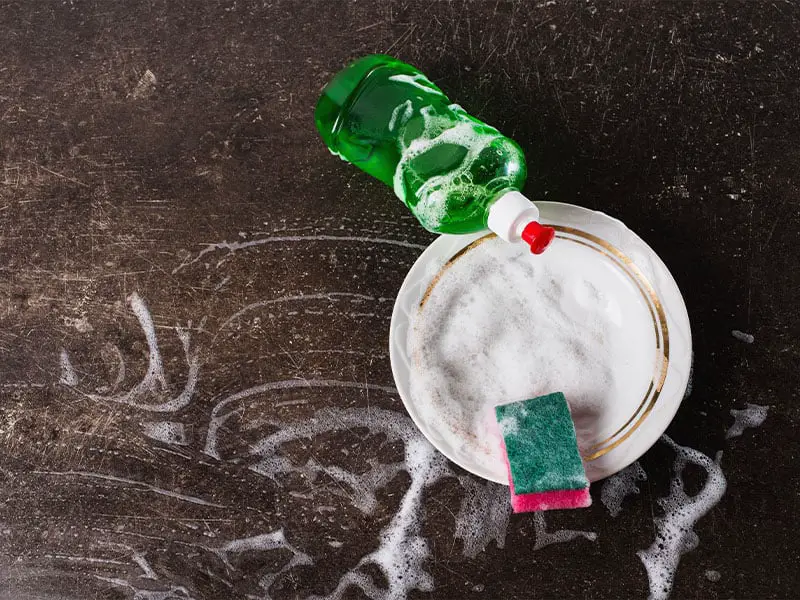 Cornstarch
The main use of cornstarch is absorbing capability. When you accidentally spill out of liquid such as coffee or oil-based stains but unfortunately, you cannot solve this issue immediately, the stains are tough and become difficult to remove.
The cornstarch will be a hero to assist you in confronting these messes. You just need to cover them with it and leave them overnight. It will soak up liquid on your marble floors, and now, everything is easier to clean.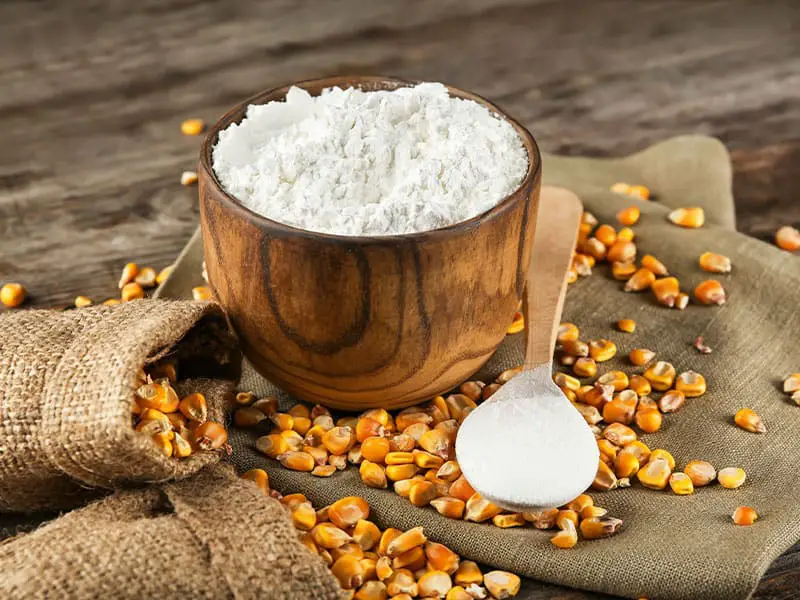 Hydrogen Peroxide
This agent is for bright marble floors; you have to remember to avoid undesired accidents because It can discolor dark marbles. It will work productively on various mess such as water-based, organic, and biological stains.
In case it cannot remove messes with one application, you should cover it on stains and leave it for 8-9 hours or even overnight to ensure all streak will be removed the next morning. Afterward, you can wash your floors and continue using them.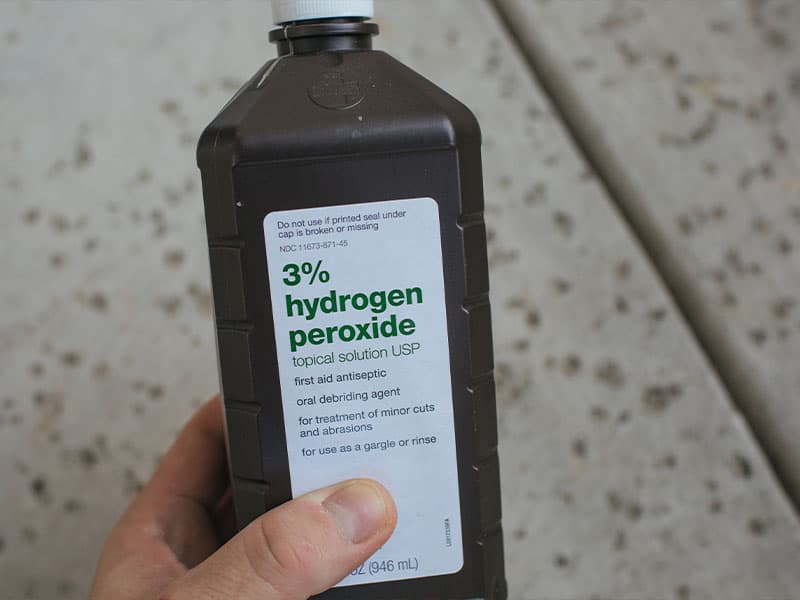 Acetone
Hydrogen peroxide is born for light-colored marble; acetone is perfect for dark marble as it cannot act and bleach,
which means it will not create a bad impact on the dark one.
However, you cannot spill it on messes; you should use a white towel, dip it into this liquid, and gently rub the stains.
Don't forget to flush much water to ensure all residue is cut off.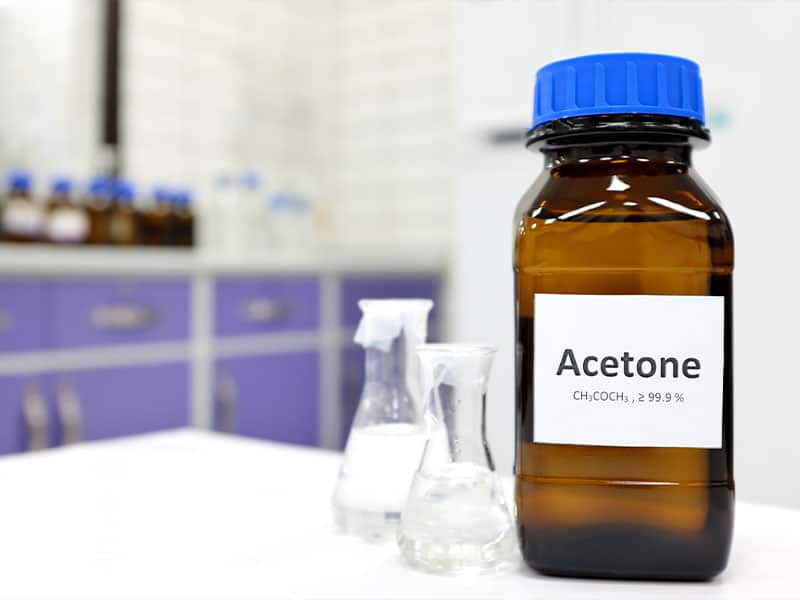 Baking Soda
It is amazing when you mix baking soda with water, hydrogen peroxide, or ammonia to clean the stains. This agent is not hard to find, and you just have to make the paste form for easily applying on messes.
Let's add things a little by little to create enough amount for immediate demand as it is quite difficult to preserve it at the perfect condition for the next use.
After applying the mixture, let it dry for several hours, wash it carefully with water, and ensure there is no residue behind the surface.
Don't hesitate to watch this video to know how to use baking soda to come off stains on marble floors.
Ammonia
Ammonia is the last method you can try before calling a professional's help, and it is considered the strongest agent. Besides using it alone, you can mix it with the above agent to make an optimal cleaning solution.
Make sure to dilute it before application; you can reference this diluted rate: a cup of ammonia will make a gallon of cleaner. Many experts recommend this rate; so, you can believe in it, but you shouldn't use it too often and try all agents on this list before experiencing it.
Everyone knows that the smell of ammonia is not unpleasant despite mixing it with water; hence you have to use it in well-ventilated areas, and a good face mask will be helpful for you.
Cleaners To Avoid For Marble Floors?
Not every agent can be applied on marble floors since they are precious material, and if you use the wrong cleaning solution, you can damage all the luxurious appearance in your home. Keep reading and drawing them in your mind.
Acidic Cleaners
A cleaning solution with a high amount of acidities such as lemon juice and vinegar is not recommended to use on marble floors as it can create dullness on them, and the marble surface is dull will be hard to save the need to be repaired.
Besides, it also makes the marble less bright and become weathered. You still avoid spilling out these liquids on this surface, including wine, milk, and juice, as they can stain and etch to marble. They also contain certain acidic substances.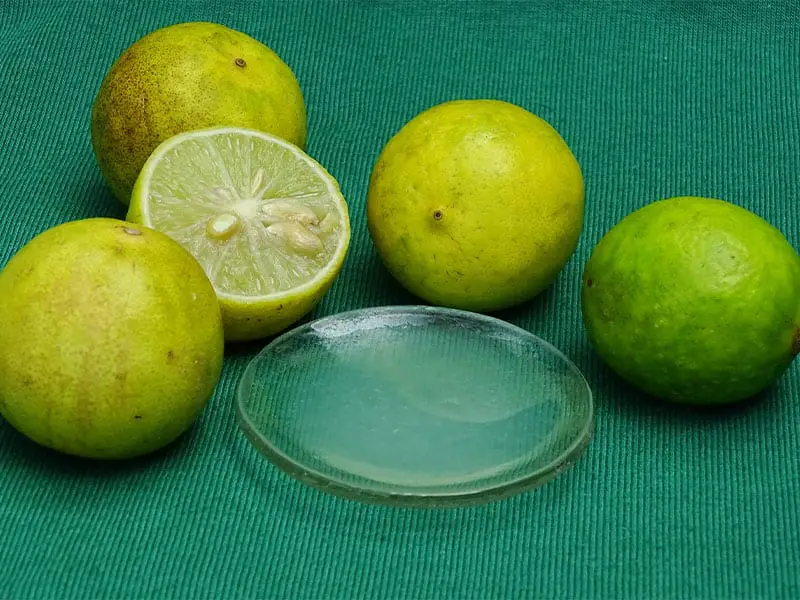 Cleaners Contain Alkali
Although ammonia is an alkali, you can apply it on marble floors with a reasonable amount in a certain time. This agent will antagonize when you leave it on messes too long.
Bleach
It is an enemy of dark-colored marble as it will discolor this marble and make uneven-colored spots on your floors. Moreover, it has chemical fumes that badly impact your health.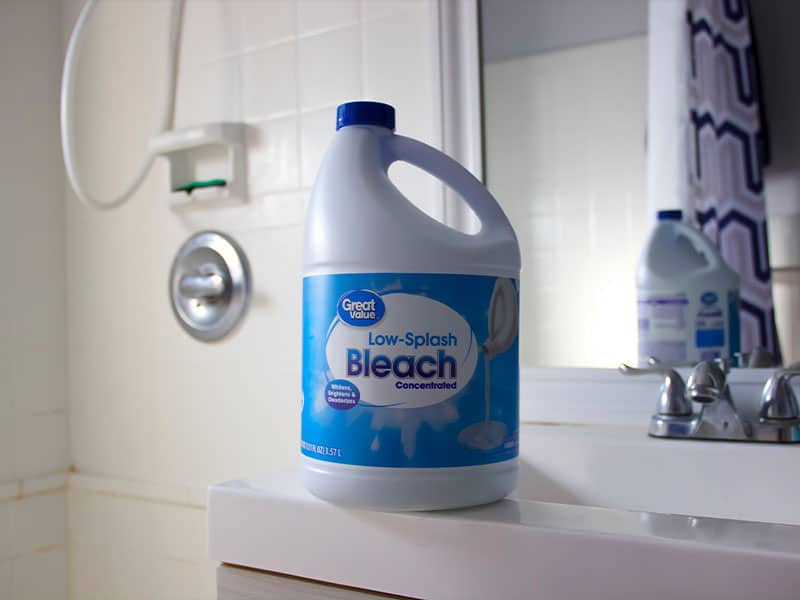 Ceramic Floor Cleaners
Marble is not the same as ceramic, and you cannot use one cleaner for both floors. Ceramic is more long-lasting and tougher than marble since it is made from silicates or clay. In contrast, marble is a natural stone, has experienced physical and chemical transformation for a long time, and it is quite porous.
Tips To Maintaining & Keeping Marble Floors Shiny
You have to spend a bulk of the money to install marble floors, and you don't want any accident that can harm them. Therefore, you should know some useful tips to help you maintain the floors shiny and glossy all time.
Remove Spills When They Appear
The benefits of eliminating fresh spills are the following ideas:
It will prevent moisture from penetrating the porous surface like marble floors.
It will help you protect your floors from creating stains since almost all stains are set when you miss the golden to deal with them.
Cleaning soon will reduce the risk of using strong cleaning solutions that can make your marble floors less shiny at the beginning and save your budget.
Solving problems as soon as possible helps you put less effort into it when you just need to use a damp microfiber cloth to wipe them.
You have to start with messes' edges to avoid them spreading out and making everything more awkward.
Use A Dry Cloth To Dry Marble Floors
You shouldn't leave your marble floors air dry since it will take you a lot of time to dry thoroughly. And during that time, the water and cleaner can penetrate them and create stains on your floors or even discolor them.
Drying your floors will bring you a perfect result even though it is quite a pity. Believe me; you will get what you spend. The best way is to use a dry and soft cloth to wipe the floor again after washing them. Don't flush too much water while working will save your time for drying the floors.
Just Use Safe And Mild Cleaning Solutions
I pointed which agents are safe and not safe for marble floors. You can base on it to choose a cleaner on demand. No matter which one you pick, you have to choose a cleaner with the pH-neutral formula to ensure your marble surface cannot be damaged.
Felt Can Remove Scuff Marks
These marks are made of dragging furniture on your marble floors, or not taking off the shoes before coming home can be another cause. The appearance of these marks makes your floors less eye-catching and loss the luxurious look.
For normal marks are easily removed when you use the mop to sweep the floors, but some tough ones are not simple to solve. I know you might be are surprised when hearing felt, but it indeed comes off these streaks.
You can use anything with the felt surface to do this job. Adding mild cleaners and water will support you in cutting your time for cleaning them. You should rub along the marks to protect your glossy look and never rub in circular motions since it can destroy the floors.
Use Marble Sealers And Polishers
You had better add 2 kinds of product in your cleaning marble method to extend marble life expectancy and preserve them batter. You can easily buy them on the website or local stores and quickly apply them on your own.
For sealer, you can apply it more than your floors need to ensure all seals are covered carefully, and you can remove the excess amount after the sealer sets. You just have to repeat this step for each 3-5 years, depending on your sealer's quality.
For polisher, you can select a screw-cap packaging or spray packaging as both have a similar result. The polisher will make the floors more gleaming and sparkling.
Keep Marble Floors Less Dust and Dirt
A lot of debris accumulate on your marble floors will make them dull and less beautiful. Dust also can cause scratches on them; therefore, you need to use a clean and soft dust mop for sweeping.
You have to schedule a cleaning time, such as once a week or whenever you have free time, to ensure your house is always clean. You should place non-slip rugs or carpets at the entrance will help you reduce a considerable amount of dust that can track into your home from the outdoors.
When you place carpets or area rugs in your house, you should consider choosing a vacuum cleaner that is best for cleaning on these surfaces. The best vacuum cleaners for carpets will have a deep setting to tackle debris on high and low pile ones.
Suppose you find an ultimate guide for cleaning carpets; the total solutions carpet care is an extra gift for you.
You had better implement deep cleaning at least monthly or more frequently when you live in high-traffic areas. You have to use mild but effective detergent to minimize film or streaks left behind.
Be Careful When Using Baking Soda and Ammonia
When you face tough stains, you can use baking soda or ammonia to come off them. However, both are alkali chemicals; they will create a serious issue when applying them with an abundant amount in too long.
Using baking soda or ammonia is not a bad choice in case you just use a small amount since the powder form can scratch your marble floors. Applying a small amount with a repeat the process is the safe option.
After covering messes with each, you can use a soft towel to rub gently. Remember to flush cool water to remove all residue and dry it with another dry cloth. You should overuse it to avoid making your marble floors dull and less shiny.
Keep in mind using ammonia in a large space and have many windows to protect your health from unpleasant smells.
FAQs
The above information cannot deal with all your wonders; let's check this part since I will provide you some frequently asked questions, and I hope these answers will be useful for you.
Expectation Vs. Reality
After reading all guidelines I bring to you, I am sure you have a general view of cleaning your marble floors. Words are just words if you don't start acting.
You should apply my recommended cleaning solutions one by one and don't use many methods at once that can cause damage to your marble floors. Almost of approaches are just comparative, which means they cannot work for all problems.
In case you try to use them, but they cannot bring the result as you expect, you need to call the professionals' help to avoid costly repairing or replacing when the stains are too serious and hard to remove.
Let's try to clean your marble according to these steps, and remember to share the result with me and others in the comment box chat below. I am so excited to see some words from you.