If you wonder how to clean pewter properly, you should first know that pewter is an alloy of 90% tint and other metals, including antimony, copper, bismuth, and silver. It's known as a soft metal; therefore, it's easy to work with and becomes a favorite crafter and artisan material. Pewter doesn't get rusted quickly and has a low melting point.
As far as I know, it's widely used in making kitchen utensils, flatware, vases, teapots, jewelry, and more.
Although pewter doesn't tarnish, it gradually oxidizes and creates a patina, making your decorative items look dull and less attractive.
For that reason, proper and regular cleaning is essential to maintain your pewter things in their desired conditions.
Below are a detailed pewter cleaning and polishing guide that covers all the information you need to know about this job. Have fun reading!
Types Of Pewter
As you learn how to clean pewter, you may take advantage to expand your knowledge about this popular alloy with three types of pewter
Polished pewter features a shiny look and smooth surface. It's the most popularly-used type because it easily exuberate luxury and elegance.
Satin pewter has a more traditional and classic look. To be more specific, it owns a grainy finish.
Oxidized pewter comes with a darker appearance which is often treated to make it look more antique.
How To Clean Pewter
Different types of pewter require a different cleaning and care method, so you need to be wise to choose the best option for your beloved items. To save you time, I have listed various methods for your reference:
How To Clean Polished Pewter
Polished pewter asks for more attention than other types of pewter. However, it's not difficult to clean, and you can find tools and ingredients around the corner of the street. Let's start
What You'll Need:
Mild dish soap
Warm water
Sponge
Soft, absorbent cloth
Soft towel
Bucket
Flour
Salt
Vinegar
Linseed oil
Rottenstone
Instruction
Step 1: Clean off dirt and grime from your pewter with a dust brush. This way, you can speed up your cleaning process considerably.
Step 2: Add a few drops of mild dish soap into a bucket of warm water and whirl it several times.
Step 3: Drop your pewter into the bucket and rub it gently with a sponge.
Step 4: Dip it into the bucket of clean water to remove any excess soap on the surface and corners of the pewter and rinse well.
Step 5: Use a soft and absorbent cloth to dry thoroughly.
Step 6: Mix a cup of vinegar, half a cup of flour, and one tablespoon of salt to form a paste.
Step 7: Use a cleaning rag to pick up the paste and apply it all over the surface of your pewter. Remember to move in a circular motion when spreading.
Step 8: Let the paste sit for about half an hour.
Step 9: Rinse thoroughly and dry with a soft towel.
Step 10: For extra cleaning effect, boil linseed oil, and add a fairly amount of rotten stone that you can buy easily from a local building supply store to the oil to create a thick mixture. Let it cool down.
Step 11: Rub the paste on the pewter in a circular motion. As soon as you do this, you will notice the change on the surface of your pewter. It will become shinier and shinier.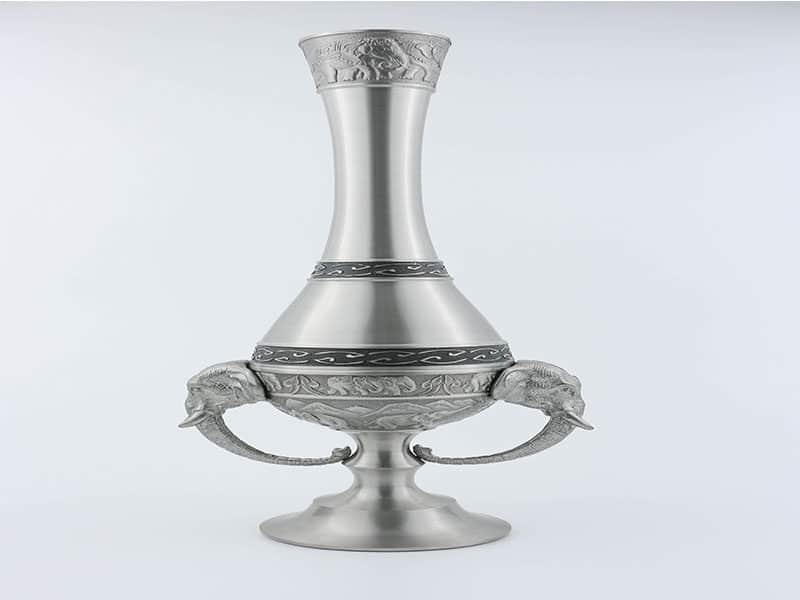 How To Clean Pewter Jewelry
To achieve the sparkling and lustrous characteristic of jewelry, polished pewter is
often used to craft these intricate items.
Cleaning jewelry requires a lot of time and energy because they are delicate and small things which are designed with many sophisticated details. In this article, I only focus on DIY methods but if you can afford a jewelry steam cleaner, go ahead and try it.
What You'll Need
Warm water
Dish soap
Soft towel
DIY pewter metal polish
Instruction
Step 1: Dampen a soft towel and squeeze it if necessary to remove any excess water.
Step 2: Place a few drops of soap, gently rub the towel to produce a light bubble, and then slowly wipe all over the jewelry.
Step 3: Despite how much you want to restore its shiny look, you shouldn't clean it too vigorously because pewter is quite soft and you can run a risk of breaking it.
Step 4: After getting the desired result, wash the towel with clean water and wipe the jewelry off the soap.
Step 5: Remove all water with a dry cloth.
Step 6: To enhance its condition, rub it with pewter metal polish. You can create a polishing paste with linseed oil and rottenstone or use a store-bought one.
How To Polish Pewter Tankards
Pewter tankards are favored because of their shiny looks that are created using polished pewter. Check out step-by-step guide to take care of these items
 What You'll Need
Instruction
Step 1: Add flour, vinegar and salt into a bowl.
Step 2: Then mix them together to create a thick paste.
Step 3: Apply this solution on the tankard, then wait for 15 minutes.
Step 4: Clean off the paste and dry it thoroughly.
How To Clean Satin Pewter
With grainy texture, satin pewter doesn't need as many cleaning steps as the polished one. Sometimes just simple steel wool can work a miracle to your pewter items.
What You'll Need:
Warm water
Mild dish soap
Sponge
Soft towel
Steel wool
Instruction
Step 1: Create a washing solution with warm water and dish soap.
Step 2: Use a sponge to rub your pewter gently.
Step 3: Clean off with warm water and use a soft towel to dry completely.
Step 4: Polish the surface with steel wool. To achieve the best result, remember to do it softly so that you won't damage the pewter finish.
How To Clean Pewter Salt And Pepper Shakers
Satin pewter brings a sense of luxury to pewter salt and pepper shakers which are indispensable items on the family dining table and restaurants. If you don't know how to purify them, consult my cleaning direction
What You'll Need
Hot water
Dish detergent
Soft bottle brush
Instruction
Step 1: Prepare a simple cleaning solution with hot water and dish detergent.
Step 2: Place shakers into the mixture and soak for 10 minutes.
Step 3: Rinse well with warm water.
Step 4: Then fill the shaker with hot water.
Step 5: Give them a few good shakes to remove any dirt inside the shaker.
Step 6: Do it for several times to make sure the shaker is clean.
Step 7: For stubborn grimes, use a soft bottle brush.
How To Clean Pewter Mugs
Similar to pewter tankards, pewter mugs are also often made from satin pewter and are widely used. This 6-step cleaning guide below will help you restore their luster fast
What You'll Need
Warm water
Dish soap
Vinegar
Soft towel
Instruction
Step 1: Fill the cup with warm water until it is half full.
Step 2: Then add more vinegar to the mug.
Step 3: Let the blend sit for 10 minutes.
Step 4: Empty the mug and use a sponge to scrub inside gently.
Step 5: Only use a steel wool if the stain is difficult to remove.
Step 6: Rinse with clean water.
How To Restore A Pewter Teapot
Teapot appears more impressive and classy with grainy texture on its surface. That's why pewter teapots are mostly made from satin pewter. Just follow my guidance to get the optimal result
What You'll Need
White vinegar
Salt
Flour
Soft cloth
Instruction
Step 1: Blend a teaspoon of salt into a cup of distilled vinegar.
Step 2: Add half a cup of flour to form a paste.
Step 3: Plaster the paste all over the teapot and let it sit for 15 minutes.
Step 4: Rinse with warm water.
How To Clean Oxidized Pewter
Oxidized pewter is often made to look old so that it can create an antique atmosphere for the living space of its owner. Therefore, polishing is unnecessary and simple cleaning is enough to restore its condition.
What You'll Need
Warm water
Mild dish soap
Soft sponge
Instruction
Step 1: Blend a few drops of dish soap into warm water.
Step 2: Wash your pewter slowly with a soft sponge.
How To Clean Pewter Stein Lids
This beer stein often contains a ceramic or glass cup and a pewter lid. It's not safe to be put into the dishwasher; therefore, cleaning by hand is your only option.
What You'll Need
Warm water
Mild dish soap
Sponge
Instruction
Step 1: Mix mild dish soap with warm water.
Step 2: Soaked the pewter lid for 10 minutes.
Step 3: Then rub it gently with a sponge until it becomes clean.
How To Clean Pewter Figurines
Featuring ammonia as an active ingredient, commercial glass cleaners can effectively remove dirt and oil from the pewter.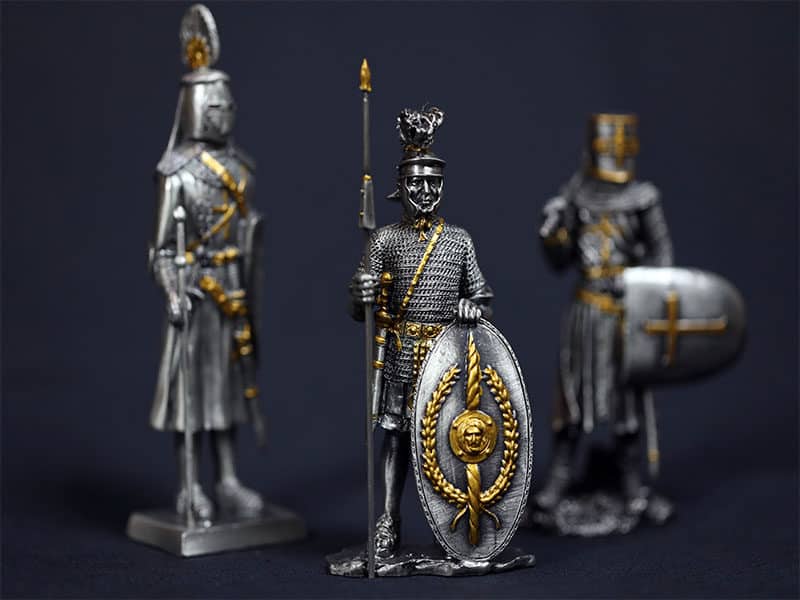 What You'll Need
Commercial glass cleaner
Soft cloth
Instruction
Step 1: Spray the glass cleaner on the pewter.
Step 2: Use a soft cleaning towel to wipe down your figurines.
Step 3: Repeat until you get the expected result.
How To Clean Rusted Pewter
If you don't store pewter items properly (wrap in a soft cotton cloth and keep them in dry and warm places), you run a risk of having rust all over your things. To restore their glossy appearance, you will have to find a way to remove the stain.
What You'll Need
Soft cleaning rag
Linseed oil
Talcum powder
Denatured alcohol
Salt
Flour
Vinegar
Cotton buds
Instruction
Step 1: If your pewter's surface is severely rusted, it might be a bit confusing for you to realize what stains are rust and which ones are just dirt. Therefore, you need to clean your pewter first. Linseed oil and talcum powder will act as an effective combination to soften the outer layer and remove soiled spots and grimes.
Step 2: Next step, you use a soft rag that is soaked in denatured alcohol to wipe down the cleaning mixture. For small things like jewelry, try using cotton buds instead of a soft rag.
Step 3: It's time to mix a rust-removal paste including salt, flour, and vinegar.
Step 4: Move your hand in a circular motion while spreading the solution on the pewter, then slowly remove dark stains from your things with a rag.
Step 5: Wash the pewter under the running faucet and use a sponge to rub the homemade paste away gently.
Step 6: Blot your items with a clean and absorbent cloth until they dry completely.
How To Clean Pewter With Ketchup
To my surprise, this household ingredient can clean your pewter objects like a pro
What You'll Need
Warm water
Ketchup
Soft cloth
Instruction
Step 1: Apply ketchup all over the pewter using a soft cloth.
Step 2: Allow it to sit for 15 minutes.
Step 3: Wash carefully with warm water.
Step 4: Make sure you've fully dried it.
If you still doubt about ketchup, let's watch this video to see how to clean pewter with this simple household stuff
Other Ways To Clean and Polish Pewter
There are many random ingredients around your house that can help you get rid of the dirt on your pewter with ease. If you want to know more, please refer to below
Cabbage leaves are said to be able to replace a polishing cloth and are a quick and simple method to clean the pewter.
Soak a soft sponge with distilled white vinegar and use it to clean your pewter.
Baby shampoo is another option that you can use instead of dish soap when mixing with warm water as a washing solution.
Combine baking soda and water to bring luster to your pewter items.
Additional Pewter Care Hacks
Although I carefully instructed you how to clean pewter, not everyone gets it right the first time; therefore, to avoid possible mistakes and preserve the pewter for a long time after cleaning, please follow this pewter care list:
Steel wool should only be used for satin pewter, especially for severely oxidized pieces, and need to be used with care.
It's advised that you should keep pewter things away from heat due to their low melting points.
Pewter is not dishwasher-safe; therefore, putting it in a dishwasher can damage its finish. Hand-washing is a must.
For luster, use all-purpose metal products or products that are made especially for pewter.
In terms of storage, you might keep pewter away from moist and hot environments. When not in use, you might want to cover it in a cotton cloth for extra protection. This way, you don't have to dust it often. Moreover, this prevents your pewter jewelry from scratches.
To prevent scratches, add a padding between plates or hollow pieces.
Pewter objects might not be ideal for contacting with fruits that are high in acidity, such as citrus. Otherwise, the acid could leave a mark on the metal.
Frequently Asked Questions
Need answers to your doubts about pewter cleaning? I've prepared a list of common questions so that you can check them yourself. Let's remove the guesswork now
Bonus Tips
Cleaning and storing pewter things require effort and patience. Therefore, not everyone is suitable as their owner. I suggest you should think twice when deciding to bring them home.
However, if you can take good care of them so that they are always in their best conditions, pewterware can be a luxurious addition to your space. Take your time reading my article and feel free to go over it sometimes whenever you need pewter tips and hacks.