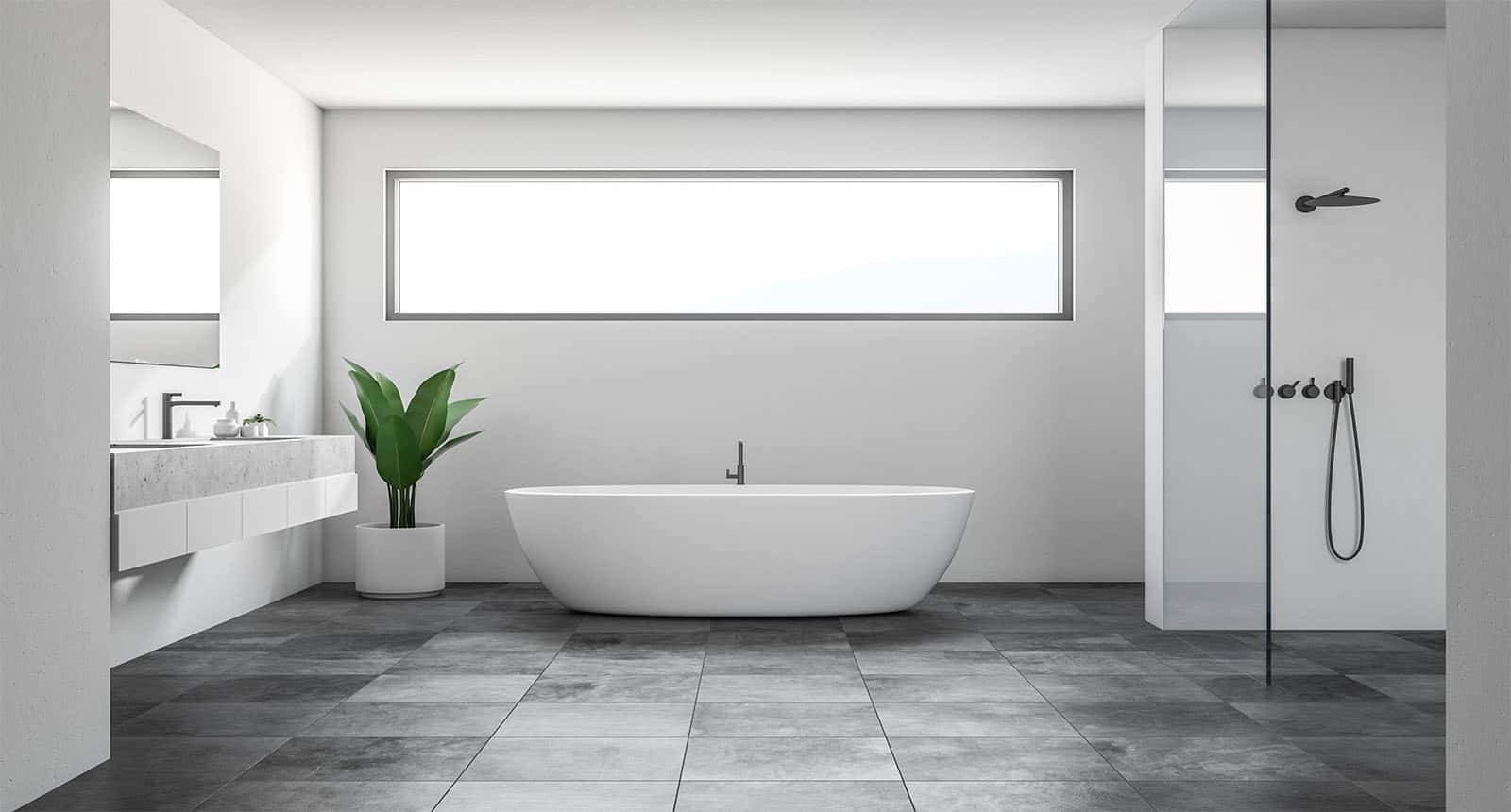 Knowing how to clean shower floors will help you tidy up them by yourself and save your budget instead of calling your professionals' help.
The shower floors can be made from various surfaces, and I will show you the 8 most common materials. Each type will have its own pros and cons and the specific methods to return its bright and shiny appearance.
The commercial cleaners cannot be suitable for all kinds of shower floors, and that's why you should read my article as soon as possible. If you are curious about what I am saying, don't forget to scroll down and explore more.
Why Should You Choose Various Floors To Build Shower Floors?
As I mentioned, you can choose 8 kinds of materials to attach to your bathrooms: marble, travertine, glass, porcelain, wood, pebbles, acrylic, and fiberglass. Let's discover the reasons why you should pick one of them.
Marble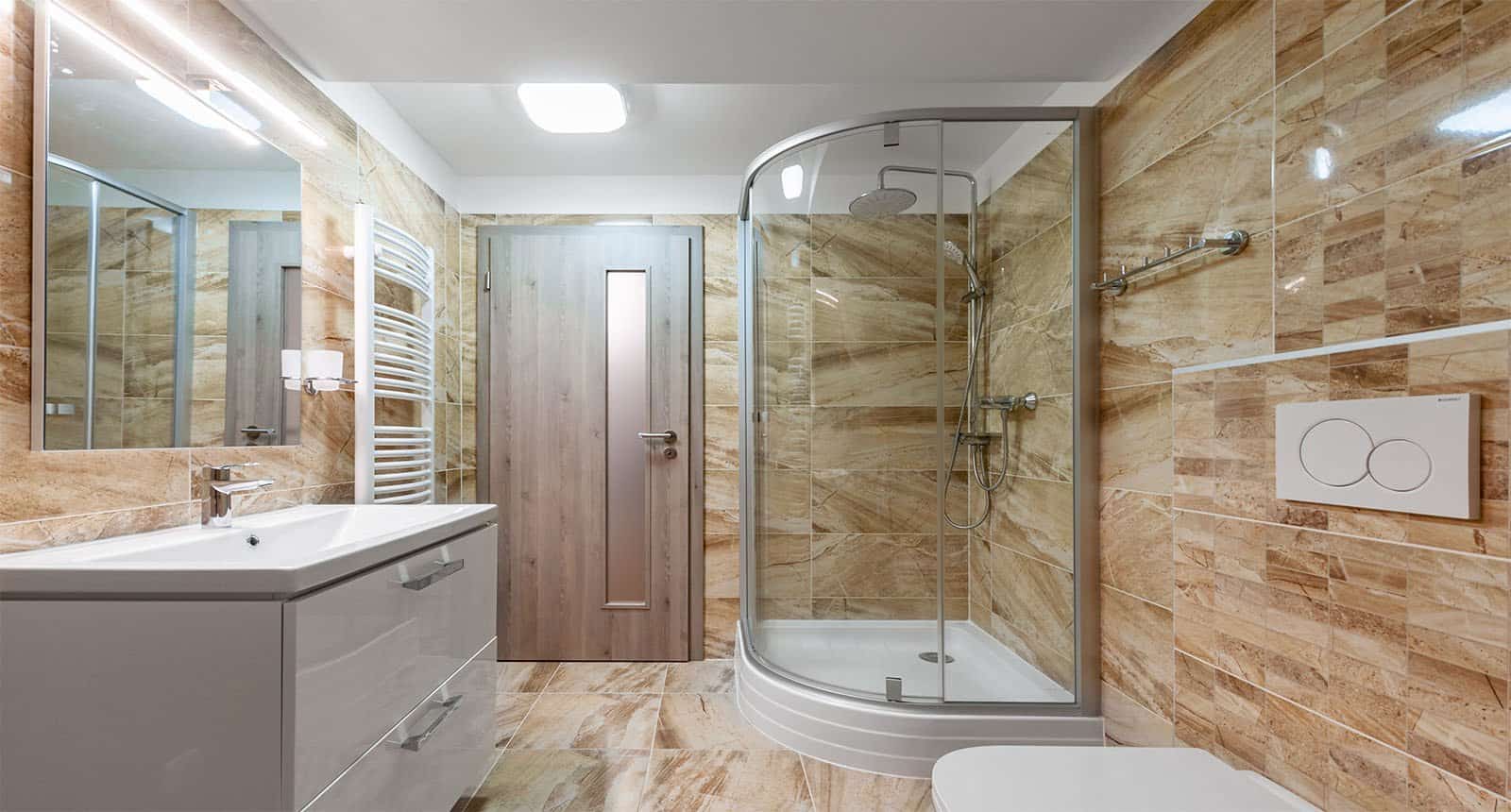 No one can deny the natural beauty of marble always attract you at first sight. If you are finding a kind of stone that can bring an elegant, gorgeous, romantic, and pricy appearance, marble will be a perfect selection.
Marble is flexible and comes in a wide range of styles and shapes that allow you to select the styles you like easily.
Travertine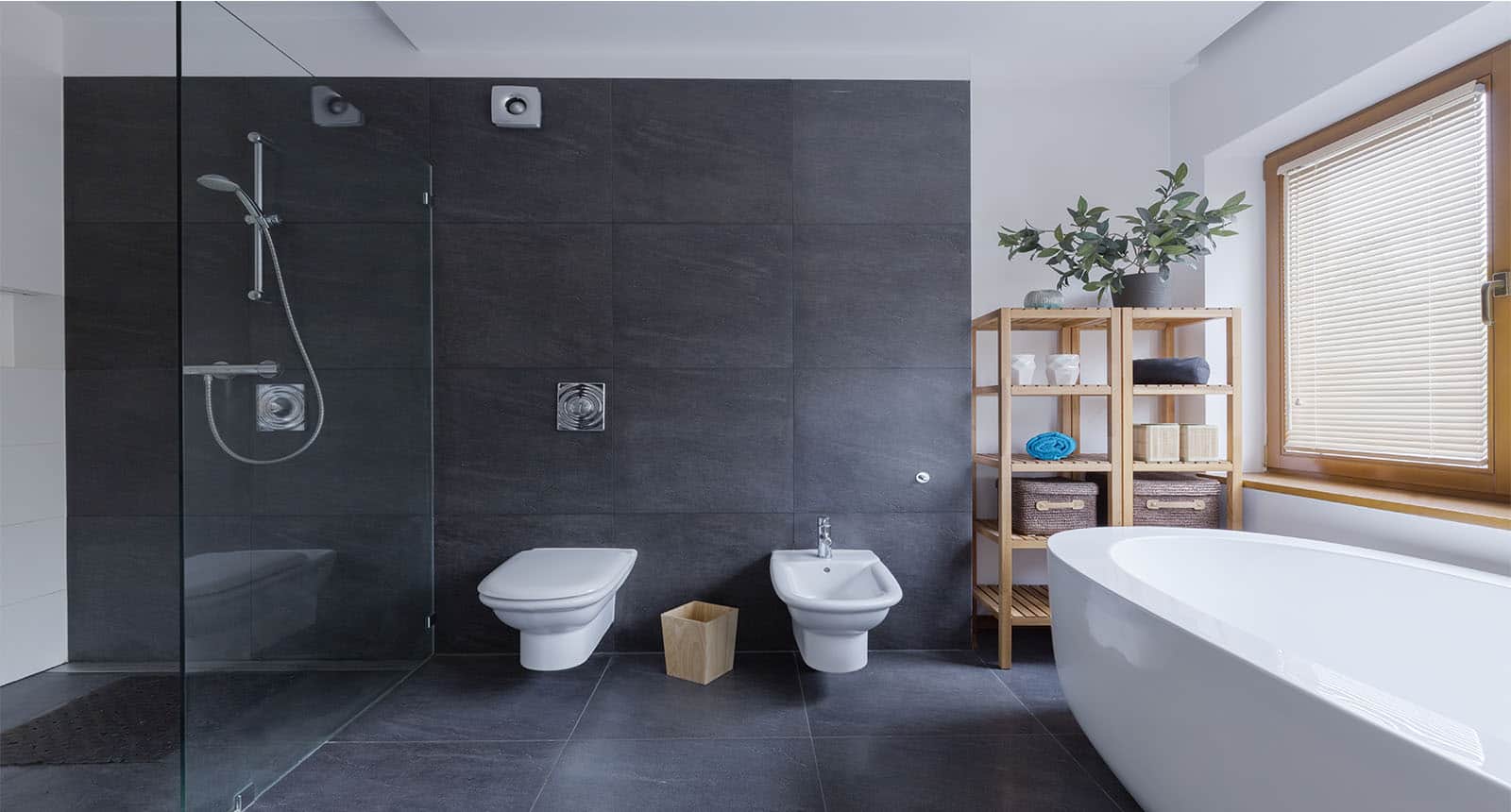 Travertine is quite durable, and you can use it for a long time as long as you care for it properly. Many people purchase it since they appreciate its swirls and veins. Besides, the anti-slip surface is also the fact that you need to pay attention to when buying shower floors.
Glass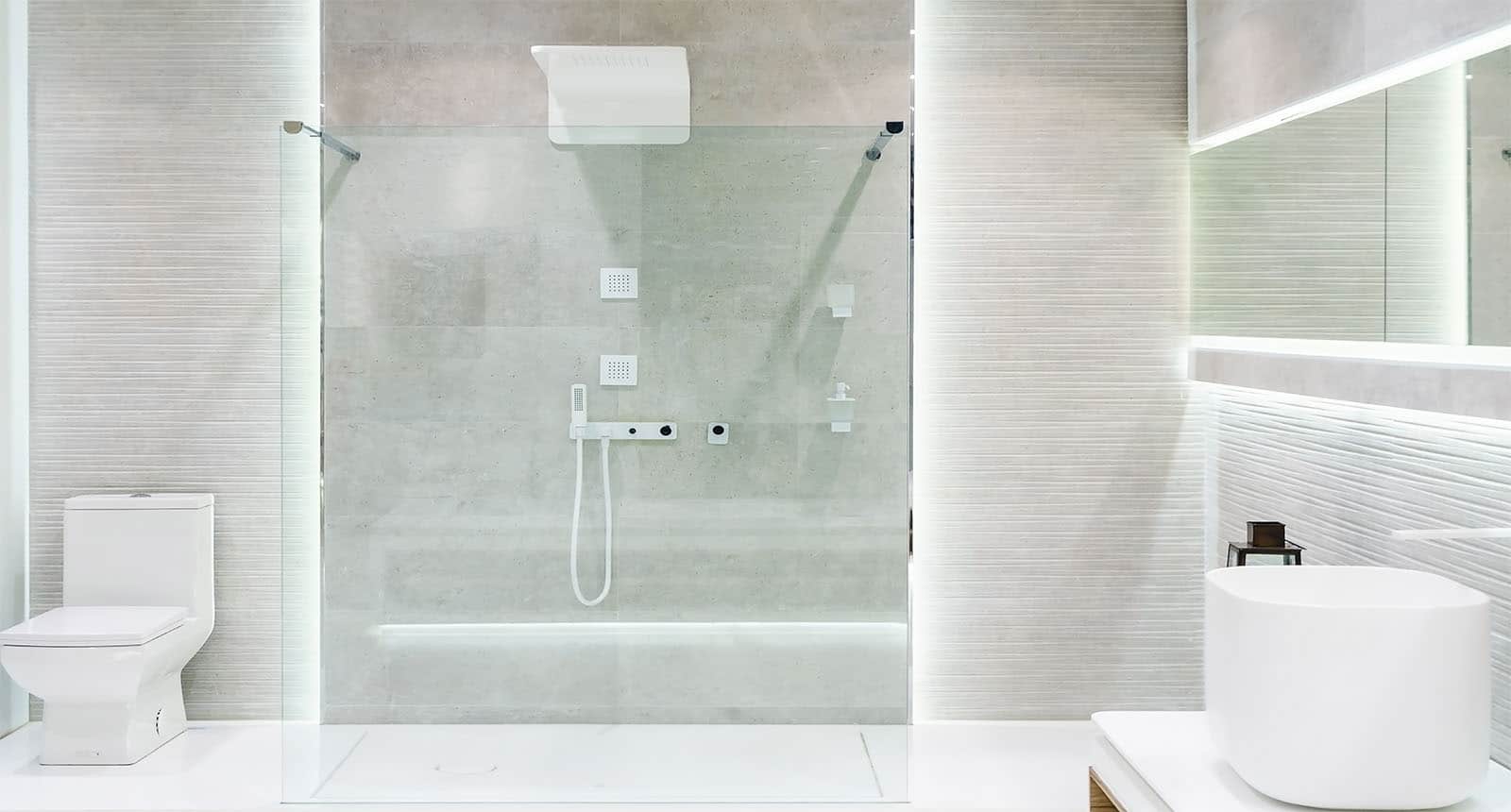 Glass requires low maintenance, and you can eliminate stains from glass quickly without any effort. Thanks to its translucent surface, your bathroom will have a cool look and open space. You will enjoy a luxurious feeling like in a high-end hotel.
Porcelain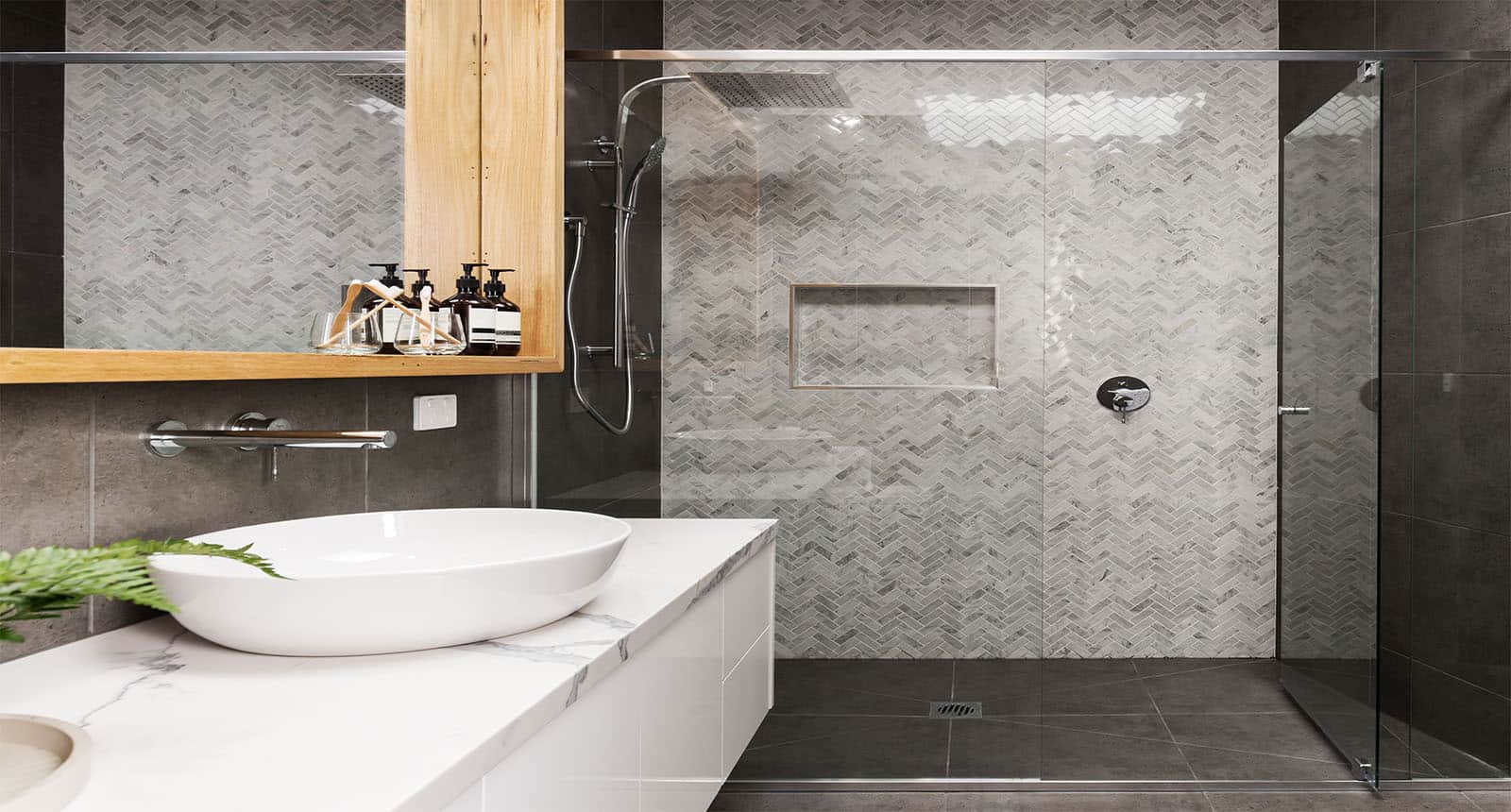 Porcelain has many advantages such as versatile styles, can undergo detergents and exposure to water in the long term, and more. Like glass, you can spend less time maintaining it, and you will have more time for your family.
Wood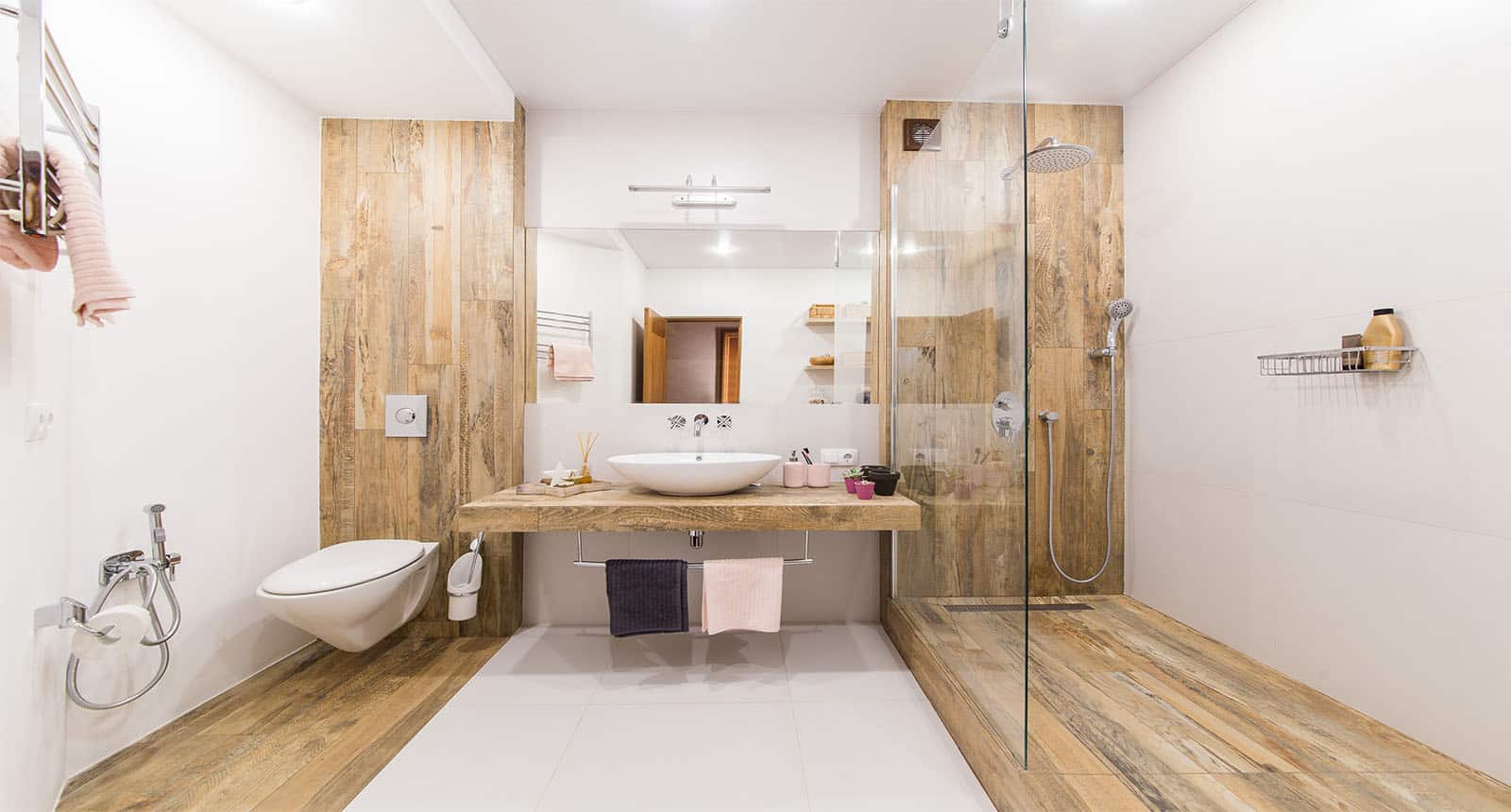 If you are a big fan of modern detail, you cannot miss this material since wood has a minimalist look and sleek design. You can attach wood above the shower base and use wood slats allowing water to drain effectively. You should spend a little more time caring for wood shower floors than glass or porcelain.
Pebbles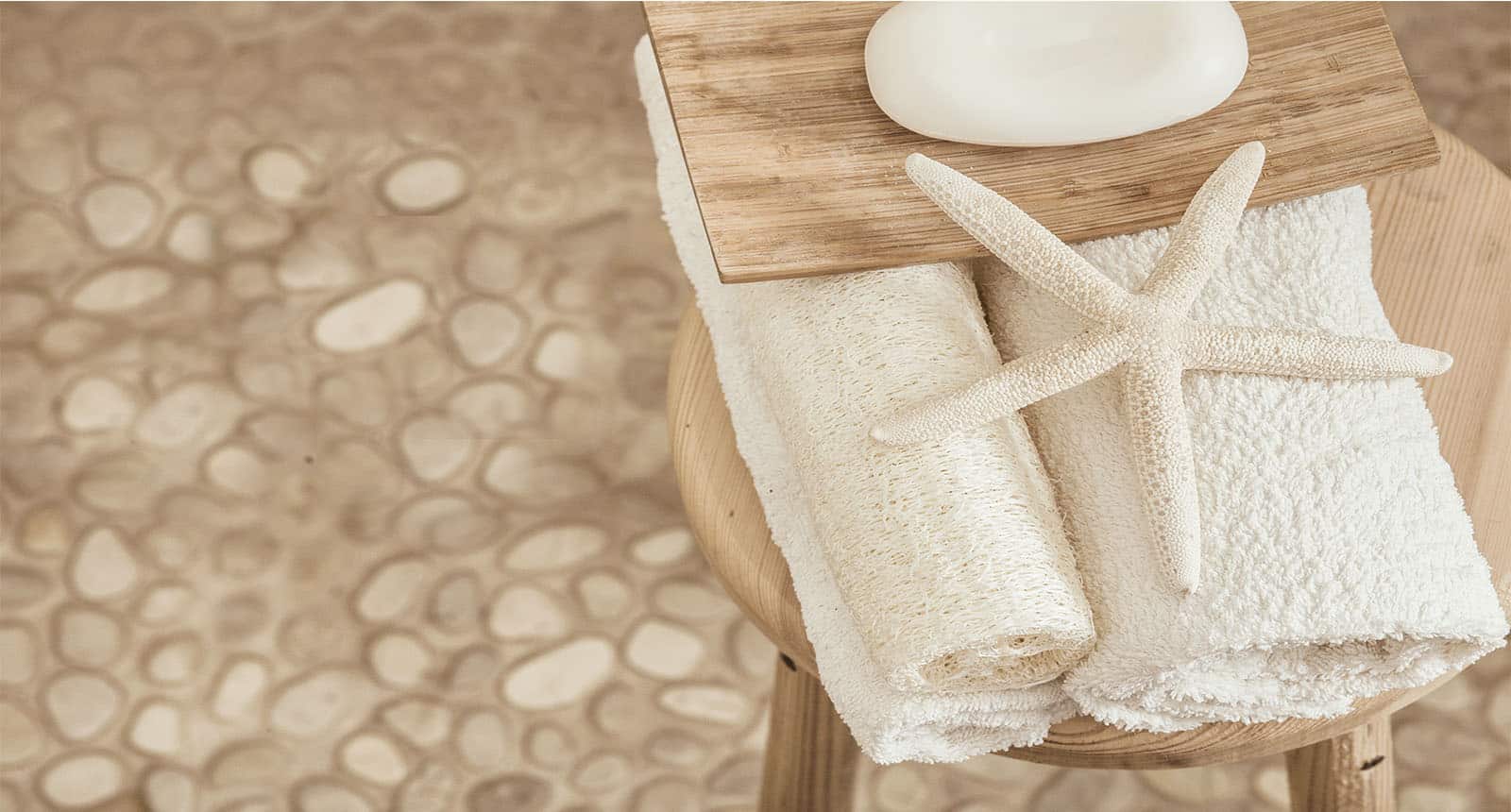 Using pebbles will help you feel comfortable when walking on them because of their slip resistance.  Pebbles are also natural stone, and you will be overwhelmed by their unique beauty and bring spa space into your home.
Acrylic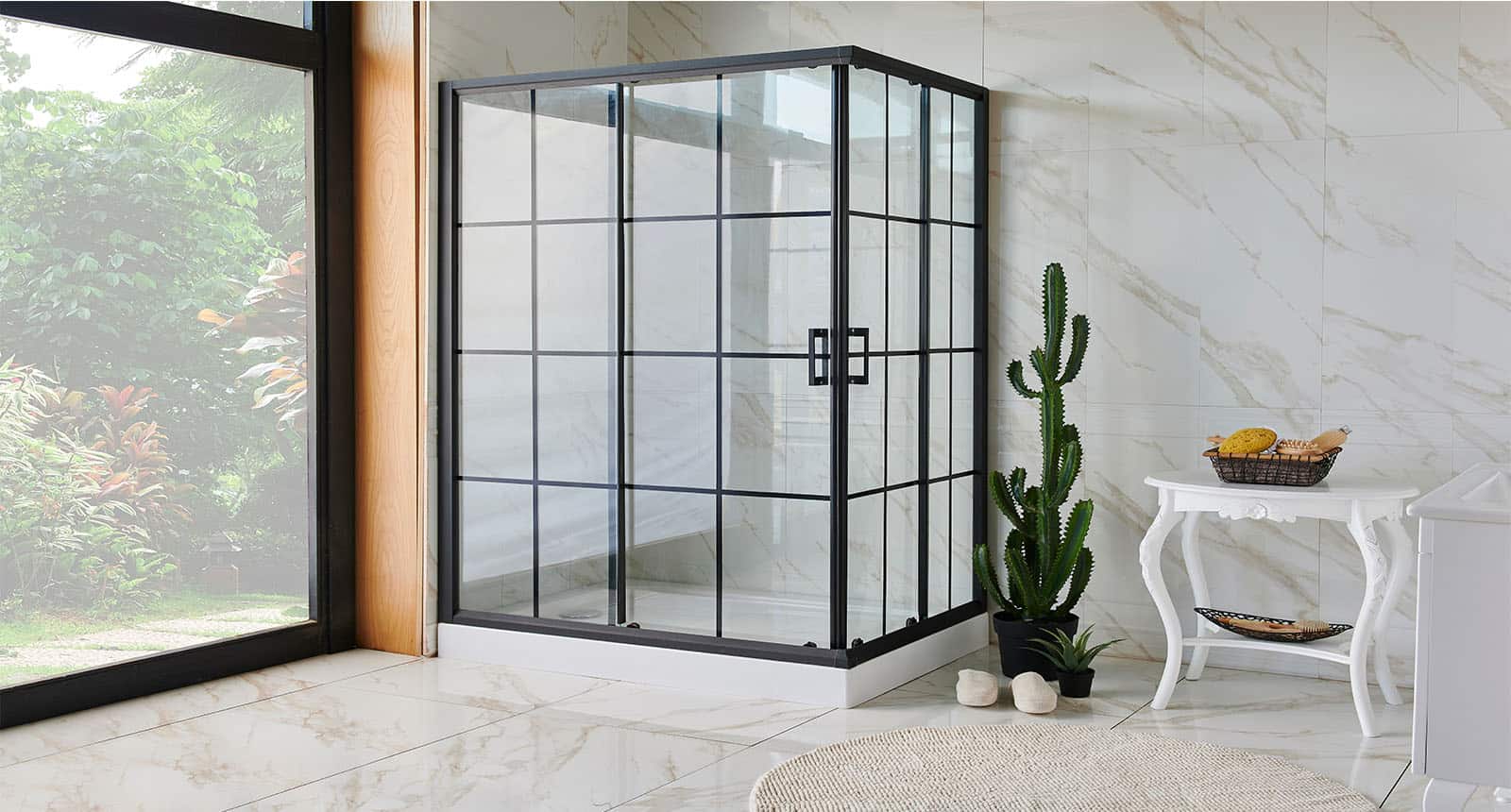 It is the most common material used to install in the bathrooms. It is relatively durable and difficult to scuff and scratch; therefore, you can maintain its like-new look for a long time without making much effort to clean it.
Fiberglass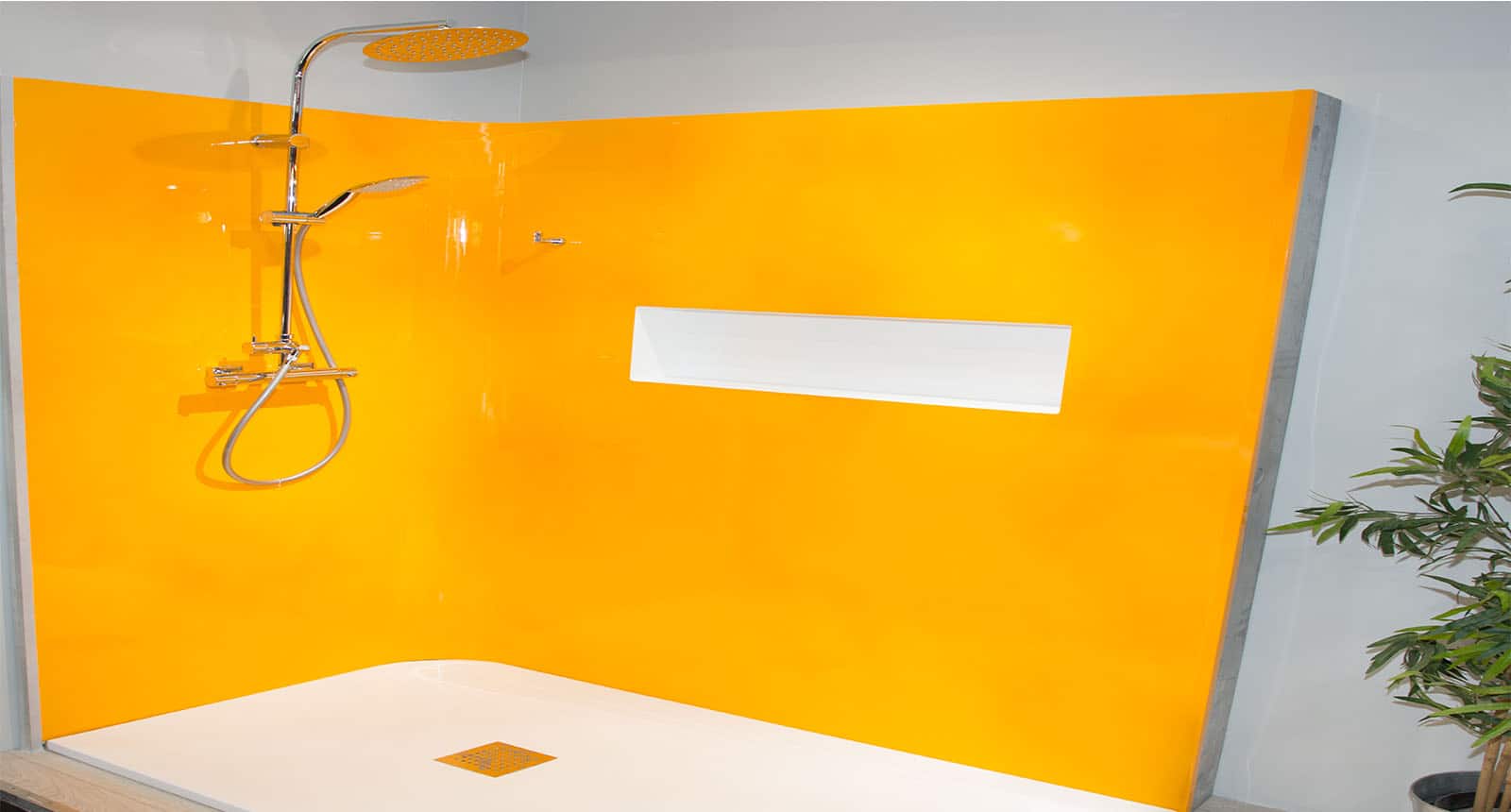 Fiberglass is also popular, and it has several features similar to acrylic, but it is more reasonable. The scratches on fiberglass are pretty easy to see, and you need to pay attention when scrubbing it by brush. You should use soft brushes to avoid this situation.
If you want to know the ways to choose suitable shower floors, let's check this video.
Guide For Cleaning Shower Floors?
I am sure you are excited to wait for this section. You will discover the effective ways to clean 8 types of shower floors and several valuable tips to help you maintain them.
Marble Shower Floors
To maintain the elegant look of marble shower floors, you should daily and weekly clean. Weekly cleaning needs to do more steps than daily, and you should do it at the weekends.
Before building your bathroom, you should consider installing sealed marble shower floors to improve stain resistance.
You don't need to use many tools for daily cleaning except for a microfiber mop. After you shower, the walls will appear water spots. Besides soap, shower gel and minerals from hard water can accumulate and damage your marble shower floors if you don't dispose of them right after each use.
The microfiber mop is soft enough and can absorb water spots well; thus, it will not scratch the floors and remove water quickly.
You should wipe the mop down to avoid leaving the steaks after cleaning, and the water spots can drop down quickly.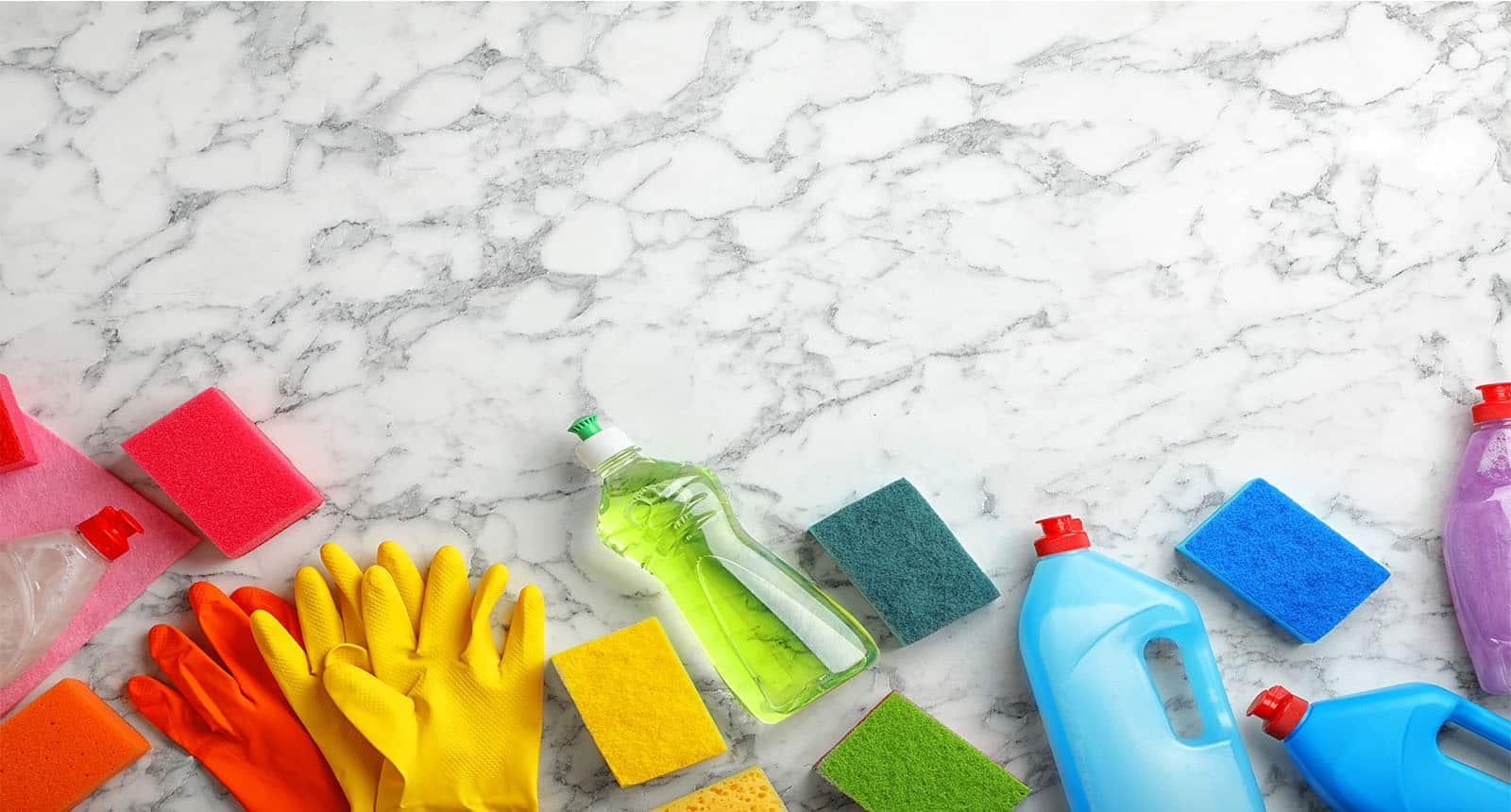 What You Need:
Microfiber mops
Paper towels
Spray bottle
A bucket or anything to hold and transport clean water
Mild soap or the excellent marble cleaners
Hydrogen peroxide
Supper-fine grade steel wool
Warm water
How To Clean:
Step 1: You need to add 1 tsp of mild soap and warm water into a spray bottle to create a homemade cleaning solution. Softsoap is any cleaning detergent that has pH neutral formula and doesn't contain acidic such as lemon or vinegar extract and dyes.
Don't forget to shake until detergent and water are combined perfectly.
I usually use my dishwashing detergent as it is available and meets these requirements. Using commercial marble cleaner is not a wrong choice. However, never use products containing chlorine bleach or acidic extract in their ingredients, and remember to read manufactures' instructions to know how to dilute the liquid strictly.
Step 2: You have to always spray the mixture from top to bottom and wipe with a microfiber mop. Moving the mop in circles is an effective way to remove all stains and allows you to clean more carefully in mold and mildew areas.
Step 3: Pour clean water into the bucket and rinse the marble floors a little by a little until there are no suds left behind.
Step 4: Using another mop to eliminate all water residue and the dry one to buff the surfaces in circles.
Step 5: Applying these remedies when you cannot remove the stubborn stains after doing 4 above steps.
The mold and mildew cleaner for marble shower floors will promote its effectiveness in disposing of mold and mildew.
Using the steel wool to scrub and remove mineral deposits such as hard water buildup. Washing them gently and in circle movements will help you clean them easily than moving in straight lines.
You can use hydrogen peroxide to deal with discoloration. You need to dip the paper towel into this liquid, leave it to sit on the stain for 10 minutes, and rinse with clean water. If the stains haven't gone yet, repeat the process until you get the desired result.
This short clip will describe more clearly how to clean marble shower floors.
Useful Tips:
Always avoid using the cleaner containing acidic extract such as vinegar, lemon, chlorine bleach, and dyes on marble floors as they can destroy your shower floor.
Remember to check producers' instructions on items' packaging to know the step-by-step guide and dilute them properly.
Using microfiber cloths or mop for wiping will protect your marble floors from being scratched.
You should use N.0000, which is super-fine and stiff enough for removing hard water without affecting your surfaces.
You can use the tapes to fix the paper towel when covering discoloration stains.
The hydrogen peroxide will promote its effectiveness when appearing bubbles on the surfaces.
You need to check the sealant on marble floors frequently to ensure water cannot soak into them and fix them in time.
Travertine Shower Floors
Travertine offers you versatile uses and a wide range of colors. To help you keep its beauty for a long time, I will bring you several basic steps to help you remove several popular stains on this surface.
You should use the high-quality microfiber mop to mop the floors after using. This will help you remove water spots and temporary soap scums left behind when you shower.
Soap scums are the most popular stains, and the main reason causes to build up hard water deposits if you don't solve them quickly. You can reference the best cleaners for soap scums to buy as long as they are safe for travertine shower floors.
What You Need:
pH-neutral cleaning products
A diamond-shape scrubbing brush
Warm water
A steel wool
Sealant products for travertine (optional)
Baking soda
Borax
Spray bottle
Hydrogen peroxide
Microfiber mops
How To Clean:
Step 1: Using the pH-neutral cleaner spray on travertine shower floors and wait for 10 minutes before scrubbing. This will give soap scums time to loosen and help you eliminate them simply.
Step 2: Dip the brush into warm water and start scrubbing the surface. You always should work from top to bottom that allows the dirt to run down when you clean. You need to spend more time cleaning holes on the floors as they are easy to accumulate soap scums than flat surfaces.
You can use the pointed brush to clean grouts and add cleaner if needed.
Step 3: You can dispose of other stains before rinsing again with warm water.
Mix baking soda, borax, and water in a spray bottle to remove mold and mildew. After applying the mixture on floors, you should let it sit for 15 minutes to attack these stains and use the brush to scrub them.
If the stains still remain, spray the liquid, wait for 30 minutes, and re-scrub until they disappear.
Hydrogen peroxide is an effective product to remove tough stains for travertine shower floors but be careful when using dark colors. Leave it to sit for 15 minutes before rinsing.
The steel wool with 0000-grade can help you get rid of hard water buildups.
Step 4: Rinse the floors with warm water and dry them with microfiber mops.
Step 5: (Optional) If the grouts are damaged while you solve stains, you can use a sealant product for travertine to repair them. This will assist you in save your wallet and prevent soap scums from building up.
Don't forget to watch this video about cleaning transformation for travertine shower floors.
Useful Tips:
Never use these cleaners for travertine shower floors containing bleach, ammonia, vinegar, and citric acid-base in their formula as they will dull the surface.
You should install windows in your bathroom that help the air circulate, and the floors dry quickly.
Re-seal your floors once a year or whenever you realize the grouts are damaged.
Glass Shower Floors
Glass shower floors have become the popular material to install in the bathroom, thanks to their low maintenance. Moreover, they will bring you modern space like in well-known hotels that you hard to find on other floors.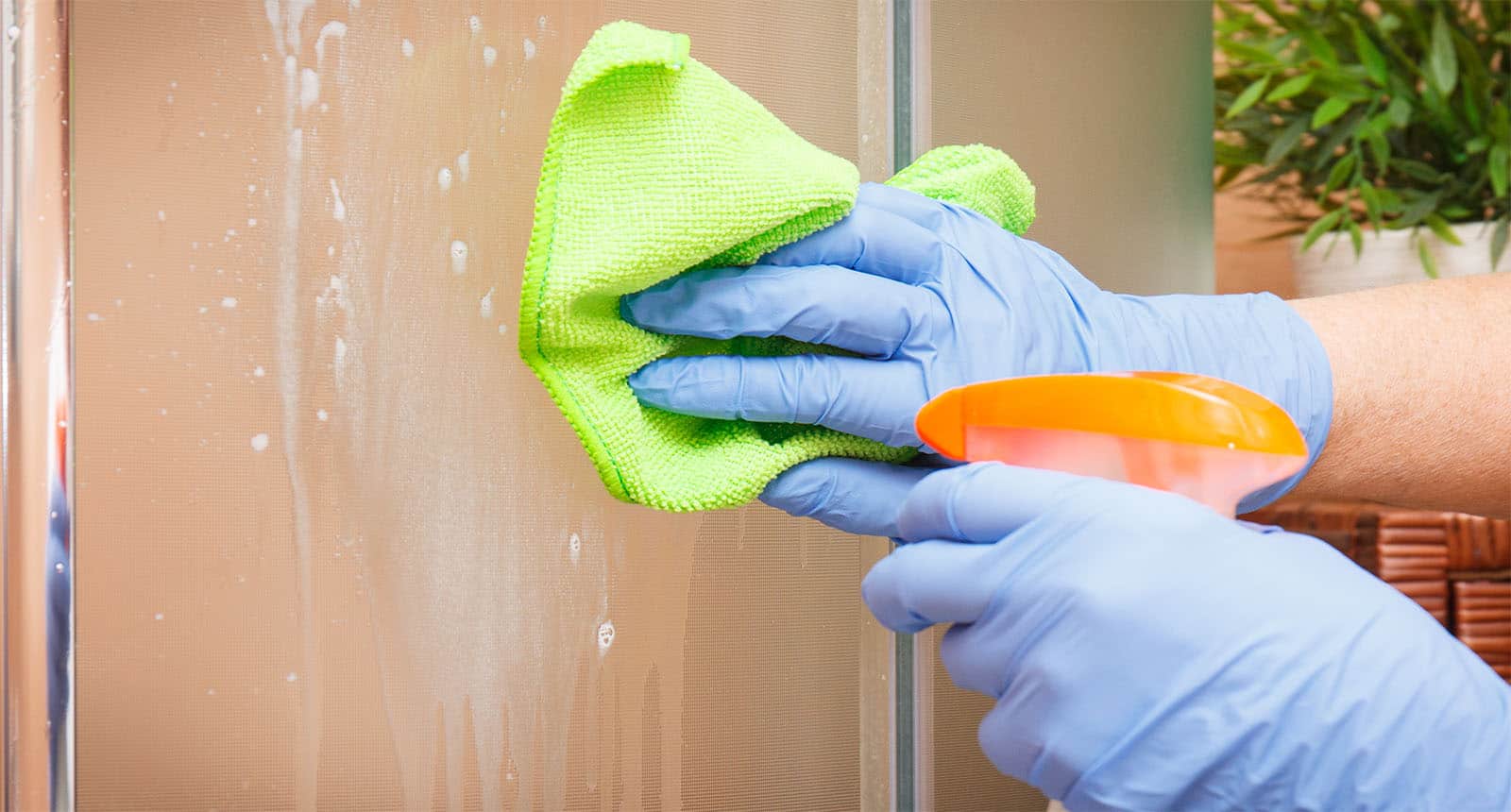 What You Need:
White vinegar or lemon juice
A spray bottle
A bucket
Baking soda
A sponge
Towels or bathmat (optional)
How To Clean:
Step 1: If there is any material that is sensitive to vinegar or lemon juice and ammonia in your bathroom, you should cover them with towels or bathmat to ensure these substances cannot affect them while cleaning glass shower floors.
Step 2: Pour vinegar or lemon juice and water into a spray bottle. After that, shake them well until all ingredients dissolve completely. You can choose one of them. If you want to speed up the cleaning process, you can pick lemon juice as it is more acidic than vinegar and ver vice.
Step 3: Spray the mixture on the floors and wait for 15 minutes to allow it to attack and loosen soap scums.
Step 4: After that time, you need the sponge to scrub the stains gently, and don't forget to place the bucket near you to hold the excess water when you squeeze from the sponge. You can spray more liquid on tough stains and scrub later.
Step 5: To help you remove hard water buildups, you can sprinkle a little baking soda on a sponge and use it to scrub the floors. Baking soda will assist you in getting rid of deposits and neutralizing acidic mixture to reduce the risks for other sensitive surfaces.
Step 6: Disassemble all the covers and pour clean water onto floors to eliminate all residue from them.
This sound clip will provide you 2 tricks to help you keep glass shower floors cleaner for longer.
Useful Tips:
You can combine pH-neutral dish soap, water, and ammonia to create a strong liquid to help you dispose of hard water deposits and stubborn soap scums. 0000-grade steel wool will help to scrub these hard-to-solve stains.
Remember to use a mop to remove water residue and soap scums from your glass shower floor after each use.
Porcelain Shower Floors
Porcelain shower floors require you to clean them every day with a microfiber cloth and soft cotton to remove water spots and soap scums that may be left after use. The soap scums can accumulate in grouts, and this is the ideal environment for bacteria, mold, and mildew to grow.
Therefore, frequent cleaning is a key to help you protect your health from risks and keep porcelain shower floors in good condition.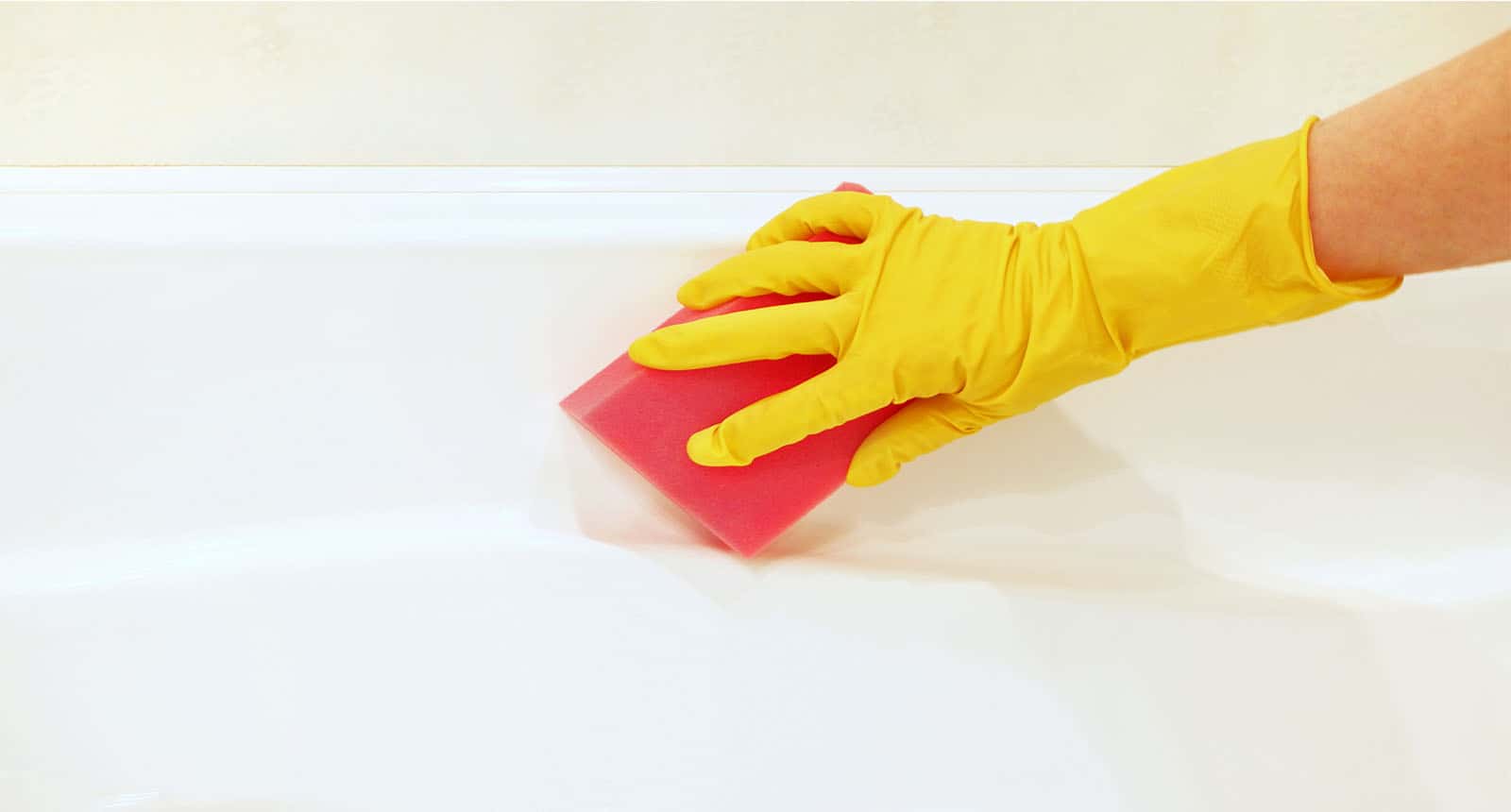 If you want to know guides for cleaning unpolished porcelain tiles, you can consider applying these steps:
What You Need:
Vinegar Or commercial porcelain cleaner
Water
A spray bottle
A soft brush
A microfiber cloth
Warm water
How To Clean:
Step 1: There are 2 options for you to create a cleaning solution: to mix vinegar and water in the spray bottle or use commercial porcelain cleaner. If you use vinegar, make sure you shake them completely.
Step 2: Spray the mixture on unpolished porcelain shower floors and let it sit for 5-10 minutes that will allow it to attack and loosen the dust and dirt.
Step 3: It's time to use a soft brush to scrub these stains gently.
Step 4: Re-rinse the floors with warm water to eliminate all messes and wipe again with a dry and soft microfiber cloth.
On the other hand, polished porcelain shower floors also need a different method and cleaning solution to clean them.
What You Need:
Hot water
A spray bottle
A soft brush made from nylon bristles
Vinegar
Water
Warm water
A cheesecloth
How To Clean:
Step 1: You should spray hot water on polished porcelain shower floors to loosen the dirt and help you deal with these problems more quickly.
Step 2: For normal stains, they will be loosened up after exposure to hot water; however, for stubborn stains, you should use a soft brush to scrub them gently.
Step 3: Wipe all trash away with warm water
Step 4: If the stains haven't gone yet, you need to pour vinegar and water into the spray bottle and spray the mixture on stains and mold. Then, using the soft brush to scrub them like step 2.
Step 5: You need to wait for the floors to dry before polishing them with the cheesecloth.
Useful Tips:
You should re-seal the porcelain shower floors every year to ensure your floors are hard to soak into water and oil-based liquid.
Just use the commercial cleaners that are formulated for porcelain, as other cleaners can contain harsh substances that can damage your floors.
Never use mineral dissolving and lime products on the grouts as they are too abrasive for sealants.
Make sure to use soft brushes and scrub gently on these floors
Vinegar can be used on porcelain shower floors, but you should dilute it with water to reduce its acidity. I recommend you should test on small spots before applying ample areas as experts have still discussed the risks vinegar can cause to porcelain.
Stay away cleaners contain ammonia, acid-based, and bleach in their ingredients since they can change the floors' color.
Never use oil-based cleaners on porcelain shower floors as they will help dirt easily build up in grouts, and be hard to remove.
Think twice before using coloring or dye cleaners on these floors.
Don't use steel wool and hard scrub brushes on the surface since they can dull it.
Never use baking soda or bleach cleaners on porcelain.
You should ensure your bathroom is well-ventilated to prevent mold and mildew from developing.
Using high-quality steam cleaners is a smart choice for cleaning grout stains without any harsh chemicals.
How To Clean Wood Shower Floors?
Wood shower floors always bring you cozy and rustic feelings. There is more than a way to help you clean wood floors. You can use a wood cleaner and a sponge to remove dirt from wood shower floors or mix vinegar, detergent, and bleach or just detergent and water, then scrub with a soft brush for general purposes.
In addition, the combination of bleach or vinegar with water will help you eliminate mold from wood floors. All mixtures I mentioned are effective for both normal and heavy dirt and soap scums.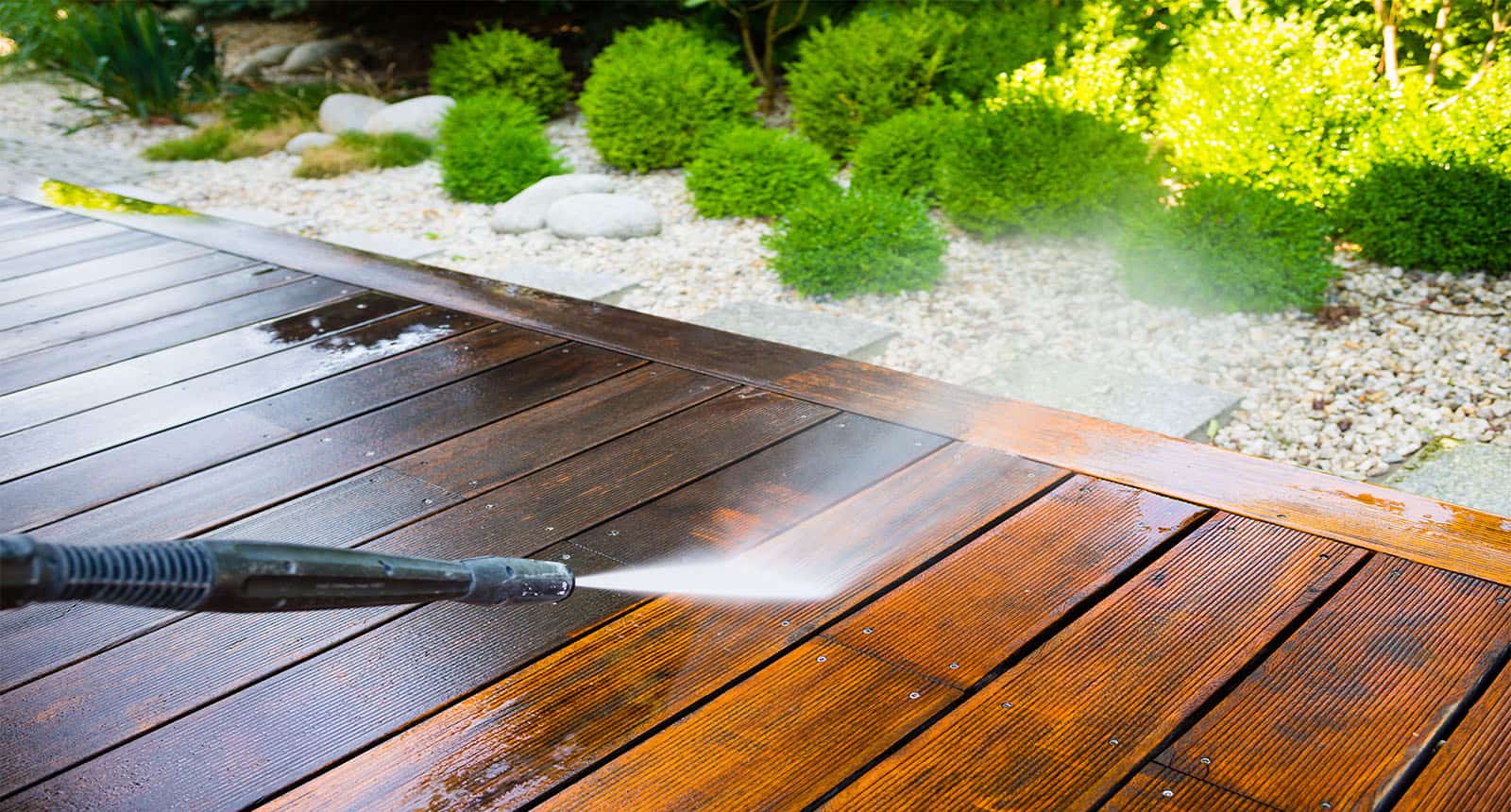 What You Need:
Vinegar
Detergent
Bleach
Water
Wood cleaners
A soft brush
Clean water
How To Clean:
Step 1: I will provide you various ways to help you remove mold and dirt from wood floors. The first method is the most convenient way as you just need to use the great wood cleaner and spray it on wood, then wait until it penetrates into the surface.
If not, you can mix vinegar, detergent, and bleach to create a liquid or dilute detergent with water, then do the same as using wood cleaners.
The last mixture is to combine bleach or vinegar and water at the rate of 1:3, then apply it on wood shower floors and scrub like you usually do.
Step 2: After waiting for a while, you need to use a soft brush to scrub the floors. You should spend more time scrubbing to remove grime, mold, and more from the surface.
Step 3: Use clean water to rinse the floors, and remember to use enough amount of water to eliminate residue from them.
Step 4: Give the floors time to dry completely before applying wax on them. The oil will help you restore their moisture and polish them. You will feel like walking on the new surface.
Useful Tips:
The wood shower floors are quite sensitive to soap scums, mold, and mildew; therefore, ensure you clean them frequently to maintain them in good condition and help you extend their life expectancy.
Don't forget to apply sealant products and oil after every cleanup to keep its luster appearance and color like the first day you purchase.
Never use pressure washing for washing wood floors as the high pressure will damage the floors' finish and create an opportunity for water to get stuck in cracks of the wood floors.
Steel wood and stiff brushes can scratch the wood surface, and these scratches will accumulate dirt; thus, don't use them.
Always use microfiber mops to soak into residue water after use to prevent mold and mildew from building up.
Pebbles Shower Floors
Nowadays, pebbles are commonly used when people intend to install a kind of shower floor in their bathroom. These pebbles shower floors bring you attractive looking and effective in keeping you anti-slip while showering. This is safe for both the elderly and children.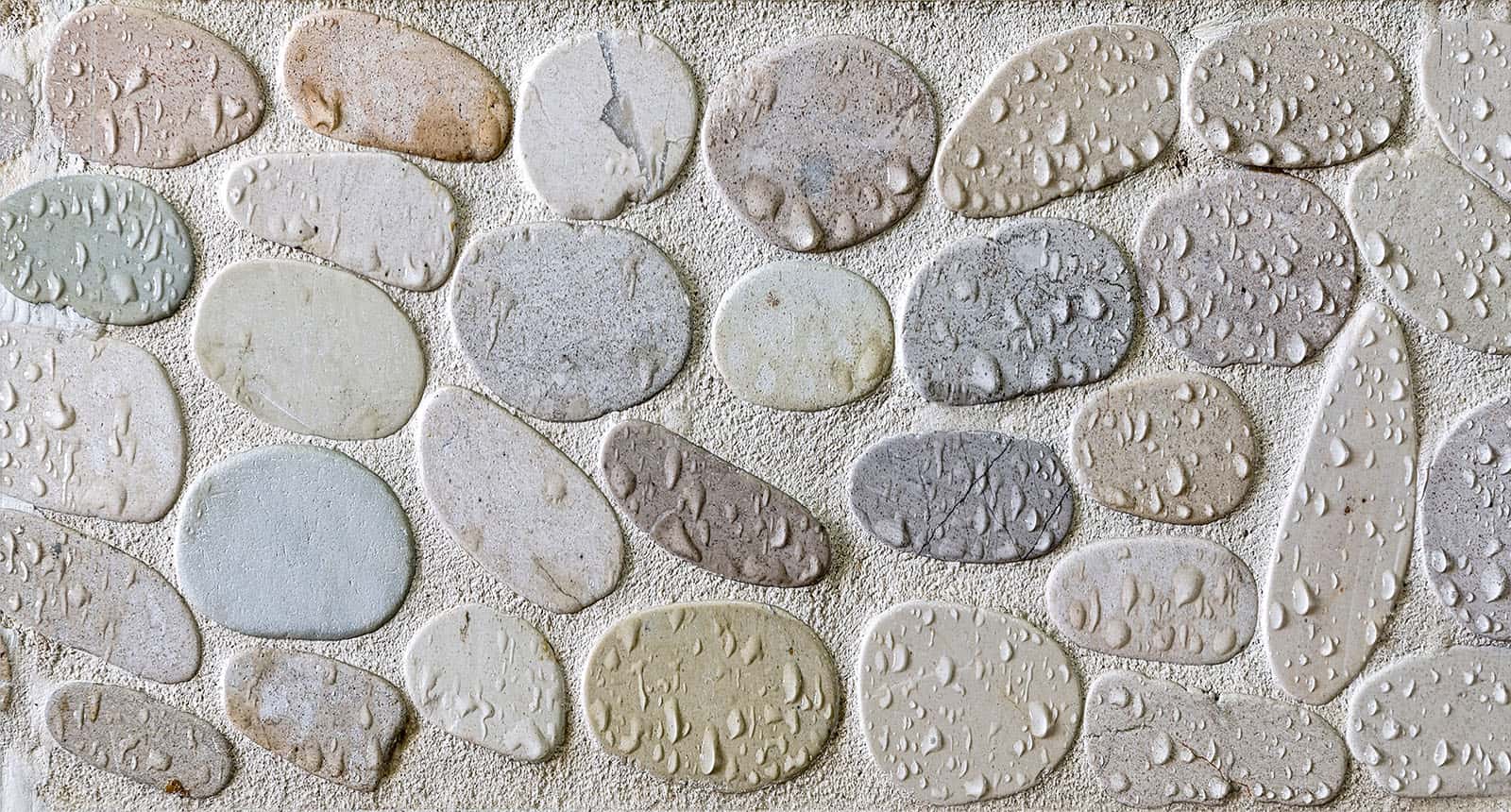 What You Need:
Vinegar
Water
A spray bottle
A nylon-bristle brush
Warm water
Hydrogen chloride
Dry cloth or wet/dry shop vac having blower function
A sealant for pebbles shower floors (Optional)
How To Clean:
Step 1: You need to mix vinegar and water at a 1:16 ratio, whisk them well, and pour the mixture into a spray bottle,
Step 2: Spray the mixture on pebbles shower floors and leave it to sit for a few minutes before starting the next steps. This liquid will help you attack and loosen dirt, grime, soap scums, and hard water buildups.
Step 3: Use the brush to scrub gently. Remember to move the brush in circles to avoid damage the texture of pebbles. Scrub in every corner and around stones to eliminate bacteria as much as possible.
Step 4: Rinse your floors with warm water until all residue is removed.
Step 5: If the stubborn stains have not disappeared yet, you should combine 1 cup of hydrogen chlorine with 10 cups of water and do the same steps from step 2. Don't forget to wear protective gloves and glasses while cleaning with this mixture.
Open windows and create well-ventilated space are the necessary things you should do.
Step 6: After rinsing with warm water, you can use a dry cloth or the wonderful wet/dry shop vac having a blower function to dry the pebbles shower floors.
Step 7 (Optional): If you accidentally strip the sealant of the floors away, let's repair them immediately to avoid unwanted outcomes.
Let's see how to remove mold and mildew from pebbles shower floors through this video.
Useful Tips:
Besides using DIY recipes, you can use pH-neutral detergent and do the same steps. I am sure you will get similar results.
You should soak into water residue after use by dry mop to avoid the moisture penetrate the pebbles. The pebbles contain millions of tiny holes, and they can quickly absorb moistures that will destroy floors.
Always check sealant situation to ensure the dirt and soap scum cannot accumulate in pebbles shower floors.
Remember to use a soft sponge or cloths to wipe the surface and not drag vacuum over it since those will harm your floors.
You can use the best steam cleaners for deep cleaning. These cleaners will produce hot steams and sanitize the floors by using any harsh chemical. Besides, knowing more about useful steam cleaning tips will help you handle them easily.
Acrylic Shower Floors
Acrylic is one of the most affordable kinds of shower floors. The acrylic floors are coated with acrylic and help you easy to clean and yellowing, mildew-growth, and cracking resistance.
These floors retain heat well, and you don't feel cold when coming into the bathroom. Let's see how to clean them right now.
What You Need:
Acrylic cleaning products or citric acid-based cleaners or white vinegar and warm water or hydrogen peroxide
A spray bottle
A dry and microfiber cloth
Hot water
Baking soda or cream of tartar
How To Clean:
Step 1: You can choose to use acrylic cleaning products or citric acid-based or DIY cleaning solutions for cleaning. Actually, no matter which method you do, you need to do the same steps, bringing you the most optimal results.
Acrylic cleaning products you can use that don't contain acetone.
Several citric acid-based items you can select are the extraction from grapefruits, limes, or lemon.
For a homemade recipe, you should mix white vinegar with warm water and shake them well. In case you cannot stand the smell of vinegar, you can alter it with hydrogen peroxide.
Step 2: After choosing your favorite method, you need to spray it on the floors. You have to wait about 10 minutes when using acrylic cleaners or 20 minutes when applying citric acid-based cleaners.
However, when you use DIY recipes, you need to wait longer, about 30 minutes for normal stains and up to 1 hour for heavier stains.
Step 3: After waiting time, you need to use a dry towel to scrub the stains if required.
Step 4: Rinse the floors with hot water or warm water to remove all messes from them
Step 5: For tough stains, you can sprinkle a little baking soda when using vinegar or cream of tartar when using hydrogen peroxide. Both of them will bring you a foaming reaction. After that, rinse them again.
Step 6: You need to dry the floors for about 8 hours before re-use. You open the windows or use the blower function to speed up this process.
Useful Tips:
Remember to apply 1 method each time for trying and rinse it thoroughly before trying another way.
Weekly cleaning acrylic shower floors will help you prevent grime and soap scums from appearing.
Always use non-abrasive and soft cloth for scrubbing the floors to avoid damaging their texture.
Never use cleaners that contain acetone, aerosol, harsh substances, and solvents since they can scratch the surface. Using natural cleaners is the best selection.
Fiberglass Shower Floors
Fiberglass shower floors are the cheapest type, and they are installed in almost all bathrooms. This type has a wide range of shapes that can meet all your demands. Although fiberglass is not as durable as acrylic, its reasonable price is worth trying.
Besides, you can easily see scratches and scuffs on fiberglass; thus, you should be careful during the process.
What You Need:
Baking soda and vinegar or stronger cleaners such as oxygen-based bleach or ammonia, or hydrogen peroxide
Polisher for fiberglass (optional)
Hot water
A sponge
Protective gloves
Water
A microfiber mop
How To Clean:
Step 1: You should pour hot water onto fiberglass shower floors to remove all easy-to-drift residue. You should consider opening windows and doors that allow the air to circulate if you choose to use stronger cleaners to clean this surface.
Step 2: You can mix baking soda with vinegar in a spray bottle and spray them on the stains such as soap scums or grimes. Don't forget to give the mixture time to create a reaction before scrubbing them. The ideal time is 10-20 minutes.
You can reduce the amount of vinegar and increase the amount of baking soda when mixing to create the paste form. The spread the paste on stains and do the following steps.
Step 3: Use a sponge to scrub the stains gently.
Step 4: Rinse the fiberglass shower floors with clean water until there is no residue left behinds
Step 5: If the stains are difficult to remove, you can use cleaning agents such as oxygen-based bleach or ammonia to deal with these problems. Please wear protective gloves to protect your hands.
Hydrogen peroxide will be an adequate substitute if you don't want to use bleach. Besides, this liquid has a more pleasant aroma than bleach, and you can leave it to sit for a longer time.
After dealing with tough stains, don't forget to re-rinse with water and use the microfiber mop to soak into water spots.
Step 6 (Optional): You can use polishers for fiberglass to turn it into a like-new appearance.  You should rub the polish in circles.
How to clean fiberglass shower floors with vinegar and baking soda? This video will answer this question.
Useful Tips:
Should choose soft and non-abrasive brushes or sponges to avoid scratching the floors as you can quickly see any scratches on fiberglass.
You can start trying natural cleaning agents before trying strong cleaners.
You need to get rid of moisture from your fiberglass shower floors frequently to prevent mold and mildew from growing.
You can use liquid vinegar and baking soda for weekly cleanups.
FAQs
Have you had any remaining questions after reading these last parts? You can check this section as I will answer several frequently asked questions relating to this topic. I hope you find it helpful.
Expectation Vs. Reality
Have you picked a suitable material for your bathroom or learned how to clean your shower floors?  And I am sure you already got valuable information after reading my article.
I have spent much time researching and testing each type of material, and I believe the step-by-step guide will help you a lot to finish the cleaning tasks.
Usually, the stains you cannot remove have appeared for a long time; therefore, they are adhesive tightly on the floors, and cleaning by common methods is difficult to solve.
If you face too tough stains and the instructions cannot assist you in deleting messes, you should call the help of experts to avoid damage to your shower floors.
After you apply these steps to clean your shower floors, don't forget to share the results with me in the comment box chat below. Besides, you are welcome to leave some words about any questions or valuable tips in the chat section. I am always here to listen to you and reply whenever I can.