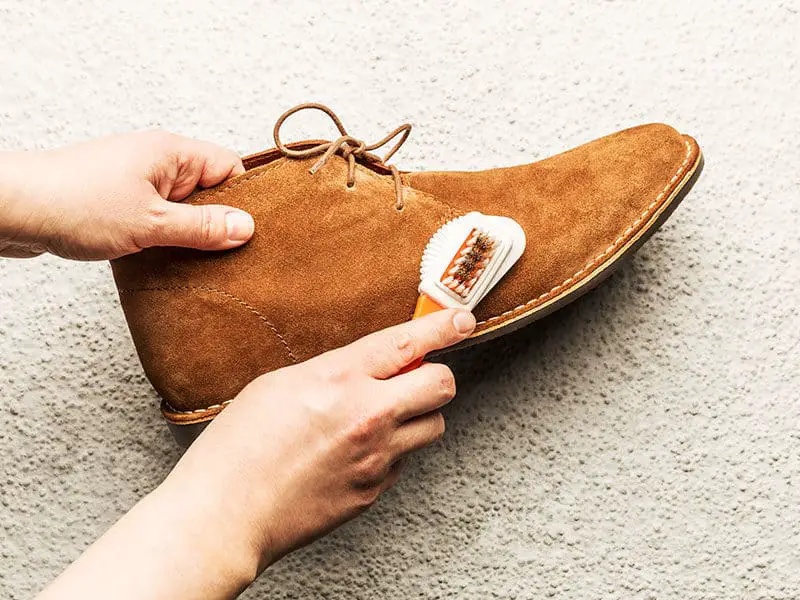 Today, I will show you how to clean Sperry suede shoes once you get them dirty and enjoy a squeaky clean shoe.
Sperry suede shoes are one of a kind when it comes to classic shoe choices. You may love so many types of shoes, but these are so comfortable to wear. Sperrys will not let you down in a hurry, as they can be worn with just about anything. No wonder they stayed around for so long.
But then, sudden rainfall or walking accident may ruin their look. Or they just became old and somewhat worn-out. You will start thinking about getting a new pair. But, you should try cleaning them first, as nothing compares to the cozy feeling of wearing the Sperrys that you got used to.
Sperry shoes are worn often in summer which means you need to clean them regularly. However, not many people know how to deal with stains. The rule of the thumb for Sperry suede shoes is to clean them as soon as you get them dirty. The faster you clean them, the better results you will get.
What Is The Best Way To Clean Sperry Suede Shoes?
To clean your Sperry suede shoes you can use cleaning accessories you already have at home or invest in some of the suede shoe cleaners to keep your shoes good as new. It is possible to clean your suede shoes and restore their original look and shape without spending a fortune.
Before you decide to throw away your worn-out and dirty Sperry suede shoes, try returning them to life with simple cleaning tools. Here are some easy tricks to return the look of your shoes and some advice to keep them clean as long as possible.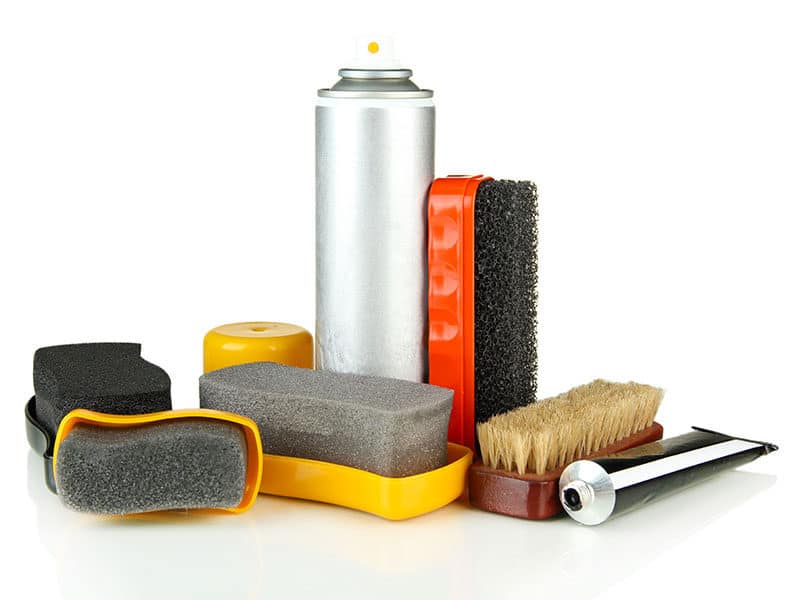 Brush
Worn every day, your Sperry suede shoes will attract dust and dirt, especially in summer when you may spend a lot of time outside, walking. When you get home, it is best to just grab your suede brush and remove all the debris accumulated on your pair of shoes.
Take the suede brush and remove dirt from it with quick and sharp rubs. It is vital to always go in the same way. Using the brush will remove light stains from your Sperrys, and it will refresh their look even if they only got dirty with the dust they caught in the way.
Sponge
Sponges are a vital cleaning tool for suede shoes. Sperrys are not water sensitive but they may suffer from water stains that appear unattractive and may ruin their overall look. Sponges will help you slightly dampen the shoes' surface and remove the stain.
Before wetting the Sperrys with the sponge, it is recommended to brush it first and remove any dust stuck on the surface. Damp the shoe with the wet sponge only by tapping on the shoes' surface. This should be enough to remove the ugly water stains. Leave them to dry completely and wear them.
Sandpaper
Scuffs on Sperry suede shoes have their charm, too. They may tell a story of their own. However, scuffs also add an impression of worn-out shoes or shoes that are not cleaned properly. Of course, you can take them to the dry cleaner to clean them, but you can save some money and clean them by yourself.
Fine grit sandpaper is a perfect choice to remove scuffs from Sperry shoes. Use the grit sandpaper to gently scrub over the damaged suede surface. Use a brush or a toothbrush afterward to smooth the surface and restore its original shine.
Eraser
Yes, an eraser is a vital part of the pencil case, but it can be helpful with stubborn stains or scuff marks on your Sperry suede shoes. Of course, there are specially designed erasers for suede, but you can use a regular pencil eraser. It works best with rubbed stains, especially on light suede material.
When removing the stains from suede using the eraser, it is important to put some pressure on the shoe. The pressure and erasing moves will help you get rid of the annoying marks much easier. Use the brush afterward to smooth the surface additionally.
Steamer
If you are fighting some serious stains that none of the above dealt with, you can also try your way with steam coming from boiling water, or just use a steamer for clothes. The steam coming from the garment steamer will soften the stain mark or stubborn dirt.
When using steam to fight stains, it is vital not to expose your shoes to steam for too long as you can have the opposite effect. You may damage the suede so be careful to apply the steam only for several seconds at a time. When the dirt is softened, use the brush to clean it.
Cornstarch
You probably have cornstarch somewhere in your kitchen, but did you know it is a perfect stain remover? Cornstarch has the ability to absorb oil on almost any surface. And it is an affordable cleaning accessory that you need to have in your house, at least for cooking.
When you get the oily stain on your Sperry suede shoes, it is best to apply cornstarch immediately over the stain. Do not spare the cornstarch, apply it richly over the area. Wait for at least ten minutes to let the cornstarch absorb the oil and then clean it with the brush.
White Vinegar
You can deal with water stains quite easily using the wet sponge. However, sometimes water stains cannot be dealt just with the wet sponge. For water stains that will not go away from your suede shoes, you can try with distilled white vinegar. Vinegar is also one of the best ways to clean the white Vans shoes.
Using distilled white vinegar is as simple as using the water to remove the stains. Just wet the sponge with the vinegar and apply it to the shoe's surface. Do not soak them with it, just tap the sponge against the shoe exterior. Leave it to evaporate and dry so you can clean them like usual.
Special Cleaning Solution
Sometimes it is an easy way to clean the shoes with a ready-made cleaning solution. Some of the best shoe cleaners are available to buy at a reasonable price. And they can be efficient, too. Opt for a suede cleaning kit that will have everything you need to clean your Sperry suede shoes.
When you buy your cleaning kit, it is advisable to follow the instruction on the bottle. Even then, make sure not to use too much of the product, and to dry them properly before wearing them. Use a special suede brush to keep the suede shoes free of dust and dirt.
Check out this video to see the tutorial on how to clean Sperry suede shoes.
What Is The Best Way To Keep Your Sperry Suede Shoes Clean?
You probably know how it is devastating not to be able to clean your shoes properly. That stubborn stain will torture you with every step you make in those shoes. But you love them, and you will do anything to keep them clean. So, here is some advice for you to keep your shoes as clean as possible.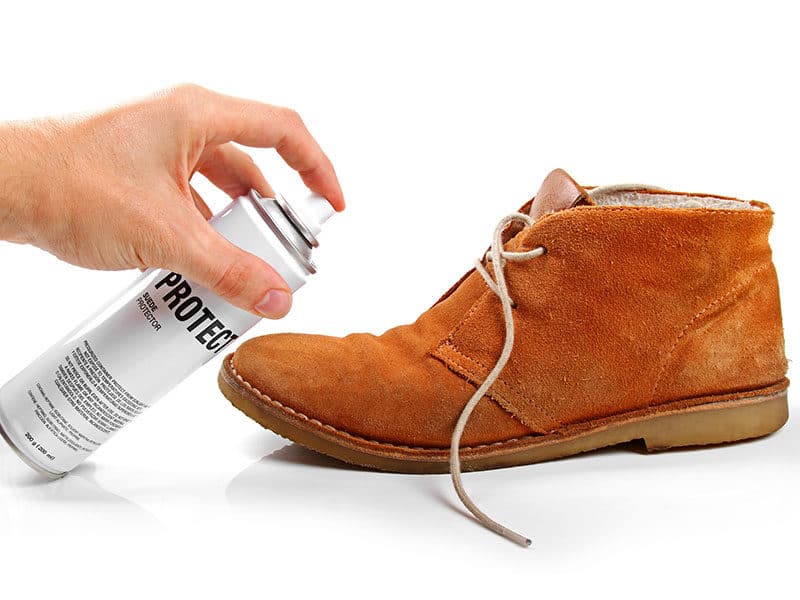 Protector Spray
To ensure your suede shoes stay clean, you can always use the protector spray. This spray is an affordable cleaning solution that will at least save you time to fight at least some dirt coming to your shoes. And it is easy to use.
It is best to follow the rules on the spraying bottle. Sometimes, you need to shake the sprayer before applying it to the shoe. Apply the solution to the shoe, spraying it from an equal distance. Do not use it too much, as your shoes may get too wet. You will refresh the surface and protect it from dust and dirt.
Brushing
Even though you pay attention to your Sperry suede shoes, it is vital to brush them thoroughly after each use. That way, you will remove any dust that may build up on the shoes' exterior. Make sure to brush it with a special suede brush that is not too harsh for the smooth suede material.
Brushing will not only keep your shoes clean, but it will also bring a neat look even after months of wearing them. If you build a habit of cleaning your shoes after each wear, you will always have your shoes ready to grab them and wear them with any casual outfit.
Paper Stuffing
During the wintertime, your shoes need to rest for some time. To prevent them from losing their shape or accumulate dust on the shoes' surface, it is best to protect them with paper. Stuff the shoes with any kind of paper available and store them in the paper box.
Dust covering the shoes for a long time can ruin the suede, making it difficult to clean. But if you need to get it to clean it thoroughly with water, use the paper to stuff them as they need to keep their shape while drying. Drying can last up to 24 hours, so it is best to save them from losing their shape in the process.
Bonus Tips and Tricks to Keep Your Sperry Suede Shoes Clean
When you think about cleaning the Sperry suede shoes, you often think about the outer part of the shoes. But you also need to clean insoles or ties. Also, your shoes can have a bad smell coming out of them, so it is wise to know how to get rid of that foul odor.
Insoles
Insoles are often made of leather and need to be kept clean properly. Sometimes, insoles can be removed from the shoe. If you can remove them, it is best to wash them with warm water. Then apply some oil, dish soap, or glycerine to the washcloth and rub it gently until the insole is clean. Let it air dry.
If the insoles are not removable, use baking soda to clean them. Take a toothbrush, wet it, and scrub it gently. Remove the baking soda with the help of a vacuum, to remove everything left in the shoe, including dirt. And if you need to clean sandal insoles, you can also try fine-grit sandpaper, too.
Check out this video to see more about cleaning insoles with sandpaper.
Shoe Welt and Outsoles
Shoe welts and outsoles are part of the suede shoes that also attract dirt. In fact, they tend to be the dirtiest shoe part. The shoe welt hides the dirt that is sometimes so difficult to clean. The outsoles are prone to scratching and attracting dust.
To clean these parts, use a brush or a toothbrush to reach all the crevices. You can also use a wet sponge or cloth to wipe away the dust from it. Whatever you choose, do not forget to clean these parts regularly as they tend to accumulate dirt and give an impression of worn-out shoes.
 Laces
If the laces are made of leather, you can draw them from the shoes and wash them with warm water and mild dish soap. It is essential to avoid wetting them too much. Use a wiping cloth to clean them, and let them dry in the air for at least 24 hours before returning them to the shoes.
If you have a conditioner, use them too, as it will clean the laces easily. To remove stains from the laces, you should rub the laces with a cloth and conditioner. You can also use a steam cleaner to loosen up the stain and then wipe them clean.
Odor
All shoes, and not only suede shoes can have a foul smell coming from them. Many products on the market can remove that odor. The odor does not come only from dirt, it also comes from a combination of sweat and bacteria. So it is important to kill those bacteria and remove the smell.
If you want to use some natural product to get rid of the smell and bacteria, you can use baking soda. Baking soda is a smell neutralizer. Take out insoles and put them in the big plastic bag together with two tablespoons of baking soda. It is vital to cover insoles with baking soda and leave it for at least 24 hours.
Check out this video to see more about cleaning Sperry suede shoes at home.
Do All These Tricks Work?
These cleaning tips and tricks are something worth trying on your suede shoes as these are tricks that I found the most effective on all my suede shoes. As a proud owner of four pairs of suede shoes and many others over the years, I had to try every tip and trick to keep them clean and attractive every day.
If none of these above cleaning tricks do work, maybe you are dealing with a severely damaged pair of Sperry suede shoes that lived to tell their story. Perhaps it is time to invest in a new pair of your favorite Sperrys, but with keeping these incredibly useful cleaning and maintaining tips in mind for future use.
Do you have your tricks to keep your favorite Sperry suede shoes clean and in good shape for the spring and summer season? Share your tips with me in the comments below.