Apart from the chunky, ugly dad sneakers, there has not been a more controversial fashion trend on the streets in recent years. While the tastes on UGG boots highly differ, they do the job well in keeping the feet warm during the cold and windy winter days.
However, as most people wear them during bad weather, the shoes are exposed to a lot of dirt, making them more vulnerable. As the UGGs come at a high price level, it is worth spending a couple of minutes cleaning them and keeping them in good condition.
In this article, I will show you multiple methods to keep your pair of UGGs clean, no matter if they were exposed to mud, snow, rain, sand, or whatever dirt you stepped in on the streets.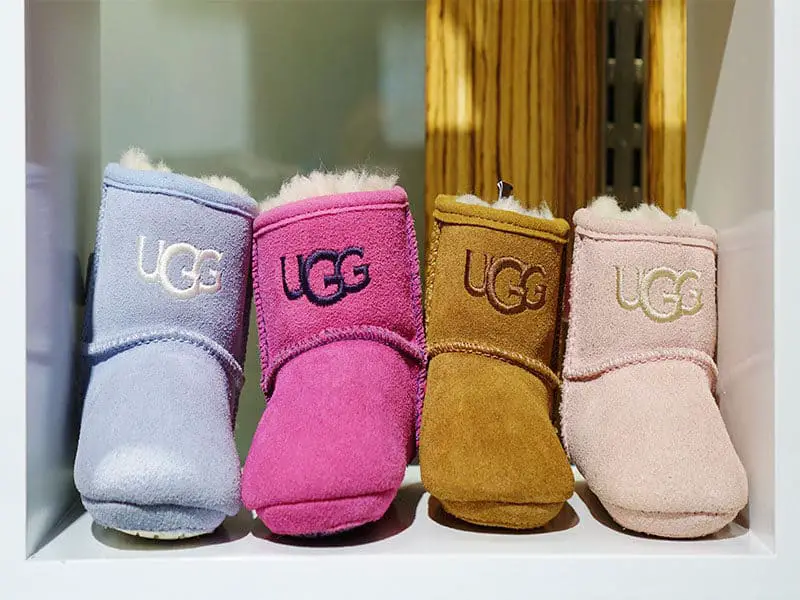 Why Are UGG Boots Difficult To Clean?
Real UGGs are made from highly delicate material, mostly consisting of suede. While this creates a very nice look, unfortunately, the material lets you see every watermark, traces of salt or mud.
Unlike leather, or vegan leather shoes, which have a smooth surface, easy to wipe off dirt, UGG boots are made from sheepskin, which is rather rough, allowing dirt to stick very well.
Apart from that, as most boots come in darker colors such as brown, grey, or black, it is very difficult to spot dirt. On white sneakers, you can easily see every splash of muddy water, but on UGG boots, this becomes visible only if you look carefully.
Hence, it is always a good idea to inspect your boots every time you come home and if you spot something, clean them immediately right away, using one of the methods below.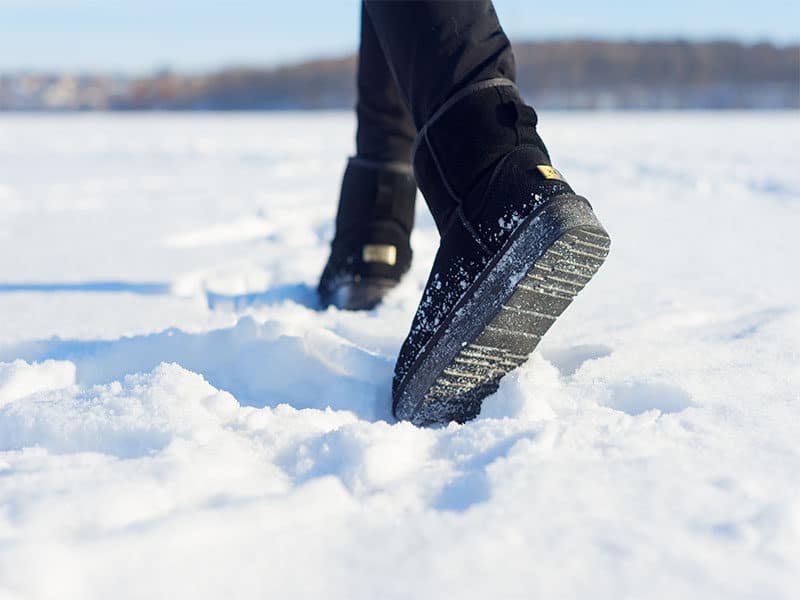 How To Clean UGG Boots The Right Way
Read on to discover the various methods to clean your beloved UGG boots from traces of the ugly weather outside.
Method 1: Prevent Strong Stains
What You Will Need:
UGG Boot Water and Oil Repellent spray
If you have just bought your pair of UGGs, you can benefit from applying special care to them before stepping outside into the snow. There are various sheepskin protectants available, including protection products from UGG itself.
For example, invest a few bugs more and get the Ugg Boot Water and Oil Repellent spray. Then, place your UGG boots on the floor and spray on them from all sides. Continue spraying until they start to become wet, but make sure they are not soaked.
Once finished, please place them in a well-ventilated area until they are completely dry. This can take a while, so plan between 24 to 48 hours until you can actually start showing them off on the streets.
Method 2: UGG Cleaning Products
What You Will Need:
UGG Cleaner & Conditioner
Suede Brush
Sponge
Paper towels or toilet paper
If you are willing to spend a little more on high-end care products, I recommend using the UGG cleaner and conditioner, specially made for the suede UGG boots. Start with taking one shoe in your hand, and take a suede brush to remove any excess dirt.
Then take the sponge and make it wet, but rinse out the water. Make the shoe wet from outside by gently rubbing with the sponge. Apply a small amount of the UGG cleaner and conditioner on the sponge and then distribute it over the shoe's entire outside skin.
Try to rub in equal circles, keeping the sponge moving at all times. Then, thoroughly rinse the sponge and rub it against the shoe to remove any traces from the cleaner. After that, fill the shoe with paper towels and place it somewhere to dry for at least 24 hours.
Remember, UGG boots should be dried at a well-ventilated place. Avoid placing them in your closet, but maybe close to a heater or a ventilation outlet. After the first 12 hours, check for the paper towels inside and replace them if they are humid.
If you own a UGG Boot II, then the manufacturer recommends doing the first cleaning about six months after your purchase as the boot is sold pre-treated. The UGG cleaner is suitable for various types of stains that you get from bad weather.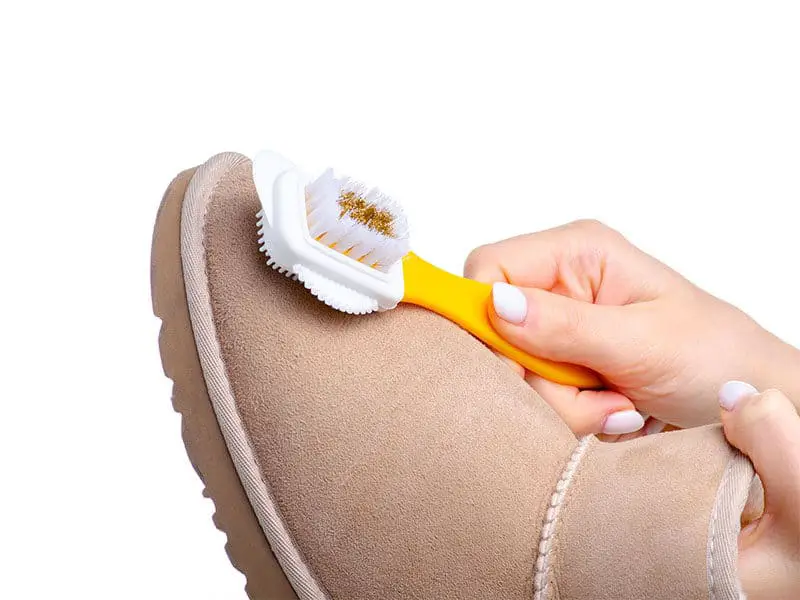 Method 3: White Vinegar
What You Will Need:
White Vinegar
Filtered Water
Suede Brush
Sponge
Old cloth or socks you do not wear anymore
Clean cloth
Paper towels or toilet paper
White vinegar has shown great cleaning results if your boots show traces from salt. Unfortunately, the white winter wonderland is soon followed by salty and muddy roads, real torture for such delicate material.
Hence, the earlier you clean, the better are the expected results. As soon as you come home, you can start by taking anan old cloth or an old sock and wipe away any wet dirt or mud from the shoes. Following that, go over the boots with a suede brush to get rid of excess dirt.
Take white vinegar, and mix it with filtered water in a one-to-one solution. It is important to use only white vinegar as brown vinegar may leave traces of color. You should also use filtered water as normal tap water may contain chalk or other minerals that will remain on the sheepskin later.
Use a clean sponge or a table cloth and apply the mixture evenly on all areas covered by salt. Gently scrub for a little while across all areas, and make sure to clean your sponge in between to avoid moving the salt from one shoe to another.
Then thoroughly rinse the sponge, or take another one and dip it in clean, filtered water. Then evenly scrub with the sponge, making the entire outside skin of the shoe wet. Take a clean dishcloth or something similar to blot dry the shoe from outside.
Once done with both pairs, bring them to a well-ventilated place and allow them 24 to 48 hours to completely dry. Fill some paper towels inside to help suction the humidity. After a while, check whether the paper towels are humid and replace them if needed.
Clean the suede brush and also let it dry completely. The next day, take the suede brush again and gently scrub on the skin, to bring the material back into its supposed shape.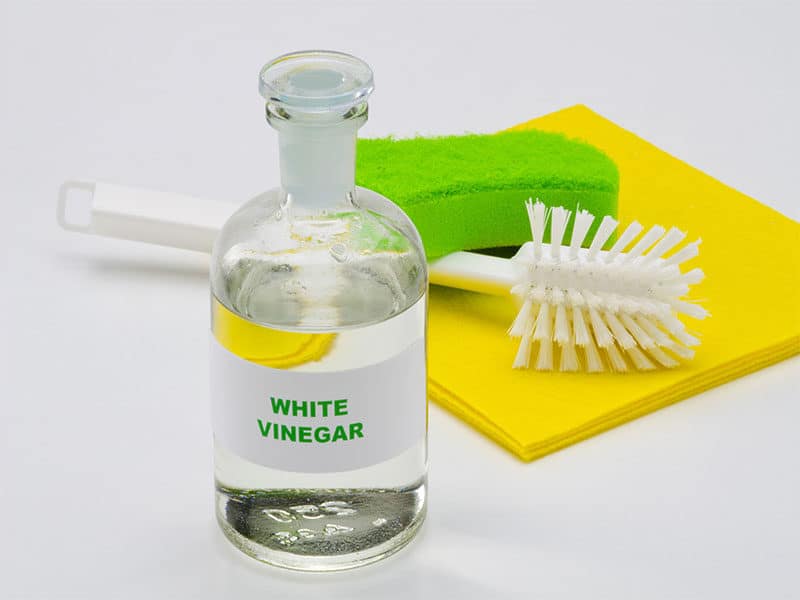 Method 4: Scuff Marks Removal
What You Will Need:
Coldwater
Suede cleaner
Nubuck leather cleaner
Clean cloth
Clean sponge
Towels
Suede brush
Toothbrush (for extremely resistant dirt)
As always, get started by brushing the boots to allow for dust or sand to fall off easily. Next, apply a suede cleaner on a clean cloth or sponge and gently scrub it on the boots' skin. Make sure all spots are treated evenly. Ideally, you start at the top of the boot and work towards the sole.
Next, you can use an old toothbrush or a clean towel to wipe away some scuff marks, making the shoe look worn and old. If this alone may not help, apply a nubuck leather cleaner to the towel and gently scrub again over the affected spots.
Make sure not to rub too hard as this could destroy the material even more. Allow for enough time to air dry the shoes. Once completely dried, take a suede brush and softly brush over the skin again to bring the material in its original shape.
Method 5: Removing Oil
What You Will Need:
Baby Powder
Old toothbrush
While eating a hamburger, or a pizza, a small piece drops towards the floor but unfortunately lands on your shoes, leaving an ugly, oily remark. This is no problem as there are great ways to remove oil as well.
Take some baby powder, or if you do not have that, you can also use corn starch. Apply some powder on the dirty spots. Make sure it is completely covered by powder, then let the shoes sit for at least 24 hours, but ideally 48 hours.
Use an old toothbrush to brush off the baby powder again and check whether the powder has absorbed all the oil. If not, immediately repeat the steps.
Method 6: Cleaning Inside
What You Will Need:
Phenolic spray disinfectant, such as Lysol
Anti-fungal spray
Clean sponge
As the cozy and comfortable boots keep the feet so warm, one may sweat inside. If this happens often, the friendly and soft fleece material is, unfortunately, a great home to many bacteria and fungus.
To prevent them from growing and your shoes to start smelling, you can take action quite easily. Use a phenolic disinfectant, mix it with filtered water in half and half ratio, and wipe down the entire inside of your boot using a sponge or a small towel.
To protect the boots from fungus to grow, you can use an anti-fungal spray after the cleaning. Next, you have to be patient again and give your shoes plenty of time to dry. Wait between 24 and 48 hours before continuing with the next step.
Remember, if you wear the boots again before completely dry, all the work was for nothing. If you often sweat, add half a teaspoon of baking soda and apply it evenly on the inside sole.
Let the shoes rest for another night, and then empty the baking soda the next morning. If not all powder is falling out by itself, try to vacuum the baking soda out, ideally with a small, handheld device.
To watch every step of how to clean your UGG boots the right way, try this link:
How To Store UGG Boots Best At Home?
Many people place shoes in cabinets, mostly due to aesthetic reasons, as a hallway without shoes on the floor indeed does look much cleaner and welcoming. Unfortunately, putting shoes directly into a closet or cabinet after wearing them is very unhealthy.
Especially with UGG boots, where there is no air circulation when you wear them, the inside of the boots must get enough fresh air overnight. As a rule of thumb, the shoe should at least be standing at a well-ventilated place for 24 hours. If you do not like to have shoes standing on the floor, there is unique furniture such as shoe trees. To help your UGG boots to keep their iconic shape, fill them with paper towels if you do not wear them.
Valuable Advice To Take Of UGG Boots
To extend the time you can wear and show your fancy UGG boot around, follow these simple but valuable tips:
Never use a laundry machine: While some canvas sneakers can conveniently be cleaned in a washer, UGG boots will immediately be destroyed. Hence, follow the method from above to clean your shoes.
Do not use hot air: Indeed, the article emphasizes a lot on carefully drying your boots. However, never place the shoes on top or next to the heater and never in the oven. Furthermore, avoid placing them on the window bench where they are exposed to direct sunshine.
Use a boot dryer to skip the wait: If you do not want to wait for one or two days until the boots are dry from the inside, you can get a UGG boots dryer. This device will gently and steadily blow out temperate room air through many vent holes, supporting a quick drying process.
Always wear socks: Avoid stepping into the boots bare feet, and always use socks as this will prevent your feet from sweat. Hence it is less likely for unpleasant odors or bacteria to grow.
Avoid water if you can: UGG boots are made for winter days, but they are not rubber boots; therefore, avoid getting them to soak up with water. If this, however, may happen, try to remove the shoes immediately, and let them air dry.
How To Look Elegant With UGG Boots?
Among fashion experts, the UGG boot has been very controversial whether it is fashionable to wear or an absolute no-go.
When it first became popular, there have only been a very standardized model being available, which became very trendy among many girls and women, and even some men. UGG boots can quickly make your look ugly and neglected if you do not take care of them well.
Always keep them clean: Using the above methods, always make sure that the shoes are completely clean. Traces of salt, water, or mud make you look not fancy anymore.
Observe your sole: If your feet are not upright or evenly touching the floors, then the sole may quickly become worn out on one side. If this happens, bring them to a shoeshine for repair while visiting an orthopaedist to improve your walking.
Style them right: The UGG boot as itself is already an oversized, chunky shoe. Hence, style them with something more upscale and elegant. Avoid combining them with jogging pants and hoodies.
How Long Can UGG Boots Last?
The original UGG Boot made in Australia or New Zealand and made with sheepskin is built to last long. While being expensive, they are built to last you many seasons if you are willing to take care of them almost every day.
This includes frequent cleaning while also paying attention to not expose them too much to water or salt. More than that, the company also provides protection spray, which will make your boots to be waterproof, and more resistant to dirt.
Finally, using the proper cleaning method and keeping enough time between wearing the shoes to dry fully will make you enjoy them for a long time.
Expectation Vs. Reality
The fact that the shoes are made for the cold and ugly weather day makes them very vulnerable to dirt. The cleaning method and tip above have all been tested and are very effective.
Nonetheless, it may happen that you will not achieve a satisfying result. In general, the sooner you clean the boots, the better are your chances to get rid of the dirt or stains completely. If you have tried one method, and there are still traces visible, you sometimes need to repeat all steps or continue with another way.
I hope with my article; you can give your UGG boots a longer life and are happy to have clean boots again. If you were successful, please share this article with your friends who own UGG boots as well. Good luck!