Unfinished wood floor surfaces highlight the rustic vibe of your house. Regardless of how developed our world becomes, such luxurious beauty is always considered to be a classic.
Nevertheless, how to clean unfinished wood floor is the common question asked by many people, as such aesthetic surfaces are superbly challenging to clean. Therefore, people who have unfinished wood floors tend to seek appropriate practices on the proper treatment.
The lack of correct know-how would result in their unfinished wood floors being permanently blemished. In such situations, a repair is no longer a suitable option.
Deeply aware of that, I have prepared this article to provide the best practices on how to clean unfinished wood floor for you. Besides this core content, I also:
Introduce you to the overall concept of unfinished wood floors.
Critical mistakes that you should avoid during the process.
Tips and tricks on protecting unfinished wood floors.
No more waiting! Let's explore the topic!
Quick Rundown On What Unfinished Wood Floors Are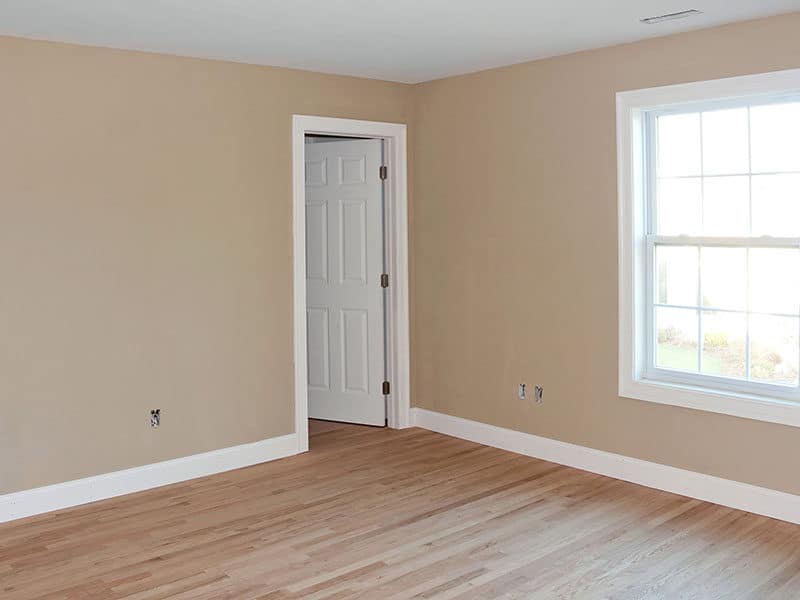 Let's start by learning what unfinished wood floors are.
Simply speaking, unfinished wood floors are made of planks coming from bare timber and have not been treated in the finishing procedure yet.
Therefore, these unfinished surfaces are extremely vulnerable to wear and tear due to the lack of a varnish coating. Unlike pre-finished floorings, which are coated with polyurethane, unfinished wood floors have rustic beauty from grain patterns.
Unfinished wood floors require distinct cleaning methods. Therefore, it is essential to know how to distinguish unfinished surfaces from other types.
The test is simple. All you need to do is to leave a handful of droplets of water onto the boards. If you find no water droplets beaded up on the boards, congratulations as you are looking at an unfinished wood floor.
Top Recommended Cleaners To Apply On Unfinished Wood Floor
After understanding what an unfinished wood floor really is, it is high time to learn some of the best cleaners suitable for sanitizing the surface. These recommended cleaners are easy to find around the house. In fact, you will not have to look further than the kitchen space.
Item #1: White Vinegar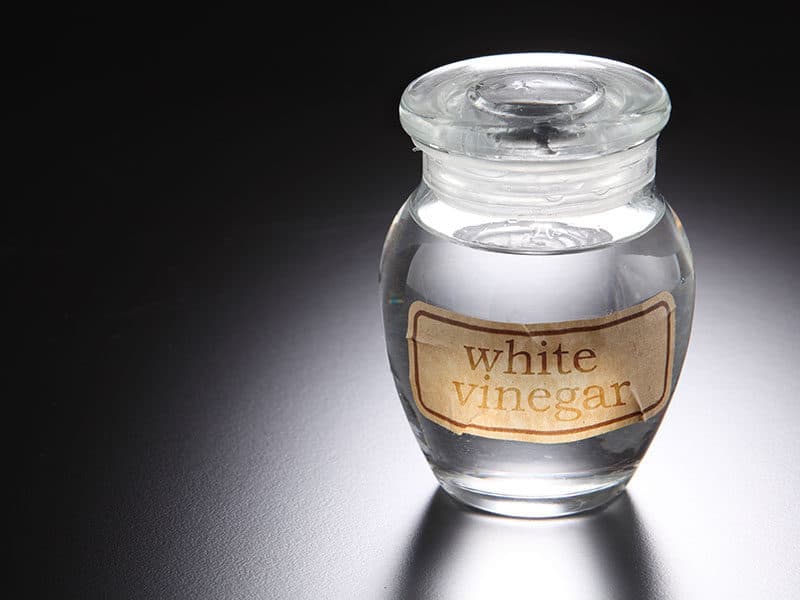 Good old vinegar is the most commonly selected cleaner of both professionals and beginners. It is not only cost-effective but also safe for use in your house, owing to its completely natural ingredients. Therefore, when it comes to cleaning your unfinished wood floor, vinegar is the top candidate.
If you decide to stick with white vinegar, here is how you prepare a ready-to-use cleaning solution. Get yourself one gallon of warm water and combine it with half a cup of white vinegar.
After that, apply the solution to the unfinished wood floor by utilizing a mop to spread it evenly on the surface. A good trick is to do only long strokes in the direction of the floorboards.
One disadvantage of using white vinegar is the overpowering smell. Fortunately, it will fade away gradually. If you cannot stand that smell, you can follow the expert advice of using an odorless type or mixing essential oil into the solution.
Make sure to block the entrances so that nobody can set their foot on the wet surface. If the incident happens, the footprints will deteriorate the aesthetics of your unfinished wood floor and imprint unwanted marks on the clean surface.
Item #2: Murphy's Oil Soap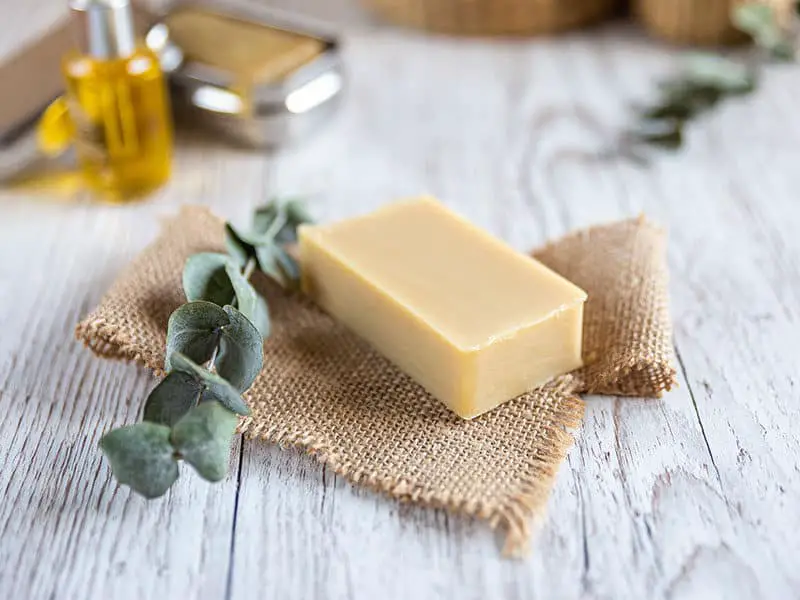 My second recommendation for you is the formulation of water and Murphy's oil soap. Simply mix half a gallon of warm water with one tablespoon of the soap and wipe it on the wooden surface. Ensure to rinse the unfinished wood floor thoroughly afterward and remove all chemical residue by mopping.
One extra measure to clean up chemical residue after mopping is to use the Borax solution. Mix one gallon of warm water with 1/4 Borax cup and apply to small floor areas. Then, wipe them dry with a clean piece of cloth.
Item #3: Mineral Spirits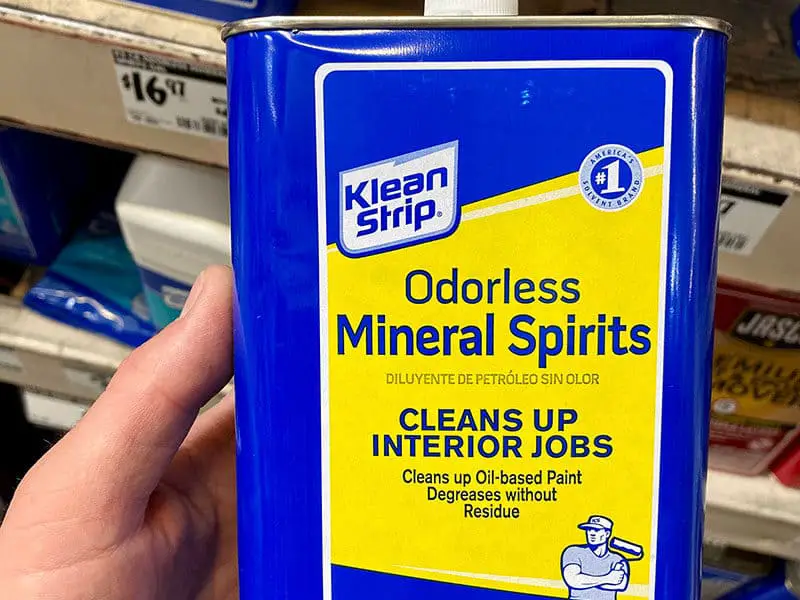 If item #1 and #2 are solutions that you can easily find around the house, mineral spirits are something that you must intentionally go to the store and buy. The chemical helps clean your unfinished wood floor very deeply.
Therefore, this petroleum-based chemical is often applied to deal with stubborn stains and marks on your wood floor to restore its perfect condition. The chemical evaporates quickly before it can soak into your unfinished wood floor. With that being said, this cleaning agent can handle stains effectively without hurting your precious floor.
A good practice to use mineral spirits is to rub the substance on the unfinished wood floor with a soft pad or a lint-free piece of cloth, as the chemical is highly flammable. Because of its fast evaporation, you should apply it for spot sanitization only.
Upon using this chemical, make sure you follow some safety precautions, one of which is to achieve adequate ventilation as inhaling mineral spirits is highly toxic.
Item #4: Trisodium Phosphate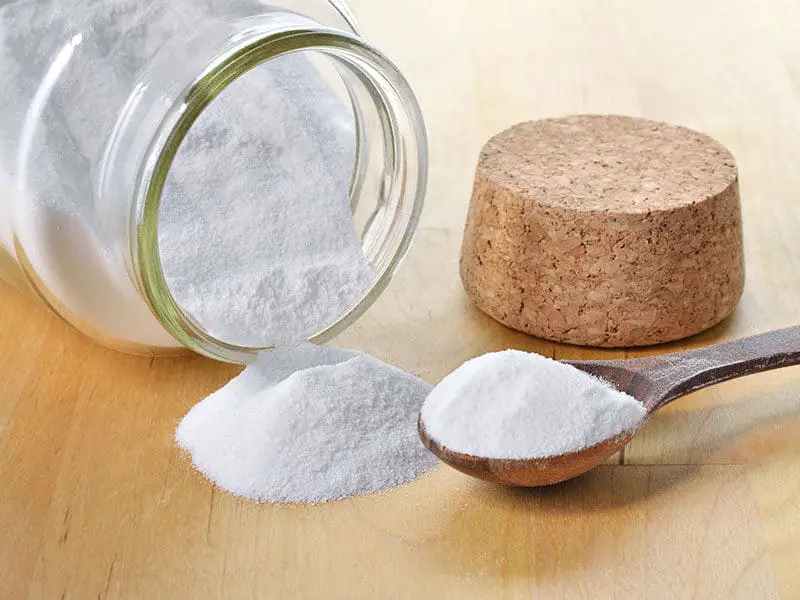 My last suggested cleaning agent for you is trisodium phosphate. Like mineral spirits, this substance is also petroleum-based and evaporates very fast. It is used for deep cleaning your unfinished wood floor as well.
You can find this crystallized powder available widely at any hardware store nearby. Using it for cleaning your wooden surface requires a scrub brush and some warm water.
Firstly, spray some powder onto the contaminated stains. Then, use the brush to scrub the substance circularly around those spots and rinse with warm water afterward. Once you finish the rinsing task, you will see your unfinished wood floor shine naturally again. At that point, use a soft rag to absorb any excess water and dry out the surface.
Most All-Rounded Guidebook On Cleaning Unfinished Wood Floor
Here comes the part that all of you are waiting for. As unfinished wood floors are becoming more popular in many houses, it is necessary to know how to clean them carefully. The following section is the most all-rounded guidebook that you can follow whenever you plan to clean your wooden floors.
Step #1: Remove All Dirt And Debris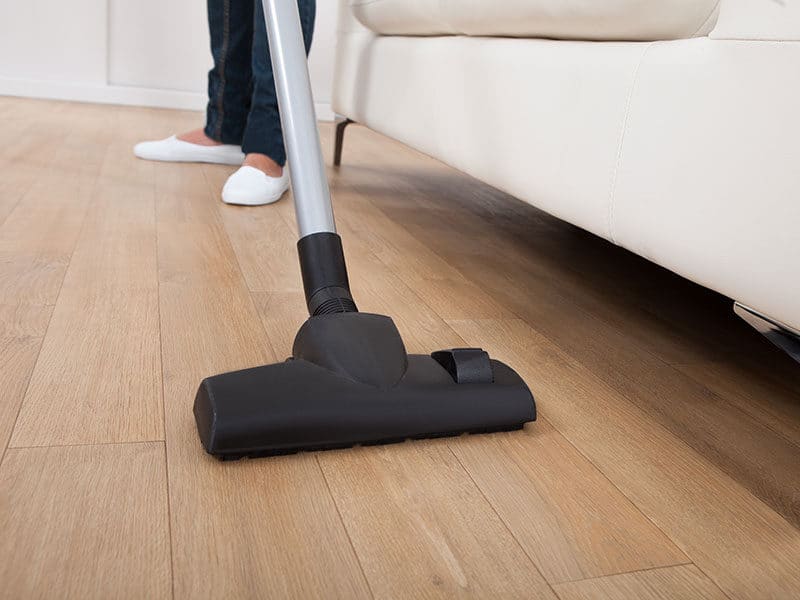 Let's start off by cleaning all dirt and debris remaining on your unfinished wood floors. You can do this simply by utilizing a broom and a scoop or a static dust mop. However, these manual tools will not help you get rid of all the annoying dirt. Moreover, this method requires you to be very patient.
One excellent substitute for a broom and a dustpan is a cordless vacuum machine built for wooden floors. If you pick the wrong machine types (ones that are not dedicated to cleaning wooden surfaces), their beater bar (or brush roll) can leave irreparable defects to your unfinished wood floors.
Additionally, watch out for any nails or carpet staples that are raised from the surface. You need to remove all of them before applying cleaners in the following steps. Also, it is advised to bring all furniture out of the cleaning path, block the entrances to make sure kids and pets would not step in during your cleaning session.
Step #2: Handle Undesirable Stains
Dealing with undesirable stains is equivalent to spot sanitization only. You will not need to clean the whole wooden surface at this moment. With that being said, you should prepare cleaners suitable for spot cleaning, which is either trisodium phosphate or mineral spirits (as mentioned in earlier parts).
Moreover, get yourself a soft-bristled brush or a microfiber piece of dry cloth to work these chemicals onto the stains.
Start off by pouring a small amount of the selected cleaning agents onto the stained footprint. After that, take the soft-bristled brush to scrub the area. Remember to do it gently and in circular motions around the stains.
Then, use some water to rinse the stained spots until they are completely removed. Some of you may be confused because in earlier parts, I have emphasized that using water on wooden surfaces is restricted. However, that is not the case in this spot cleaning step.
Dry the wet area right away with the dry cloth to soak up as much water as possible. Do not leave any moisture behind. Otherwise, your wood floor would be warped and permanently damaged.
If the application of those substances is ineffective against your floor stains, you should try sanding the stained areas with fine-grained sandpaper for a couple of minutes. However, do it gently as the paper can tear your wooden surfaces. Once you see the stains disappear, vacuum all the remaining dust and debris on the floors.
Step #3: Disinfect The Entire Wooden Surface
After dealing with annoying stains, you should disinfect the entire wooden surface. To do this, you will need some white vinegar (or Murphy's Oil Soap), a bucket, and a cleaning mop built for hardwood floors.
First off, fill your bucket with warm water and your selected cleaner. Then, dip the mop into the bucket and wring it out to remove water. After that, use the tool to mop your unfinished wooden floors. Make sure to mop it in the direction along the wood's grain to mask out any streaky lines resulting from the cleaning procedure.
In case you use vinegar and are annoyed by its strong smell, it is recommended to add about 10 – 15 drops of essential oil into the solution. Three common scents are pine, lemon, and lavender.
Step #4: Dry Out The Unfinished Wood Floors
The last step in the cleaning process is to dry out the entire wooden surface. You can use either a dry piece of cloth or a clean mop to do the task.
Although you have blocked the entrances to prevent any family member and pet from setting foot onto the floor, make sure to keep an eye on it as well. Do not allow anyone or anything to touch the area until it is completely dry.
After that, remove the blockages and return all furniture to the original positions.
If you need a recap on the whole process, click the following video to see everything again:
Safety Remarks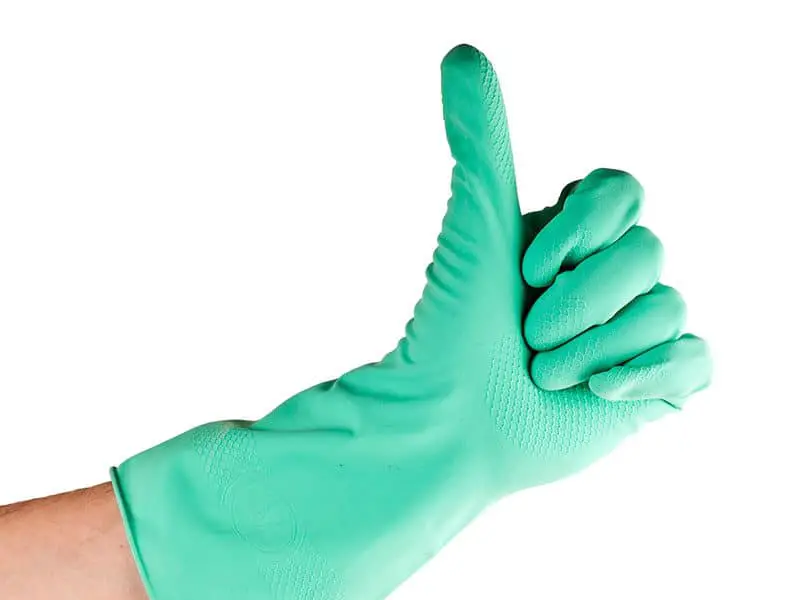 Cleaning unfinished wood floors involves the utilization of certain toxic and flammable chemicals. Hence, following certain safety remarks is essential.
First of all, as these substances are highly flammable (mineral spirits and trisodium phosphate), they must not be kept near areas with sparks or open flames.
Moreover, they pose serious health concerns to our bodies, including skin irritation and other painful reactions. Thus, always wear a respirator and equip yourself with thick gloves during your contact with either of these chemicals.
Another important precaution is to make your area well-ventilated, as these substances, when burnt, generate extremely noxious fumes. Make sure there is no presence of children when you use them for cleaning.
Critical Mistakes In Cleaning Unfinished Wood Floor
One misleading practice is that cleaning finished and unfinished wood floors is similar. It is not. Therefore, to ensure the best conditions for your untreated wood floors, here are 3 critical mistakes that you must avoid.
1. Applying items for finished wood floors on unfinished counterparts
It is crucial to understand that finished, and unfinished wood floors require a distinct set of cleaning agents. Therefore, read the label carefully.
Unless the product label states that it is dedicated to unfinished wood floors, you should not use it under any circumstance.
Applying wrong products on unfinished wood floors would create permanent stains on the surface.
2. Utilizing water and a mop on unfinished wood floors
Wiping the floor with water and a mop is regarded as the traditional solution for cleaning various objects. However, putting water on wooden surfaces is not advised because it will cause warping.
All in all, do not try to wipe the unfinished wood floor with water and a mop at all costs. Otherwise, you would see your wooden floor being permanently damaged.
3. Scrubbing with hard-bristled brushes
The term "unfinished" in unfinished wood floors means the surface is not prepared for environmental wear and tear, and accidents from modern life.
Using hard-bristled brushes to scrub on unfinished wood floors is similar to digging and carving your wooden surfaces with sharp objects. The inevitable outcome is scratch that will be there forever.
Best Tips And Tricks For Cleaning Unfinished Wood Floors
Having a proper cleaning method for your unfinished wood floors is essential. However, there are still helpful tips and tricks for cleaning the wooden surface to extend your floor life.
Tip #1: Utilize Damp Soft Rags
Water will do no good for unfinished wood floors. Thus, stay away from wet rags while cleaning the surface. Instead, utilizing damp soft rags is recommended as the practice helps clean and dry the wooden floors more easily.
Tip #2: Apply The Correct Cleaning Products
Refrain from using abrasive cleaning products for your unfinished wood floors, as they are not compatible. Only items dedicated to unfinished wooden surfaces would provide the appropriate level of protection for the floors.
Tip #3: Vacuum The Floor Regularly
Vacuuming the wooden floors on a regular basis to get rid of all dust, pebbles, and small stones. These objects, if uncleaned, would cause scratches and marks on the wooden surfaces. Thus, removing them by using a vacuum for hardwood floors is essential. One alternative solution is to sweep the floor instead of relying on electronic machines.
Tip #4: Avoid Spillage
Prevent any accidental spillage onto your unfinished wood floors. If the incident happens, make sure to clean them right away if you do not want to see your wood floors warped and soaked up.
Tip #5: Apply A Paste Wax After Cleaning
After sanitizing the wooden surfaces, it is advised to apply paste wax on them. This wax layer protects your wood floors from environmental wear and tear to preserve their aesthetic.
Always apply the wax in a clockwise direction and let it sit on your wooden surfaces for a few minutes. After that, use a floor buffer to make it shine. These floor buffers are widely available at many local household stores.
Frequently Asked Questions On How To Clean Unfinished Wood Floor
As usual, this part is used to clarify all your questions relating to the topic, which is unfinished wood floor cleaning.
Essential Advice On How To Clean Unfinished Wood Floor
No matter what practices you follow, the most crucial advice is to maintain the cleaning routine on a daily basis. By that, I mean you should always remove dirt and dust from the unfinished surfaces regularly.
Such a cleaning regime is not as complex and troublesome as you might think. No special tool is required. All there is to do is utilize a soft-bristled brush or broom for hardwood floors to sweep gently across the unfinished surfaces to remove dirt.
I have shared all my knowledge on how to clean unfinished wood floor. Have you tried any of the methods above? And how do you keep your unfinished surfaces clean right now? Do not hesitate to share it in the comment below. Thank you for reading!