Have you ever looked at dirty grout in your house and thought how could I possibly clean the unsealed grout? I admit that I have and after countless hours of research, I have found some of the best methods for cleaning unsealed grout and the surrounding tiles.
Spotless cleaning does not have to involve all those chemicals that you often see in the store. You can use some all-natural ingredients that you have in your home and that will not pollute the water when you throw them down the drain.
Today, I will tell you more about how to clean unsealed grout, what to clean it with, as well as some of the best methods for cleaning unsealing grout. So, let's get right into it!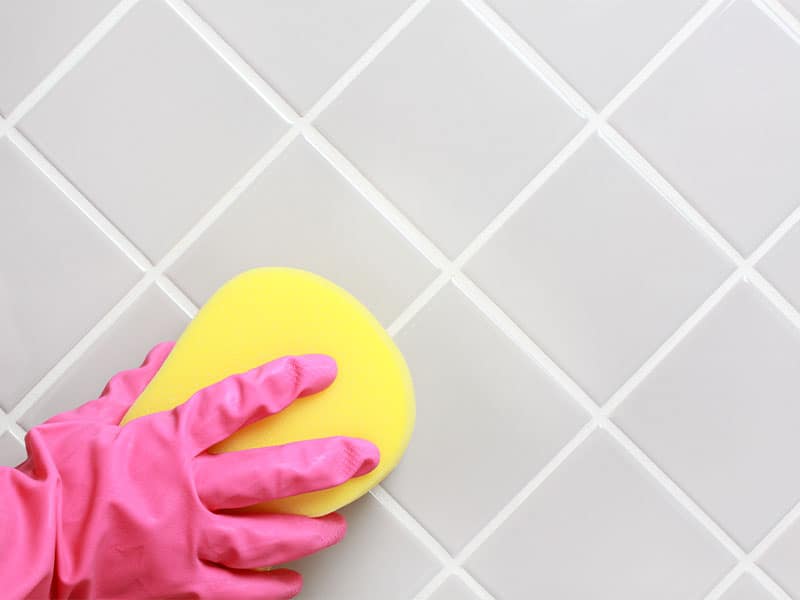 Why Should You Clean Unsealed Grout?
Unsealed grout tends to get dirty very quickly. The reason for this is that bacteria, allergens, and dirt, in general, can be easily stuck in those thin grout lines.
Once you see that the unsealed grout in your house becomes dirty, you need to start thinking about cleaning it yourself or having a professional clean it for you. This will help make the home a lot healthier.
The bacteria and dirt that are stuck in the grout can cause allergies or even asthma. This is one of the main reasons why you should clean unsealed grout.
It is usually recommended to clean the grout at least once a year, but twice a year is also a good idea if you have children or pets around the house. Cleaning the grout will keep everyone healthy and will make the house look spotless too.
If you want to keep the grout cleaner for a longer period, you should consider sealing it. This will help it repel moisture and germs. Also, it will make the grout more durable and more beautiful.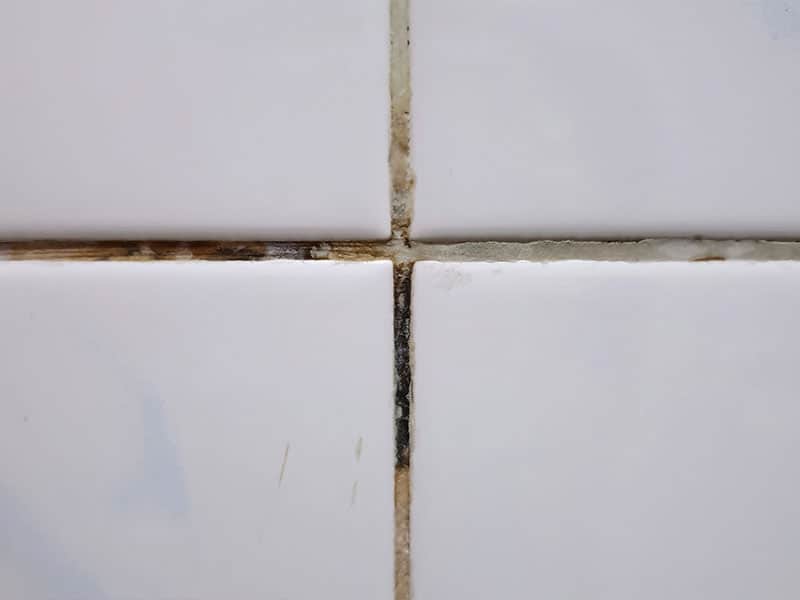 Tools for Cleaning Unsealed Grout
Learning how to clean those thin unsealed grout lines is no joke. There are not a lot of things that you can use to completely clean unsealed grout. However, I will tell you about the best tools that you can use if you have dirty grout in your house.
Toothbrush
Save your old toothbrush and repurpose it for cleaning grout. Thanks to the little bristles, it is the perfect tool for scrubbing or removing dirt from the grout. An even better option can be an old electric toothbrush that will also do the scrubbing for you!
Steam
There are a lot of steam cleaners that you can use to remove dirt from unsealed grout. If you are on the market for a steam cleaner, make sure to buy one that comes with a special grout attachment. It will not only clean your grout, but it will also disinfect it.
Chisel
Chisels are tools that have a very sharp cutting edge that can be used to clean stuck grime. Not only that but it can also be used to clean up mold that might be growing around the tiles.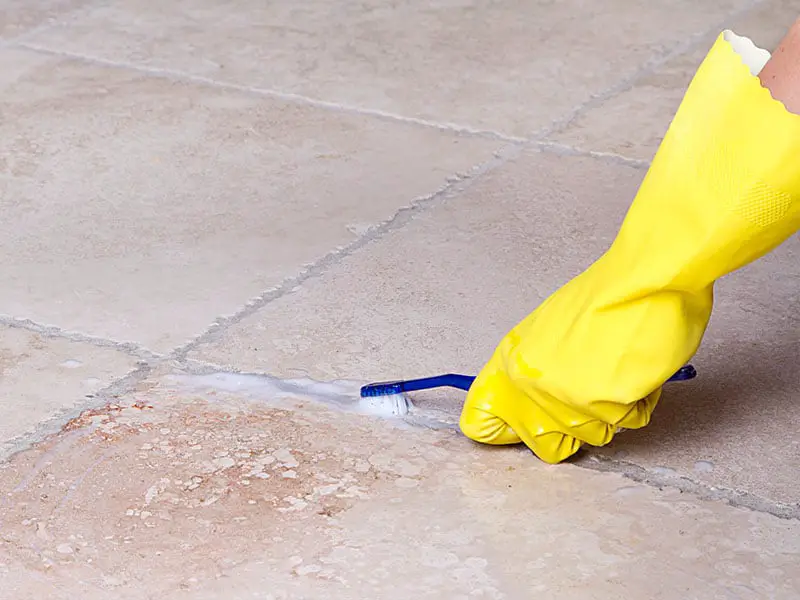 How to Clean Unsealed Grout
No matter whether you have sealed or unsealed grout, you will need to learn how to properly clean it. Unsealed grout is a bit more problematic for cleaning, there are certain supplies that you must have to remove the dirt, and there are some steps that you have to follow.
Supplies
First of all, I will tell you what you need to clean your unsealed grout. It is recommended to stir clear of chemicals when cleaning unsealed grout and use natural ingredients instead. This means that you will need vinegar, baking soda, water, some ammonia.
If the grout is really dirty, you can also add some bleach to the mix. You will also need a sponge or cloth to clean with, a scrub bucket, or maybe even a wet vac.
Once you gather all the supplies you need, you can start with the cleaning process.
Surface Preparation
With unsealed grout, it is a good idea to start by preparing the surface. That means that you will need to sweep or vacuum the area around the tiles. This will help you remove all loose dirt from the area.
After cleaning the unsealed grout, you can also mop the area with some warm water and dish soap. Do not use any harsh chemicals, there is no need for such things.
Method One – Baking Soda, Vinegar, and Ammonia Solution
This method is really easy once you get to it. Here is a step by step guide:
Mix ½ cup baking soda, ¼ cup ammonia, 1/3 cup vinegar, and 7 cups demineralized water.
Add the solution in a spray bottle for easier application, but you can also use another kind of bottle that you have available at the moment.
Gently apply the solution to the grout.
Using a sponge or cloth, wipe the area and rub the solution all over the unsealed grout.
Using a toothbrush or any other scrub brush, remove the remaining filth that does not want to come out easily.
Once you make sure that all dirt is removed, use a wet vac to remove the dirty solution from the grout.
Leave the area to dry.
After the area has dried, you can check if all the dirt has been removed from the unsealed grout. If there is no more dirt, then the cleaning process is done for you. However, if there is still some dirt you will need to use a stronger cleaning solution.
This takes us to cleaning method two – using bleach.
Method Two – Bleach
Usually, I would advise against using bleach because it is very strong. However, for the parts where the dirt does not come out easily from the unsealed grout, using bleach can be the only solution.
Remember to use bleach only on the grout – never mix it with the solution that I mentioned above. The reason for this is because ammonia and bleach will create dangerous fumes that could damage your health.
How you use the bleach is straight out of the bottle. In some cases, you can mix it with some water. Apply it directly to the grout and scrub using a brush or a sponge to remove the dirt.
Once you see the dirt coming out, you can rinse the area and remove the remaining bleach. Then, either wipe the area dry or leave it to dry on its own.
Method Three – Steam Cleaning
If you are not keen on using bleach or other cleaning solutions, you can always try to clean the grout with steam extraction.
This is a very effective method that can remove all dirt and grime without much problem.
The only downside to this is the cost of the steam mop. Some steam mops are cheaper, but usually, steamers of better quality come at a high price. Either invest in one or hire a professional who can clean the grout for you.
Things to Avoid When Cleaning Unsealed Grout
There are many tips online on how to properly clean unsealed grout. Some are better than others, while some are plain untrue. Today, I will also share a few words on the things that you should never do when cleaning unsealed grout.
Avoid Using Too Much Water
The case with unsealed grout is that it is very porous, so if you use excessive water you can contribute to it becoming compromised. The water will get into the grout and make it disintegrate.
To add to that water could cause mold and mildew issues. Mold can cause certain infections in people, so you should stir clear of it at all costs.
Avoid Using Harsh Chemicals
I have already mentioned this but would still want to say that no harsh chemicals are needed when cleaning unsealed grout. The grout can be cleaned with natural DIY solutions or even steam.
Be Careful When Using Scrubbers
I have advised using scrub brushes in the case of there being some stuck grime on your grout lines. However, the scrub brush could damage the tiles and make them look worn out.
To avoid this, you should be very careful when using the brush or you should go for one that is not as coarse. For example, you can use a stone-safe sponge or maybe a nylon bristle brush.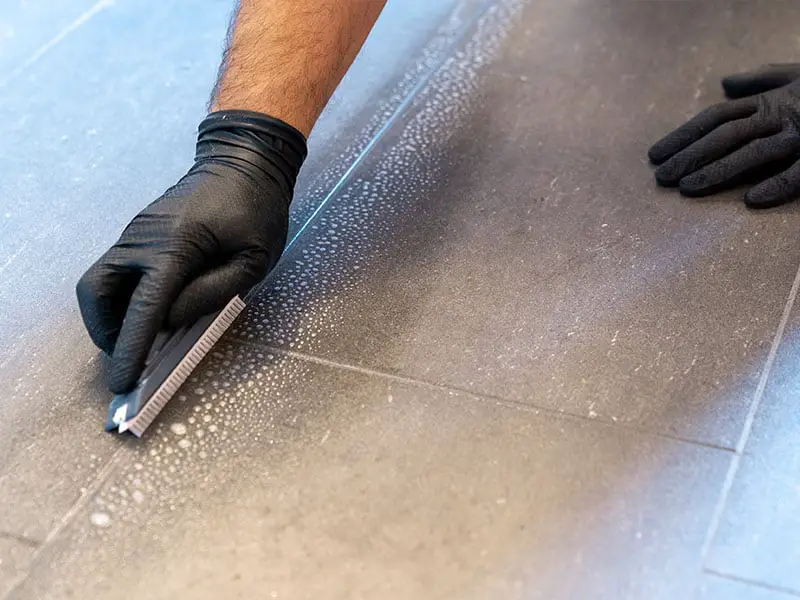 Tips for Maintaining Clean Unsealed Grout
After cleaning your unsealed grout or having a professional do it for you, you can go the extra mile to prevent the grout from getting dirty right away. There are some things that you can do to prevent the grime from getting to the grout lines.
1. First of all, if you are a smoker, you should consider smoking outside. The nicotine from the smoke can get to the grout and make it smell bad or become discolored. In that sense, the grout will look dirty and contribute to bad aesthetics in the house. Whether you smoke inside or outside, nicotine can affect walls and ceilings in some ways. Therefore, you need to equip with methods to clean nicotine off the walls and ceilings to maintain the appearance.
2. Another thing that you can do is keep trashcans away from the grout lines. With unsealed grout, a common problem is that leakage from the trashcan will get to the grout line and settle there.
It will take a lot to remove this kind of leakage or any kind of grime from the grout lines. So, try to keep anything dirty away from the grout lines. If you see leakage of any kind or if you spill something on the unsealed grout, proceed to clean it right away.
3. Another great tip for maintaining a clean unsealed grout is scheduling professional cleanings at least once a year if not more. Professionals know what they are doing and will deep clean the unsealed grout to make it spotless.
4. Last but not least, if you want to keep the grout clean you should consider sealing it. Unsealed grout always becomes dirty faster and easier than sealed grout. The process of sealing grout is not that hard or expensive and you can even do it by yourself.
Are You Ready To Clean Your Unsealed Grout?
If you have come this far, you should know how best to clean unsealed grout, what cleaning solutions to use and what tools would help you clean faster. Thank you for sticking with me so far!
If you have any other tips or tricks about cleaning unsealed grout that I have not mentioned, please do tell me in the comments. It will not only help me but all those other people who are still trying to figure out how to best clean unsealed grout!